For today's couples, a wedding's online presence is almost as important as the big day itself. Creating a website that shares your journey as a couple, includes wedding details, wedding registries, photos, and more, allows you to express your personality as a couple. It also helps your guests feel engaged and involved leading up to the wedding, with everything they need to know at their fingertips.
Building a detailed wedding website not only ensures everyone is informed, but creates a stress-free experience for the couple, as guests are less likely to reach out with questions in the busy time leading up to the wedding.
74 percent of engaged couples are creating wedding websites to simplify and streamline their wedding planning and keep guests informed. And, it's easier than ever to build a beautiful, and useful, wedding website thanks to today's user-friendly website builders.
With all the options out there, choosing a wedding website builder can feel daunting. Luckily, we've done the heavy lifting for you and researched the best website builders to consider for your big day. Read on to see our top picks, and the pros, cons, and pricing of each.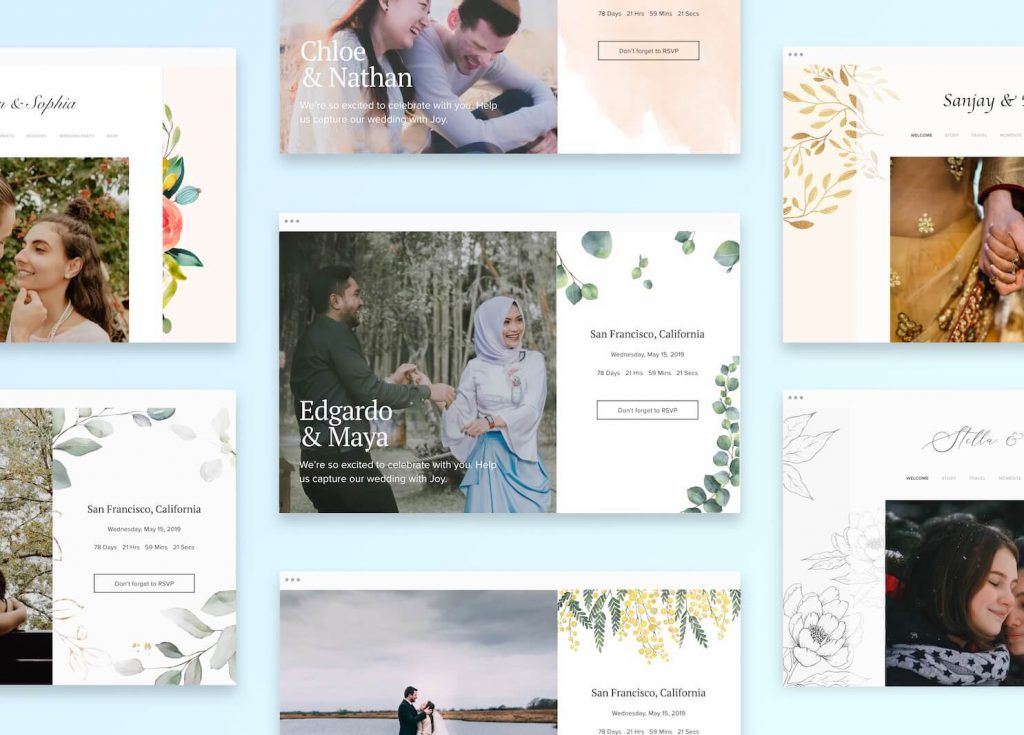 Summary: Joy's amazing design and intuitive technology help you simplify wedding planning, and even make it joyful. Its user-friendly, free wedding website builder and mobile app offer a host of planning features to help you plan your big day each step of the way. With a contemporary user experience, beautiful themes with matching save the dates and wedding invitations, and the ability to send updates to guests, Joy helps you keep everything for your wedding in one place.
Sticker price: 100% free to use from start to finish; $19.99 per year for a custom domain
Pros:
Choose from hundreds of beautiful design themes and template combinations ranging from floral to minimalistic and elegant, all of which allow you to customize your text, images, videos, and layouts to showcase your love story or wedding aesthetic
Add unlimited users with admin access  
Personalize your wedding site URL
Ask custom RSVP questions, and have guests digitally RSVP to get up-to-date head counts
Set up a wedding registry with items from anywhere online or connect existing registries
Use Joy's zero-fee cash registry to fund the perfect honeymoon, a down payment on your first home, or anything else you dream of.
Add an announcement banner to your site to quickly communicate important updates
Stream a virtual wedding, and other events, directly through your Joy site
Keep your guest lists for each wedding event in one place by organizing them with labels
Control which guests can see certain events on your website, avoiding any hurt feelings from that second cousin who isn't invited to the rehearsal dinner
Send digital Save the Dates, wedding invitations, and Change the Dates for free, or order printed stationery through Joy's printing partners, Paperlust and Paper Culture
Ensure wedding travel is easy on your guests with Google Maps, ride sharing apps, and hotel Booking Assistant integrations 
Enable guests to upload photos and write messages to your digital guest book from the app 
Join the Facebook group 'Wedding Planning with Joy' to connect with other couples, ask questions, and share advice
Use Joy's real-time Chat Support or refer to its Help Center for advice on setting up and beautifying your site
Share your mobile app (which matches your website) with your guests so they can easily access wedding information
Cons

:
While guests aren't required to have the Joy app, couples are encouraged to have them download it since it makes sharing broadcast announcements and collecting photos much easier. (This could confuse some guests who are less tech-savvy.)
For editing your guest list and some sections of your site, you'll have to use a computer — not the app — to do so.
Summary: An ideal option for couples looking for a polished and professional wedding site — without having to hire a web designer. Since Squarespace builds websites for a variety of personal and business purposes, it is not geared toward weddings.
Sticker price: $12 a month (billed annually) which includes a custom URL at no added cost for the first year. Upgraded options range from $18 to $40 a month (billed annually) with a custom domain of $20 to $70 per year.
Pros:
Themes are photo-centric, emphasizing your beautiful engagement photos
Try the service for free for 14 days; allowing you to experiment with the site before you commit to a paid subscription
Templates are optimized to look great on any sized screen, meaning your website will look great on mobile or desktop
Cons:
Building and customizing your site is difficult to navigate compared to other sites, as many options are geared toward businesses and not intuitive for wedding planning
Wedding designs and templates are limited (six, to be exact) compared to competitors, and at the $12 / month price point, only two people can have admin access
Limited wedding planning tools compared to competitors
Summary: A very tech-centric option, ideal for couples that want to rely heavily on a mobile app and that don't desire printed wedding invitations that match their website. Appy Couple is designed to simplify and consolidate your entire wedding experience across friends, family, and vendors. Personalized touches such as a guest book to leave happy wishes for the couple are an added benefit.
Sticker price: A one-time fee of $49 for Appy Boutique to access hundreds of boutique designs and more; or a one-time fee of $149 for Appy Luxury to access limited-edition and designer themes from Carolina Herrera and others.
Pros:
Offers a very interactive experience, and the ability to create a well-designed, streamlined, and informative website and app with embedded communication and guest list management tools
Choose from hundreds of exclusive themes that are elegant, luxurious, and lush, as well as flexible layouts
Help guests stay up-to-speed by sending real-time notifications about transportation, weather, dress codes, registries, and the like; leverage tools such as an online RSVP manager, custom RSVP forms and multiple event privacy options to organize your guests and which guests see certain wedding events
Cons:
One of the more expensive options, especially for the luxury version with additional high-end themes
Mobile app isn't rated as high as it could be (3.5 out of 5) for such a tech-focused platform; and guests must download the app in order for features to be fully functional
Printed wedding invitations that match your site are unavailable at this time
Summary: A dependable platform for couples who want a simple, visually-appealing wedding website with basic customization tools. Wix offers a wide range of website designs, meaning it is not as specifically geared toward weddings in terms of themes and features.
Sticker price: Free option with limited services and templates; or prices range from $13 to $39 a month pending which premium subscription you select, which include a free URL for one year and the ability to remove Wix's logo from your site.
Pros:
Offers a nice selection of wedding-specific templates, or gives you the option to start from a blank slate if you have a specific vision in mind
Wide range of customization options, from your header and body font, to graphics, to colors, to site headers and custom button options, though many design features may be confusing or difficult to navigate for those who haven't built websites before
Incorporate animation, video backgrounds, and scroll effects to highlight your photos and elevate your site beyond most wedding website options
Cons:
Geared toward those with experience building and designing websites, meaning it is not as user-friendly or easy to navigate
Wix's logo will appear across your website and landing pages — unless you opt for a Premium plan, and no custom domain is included unless you upgrade your plan
Lacks standard wedding planning features such as guest list tools or custom RSVP questions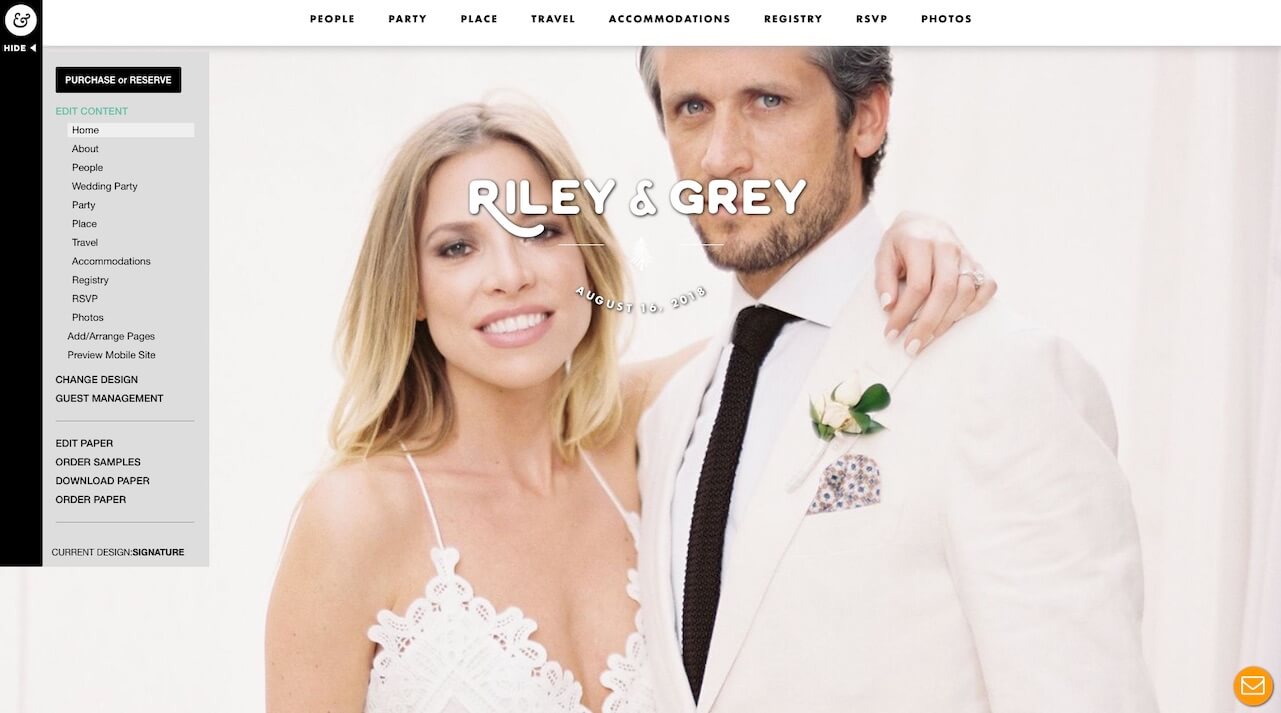 Summary: A design-focused choice for couples looking for an elevated, sophisticated wedding website. A great option for couples who don't mind paying a higher price for their site to have a luxe feel.
Sticker price: $35 month-to-month which you can set live for as many months as you need and cancel at any time, or a 12-month package for $240.
Pros:
Very well-designed wedding themes inspired by design, decor, and fashion, and the ability to download wedding invitation suite templates to print on your own or order printed invitations
Customize your RSVP questionnaire and make it a little more fun and interesting with a "mad-libs" feature
Create, or import, your domain name at no added cost beyond your subscription price
Cons:
Backgrounds, fonts, and graphics are fixed parts of each design, meaning you are limited in your ability to customize your website
Limited planning features, meaning you'll likely have to rely on tools from a variety of sites versus everything in one place
High price point compared to competition
Summary: An excellent choice for couples focused on high quality printed invitations and save the dates. While Minted is print-focused, it offers website themes that match its invitations, all designed by independent artists.
Sticker price: Free option with access to limited features; $20 for a premium plan with features including a custom domain name, ability to add a photo gallery, and ability to password protect your site. $98 to work with a Minted designer to create a custom wedding website with unique artwork rather than work from a set template.
Pros:
Thousands of theme offerings from Minted's community of artists, with high quality paper for printed invitations
Invitations and save the dates are proofed by a Minted designer before they are sent to print, to ensure photos are centered, text is aligned, etc.
Order free printed samples of any design or a sample kit of paper offerings to help make your decision before you purchase
Cons:
Features are limited unless you choose to pay for the premium plan
Designs and websites are not very customizable and have limited layouts, meaning you may not be able to make your website as personal as you desire
Does not offer a wedding app, which many couples find useful to share with wedding guests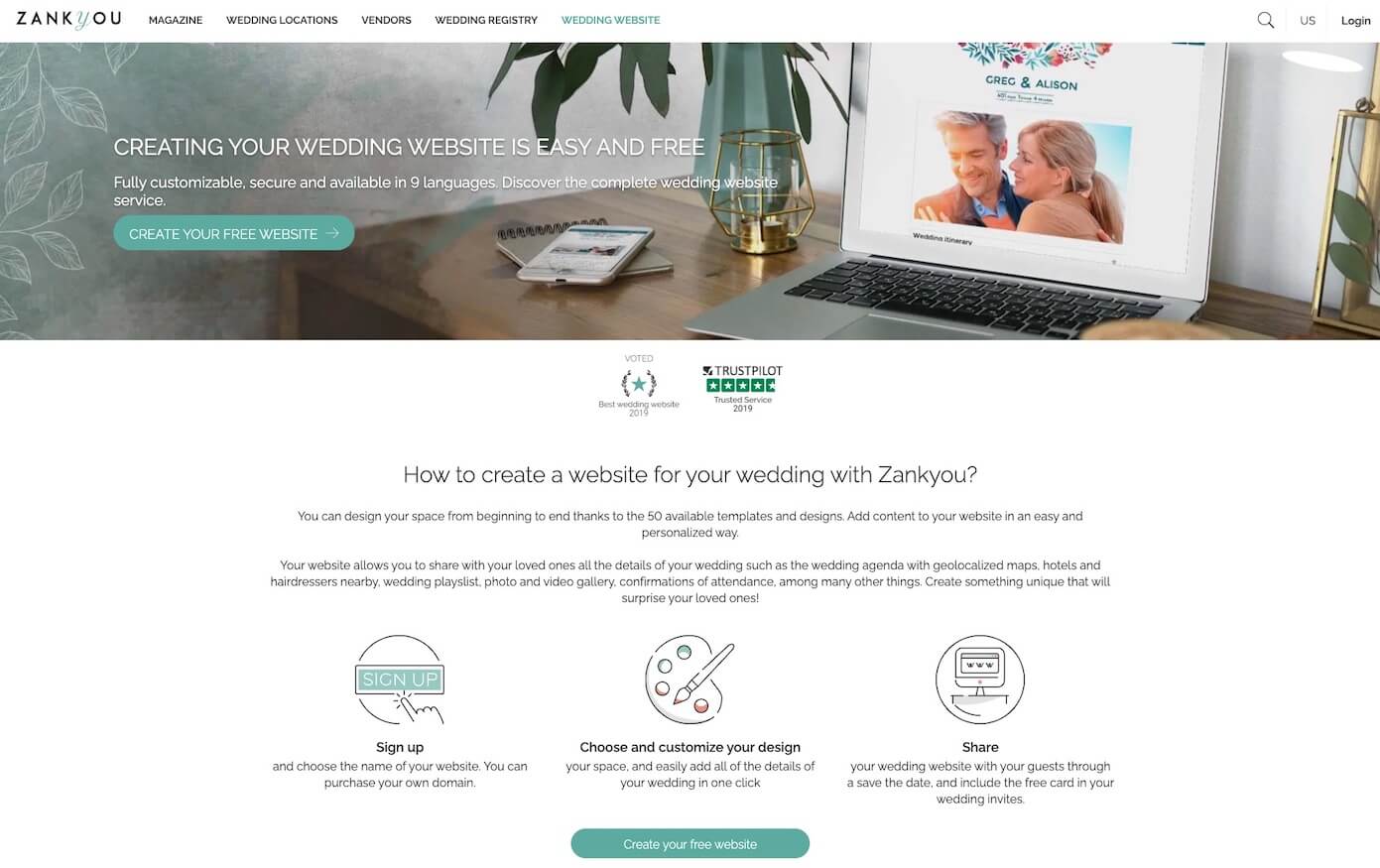 Summary: An easy-to-use option for couples that want to quickly and easily create their website without spending much time customizing. The ability to create a website in nine languages makes this a good tool for global customers.
Sticker price: Free for one year with limited services and templates. Plans at $59, $69, and $99 price points.
Pros:
Interactive seating chart tool allows you to easily organize your guests at tables
Ability to create your wedding website in nine languages
Digital guestbook feature allows guests to leave a note for the happy couple
Cons:
You can only access your website for one year with the free version, meaning if you have a longer engagement or want to be able to access your site after your wedding, you must upgrade to a paid plan
Less than 15 themes available on the free plan, no ability to customize fonts or colors on the themes
ZankYou's logo is prominently displayed on your website unless you upgrade to a paid plan
Summary: Now part of The Knot, WeddingWire is geared toward wedding planning tools, with less of a focus on design and wedding website options. It's a solid option for those focused on planning capabilities.
Sticker price: Free; or $12.99 if you want to add a custom domain name (via a domain registrar like GoDaddy).
Pros:
Great for wedding planning, with the ability to join forums to connect with other couples, and utilize tools such as a budget calculator, virtual seating chart, and planning checklist
Research, select, manage, and communicate with your wedding vendors in one central place on your dashboard
Ability to link your registries and collect online RSVPs via your wedding website
Cons:
Limited wedding website design options that don't feel as elevated or sophisticated as competitors
Website builder is not as user-friendly or intuitive as competitors
No ability to send digital save the dates or invitations that match your website, or order printed versions
Summary: A robust option for couples looking for standard planning capabilities and chic wedding website designs. Ideal for couples who may be moving soon, or are city-dwellers, to take advantage of Zola storing their registry items for them until they are ready to have them delivered.
Sticker price: Free; or $14.99 to purchase a custom domain name.
Pros:
Offers a nice collection of website designs, and a thank you note manager to keep track of your gifts and which guests you've thanked
Offers an e-commerce 'wedding boutique' for brides, wedding party, jewelry, accessories and wedding decor, to shop for all things wedding-related
Use the platform's all-in-one registry which includes 500+ brands and 50,000+ gifts, and lets you store your items until you are ready to have them shipped to you
Cons:
There is only one website template, so while you can swap out the design, your website looks very standard as opposed to being able to select from multiple template
Limited customization options, as you can select your theme but cannot change fonts or colors to reflect your personality
Website feels very cluttered, from planning tools, to registry integration, to website, to an online store – which can be overwhelming for couples just looking to create their beautiful website
Summary: A good option for traditional couples looking for classic, elegant themes and standard planning capabilities. Those looking for more contemporary, modern designs will likely go with an alternative website builder.
Sticker Price: Free, or $20 to purchase a custom domain name.
Pros:
The Knot's Wedding Planning App allows you to plan your wedding from your laptop or your phone and communicate with guests
Robust features include planning tools, a website builder, vendor search and an online e-commerce shop
Strong selection of designs (though they tend to be more traditional) and matching invitations
Cons:
No ability to send digital save the dates or wedding invitations, for those who want the convenience, savings, and eco-friendliness of digital invites
Offers basic customization and only one website template, meaning websites tend to look cookie-cutter
Checklist feature is standard and not customizable, and is built for heterosexual couples only
Up Next: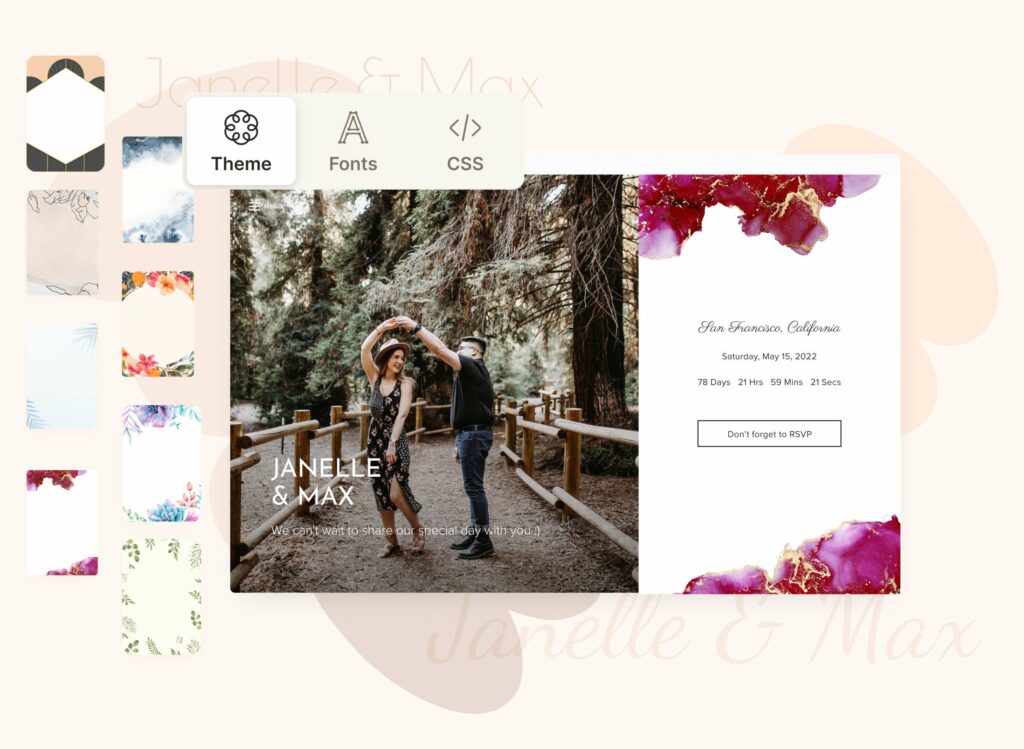 Set up your wedding website in minutes with design options to make yours truly unique.