Want to give guests a sneak peek into your wedding vibe while getting them excited for the big day? Get your creative juices flowing with unique wedding invitation ideas! You can play up a color palette, season, destination, themed wedding, or venue, or even add wedding stationery embellishments for that personal touch. Your options to set the tone are limitless—but before we dive in, let's check out the newest design trends in wedding invitations.
Wedding Invitation Trends
Eco-friendly weddings are becoming more popular, and Paper Culture—an eco-friendly stationery company that prints cards with 100% post-consumer recycled paper—is on par with that trend. Its newest designs offer a clean and contemporary twist on traditional wedding themes such as romantic, classic, and rustic.
According to Deb DeFanti, Paper Culture's Senior Director of Marketing & Customer Experience, these designs embrace some of today's creative wedding invite trends:
Evoking a clean, minimalistic style for couples looking for a unique spin on nature-inspired cards, Monstera Impression is an ideal match for environmental advocates.
The Vintage Florals trend intersects vintage with contemporary design as seen by traditional illustration with contemporary typography.
For couples who want wedding invitation wording to be front and center, Relaxed Script is a playful and modern take on a hand-lettering style.
This trend mixes a bold, dark background with romantic details, bringing a level of sophistication hard to find in most floral-themed invitations. Romantic Garden is a unique option for a garden or destination wedding.
Marrying modern elements such as bold graphics with a clean typography, Contemporary Love is an artistic touch many couples desire.
"We recommend couples have an idea of what wedding theme they want so they can translate that theme to their wedding invitations," DeFanti recommends. "Once they have a general idea, then they can browse those styles."
Common themes include classic, fairytale, romantic, rustic, boho, chic, or modern wedding. If you prefer to focus on a season, think spring, summer, fall, or winter. For a destination wedding, you can feature your actual venue or the venue type such as city, country, winery, beach, barn, mountains, or forest.
Tip: Would you love to have your wedding invitations match your wedding website? With Joy, you can see which themes offer paperless and printed invites that match your overall look. That way, before you commit to a stationery design (with your heart and money), you'll know which themes have coordinating components you may want such as menus, programs, and Thank You cards.
Wedding Invitation Suite
You have options on what to include in your wedding invitation suite—and you can even go paperless for certain elements to help save paper. Here's an example of a typical invitation suite and the elements you might send digitally or skip altogether:
Engagement Announcements: Optional (or use social media)

Save the Dates: Optional (print or paperless)

Wedding Invitation: Recommended (print or paperless)

RSVP Cards: Recommended (print or paperless)

Ceremony Program: Optional (print)

Table Number or Escort/Place Cards: Recommended (print)

Reception Menus: Optional (none, per table, or per person)

Thank You Cards: Recommended (print)
Tip: Explore our wedding invitation wording guide if you're wondering about what you should include on your invites or just need a little inspiration.
One-of-a-Kind Save the Date Ideas
The first piece of wedding stationery your guests might receive is a Save the Date which includes your wedding date and city/state. Save the Dates, which are particularly important for destination weddings or weddings with many out-of-town guests, should be sent 10 to 12 months before your wedding to give guests enough time to plan travel arrangements. But a Save the Date is more than just basic wedding logistics: It's where you can show off your personalities and who you are as a couple.
You can absolutely choose a Save the Date style that matches your entire wedding invitation suite, but it's also the one element that might not match because you probably haven't chosen your invitation style yet! It's totally ok, as you'll match other printables to your wedding theme later. Many couples choose a simple "photo style" card as their Save the Date template. This is where engagement photos help. An engagement photoshoot is often done at a local spot with a beautiful background, such as a park, or a place that's meaningful to both of you.
Unique Save the Date Ideas with Engagement Photos

Do you prefer to wow your guests with fun Save the Dates that fit your personalities and could potentially tie into your wedding theme? Consider these engagement photo options:
Retro: pose in vintage fashion at a historic hotel or diner

Modern: glam up and use a cityscape as your backdrop

Country: wear cowboy boots and hats in a brewery

Boho: think flowy and flowers in an open field

Fairytale: pose in formal attire in a castle or forest

Romantic: just be "you" in a local garden

Nautical: wear casual clothes at a boat landing or lake
Offbeat Themes:
Sports: show your spirit in team t-shirts at a sports center
Movie or book: reenact your favorite scene in costume
Music: be casual at a concert
Fantasy: take photos with your favorite characters at a fan convention
Disney: show off your mouse ears at one of the parks
Goth: reveal your dark side at a cemetery
You could also have your engagement photoshoot at your actual wedding venue. Not only will your guests get a glimpse of the venue's ambiance, but you'll also get a chance to preview photos for your big day. Explore different locations. Try out poses. See how the lighting is and if it needs to be modified for your wedding. You can also hire a wedding photographer who can use your engagement shoot as a test run.
Is your venue too far? Not to worry. You can fake it. Is it a mountain resort? A local hiking trail will be fine. Is it an island? A local beach works. For an upscale hotel, any other will do—the exterior building or interior lobby can do the trick to showcase the modern or glamorous look you're going for. You can dress in whatever is most comfortable for you or use this chance to preview the dress code for your event, from casual to formal.
Another way to play with unique wedding invitation ideas is to add personal touches. But don't panic! Professional skills are not required.
Unique DIY Wedding Invitation Ideas
There are couples who are excited to create their entire wedding suite. They're happy to spend hours to weeks on this one project.
Let's pretend that's not you. For our purposes, we'll assume you want a unique wedding invitation look without investing weeks of hard work. Here are a few quick tips to achieve that:
Wedding Colors
Use any invitation company with an online tool such as Paper Culture, Elli, or Shutterfly to easily personalize your invitations. You can often change the background and text color to match your color palette—or, invitation designers can do this for you. Greenery is a popular choice at weddings, so using greenery on your invitations is a great option.
Watercolor and Gold
Few designs are as versatile and timeless as watercolor and gold for your wedding invitations. Another bonus? You can easily DIY with just a few supplies, helping you and your partner have some fun during this phase of wedding planning. Whether you're having a classic wedding in a church, an outdoor wedding on the beach, or a rustic wedding in the forest, applying watercolor and/or gold foil on your invitations will make them appear lush and vibrant.
Monogram
The monogram is making more appearances at weddings these days. It's not just for dance floor lighting. Couples are choosing a monogrammed cake topper, linens, cocktail napkins, and photo booth prints. As boho weddings are trending down and chic weddings are on the rise, using a monogram on your invitations is sophisticated style. For a modern minimal look, use monogram calligraphy as the main design element. Or, choose any invitation theme you wish and use a monogram wax seal on the envelope. There are a variety of wax seal stamp kits you can buy online.
Personalized Stamps
Why not make your save the date cards, wedding invitations, and envelopes uniquely your own with a personalized stamp? Etsy offers various options for custom rubber stamps, depending on your style and personality. Whether you're after a traditional, modern, or rustic look for your invitation suite, adding a personalized stamp into the mix can help you set the stage for your upcoming wedding day—and flaunt your personality in a fun way.
Ribbon or Twine
If you're including two or more pieces of stationery in one envelope, such as a wedding invitation and response card, you can use a piece of smooth ribbon or hardy twine to keep them together. Not only is this an easy way to add some style to your invitations, it also helps ensure that nothing gets lost from the moment guests open their invitation envelopes to the moment they send their RSVPs. Just make sure to use the right material for the kind of wedding you're planning. For example, it's best to go with ribbon for a more classic wedding or twine for a rustic wedding.
Custom Embosser
Create minimalistic elegance on your wedding invitation design with a custom embosser. Paper Culture offers high-quality embosser tools for purchase and various designs, helping you easily create that perfectly "raised" look to your text. This idea is especially show-stopping on envelopes, as your guests will want to brush their fingers over the texture.
Envelope Liner
With a bit of effort, you can DIY your own envelope liner. Once you have the patterned paper, all you need is scissors and glue. It's a small detail that guests will notice as soon as they open your invitation envelope.
Tip: There are YouTube videos on how to do this.
Additionally, letterpress printing and laser-cut invitations are fun ways to create a unique look, but it may not be something you want to tackle as a DIY project. See if either is an option with the invitation company or designer you choose.
When in Doubt, Personalize
Let your creativity and personality be your guides when designing your invitations. Like weddings, the more personalized they are, the more memorable they'll be to your friends and family. But before you buy them, order free wedding invitation samples to make sure they're exactly how you imagined. Happy designing!
Up Next:
Whether you send traditional paper invitations or go paperless, you can easily collect RSVPs online.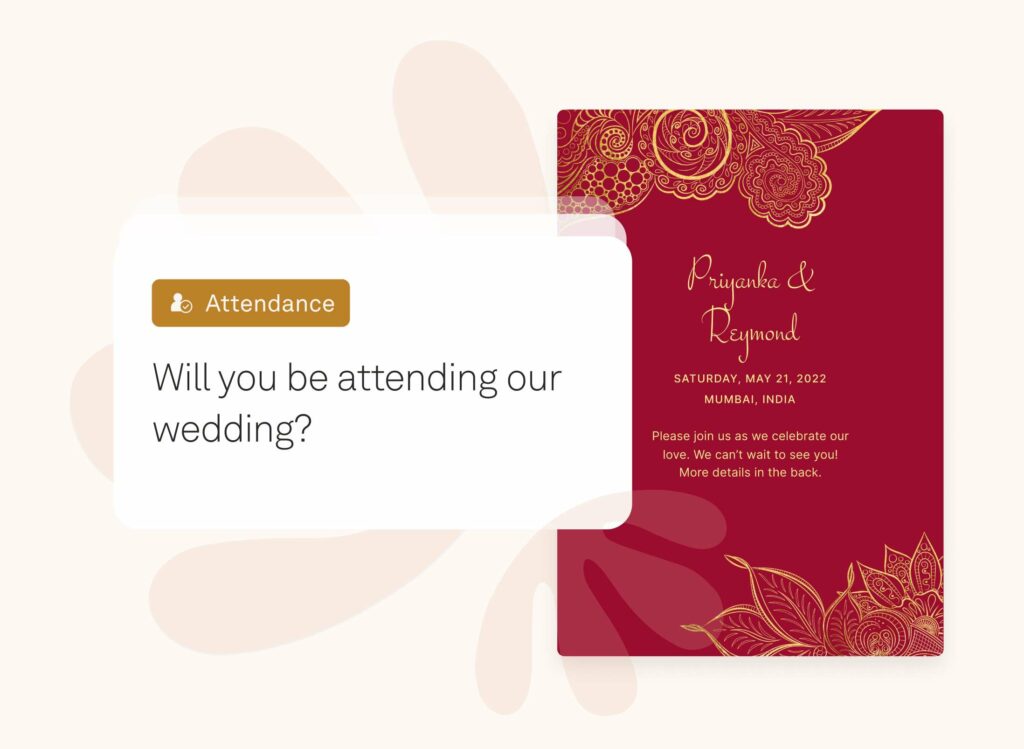 Related Posts