Music plays a major role on your wedding day, from the processional to a final send-off and everything in between. Key moments can become even more memorable and personalized when set to the right tunes.
While you may walk down the aisle to your favorite acoustic song, the bulk of the music will be played during your wedding reception. Curating a wedding playlist can be a fun undertaking when planning your nuptials, but there is a fair amount of decision-making to do first.
One of the most important moments you can sync to music is your wedding reception entrance. Since it marks the first appearance you and your spouse will make at the reception venue, it's a great place to start planning. Whether you want to stun your guests with a big reveal or simply enter hand-in-hand, select music that celebrates you as a couple and sets the tone for your party.
As with any aspect of wedding planning, it can become overwhelming to make a final decision on your wedding entrance song. We've put together a guide for what to consider before pressing play, plus a list of the best wedding entrance songs for every vibe.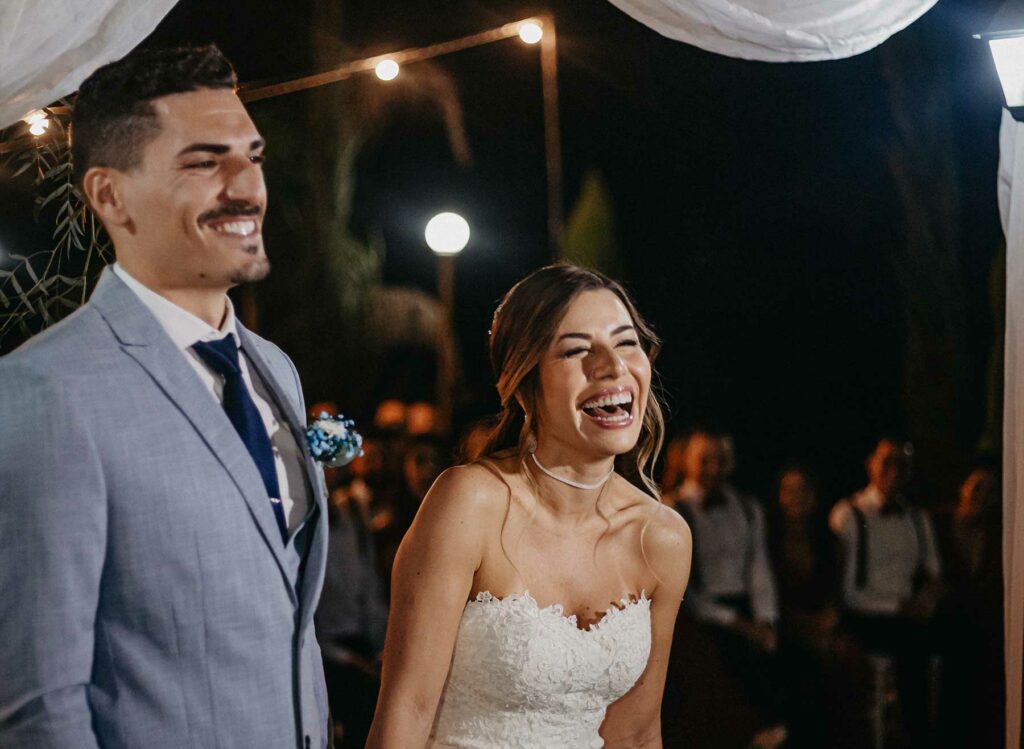 Wedding Entrance Song Basics
While choosing a wedding entrance song may seem straightforward, it can be customized in a variety of ways to create a memorable and beautiful day. For starters, decide who will take part in the reception entrance to help organize how the music will play out. While you can choose to walk in with just your partner by your side, you can also turn it into a grand entrance for the whole wedding party and your parents.
Some couples choose to play one wedding party entrance song — if you go this route, you and your partner will typically enter the venue last. There's also an option to play multiple songs, such as one for the wedding party and another for the newlyweds. Depending on how large your group is, you can break things down even further with unique songs for various groups of attendants or family members. A school song for college friends or a childhood favorite may be fun music choices to add a personal touch to the big moment.
At some celebrations, a wedding entrance song is lively and jump-starts the party. It's a chance to incorporate goofy dance moves or showcase choreography on the dance floor. Other couples may opt for a romantic tune for their reception entrance. Why not use a runner-up to your first dance song?
There can be more than just music playing during a reception entrance. An emcee can announce individuals while they make their appearances. This is a nice refresher for guests to understand who makes up the wedding party and how they are connected to the couple of honor.
Choosing a Live Band or DJ
When it comes to planning music for your wedding day, couples must decide between booking a live band or a DJ for the reception — or both, if you want to splurge. This decision can influence your song choice, budget and overall wedding vibe. Let's take a look at the pros and cons for each option.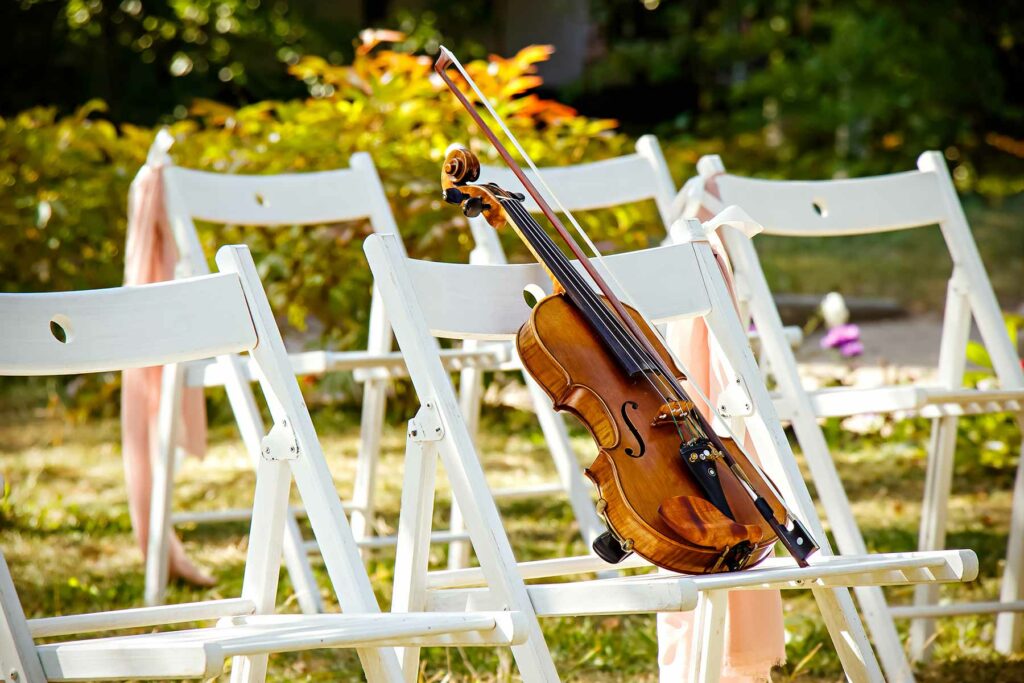 Booking a Wedding Band
There's no doubt that a live band helps set the mood for a wedding reception. The musicians and their instruments create a striking display and can elevate the ambiance. An instrumental ensemble creates a sophisticated vibe, while a big band will keep everyone on the dance floor all night long. Band members can engage with guests in fun ways to keep merriment high or nimbly adjust a song's tempo to match the pace of the newlywed couple's reception entrance dance. Live music adds an entertainment value to your special day that sits in a class all its own.
While there are definitely exceptions, live bands tend to specialize in one playing style or a specific genre of music. This can be ideal if you and your guests have a particular musical taste and don't need or want the tunes to stray from that during your wedding reception.
Live music is also an excellent choice if you're open to a cover of your favorite songs. Do keep in mind, however, that it won't sound like it does on your home speakers. If you and your significant other have strong ties to a particular song, whether for the grand entrance or any part of the reception, be sure to hear their rendition before signing a contract. It's common to see the band perform in-person or on video before finalizing a booking.
Since live music is considered a treat, it generally comes with a larger price tag compared to a DJ. When making a decision, envision your wedding reception and the type of experience you wish to create for your future spouse and guests. The music, whether it's played live or from a DJ, is important — but your wedding budget is, too!
Booking a DJ
Alternatively, hiring a DJ to play music at your wedding reception will offer the widest range of song choices. Their musical library is a valuable asset that will allow you and your partner to curate a list of tunes that everyone can enjoy. If you've dreamed of having your favorite hip-hop or pop song play as you enter the venue, a DJ can make that moment happen with ease. Moreover, a talented wedding DJ can read the room and play songs similar to your requested playlist to help you create an unforgettable reception.
With a DJ, you'll also be listening to high-quality songs without any ad-libbing from a band's musicians. That said, wedding DJs are still performers and can take some liberties in mixing and fading songs or beats. But by and large, the newlyweds can count on a DJ to play music from a designated playlist that's reviewed and agreed upon before the big day.
Of course, your reception hall or location may make the decision clear. For instance, if there's not enough space for a multi-piece band, a DJ may be the obvious choice. On the other hand, if there isn't simple access to an electrical power source, booking an acoustic band may be a good option. Be sure to understand the music-related rules and restrictions of your reception venue before booking any musical talent.
Match an Entrance Song to Your Vibe
Your grand entrance song will be part of the larger wedding playlist. It's the tune that will kick off the dinner and dancing portion of your special day. The music may tug on the heartstrings by evoking emotion through lyrics or melody, or kick up the energy with a lively beat. While making a selection, think about the feeling you'd like your wedding entrance song to capture.
Once you've chosen one or two wedding entrance songs, consider weaving in personal touches to fit the vibe of your wedding. Maybe you and your partner want to set a romantic tone and opt for an acoustic cover. If you book a wedding band, you could even consider adjusting some lyrics to better represent you as a couple. You can also play just a portion of a song if it's well-loved, but not fully appropriate for your wedding day.
Regardless of your song choice, it's likely best to play "clean" versions and edit out explicit lyrics. This is especially relevant if your wedding reception includes guests of all ages. The parents of young children will thank you!
As for the rest of the playlist, consider including a section on your RSVP card or wedding website to take suggestions from your guests. They'll get to hear their favorite tunes, and you'll have help creating the best wedding playlist. It's a win-win for everyone!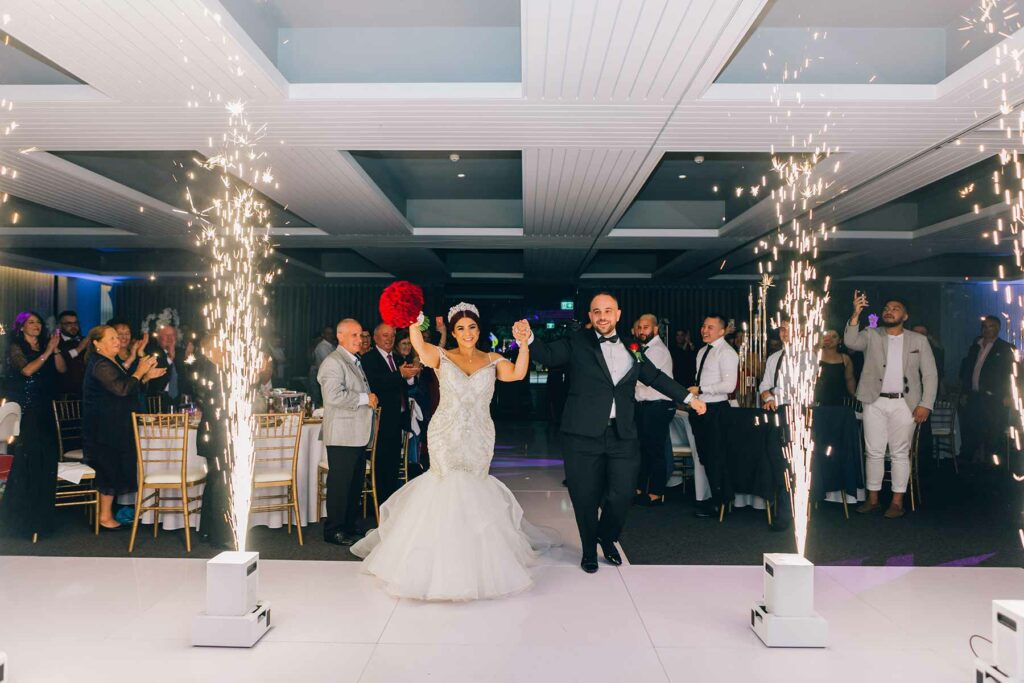 Wedding Reception Entrance Song Suggestions
We curated a list of our favorite wedding reception entrance songs, inclusive of party classics and tunes you may not have initially considered. Keep these recommendations handy when curating your wedding music playlist, as these songs can serve up inspiration for the wedding ceremony or anytime throughout your big day. But remember, it's your party. At the end of the day, choose a song that feels right to you and your soon-to-be spouse!
For Couple Choreography
Many couples break out their best dance moves while entering their wedding reception venue. You may choose the classic grapevine, go simple with jazz hands or be humorous with the sprinkler. If you and your partner want to be extra (and have the time to practice), recreate iconic dance routines or choreograph your own. It's something you and your guests will remember and talk about for years!
1. "Happy" by Pharrell Williams
2. "Crazy in Love" by Beyoncé (feat. Jay-Z)
3. "Dancing in the Moonlight" by King Harvest
4. "Marry You" by Bruno Mars
5. "I Wanna Dance with Somebody (Who Loves Me)" by Whitney Houston
6. "Without You" by David Guetta (feat. Usher)
7. "Lovely Day" by Bill Withers
8. "I'm a Believer" by The Monkees
9. "Sucker" by Jonas Brothers
For Wedding Party Choreography
Let your wedding party join the dancing fun and add their own flair to the celebration. If they're entering in pairs or small groups, each pod can showcase their favorite moves. Opting for a choreographed group dance may be a big ask, but would certainly be memorable.
10. "I Gotta Feeling" by Black Eyed Peas
11. "Can't Stop the Feeling" by Justin Timberlake
12. "About Damn Time" by Lizzo
13. "I Believe in a Thing Called Love" by The Darkness
14. "We Found Love" by Rihanna (feat. Calvin Harris)
15. "You Make My Dreams (Come True)" by Hall and Oates
16. "Best Day of My Life" by American Authors
Rock Songs
There are an endless number of rock songs that could make the cut for your reception entrance song. Look to classic, alternative, funk, indie, punk and other subgenres for a steady beat and catchy lyrics that will have your guests dancing along in their seats.
17. "Little of Your Love" by Haim
18. "On Top of the World" by Imagine Dragons
19. "Come and Get Your Love" by Redbone
20. "First Date" by Blink-182
21. "Beautiful Day" by U2
Upbeat Songs
Who says love songs need to be slow? These high-tempo beats will get everyone grooving and in a happy mood.
22. "Shut Up and Dance" by Walk the Moon
23. "The Way You Make Me Feel" by Michael Jackson
24. "Get the Party Started" by P!nk
25. "Signed, Sealed, Delivered (I'm Yours)" by Stevie Wonder
26. "A Sky Full of Stars" by Coldplay
27. "Modern Love" by David Bowie
28. "Uptown Funk" by Mark Ronson (feat. Bruno Mars)
29. "Walking on Sunshine" by Katrina and The Waves
Classic R&B Songs
These timeless songs are a top-tier choice to play as you emerge into the reception as a married couple. Some of these tunes may even have a few of your guests singing along.
30. "September" by Earth, Wind & Fire
31. "This Will Be (An Everlasting Love)" by Natalie Cole
32. "Jump (For My Love)" by The Pointer Sisters
33. "We Are Family" by Sister Sledge
34. "Celebration" by Kool & The Gang
35. "Rhythm of the Night" by DeBarge
36. "Ain't No Mountain High Enough" by Marvin Gaye, Tammi Terrell
Country Songs
When it comes to country music, it isn't hard to find a song that celebrates love or good times. These catchy, lyric-driven tunes will start the night on the right foot (cowboy boots optional).
37. "Somebody Like You" by Keith Urban
38. "Life is a Highway" by Rascal Flatts
39. "Cruise" by Florida Georgia Line
40. "Write This Down" by George Strait
41. "Chicken Fried" by Zac Brown Band
42. "Fancy Like" by Walker Hayes
43. "You're Still The One" by Shania Twain
Unexpected Songs
The beauty of a wedding reception entrance song is that it can fall into any genre, from gospel and pop to hip-hop and folk. Songs that communicate a certain feeling through the lyrics or are just plain fun to dance can help you create an entertaining entrance.
44. "Oh Happy Day" by The Edwin Hawkins Singers
45. "Oh Yeah" by Yello
46. "Home" by Edward Sharpe and the Magnetic Zeros
47. "Burning Down the House" by Talking Heads
48. "Girls Just Want to Have Fun" by Cyndi Lauper
Instrumental or Acoustic Songs
Fill your reception venue with ethereal strings or piano notes while making your big debut as a married couple. Nearly any song can be performed in an instrumental or acoustic way, but here are a few to-go suggestions that make the transition easy.
49. "Marry Me" by Train
50. "Over the Rainbow" by Israel Kamakawiwoʻole
51. "Everlong (Acoustic Version)" by Foo Fighters
52. "Better Together" by Jack Johnson
53. "Lucky" by Jason Mraz (feat. Colbie Caillat)
54. "Lover" by Taylor Swift
55. "All You Need is Love" by The Beatles
Up Next:
Set up your wedding website in minutes with design options to make yours truly unique.