It's no secret that inflation is affecting everyone's lives, from gas prices to your grocery bill. The wedding industry is no exception. Consumer prices are up about 8.6 percent from May 2021, according to the Bureau of Labor Statistics. And despite the climbing rates, this is also proving to be one of the busiest wedding years on record, as delayed nuptials are finally happening and newly engaged couples are also looking to wed. With the number of weddings scheduled in 2022 up nearly 30 percent from 2021, according to The Wedding Report, that means wedding vendors are likely to book up quickly, even with inflated price tags.
The numbers might sound scary, and they definitely are, but don't get discouraged. It's still possible to pull off your dream wedding! Here's the upside — there's always something you can do to counter inflation. Start your planning early and be sure to set aside some extra time to work on your wedding budget, especially pricing out all of your "must-haves." If those non-negotiables prove to be out of reach, don't be afraid to reevaluate or compromise. Being open, honest and flexible about what you want and need will help you and your partner plan the perfect day.
As you get started in your planning process, here's what to expect with inflation hitting the wedding industry and 13 tips for keeping your budget in check!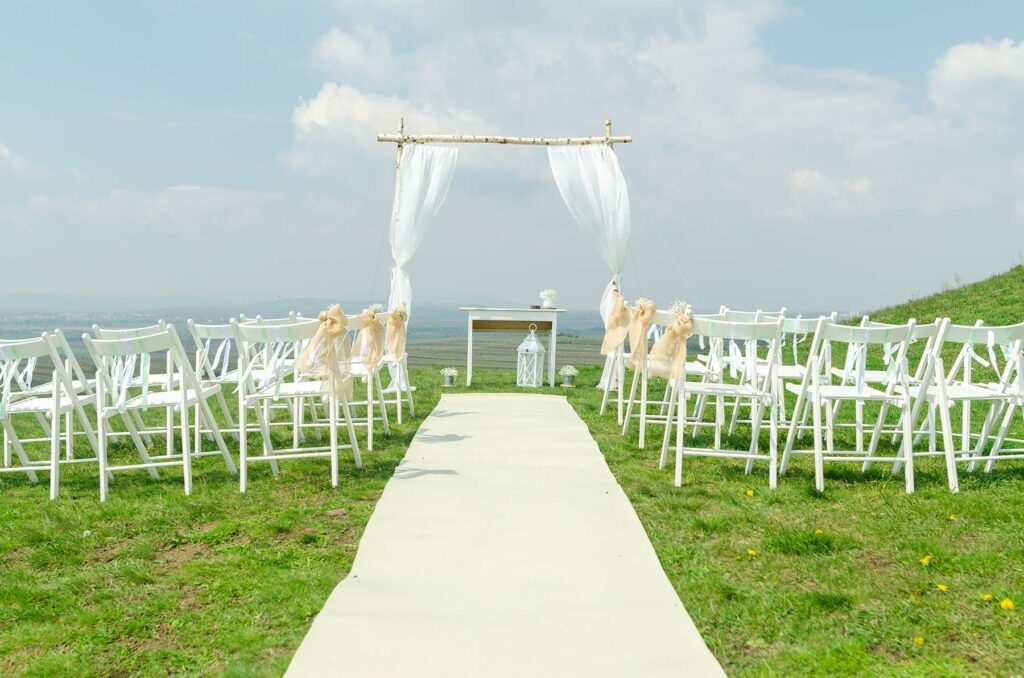 What's Being Affected by Inflation
Let's start by breaking down exactly what to expect with inflation, which is the rise and fall of the monetary value of goods. Labor shortages, supply chain issues and transportation costs all play a part in these rising prices. When this happens, nearly everything is affected — even wedding planning.
Many venues and wedding vendors were shuttered during the early phase of the pandemic, and some never reopened due to the rising costs of doing business. Now, couples looking to get married face challenges with not only higher prices, but also less inventory when it comes to physical items like wedding attire and flowers as well as service providers. It can throw a real wrench into your big day, so thinking months in advance will be important to get ahead of inflation. Here are a few key areas to be aware of as you head into the wedding planning process.
Alcohol
If you were saving a special bottle of bubbly to celebrate your nuptials, make sure to hang onto it! Both bourbon and Champagne are seeing particular high demand, low supply and increasing prices. High-end Champagne in particular is predicted to experience shortages through 2025 due to production limits set at the start of the pandemic, among other factors. According to VinePair, there's also a barrel shortage causing a two-year slowdown in the production of bourbon, which means prices are going up for your favorite old-fashioned cocktail. Some states even face mandated limits on how many bottles of a certain brand you can purchase at a time. If you were planning to stock your own bar for your big day, this is one area you might run into a few roadblocks if you wait until last-minute.
Wedding Attire
Your bar isn't the only element being affected by inflation. Materials across all industries are seeing increases. "The wedding fashion industry has been hit hard by the high levels of inflation," says Caitlyn Parish, the founder and CEO of Cicinia, a brand specializing in bridesmaid dresses. "This has resulted in some companies having to make significant cuts to their supplies and inventory or increase their prices."
According to Parish, expect to see simpler designs and, possibly, cheaper materials (at higher consumer costs) used to create attire for you and your wedding party.
Vendors and Entertainment
Inflation goes beyond the cost of physical items you'll need for your wedding. Shutdowns starting in early 2020 forced many vendors and entertainers out of their respective industries, leaving a smaller number of service providers available for hire. Now, the remaining vendors are busier than ever.
"Many DJs are charging higher prices because of the demand for their services," says Chris Kellogg, a veteran East Coast wedding DJ. "Now, wedding couples will have to book farther out and may pay more because of the increased demand."
In addition to packed schedules, vendors are also facing rising gas prices, travel costs and equipment expenses, just like you. All of these factors play a part in rising wedding expenses.
Travel
Travel is an area where inflation may hit both you and your guests. Destination weddings are being affected with increased costs, but you may also see reduced guest attendance even if you're celebrating in your hometown. Due to higher gas prices and labor shortages, the cost of airfare is increasing while fewer flights are actually going out. This might make out-of-town guests pause before checking "yes" on their RSVP card. Hotel rates are also rising, especially for peak season travel during the summer and winter holidays. Low attendance can leave you and your partner scrambling to hit food and beverage minimums and secure room blocks at the hotel.
What Inflation Means for Your Big Day
After waiting years to finally walk down the aisle, nearly 7 million couples are expected to wed between 2022 and 2024, according to The Wedding Report. In addition to price increases, don't be surprised if most vendors are harder to nail down for your dream wedding date. Many couples are finding that their chosen caterers, venues and florists are booked out for months or even years.
But inflation doesn't mean the end of the road for your wedding dreams — it's just time to get creative when it comes to the planning process. Being flexible with your date could be the key to getting everything you want on your big day.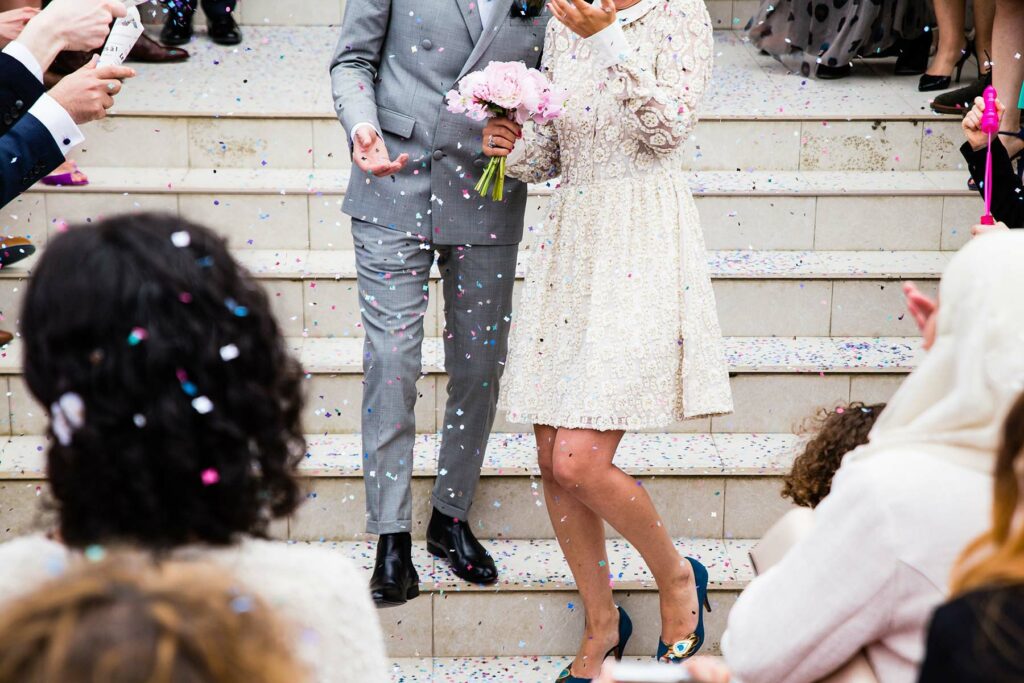 Here's What You Can Do About Inflation
While that's a lot to take in, it's important to know what you're facing to overcome the roadblocks! Now, it's time for the real planning to begin.
Just as you would pre-inflation, start by breaking down each part of your wedding, from the ceremony to cocktail hour to the reception. Bullet out the essential items on your wedding checklist — think wedding outfits, an officiant, table and chair rentals, florals, decor, catering and entertainment. Once you figure out your wedding must-haves, start on your list of extras. This could be anything from an outfit change to a raw bar.
Shop around to get the best pricing on each item, even the extras, to give yourself an idea of how your budget stands up to your vision. With labor shortages and limited vendor availability, this is an area of planning that may take additional time. Patience and persistence will help you power through this part of the process!
If inflation has priced your vision over your initial budget, don't worry just yet. In addition to general ways to save money on your big day, we have 13 creative tips to fight back against inflation so you can still have the wedding of your dreams.
1. Consider a venue change.
If demand for your dream venue is high and other options are out of budget thanks to inflation pricing, a backyard wedding is a less expensive alternative guaranteed to be available on the date of your choosing! The venue alone can eat up a considerable amount of budget for your wedding day, so your savings here will also go a long way toward helping with rising costs in other areas. It's a big commitment to host at home, so you may want to allocate a portion of your venue savings to rentals like portable restrooms and tents that will minimize guest traffic indoors.
2. Get married on a weekday.
Getting married midweek might sound like the last thing you would ever want to do, but it's a great way to minimize the effects of inflation for you and your guests. Not only will your venue be less expensive and more likely to be available, any travel involved will also be cheaper for your guests because it's on a weekday. Historically, Tuesdays are the cheapest day of the week for airline travel. With that in mind, a Wednesday night wedding could be a win-win for everyone involved!
3. Have a "shotgun destination wedding."
This emerging trend in the wedding industry has couples planning a destination wedding in a matter of months, with only a small group in attendance. While this sounds like it would be more expensive than a traditional celebration, wedding packages at large resorts are relatively stable — for now.
"The wedding package costs have adjusted very minimally, while package offerings have stayed fairly consistent," says Bruce Kahler, a travel consultant and destination wedding specialist.
If waiting for that ideal venue in town to become available sounds unbearable, this is a great way to celebrate your big day in a beautiful location. It's also the perfect excuse to keep your guest list lean.
"The couples we are hearing from now aren't even waiting a year to wed," says Laurie Keith, president of Romantic Planet Vacations. "We have such an influx of destination wedding inquiries for travel this spring, summer and fall like I've never seen."
4. Hire students to help with catering.
This is a great way to work around the current labor shortage while helping students get some experience in their given field. Scout out your local culinary school for potential candidates for catering. Many times their pricing models will be markedly cheaper than established caterers and you can take pride in knowing you helped someone get their start in the industry.
5. Hire a wedding planner.
Though we're talking about making cuts, a wedding planner should not be one of them. These industry professionals know every vendor in town and can help you score the best rates. With their longstanding relationships and industry insight, they'll also be able to help you better understand where inflation is hitting your budget. If you're planning a destination wedding, definitely hire a local pro. Not only will these wedding magicians keep you on budget, they will help you get everything you want at the right price by thinking creatively.
6. Get an early start on planning.
It's worth stating again: Give yourself extra time to navigate inflation! It may take longer than usual to hear back from potential vendors, and you'll likely spend more time shopping around to make sure you get the best possible pricing. Vendors and venues are also booking up fast, so the best thing to do is to lock down your essentials as soon as possible. Try to negotiate rates where appropriate and see if they will accommodate some cost-saving alternatives to lighten the load. For example, ask the venue if you can hire a food truck to cater your cocktail hour and reception instead of having a formal sit-down dinner.
7. Cut your guest list.
While reducing your guest list is always an obvious way to save, making cuts during this period of inflation can have more than one benefit. Not only will you be saving on overall costs, it may give you more options when it comes to choosing an affordable place to say "I do" — a huge positive since venues and vendors are in short supply lately. A pared down list could also open the door to non-traditional venues or budget-friendly places like state parks, which tend to have lower limits on the number of guests you're allowed to have in attendance. We aren't saying you need to go as extreme as a microwedding, but you should create a manageable list of those closest to you. Feelings from family may come into play here, but you can tactfully manage expectations by simply saying it's not in the budget to have so many people.
8. Save the liquor for the after-party.
As we mentioned before, bourbon is becoming increasingly hard to come by, which means higher premiums for your beverage minimum and bar packages. Most venues offer a significantly less expensive wine and beer option that will allow a little more wiggle room in your budget.
Setting up a cash fund for big post-wedding expenses means you can allocate a little more of your own money now to cover inflation costs surrounding your big day. A honeymoon fund, for example, allows your guests to contribute cash to help with airfare, hotels and activities during your romantic getaway. With at least part of your honeymoon costs covered, you can use that extra savings to offset any unexpected inflation-related expenses when budgeting for your wedding.
10. Elope (and host your reception later).
No, it's not the same as having the big party at the big venue with the big band, but eloping can still be very romantic — not to mention, spontaneous. Gather a few of the VIPs in your life to accompany you, and don't forget to at least secure a photographer to capture every minute of the intimate day. Once you've put a ring on it, the pressure is off! Now you can plan a big party to celebrate your newlywed status on your own timeline, after costs start to come down.
11. Shop the sales and secondhand for wedding attire.
With the wedding fashion industry being hit hard by inflation, couples will likely bear the burden of those increased costs and limited supplies. If you have your heart set on elaborate attire, shopping a sample sale or buying secondhand are great ways to cut costs while ensuring your wedding outfit is ready in time for your big day. Try finding an outfit that's close to what you want and see if a tailor can make it perfect. Buying a size or two larger than what you need is a simple alteration, so make sure to take that into account while you're shopping.
12. DIY as much as you possibly can.
The costs of inflation are often passed down to the consumer, so the more items you can craft yourself, the further you can stretch your budget. From flower arrangements to programs, get creative with items you can make without involving another vendor. Don't be afraid to ask for help! Your friends and family love and support you, so lean on their generosity before your big day. Not only will it save you some money, but the memories will be invaluable.
13. Start saving for the future.
If you find yourselves compromising on every single detail you envisioned for your dream wedding, don't rush it. Since you've already done the research on what it will cost to have the perfect big day, sit down with your partner and make an actionable savings plan. Set a monthly goal and calculate how long it will take for you to get to that magic number. Once you have an idea of when you will have the money, then set a date — even if it's far in the future! If the idea of securing vendors is still on your mind, approach them and ask if you can book a date way in advance on a payment plan that's manageable for your savings strategy.