Your wedding registry is an ideal (and fun!) opportunity to start preparing for your new life together. After all, you and your fiancé get to sit down, take stock of what you own, bounce around wedding registry ideas, and create the wishlist of your dreams. Whether you're after a sparkling new KitchenAid, a luxurious Italian vacation, or cold, hard cash, your wedding registry can truly be your oyster.
But before you get too deep in the wedding registry weeds, there are some things you should consider. This includes the best time to start and share your registry, the types of gifts to register for, whether to have multiple wishlists, and the range of price-points to include. It's also wise to consider your wedding guests' experience as they peruse your wishlist and purchase gifts for you. Here are our top 10 wedding registry etiquette tips to keep in mind as you build out your perfect wishlist.
1. Remember the reason for your registry
A wedding registry is a personalized wishlist of gifts curated by you — the engaged couple! It can include practically any product you can think of, cash funds to help you make a big purchase like a honeymoon or first home, and experiences you're hoping to have.
This list is then shared with your closest family and friends, as a way to help them select the perfect gift. After all, gift-giving can be a challenge if guests aren't sure of what you truly want or need, and many prefer to have a list they can review before making a purchasing decision.
2. Time your wedding registry right
From the moment you get engaged, guests will want to celebrate you through the wedding day. Although you can start your wedding registry at any point during wedding planning, your best bet is to start early and at least have some items on your list.
This strategy is a win-win for you and your guests — they can gift when they want and you have more time to plan out the products and experiences you're itching for. Plus, starting your wedding registry early also means you don't get three sets of champagne flutes or a platter you need to return, saving you from headaches down the road.
3. Know that you can add whatever items you want or need
Wedding registries have certainly evolved over time. What used to be a wishlist of items from a department store — like cookware, wine glasses, and fine china — is now anything and everything you can think of to kick off married life. While department store items are still extremely popular on wedding registries, you can also think broader and consider your lifestyle as a couple.
For example, if you and your partner love to camp, consider adding camping equipment to your wedding registry. If you live together and already have common houseware items, consider adding a honeymoon fund or cash fund to help you pay for an incredible vacation after the wedding. There are really no wrong items to add to your wishlist — anything is fair game!
4. Feel free to create wishlists at multiple registry sites and stores
It's ok to create as many wedding registry wishlists as you'd like. This can be a win-win for you and your guests. For example, you can increase your chance of getting everything you and your partner truly want by adding items from across broad categories.
Plus, Joy makes it easy to link all of your wedding registry lists to your wedding website. This helps guests shop from one central hub (your wedding website!), but also be able to review and access your registry information and wishlists simultaneously.
5. Add wedding registry items at various price-points
Your wedding registry is practically the only opportunity in your life when you can add anything you want and need to a wish-list. Whether you have many items you're hoping for or just a few items here and there at select sites and stores, there is no one-size-fits-all when it comes to creating a wedding registry. At the end of the day, do what feels right to you and your partner.
That said, it's important to consider gifts at different price ranges is your wedding registry. Make it easy on guests by adding gifts in a range of price-points to ensure there are plenty of options for them to shop. While subtle, it's a polite gesture guests will appreciate.
6. Keep your wedding registry stocked
When the big day is over, you may have some items remaining on your wishlist. In this case, most registry providers offer couples a wedding completion discount, allowing them to purchase any remaining items on their registry at a discounted price.
Otherwise, you can try to check in on your wedding registry now and again to ensure there is always something guests can purchase. You may also want to consider adding a honeymoon fund or cash fund, especially if you feel you've already added all of the retail items you want the most. If all the items on your wedding registry have been purchased, guests can still have an 'ongoing' fund to contribute to.
7. Don't be afraid of big-ticket items — but be strategic
You don't need to worry if you have a number of expensive items on your wedding registry. After all, this is your list, and you get to customize it to your heart's content.
That said, it's wise to select a wedding registry provider that offers a group gifting feature, which allows multiple guests to contribute to the gifts you desire. You get to accommodate your guests' various budgets while also not feeling bad about listing gifts that have a higher price-point.
8. Make it easy for guests to find your registry
You can add the links to your various wishlists from the registry section on your Joy website. Joy makes it easy to house your wishlists on one central platform, which guests can simply navigate to as they peruse other sections on your website. It's perfectly acceptable (even encouraged!) to add your Joy website URL to your invitations. It's a subtle way to nudge guests to learn about your big day and your wedding registry.
9. Consider registering online
An online wedding registry can help you create a better, more streamlined experience as guests review your wishlists and purchase wedding gifts for you. With most people shopping online these days, an online gift registry is usually the most convenient option.
Guests can simply find an item on your wishlist and purchase it with just one or two clicks — all from the comfort of their computer or mobile device. Plus, many online registry providers have an embedded tracking tool that makes it easy to track who you have and have not thanked for their generous gift.
10. Extend Thank You cards to guests who sent a gift
Speaking of extending thanks, it's also polite to send Thank You cards to each guest who gave you and your partner a gift — whether or not it was listed on your wedding registry. You should personalize each card and reference the gift they purchased or contributed to.
For example, for retail registry items, say something like "Thank you for the Le Creuset Stoneware Pie Dish." If they contributed cash to your honeymoon fund or cash fund, you can share how you plan to spend it, but it's best to avoid mentioning the exact amount they gave.
Timing-wise, if you receive gifts before the big day, write and send your Thank You cards within two or three weeks. Otherwise, if you receive gifts after the wedding, aim to send your Thank You cards within three months.
Takeaway
By following these wedding registry etiquette tips, you can ensure a better wedding registry experience for you and your guests. While you should embrace what you truly want and curate a wedding registry that reflects you as a couple, consider how your guests will navigate your wishlists — from discovering your wedding registry to purchasing gifts. By recognizing guests in these subtle, polite ways, they'll be even more excited and happy to celebrate you.
Up Next: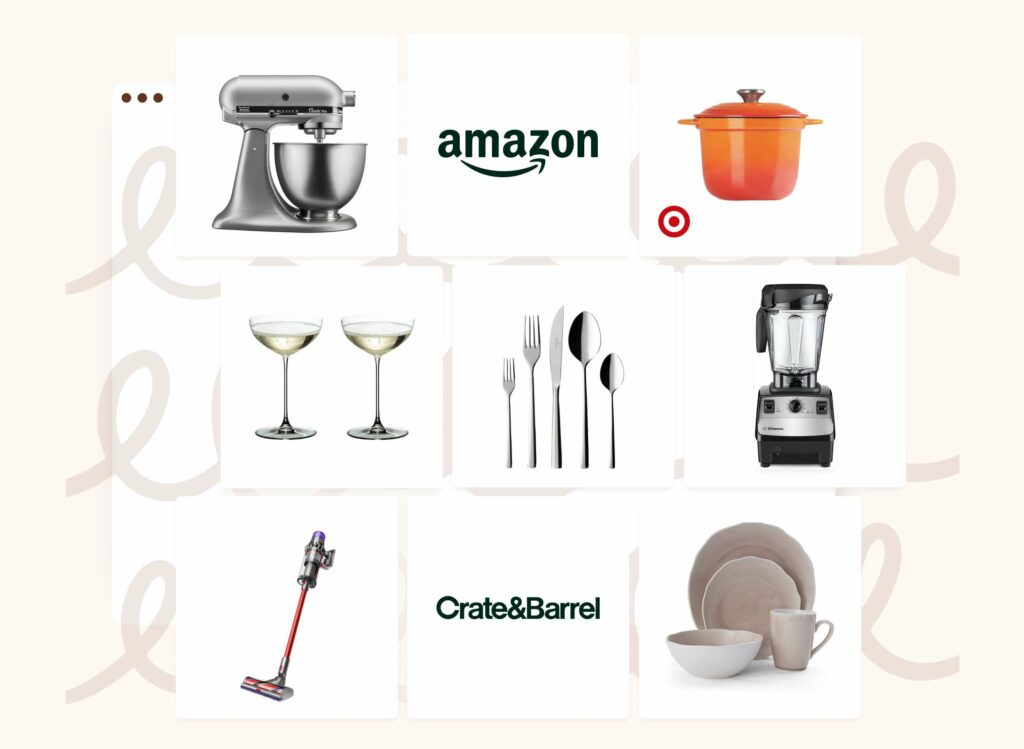 From gifts, to cash funds, experiences or charitable causes, add any gift you want, from any online retailer, to your Joy registry.