An acclaimed location to get married in Central Florida, Orlando provides a variety of extraordinary event venues. Whether you're envisioning a laidback beach wedding or a sophisticated affair on the grounds of a museum, the Orlando area has you covered.
Plus, many of these popular venues are also surprisingly affordable, which makes the budgeting aspect of your wedding planning much easier. Read on for five affordable wedding venues in Orlando that are perfect for your special event.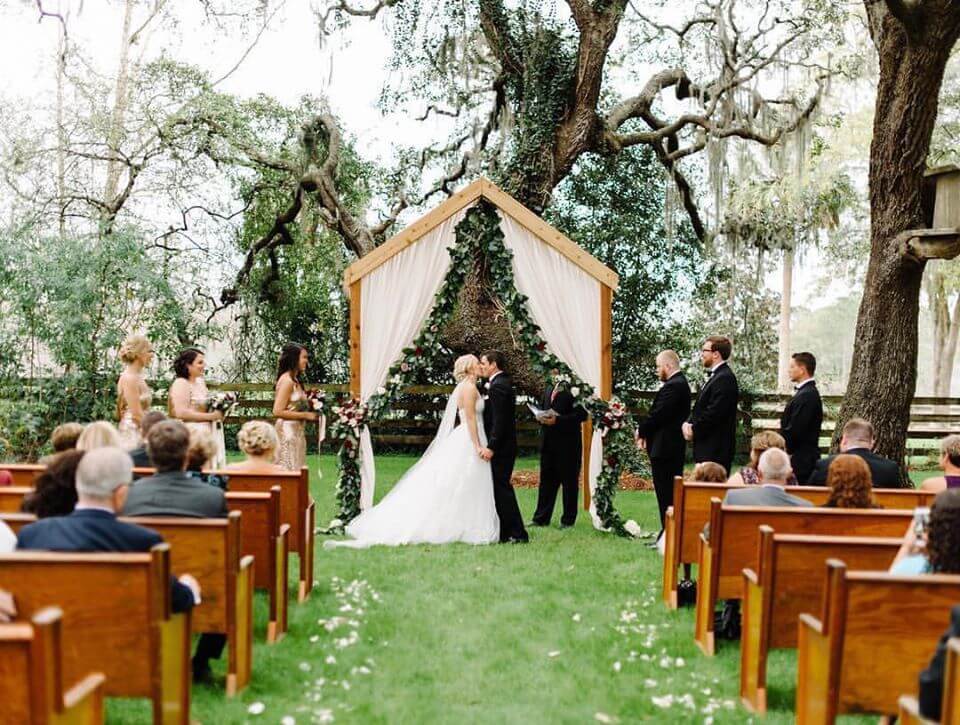 If you want a charming, rustic wedding, you'll appreciate Isola Farms. The venue features 120 acres of pastures sprinkled with oak trees and a 3,500-square-foot open-air barn.
You can hold your ceremony at one of two outdoor ceremony locations. The most popular is a manicured lawn under a canopy of oak trees with wistful streams of lichen draped on its branches.
Meanwhile, the large barn is ideal for an alfresco reception space, as it includes farmhouse tables, lighting and tasteful decor, and a cake table. The venue also offers a bridal suite, coordination services, and set-up and cleanup for ample convenience.
If you want an affordable wedding infused with the charm the South is known for, this is the perfect venue for you.
Typical Cost: Starts at $3,000
Capacity: 200
Bonus: The venue features a bar with a vintage tub for drinks and scattered whiskey barrels throughout the reception and cocktail spaces, infusing uniqueness into your nuptials.
Find Isola Farms on Facebook.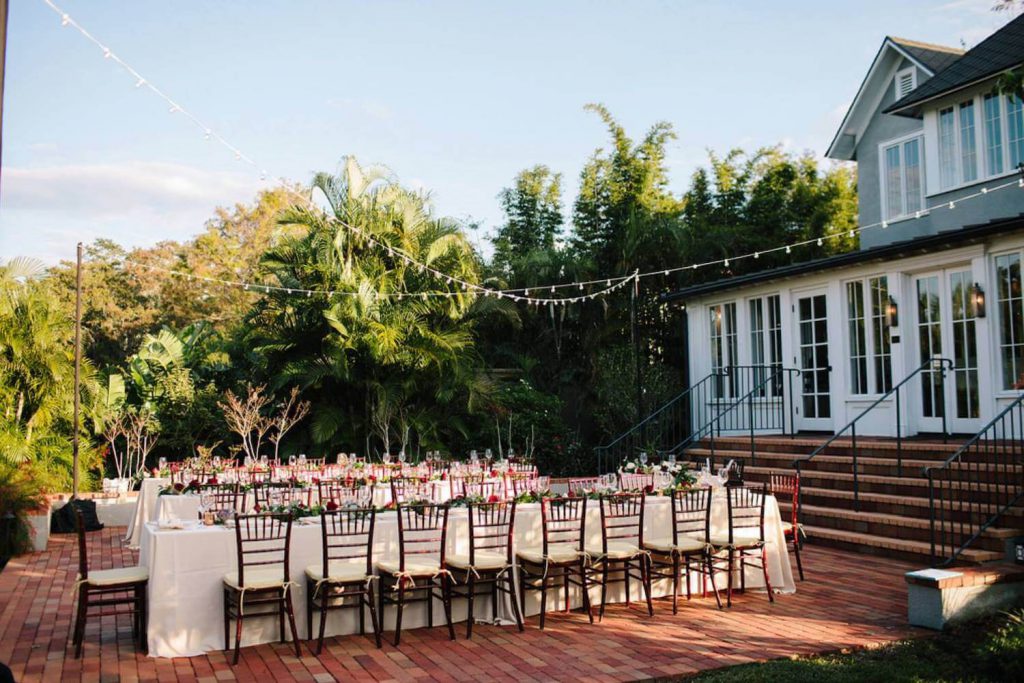 Craft a magical lakeside wedding by hosting your big day at The Capen House at the Polasek in Winter Park, Florida. This chic wedding ceremony and reception site is a part of the Albin Polasek Museum & Sculpture Gardens and located on the tranquil shore of Lake Osceola.
While couples usually have their ceremonies on the lakefront lawn, there are plenty of other outdoor wedding options, too. The property is composed of three-and-a-half acres of manicured grounds encircled by lush arbors. And if you want to be outside but not on the grass, there's a lovely patio that opens to views of the lake. Note that if it rains, the venue can provide tents.
You can hold your reception on the patio or in the 2,500-square-feet of sophisticated indoor space that features a veranda with views of the lake, the drawing-room, and the grand hall. The historic home also provides a catering kitchen, bathroom, and hospitality suite.
Typical Cost: $1,500 – $3,000
Capacity: 350
Bonus: You can arrive or depart in style by hiring a boat that can access the property via the venue's easily-accessible dock.
Find The Capen House at the Polasek on Facebook, Instagram, and Twitter.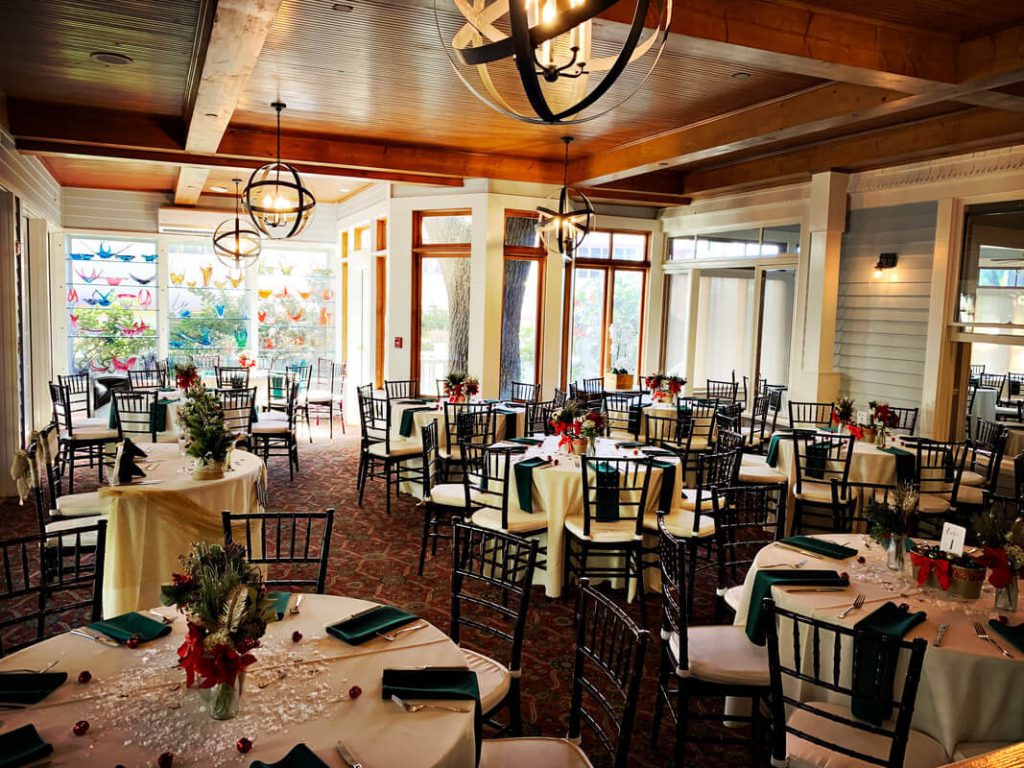 An ideal location for a destination wedding, Dr. Phillips House — constructed in 1893 — is a historic bed & breakfast that merges an old-world, Victorian aesthetic with modern conveniences. It's a perfect choice for couples wanting to enjoy their venue for many days.
For a dreamy outdoor ceremony, select the garden. It features a large fountain, a brick aisle leading to an ornate gazebo, and an assortment of foliage.
Couples usually host receptions in the elegant dining room, as it offers romantic lighting in the evening and a wash of natural light during daytime celebrations.
For accommodations, the venue provides you and your guests plush rooms that feature four-poster beds and chandeliers. Note that almost all of the furnishings in the house are period pieces.
Typical Cost: Starts at $1,000
Capacity: 250
Bonus: The venue is located in the heart of Downtown Orlando. This allows guests who are unable to stay onsite to easily access an assortment of nearby accommodations.
Find Dr. Phillips House on Facebook.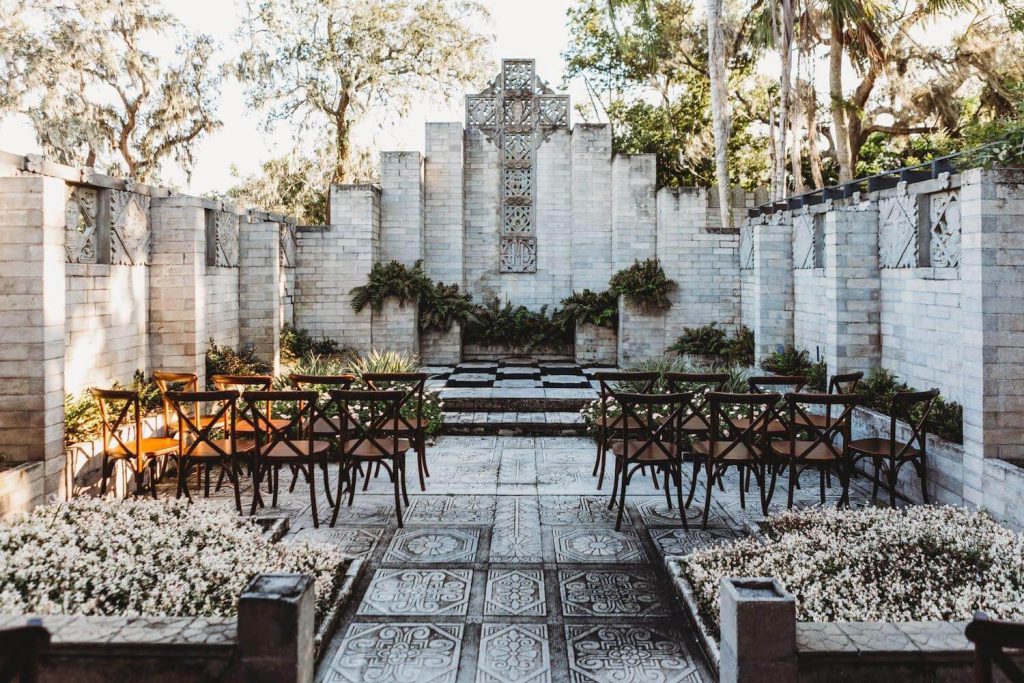 A captivating, exotic environment, Art & History Museums — Maitland is one of the most coveted Orlando wedding venues. Offering multiple wedding packages, the venue features a fusion of eclectic gardens, enthralling architecture, and artwork that demands you stop and stare.
While every event space is an amazing choice, a go-to is the Mayan Chapel and Courtyard, which provides a mesmerizing environment for intimate weddings.
For the wedding reception, many couples select the striking Mayan Courtyard, a wonderfully unconventional area to celebrate your union. The Cottage at Lake Lily is another whimsical space for small groups.
If you're hosting a larger wedding, you can choose the Main Garden that has a more classic ambiance with a reflection pond, a canopy of trees, and a sprawling lawn. And if the party needs to move inside, The Germaine Marvel Building is an open-plan structure with bathrooms and a large kitchen for caterers.
Art & History Museums — Maitland is the place for couples wanting the offbeat vibe only a museum can provide.
Typical Cost: $700 – $3,030
Capacity: 46
Bonus: The venue is conveniently located near many of Maitland's most popular accommodations.
Find Art & History Museums — Maitland on Facebook, Instagram, and Twitter.
Say "I do" at Paradise Cove, a dreamy, laidback venue tucked in a private corner of Lake Buena Vista.
The most dazzling site for a ceremony with relaxed, tropical vibes? Look no further than the waterfront lawn that features a brick aisle, a white, sandy beach, and low hanging palms.
When you're ready to party, head to the palm-thatched pavilion where twinkle lights, tiki torches, a tiki bar, and water views make you feel like you've stumbled into an exotic paradise. The adjacent deck often serves as a dance floor and is the perfect spot for live music. It's also sprinkled with rainbow-hued Adirondack chairs for guests who need to rest their feet.
The venue also allows you to bring your own alcohol and have a catering kitchen for the caterer you select from their preferred vendor list.
Typical Cost: Starts at $2,100
Capacity: 350
Bonus: You'll prepare for the wedding in style, as a private bridal suite and bungalow is included with the rental.