It's time to kick off your wedding planning — but where to start? One of the first things to tackle on your road to the big day should be creating your wedding budget. While money can be an uncomfortable topic, establishing a budget early in the planning process is crucial. Not only does it allow you to make informed decisions, but a solid budget can also take the stress out of wedding planning.
If you don't have a realistic picture of your budget, you may find that you run out of money sooner than you'd like. Or, you may be forced to make concessions on some important aspects of your wedding later on due to early overspending.
We're pulling the curtain back on wedding budgets with the help of Danielle Rothweiler, owner and lead wedding and event planner at Rothweiler Event Design. Here's a guide to everything you need to know, from a typical wedding budget breakdown to tips and strategies for saving money.
Overview:
Wedding Budget Breakdown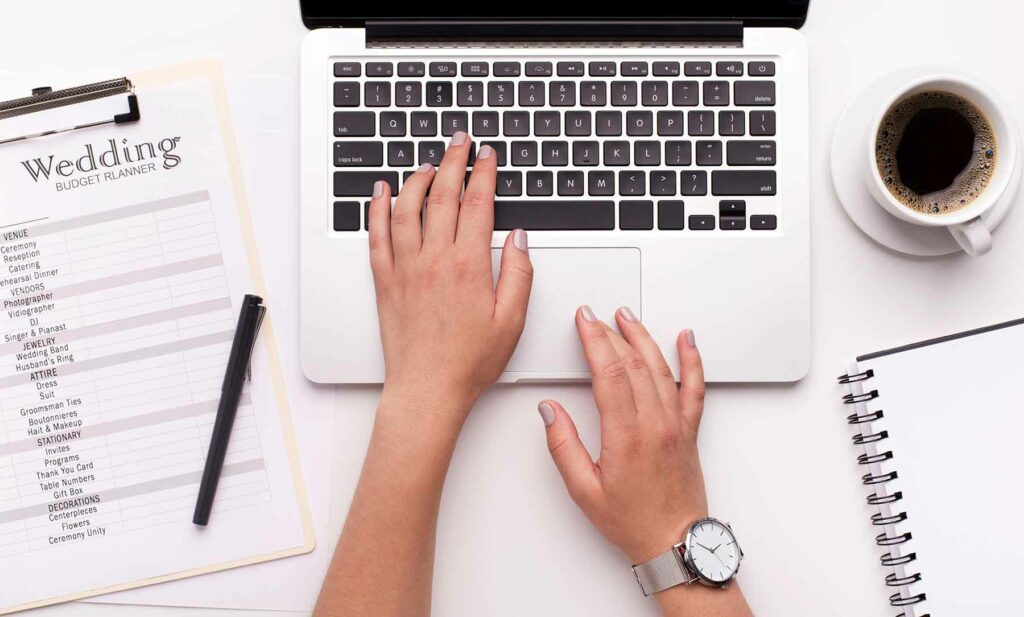 Your personal preferences will play a significant role in determining your wedding budget. Actual wedding costs will vary based on your priorities, be it the number of guests, location, a designer wedding dress — the list goes on.
Instead of looking at your budget in terms of concrete numbers for wedding expense categories, consider a percentage breakdown. When it comes to establishing your budget and keeping wedding expenses in check, this can be far more helpful to put things in perspective.
Whether you're planning a micro wedding with 35 guests or a larger event with 175 guests, percentages will help you allocate your funds appropriately. According to Rothweiler, couples should expect their wedding budget to be distributed as follows.
| | |
| --- | --- |
| Wedding Budget Item | Percentage of Budget |
| Wedding Venue, Reception and Catering | 50% |
| Wedding Planner | 12% |
| Photography and/or Videography | 8% |
| Reception Music and/or Entertainment | 8% |
| Flowers, Centerpieces and Decor | 8% |
| Wedding Attire | 5% |
| Wedding Cake | 3% |
| Stationery | 2% |
| Wedding Ceremony and Officiant | 2% |
| Wedding Favors and Gifts | 2% |
How to Create Your Wedding Budget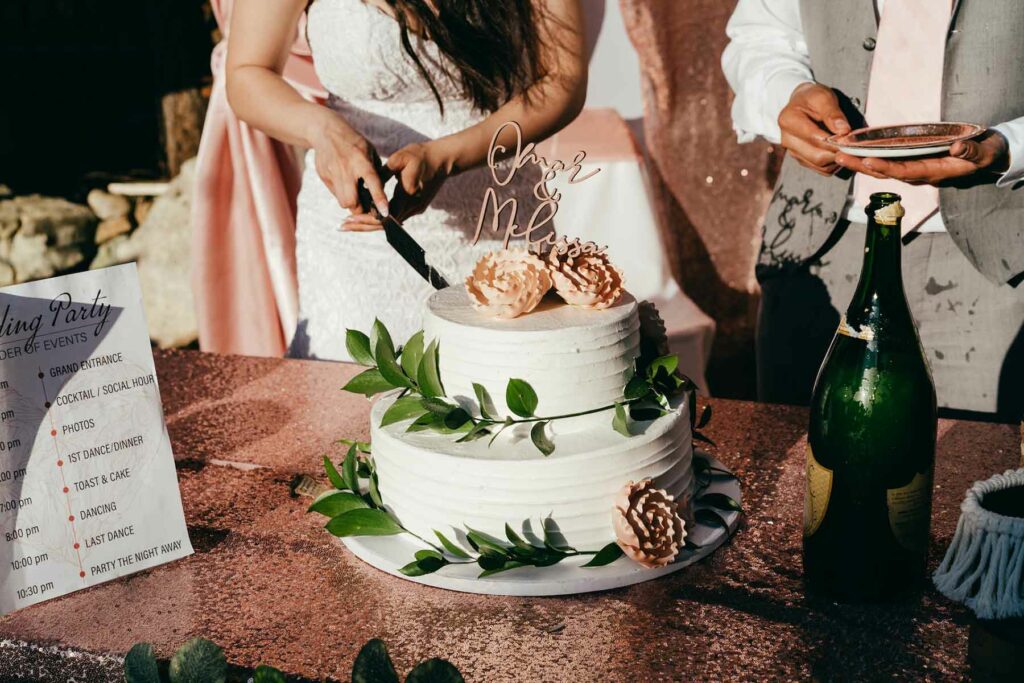 1. Check Your Savings
The first step in setting a wedding budget is determining what you have to spend and what you can afford. A good starting point is to have an honest conversation with your partner. Look at what you have in your savings account and what percentage or dollar amount you're willing to spend on your wedding. From there, discuss how much you can realistically add to that total between now and the big day.
2. Talk to Family Members About Potential Contributions
It's not uncommon for parents to pay for some (or all) of their child's wedding. If this is the case for your situation, you could check in with family members to see if they're willing to chip in. If you do this, however, Rothweiler advises you proceed cautiously.
"Accepting financial support for your wedding means inviting other people's opinions on your wedding," she explains. If Mom and Dad are cutting a check for $10,000, you can't tell them they don't have a say in how their money is spent."
But all is not lost. Rothweiler offers a great workaround for a sticky situation — have them pay for the things they like. For example, if your parents don't approve of a certain style of wedding dress or tux color, don't allocate their money to your attire. Instead, use their generous gift for a different category like flowers or entertainment.
Also consider adjacent wedding expenses that may typically be something a family pays for, such as organizing your rehearsal dinner. If the expectation is that part of their contribution will cover that expense as well, plan accordingly.
3. Understand Factors That Will Affect Your Wedding Budget
Before you even begin thinking about wedding vendors, there are a few things that can cause your budget to swing up or down dramatically. Considerations like guest count, day of the week, time of year, and time of day are all factors to keep in mind when it comes to determining expenses for your entire wedding. Cultural and religious customs lead to an increase in wedding costs as well; for example, you may need to plan for a second ceremony or a specific type of venue. Deciding if you will go the DIY route or opt for professional services can also shape your overall budget.
4. Familiarize Yourself with Common Wedding Expenses
If you've never planned a wedding, you may not be familiar with everything that goes into a wedding. From ceremony and reception site fees to parting wedding favors, the list is long. Since no two wedding days are exactly alike, use our budget breakdown as a starting point. While not every couple will want or need to budget for everything, here are some of the common expenses within each category.
Wedding Venue, Reception and Catering: Reception venue rental fee, chair and table rentals, linens and tableware (if not included in the catering package), cocktail hour hors d'oeuvres, food and beverages
Wedding Planner: Professional planning services, day-of coordination
Photography and/or Videography: Wedding photography package, second shooter, videographer, prints or a wedding album
Reception Music and/or Entertainment: Live band, DJ, reception photo booth
Flowers, Centerpieces and Decor: Real or faux flowers or another kind of table centerpiece, signage, lighting, sound equipment
Wedding Attire: Wedding dress, tuxedo, accessories such as shoes, cufflinks and jewelry, tailoring
Wedding Cake: Cost of the cake, cake-cutting fee
Stationery: Save the dates, wedding invitations, postage, self-addressed stamped RSVP cards, thank you cards
Wedding Ceremony and Officiant: Ceremony site fee, professional officiant fees, cost of a marriage license, ceremony decor
Wedding Favors and Gifts: Wedding favors for guests, thank you gifts for family members or your wedding party
5. Do Some Research on Wedding Vendor Pricing in Your Area
Do some research on different wedding vendors in your area. While you may have an idea of specific wedding vendors you'd like to work with, you should take this opportunity to shop around. It's a big wide world out there, and you never know what you might find. Not only will this help you understand what types of goods and services are being provided and what those vendors charge, but it can also help you get a realistic idea of the associated costs.
6. Estimate Your Guest Count
When you factor in the per-person cost of meals and an open bar, nothing impacts the cost of your wedding more than the guest count. So, after you've started tying some numbers to your budget, think about how many people you'd like to invite. A good idea to get started with this task is to categorize your guest list by "must-invite" and "nice-to-have" categories. As your budget begins to take shape, you can adjust the guest count and start cutting (if need be) from the bottom up. For additional tips, here's a complete guide to creating the perfect wedding guest list.
7. Sort Out Your Nonnegotiables and Nice-to-Haves
Before your budget is set in stone, it's a good idea to sit down with your partner for a little give and take. Determine which aspects of your wedding are non-negotiable and where you can be flexible. While your wedding may still be a year (or more) away, this is when you need to be realistic and honest. And no need to reinvent the wheel: This can be as easy as listing out your priorities from our budget breakdown in descending order. Just keep in mind that choosing one thing may mean giving up another. If an open bar is important to you, that might mean fewer guests. If having a live band is important to your partner, that might mean a smaller portion of the budget is allocated to flowers and decor.
8. Create a Spreadsheet with Your Total Budget
Once you and your partner have established how much you can spend and what you're spending it on, consider creating a spreadsheet to keep track of it all. Wedding planning is no easy task and there's a lot going on throughout the process. Keeping all wedding costs in one spot isn't a bad idea. A good spreadsheet to track wedding expenses will include a line item for each expense grouped by category. Include columns for the estimated cost, the actual cost and vendor contract information.
9. Monitor Your Spending — Especially Before Signing Contracts
It's easy to lose sight of your budget when wedding vendors show you something exciting. So, before you sign any contracts that may include extras you weren't counting on, check your spreadsheet for a budgeting reminder. Seeing the numbers you settled on in black and white is a good reminder to take a beat and reassess. The last thing you want is a potential ripple effect of not sticking to your number. The auto sum function in your spreadsheet will keep a running tally of your total spend so you can check on the overall status of your budget. This in itself can go a long way toward keeping the stress and surprises to a minimum.
10. Pad Your Budget
While your wedding budget should be a hard number that you stick to, it's not a bad idea to plan for the unexpected. You should stick to the parameters you've established for wedding expenses, but having a buffer for last-minute fees or a vendor you're dying to book can remove some of the stress associated with your big day. As to how much money you should keep in reserves, 10 to 20 percent of your total budget should suffice.
Common Wedding Budget Mistakes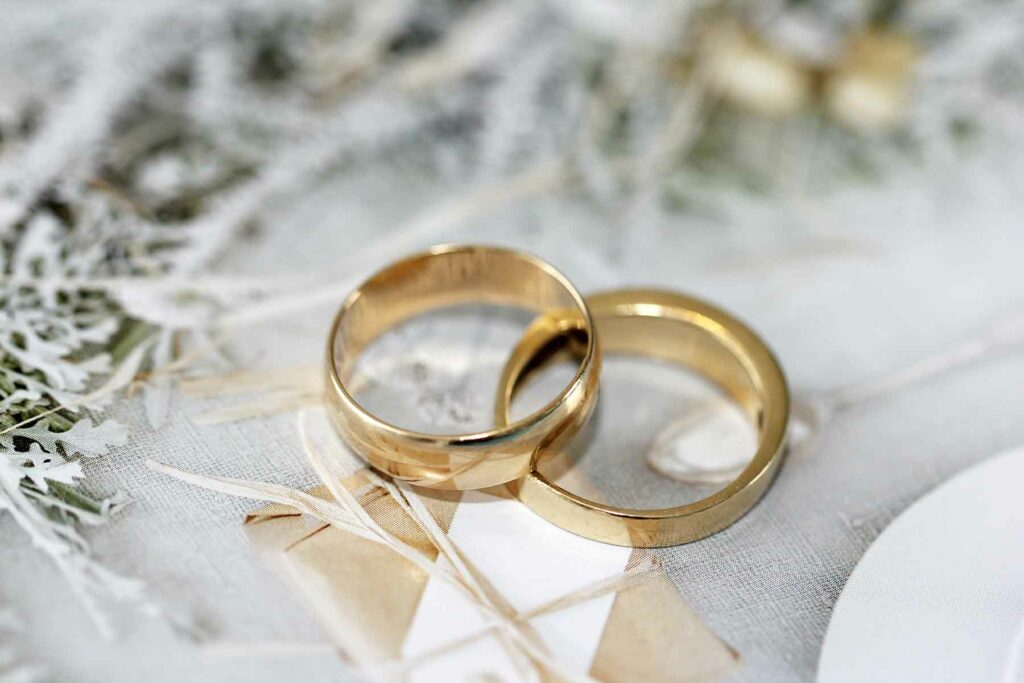 Planning your dream wedding can be pretty exciting, but it's also quite stressful. In the end, excitement and stress can add up to mistakes with the budget. According to Rothweiler, here are three of the most common wedding budget mistakes.
Not setting a budget. "One of the biggest mistakes most couples make is not setting a budget from the start," Rothweiler says. "There's not a lot of transparency about what things cost in the wedding world, and that's a problem." Since pricing isn't readily available without a little legwork, it's easy to throw caution to the wind. But the consequences of skipping this crucial first step are overspending and having to give up important things to stay on track.
Overspending on your wedding venue and catering. "As soon as you do that, it makes sticking to your budget in every other category that much harder," Rothweiler explains.
Underestimating costs. When couples don't do their research on the actual cost of specific line items in their wedding budget, it's a recipe for disaster. Rothweiler says unrealistic expectations are all too common — again, because there's no transparency in pricing and costs. The best workaround for this is to do your homework. Contact vendors and speak to them directly about pricing.
Other common budgeting mistakes include booking vendors because they're the cheapest option, guest list bloat, last-minute planning, ignoring hidden costs (like taxes and gratuities), and not communicating with your partner.
10 Ways to Save on Your Wedding Budget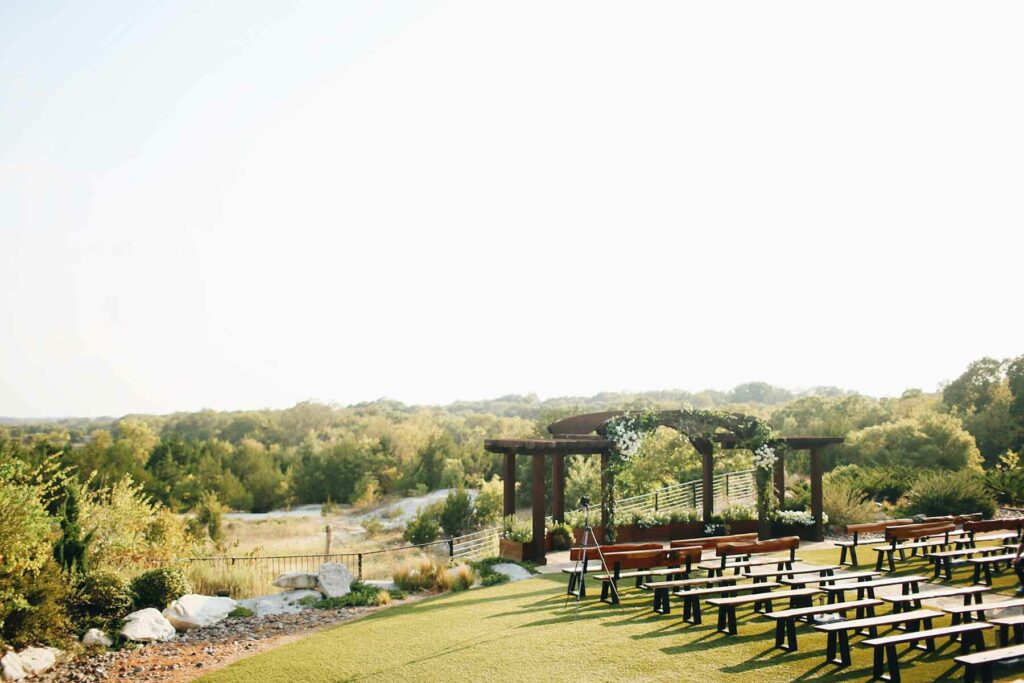 1. Edit the Guest List
While she notes it may be the hardest thing to do, Rothweiler says the best way to save is to cut your guest list. She explains that your guest list impacts every aspect of your wedding. "And when you cut the number of invites, that means fewer tables and fewer centerpieces, plus you're saving on catering, alcohol, invitations, favors, etc."
2. Change the Venue
Oftentimes, you can save by switching the venue for the event. Typically, outdoor venues are more cost-efficient. Parks, botanical gardens and beaches are great ways to save money and free up funds for other line items in your wedding budget.
3. Go Off-Peak
You will almost always save money by scheduling their wedding off-peak. And while off-peak typically refers to seasons, Rothweiler says it can also apply to the day of the week, noting that Thursday, Friday and Sunday weddings are usually less expensive than Saturday events. Similarly, earlier weddings (like brunch or lunch) are typically less expensive than an evening affair.
4. Nix the Wedding Party
Noting that it may not be a popular idea, Rothweiler says skipping the wedding party is an excellent way to save money. "Personal flowers [such as] bouquets and boutonnieres are incredibly expensive," she explains. Removing this from your plans will ultimately add to significant savings. Couples who don't want to lose their wedding party altogether might consider paring it down to just one attendant each.
5. Forgo a Live Band
Wedding bands can be pretty pricey, so opting for a DJ or creating your own playlist is a great way to save money. Rothweiler notes that some couples have opted for a hybrid option, which pairs a DJ with a shortened live music set. This gives the couple and their guests the feel of a live band without a budget-busting price tag.
6. Consider Wedding Dress Costs
Depending on the designer, the price of a wedding dress can range anywhere from $1,000 to $50,000. If a wedding dress is a line item for your budget and you're adamant about a designer gown, you can buy secondhand, look for trunk shows or sample sales, or consider renting. You might walk away with the designer dress of your dreams at a significant savings.
7. Plan Far Ahead
The further out you plan, the more money you can save. If at all possible, get your budget sorted early and start making phone calls to the venues and vendors you really want to work with.
8. Don't Be Afraid to Negotiate with Vendors
Believe it or not, wedding vendors are often open to discussing prices, and you may get a better deal by simply asking. This is especially true when you bundle services. For example, your wedding photographer might offer a better package if you enlist their videography services as well.
9. Be Flexible on Wedding Flowers
If you're picturing your venue awash with wedding flowers, you should also picture a hefty dent in your budget. To save money on this wedding day must-have, consider using local flowers that are in season. You can also talk to your florist about using more greenery (which is usually less expensive) or using non-floral elements in centerpieces.
10. Skip the Backyard Wedding
According to Rothweiler, it's a common misconception that DIY weddings in your own backyard are less expensive. If you're planning a large affair, a DIY could actually end up costing you more. She says costs could add up quickly when you factor in necessities like restroom trailers, lighting, tenting and rentals to accommodate 100-plus guests. "It's better to find a venue that's set up for a large wedding," she says. "They typically have everything on-site and there's less for you to worry about.
Up Next:
Set up your wedding website in minutes with design options to make yours truly unique.