Colorado is known for its unparalleled skiing and picturesque mountain views, but the Centennial State has so much more to offer newlyweds than just wintry snowscapes. A destination where you can experience snow flurries as easily as sunshine, it's the perfect domestic spot for couples seeking a romantic getaway. Whether you're nature lovers, foodies or wellness seekers, you and your partner will find post-wedding bliss during an escape to this mountain state. From the best way to get around to our favorite all-season activities and resorts, here's a guide to planning an unforgettable honeymoon in Colorado, no matter the season.
Getting There and Getting Around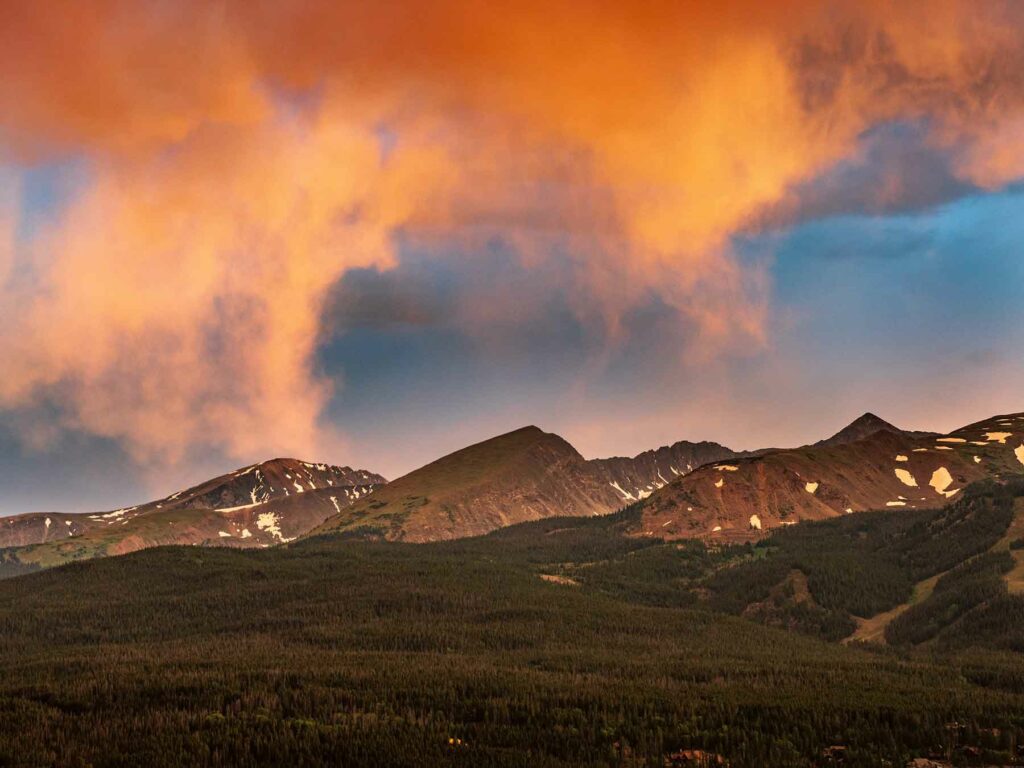 Colorado is deceivingly large, located right in the middle of the Rocky Mountain region. For the widest selection of flights, your best bet is Denver International Airport, the largest in the United States. There are several smaller airports all over the state that bring you closer to ski towns like Aspen and Telluride, but these hubs carry a higher price tag when flying direct.
As for ground transportation, you may want to look into a car rental if you plan on hitting the slopes. Crossing a mountain range takes more time than you'd think, despite how close it may look on a map. If you fly into Denver but want to cuddle up in a ski resort in Aspen, the drive clocks in at about 3.5 hours one-way. There are shuttles, private cars and buses that will ferry you from Denver to your destination if you aren't keen on renting a car.
Most bigger cities in Colorado don't require you to have a car if you are exploring. Uber and other ride-hailing apps are a great resource, but also check with your hotel to see if they have a guest shuttle, as many properties offer this service. If you don't mind renting a car, we highly recommend adding a little road trip to your honeymoon. While you might think of Colorado as a snowy ski paradise, the state has extremely diverse terrain. You could go from a ski town to a sprawling desert in a matter of hours. If you are traveling between May and October, take time to cruise the famous Trail Ridge Road, which is known as one of the most beautiful drives in the country.
Summer Honeymoons in Colorado
Colorado is known for its magnificent landscape and charming towns such as Breckenridge, an old mining city home to historic Victorian structures. During the summer months, take time to explore beyond the mountain. You'll quickly fall in love with the quirky vibe of this incredible state. National parks, wine country and desert stargazing should all be on the agenda. Don't skip the ski towns in the summer! Telluride and Breckenridge are just as vibrant in the summer months as they are in peak ski season.
If you are planning your honeymoon around warmer weather, mid-June to August is the best time to visit. While there's a little leftover chill in the air in April and May, these are great months to catch big festivals like The Taste of Vail and other cultural events like Bluebird Music Festival. Here are a few more ideas to get you started on planning your warm weather honeymoon.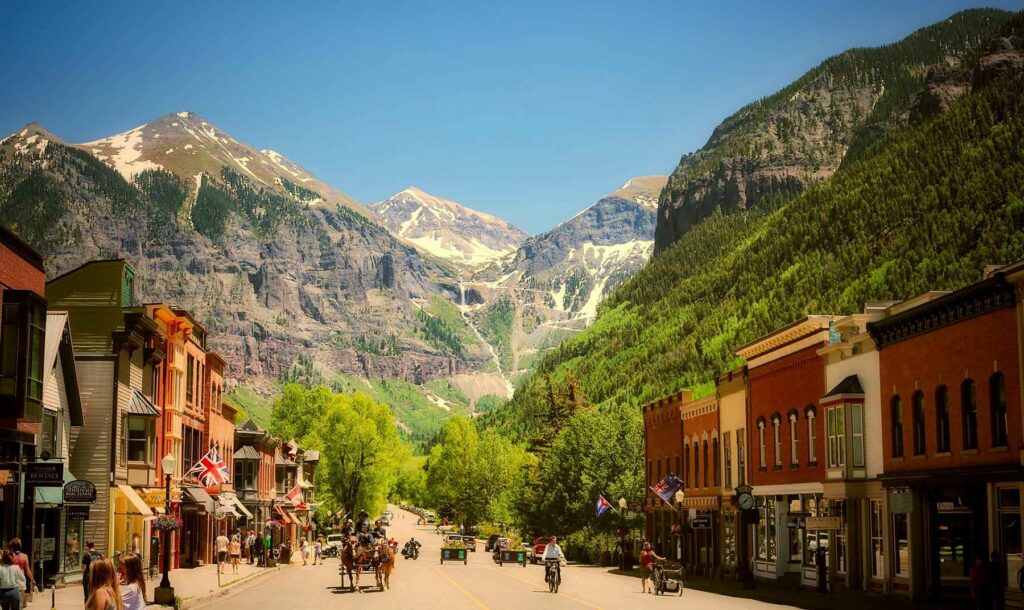 Visit Telluride. If you aren't familiar with this town set in a box canyon, be prepared to fall in love (again!). While it's famous for skiing, it's also a coveted year-round destination known for its unique geographical location and laid-back, hippie vibes. The historic downtown is made up of adorable local shops and award-winning restaurants set against the stunning Bridal Veil Falls, the tallest waterfalls in Colorado. Be sure to catch the annual Telluride Bluegrass Festival at Town Park in June to enjoy an amazing musical lineup while surrounded by the Rockies. While you're there, make time to catch at least one sunset. If you time it right, you can see the breathtaking display while riding the gondola from Telluride to Mountain Village. Otherwise, enjoy nature's show over a bottle of bubbly while toasting your nuptials.
Experience Dinosaur National Monument. Hop over to the town of Dinosaur (yes, it's a real place) and spend the day exploring one of America's most beautiful monuments. As the name might suggest, many of the dinosaur bones and fossils you see in museums all over the world were discovered right there in Dinosaur National Monument. Stretching across Utah and Colorado, the monument offers unparalleled canyon and river views on the Colorado side. Bring your hiking gear and spend your trek imagining what this place looked like 65 million years ago.
Camp at Great Sand Dunes National Park and Preserve. So maybe camping is a reach for your honeymoon, but we promise this will be one of the most romantic moves you can make. Not only are the dunes spectacular, but the sprawling preserve is also home to some of the best stargazing in the country. With very little light pollution, you and your new spouse can fall asleep under the twinkling night sky while identifying constellations.
Get active outside. The raw natural beauty of Colorado offers the perfect setting for activities like whitewater rafting, fly-fishing, horseback riding and mountain biking. Don't worry if you've never done these kinds of activities before — there is something for all skill levels. For beginners and skilled rafters alike, the Arkansas River has everything from advanced sections like The Numbers by Buena Vista to beginner floats at Bighorn Sheep Canyon by Cañon City. Fly-fishing is a more laid-back activity, but we recommend asking your hotel to connect you with a guide for the day so you can find the most beautiful spots.
Visit Rocky Mountain National Park. You might think of the Rockies as a year-round winter wonderland, but experiencing this mountainous park in the summer is not only beautiful, it's also safer. Begin your trip with a drive on Trail Ridge Road departing from Estes Park and stop at the scenic overlooks for a few sentimental selfies. Pack a picnic complete with mocktails for the perfect leisurely day in nature.
Brewery hop in Denver. Denver is known for its superior beer scene. Get a feel for the Mile High City by (safely) sampling brews along the Denver Beer Trail. Use a ride-hailing app or book a proper brewery tour to hop safely from place to place.
Winter Honeymoons in Colorado
While the summer months are all about taking in the natural beauty of Colorado, the winter months are all about that luxe life on the slopes. Whether you are a snow bunny or live in the spa, a wintry honeymoon in Colorado will be full of elegant surprises at every turn.
Go skiing or snowboarding. This one is pretty obvious, but if you've never skied out west (looking at you, East Coasters!), it's unlike anything you've ever experienced before. The conditions are perfect with powdery snowfall and wide-open trails. If you are a beginner, there is no better place to start learning. Vail, Breckenridge, Aspen and Telluride are amongst the most popular places to spend your ski getaway. Pro tip: Don't underestimate the power of the sun. The high elevation makes even the coldest temperatures seem warm, so be sure to pack sunscreen and polarized shades for your trip, especially when you're on the mountain. No one likes a sunburnt honeymoon!
Relax in a natural hot spring. After a day (or three) of hitting the slopes, your muscles will be begging for some relief. Skip the hotel hot tub; instead, bask in one of Colorado's many natural wonders with your sweetheart as steam lights up the snowy backdrop from a hot spring. Pagosa Springs offers a few adults-only springs perfect for spending a leisurely day in nature.
Visit Boulder. If you are planning to stay in Denver but are craving the sights of Colorful Colorado, take the 40-minute drive over to Boulder for a nature-filled day trip. Winter, spring, summer or fall, Boulder is the perfect destination for picturesque hiking and small town vibes. You'll love the secluded feeling without having to trek across the state.
Get quirky in small towns. Colorado is known for small, unique towns with a laid-back energy. Check out Steamboat Springs, Telluride or Frisco around the holidays for a seriously festive treat. It's like starring in your own real-life Hallmark holiday rom-com. Make sure to shop for a small souvenir to display in your home during the holidays as a sweet reminder of your romantic adventure.
Bask in wellness. Pulling from the healing properties of nature, Colorado is dotted with wellness resorts perfect for spending a few nights of bliss post-wedding. From resorts built around natural hot springs to ancient rituals used for relaxation, these spa-centered properties promise plenty of stress-free time with your partner. Indulge in yoga, crystal treatments and massages as you curl up by the fire in a haze of romance.
Where to Stay
Whether you and your partner love that boutique hotel experience or crave luxurious solitude, these accommodations will give you all the romance you're looking for in a honeymoon destination.
Four Seasons Hotel Denver
No matter what season you are visiting Colorado, the Four Seasons Hotel Denver is a must-book for a wellness getaway. Aside from the stunning property, luxurious rooms and fine dining at Edge restaurant, the on-site spa is one of the best in the state with relaxing treatments like cold-therapy facials and hot stone massages.
St. Julien Hotel & Spa, Boulder
Speaking of amazing treatments, St. Julien Hotel & Spa has an award-winning spa that is almost as incredible as Boulder's stunning scenery. The chic hotel is the perfect home base where you can relax after a day of hiking. It's located right in the middle of downtown Boulder, giving you access to lovely local restaurants and great shopping.
The Broadmoor, Colorado Springs
When you drive up to The Broadmoor, you might feel like you are in the Swiss Alps instead of Colorado. The European-inspired hotel looks as though it grew in the valley of the Rockies. You and your partner will feel secluded in nature with all the luxuries of a big resort. In addition to an on-site spa and several restaurants, the Forbes Five-Star hotel has two championship golf courses. Make sure to book a "wilderness" experience while on property to safely dive into the beautiful surroundings.
Hotel Jerome, Aspen
Auberge properties are known for their unparalleled attention to detail and Hotel Jerome is no exception. If Aspen is your city of choice, this historic hotel is the perfect stay for over-the-top luxury and snatches of romance at every turn. Make sure to visit the speakeasy-style bar Bad Harriet for a truly memorable dining experience.
The Arrabelle at Vail Square
It's no secret that Vail is one of the more expensive ski towns in Colorado, but The Arrabelle at Vail Square is the ultimate honeymoon resort destination. It's like being in a ski-in, ski-out hotel for half the price. This Old World-inspired luxury property is in the heart of Lionshead Village and so close to the slopes that you can step outside and see people flying down the mountain. What do we love? The hotel will bring your boots and skis to the lift and all you have to do is show up. That means more time on the mountain and snuggling up in the lodge après-ski! Going in the summer? The rooftop pool is unbelievable with mountain views at every angle.
Up Next:
Whether it's for airfare, a hotel stay, or honeymoon travel experiences, create one list for all your honeymoon wishes.