If your dream wedding means saying "I do" in a jaw-droppingly beautiful location, sipping chianti during the reception, and having an assortment of enriching cultural experiences between events, consider a destination wedding in Italy. The sublime wedding venues in this iconic country can accommodate an intimate wedding, a luxury wedding, nuptials by the sea, and more. To help you determine the right venue for you, and how to navigate the process of getting hitched in a foreign country, we've rounded up everything you need to get started.
Tips for Planning a Destination Wedding in Italy
Here are some ways to make sure your Italian destination wedding planning is as smooth as possible.
Choose the right time of year
May and September are two of the best months to wed in Italy, as the weather is lovely and the crowds are thinner. June, July, and August are also prime choices if you want warm weather and a low chance of rain, but touristy areas like Rome will be more crowded this time of year.
Arrive a few days before your guests
To give yourself time to settle in and have some quality solo time with your partner, plan to arrive in Italy a few days before your guests. While you'll likely be taking care of many last-minute wedding details during this time, be sure to fit in some sightseeing and some couples' spa treatments.
Hire a local wedding planner
Your wedding planning endeavors will be much easier if you hire a wedding planner who works where you're planning to tie the knot. Their knowledge of the language, local customs, and best vendors in the area will increase the chance your wedding day goes off without a hitch. A wedding planner will also be invaluable if you want to get legally married in Italy, and not just have a symbolic ceremony, as they can help you navigate the sometimes confusing process.
Create a wedding website
As a destination wedding in Italy means communicating a fair amount of logistics with your guests, consider creating a wedding website. A website will help you complete a number of wedding planning to-dos, from sharing travel tips and the wedding itinerary to sending digital invites and accepting RSVPs.
The Best Wedding Venues in Italy
Here are some of the best wedding venues in Italy, located in the loveliest pockets of this romantic country.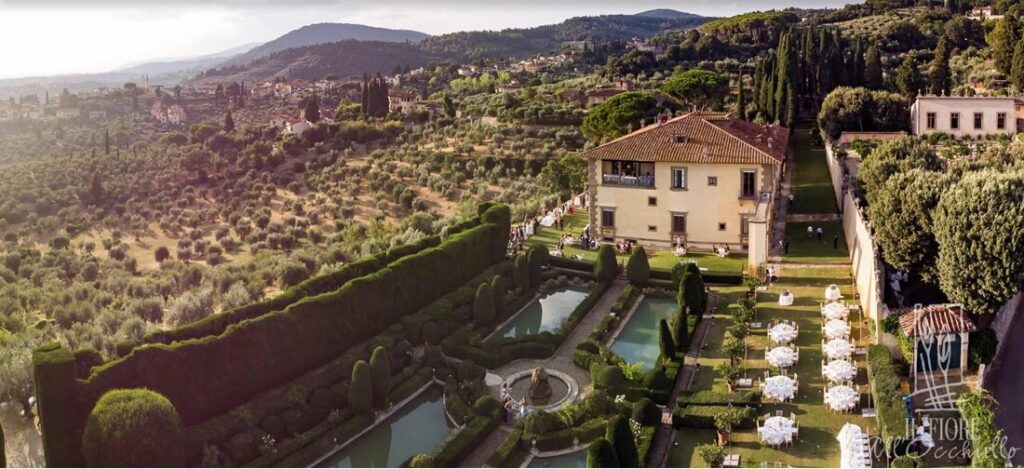 The historic Villa Gamberaia, located in the rolling hills of the Tuscany region, was built in the early 1600s and provides a picturesque setting for your destination wedding. The design of its acclaimed gardens is so spectacular that it's been studied by architecture historians and landscape architects.
Unsurprisingly, the gardens are where most couples prefer to say "I do." From these expertly manicured spaces, you can look out onto spellbinding views of Florence and the Arno valley, as you engage in one of the most monumental moments of your life.
After the wedding ceremony, you'll head inside the villa for the reception. This elegant structure includes two halls, an internal arcade courtyard, and a variety of other spaces that can be used for your celebration. A favorite option is the lounge on the ground floor that opens onto the garden. You can also choose to host an alfresco reception on the sprawling lawn beside the gardens.
Typical Cost: $19,000-$29,000
Capacity: 200
Bonus: The villa includes a variety of rooms and apartments that can accommodate up to 40 people.
Find Villa Gamberaia on Facebook and Instagram.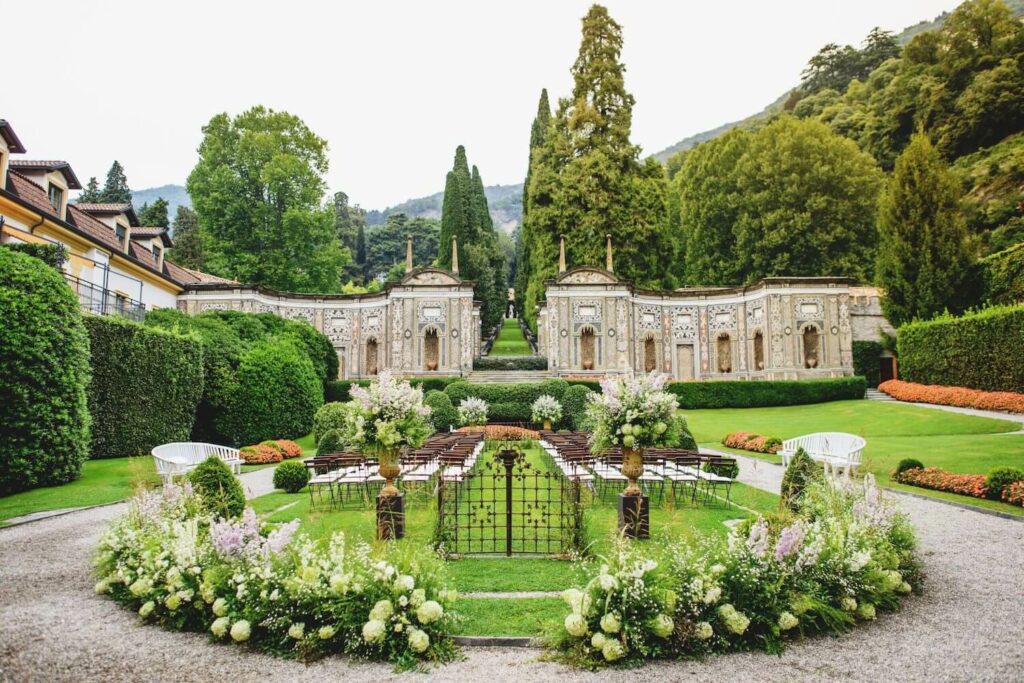 A famous five-star hotel on the exquisite Lake Como, Villa d'Este has been a favorite for royals and celebrities since it became a hotel in 1873. This is the ideal venue for couples wanting a luxurious, fairy tale wedding that leans into opulence. One of the trickiest parts of planning a wedding at this palace-like venue is determining which event space to choose, as they're all so dreamy.
If you opt for the gardens, situated on the hotel's 25-hectare private park, you'll enjoy a wedding with views of Lake Como and stretches of verdant grass interspersed with delicate centennial plants and sculptures.
A wedding in the hotel's interior exudes old-world charm, as it features historic architecture, glimmering chandeliers, antiques, vintage artifacts, and acclaimed art from the French and Conova schools. The Column Room is perfect for a smaller wedding, while the Imperial Salon is ideal for a larger event.
Typical Cost: Starts at $305/per person
Capacity: 210
Bonus: The villa has 152 rooms and four private villas you can rent. It also features a spa, wellness and fitness centers, and two world-class golf courses.
Find Villa d'Este on Facebook and Instagram.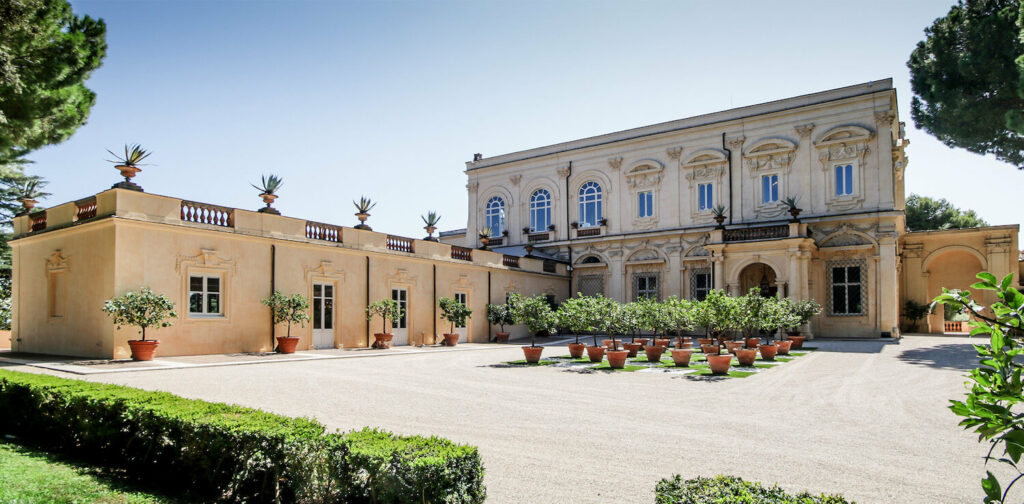 The majestic Villa Aurelia in Rome, believed to have been built between 1650 and 1667, offers an impressive blend of indoor and outdoor event spaces that are unique and provide spectacular backdrops for a memorable wedding. These spaces, along with the rest of the villa, were extensively renovated for three years, before reopening in 2002. They now offer an attractive blend of historic charm and modern conveniences. Adding to that charm is the villa's position on Janiculum Hill, which sets it high above western Rome.
Popular event spaces include the Secret Garden, Italian Garden, and Lemon Garden, in addition to the terrace, Sala Aurelia ballroom, and dining room. Many couples choose to tie the knot in the simple yet elegant Secret Garden, before enjoying an outdoor meal in the Lemon Garden, which is adorned by lemon trees. Couples also enjoy hosting wedding receptions in the grand Sala Aurelia ballroom, or in the intimate dining room, which features a crystal chandelier.
Typical Cost: Starts at $12,500
Capacity: 200
Bonus: The villa only hosts one event per day to ensure privacy for couples and their guests.
Find Villa Aurelia on Facebook and Instagram.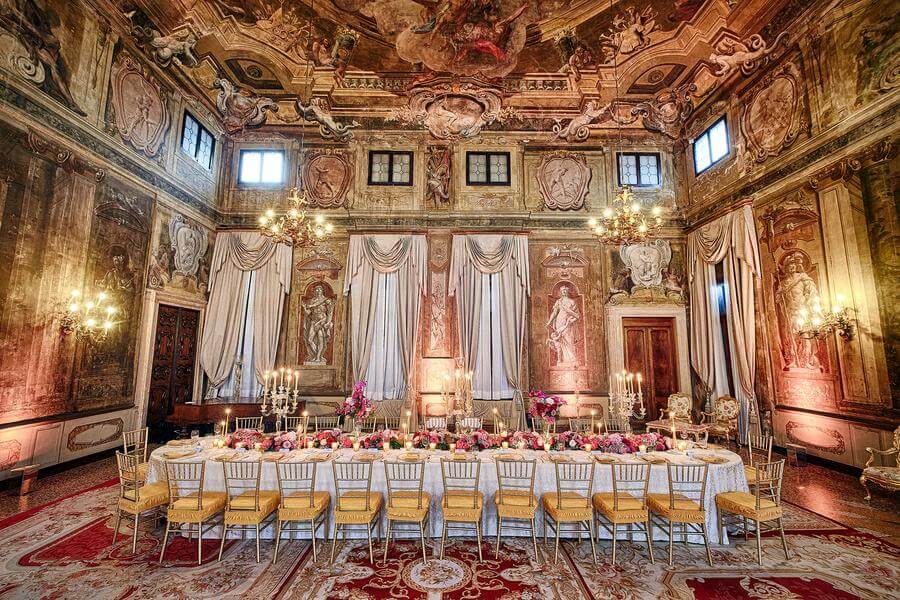 One of the grandest options for your Italian wedding, Ca' Sagredo is located on Venice's Grand Canal and wows with a pink facade. Built in the 15th century, this impressive structure was purchased by Venetian nobles in the 17th century and used as a palace. It has since become a National Monument and a luxury hotel that looks out onto the Rialto Market and offers exquisite event spaces for a ceremony and reception.
Larger, symbolic ceremonies can be held in the ornate Music Ballroom, while a more intimate wedding ceremony can be hosted in the Portego, Amigoni Hall, on the outdoor patio on the Grand Canal, or on the Rooftop Terrace. For the reception, most couples use the Music Ballroom, which has soaring ceilings covered in murals, chandeliers, and wall sconces that create a romantic lighting effect.
Typical Cost: Starts at $175/per person
Capacity: 120
Bonus: The hotel has a finely appointed bridal suite where you can enjoy your first night as a married couple.
Find Ca' Sagredo on Facebook and Instagram.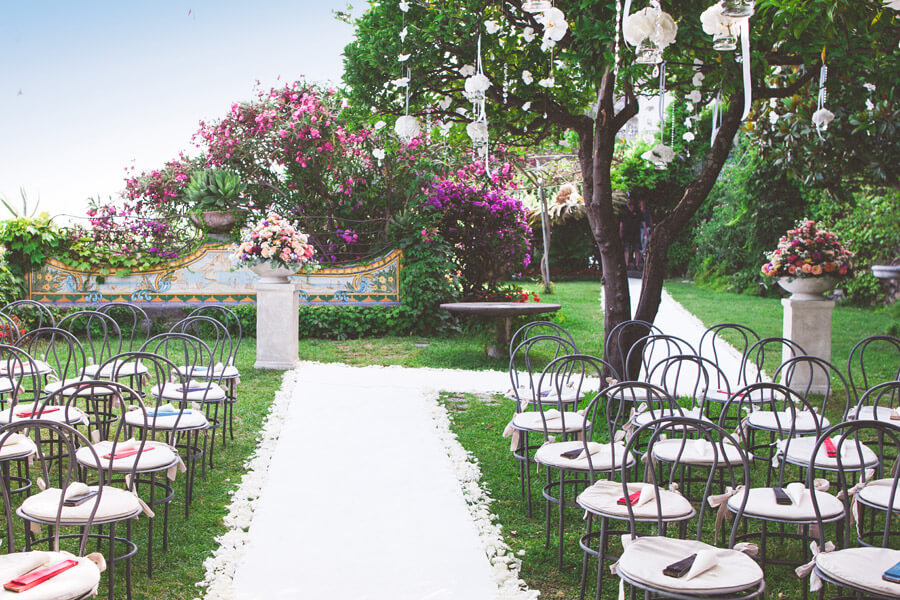 Located on the Amalfi Coast, the chic Santa Caterina is a hotel with spectacular views, laidback vibes, olive groves, fruit orchards, and liberty-style architecture. You can exchange vows on the open terrace with views of the perennial-blue waters of the Tyrrhenian Sea, or pledge your love in the cliff-side garden that's alive with bougainvillea. For the reception, head to the beachy veranda or the light-filled dining room, both of which look out onto the water.
As for accommodations, you and your guests won't be disappointed. This five-star hotel has 38 rooms, 15 balcony suites, and a nearby nine-room villa you can book. The interiors emulate late-nineteenth-century style with a pale, pastel palette that's complemented by pops of color from potted plants and flowers. The term "easy elegance" comes to mind when wandering through this enchanting hotel.
Typical Cost: Starts at $3,500
Capacity: 100
Bonus: The chef, Giuseppe Stanzione, crafts meals inspired by local recipes and Mediterranean flavors.
Find Santa Caterina on Facebook and Instagram.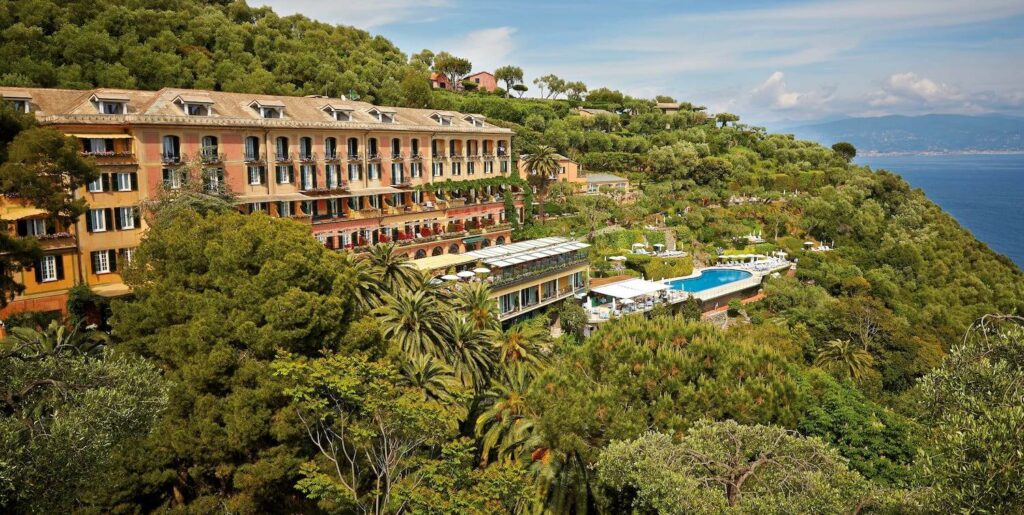 Savor the best the Mediterranean has to offer as you take in views of the Bay of Paraggi from Portofino's Belmond Splendido Hotel. Your big day at this seaside getaway can be held poolside, in the terraced gardens, or in the La Terrazza Restaurant that features views of the Bay of Portofino. For cocktail hour, you can take advantage of the stylish cocktail bar that has hand-painted walls in cool tones and black-and-white marble floors.
When it comes to food, you and your guests won't be disappointed. Chef Corrado Corti can whip up fresh pizzas, sumptuous seafood and pasta dishes, and other regional specialties.
The hotel includes 70 rooms and suites, ensuring it can accommodate a small-to-midsize wedding.
Typical Cost: $147-$205/per person
Capacity: 140
Bonus: When not immersed in wedding events, you can enjoy the hotel's two restaurants, heated outdoor pool, tennis court, and water sports, including boat excursions in the hotel's Chris-Craft Corsair 36.
Find Belmond Splendido Hotel on Facebook and Instagram.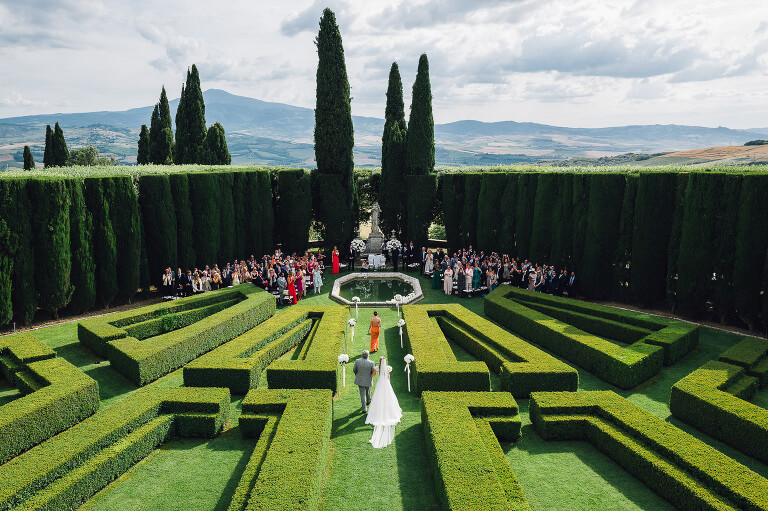 Infuse your nuptials with the timeless Renaissance style by choosing Villa La Foce for your Italian destination wedding. The crowning jewel of this venue is the formal Italian gardens, which have dazzling views of the Orcia and Amiata mountains and were restructured by acclaimed English architect Cecil Pinsent. The gardens were designed to be geometrical "rooms" composed of box hedges, grass, and lemon trees in terracotta pots.
You'll also find travertine stairs leading to the rose garden, a wisteria-covered pergola, and a lavender hedge, in addition to garden terraces filled with cherry, pine, and cypress trees that grow among thyme, rosemary, and an assortment of greenery.
Unsurprisingly, most couples choose to tie the knot in the gardens. But the interiors of the structures on the estate don't disappoint either, as they all feature sophisticated colors and decor.
Typical Cost: $65,000 for a ceremony and reception for 60 guests and three-night accommodations for 24 guests
Capacity: 100
Bonus: You and your guests can choose to stay in onsite apartments or in free-standing farmhouses that have swimming pools and private gardens.
Find Villa La Foce on Facebook and Instagram.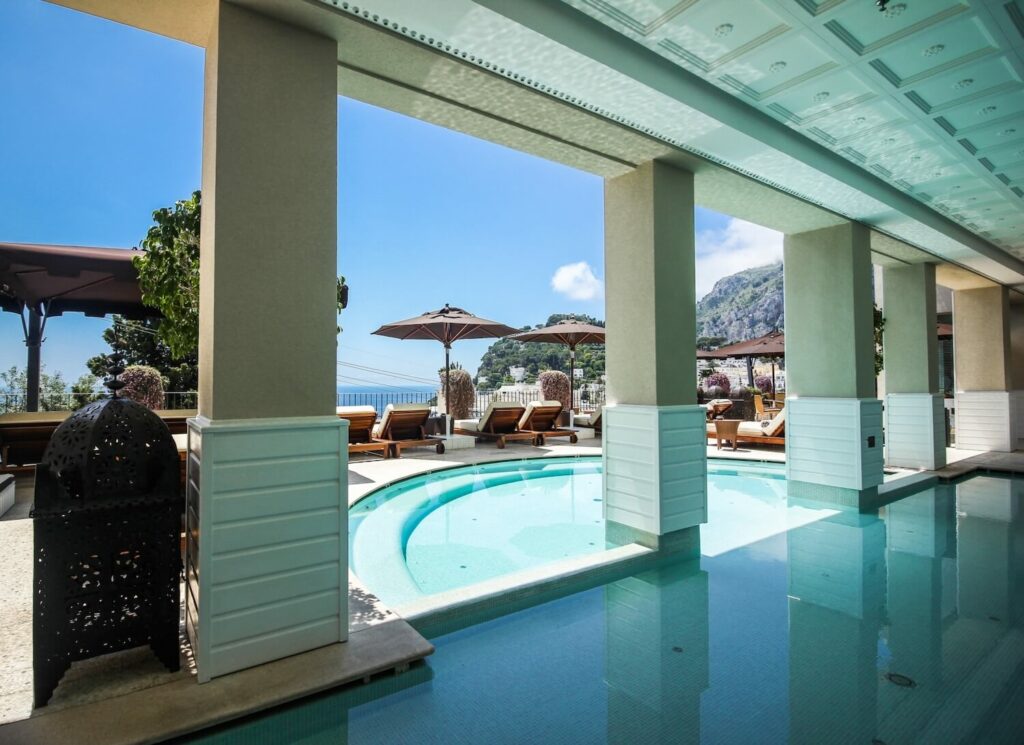 Perched on the Capri hillside, the recently renovated Capri Tiberio Palace is a luxury venue that features contemporary decor, retro decor, and Mediterranean architecture. Top wedding venues include the rooftop Mojito terrace and the Terrazza Tiberio restaurant. Both provide sweeping views of Capri and the ocean and feature the ultra-chic ambiance found in the rest of the hotel.
As for the food, the skilled chefs have an amazing menu with strong Caprese and Mediterranean influences. They also use as many seasonal and locally sourced ingredients as possible. A few signature dishes include the Caprese ravioli, spaghetti with clams and parsley, and lemon-scented sea bass escalope.
The hotel has 60 rooms and 17 suites, which can accommodate a moderate number of guests. And these are not basic lodgings; each room is different from the next, using an eclectic mix of vintage items, tapestries, and walls in hues ranging from dusty blue and turquoise to saffron yellow, neutral, and coral. You'll also find installations by the renowned artist Giampiero Panepinto throughout the hotel.
Typical Cost: $50-$500/per person
Capacity: 150
Bonus: You can unwind before or after your special day in the hotel's Spa Tiberio, which offers a wide array of treatments.