The exotic islands of Hawaii are a classic choice for a honeymoon. With some of the most spectacular sights in the world, adrenaline-fueled adventures, soothing spa treatments, and resorts that elevate every aspect of your romantic getaway, it's the perfect place to celebrate your union if you want to relish in relaxation and much-deserved pampering. And since the resort you choose is an important part of your experience, we've rounded up the best honeymoon resorts in Hawaii that will please a range of tastes.
Tips for Choosing the Right Resort
Before you begin exploring stunning resorts in Hawaii, it's helpful to consider what you're looking for in a romantic getaway. The following tips can help you develop a clear view of what your ideal honeymoon resort will be like.
Select your preferred island(s). As Hawaii is made up of various islands, take some time researching and discovering what each has to offer for scenery and activities.This will make it easier to focus your resort search.
Make a list of your desired amenities. Most resorts offer slightly different amenities, so make a list of what's most important to you. For example, do you want a modern suite with an ocean view? A resort with a golf course? An adults-only pool? Surf rentals and lessons? World-class dining options? After you make this list, rank the amenities in order of importance.
Determine your budget. Because it can be frustrating to find the perfect resort, only to discover it's too pricey, determine how much you can spend on accommodations before you start your search. You should also factor in how much you can spend on food and drink, spa treatments, and other activities. Also don't forget that you can easily set up a honeymoon fund so your guests can contribute to your budget as a wedding gift.
Decide if you want to indulge in a honeymoon package. Many Hawaiian resorts offer honeymoon packages that provide romantic touches like Champagne upon arrival, a candlelit dinner by the beach, couples' spa treatments, and other amorous activities. Knowing if this kind of package is important to you can help inform your research.
Which Island is Right for You?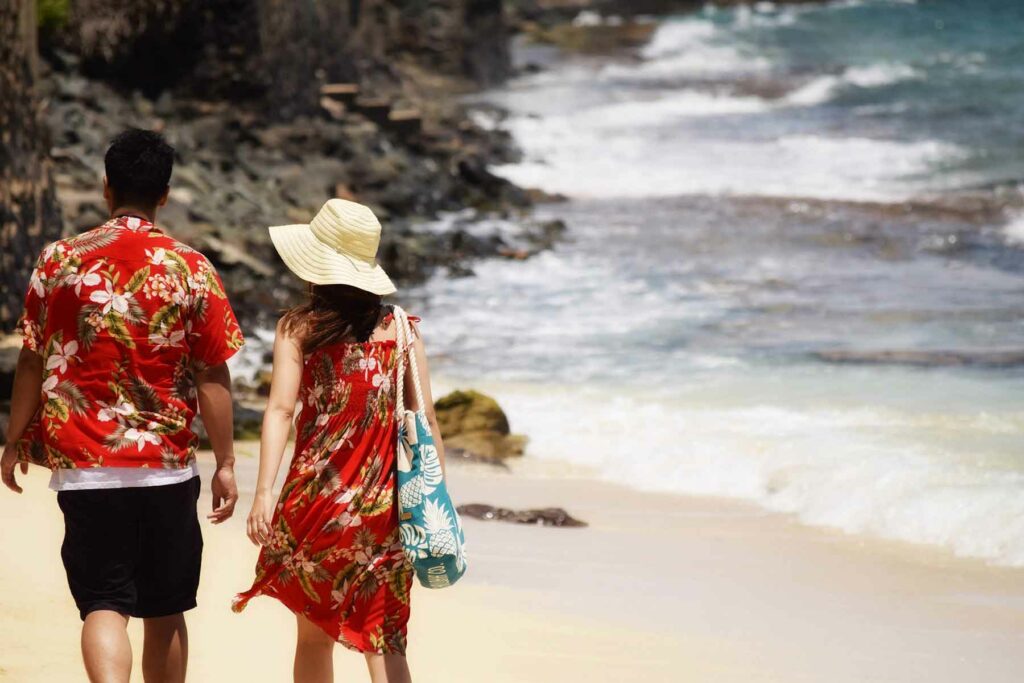 Planning your ideal Hawaiian honeymoon begins with choosing the island that suits your newlywed needs. While you can't go wrong with any of the Hawaiian Islands, we're breaking down what makes each island unique. Use this guide to determine which one fwill make your honeymoon bloom with adventure, luxury, or whatever it is you and your spouse are seeking.
Big Island: If you and your special someone love to explore, the Big Island is an optimal choice for your Hawaii honeymoon. With its impressive diversity of landscapes and climates, the Big Island offers trails through lush jungles and up towering mountains, as well as swimming holes beneath otherworldly waterfalls, volcanoes with active lava flows, and dreamy, white sand beaches.
Maui: Maui is home to incredible luxury resorts, many of which are all-inclusive. These destinations are a one-stop-shop for plush accommodations, gourmet meals, exotic cocktails, adventures on land and sea, and live entertainment. In addition, some of the resorts are adults-only, providing a serene environment for your romantic getaway. If you hope to explore a plethora of pristine beaches and get in some world-class snorkeling, Maui is the island for you.
Kauai: For a slow, relaxing pace and a wonderland of natural beauty, head to Kauai. Known as the Garden Isle, Kauai is one of the most visually stunning islands, with flora like Banyan trees, birds-of-paradise, bougainvillea, bromeliads, hibiscus, orchids, plumeria, and so much more. Kauai also offers ample opportunity for fauna sightings, as it's not uncommon to encounter a monk seal, green sea turtle, humpback whale, or manta ray when snorkeling.
Oahu: This is the island for honeymoons who want to enjoy beach life and maybe the occasional trek through tropical rainforests, while also being able to access cutting-edge eateries, luxury boutiques, and sophisticated hotels. Oahu is also the place to be for those wanting to explore local history, as the island's architecture is like a time capsule back to the late 1950s, when Hawaii gained statehood.
Honeymoon Resorts in Hawaii
Now that you've narrowed your criteria for your ideal Hawaii honeymoon resort, it's time to discover your perfect fit. Say "aloha" to 15 of the top options — fortunately, you can't go wrong with any of them.
If you want to feel like you've dropped into a private, romantic haven with your spouse, Four Seasons Resort Lanai should be at the top of your list. As one of the few resorts on Lanai, a 140-square-mile island nicknamed "the private isle," it allows you to enjoy your honeymoon activities without the presence of throngs of strangers.
While the lavishness of this famous resort could easily keep you happy for weeks, the concierge can also craft one-of-a-kind itineraries if you feel like exploring the island. Popular outings include a sunset catamaran cruise, a private gourmet picnic under the stars, horseback riding on the beach, and 4×4 adventures across wild terrain. And don't miss the most romantic activity: a leisurely walk up Hulopoe Bay Beach that ends at a cliff-side perch overlooking Puupehe (also called Sweetheart Rock).
If the idea of lounging on the white-sand beach of Oahu's iconic North Shore sounds appealing, Turtle Bay Resort could be for you. It offers the idyllic combination of tropical foliage, powder-soft shores, a warm sea that seems to fade into infinity, and all of the amenities you'd expect from a world-class resort.
Enjoy a true Hawaiian welcome with an opulent greeting of leis. Next, you'll settle into your plush accommodations, choosing from an array of guest rooms and suites. If you upgrade to a bungalow, you'll enjoy an oceanfront lanai steps from the water, a dedicated host, and access to amenities like a private infinity pool and the Ocean Club Lounge.
The stunning, modern Wailea Beach Resort can easily fulfill your dreams for the ideal honeymoon, thanks to its sophisticated guest rooms with plush beds and immaculate shores on Wailea Beach. The resort also includes a series of swimming pools, including an adults-only serenity pool and two oceanfront pools with hot tubs and cabanas. The resort is so exceptional that in 2019, Travel + Leisure included it on its list of "The Top 15 Resort Hotels in Hawaii." It also has a AAA Four Diamond designation and has won awards for its sustainability.
One of the most popular features of the resort is its impressive dining options. The signature eatery is Humble Market Kitchin By Roy Yamaguchi, which serves Hawaiian-inspired fare made with fresh ingredients. There's also a bar and grill, a coffee house that serves cold-pressed juices, smoothies using locally-sourced ingredients, specialty coffee drinks, and a food truck with local favorites like poke bowls.
Another signature of this resort is its luau show, Te Au Moana Luau. During the show, you'll savor a buffet of local foods, sip on handcrafted tropical cocktails, and try your hand at the dance moves during the interactive portion of the show.
Located on the beloved garden isle, this oceanfront resort is composed of 50 acres of tropical gardens, winding paths, dramatic waterfalls cascading into blue lagoons, and restaurants boasting some of the best cuisine on the island. Grand Hyatt Kauai is especially appealing for couples who love pampering, as it features some of the most extravagant spa treatments in all of Hawaii.
A side-by-side massage treatment for couples is an enchanting experience designed to connect your spirit to the romance of Kauai and unfolds in a private garden hale (bungalow). Couples can also enjoy float therapy, which removes the sensation of gravity, as well as a passion fruit body scrub, facials, and other extravagant individual treatments.
If you'd like a side of adventure, the resort also offers golf, beach hikes, and water sports including paddleboarding, kayaking, and surfing.
One of the most secluded resorts on the Hawaiian islands, The Kahala Hotel & Resort is nestled in an elegant area of Honolulu, beside a beach that's typically only occupied by hotel guests. In addition to being a great choice for those looking for privacy, the resort is also a big win for foodies. It features five restaurants, including the popular oceanside Hoku's, the open-air Plumeria Beach House, and Arancino, which serves modern Italian cuisine.
If you want to mix in some excitement and cultural exploration, take the short 15-minute drive into Waikiki, where you can explore the Diamond Head hike, Chinatown's markets and lei shops, Pearl Harbor, Foster Botanical Garden, or the Honolulu Museum of Art.
A resort that exudes the classic charms of Hawaii, The Royal Sonesta Kaua'i Resort Lihue is the place for couples wanting a laid-back experience. The stylish guest rooms feature all of the elements for ultimate relaxation, the spa offers everything from seaside massages to nourishing body wraps, and the 26,000-square-foot outdoor pool and whirlpool spas are backed by some of the most stunning views you'll ever see.
Onsite golf is also available at Hokuala, which features a Jack Nicklaus Signature Course, in addition to activities such as kayaking, volleyball, surfing, tennis, and jogging on the fitness trail.
Fairmont Kea Lani, which sits on the pristine shores of Wailea, provides a luxurious assortment of romantic dining options, an adults-only pool with private shaded cabanas, an award-winning spa with oceanfront couples massages, and one-bedroom suites with serene private lanais.
The resort also offers an acclaimed romance package that includes a minimum of five nights in a luxury suite or villa, two glasses of Moet & Chandon Champagne upon arrival, and a daily deluxe breakfast for two. Additionally, you'll enjoy a four-course dinner and one bottle of wine beside the adult tranquility pool, in addition to one day in a private poolside cabana with chilled water, tropical juice and soda, fresh fruit, and a scented spritzer.
It's only fitting that "Halekulani" means "house befitting heaven," as this five-star resort on Waikiki Beach features lulling offshore breezes, an exotic grove of coconut trees, awe-inspiring views of Diamond Head, and elegant rooms that provide the perfect combination of grandeur and peace.
A popular option for honeymooners at Halekulani Hotel is the Romance Remembered package, featuring a curated dinner for two at Orchids restaurant and a daily breakfast. This package requires a minimum of a four-night stay, which begins with some beautiful welcome flowers for the newlyweds. While it's hard to pull yourself away from the resort's heavenly environment, you can easily access Honolulu's dynamic assortment of shopping, dining, entertainment, museums, and water sports, with complimentary admission to some attractions included in the package.
Named to Travel + Leisure's list of "The Most Romantic Hotels Collection" in 2018, Ko'a Kea Resort is a top choice for a picturesque honeymoon. Situated on the luminous sands of Poipu Beach, this impeccable Hawaii honeymoon destination boasts oceanfront accommodations with private lanais, a dreamy pool area, candlelit dining at the acclaimed Red Salt eatery, and oceanside spa services.
When you're in a serenity-now mood, dive into a book on one of the lounge chairs on the ocean lawn, savor a cocktail and nap by the pool, or run your feet through the warm waters of the Pacific Ocean. As if that's not enough, the resort also offers private six-course dinners for two in an oceanfront cabana, in addition to the Island Zen package that includes discounted luxury accommodations, a $200 spa credit, $150 resort credit, spa gift, and a complimentary resort fee. and special treats when you arrive.
In addition to all that pampering, you can partake in snorkeling, hiking, sailing, ziplining, and other adventures organized by the concierge.
It's not surprising that warrior kings once came to the site where this resort rests, as it's located at the base of five soaring mountains on the Kohala Coast. Mauna Lani makes you feel like you're in a storybook, especially when you step into one of the stylish bungalows or suites that help you rejuvenate after the wild experience of wedding planning. It's a location perfect for delighting in early days of married life.
Beyond the charming accommodations, you'll find a magical ecosystem made up of a palm-lined infinity pool, a living culture team ready to share the island's history in the resort's "Hale 'I'ike" ("House of Knowledge"), and the Honu Lagoon, where endangered green sea turtles are raised and released on the Fourth of July.
The hotel also offers an array of activities, such as sunrise outrigger canoe rides, beachside yoga, golfing on the resort's top-ranked courses, and a hike to an ancient petroglyph site. And after you check off an activity, you can say yes to a sumptuous treatment at the signature spa.
A fusion of the natural wonders of the Kona-Kohala Coast and the man-made marvels of the Four Seasons brand, Four Seasons Resort Hualalai is like a utopia for honeymooners. Filled with rich colors and locally-inspired decor, the palatial accommodations are located in two-story bungalows organized in small crescents around the beachfront and golf course. You can also upgrade to a plush suite with a private pool. In addition, the resort offers snorkeling lessons with a marine biologist, a 1.8-million-gallon swimmable aquarium, golfing, extensive spa and salon services, and a variety of other enriching experiences that highlight Hawaiian culture.
Additionally, the resort has five dining options, the most popular being the 'Ulu Ocean Grill. The award-winning eatery works with more than 160 local farms, and 75 percent of its food is from Hawaii.
If you're seeking privacy during your Hawaiian honeymoon, post up in this romantic, luxury resort that rests on a 24-acre expanse of tropical splendor on Maui's serene Namalu Bay. This beach resort offers a cornucopia of enthralling experiences, such as a sunset luau hosted twice a week that includes classic Hawaiian dishes, island-inspired cocktails, live music, and, of course, hula dancing. You can also go all out by booking a private dining experience prepared by chef Riko Bartolome.
The resort provides a variety of packages, two of which are especially great for honeymooners. The Discover Maui package includes a full-sized rental car for exploring the island, complimentary valet parking, and a $200 daily resort credit that can be used on experiences such as the luau, Champagne Hale pop-up lounge, spa treatments, wellness classes, and more.
Honeymooners yearning for ultimate pampering will enjoy the Spa Memories package, which provides a $600 spa credit, a daily $60 breakfast credit at Cane & Canoe, and complimentary valet parking.
One of the most unique honeymoon destinations on the Big Island, the boutique bed and breakfast is adjacent to Hawaii Volcanoes National Park. It's like a portal to another world, with mysterious, moss-lined misty trails and a thriving, exotic ecosystem beneath canopies of towering trees, ancient petroglyphs, lava tubes, and old lava flows.
Newlyweds will enjoy the seclusion of handcrafted cottages that boast a simple elegance and thoughtful design — you'll feel as though you're one with the rainforest. The cottages also offer the convenience of covered decks, hot tubs, gas fireplaces, a daily private breakfast basket, and kitchens or kitchenettes.
After relaxing with a fireside Hawaiian massage in your cottage, venture out for an unforgettable day trip to the national park or nearby attractions like Hawaii Tropical Botanical Gardens.
Situated on the storied Road to Hana, the seaside Hana-Maui Resort is a 66-acre oasis featuring accommodations ranging from residences with kitchens to oceanfront bungalows with stunning views. Couples on a Hawaiian honeymoon will also enjoy easy access to natural marvels such as the waterfalls and swimming holes at Oheo Gulch, also called Seven Sacred Pools, in Haleakala National Park.
When you're not exploring the many wonders along the Road to Hana, couples can visit the resort's full-service spa to enjoy local botanicals and Hawaiian healing techniques. Popular treatments include the lomi lomi massage and the pohaku wela massage that includes the use of heated lava rocks. After your treatments, continue to unwind in the eucalyptus steam room, a warm outdoor shower, and a jetted tub overlooking Kapueokahi Bay, also known as Hana Beach Park.
The resort's Plane to Paradise package is a must for honeymooners, as it includes a mesmerizing journey to Hana in a private 10-seat Cessna plane, a $100 dining credit, a $100 spa credit, and four or more nights at the resort.
An historic beach property in the heart of Waikiki, The Royal Hawaiian Resort is fondly referred to as the "Pink Palace" and has graced the silver screen many times since the 1960s. The resort is especially welcoming of honeymooners, as it offers a luxurious honeymoon suite with dazzling ocean views and aha'aina luaus, which include a celebration of newlyweds.
Because of the resort's central location, guests can easily walk or take the open-air Waikiki Trolley to restaurants, bars, high-end shopping, and more. And while the hotel is in a bustling area, its beach is rarely crowded, as it's reserved for guests only.
Up Next:
Whether it's for airfare, a hotel stay, or honeymoon travel experiences, create one list for all your honeymoon wishes.