Have you been dreaming of a destination wedding with only your nearest and dearest in attendance? Fortunately, there are a variety of locations for an intimate destination wedding that provide stunning accommodations and event spaces with reasonable rates. In addition to providing our top locations and wedding venues for this type of celebration, here are some intimate destination wedding ideas to make the planning process as easy as possible.
Carefully create your guest list
One of the first steps in planning your intimate wedding is crafting the guest list. Because you want fewer guests, it's best to limit your list to only those loved ones you can't possibly imagine getting married without.
Consider a beach wedding
A beach wedding can be an excellent choice, as it typically means you'll be saying "I do" in a stunning natural landscape that limits the amount of money you'll have to spend on decor.
Consider the weather
Because many areas have dry and rainy seasons, or periods of time when the weather might be exceedingly hot or cold, it's best to research the weather in your desired location for the time of year you're hoping to wed. This research can help you avoid uncomfortable weather on your wedding day.
Make an inspiration board
Clarify your vision for your dream wedding by crafting an inspiration board. All you have to do is clip images of weddings, flowers, colors, food, rings, dresses, your wedding location, and other images that capture the essence of how you want your special day to look and feel.
Hire a local wedding planner
You can simplify the process of navigating the marriage laws, and other unique aspects of your chosen location by hiring a wedding planner who works in the municipality where you'll tie the knot. They'll likely know all the local requirements and might even have some tricks up their sleeve for simplifying the process. They may also know all the best local vendors.
Look into travel requirements
Researching whether things like Covid tests, visas, or certain vaccinations are required to get to your location can help ensure you, the wedding party, and other guests have plenty of time to get all the requirements taken care of.
Research local marriage laws
If you want to obtain your marriage license during your destination wedding, look into local laws because they often vary by location.
Create a wedding website
Minimize the number of questions you have to field from guests by making a wedding website where you can list your registry details and other information about your wedding. For example, you can include the best ways to get to your wedding destination, travel requirements, where you'll block out rooms or houses, ground transportation information, and other essential details.
Top locations and venues for an intimate destination wedding
California
With a Mediterranean climate, stunning natural environments, and a culture that's the ideal combination of sophistication, flair, and fun, California is one of the loveliest choices for an intimate destination wedding. This acclaimed state is home to wedding venues that include everything from flowering gardens, wineries, and historic homes to chic rooftops with epic views, fine art galleries, and eateries that are all about luxury.
You can also have your pick of event spaces sprinkled along the coast, perched in the mountains, or positioned in a trendy area of one of the state's popular cities like Los Angeles, San Francisco, or San Diego. Essentially, California has something for everyone.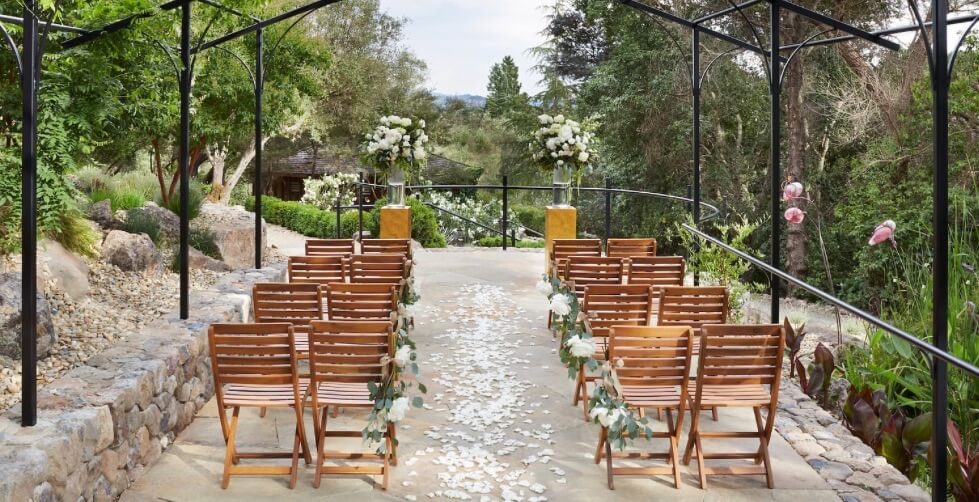 An iconic venue in Northern California, Auberge du Soleil is set on a 33-acre olive grove on the slopes of Rutherford Hill. From this stellar location, you're met with stunning views of Napa Valley from any spot within the venue.
Intimate wedding ceremonies are often held in Le Jardin, the alfresco, Asian-inspired pavilion nestled in a wonderland of centuries-old olive trees, vineyards, and a sculpture garden that showcases over 100 works from more than 60 California artists. After saying "I do," you can enjoy a reception that features edible masterpieces from the resort's Michelin Star-rated culinary program.
Another popular site for an outdoor ceremony is The Terrace, which opens to verdant, tree-covered hills that seem to melt into the horizon. The Vista Rooms that adjoin the terrace are ideal for an indoor wedding reception, as they feature elegant decor and the same awe-inspiring views.
Typical Cost: $10,000
Capacity: 120
Bonus: When you're not immersed in wedding events, you and your guests can explore neighboring wineries in complimentary convertibles provided by Mercedes-Benz.
Find Auberge Du Soleil on Facebook, Instagram, and Twitter.
Caribbean
The alchemy of crystal clear water, exotic foliage, luxury resorts, and laidback vibes make the Caribbean the ultimate tropical utopia to tie the knot. While a majority of weddings take place on pristine beaches, many of the islands in this dreamy sea also allow couples to pledge their love among the lush atmosphere of a botanical garden, beside a waterfall, or on a beachfront bluff.
And because the Caribbean is such a popular travel site, the service at many of the resorts and venues is spectacular, ensuring that couples and guests don't have to do much more than showing up and reveling in the good times.
Tip: If you want to avoid rainy season, pick a date that doesn't fall between June and November.
Jade Mountain Resort is the place to go if you want a truly exotic destination wedding. This location is so idyllic, The Bachelor filmed a finale here. The resort is perfect for an intimate celebration, as it only allows one wedding a day. It also provides a range of wedding ceremony and reception sites at the resort and at its sister property, Anse Chastanet. Some of the most stunning options include a nearby waterfall or a beach by the coral reef.
To go all out, opt for the resort's "Elope to Paradise" wedding package that includes a tropical wedding bouquet, boutonniere for the groom, a wedding planner and staff, a choice of wedding locations on the 600-acre property, decor at the wedding location, a two-tier wedding cake, and a special dinner table for the wedding party. This package also includes all the legal processes and fees required to obtain the marriage license.
Typical Cost: $1,095 – $4,750
Capacity: 100
Bonus: The resort is easily accessible and only a mile-and-a-half from the town of Soufriere.
Find Jade Mountain Resort on Facebook, Instagram, and Twitter.
Florida
Beaches with powder-soft sand, Art Deco architecture, a vibrant aesthetic, world-class food, and balmy weather make Florida a prime choice for destination weddings. Whether you're hoping to exchange your vows under a flower-covered, beachfront pergola, beneath a canopy of palm trees, or in a whimsical pocket of a botanical garden that looks like it was plucked from the pages of Alice in Wonderland, Florida will have you swimming in amazing options.
Tip: Because the humidity in Florida can do a number on hair and makeup, it's worth the money to hire local hair and makeup specialists well-versed in makeup that won't melt off the face and hair products that will prevent your hairdo from drooping.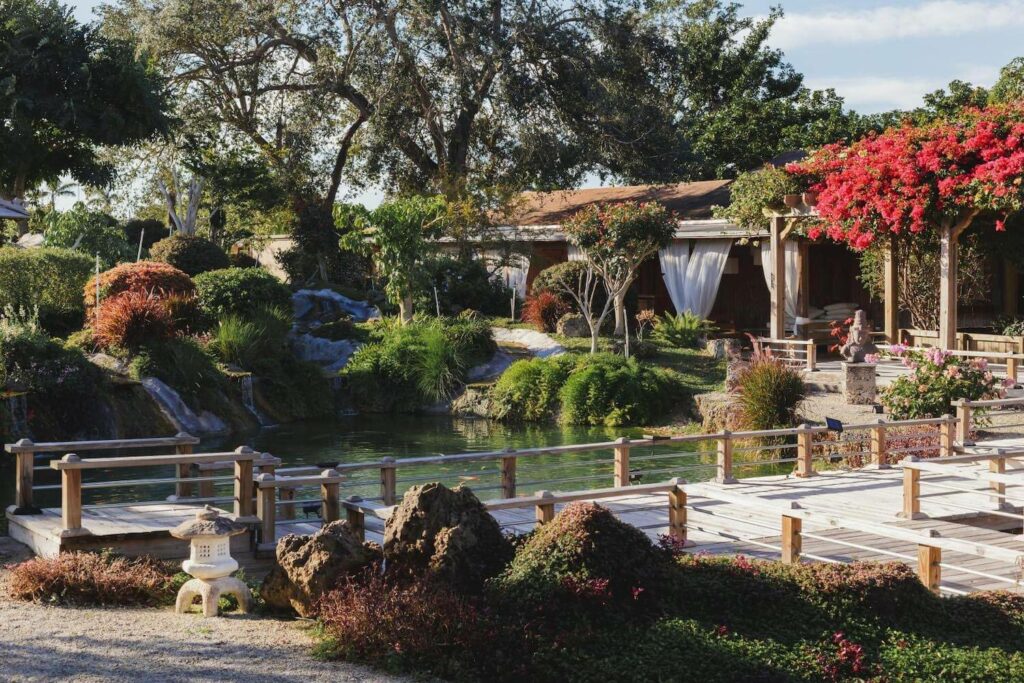 The 2.5-acre Redland Koi Gardens provides a fairytale setting composed of soaring oaks, koi ponds, and serene Japanese architecture. While much of the greenery is native to Japan, the gardens also include plant life from other parts of the world, resulting in a truly unique wedding environment.
You can host your intimate ceremony on a patio that seems to float above a large koi pond and is surrounded by the venue's diverse collection of flora. One of the most magical environments for the reception is the fruit-producing grove of Longan trees from Thailand, which create a striking, shaded canopy.
Typical Cost: Ceremony site fee starts at $2,500; reception site fee starts at $6,500
Capacity: 150
Bonus: The variety of gorgeous backdrops result in stunning photos.
Find Redland Koi Gardens on Facebook.
Mexico
A country rich in culture, natural beauty, and vivacious people, Mexico is an easy choice for couples hoping to host a small destination wedding filled with fun and flavor.
With a range of climates, from expansive desserts to dense jungle, Mexico has small wedding venues that create an otherworldly effect. These include diverse cacti encircling a saltwater pool or private beach, Mayan ruins that seem to dissolve into jungle, and boutique resorts that make you feel like you and your guests are in a bubble of pure relaxation and pampering.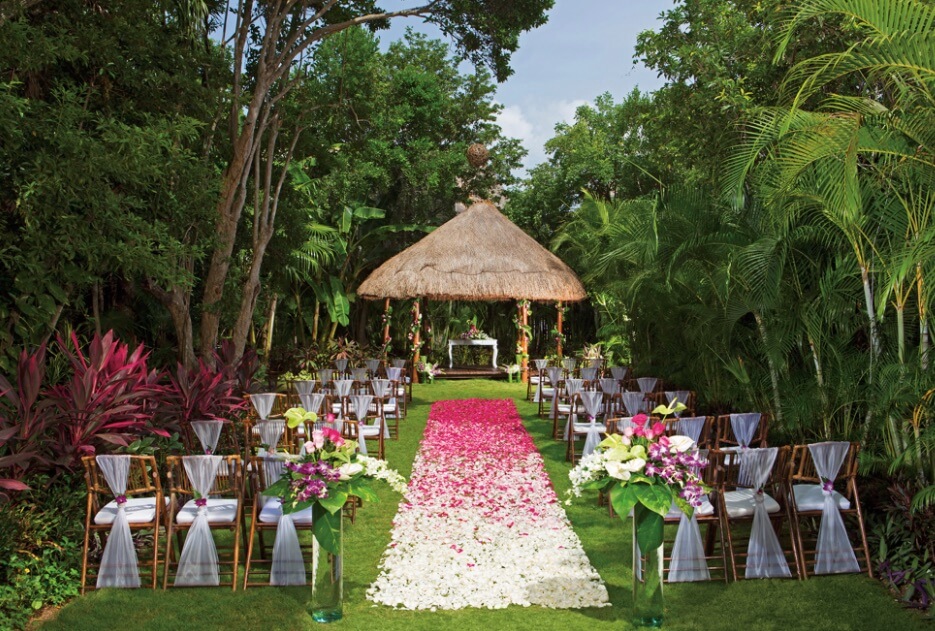 If you enjoy the beach but are craving a wedding in the jungle, the boutique hotel Dreams Tulum might just be the perfect venue for you. Located on 33 acres, this all-inclusive resort provides a range of event spaces for ceremonies and receptions, plush guest rooms, a world-class spa, and three wedding packages that make it simple to plan a wedding within your budget.
One of the most mesmerizing ceremony sites is the aptly named Secret Garden, which is hidden within an exotic display of tropical foliage. You can also tie the knot by Mayan ruins looking over sugar-white sands, or on a tranquil beach that looks out on the turquoise waters of the Caribbean.
Typical Cost: $999 – $3,799
Capacity: 250
Bonus: You can treat yourself to a couples massage in a beach-side palapa.
Find Dreams Tulum on Facebook and Instagram.
Hawaii
Hawaii is like a gold mine of phenomenal wedding venues and vendors, offering you the expert support needed to craft a dream wedding. Islands like Oahu, Maui, and Kauai provide resorts and standalone wedding venues that include botanical gardens, acclaimed nature preserves, vine-covered ruins, picture-perfect coves, and more.
And then there's the food. Hawaii is known for serving up renowned cuisine, like Hawaiian BBQ, Kalua pig, poke, and beyond. One thing's for sure: If you select Hawaii as the location for your intimate ceremony and reception, you're unlikely to have any regrets.
Tip: If you're looking to save money, plan your wedding for low-season from April to mid-June and September to mid-December.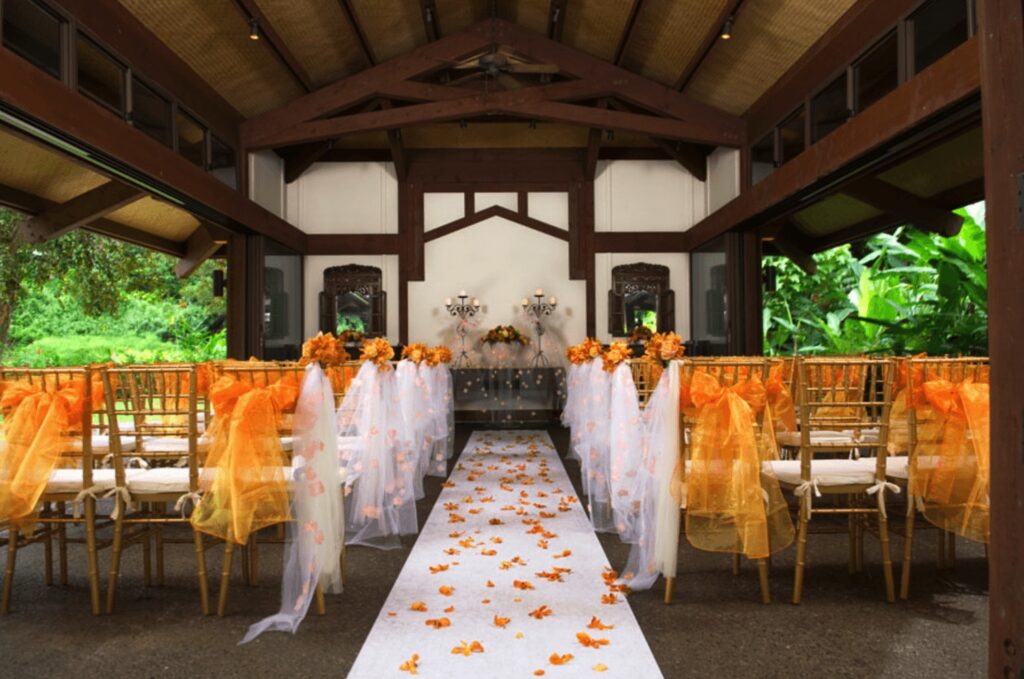 A Hawaiian gem, Haiku Gardens is set in the Haiku Woodlands, beneath the Koolau Mountains, and coated in vibrant layers of tropical plants. The four-acre site boasts four ceremony venues, including a private botanical garden, an open-air chapel, and a white gazebo accented by a serene pond.
You can then enjoy a reception in the award-winning Haleiwa Joes Seafood Grill, which overlooks the gardens. Sumptuous menu options include Thai fried calamari, poke, tempura crab rolls, fresh island fish, and other mouthwatering selections. If you're searching for a dazzling venue that exudes magic and wonder, Haiku Gardens should be at the top of your list.
Typical Cost: $3,800 – $15,000
Capacity: 175
Bonus: Special extras such as leis, musicians, hand-tied bouquets, rose petals coating the aisle, and more are included in many of the packages.
Find Haiku Gardens on Facebook, Instagram, and Twitter.
Costa Rica
From the wild shores of the Pacific Ocean to the tranquil beaches of the Caribbean, Costa Rica provides couples planning a destination wedding with an inspiring assortment of venues and vendors. To understand the true nature of Costa Rica, consider one of the locals' most popular ideas, which is "pura vida." This concept means "simple life" or "pure life" and perfectly conveys the vibe you'll be met with in every corner of this spectacular country.
In addition to extraordinary locations, and a mellow ambiance, Costa Rica makes it easy to make your marriage official, as a wedding certificate procured in Costa Rica is typically valid in your home country.
To meet Costa Rica's legal requirements, you must have the following:
An attorney to officiate your ceremony
Copies of your passports, birth certificates, names of your parents, and information about previous marriages
Two witnesses you're not related to. These witnesses will have to provide their passports to the officiant before the ceremony.
After your ceremony, your attorney/officiant will register your marriage with Costa Rica's National Registry. The National Registry will then issue a marriage certificate within four to six weeks.
After the marriage certificate has been received, your attorney will have it translated into English by an official translator, authenticated by the Costa Rican Ministry of Foreign Affairs, and authenticated by your home country's Embassy in Costa Rica.
A go-to wedding venue in the lovely Tamarindo, this luxury vacation home is a fantasyland of Balinese-inspired design, tropical gardens ideal for a wedding ceremony, and sweeping panoramic views of Tamarindo Bay. The home can accommodate 20 guests with its eight guest rooms and nine bathrooms. It's also within walking distance of the beach and offers a multi-level ocean-view deck (great for receptions!), an infinity pool and Jacuzzi, a coy pond, and daily breakfast preparation and housekeeping.
Typical Cost: Nightly rate ranges from $699 – $2,898, depending on the season
Capacity: Sleeps 20; can accommodate 40 for a celebration
Bonus: The home features a non-toxic, plant-based misting system that repels mosquitos.
Find Casa Puros Dieces on Facebook.