If you close your eyes and envision a utopian tropical setting, what you'll see is the Maldives. This world-class honeymoon destination is composed of about 1,190 coral islands around 26 ring-shaped atolls surrounded by the crystal clear waters of the Indian Ocean. The Maldives is made for honeymooners, with many resorts located on their own islands to ensure privacy and ample opportunities for romance.
A Maldives honeymoon could have you waking up in a plush bed in a luxury resort and enjoying a sunrise stroll on a white sand beach. From there, you'll take a dip in a turquoise lagoon before spotting manta rays and other marine life while kayaking or snorkeling through a coral reef. When it's time for a break, you head back to your luxe hideaway to splurge on spa treatments, followed by a nap in a hammock. You'll top it all off with an unforgettable dining experience on a sunset cruise.
Have we convinced you to move the Maldives to the top of your honeymoon destination list? Great! Here's what you need to know to plan an idyllic honeymoon at this world-renowned locale.
How to Get There
As the central area of the Maldives is located about 400 miles southwest of Sri Lanka, getting to your destination requires quite a bit of travel time. However, you won't mind the long trek once you land on your island of choice.
You'll start your trip at the international airport nearest you, then likely fly to Dubai, Qatar or Sri Lanka. The main gateway to the Maldives is the capital city of Malé, where the Velana International Airport is located. From the Malé airport, you'll hop on a seaplane, speed boat or domestic flight to reach your Maldives resort. Most resorts arrange this transfer for you when you book your accommodations.
It's also important to note that jet lag is often a factor when honeymooning in the Maldives, as it's 12 hours ahead of Pacific Standard Time.
When to Go to the Maldives
Because the temperature in the Maldives is pretty much always between 78 and 89 degrees Fahrenheit, there's not really a bad time to honeymoon here.
A great approach is to let the activities you hope to enjoy inform the best time for your visit. If you dream of sunbathing by an infinity pool or taking long walks under the shade of palm trees, you should plan your getaway sometime between December and April when there's a lower chance of rain. Keep in mind, however, that this period is also the peak season for tourism.
Honeymooners that don't mind some wet weather should consider setting off between May and October. In addition to scoring major discounts on island resort stays, it's also the best time to spot manta rays and go fishing.
Since it takes so long to get there, seven nights is really the minimum stay you'll want to book for your honeymoon getaway. If you can swing it, two weeks is the preferred length for many couples visiting the Maldives, especially if you plan on island hopping.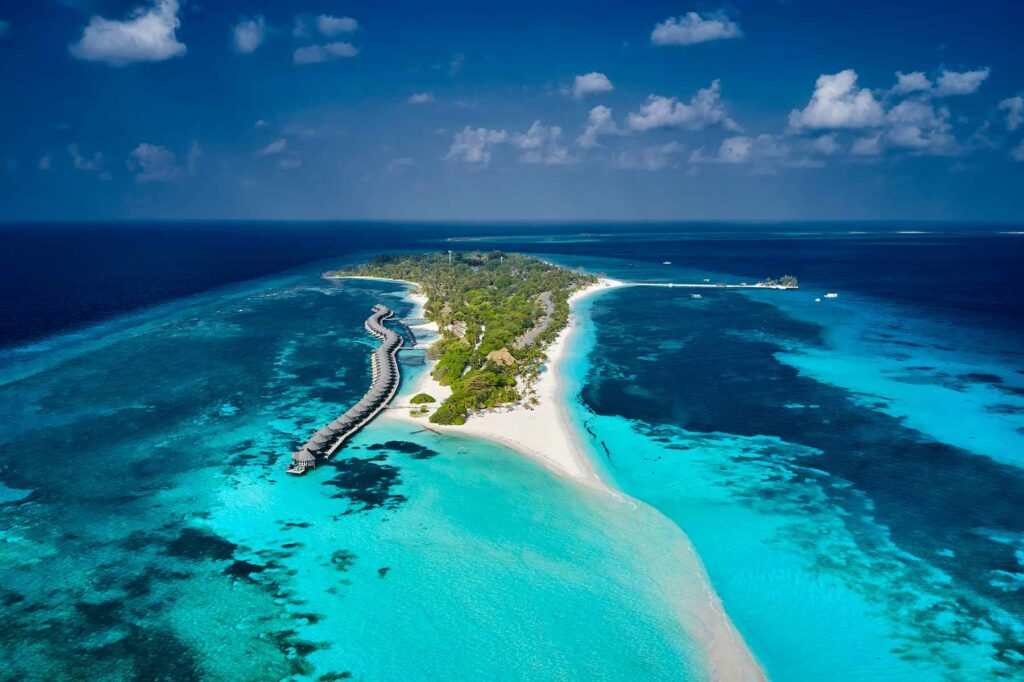 Best Honeymoon Resorts in the Maldives
To make your search for ideal accommodations a little easier, we've compiled a guide to five of the best honeymoon resorts in the Maldives. Many of these resorts offer generous honeymoon packages, stunning beach villas, spas and a variety of water sports.
Resting on the Baa Atoll, a UNESCO biosphere reserve, is the luxurious Soneva Fushi resort. This serene slice of paradise includes 64 private villas located within a lush jungle. Many even include their own pool. If you want to go all out, book one of the eight overwater retreats, which feature a terrace, private pool and water slide into the ocean. These one- and two-bedroom retreats also include outdoor bathrooms, a retractable roof over the primary bedroom and glass sections of floor allowing you to observe the sea life below. All villas include 24/7 butler service.
When booking your stay at Soneva Fushi, you'll need to choose between accommodations on the sunset or sunrise side of the atoll. The sunset side is ideal for snorkelers, as it offers easy access to three house reefs and ample dolphin sightings. If you prefer almost complete privacy, opt for the sunrise side.
The activities at this resort are top-of-the-line and include options such as an astronomer-led dinner cruise, a sunset dolphin cruise, a glassblowing class, a snorkeling session with manta rays, and so much more.
Lastly, the food scene at Soneva Fushi will have your mouth watering. Delectable culinary options include a plant-based restaurant, sushi counter, chocolate room, cheese and charcuterie parlours, and a lineup of Michelin-starred guest chefs who elevate dining into an art form.
One of the more affordable resorts in the Maldives, Kuredu Resort & Spa offers a range of room types, including beach bungalows, premium beach villas, Jacuzzi beach villas and overwater villas. All accommodations include beach-chic decor and make you feel deeply connected to the pristine natural environment. Now get ready for the best part: The resort is home to the world's largest underwater restaurant! Sip Champagne and nibble on a multicourse dinner while tropical fish put on a show all around you.
Regarding romantic offerings, Kuredu Resort & Spa has you covered with a Dream Island package that includes exclusive use of a sandbank and shade structure surrounded by turquoise waters. Resort staff can also set up a candlelit dinner on the beach and a Jacuzzi experience that boasts bubbles, flower petals, sparkling wine and tropical fruit.
The resort also offers two all-inclusive packages that cover everything from breakfast, snacks and alcohol to a round of golf, 60-minute spa treatment and a sunset cruise.
Located on the South Ari Atoll, the five-star Lily Beach Resort & Spa is one of the best places to indulge in an overwater villa. All such accommodations feature a glass portion of floor, as well as a private deck and pool. Because you're celebrating your love, we recommend booking the Romantic Escapes honeymoon package that includes a bottle of sparkling wine or Taittinger, exotic flowers and a basket of local fruit, a four-course candlelight dinner, a couple's Balinese massage, and an in-villa bath ceremony and bed decoration. If you combine this with the all-inclusive platinum plan, you'll also have access to a VIP lounge at the seaplane terminal, fine dining, unlimited signature cocktails, three daily excursions, and so much more.
And let's not forget about the spa: This exquisite oasis features innovative Ayurvedic treatments, massages utilizing hot stones and aromatherapy, and a variety of body scrubs aimed to detox, hydrate, rejuvenate or inspire romance.
Between naps and massages, you can partake in the many activities the resort facilitates, such as yoga, tennis, scuba diving, snorkeling and kayaking. Some of the popular excursions include a trip in a semi-submarine, a cruise on a floating platform replete with hammocks, and a private picnic or dinner on a private island.
After a mere 25-minute boat ride from the Malé airport, you'll arrive at Baros Maldives, a legendary resort that has mastered the fine art of crafting romantic experiences. Because of this, it's been named the "Most Romantic Resort in the World" by the World Travel Awards. Some highlights include a private sunset dinner aboard a dhoni, which is a Maldivian sailboat, a picnic on a dreamy sandbank, and a gourmet meal with butler service aboard a nooma (a boat fashioned after the dhoni).
Adding to the appeal for honeymooners is the fact that this resort is adults-only, helping to ensure a mellow vibe for the duration of your stay. You can relax poolside in canopied daybeds, glide through the water in a transparent kayak, or take a midday nap in a lavish suite or villa. When you're ready to up the adrenaline, try snorkeling, water skiing, a tube ride or a stand-up paddleboard excursion.
One of the most stylish resorts in the Maldives, Adaaran Prestige Water Villas boasts overwater accommodations with natural wood interiors, tiki roofs and floor-to-ceiling windows. When you step onto your private deck, you can take a dip in an outdoor Jacuzzi or dive into the soothing waters of the Indian Ocean. To infuse extra romance into your honeymoon, the resort will decorate your bed with flower petals and deliver Champagne and fruit whenever the mood strikes. And be prepared to find those adorable animal towel arrangements on your bed.
If you opt for the all-inclusive package, you'll have unlimited access to food, drinks, snorkeling gear and personal butler service. Treatments at the resort's Chavana Spa aren't included, but are well worth the splurge as they're all inspired by the freshness of a Balinese garden. Popular treatments include the Pevonia Botanica aroma fusion facial, traditional Balinese massage and the botanical body polish.
This is also one of the best resorts for scuba diving, as it provides PADI certification classes and trips to some of the best dive spots in the world.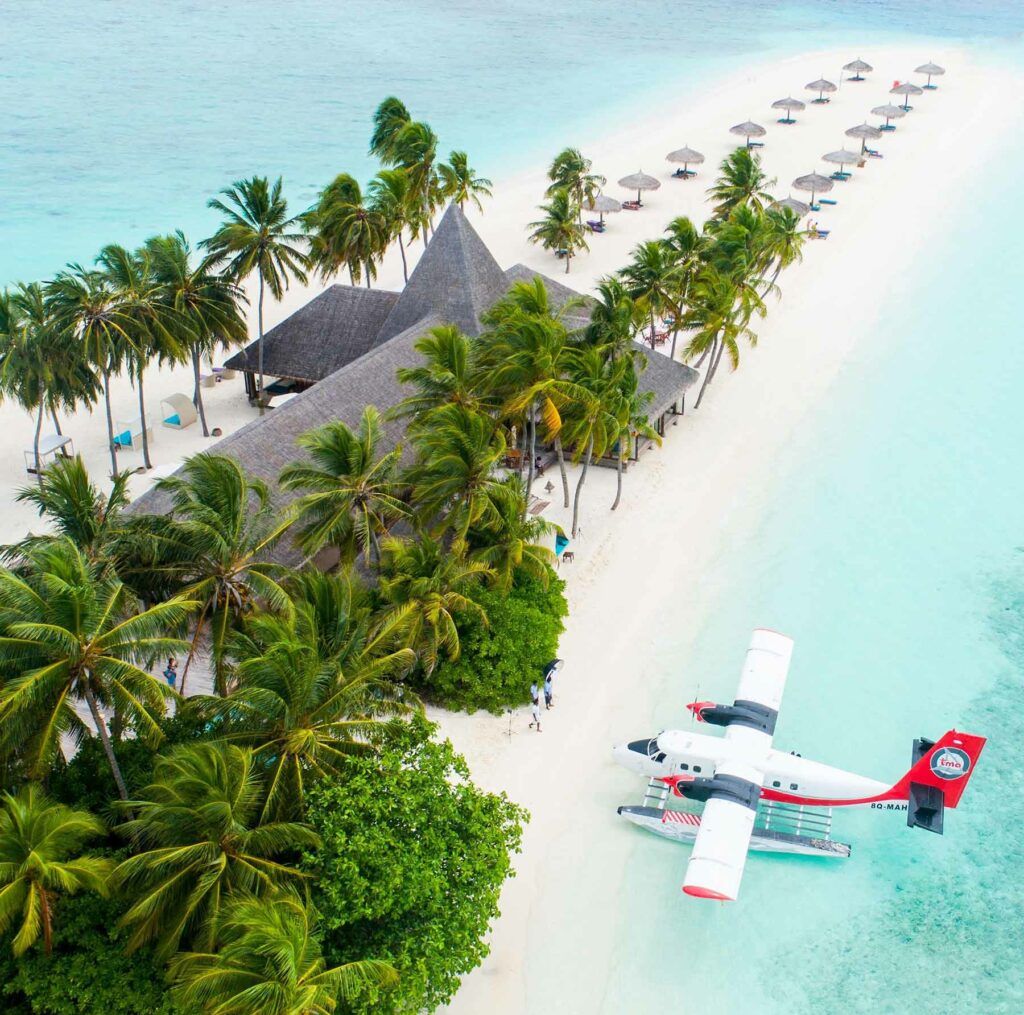 What to Do in the Maldives
In addition to floating in warm, clear waters, and snuggling with your partner in luxe accommodations, there are a host of activities in the Maldives to enjoy. These pastimes can enhance your honeymoon with adventure and provide ample opportunities for bonding.
Island hop. To fully soak in the wonders of the Maldives, we highly recommend island hopping. Research different activities each of the islands offer and hone in on those that pique your interest. If you prefer to only stay in one resort but still want to explore, you can also island hop by day. Many properties offer tours of atolls or day trips to larger nearby islands. Some resorts even provide helicopter tours.
Swim with manta rays. Honeymooners visiting the Maldives between May and October can glide through blue waters alongside graceful manta rays on the eastern side of the atolls. If you're visiting between November and April, grab your mask and snorkel and head to the western side of the atolls.
Go on a whale shark tour. If you're staying on the islands of Dhigurah, Dhangethi or Maamigili, consider a whale shark tour. Some of these tours even allow you to snorkel with the gentle giants, which are present year-round.
Picnic on the beach. Many islands in the Maldives have hiking trails (or just really long stretches of beach) that allow you and your significant other to embark on a romantic stroll or adventurous trek. Have your resort pack you a picnic so you can enjoy a waterfront lunch when you're ready for a break.
Snorkel or scuba dive.

There are an array of house reefs in the Maldives that are easily accessible from many resorts. For a truly exceptional underwater adventure, head to Banana Reef, which is aptly named as it's shaped like a banana. Snorkelers and beginner scuba divers can take in the colorful coral and marine life from near the surface of the water. More experienced scuba divers and free divers will want to explore the underwater canyons and overhangs. If you and your spouse don't have a scuba certification, the Maldives is an ideal location to complete this training.
Explore the Maldivian culture.

If possible, check out a few culturally rich landmarks, such as Utheemu Ganduvaru, the birthplace of Sultan Muhammad Thakurufaanu. Other must-visit sites include the Malé local market and the National Art Gallery.
Take a submarine ride. Explore the vibrant depths of the Indian Ocean by hopping aboard one of the many submarine tours offered on various islands.
Splurge on a sunset catamaran cruise. Say yes to the epitome of romance by surprising your partner with a sunset cruise. Many resorts offer newlyweds special deals on catamaran rides that often include a Champagne dinner.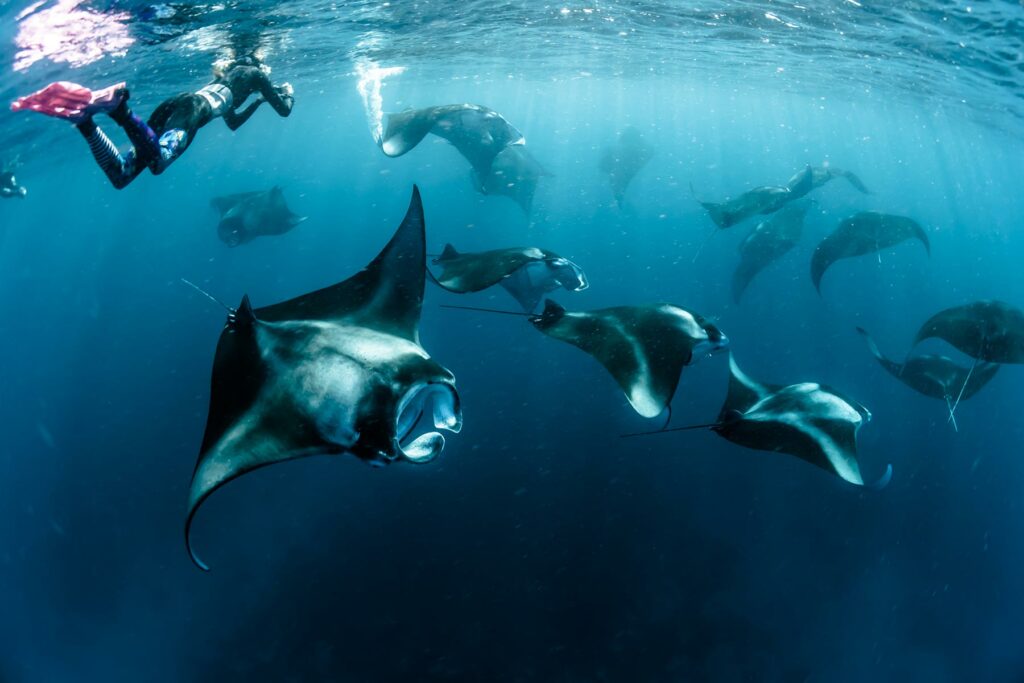 Additional Maldives Travel Tips
Set yourself up for a more seamless honeymoon in the Maldives by considering the following travel tips.
Ask the resort about deals for newlyweds. Take advantage of special offers resorts might offer newlyweds — just contact your resort of choice and ask! This helps ensure you don't miss out on perks not advertised on their websites. And when you arrive, it never hurts to ask if a complimentary room upgrade is available.
Bring cash.

Most establishments in the Maldives will accept a credit card, but it's handy to also have small bills on hand for tipping and purchasing goods from local markets. Most places accept U.S. dollars.
Pack insect repellant. If you're visiting the Maldives during the rainy season, be sure to pack insect repellant. The humid conditions can increase the presence of mosquitos.
Try local cuisine.

While it can be tempting to stick to tried-and-true dishes, you can show respect for the culture and broaden your culinary horizon by sampling local gastronomy. Coconut and fresh tuna are staples of Maldivian cuisine, as well as curries, sweets made from local produce and savory "short eats" that can be eaten on the go.
Bring sunscreen. A bottle of sunscreen can be quite pricey in the Maldives, so bring enough for the duration of your trip.
Pack an adapter.

Be sure to bring type D and G adapters to ensure you can plug in all your gadgets.
Up Next:
Whether it's for airfare, a hotel stay, or honeymoon travel experiences, create one list for all your honeymoon wishes.