While Napa Valley is known as a premier location for a romantic getaway coated in fine dining and world-class wine, it's quickly becoming an acclaimed site for destination weddings, too. 
The wide array of Napa wedding venues all offer awe-inspiring views of the seemingly endless expanses of vineyards. At the same time, they maintain their individuality through customized gardens and interiors and sumptuous menus.
If you're hoping for an elegant wedding layered in pampering, charm, and first-class service, look no further than these nine exceptional venues in Napa Valley.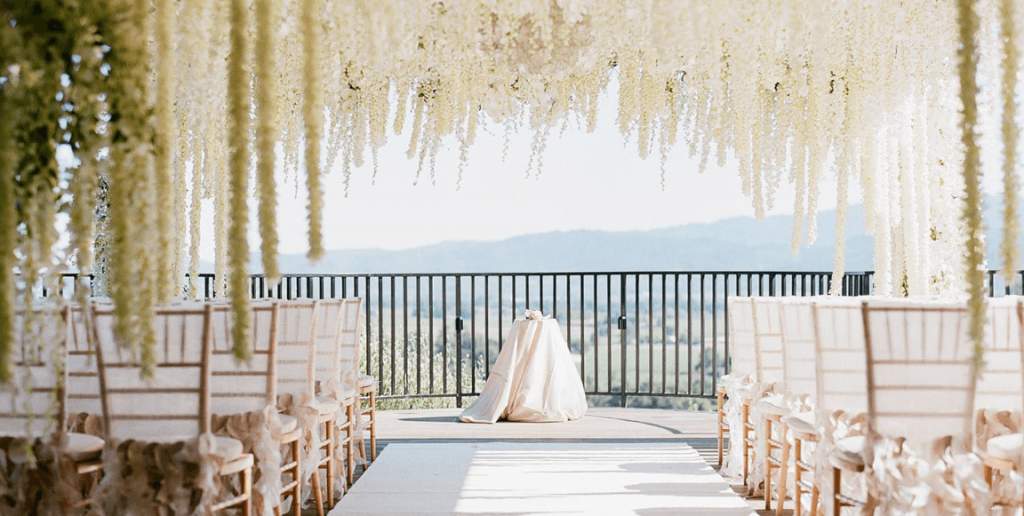 One of the most iconic luxury venues in Northern California, Auberge du Soleil is set on a 33-acre olive grove on the slopes of Rutherford Hill. From almost every corner, you're met with stunning views of Napa Valley and the pristine grounds of the resort. 
One of the most popular sites for outdoor nuptials is The Terrace, opening to lush, tree-covered hills that seem to melt into the horizon. It's truly spectacular during a sunset ceremony. The Vista rooms that adjoin The Terrace are ideal for a wedding reception, as they feature elegant decor and the same spellbinding views.
Couples hold more intimate wedding ceremonies in La Pagode. This is an al fresco, Asian-inspired pavilion nestled in a wonderland of centuries-old olive trees, vineyards, and a sculpture garden that showcases over 100 works from more than 60 California artists. 
After saying "I do," you can enjoy a reception that features edible masterpieces from the resort's Michelin Star-rated culinary program.
Typical Cost: $2,000 – $8,000 for a ceremony and reception
Capacity: 120
Bonus: When you're not in the thick of wedding events, you and your guests can explore neighboring wineries in complementary convertibles provided by Mercedes-Benz.
Find Auberge du Soleil on Facebook, Instagram, and Twitter.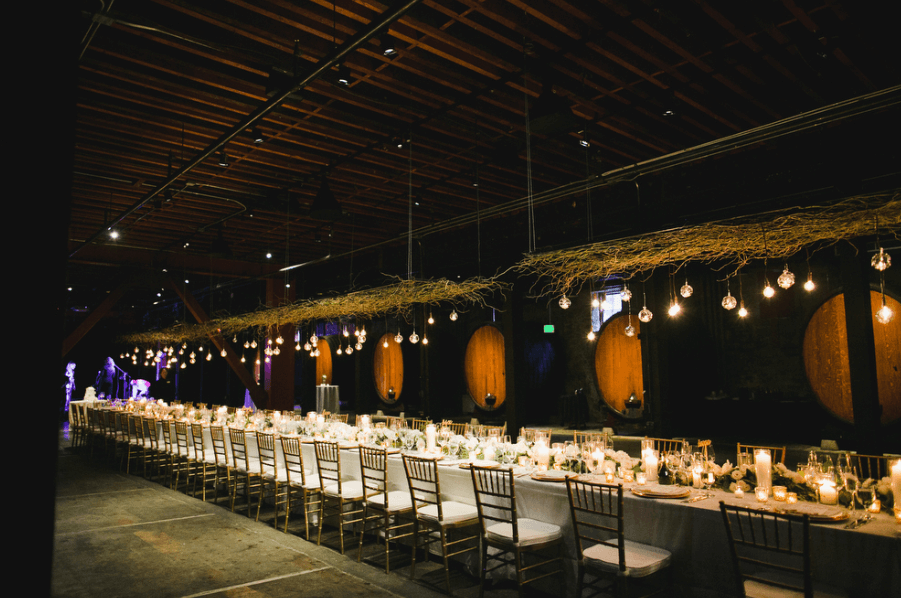 Foodies and wine aficionados will fall in love with The Culinary Institute of America's locations in the heart of Napa Valley. 
The venue at Greystone in St. Helena offers a spectacular landmark main building that wows with cathedral ceilings and awe-inspiring hand-cut stone walls. Dazzling vineyard views also contribute to the historic, classically romantic ambiance of this premier venue.
The location in Napa's Copia area provides more contemporary vibes with a modern building and grounds and a convenient location near many hotels, wine tasting rooms, and nightlife hot spots. As for the optimal location for a ceremony or reception? Look no further than the light-filled atrium and impressive outdoor amphitheater.
Wedding planning will also be a breeze, as the onsite team helps ensure every detail of your special day reflects your vision and intention.
Typical Cost: $165 – $275 per guest
Capacity: 300
Bonus: The venue offers amazing options for rehearsal dinners that could include a wine tasting class at Copia followed by a delicious dinner in the historic Barrel Room at Greystone in St. Helena.
Find Culinary Institute of America on Facebook, Instagram, and Twitter.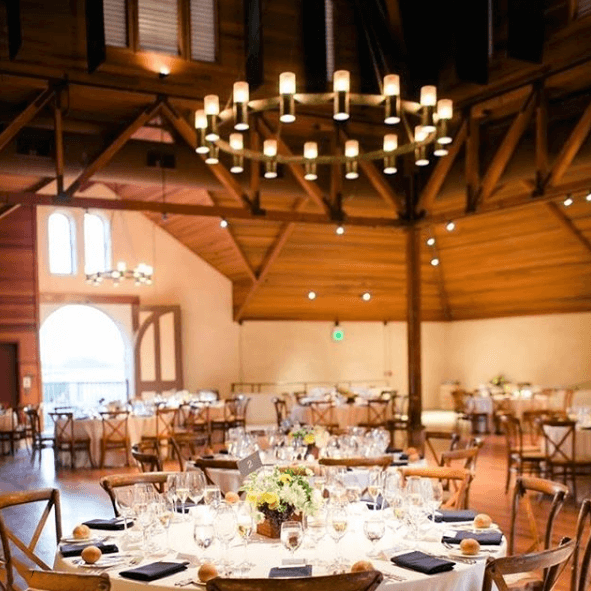 As a St. Helena wedding venue dating back to 1861, Charles Krug Winery is lauded as the oldest winery estate in Napa Valley. 
For those wanting a supremely elegant celebration, the winery's historic Carriage House features a renovated ballroom and dining area that features old-growth redwood floors and sparkling, hand-forged chandeliers.
The nearby sprawling lawn is surrounded by Great Heritage Oak trees and vineyards, offering a gorgeous setting for an open-air celebration. There's also a cherub fountain near the Carriage House which is perfect for a whimsical ceremony.
If you're hoping for a more pastoral environment, you'll want to utilize the venue's small redwood grove that has a rustic vineyard backdrop.
Typical Cost: $8,500 – $12,500 for a ceremony and reception
Capacity: 300
Bonus: The arched doorways and enchanting views from the second floor of the Carriage House provide an idyllic setting for photos.
Find Charles Krug Winery on Instagram and Twitter.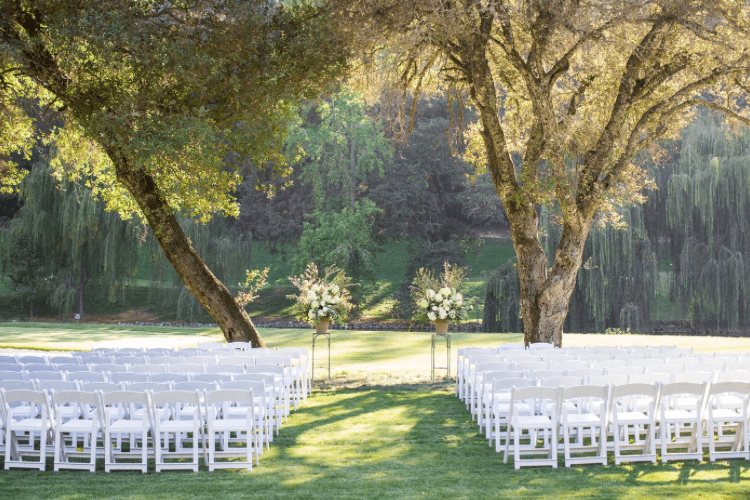 A magnificent wine country venue, the exclusive Meadowood Napa Valley rests on 250 acres that boast sophisticated structures emulating New England architecture in the early 1900s. Think white balconies, gabled roofs, and gray clapboard siding. 
As the venue is covered in extraordinary, manicured lawns, most ceremonies take place outside beneath soaring trees. For receptions, the multi-tiered clubhouse accommodates small celebrations and looks out onto the green fairways and lush lawns.
For couples having a larger wedding, the Vintners Room and Woodside Room are great options. The Vintners Room is especially sought after, as it stuns with high ceilings, a stone fireplace, and outstanding views.
A combination of award-winning cuisine, top-notch service, luxury accommodations, and a haven of natural wonders, Meadowood Napa Valley is an excellent choice for those saying "I do" in this coveted expanse of California.
Typical Cost: $2,500 – $25,000
Capacity: 150
Bonus: The Restaurant at Meadowood is overseen by James Beard and staffed by award winners Chef Christopher Kostow and Director Nathaniel Dorn. And, it's one of only five Michelin three-starred restaurants in the western United States.
Find Meadowood Napa Valley on Facebook, Instagram, and Twitter.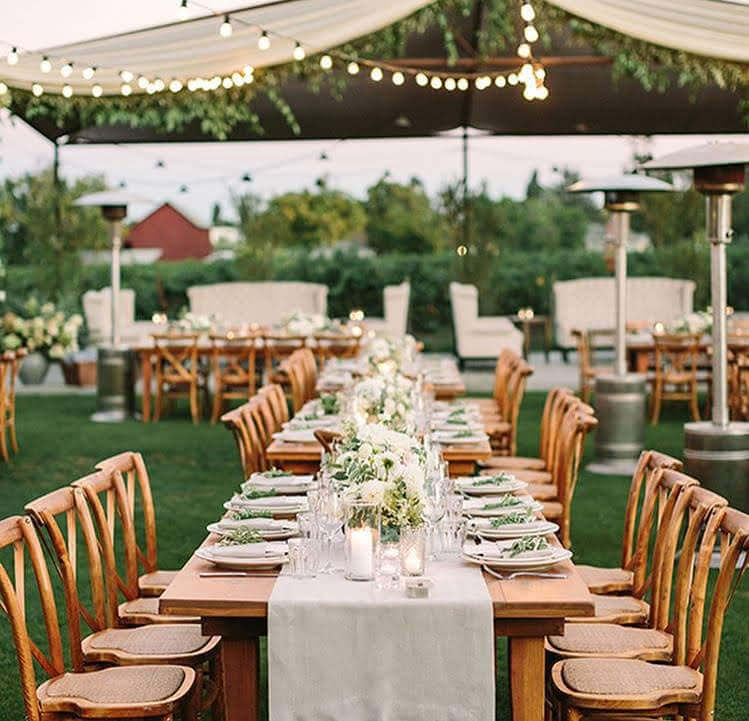 A picturesque country setting, Farmstead at Longmeadow Ranch is perfect for nuptials during any time of year, offering a mix of indoor and outdoor event spaces. 
During warmer months, the vineyard and garden settings, including the Pergola, Apple Meadow, Walnut Tree, and Lawn ceremony sites, offer pastoral charm for those wanting a rustic-chic wedding.
The Barn is a fantastic choice for an indoor reception, as it has an open layout and an amazing vineyard backdrop. Meanwhile, couples and guests can enjoy the reception on the Lawn, offering unique touches like a live fire pit which can be used for Live Fire cooking.
Beyond the extraordinary physical environment, the food is sure to be superb. After all, many of the ingredients for the farm-to-table dishes are sourced from the onsite edible garden.
Typical Cost: Starts at $8,000 for ceremony and reception
Capacity: 300
Bonus: To ensure your special day plays out in the way you envision, the venue's team of wedding planners will tailor their packages to match your unique needs, budget, style, and personality.
Find Farmstead at Longmeadow Ranch on Facebook, Instagram, and Twitter.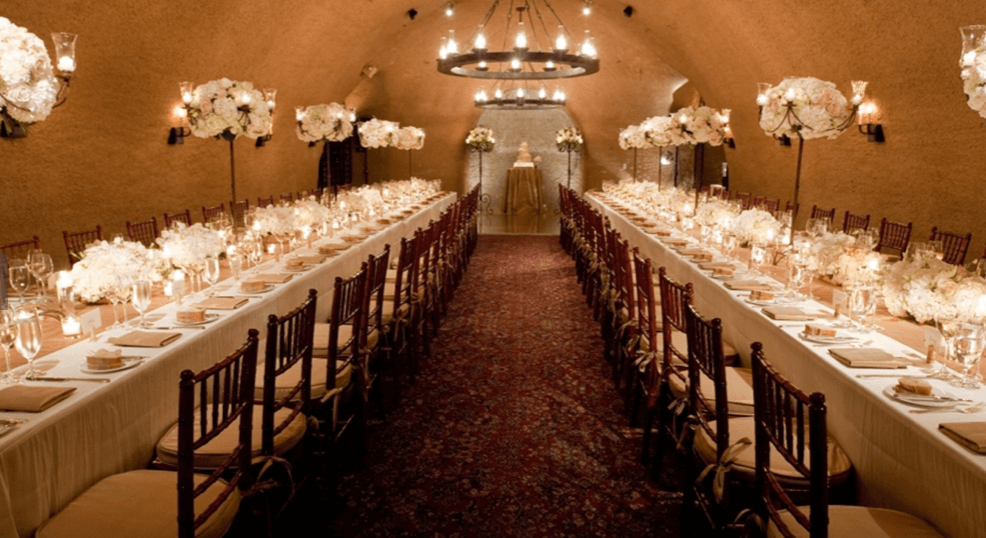 With wedding specialists who call themselves 'romantics at heart,' Calistoga Ranch is committed to helping you craft a wedding that reflects your vision. This vision will unfold in the venue's private, 157-acre canyon that's lined with 100-year-old oak trees and soaring pines. 
Many couples exchange their vows on the forested banks of Lake Lommel as the vibrant colors from the setting sun paint the sky. Meanwhile, couples and guests can enjoy cocktail hour on the adjacent lawn.
Another popular setting is the Vineyard Venue, a permanent tent surrounded by acres of Cabernet grapevines. Plus, the tent's market lights, copper fans, wood flooring, and vineyard views add to the rural charm.
The Wine Cave is another winner featuring a one-of-a-kind environment, as it's built into a hillside and glows with candle-laden chandeliers and intricate sconces.
However, these aren't the only options. Calistoga Ranch offers thousands of square feet of outdoor and indoor event spaces that exude understated elegance and embrace the splendor of the natural surroundings.
Typical Cost: $10,500 – $15,500
Capacity: 150
Bonus: Bridal parties can treat themselves to a soothing soak in the ranch's heated mineral pools.
Find Calistoga Ranch on Facebook, Instagram, and Twitter.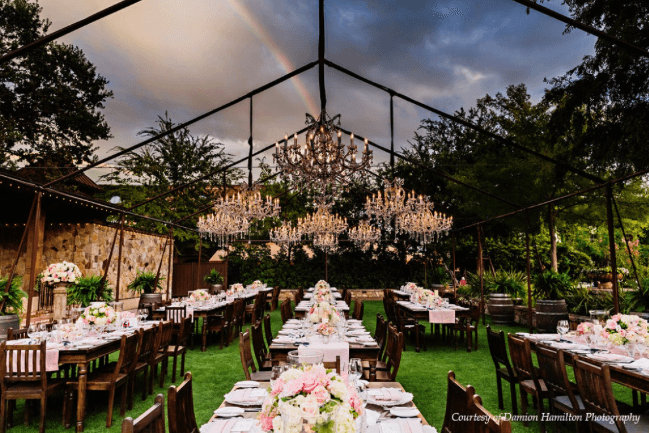 Perched in the beauty of Yountville, Hotel Villagio is a dynamic venue soaked in modern glamour and distinctive details. It boasts a 'naughty-meets-nice vibe' that accommodates edgy pre-wedding gatherings and striking receptions and ceremonies.
The 15,265-square-foot Pavilion at The Vintage Estate is the place to go for ceremonies, as it dazzles with classic California terraced gardens, verdant lawns, and a covered gazebo-style stage. It also impresses with brick walkways and tranquil fountains.
For the reception, head to the 2,470-square-foot Barrel Room. You can celebrate your love beneath the warm luminance of vintage wrought-iron chandeliers surrounded by exposed brick. Plus, the adjoining outdoor lawn sparkling with market lights adds to the room's appeal, offering an optimal space to stargaze.
Typical Cost: $3,000 – $12,000 for ceremony and reception
Capacity: 400
Bonus: The hotel can arrange a round of golf at the Chardonnay Golf Club or a hot air balloon tour on your behalf.
Find Hotel Villagio on Facebook, Instagram, and Twitter.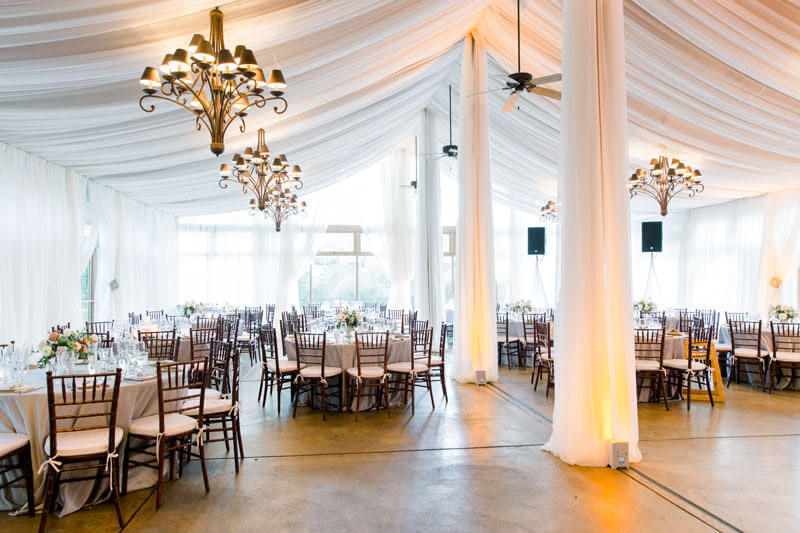 Situated in American Canyon, Hiddenbrooke Golf Club is a posh Napa wedding venue that radiates refinement with dark wood paneling, a baby grand piano, a floor-to-ceiling stone-faced fireplace, and French doors. 
Before enjoying the classy interiors, couples can pledge their love on the Ceremony Green that looks out onto rolling hills or in the enclosed Pavilion that offers a blank canvas for your wedding style.
Meanwhile, receptions often occur in the clubhouse that features high windows overlooking the 18-hole golf course and ridges beyond. The area is made all the more charming by creamy white walls accentuated by white wainscoting, large potted plants, and paintings of farmlands and country buildings.
Typical Cost: Ceremony fee starts at $1,500; rental fees start at $3,000
Capacity: 200
Bonus: The venue's talented chefs can create a menu to suit any food preferences and dietary needs. They specialize in American, Caribbean, Italian, Mexican, Asian, Indian, local, and Southwestern cuisine.
Find Hiddenbrooke Golf Club on Facebook and Instagram.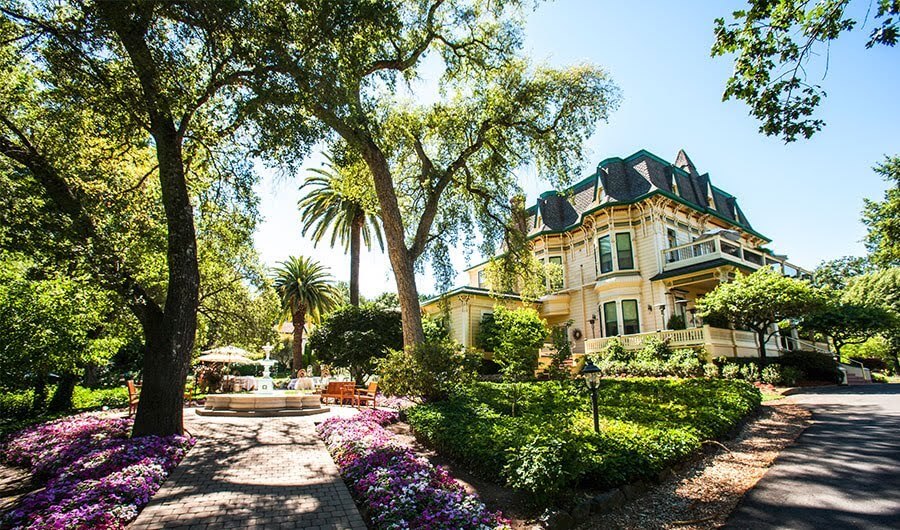 Grace is woven through every element of this grand hotel that sits on eight acres and overlooks the wonders of Dry Creek Valley. Built in 1881 and earning a spot on the National Register of Historic Places, Madrona Manor evokes an easy, old-world beauty, making you feel like you've stepped back in time.
This beauty shines out of the Victorian architecture which highlights period scrollwork, a mansard roof, dormer windows, and columned verandas. Additionally, many of the rooms include fireplaces, crystal chandeliers, carved side-boards, and turn-of-the-century art.
Couples have an astonishing number of choices when it comes to their wedding ceremony and reception options, as the manor and its surrounding gardens, citrus grove, and wooded areas offer an enchanting mix of intimate and sprawling settings. The Wedding Lawn, for instance, is often selected for ceremonies, as a rainbow of seasonal flowers and massive sycamores border it.
Typical Cost: $1,500 – $15,000
Capacity: 200
Bonus: All wedding packages include wedding coordinators, tableware and glassware, tables, linens, padded chairs, market umbrellas, outdoor heaters, and the services of Michelin-starred Chef Jesse Mallgren and Wine Director Timothy Skok.