Couples wanting a wedding experience filled with fresh air, scenic views, and an expansive vibe have an array of stunning outdoor venues to choose from in and around Kansas City.
From a historic structure surrounded by lush grounds to a botanical garden fantasyland, Kansas City is the place to be for a special day infused with the marvels of Mother Nature. Discover seven outdoor wedding venues offering ceremony and reception sites that will far exceed your expectations.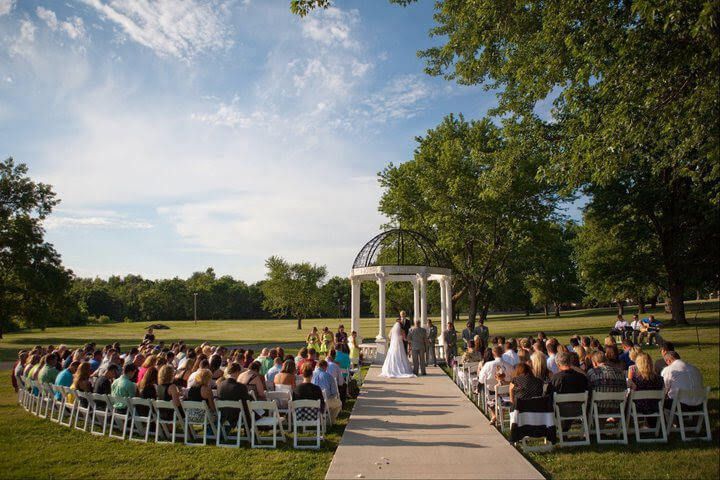 Just outside of Kansas City — in Liberty, Missouri — the 170-acre Belvoir Winery consists of rolling hills, lush vineyards, and spellbinding vistas.
A perfect place to host an outdoor ceremony is beneath the grand, white marble gazebo that's surrounded by a sprawling manicured lawn. Then, enjoy a reception in one of the elegant ballrooms at the historic Odd Fellows Home that was built in the early-1900s and has a simple, sophisticated aesthetic. The ambiance at this venue is ideal for couples wanting a classically romantic wedding day.
Recently updated bridal suites ensure bridal parties can prepare for the ceremony in ultimate comfort. The onsite Inn at Belvoir Winery also provides overnight accommodations for wedding guests and includes a 1,500-square-foot bridal suite providing a plush setting for your first night as a married couple.
Typical Cost: Site rental is $3,500 – $5,500
Capacity: 250
Bonus: Unsurprisingly, the venue's wine is superb, as its numerous blends are crafted from local grapes.
Find Belvoir Winery on Facebook, Instagram, and Twitter.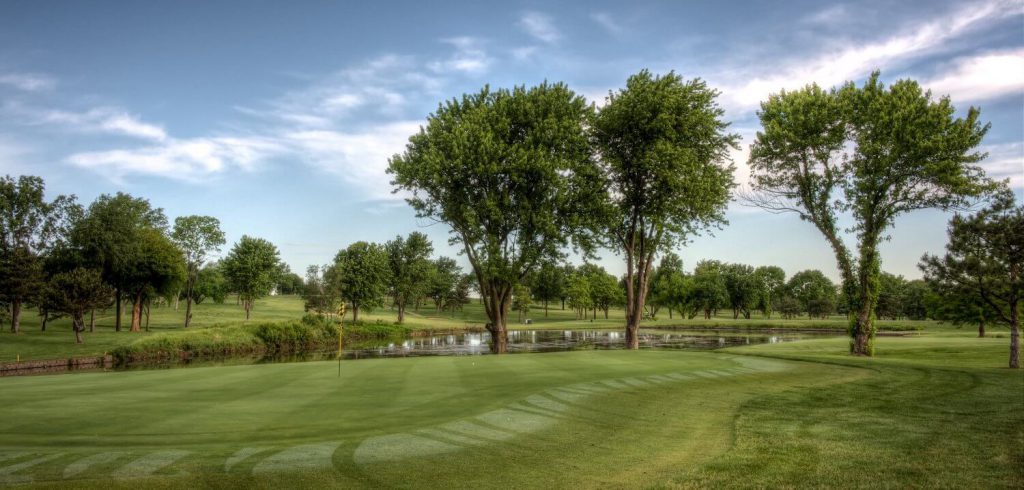 Located in Overland Park, St. Andrews Golf Club offers wide-open spaces, rustic nooks for stunning photos, and a chic indoor space.
An ideal site for your wedding ceremony is the large patio terrace that looks out onto the green, a gorgeous tree-line view, and a pond in the distance. The venue also provides white wooden chairs, an archway, a one-hour ceremony rehearsal, a wedding coordinator, and use of the Bridal Room.
Most receptions take place in The Highland Room that includes vaulted ceilings, a dance floor, and panoramic windows framing the expansive golf course.
Plus, the food will not disappoint. The Executive Chef and culinary team can accommodate a range of preferences, offering everything from formal, sit-down meals to laidback barbecues.
Typical Cost: Starts at $1,200
Capacity: 250
Bonus: The venue is conveniently located near a variety of quality accommodations.
Find St. Andrews Golf Club on Facebook and Twitter.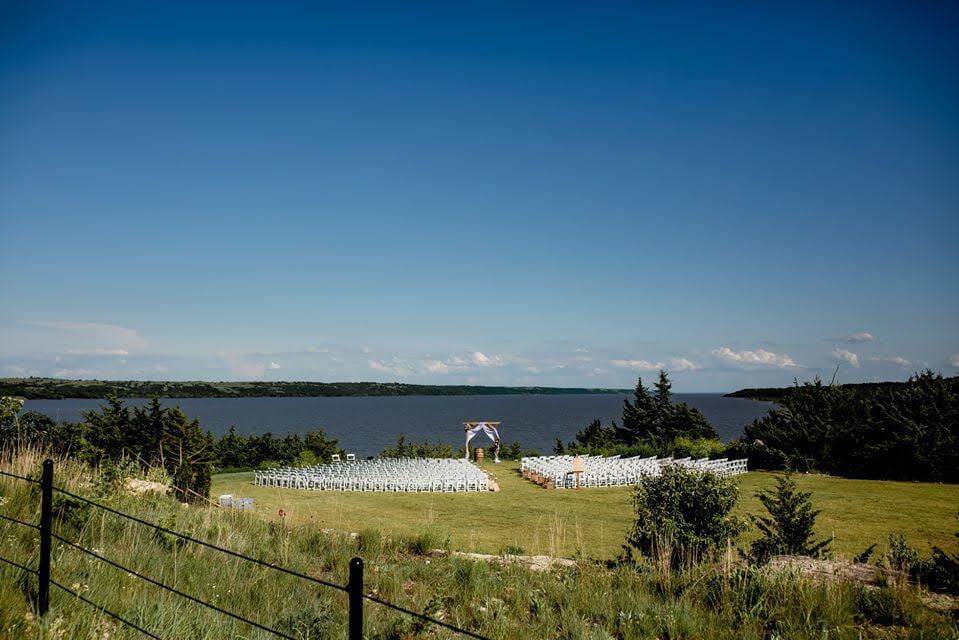 Sitting on a rural wonderland, this spectacular lakefront wedding venue features views of both Tuttle Creek Lake and the Flint Hills.
As for the perfect setting for a ceremony? Look no further than the lawn perched above the lake which can accommodate hundreds of guests. You'll then migrate to the modern, indoor reception area that's almost entirely made of glass, allowing you to continue soaking in the views from the comfort of a climate-controlled space.
A wedding at Blue Vista includes a wedding suite, outdoor chairs, indoor chairs, tables and tablecloths, indoor and outdoor media systems, and access to a prep kitchen and ice machine. Additionally, many of the wedding packages include a three-night stay in the one-bedroom, one-bath Stone Lodge Event Suite.
Wedding photographers will also be in heaven here, as couples have access to almost every corner of the grounds, providing a range of backdrops for jaw-dropping photos.
Typical Cost: Site fee is $1,250 – $6,900
Capacity: 400
Bonus: The venue requires couples to strengthen their relationship by completing a premarital counseling program before moving forward with the wedding festivities.
Find Blue Vista on Facebook and Instagram.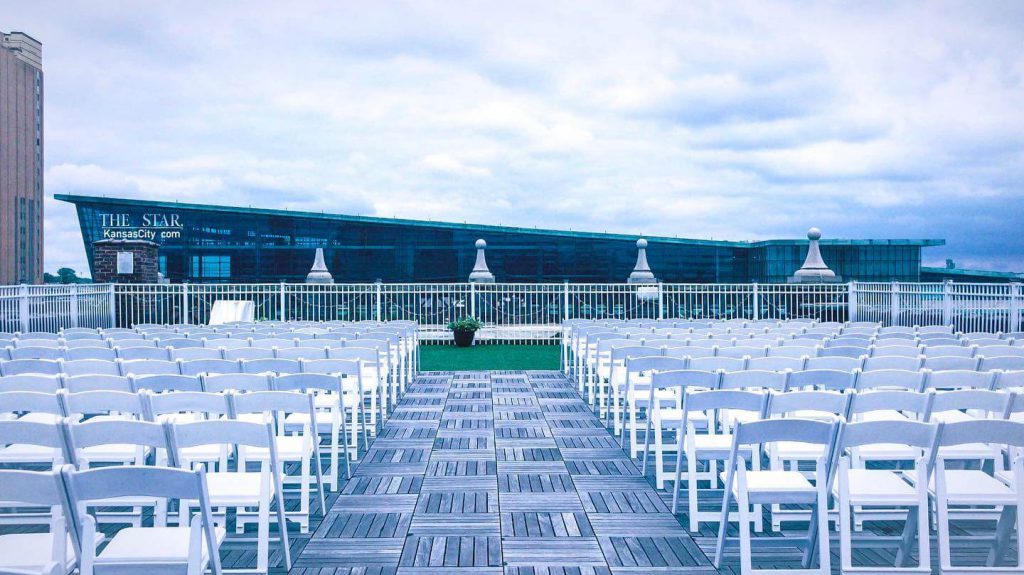 Situated in the heart of Downtown Kansas City, The Terrace on Grand is 5,000 square feet of historic sophistication, wowing couples with original, raw-white brick walls and dark hardwood floors.
Sprinkling in an urban-chic vibe, the rooftop deck allows couples to have an alfresco ceremony as the sun sets, creating a captivating glow across the reflective surfaces of the city. Or you can wait for the sun to drop below the horizon before you say "I do," allowing the lights of the city to wake up and create a dazzling, multi-colored backdrop for your celebration.
After savoring the 360-degree views of downtown, you'll head into the spacious reception area that serves as a blank canvas for whatever aesthetic you're dreaming of.
Typical Cost: $75 – $90/per person
Capacity: 250
Bonus: The venue's all-inclusive wedding package provides a five-course buffet that includes your choice of two entrees, one vegetable, one starch, and one salad with dinner rolls.
Find The Terrace on Grand on Facebook and Instagram.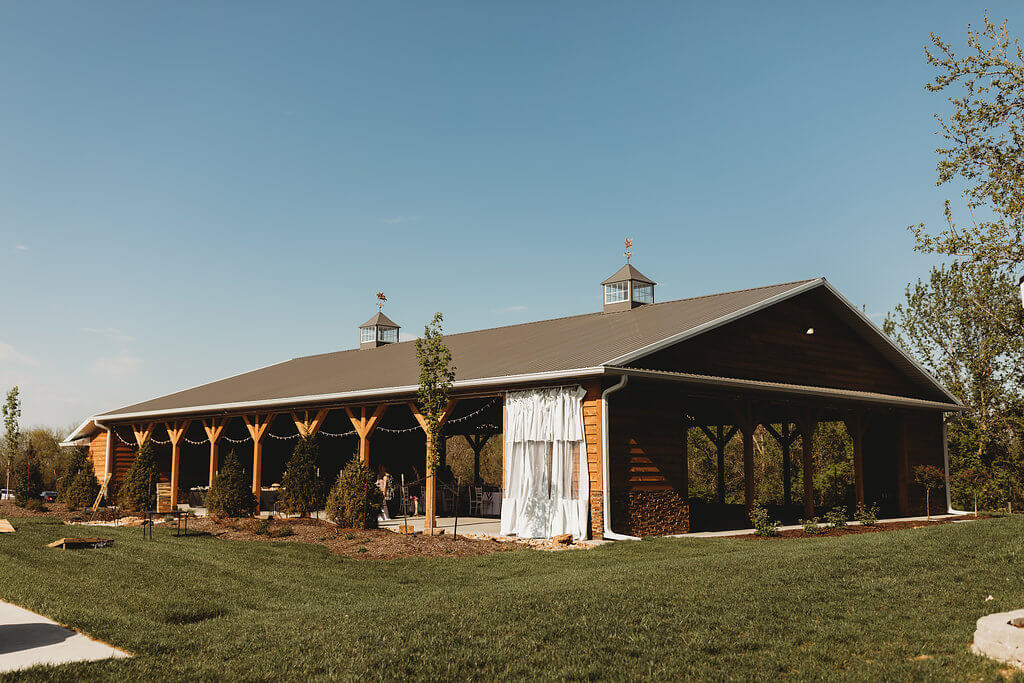 One of the most popular outdoor wedding venues in Kansas City, The Legacy at Green Hills is a 38-acre oasis that includes soaring trees, a lake, and fields covered in wildflowers during select seasons.
Couples are able to choose any area on the property for their ceremony, but there is a designated ceremony space — replete with a red brick aisle ending under a pergola — that can be decorated with flowers, twinkle lights, fabric, or anything else you desire.
Receptions are typically hosted in the large, open-air pavilion that includes contemporary chandeliers, ceiling fans, outlets, and bathrooms. The pavilion allows you and your guests to enjoy the surroundings even if rainy weather strikes.
Before the ceremony, the bridal party can relax in the venue's beautiful home that was built in 1912 and provides three bedrooms, a full bridal suite, and a dressing room. The downstairs area features a kitchen, three entertaining spaces, and a groom's room that pleases with a TV, foosball table, pool table, and card table.
Typical Cost: $3,500 – $7,500
Capacity: 250
Bonus: You can stay overnight in the onsite home for an additional fee.
Find The Legacy at Green Hills on Facebook and Instagram.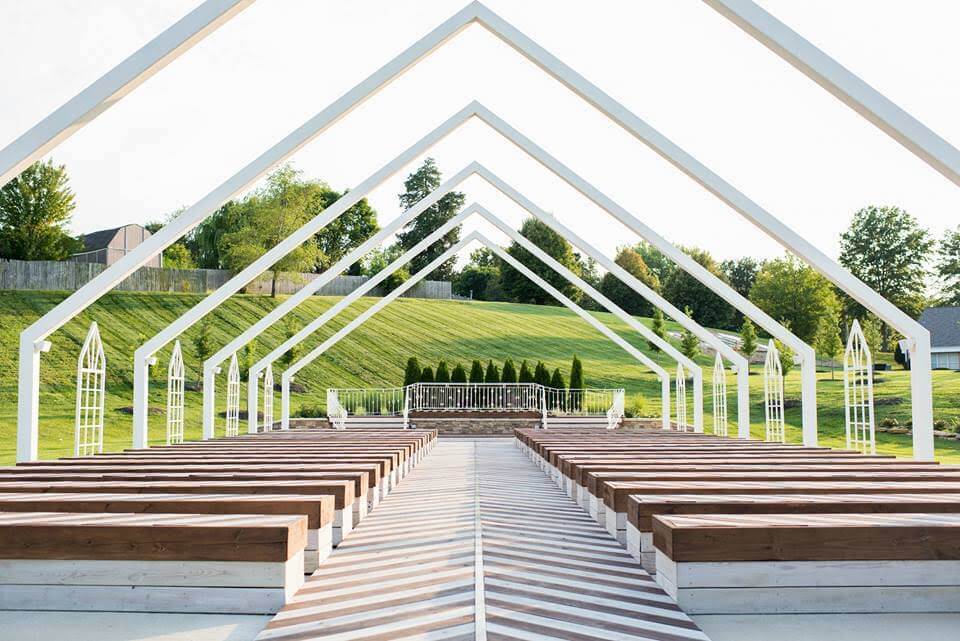 One of the most unique outdoor wedding venues in Kansas City, The Pavilion Event Space astonishes with its massive open-air chapel that doubles as an art installation and sits in the middle of a verdant, manicured lawn and garden. This "structure" is sure to leave an impression.
After you tie the knot, head into one of the equally extraordinary reception areas spread over 10,000 square feet and composed of dramatic antique ceilings, 19 crystal chandeliers, and hardwood and marble floors — the effect is enchanting. Adding to the allure of the reception venues are pieces of statement furniture that are as fashionable as they are comfortable.
The Pavilion Event Space also serves as a one-stop-shop where you can rent out an altar or arch, audio equipment, chairs, a dance floor, decor, drapery, lighting, and tables.
Typical Cost: Starts at $4,200
Capacity: 330
Bonus: The bridal suite is fabulously opulent with a custom vanity, vintage couches, and a canary crystal chandelier.
Find The Pavilion Event Space on Facebook and Instagram.
The place to have a truly beautiful wedding, Powell Gardens provides numerous options for outdoor ceremonies and both outdoor and indoor receptions.
Among the Perennial Garden Arbor and the Marlese Lowe Gourley Island Garden, one of the most remarkable ceremony spaces is the 4,700-square-foot nondenominational Marjorie Powell Allen Chapel. Made almost entirely of wood and glass, the chapel was designed by E. Fay Jones, a student of master architect Frank Lloyd Wright, and makes an otherworldly impression with its angular lines and elegant details.
While this venue is technically indoors, the massive windows that look out onto the gardens and a large pond will make you feel like you're immersed in nature during your special event.
Powell Gardens also offers a range of reception venues from the open-air Missouri Barn (which features the nation's largest edible garden as a backdrop!) to the Fountain Garden that's centered around a 42-foot-diameter interactive water feature surrounded by panicle hydrangeas, a rainbow of annuals, burgundy ninebarks, and cannas.
Typical Cost: $675 – $2,400 for a ceremony; $600 – $2,500 for a reception
Capacity: 200
Bonus: You have seemingly endless, stunning backdrops for your wedding photos at this event venue.