With world-class beaches, astonishing botanical gardens, balmy weather, and a tapestry of architecture ranging from Mediterranean Revival to Art Deco, Miami, Florida is one of the best locations in the United States for an outdoor wedding.
Whether you're dreaming of a beach ceremony soaked in luxury, a courtyard setting that makes you feel like you've time-traveled to the 1800s, or a tropical garden that seems too magnificent to be real, these ten outdoor wedding venues in Miami will make your eyes sparkle with possibility.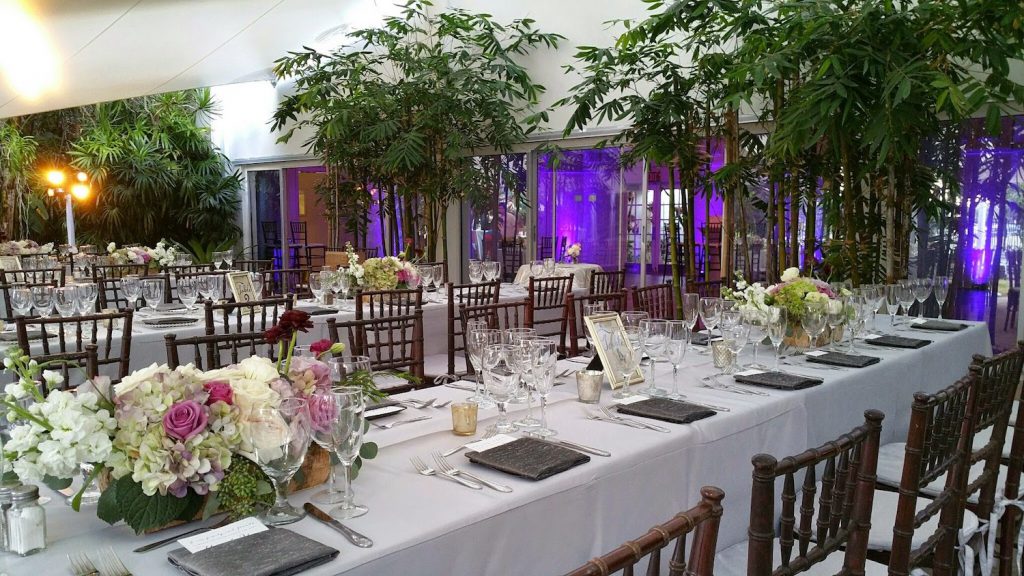 As you wander through the three acres of Miami Beach Botanical Garden, a space filled with tropical plants and other greenery, you'll quickly realize it's the perfect venue for your dream wedding.
The scents of jasmine, ylang-ylang, and frangipani, mixed with the sights of flowering trees, koi fish meandering through a pond, and a grand fountain with water flowing over coral stone and moss, please the senses at every turn.
A popular site for a wedding ceremony is the canopied terrace overlooking a 100-year-old banyan tree that's especially resplendent as the sun sets in the sky. This stunning site can also be used for a reception.
Typical Cost: Starts at $5,600
Capacity: 1,000
Bonus: You can rent out the entire garden, giving you and your guests privacy and unfettered access to the lush grounds.
Find Miami Beach Botanical Garden on Facebook, Instagram, and Twitter.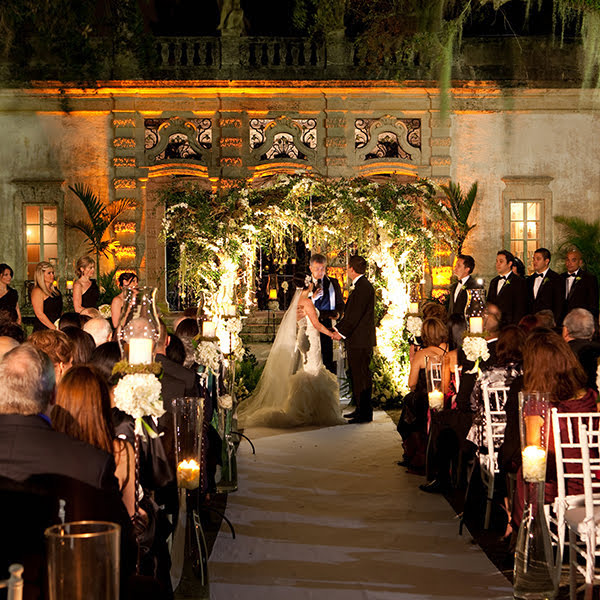 Built in 1916 by industrialist James Deering, Vizcaya Museum and Gardens is a majestic mansion on Biscayne Bay. With architecture emulating an Italian Estate that Deering was fond of, the grounds will make you feel like you've stumbled on enchanted secret gardens.
For an evening wedding, you and your guests have exclusive access to the inner courtyard, outside terraces, and gardens. The courtyard has elegant old-world vibes while the terrace opens to sparkling views of the bay.
If you want a more intimate experience, you can host a ceremony for up to 25 people in one of the garden spaces. Your options abound with 10 acres of Italian Renaissance gardens, a historic village outbuildings compound, and native woodland landscaping.
Typical Cost: $7,500 – $12,500
Capacity: 300
Bonus: The venue offers tips and support to help you plan a green and sustainable wedding.
Find Vizcaya Museums and Gardens on Facebook, Instagram, and Twitter.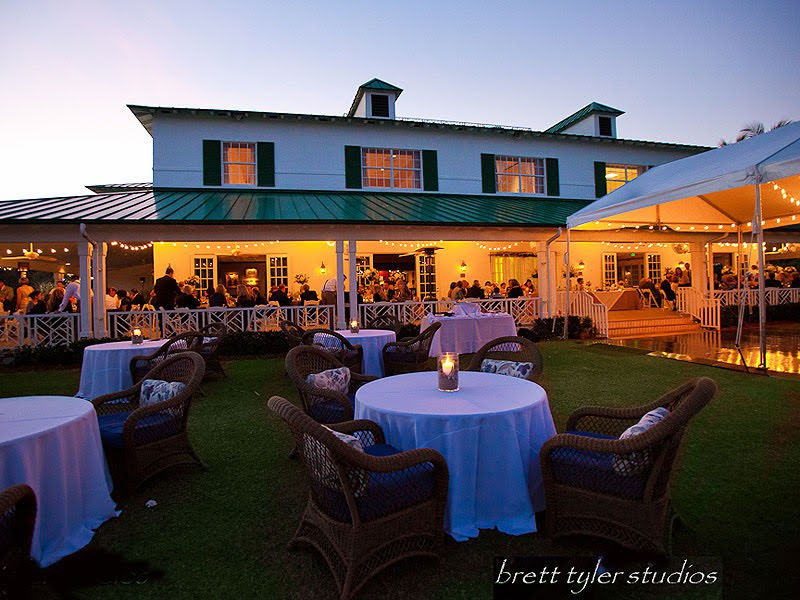 Located in West Palm Beach, National Croquet Center is a perfect venue if you want your wedding day drenched in a special brand of sophistication reserved for the South.
The prime ceremony location is on the croquet lawn where a dreamy backdrop of palm trees and the vast Florida sky make for a truly memorable outdoor wedding.
Before heading to the reception, you can feel like a true laissez-faire royal by partaking in some croquet on the great lawn. Then, enjoy an alfresco celebration on the wraparound Southern Veranda that glows under a canopy of twinkle lights.
Typical Cost: Rental fee ranges from $2,500 – $4,000
Capacity: 350
Bonus: The catering manager and wedding coordinator are incredibly hands-on, helping you with your ideal menu, decor selection, and everything from the planning to day-of coordination.
Find National Croquet Center on Facebook.
Why not host a garden wedding among the whimsy of the 2.5-acre Redland Koi Gardens and relish a fairytale setting composed of soaring oaks, koi ponds, and serene Japanese architecture?
While much of the greenery is native to Japan, this venue has fostered relationships with nearby nurseries and cultivated gardens composed of foliage from around the world.
Most ceremonies take place on a large patio that seems to float above a large koi pond and is surrounded by the venue's diverse collection of flora. One of the most magical environments for receptions is the fruit-producing grove of over 100 Longan trees from Thailand that create an impressive shaded canopy.
Typical Cost: Ceremony site fee starts at $2,500; reception site fee starts at $6,500
Capacity: 150
Bonus: The venue's variety of gorgeous backdrops results in stunning wedding photos.
Find Redland Koi Gardens on Facebook.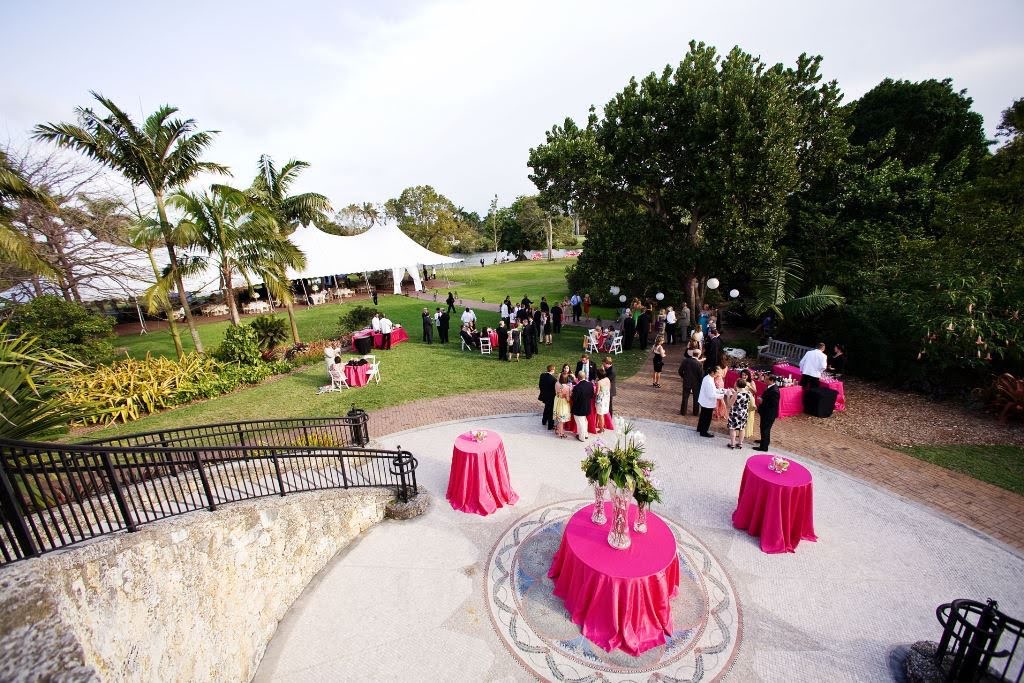 This verdant wonderland in Coral Gables is a spectacular location for an outdoor Miami wedding. Offering 83 acres of meandering gardens that feature soothing water features, a coral rock grotto, and staircases surrounding an enchanting lily pond, the Fairchild Tropical Botanic Garden makes you feel like you've landed in Shangri La.
As for prime spaces to host your special day? Look no further than the Amphitheater and the Bailey Palm Glade. As you explore the Amphitheater, you'll find a land bridge leading to a coconut tree grove and limestone dais.
Meanwhile, the Bailey Palm Glade wows with its dazzling views of Glade Lake and Royal Palm Lake as well as the limestone staircases leading past the lily pool.
Typical Cost: Minimum of $600 per event for site rental
Capacity: 280
Bonus: The wedding venue's site fee supports the garden's mission of promoting conservation, education, and enjoyment of exotic plants.
Find Fairchild Tropical Botanic Garden on Facebook, Instagram, and Twitter.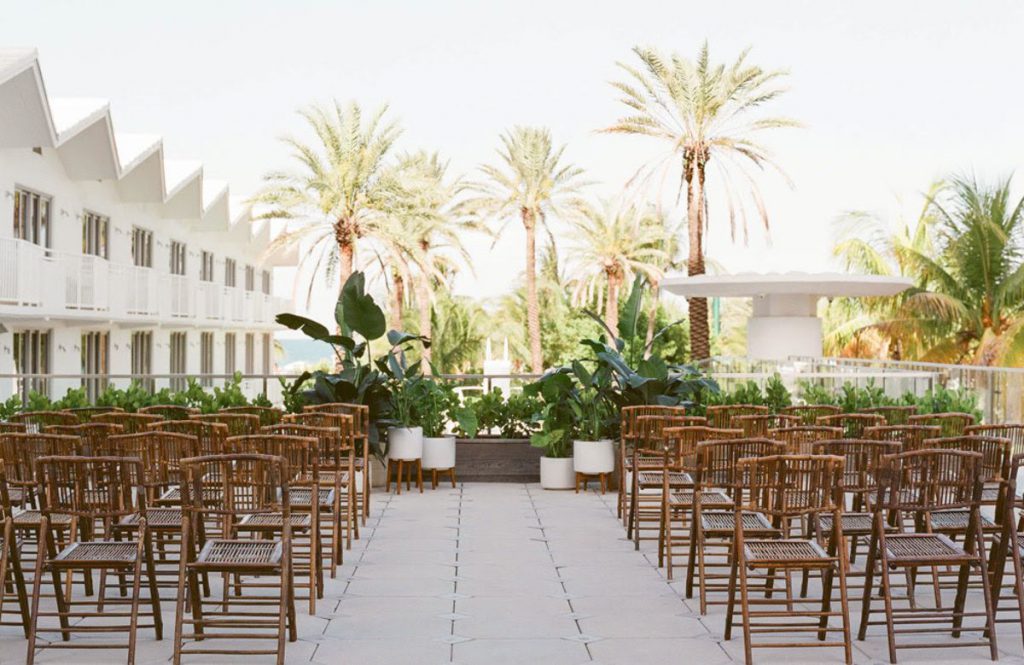 An outdoor wedding at the Shelborne South Beach starts with a ceremony on the Sky Terrace which overlooks the sparkling pool, soaring palms, and the Atlantic Ocean.
For the wedding reception, head to the pool deck where you can celebrate your I Dos amid the wonder of the ocean air and reflection of twinkle lights dancing on the surface of the pool.
And then it's time for the food. The hotel's on-site Top Chef alums, Jeff McInnis and Janine Booth, will create the amazing menu you select, creating a memorable experience for your guests.
Typical Cost: Site fee starts at $3,000
Capacity: 250
Bonus: Staying at the hotel is a truly luxe experience, as it offers a compelling mix of vintage charm and modern refinement. It's so good you might just be convinced to relocate your honeymoon to the Shelborne.
Find Shelborne South Beach on Facebook, Instagram, and Twitter.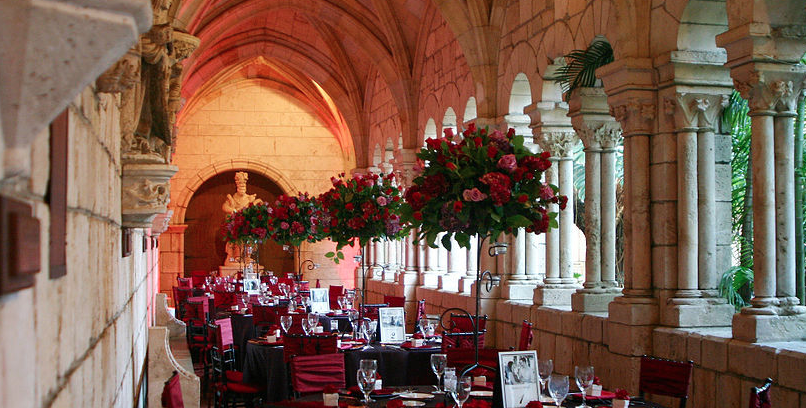 One of the most awe-inspiring wedding venues in South Florida, The Ancient Spanish Monastery is an authentic 12th-century monastery that William Randolph Hearst shipped to the United States in the 1920s.
After being housed in 11,000 crates for 40 years, the monastery was reassembled in the 1960s. While the interior spaces are extraordinary, the five gardens—composed of 20 acres of rare palms, Spanish oaks, cycads, banyans, and flowering trees—are breathtaking.
For the reception, the ancient arched Cloisters, the covered passageways that surround an open courtyard, of this 880-year-old iconic landmark are a must. When set with beautifully decorated tables and a sea of flowers, you'll feel like you're toasting to your love on the set of an epic Spanish film.
Typical Cost: $1,500 – $5,000 per event; $3,000 – $9,000 per event for reception
Capacity: 300
Bonus: The monastery welcomes nondenominational, interfaith, and civil ceremonies.
Find The Ancient Spanish Monastery on Facebook.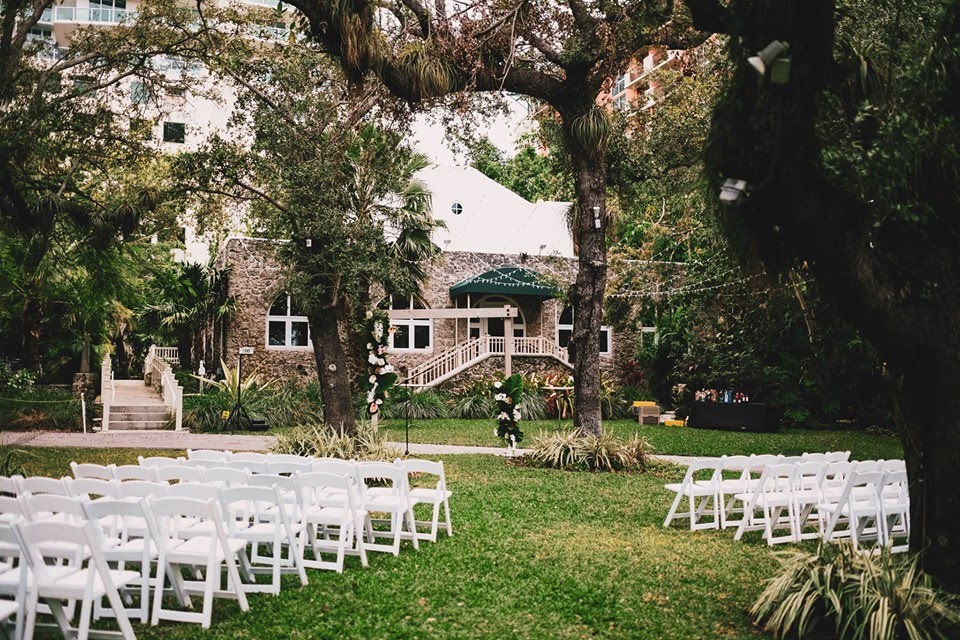 Dating back to 1891, this historic building at Woman's Club of Coconut Grove boasts sprawling grounds blanketed in massive oak and palm trees.
All outdoor ceremonies and receptions are enjoyed in various pockets of the land which maintains a charming sense of unrestrained wildness.
If the weather forces you inside, you won't be disappointed. The clubhouse features an open-beam cathedral ceiling, tasteful chandeliers, and a large stone fireplace.
Typical Cost: Site fee is $9,500 – $10,500 for a minimum of 50 guests
Capacity: 150
Bonus: Coconut Grove Events is involved in all details, helping to ensure your wedding planning is as stress-free as possible.
Find Woman's Club of Coconut Grove on Facebook and Instagram.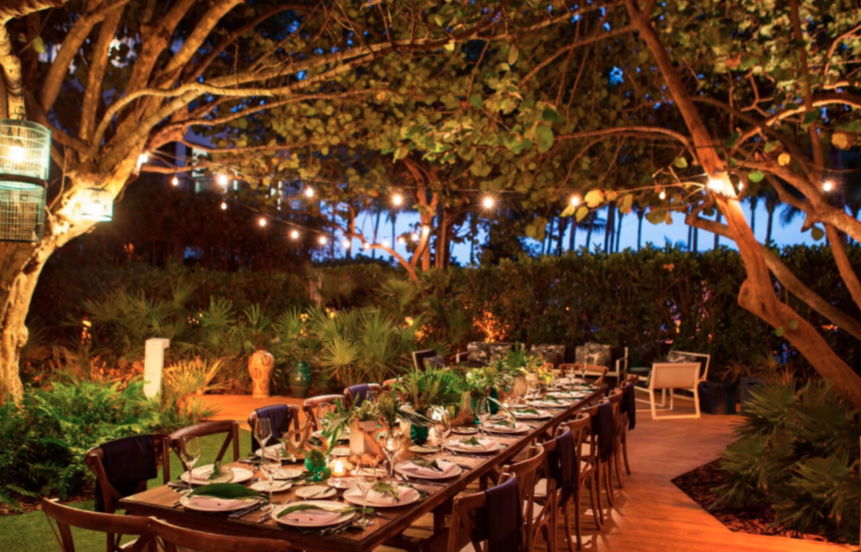 For a supremely luxurious beach wedding, head to the iconic W South Beach where you can exchange your rings while standing on powder-soft sand as the aquamarine waters of the Atlantic lap against the shore.
After sealing it with a kiss, head to the baroque garden inspired by Jardin de la Fontaine in Nîmes, France which provides a whimsical air, a la Midsummer's Night Dream.
The food will be just as exquisite as the environment as Executive Chef Adonay Tafur whips up inspired, edible creations. Think an American caviar table, chicken satay with local guava plum sauce, and Rioja-braised boneless lamb shank with brie crostini.
Typical Cost: Packages start at $189 per person
Capacity: 150
Bonus: You won't have a long walk to the after-party, as the W South Beach Wall Nightclub offers acclaimed nightlife.
Find W South Beach on Facebook, Instagram, and Twitter.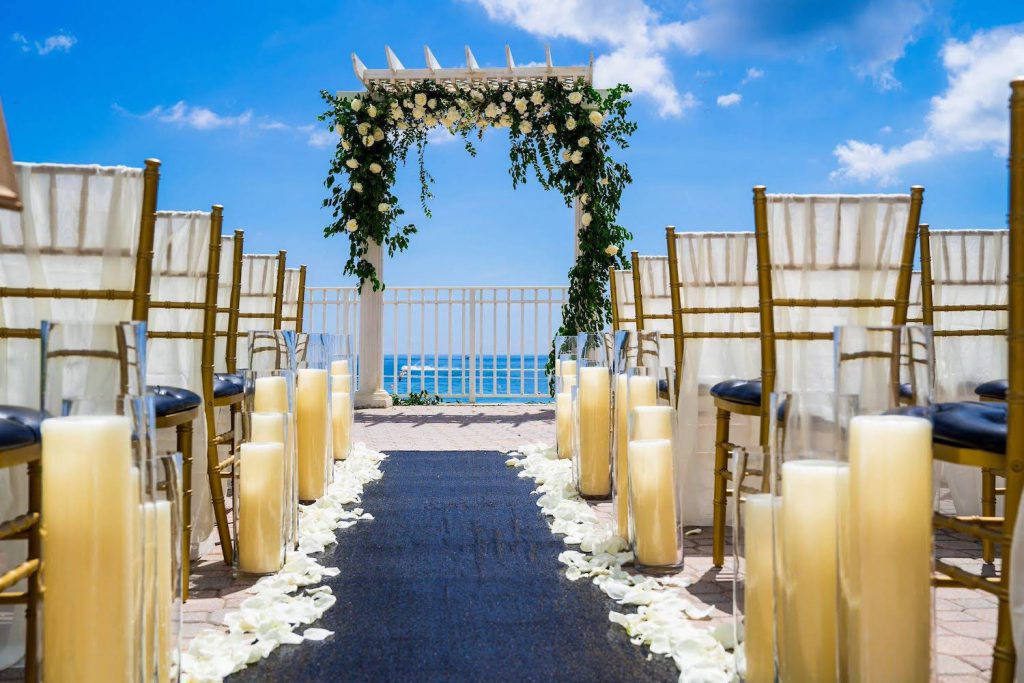 An easy 30-minute drive from Miami, Ocean Sky Resort sits on the coast of Fort Lauderdale, letting you pledge your love to the backdrop of the ocean and towering palms.
Outdoor ceremonies are held on the oceanfront terrace that seems to levitate above the water, and receptions occur in the resort's spacious ballroom that also features ocean views.
To help ensure everything is as seamless as possible, the venue provides all-inclusive wedding packages that offer support for wedding planning, decor, and finding the right florist, photographer, and musicians.
Typical Cost: Site fee starts at $1,400
Capacity: 250
Bonus: You and your guests receive discounted room rates.
Find Ocean Sky Resort on Facebook.