When planning an outdoor wedding in Philadelphia, look no further than the stunning alfresco venues in and around the area. These venues feature a compelling mix of historic homes, bucolic charm, seasonal foliage, and special touches that elevate the wedding day from standard to exceptional. In addition to the natural and man-made beauty, they offer amble convenience through in-house wedding planners and onsite caterers. To help you take the first step in planning your big day, we've rounded up the seven best outdoor wedding venues in Philadelphia.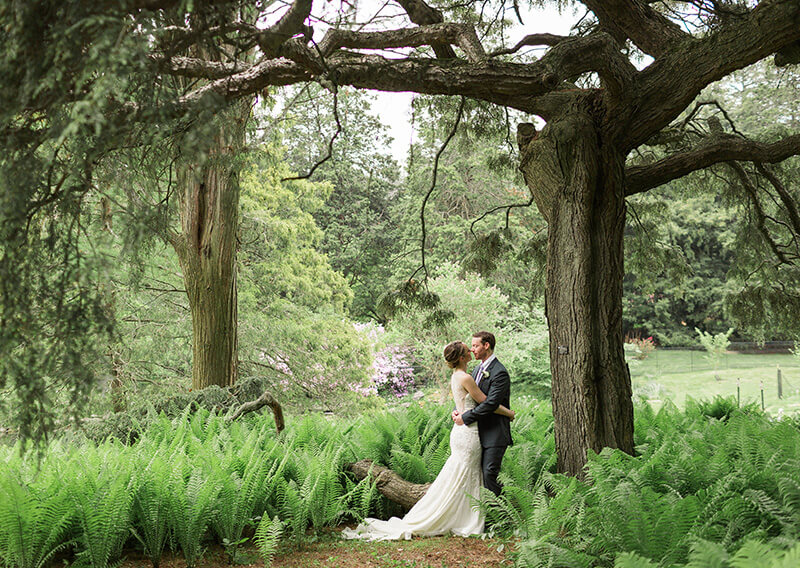 The perfect place for nature-loving couples to say "I do," the 92-acre Morris Arboretum features over 13,000 labeled and documented trees and shrubs, including magnolia and oak trees. It also has an array of seasonal flowers that brighten the various event spaces.
One of the most romantic locations for an outdoor ceremony is the enchanting Rose Garden that's best for a summer wedding, as it's in full bloom in June. The Magnolia Slope is another favorite venue, as it's set to a backdrop of rolling hills. Meanwhile, the Two Lines wedding ceremony site is located on the highest part of the garden. For a whimsical ambiance, pledge your love in the spacious Azalea Meadow or the Pennock Walk gated garden.
You can enjoy your wedding reception in the Widener Visitor Center, which is a charming, 100-year old stone carriage house with an adjacent tented area that has a hard-surface floor, lighting, tables, and chairs.
Typical Cost: Starting fee is $3,100 – $5,300
Capacity: 175
Bonus: The venue provides a golf cart and driver to transport you to various areas of the garden for photos and other wedding events.
Find Morris Arboretum on Facebook, Instagram, and Twitter.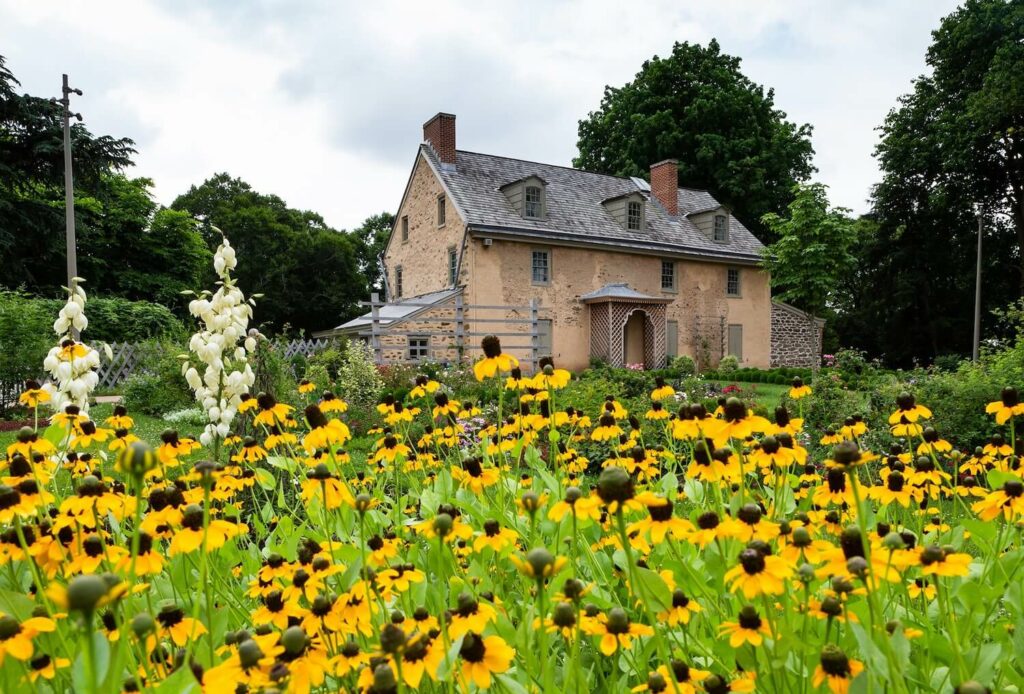 Minutes from Center City, this stunning ceremony and reception space is the oldest botanical garden in the country. At 45 acres, Bartram's Garden offers a sprawling expanse for couples wanting a timeless ceremony and reception that mixes the natural splendor of nature with the edgy backdrop of the city skyline.
A ceremony in this outdoor garden will have you tying the knot under a massive Ginkgo tree, Franklinia tree, and 200-year old Yellowwood tree and next to expertly preserved stone structures that transport you back to the 1700s. After you say "I do," stroll down garden paths to take one-of-a-kind photos beside the banks of the Schuylkill River or amid unfettered nature or a manicured garden.
When it's time for the reception, make your way to the Eastwick Pavilion, which features a covered porch, Love Park granite patio, and extraordinary views of downtown Philly. Throughout the wedding day, you can rest assured everything will be taken care of by the expert team of wedding planners and full-service caterers from Jamie Hollander Catering & Events.
Typical Cost: Rates start at $3,000 in the off-season and $3,500 in the peak season
Capacity: 350
Bonus: Your money will support the John Bartram Association's mission to protect and enhance these historic gardens while also inspiring visitors to care for the natural world.
Find Bartram's Garden on Facebook, Instagram, and Twitter.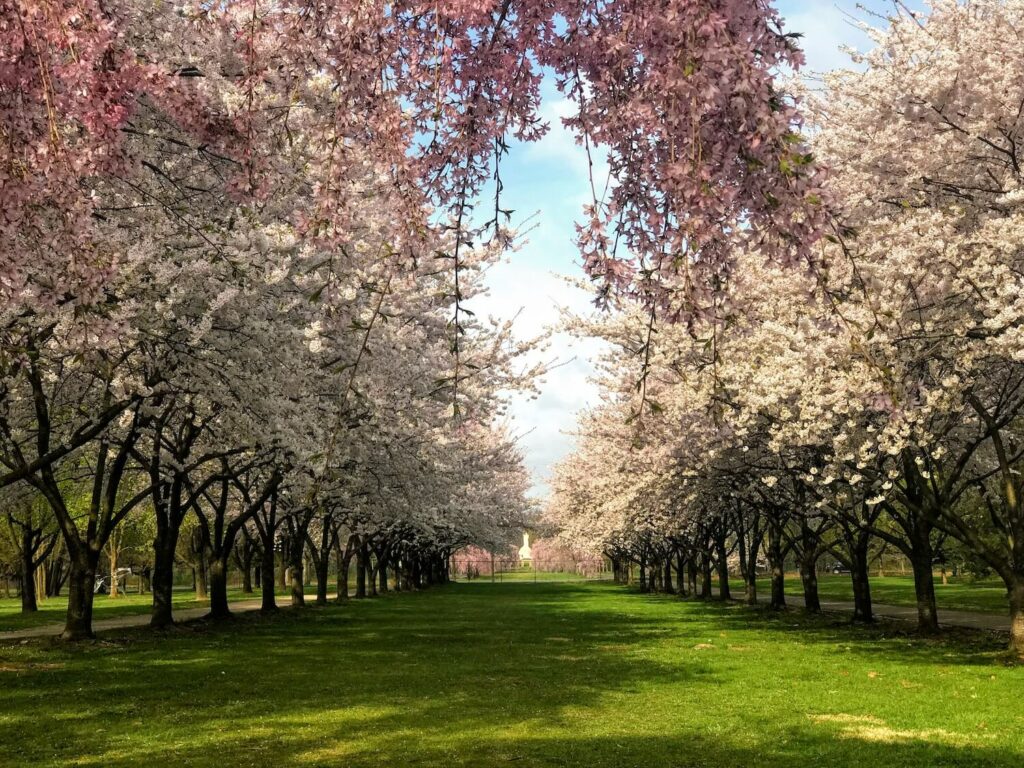 One of the best venues for garden weddings in the city, Fairmount Park Horticulture Center is located on a former 1876 Centennial Exhibition spot. This space makes you feel like you've stepped into an exotic wonderland composed of vibrant gardens, a verdant lawn and reflecting pool, a lush greenhouse, and a modern exhibition hall.
In addition to the captivating environment, the horticulture center boasts exquisite catering by Constellation. This exclusive caterer creates sumptuous, locally-sourced meals that range from rustic to refined. A few favorite dishes include the Hamachi tartare, marinated skirt steak with bread salad and summer herbs, and the Hudson Valley petite beet and citrus salad.
The full wedding package includes a five-hour event, an open bar, a cocktail station, six tray-passed hors d'oeuvres, a two-course meal, soup or salad, six tray-passed dessert tapas, coffee and tea, and all the necessary equipment for a ceremony and reception.
Typical Cost: Facility rental is $2,500 – $5,500; fee is $165 – $205/per person
Capacity: 300
Bonus: If you host your special day in the spring, the cherry blossoms will be in full-bloom.
Find Fairmount Park Horticulture Center on Facebook, Instagram, and Twitter.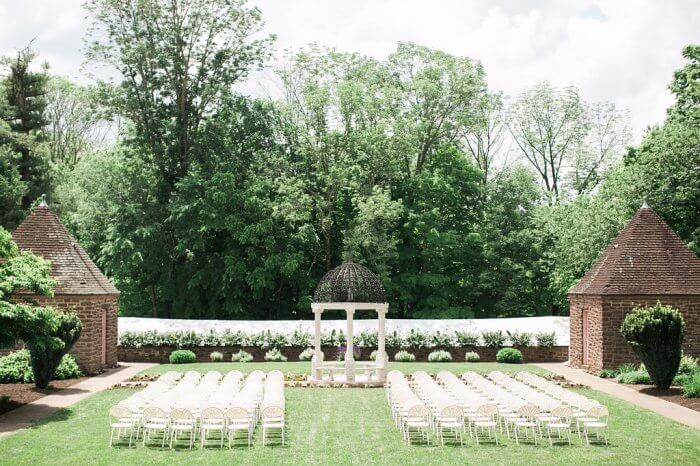 On the 200-acre Tyler Gardens estate, you'll find a five-acre garden inspired by the eclectic cultures in France, Italy, and Philadelphia. The mansion and gardens on this estate are like a utopia in Bucks County, making guests feel like they've time-traveled back to the sophisticated days of the 1930s.
These four-tier, formal gardens were constructed in 1930 by George F. and Stella Elkins Tyler and feature varieties of flora and fauna, manicured lawns, stately stone walls and staircases, gravel walks, old-world fountains, and dramatic bronze sculptures. As the website aptly states, these gardens "are reminiscent of a golden age of elegance with fairy tale charm."
The wedding package includes five hours of event time, a reception in a large tent with vinyl-wood flooring and a full lighting package, tables for different uses, and mahogany Chiavari chairs and ceremony chairs. It also provides a dance floor, bar area, patio furniture with a fire pit, fans or heaters depending on the weather, and a bike bar for cocktail hour. Additional offerings, like chandeliers for the reception tent, are also available.
Typical Cost: $4,000 for the ceremony and reception; $35/per person fee and $175 membership fee to the Historical Society of Princeton
Capacity: 300
Bonus: The venue provides a golf cart and attendant to drive guests from the parking lot to the ceremony space.
Find Tyler Gardens on Facebook, Instagram, and Twitter.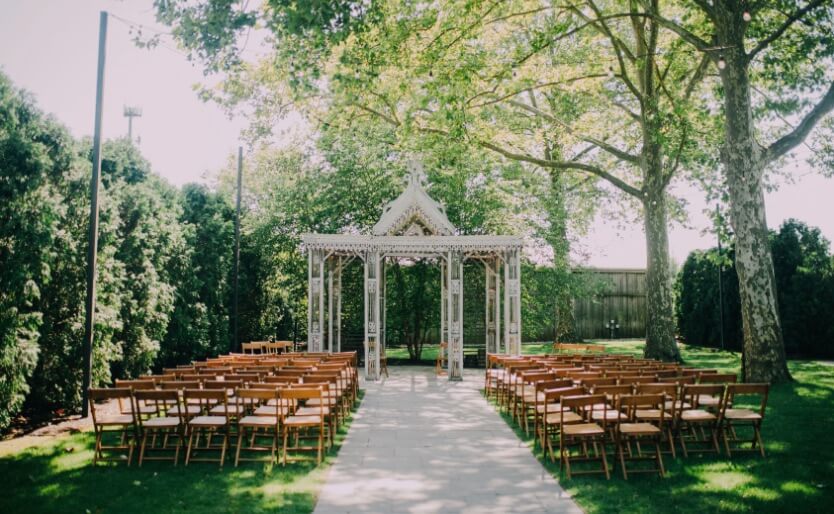 Located in Glen Mills, the picturesque Terrain at Styer's features an antique greenhouse overflowing with greenery and glowing with whimsical lighting. The effect is enchanting.
This historical gem has been a celebrated Philadelphia landmark since the 19th-century; it's also an elegant monument to the art of gardening, as J. Franklin Styer, a respected horticulturist who regularly provided peonies to the White House, founded it. In many ways, this is the perfect venue for couples with a passion for gardening.
In addition to the greenhouse, you can utilize the adjacent barn and outdoor wedding temple, which provide ideal environments for a memorable ceremony and reception that highlights the wonders created when Mother Nature meets a skilled gardener. The tea lights, pillar candles, string lines, and waterfalls of vines that hang throughout the event venue also create soft lighting that enhances the ambiance.
Typical Cost: $4,500 – $8,000; $100 and up/per person for food and beverage
Capacity: 110
Bonus: The onsite culinary team works with couples to create farm-to-table menus customized to their specific preferences.
Find Terrain at Styer's on Facebook, Instagram, and Twitter.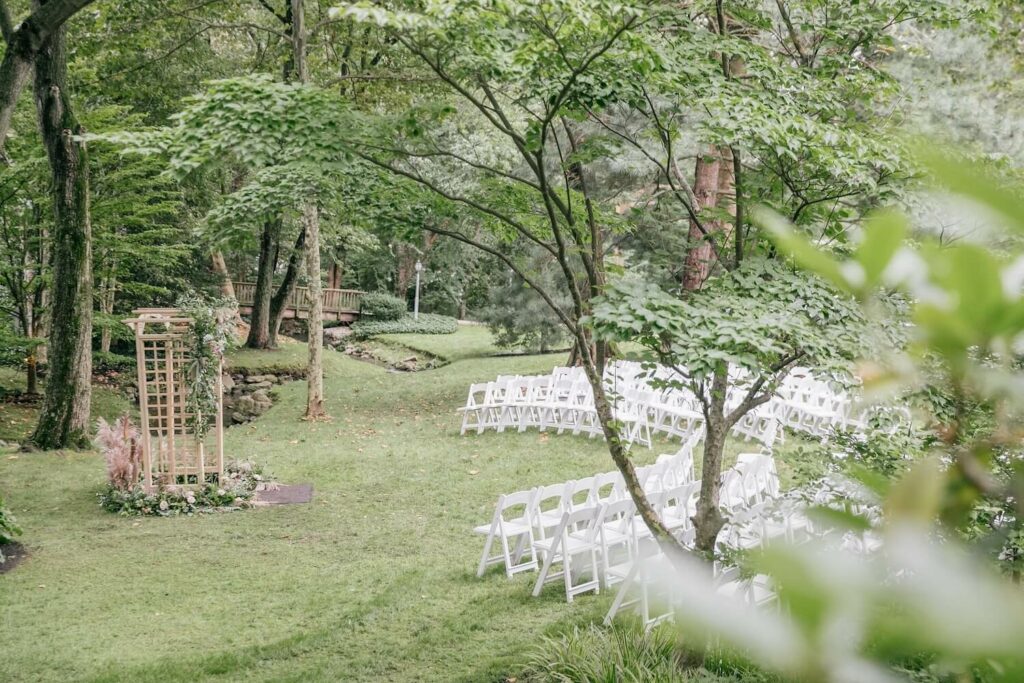 Pomme, a rustic-chic venue on Philadelphia's Main Line, is a dazzling space for bohemian nuptials. It offers an alchemy of outdoor, pastoral locales, a modern reception area, an outdoor space featuring a canopy of trees, a tranquil pond with ethereal swans, a quaint bridge, and natural lighting that makes everything luminous. This woodland setting also impresses with wooded paths, a winding stream, and wind chimes. The ceremony site includes a pergola and swing, and couples can use an adjacent covered veranda year-round.
The indoor reception space has raftered ceilings, windows opening on the scenic surroundings, hardwood floors, and distinctive wooden globes that give off a golden light. It also offers a bridal suite and a solarium and cocktail lounge by the veranda.
Regarding food, Peachtree Catering is the owner and exclusive caterer of Pomme and provides innovative culinary masterpieces. The company sources its food from local farms and dairies and cooks all food to order.
Typical Cost: Starts at $1,350 for ceremonies and $3,000 – $4,000 for receptions
Capacity: 200
Bonus: The venue offers micro-wedding packages for couples hoping to plan a safe wedding during COVID-19.
Find Pomme on Facebook and Instagram.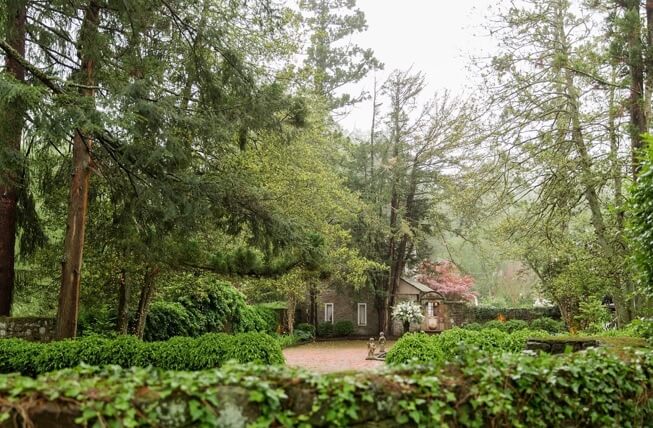 Nestled in New Hope, HollyHedge Estate is one of the most charming Philadelphia wedding venues, as it's composed of an 18th-century converted farm and over 20 acres of nature-scapes including a pond and knoll.
The in-house wedding planners help you find the ideal site for your ceremony and support you in crafting an unforgettable reception in the barn or courtyard garden. You'll also stay overnight at the property's rooms and suites that maintain their original stone walls and wood beams.
The food here is superb, as many of the ingredients are grown onsite. The award-winning chefs work with couples to compose their optimal menu, which can include popular dishes like pork flautas, gourmet beef sliders, as well as diver scallops and roasted water chestnuts wrapped in crispy bacon.
Typical Cost: $155 – $190/per person
Capacity: 200
Bonus: On the morning of your nuptials and your first morning as newlyweds, you can enjoy an amazing breakfast at the inn of the estate.