Published: March 13, 2020
Last updated: August 12, 2020
If your wedding is in the coming weeks or months, you've undoubtedly been faced with the coronavirus' (COVID-19) impact on your plans.
Having to change your wedding plans due to the coronavirus, or any event of this nature out of your control, can be personally devastating. Understandably so, as you've poured your heart, your time, and your money into planning your big day. We know many of you have already had to make difficult decisions.
Regardless of the stage of planning you're in, or the specific decisions you're facing, we're here to serve as a resource and helping hand through this trying time.
In that vein, we have developed the below considerations to help. Read on for expert advice, ways to connect with other couples in your shoes, and tips for using your Joy website to update your guests on your wedding plans and, if need be, help them virtually join your ceremony.
Planning Advice:

Prioritize your and your guests' safety
Follow updates from the World Health Organization (WHO), the Centers for Disease Control and Prevention, or your local government's public health organization, to make an informed decision about what is best for everyone's health. Pay attention to your government's regulations surrounding COVID-19, such as whether events over a certain size are prohibited, if wedding venues have specific capacity caps, whether travel restrictions are in effect, etc.
Weddings will look different for the foreseeable future. Taking precautions to prevent the spread of COVID-19 will continue to be on the minds of couples well into 2021 and beyond. Depending on government mandates and the comfort level of you and your guests, having a smaller, socially distant wedding may be on the docket. Taking precautions such as wearing masks, setting up hand sanitizing stations, grouping households together at dinner tables, nixing the passed appetizers and buffet in favor of plated meals, and other measures can help keep you and your guests safe. In lieu of postponing or eloping, we've developed a guide for throwing a socially-distant wedding.
Consult your wedding planner or venue
Reach out to your planner, your venue, and your vendors to get their advice and hear how other couples in your area with similar wedding dates are handling the situation. Start the conversation with your vendors about what your options look like, and the financial implications, if you need to postpone. If you haven't hired a planner, now is a good time to hire one, suggests San Francisco-based photographer Courtney Yee of Photoflood Studio. A wedding planner can provide valuable advice, help you manage conversations and negotiations with vendors, and review contracts and insurance policies, which are especially important right now given the increased likelihood of needing to enact cancellation clauses.
If you plan to postpone, check out these essential steps for postponing your wedding.
Consider a private ceremony, virtual wedding, or micro-wedding
If getting married in the immediate future is something you aren't willing to budge on – never fear – there are ways to get married now that will make your wedding day special and memorable.
A private ceremony, elopement, or intimate micro-wedding allow you to say "I Do" now, then celebrate with a larger reception in the future. Our guide to micro-weddings has everything you need to know about micro-wedding trends and planning tips, to determine if a small wedding is right for you. An added benefit of having a micro-weddings is getting to reallocate the funds in your wedding budget. You may choose to save the money you would have spent on a large wedding for another purpose, however if you have your heart set on a luxurious event, you can apply the funds you would have spent on a larger guest count to abundant florals, elevated food and beverage selections, fancier wedding favors for guests, or those gorgeous farm tables you were eyeing from the rental company. Creative ideas for restructuring your budget to craft a luxurious micro-wedding experience for you and your guests can be found here.
If having your wedding at a venue doesn't fit within your comfort zone during these times, you can host a beautiful event right from your own home. However, there are many factors to consider for an at-home wedding, from parking to plumbing! Read our guides to transforming your house for an at-home wedding and throwing a beautiful backyard wedding.
Another option is to have a virtual wedding, with guests attending from the comfort and safety of their homes. You can live stream your wedding right through your Joy wedding website, and our guide to planning everything you need for the ultimate virtual wedding is here.
Check your wedding insurance
Whether your wedding insurance will cover the costs of a cancelled or postponed wedding will depend on your policy, so it's important to understand your policy's terms and conditions and how it could aid you financially. Reach out to your wedding insurance provider to see if and how you are covered. If you are considering adding wedding insurance now, make sure it will cover coronavirus claims before you add the policy. Read our full guide to wedding insurance amid COVID-19 here.
Understand your travel policies
Most major airlines and hotels are offering refunds or credits on reservation changes. Additionally, if you have travel insurance, reach out to your travel insurance provider to see if your claim would be covered. If you are booking wedding or honeymoon travel, purchase Cancel For Any Reason (CFAR) travel insurance to ensure you are covered. Read our essential guide for honeymoons amid the coronavirus pandemic here.
Connect with Joy and Other Couples:

Customer support
We are on your team and here to help you. While we are not medical experts, we can answer planning questions, help you use Joy to communicate with your guests, and share the insights we are learning from other couples and experts in the space. If you have any questions, contact our customer support team at hello@withjoy.com or through our website's chat feature. You can also find help articles about Joy's features here.
Community for couples
You are not alone in making this decision about your impending wedding, couples around the world are sadly in the same predicament. Join our "Wedding Planning with Joy" community Facebook group to connect with other couples in your shoes.
Update Your Wedding Website to Share Information with Guests:
Your wedding website is a useful communication tool. Relay as much information about your change in plans as possible through it, and let your guests know you will continue to add all new information to your site, so they feel they have a place to check regularly for updates. Consult our complete guide to using your wedding website to keep guests up to date, and if you are throwing a virtual wedding, tips for what to include on your wedding website to inform guests about your virtual wedding plans are here.
Announcement banner
As many couples' wedding plans are changing, we've heard from many of you that a banner across your wedding website to catch guests' attention and share updates regarding your wedding plans would be helpful. This feature is now possible through Joy, and a guide for adding the banner to your wedding website and mobile app can be found here. We hope this helps you quickly and easily share news of your changing wedding plans with your guests.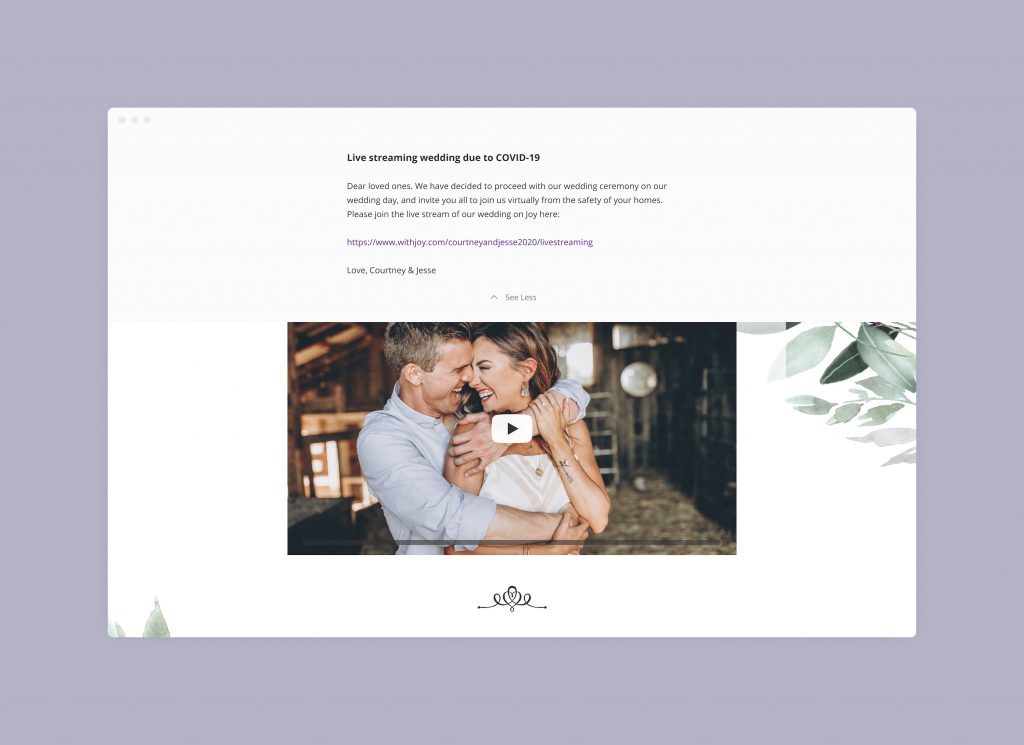 Event date and location
If your wedding plans are changing, be sure to change the date and location on your wedding website, as this is often the first thing guests will look at.
Additionally, if you have not yet set a new wedding date, you can hide the date from your wedding website until your plans are in place and you are ready to share your new date with guests.
Event greeting
Update the event greeting on the main page of your wedding website to inform guests of any change in plans. Whether you are postponing your wedding and know your new date, are postponing your wedding but your new plans are to be confirmed, or you are still moving forward with your existing plans, you can use this message to let guests know the status of your wedding as soon as they visit your site.
Event schedule
In addition to changing your wedding date on your wedding website's homepage, don't forget to update your wedding schedule as well. Be sure to delete out-of-date information from your schedule of events, and add new event details if they are confirmed.
Change page names or hide pages
If your wedding plans are changing due to the coronavirus and you want to designate a certain page of your wedding website to cover wedding plan updates, you can change the name of your website pages to reflect the topic you are covering and make it clear to guests where to find current information. If you want to direct guests to one page to view your updated wedding plans, and hide the rest of your wedding website pages, you can also hide website pages on Joy. When your new plans are solidified and you are ready to share them with guests, you can go back to your settings and make the pages visible again.
Story page
While the 'story' page of your wedding website is typically used to share your love story with your guests, you can use it to share a letter to your guests about any changes in wedding plans and information you want to communicate to them.
Guest FAQ
Provide a detailed FAQ for your guests, with information on all updates and changes in plans. Put yourself in your guests' shoes and think of anything they may be wondering, then create Q&As to cover those areas and any pertinent information based on your specific situation. A full guide to COVID FAQs to address on your wedding website can be read here, and sample questions to consider addressing include:
Q: Are your wedding plans changing due to the coronavirus?
A: At this time we are carefully considering our options based on the information at hand. We will post all updates and any changes in plans here for your reference.
Q: Is it still safe to travel to and attend your wedding?
A: This is a personal decision you should make for yourself based on your health, what you feel comfortable with, where you are located, and in accordance with public health and government guidelines. Your health is our priority, and we know there are many factors to consider. We respect your decision to do whatever is best for you and your family and are understanding of whatever you decide.
Q: Are you taking any measures to limit the transfer of germs at your wedding?
A: After consulting with our vendors we have decided to implement the following changes to our wedding, to keep everyone as safe as possible during the event: Ceremony and reception will be outdoors in fresh air, no passed appetizers or food that multiple people could touch will be served, we will serve plated meals instead of buffet-style dinner, dinner chairs will be spaced several feet apart, we will have hand sanitizer stations, we recommend keeping a distance of six feet between yourself and others on the dance floor.
Travel tips
In addition to updating the FAQ portion of your wedding website, make sure to update your travel tips and Booking Assistant information as well. This ensures guests have current information, and don't accidentally book travel arrangements for wedding dates that are no longer accurate.
Custom RSVPs questions
Considering the state of current events, there are additional RSVP questions to ask in light of COVID-19. Whether you're concerned about safety, your guests' comfort, logistics, or all of the above, here are questions to consider asking to help you plan.
Additionally, if your wedding plans change you can hide or delete old RSVP questions (your information will be archived for your reference, just no longer visible to guests) and add new ones relevant to your current circumstance.
Communicate with Your Guests:
If your wedding plans change, communicate with your guests as quickly as possible to give them notice.
Joy allows you to send unlimited online invites, Change the Dates, and general messages to your guests for free, helping you share information with your entire guest list at the click of a button. Every field of Joy's Change the Date e-cards is fully editable, even the header text. Customize your Change the Date to your heart's desire, or even use the Change the Date e-cards for other purposes, such as wedding invitations, wedding shower invites, save the dates, etc., since each text field is fully customizable.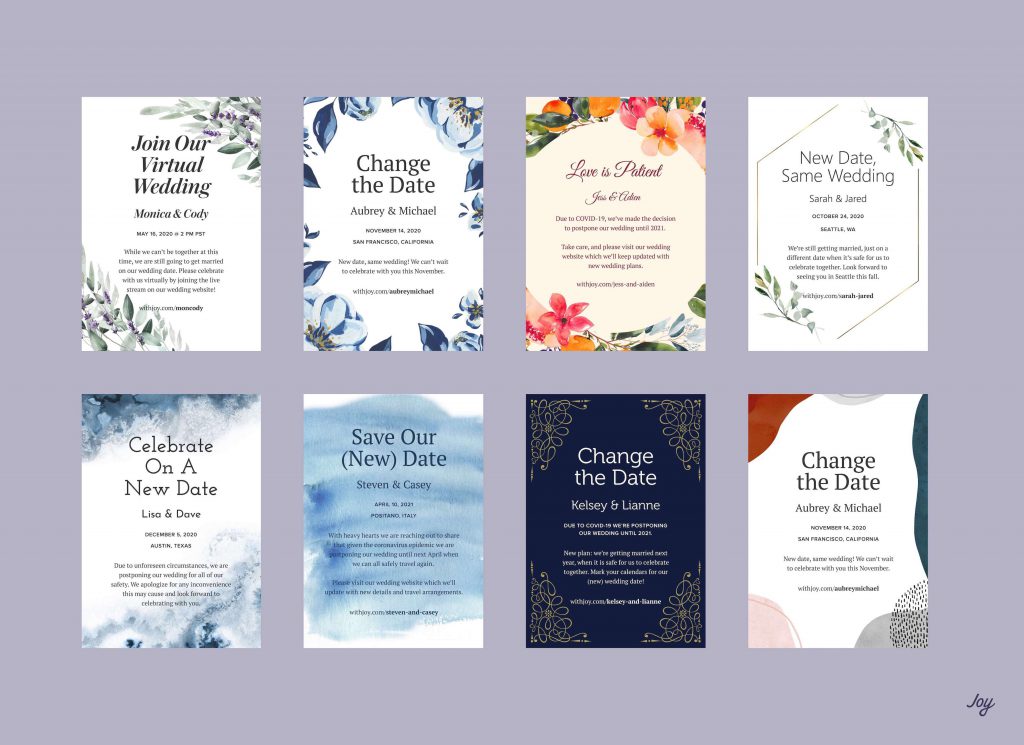 Communicating early and often with your guests will keep them informed, let them know you are thinking about them, and spare you hours spent answering inbound questions.
We know this is a difficult topic to broach with your guests. Here is some guidance to help you start the conversation:
In the event you are postponing your wedding:
To our loved ones,
With heavy hearts, we're writing to let you know that after careful consideration, we have made the decision to postpone our wedding for all of our safety.
While we hope that you are able to change your travel plans without penalty, we are truly sorry for any financial burden this places on you.
We look forward to celebrating with you once we can all be together safely again, and will continue to keep in touch with you as our new plans are solidified. Please check our wedding website for updates as we will be posting all new information there.
Love,
Couple Names
In the event you are keeping your original wedding plans
To our loved ones,
After careful consideration, we are moving forward with our wedding as planned, however we completely understand if you no longer feel comfortable joining us.
Your health is our priority, and we know there are many factors to consider. We respect your decision to do whatever is best for you and your family.
Please let us know what you decide as we finalize our plans, and whether we celebrate with you at our wedding, or at another point in the future, we are grateful to have you in our lives.
We will post any updates on our wedding website, so please consult it for any new information.
Love,
Couple Names
In the event you are waiting to make your decision:
To our loved ones,
We are closely following COVID updates, and at this point in time, are waiting to see how the situation unfolds in the coming months before we make a decision regarding our wedding plans.
We will continue to keep in touch with you with updates as our plans progress, and will keep our wedding website updated with all new information.
Please let us know of any questions.
Love,
Couple Names
In the event you are sending out save-the-dates or invitations for a later wedding date, and want to preface the communication to your guests:
To our loved ones,
While it feels strange to be reaching out about our wedding plans given the circumstances, we wanted to let you know that we have set a date of [wedding date] and we are hopeful that by that time, we will be able to celebrate together.
We hope this news is a source of happiness during these trying times. We will keep in touch with you as our plans progress, and will keep our wedding website updated with all new information.
We are hopeful we will see you all on [wedding date], and hope you are staying safe and healthy.
Love,
Couples Names
In the event you have already sent out wedding invitations, but are now having a smaller wedding and are not able to accommodate all of your original guests:
Dear [first name of guest(s)],
While we had hoped to celebrate our wedding with you, given current conditions amid COVID-19 we have decided to cancel our original wedding plans. Instead, we will be getting married with an intimate group to abide by social gathering guidelines.
We wish we could celebrate with all of our loved ones, but at the end of the day what matters to us the most is getting married and the safety of our loved ones.
We hope you can understand our decision, and we look forward to seeing you when it is safe for us all.
Love,
Couples Names
Virtually Share Your Wedding With Your Guests:
During these times of social distancing and limitations on group gatherings, many couples are turning to virtual wedding events to share their celebrations with their friends and family while they can't physically be together. As mentioned earlier in this post, you can live stream your wedding through your Joy wedding website.
Live streaming your wedding allows you to proceed with saying your vows to the love of your life, while your loved ones join in virtually. Check out our guide on "7 Steps to Live Stream Your Wedding" to get started, and for technical details of setting up your live stream see our blog post, "How to Live Stream Your Wedding with Joy." Additionally, our advice for everything you need to consider as your plan a virtual wedding can be found here.
The festivities that go hand-in-hand with weddings, such as showers and bachelor / bachelorette parties, are also being affected by the coronavirus. Luckily, thanks to modern technology, it's easy to throw a virtual shower with guests joining via live stream, to ensure the happy to-be-weds are still showered with love and attention.
A virtual shower should feel more special than a casual virtual happy hour, though! Check out our guide to hosting a virtual wedding shower for tips on making the virtual event as celebratory as it would be in-person.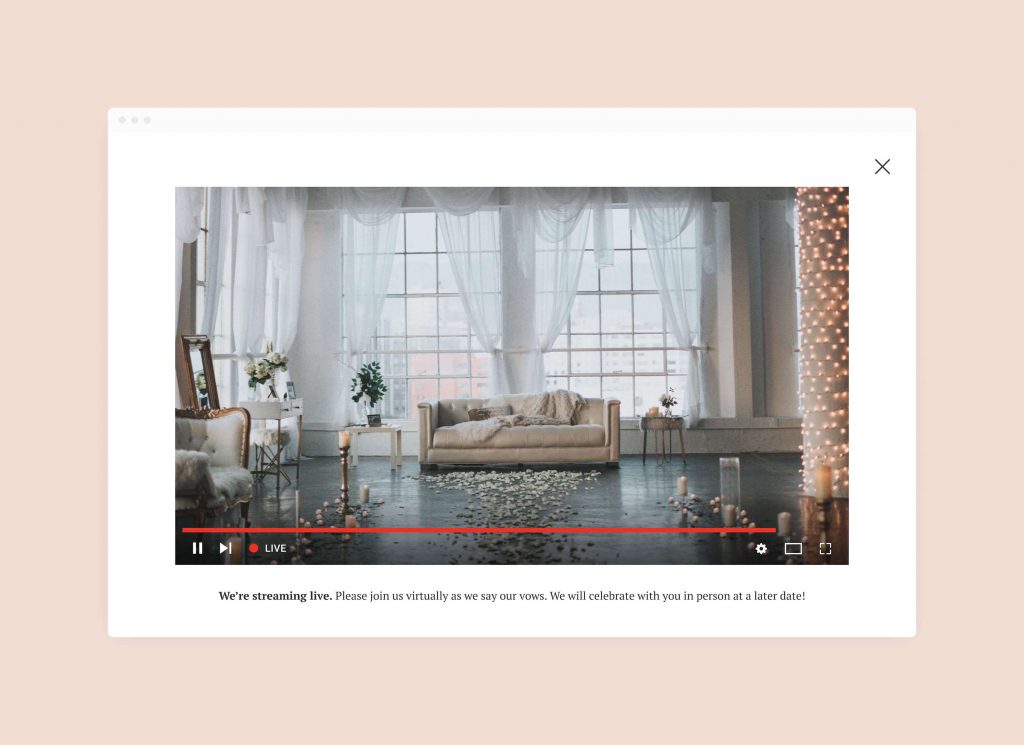 Additionally, if you have one or two loved ones joining your private ceremony with you, they can add photos to the 'Moments' shared album on your Joy wedding website, which updates automatically as guests upload photos. This way, whether you choose to have guests tune into your wedding remotely via live stream, or if you choose not to live stream your wedding and say your vows privately, guests can still view photos of your ceremony and follow along in real time as photos are added.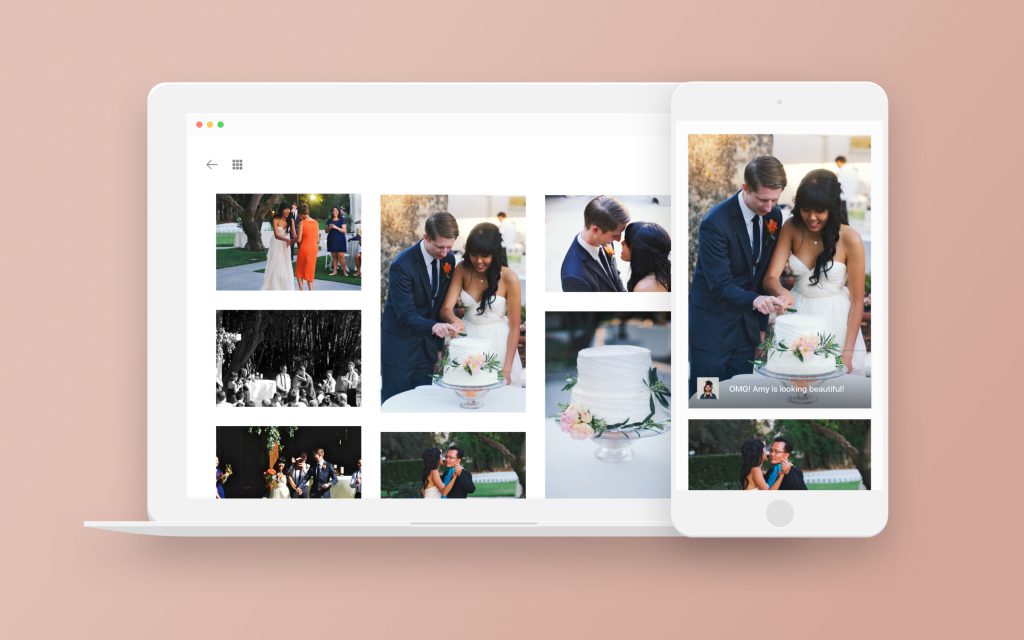 We wish you all the best as you make this difficult decision. Stay safe, consider the information available, join our Wedding Planning with Joy Facebook group to connect with other couples, and remember our support team is here to help.
Helpful Articles: