While a wedding at home is the dream for some couples, it's a necessity for others. Whether you're planning a large, formal gathering and believe there's no place like home or arranging an intimate celebration due to COVID-19, there are many factors to consider for an at-home wedding.
Fortunately, we spoke with premier event planner Beth Helmstetter of Beth Helmstetter Events on the factors you should prioritize.
"Keep in mind most homes are not designed to host a ton of people. Things like parking, power, and plumbing are specifically designed for use by the average number of people living in the home, and there are a lot of elements to consider to ensure the home is functional for a large event," Helmstetter says.
Whatever the size of your wedding venue, whether it's an expansive estate or just a modest house with a quaint backyard, here are four tips to follow as you begin planning your nuptials at home.
1. Consider the Space and Size of the Home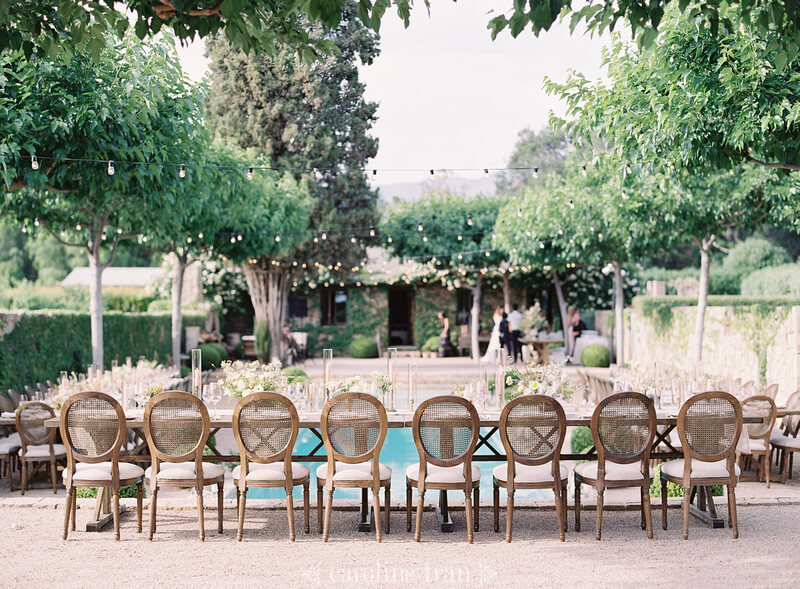 Before committing to a wedding at home, consider the amount of space you'll have to accommodate your guests throughout each part of your celebration.
Ceremony
Helmstetter: "For the ceremony, we recommend allowing 2 – 3 feet for each seated guest, a 10-square-foot to 14-square-foot area for the altar, and a 6-foot-wide aisle. The length of the aisle will be dependent on the number of guests in attendance and how wide your rows of seating will be."
Cocktail Hour
For a cocktail hour where guests will be standing the entire time, Helmstetter recommends 5 – 6 square feet/per guest in attendance.
Helmstetter: "If you do want to incorporate lounge areas or seated cocktail tables, I'd allow closer to 8 square feet/per guest."
Reception
Helmstetter: "For dinner and dancing, we recommend 12 square feet for each table of 10 guests. The average dance floor should allow 5 square feet/per person, based on how many people you anticipate dancing at one time.
Rarely will every guest be dancing at the same time, and a full dance floor is more enticing than an empty dance floor. That said, if you're planning on 200 guests, we would suggest closer to a 24×24 dance floor, which assumes about 100 guests will be dancing at any given time."
Band
Music is an important part of any wedding, so designating enough space for a band or DJ should be on your To-Do list.
Helmstetter: "Depending on the number of members in the band, you should anticipate anywhere from an 8×12 stage for five band members, or closer to 12×24 for eight [members] or higher.
I recommend talking through the preferred stage size with your band, as every band has different needs when it comes to performing. Allow for at least 10×6 for a DJ."
Catering and Other Features
Be aware that bars, photo booths, coffee stations, and lounge furniture will also take up space. One aspect you may not have considered? A catering tent.
Helmstetter: "Every caterer has different needs, and most prefer to work in a temporary, rented kitchen rather than an in-home kitchen. We traditionally rent ovens, storage units, fryers, and lots of tables for caterers to plate each course."
As for catering tents, you'll typically want to allow for a 20×20 area so the caterer can properly prepare and cook dinner.
Helmstetter: "Work with your caterer to determine the placement of this tent based on where cocktail hour and dinner will be served."
Parking
Parking is yet another essential consideration directly related to the size of your guest list.
Helmstetter: "You'll want to think about things like where guests and vendors will park if they're driving in. If you don't have space [for them] to park their cars, you can work with a valet company to rent a nearby lot and allow the valet team to park guest cars accordingly.
Even if it's only 10 cars, having someone else manage the stress of finding parking can allow your guests to enjoy the event that much more. Alternatively, you may want to consider shuttling guests in or encouraging ride-share services if renting a parking lot or hiring valet doesn't make sense for your day."
2. Prepare the Exterior of the Home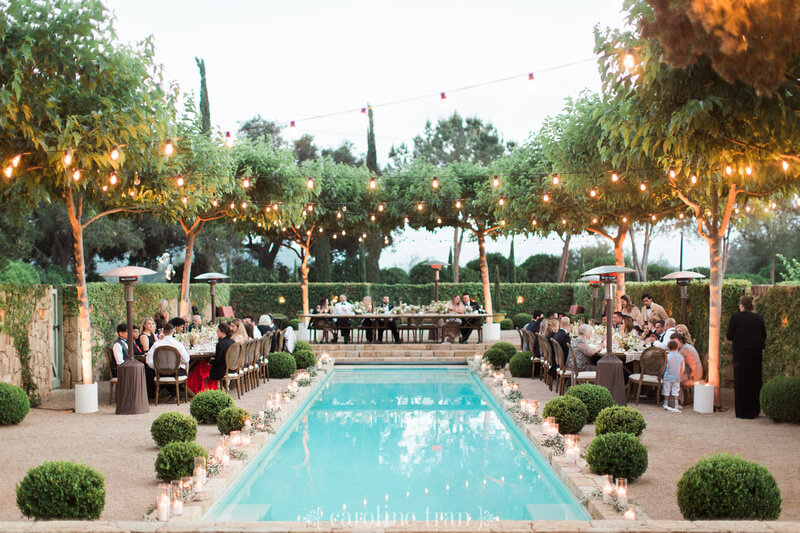 Most weddings at home focus on the outdoor space of the property, so it's important to prepare for practical purposes as well as aesthetics. Depending on your plans and the formality of your event, here are some features to consider.
Outside Vendor Rentals
Helmstetter: "If you're bringing in a band, outside lighting, restrooms, and a catering kitchen, there is a high likelihood that you'll need a generator.
Talk to each vendor about the amount of electricity they need to be successful and where they need the power to be dropped. Then work with your production company to ensure power is readily available for each vendor upon arrival."
Temporary Flooring
Depending on the formality of your event, having temporary flooring installed may be encouraged.
Helmstetter: "If you want a black-tie wedding, women in floor-length gowns and stilettos can be very uncomfortable on the grass. That said, if you're having a more casual affair, dining on the grass can be quite charming.
If you expect guests to dance, I highly recommend bringing in a dance floor. Not only will it ensure heels don't sink into the grass, but it encourages guests to dance throughout the night."
Additionally, be sure the band and/or DJ are flanking the dance floor.
Helmstetter: "For a band, it brings higher energy to the guests if they're near the actual performers. And with a DJ, it allows him/her to assess the energy and adjust the music as needed throughout the event."
Wedding Signage
Signage can help direct the flow of traffic throughout the day.
Helmstetter: "Signs directing guests to restrooms can be helpful. It's also nice to have your wedding planner or caterer assign human arrows to direct guests to the ceremony, cocktail hour, and dinner during times of transition at the event."
Lighting
Lighting, both functionally and aesthetically, is an essential consideration that shouldn't be overlooked.
Helmstetter: "While many homes have landscape lighting, this is traditionally not enough to support your event. You'll want to consider functional lighting such as pathway lighting from the reception to the restrooms or to parking areas.
In addition, you'll also want to consider decorative lighting, which can be as simple as market lights over your dinner tables so guests aren't dining in the dark. Work with your lighting company to walk the property so they know exactly where you'll need lighting throughout the night, be it decorative or functional."
Portable Restrooms
Finally, you'll need to decide if portable restrooms are necessary and plan an outdoor locale.
Helmstetter: "We recommend one restroom per 20 to 30 guests depending on the age of your sewage system. That said, you may want to consider bringing in portable restrooms even if they're just for a backup plan. Nothing can ruin the event quicker than a restroom situation."
Luxury rentals that look and work like private restrooms are available, so don't be shy about supplementing with portables.
3. Prepare the Interior of the Home (or Not)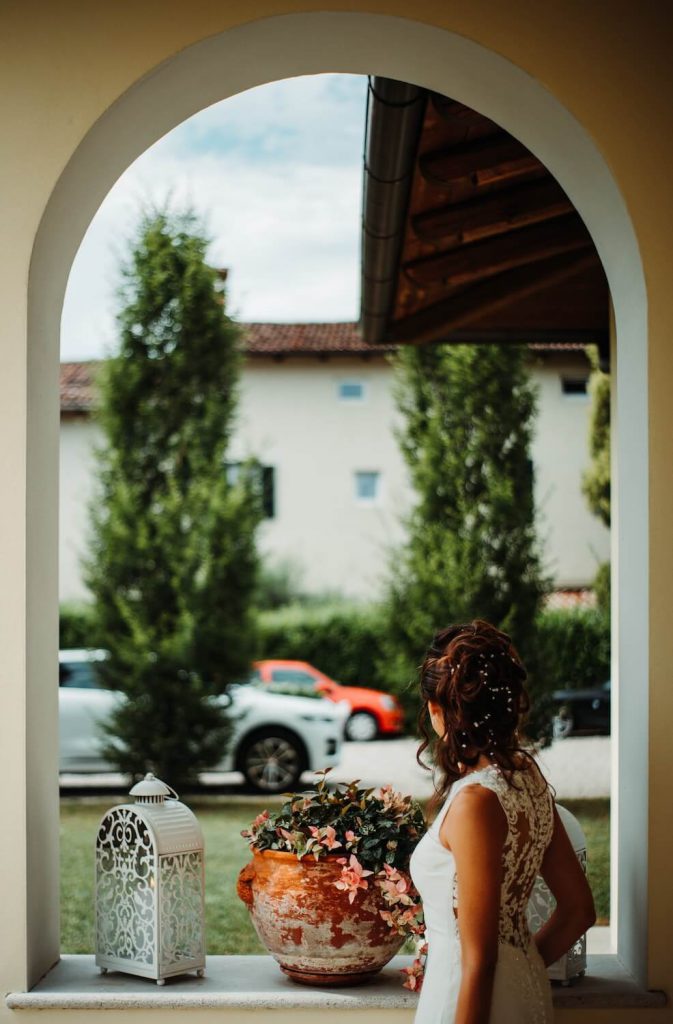 Although most at-home weddings utilize outdoor space, like the backyard, some couples anticipate crossover into the home itself. This is especially true if you plan to open indoor restrooms for use. But generally speaking, it's perfectly acceptable to focus your event on the outdoors.
Helmstetter: "There is no reason the interior of your home needs to be used for an event at all. If your home is set up nicely to host the ceremony or a cocktail hour, that's fine, but under no circumstances should you feel obligated to allow guests inside of your home.
Events cause a lot of wear and tear on a home and the grounds; we highly recommend avoiding allowing vendors and guests inside of the home unless you're okay with repairing floors, cleaning rugs/furniture, or replacing broken personal items."
If you do opt to have people inside your home and need to remove furniture to accommodate, Helmstetter advises putting the items in your garage or basement (if available). Otherwise, you can have movers store your furniture in their moving truck during the event.
Additionally, it's wise to keep any artwork in mind.
Helmstetter: "Depending on the value, we often do remove it. A simple bump of a guest holding red wine can ruin a treasured piece of art."
4. Understand the Legalities of an At-Home Wedding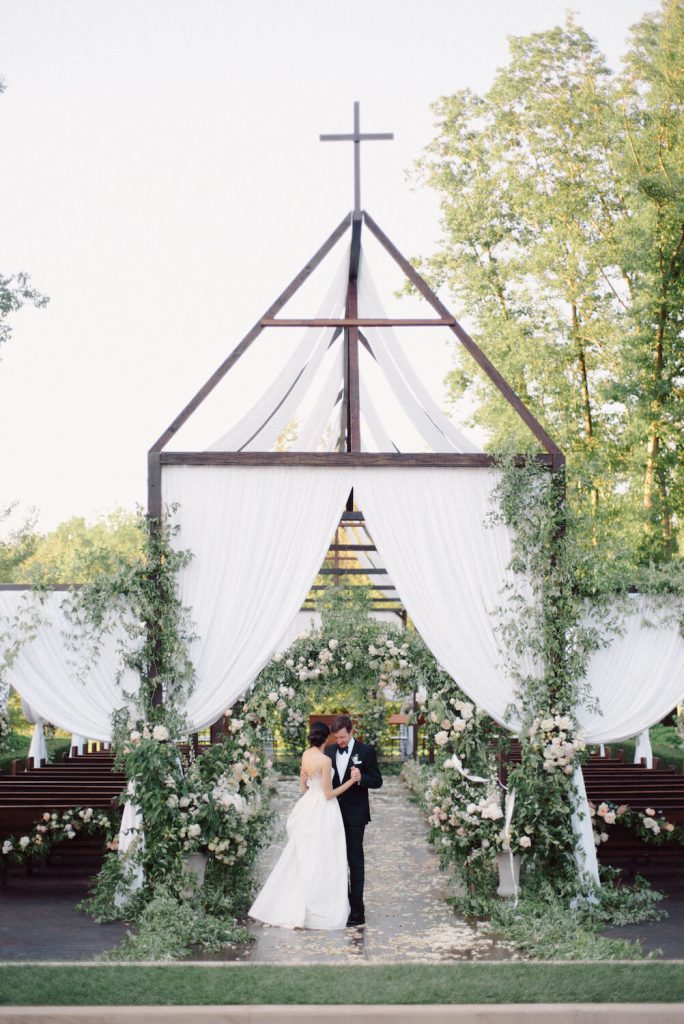 With all the planning involved for an at-home wedding, it's easy to overlook some of the legal aspects of your celebration.
Permits
Helmstetter: "Depending on the curfews and noise ordinances in the county or city where you're hosting your wedding, you may want to consider obtaining an event permit that will traditionally allow you to extend the curfew for a one-time event.
In addition, if you're in an area with limited street parking, the valet company may need to secure a parking permit. If you're planning to install a tent, most counties require a tent permit. Your planner or tent company should be able to secure this on your behalf."
Liability Insurance
Liability insurance is also a consideration Helmstetter highly encourages.
Helmstetter: "We always recommend liability insurance. There are a lot of issues that can arise, and you're at a higher risk of liability when hosting in your home.
I recommend a $1,000,000 to $2,000,000 liability policy, which should put you in the $300 to $700 range. These policies can be secured from your homeowner's insurance company or from online sites that specialize in wedding insurance such as WedSafe."
Alerting Neighbors
While you're not legally obligated to do so, alerting neighbors to the prospect of your event is a smart move.
Helmstetter: "I would recommend letting neighbors know about your wedding in advance to avoid any noise complaints. If your event goes too late or too loud, and the neighbors don't realize what's happening, their instinct may be to report the party the evening of the event.
Putting a little note in their mailbox will allow them to prepare and, ideally, help them be a little more understanding if this once-in-a-lifetime event affects their peace that night."
Takeaway
Although these tips should help you kickstart a functional and lovely at-home celebration, you may also want to hire a wedding planner to handle many of these details.
Depending on your guest count and expectations for your at-home wedding, a wedding planner might be even more essential than if you were hosting your wedding at a traditional venue.
"Power, plumbing, parking, and even things like lighting and rentals can feel very overwhelming to a couple that's not used to hosting events," Helmstetter says. "Finding someone to support you through this process will alleviate a ton of stress."