April 15, 2020
As couples' wedding plans are impacted by the coronavirus, the festivities that go hand-in-hand with weddings, such as showers and bachelor / bachelorette parties, are also being affected. Luckily, thanks to modern technology, it's easy to throw a virtual shower with guests joining via live stream.
A virtual shower should feel more special than a casual virtual happy hour, though! Read on for our guide to making the celebration as festive as it would be in-person, to shower the bride or couple with love and attention.
Send Digital Invites
Sending digital invites for a virtual shower creates a special feel for the event vs. sending a text or email. With so many beautiful digital options available, including Joy's, it will be easy to find one fitting for the shower theme and couples' preferences. Invites also allow the shower host to convey all the information they need to share with guests, such as the virtual meeting link as the shower location.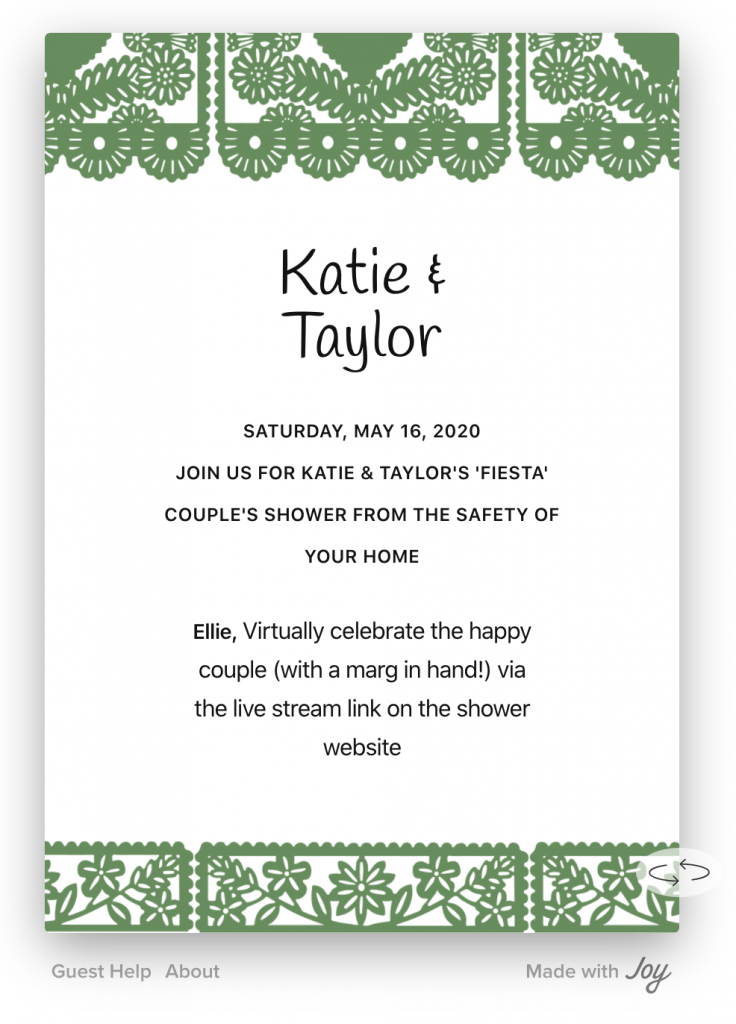 Collect RSVPs
It may feel strange to collect RSVPs for a virtual shower, however a headcount is still key for two reasons, and digital RSVP systems like Joy's help you gather the information you need.
The host will need to make sure the live stream platform they select for the shower can accommodate the size of the group, without capping attendees or cutting off the live meeting after a certain length of time.
If the host of the shower wants to send refreshments, favors, or festive decor to serve as a backdrop for the virtual shower to guests, they will need to know who is attending and everyone's addresses.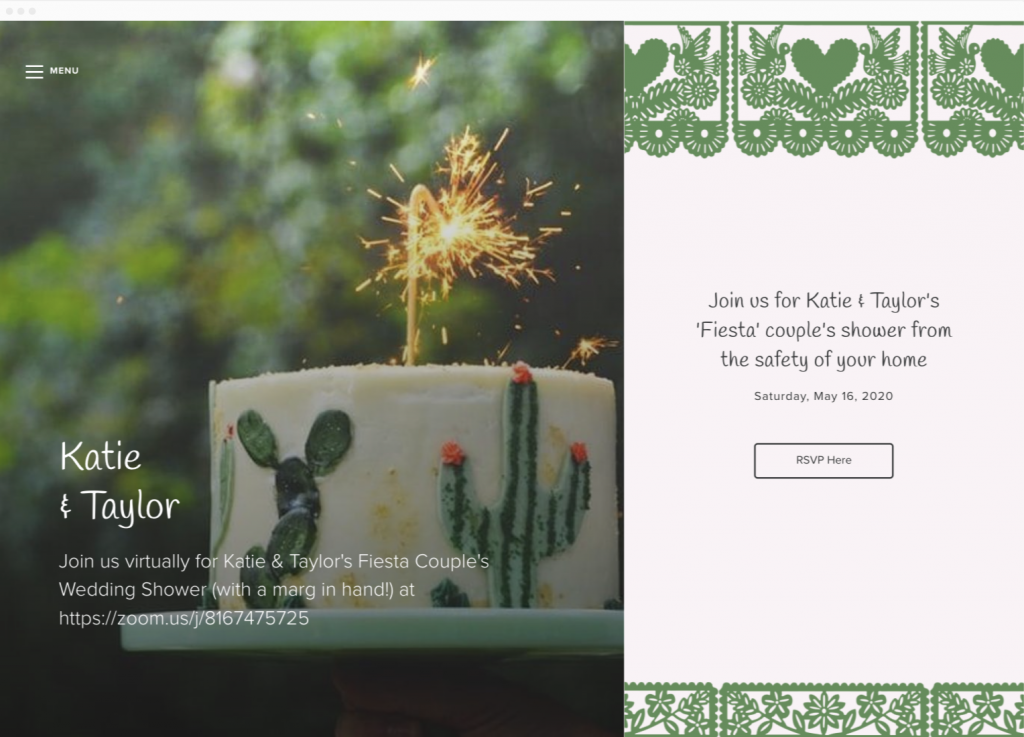 Serve Refreshments
To add a lively, and tasty, touch to the shower, the hosts can send refreshments to guests ahead of time, such as mini bottles of champagne, wedding-themed iced sugar cookies, or whatever food or drink go with the shower theme and the couple's personality.
A more budget-friendly option is to include a request in the digital invitation such as "Have a drink in hand to toast to the couple!" rather than sending refreshments to guests. If hosts go this route, they could still consider sending a food, dessert, or beverage delivery to the bride or couple as a special touch.
Create a Festive Atmosphere
Whether you decide to decorate virtually or physically, creating a festive atmosphere will take the shower from a casual hangout with friends, to feeling really special.
If the virtual shower is over Zoom or another platform that allows attendees to set a virtual background, create a background for guests to use during the shower, such as photos of the couple, a photo related to the shower theme, or a solid colored backdrop with text such as "Mary's Bridal Shower" across the top.
For physical decorations, the shower hosts can send a care package to each shower guest and the bride or couple ahead of the shower, including fun items (a la photobooth props) to bring the virtual shower to life.
Dress for the Occasion
A dress code doesn't have to be fancy. It can be fun, a silly theme, or as dressy as you want it to be. The goal is to make the event feel like a celebration, and a dress code will create a bright and cheery visual for the live stream.
Open Presents
A key part of any shower is gift opening. On the shower invitation, ask guests to send gifts to arrive by the date of the shower, so the bride or couple can open presents during the virtual shower.
Play Games
Add some fun to the shower with games that are easy to play virtually, such as 'Bridal Bingo' or a 'How Well Do You Know the Bride' trivia game. For a couple's shower, choose games that involve both partners, such as a newly-wed style game.
Create a Playlist
Music makes any gathering more festive. Create a playlist for the shower that the host plays in the background at a volume level where guests can hear it, but can still hear each other talking.
Collect Well-Wishes for the Couple
A fun tradition for wedding showers is to have guests fill out cards with well-wishes and advice for the couple. For a virtual shower, have guests send their notes to the host ahead of time. Pending the couple's preferences, the host can read the notes aloud during the shower, or share privately with the couple.
Pay It Forward
Encourage guests to join the virtual shower by making a donation to a charity of the couple's choice for each guest that attends. The donation doesn't need to be a large amount, but will give people an extra incentive to join, and is a great way to give back to the community which is especially important during current times.
Bachelor or Bachelorette Party Edition
The steps to throwing a virtual bachelor or bachelorette party are largely the same as for a shower, however there are a few ways you can liven up the party even more.
Bring the destination of the bachelor or bachelorette party to life with decor, food and props, such as having everyone wear Mardi Gras beads and sip on Hurricane cocktails for a New Orleans destination, or doing a virtual wine tasting for a Wine Country destination.
Create or order matching swag for the celebration, such as koozies or shirts for guests to use or wear during the party, or create a signature cocktail that each guest can prepare and sip on during the virtual party.
Stream a fun wedding movie together virtually, such as Bridesmaids or Wedding Crashers, have a virtual karaoke sing-along, or play virtual games together using apps such as Houseparty. For a bachelorette party, you can even do a virtual lingerie shower if the bride is up for it.
The sky's the limit with how creative you can get to bring the bachelor or bachelorette party destination to life over live stream, and after all, having all your best friends together, even virtually, is what matters most.
Helpful Articles: