March 20, 2020
Last updated: August 27, 2020
The coronavirus has affected many aspects of our lives, with one of the most personal areas impacted being weddings.
During these times of social distancing and limitations on group gatherings, many couples are turning to technology to share their wedding celebrations with their friends and family while they can't physically be together. Live streaming your wedding allows you to proceed with the part that matters most, saying your vows to the love of your life, while your loved ones join in virtually.
We've heard from many of you wondering how to live stream your wedding, and are happy to share that you can do so right through your Joy wedding website.
Read on for a full guide of how live stream within your wedding website and a comprehensive checklist for setting up your live stream. For a quick overview, see our related post on 7 Steps to Live Stream Your Wedding.
How to Set Up Live Stream Within Your Joy Wedding Website
1) Starting from your Joy website's dashboard, scroll down to the "Website Content" section and click on the "Video" icon.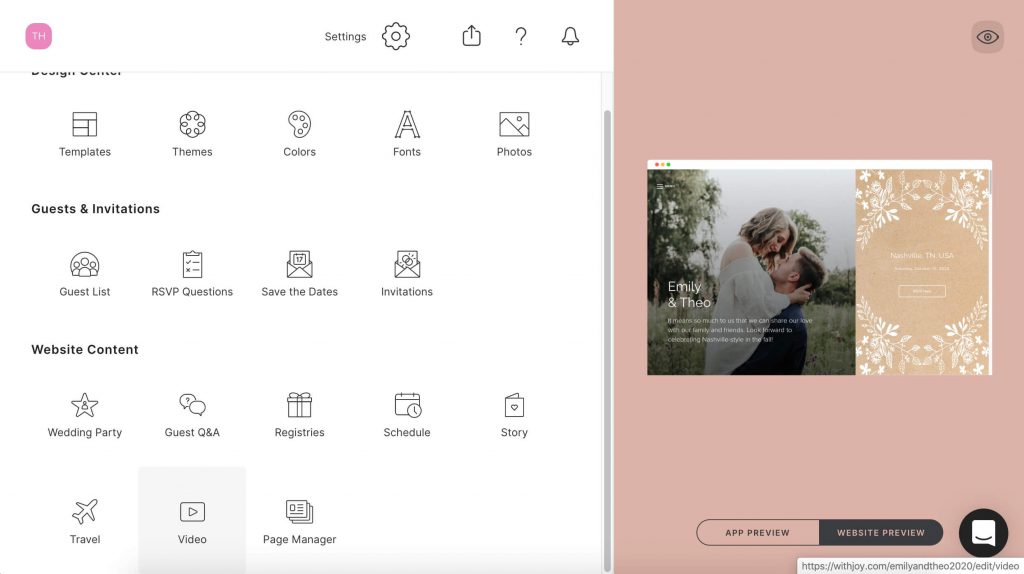 2) On the Video page, you'll see a box towards the bottom for your Vimeo or YouTube video URL. Once you've scheduled your event within the streaming platform, copy your URL and paste it into this section.

Two important notes as you select your streaming provider: Vimeo recently changed its pricing and its Premium plan with unlimited virtual meeting attendees costs $75 per month, and is billed annually, meaning it costs $900 for the year. YouTube Live is free, however if you have a channel with less than 1,000 subscribers, you can only go live from a desktop, you will not be able to use a smartphone or tablet for your Live.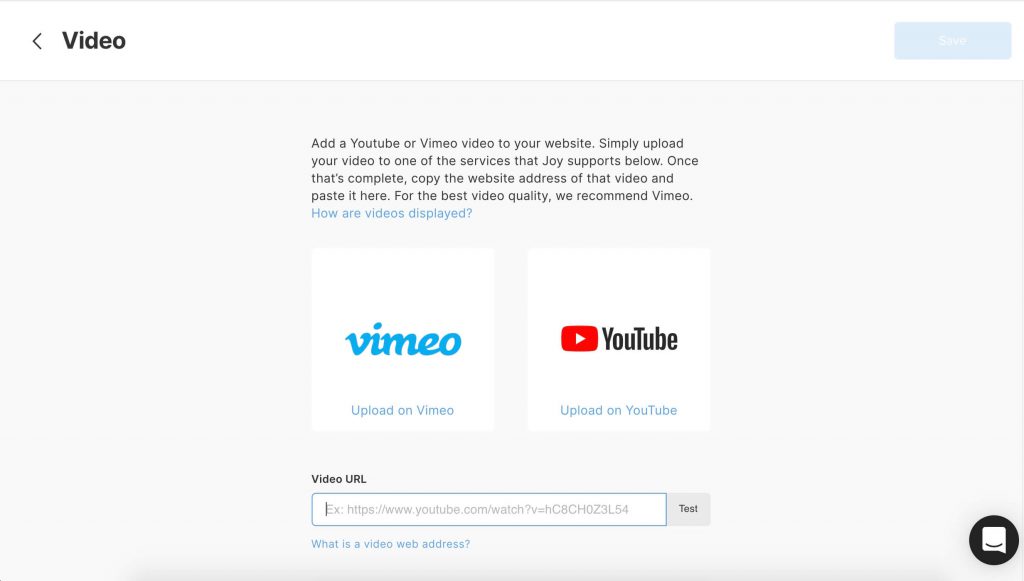 3) From there, be sure to hit "Save" and you're good to go live!
Equipment to Live Stream
You don't have to have expensive equipment to set up your live stream, you can keep things simple. To make the most out of your live stream, you'll need:
Laptop, Smartphone, or Tablet: Choose the available device with the highest quality camera.
A tripod (optional): A tabletop tripod isn't a must-have but is an inexpensive way to avoid shaky hands ruining the shot.
An inexpensive microphone (optional): Your device's built-in microphone can definitely do the job, but you can improve the audio quality by adding an external microphone. Amazon has several options around the $50 mark like this handheld mic or this kit that doubles as a tripod.
Your Wedding Live Stream Checklist
Set the date and time of your wedding live stream, whether it is your original wedding date or another point in time. Update the event greeting, wedding schedule, and any other relevant parts of your wedding website to reflect your new plans.
Decide whether you'll go live from YouTube (free) or Vimeo (premium plan required).
Schedule your event ahead of time on the platform of your choice, ensuring that you've turned on the settings that allow embedding. If you're not sure how to schedule an event, there are helpful how-to videos that will walk you through it.

Important note: If you're going to use YouTube Live to share your ceremony, keep in mind that you will have to create a channel, enable your ability to go live then wait 24 hours before you are able to do so, so set this up ahead of time. As mentioned above, if your channel has less than 1,000 subscribers, you will only be allowed to go live directly in-platform from a desktop.
Alert your guests of your updated wedding plans and to tune into your Joy wedding website at the date and time of your ceremony to watch your live stream. Joy allows you to send free, unlimited digital messages, including Change the Date E-Cards, to your wedding guests to help share your new plans with your loved ones.
Find a well-lit, quiet space where you can say your "I Dos." The best live streams are set in an area away from excess noise, but if you're outdoors or somewhere with background noise, a microphone would be worth the investment.
Check to make sure you have a strong WiFi signal before going live. To be safe, run a Speedtest, shooting for an upload speed of at least 10Mbps.
Choose the person who will be in charge of streaming. If you had hired a professional photographer for your wedding, and you and the photographer feel comfortable having the photographer attend your private ceremony (please stick within the social gathering size guidelines set by your government), ask if they'd be willing to bring equipment for the live stream and help set up the shot.
If your guests need a nudge to tune in, send them a reminder message through Joy 30 minutes ahead of the start of the ceremony.
While live streaming your wedding may not have been your original plan, it can help your loved ones be part of your big day from the safety of their homes.
Take it from Rebecca Cordisco and Tom Nicholes of Middletown, NJ who live streamed their wedding on March 15. Rebecca's advice to other couples: "Focus on each other, remember the reason you wanted to get married. Keep that at the forefront and don't let it be outshined." For Tom, the highlight was seeing friends and family follow along. "Everyone was sending in pictures of watching on their laptops with a drink to cheers us, people had viewing parties to watch the wedding, our friends were commenting on the live stream. It was great to see."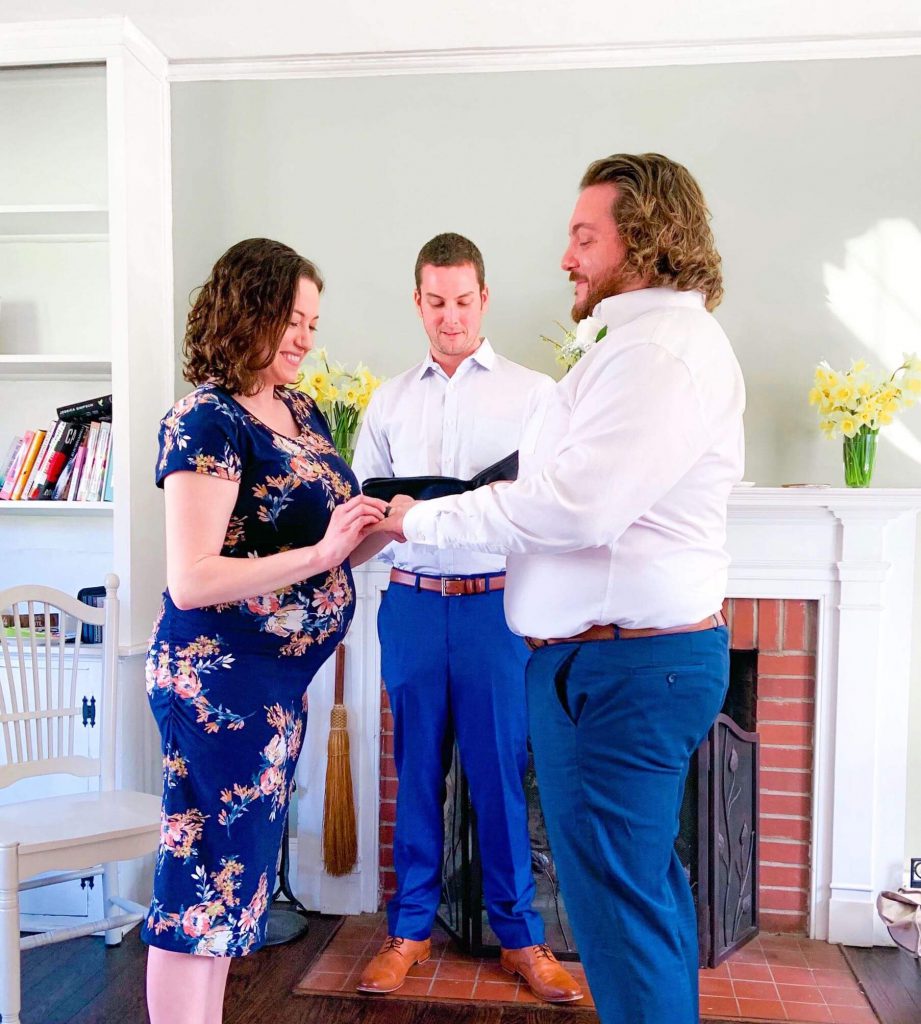 If you have any questions on how to live stream your wedding through your Joy wedding website, reach out to us at support@withjoy.com. For more advice on wedding planning during these challenging times, see our "How to Manage Your Wedding Plans During the Coronavirus Outbreak" blog post.
We wish you the best of luck as you celebrate your love, however you are able to do so.
Helpful Articles: