Updated October 26, 2020
As COVID-19 continues to impact weddings and gatherings, many couples are opting to virtually share their ceremony with loved ones.
Whether you are having a virtual wedding, or a hybrid, micro wedding with a combination of in-person and virtual guests, you deserve to experience the joy of saying your vows in front of your community. We're here to help with seven steps to host your virtual wedding.
1. Send invites or Change the Dates to guests
Whether a virtual wedding was part of your original plan or not, make sure your guests have all the details. Send online invitations or Change the Dates through Joy to give your guests all the information for your virtual celebration.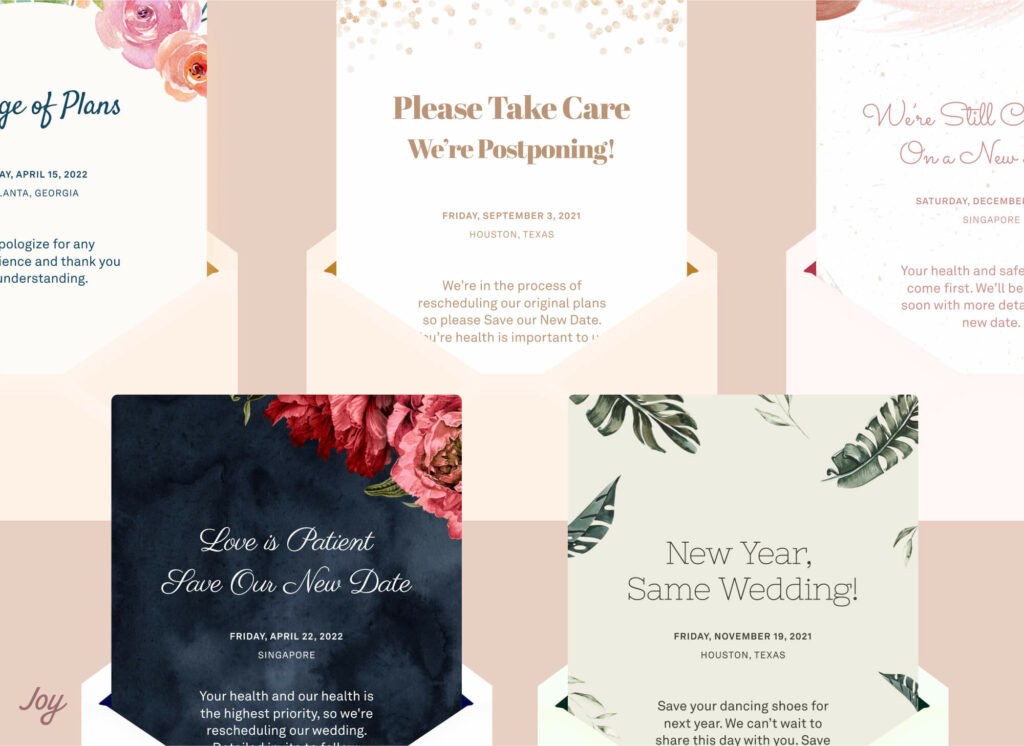 2. Collect RSVPs
You may not think about collecting RSVPs for a virtual wedding, but an accurate headcount is key to ensure the platform you select can handle your event size. Joy's RSVP feature allows you to customize your RSVP questions and gather guest responses to inform your live stream plans.
If you plan to send a wedding favor to guests ahead of your live stream, such as mini bottles of champagne for a toast, you will also need to know who is attending, and their address, in advance.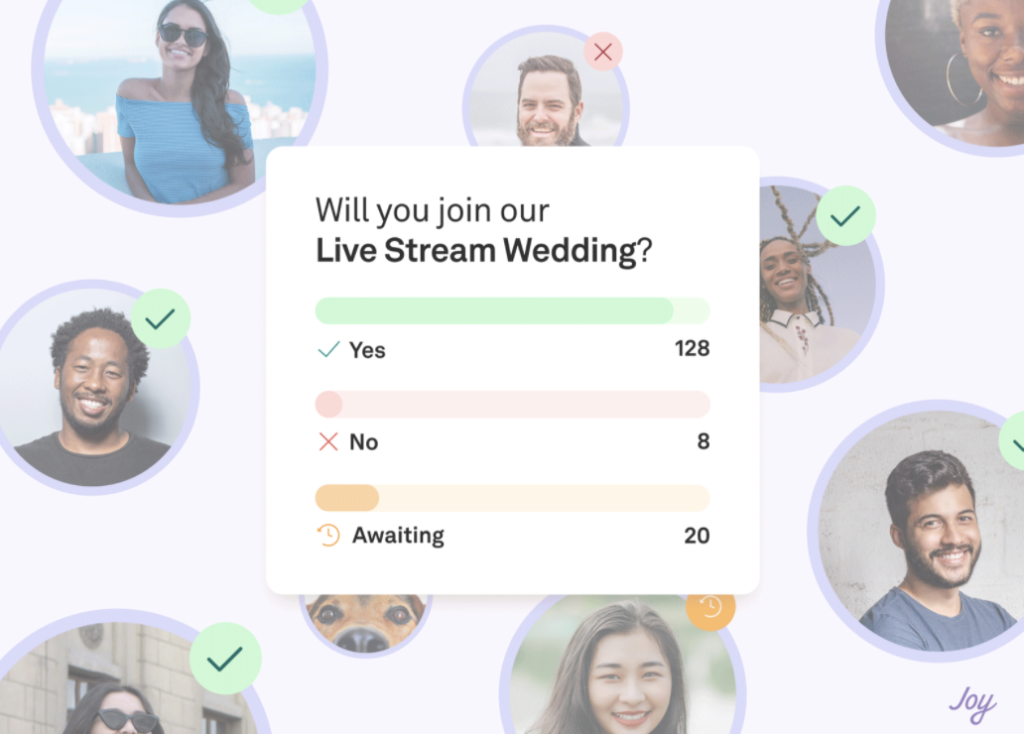 3. Host your virtual wedding
Create virtual events and share them on your Joy wedding website for your guests to join with ease.
Whether you prefer an interactive virtual event using Zoom or Google Hangouts, or a one-way livestream through YouTube Live, Vimeo or EventLive, Joy supports all of your virtual wedding needs. Learn more about how to set up your virtual wedding events on your Joy wedding website here.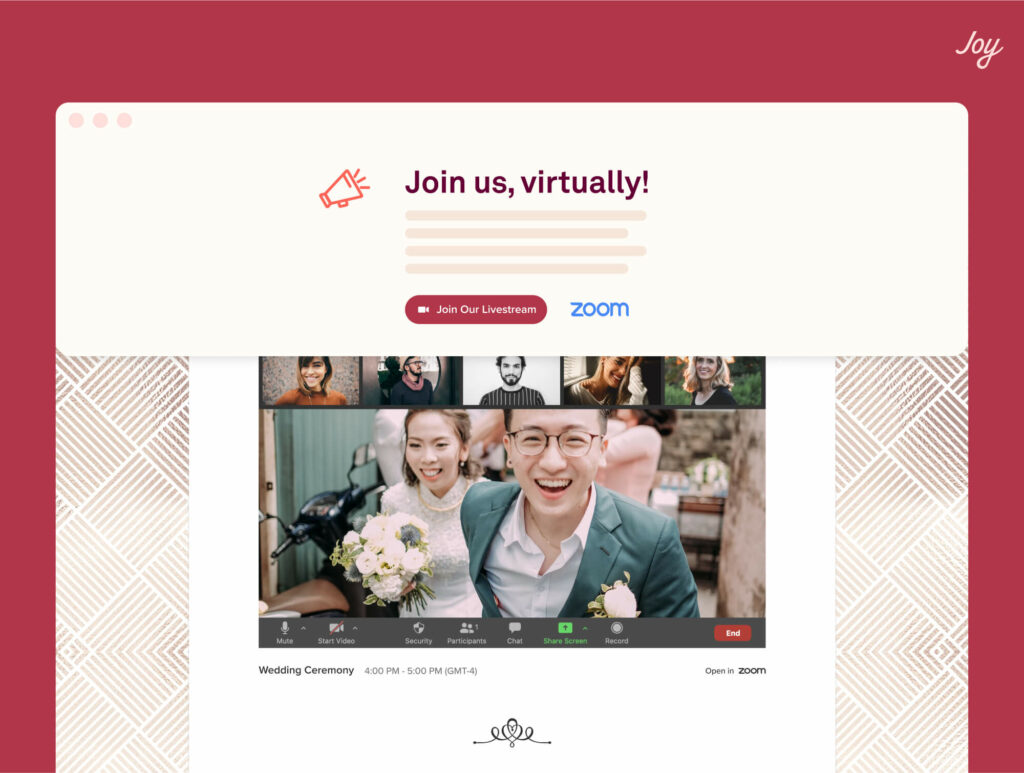 4. Update your wedding website
Wedding websites have become even more important in light of COVID-19 to keep guests up to date of your wedding plans. Guests will check your wedding website for information ahead of your big day, so be sure to update your event date, time, location, greeting message, and event schedule with your virtual wedding details, and make sure you've removed any out-of-date information.
Create an unmissable announcement banner across the top of your wedding website and mobile app to alert guests of your live stream plans and even share your live stream link, so that it's the first thing guests notice when they visit your site.
Your wedding website's FAQ page is the place to share any special requests for guests, such as to have a drink in-hand to cheers to the couple, to follow (or not follow) a dress code, or if conferencing, to mute their speaker during the ceremony to ensure everyone can hear your vows.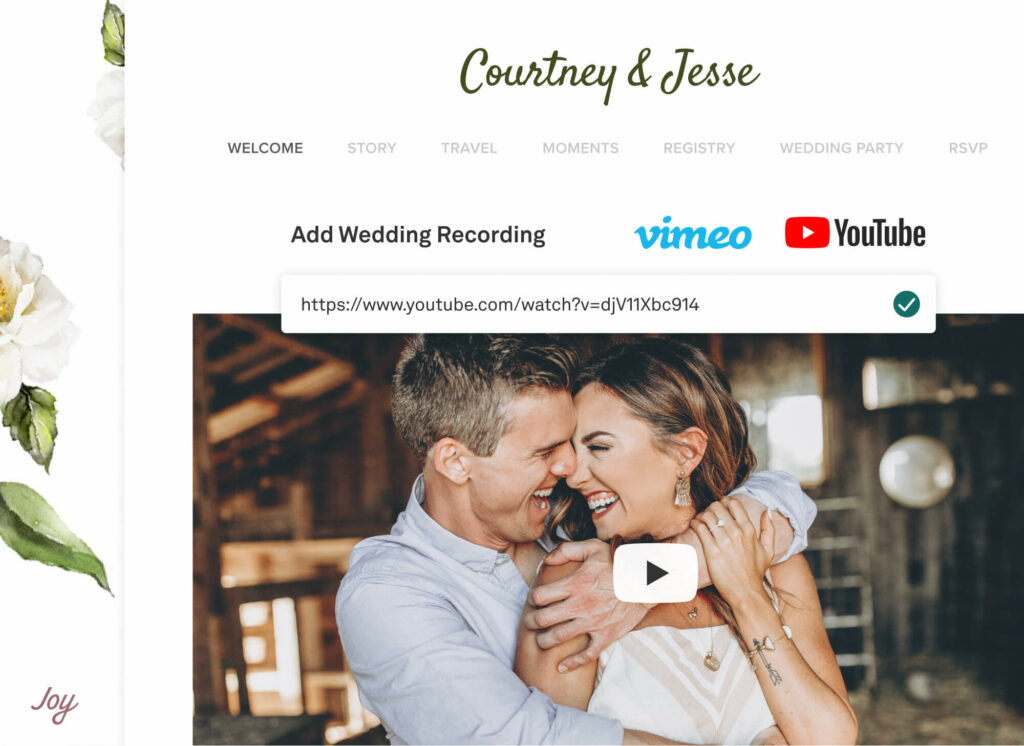 5. Send a reminder to your guests
Send your guests a reminder message in the days or hours leading up to your wedding live stream, to ensure they tune in at the right time.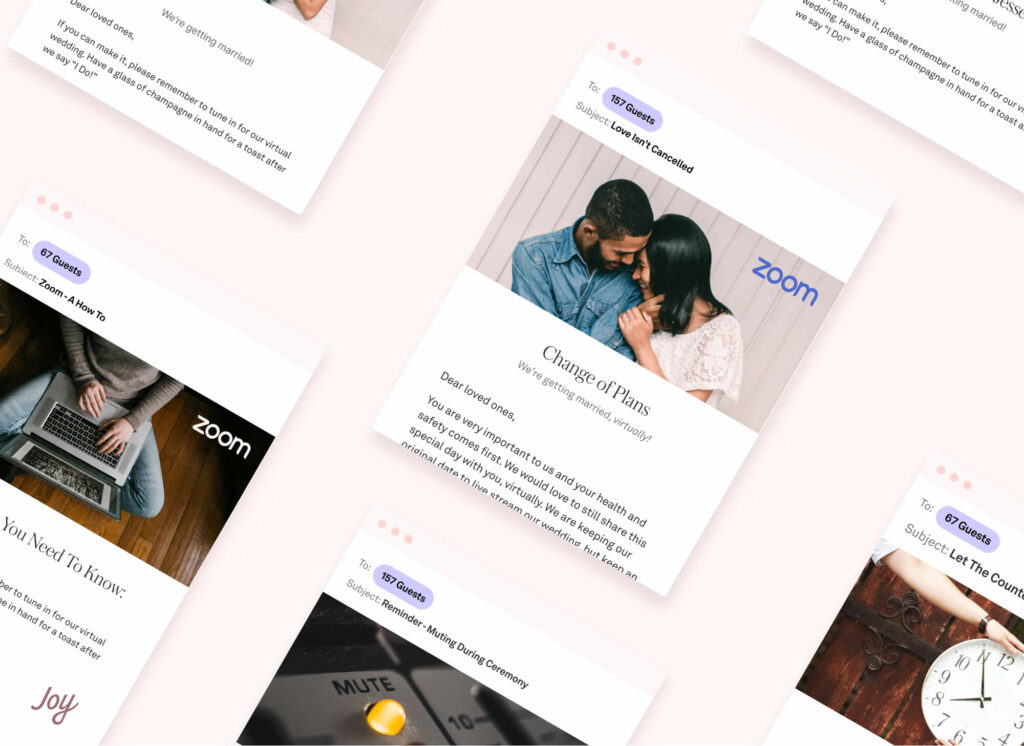 6. Capture and share wedding memories
Record your virtual wedding to capture and share your wedding video. After your live stream is complete, upload the recording to your Joy wedding website to relive the happy memories.
Get a little extra: if anyone is present for your private ceremony, have them take photos and add them to the 'Moments' shared album on your Joy website and app, which updates in real time for guests to follow along. Virtual guests can even upload their own photos via the Joy App (in real time or after) to document the uniquely shared celebration.
In addition to sharing photos, guests can add a note in your virtual guestbook, leaving their well-wishes for the happy couple.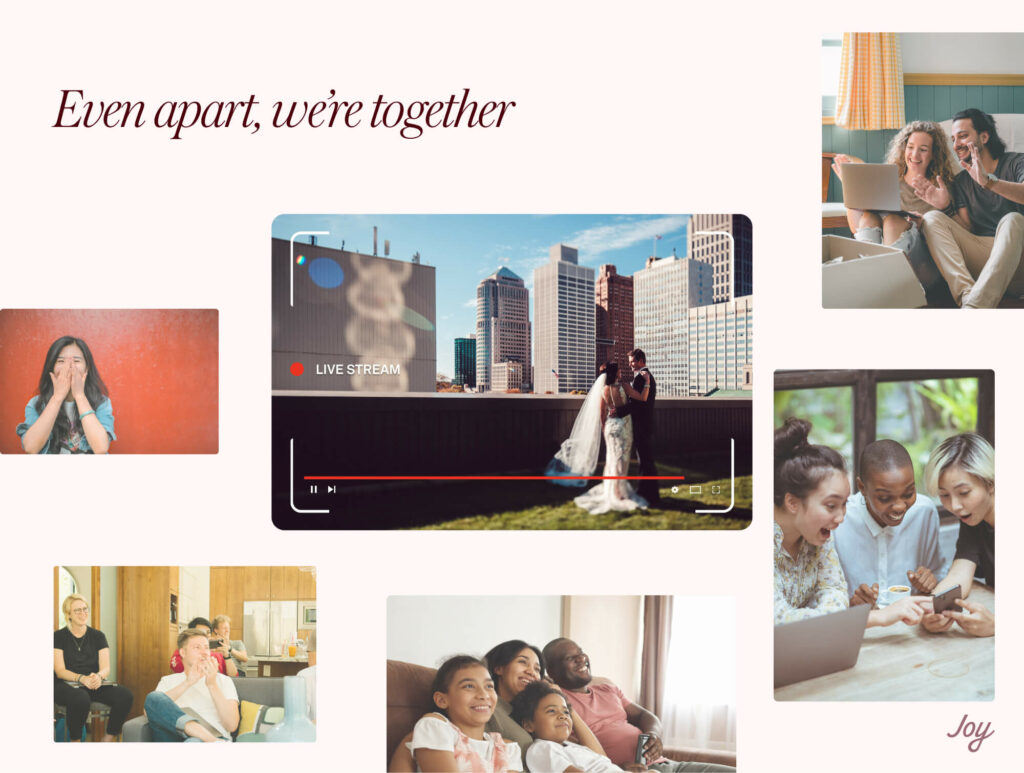 7. Thank your guests
Send thank you E-Cards to your wedding guests for helping you celebrate, and direct them to visit your wedding website to view your wedding video and photos.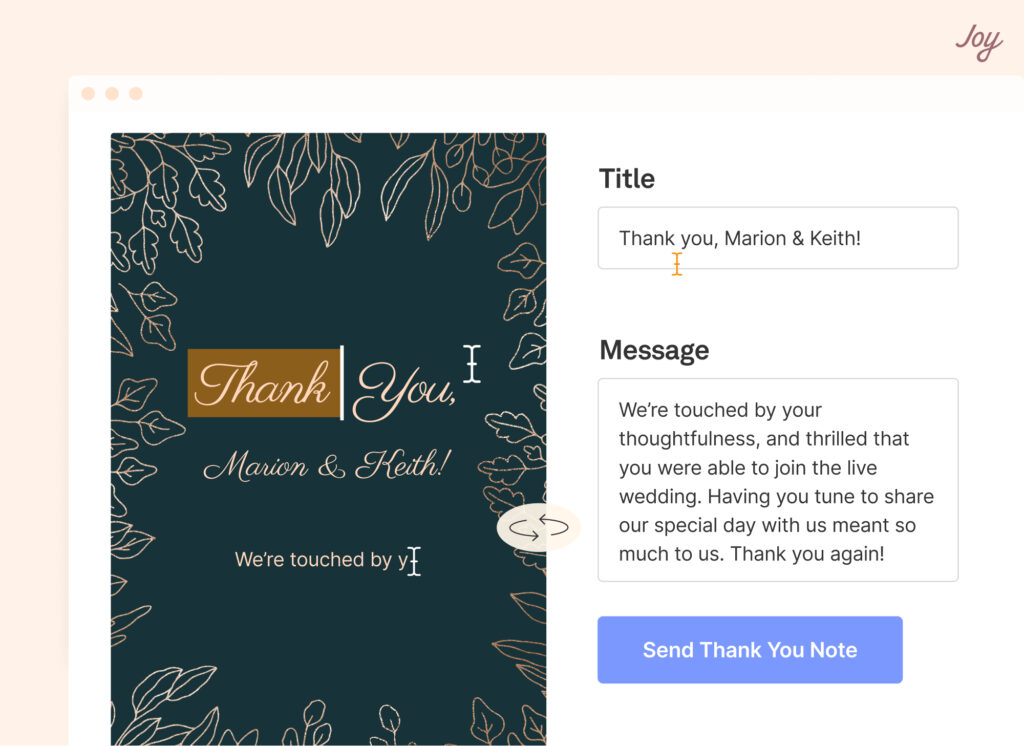 Helpful Articles: