Virtual weddings, wedding showers, and even bachelor and bachelorette parties have become popular amid COVID-19, as couples turn to virtual celebrations for the safety of themselves and their guests.
Virtual weddings, whether over Zoom or other livestream platforms, can be just as beautiful and interactive as in-person celebrations, and deserve a beautiful invitation to convey the significance of the event. However, if your plans are changing last-minute, you already purchased printed invitations once and want to avoid an additional expense, or you simply prefer the convenience and eco-friendliness of online invitations, printed stationery may not be for you. 
Luckily, you can create and send beautiful invitations for your virtual wedding (for free!) using Joy.
Benefits of Online Invites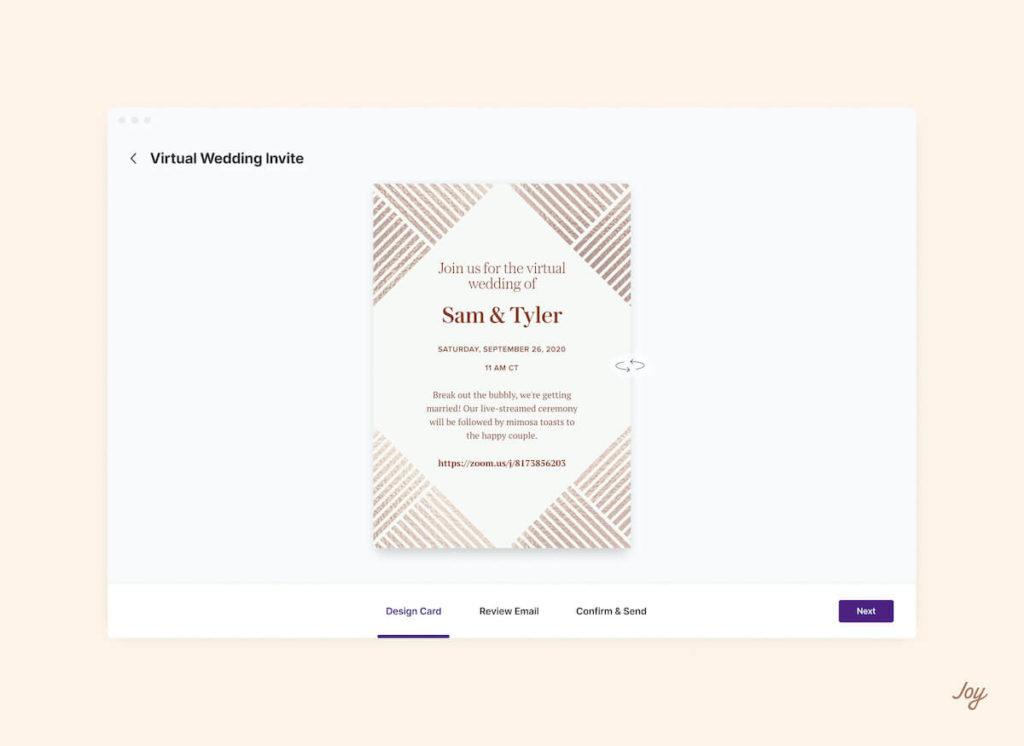 One of the main benefits of online invites is that you can select an invitation that matches your wedding website theme, for a cohesive look and feel across all of your guest communications. If you don't want your invite to match your website, that's no problem either. Select any theme you desire for your invite, the sky's the limit on creativity and customization! 
If you are sending invites for other virtual wedding events, such as a wedding shower, you can also select a different theme for that invite specifically, to convey the nature of the event. Tip: if you are planning a virtual shower, or someone is planning one for you, check out our guide on how to throw a virtual wedding shower for everything you need to know for a special and fun virtual event. 
Not only do online invites save money compared to printed wedding stationery, they provide flexibility if your plans happen to change again. Say you switch the time of your wedding, or you decide to switch streaming platforms. Send another update to your guests that arrives quickly and conveniently in their inboxes, all with the same design as your original invite. Joy's online invitations and ecards are completely free, so you can send as many updates to guests as you need.
Lastly, while socializing virtually has become the norm for work meetings, happy hours, and family gatherings, virtual events may still be confusing for some of your older or less tech-savvy wedding guests. By sending online invitations for your virtual wedding that arrive to your guests quickly, you allow plenty of time ahead of your event for guests to ask questions and get any technical assistance they may need to ensure everything goes smoothly on your big day.
Send Invites For Your Virtual Wedding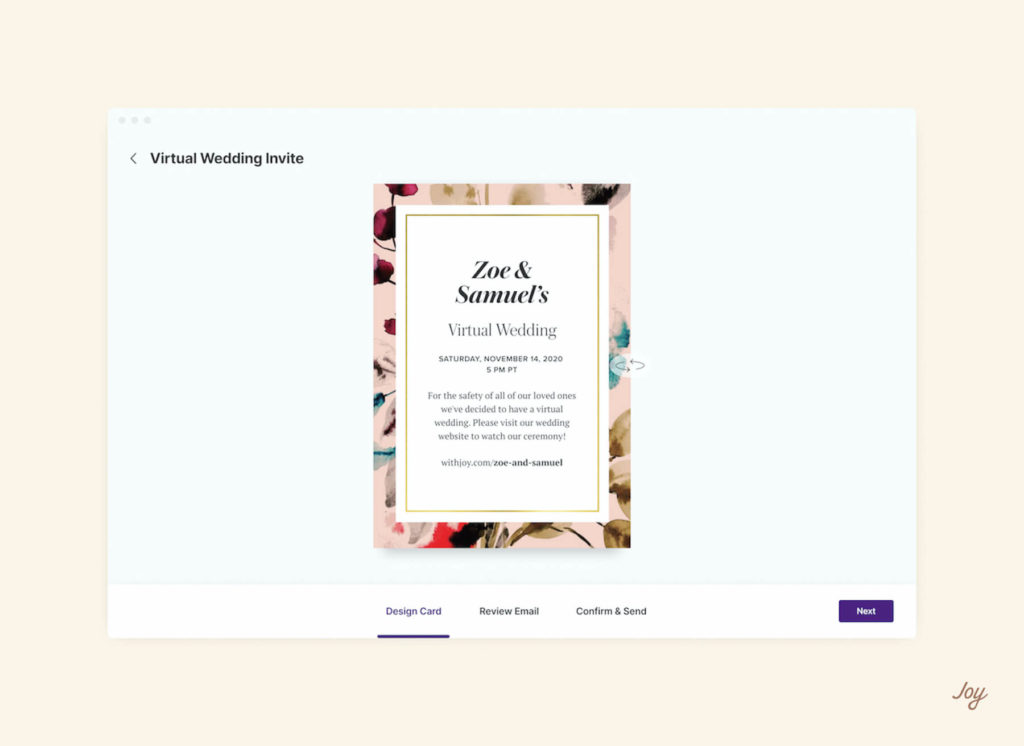 Now, how to get started sending your invites? Here's a quick overview:
1. Populate your Joy guest list with your guests' information and email addresses. If you have already created your guest list in a separate spreadsheet, never fear, you can import it into your Joy guest list.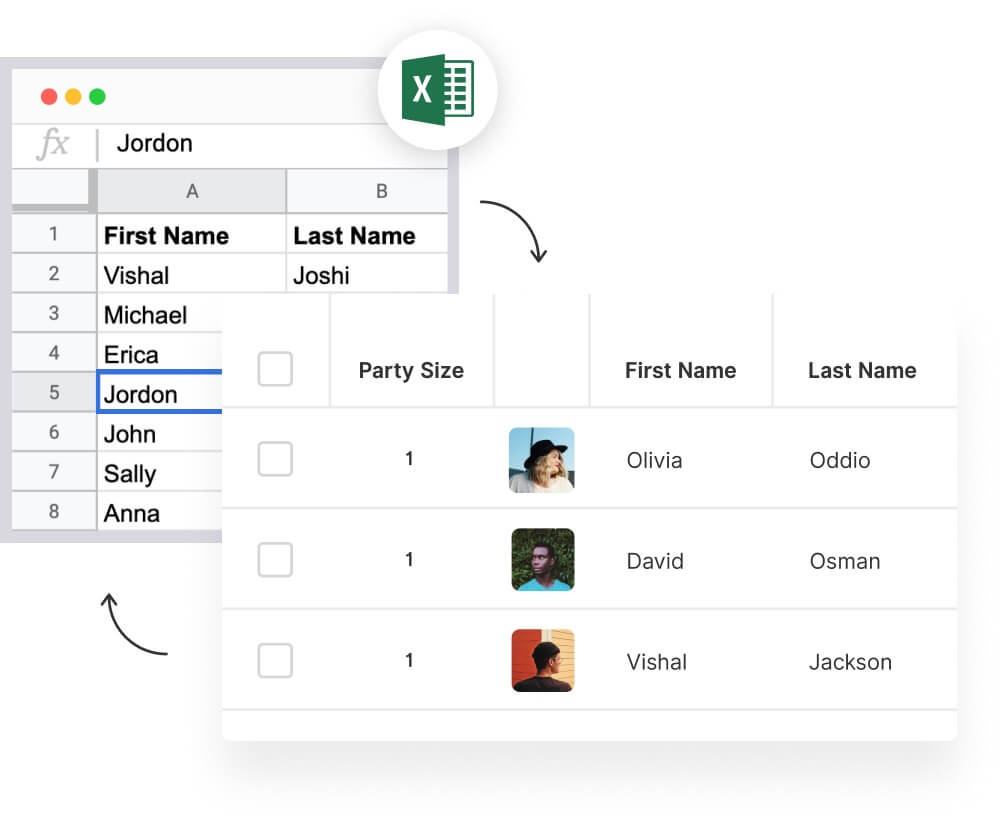 2. Select everyone in your Joy guest list that you want to send an invitation to. For your virtual wedding, this may be all your guests. However if you want to send invites to additional virtual events such as a wedding shower that has a smaller guest list, select certain guests from your list, such as guests with the 'Wedding Shower' label, and send that invite just to those specific people.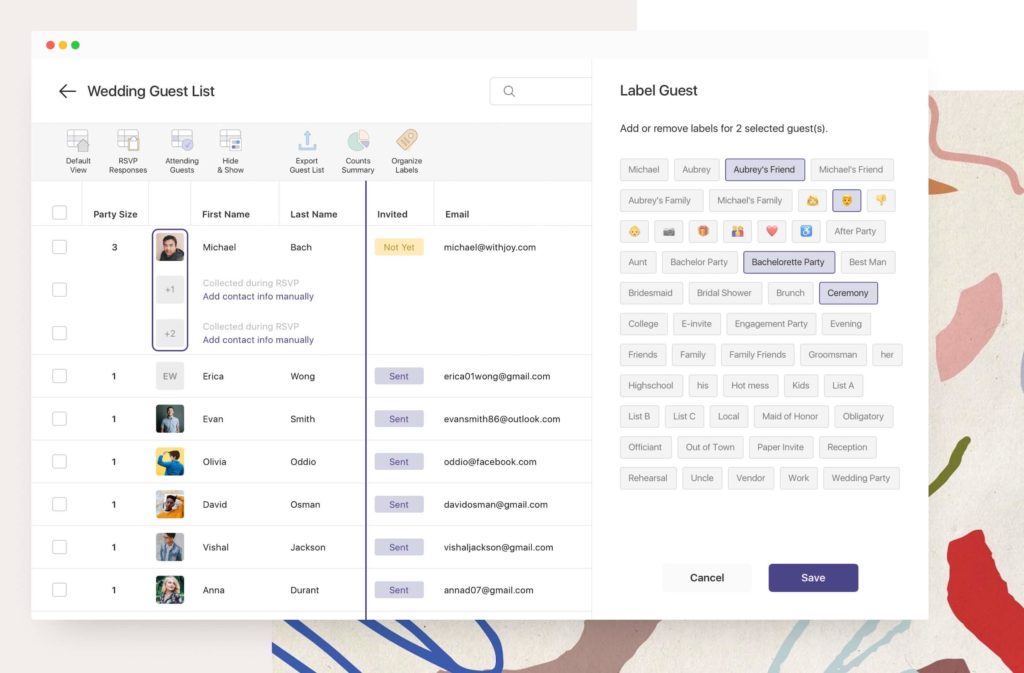 3. Click Send Invites & Messages and select Change the Date e-card. We realize this step may seem confusing. Why are we suggesting the Change the Date e-card? Well, it is our most customizable e-card, and the only e-card that currently allows you to add a link within the e-card text (which is key to share the link to your virtual event.) You can customize every single text field of the Change the Date e-card, even the header text, to reflect the wording you want to use and the details of your virtual event. Don't forget to add a custom message to the back of the card as well!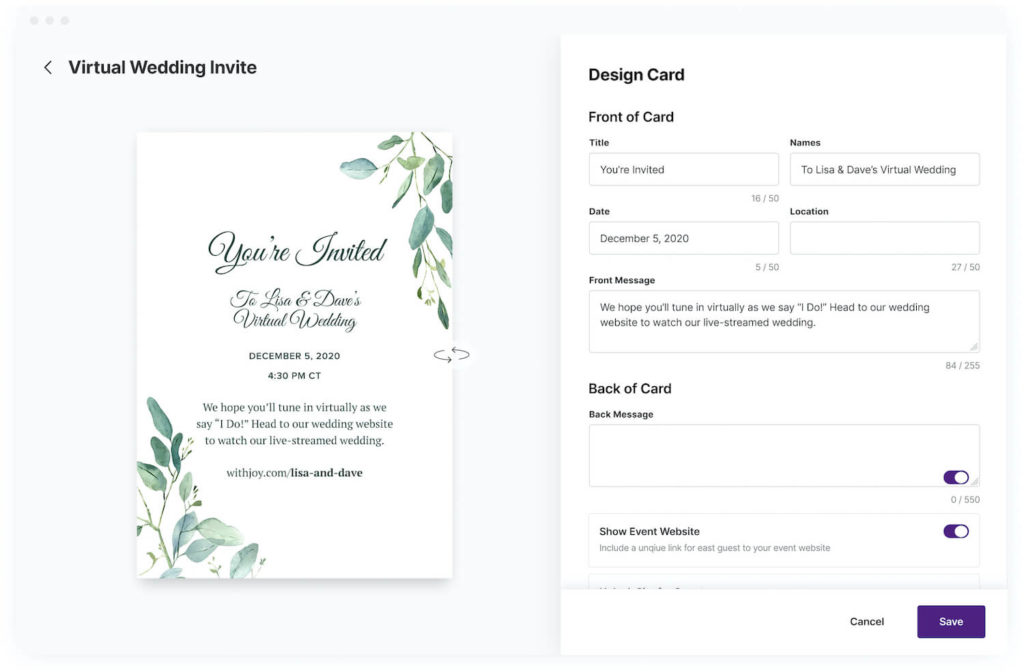 4. Send away! As your guests receive their invites, your Joy guest list will automatically update to track their RSVPs.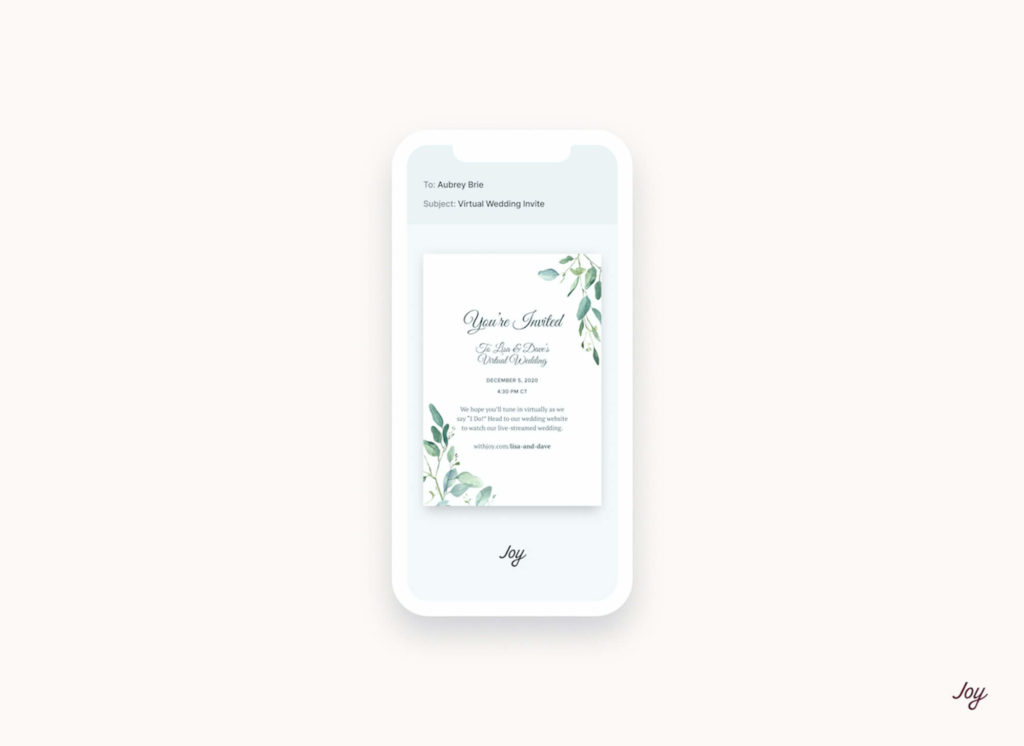 Update Your Wedding Website For Your Virtual Wedding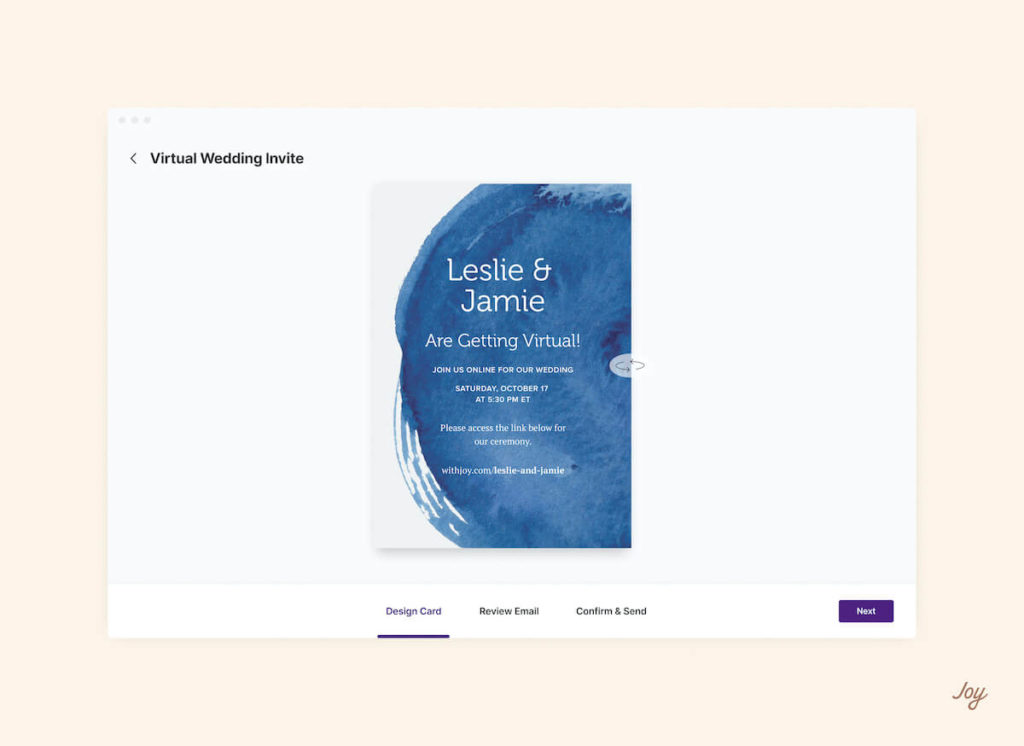 Your invites have gone out, yay! However, don't forget to update your wedding website to reflect the details of your virtual wedding. 
For the wedding itself, you can livestream your wedding directly through your Joy wedding website with our YouTube or Vimeo integrations. This is an easy option for guests, as they simply visit your site at the time of your wedding to watch your ceremony. Here are some of our materials to help you set up your virtual wedding:
Additionally, your welcome message on your homepage, your wedding schedule page, and your FAQ page will all need to be built-out (or updated) with all the information about your virtual wedding that guests will need to know. Don't forget to also remove any pages from your wedding website that are no longer applicable, such as the travel tips page. 
Lastly, you'll want to add (or again, update) RSVP questions for your virtual wedding event, so that you know who is coming to ensure your livestream platform can accommodate your guests, and so you can collect guest information such as their addresses, in case you want to send them any sort of wedding favor ahead of your virtual event. 
Find out all the information you need to know with our full guide on what to include on your wedding website for a virtual wedding. 
Virtual Wedding Invitation Wording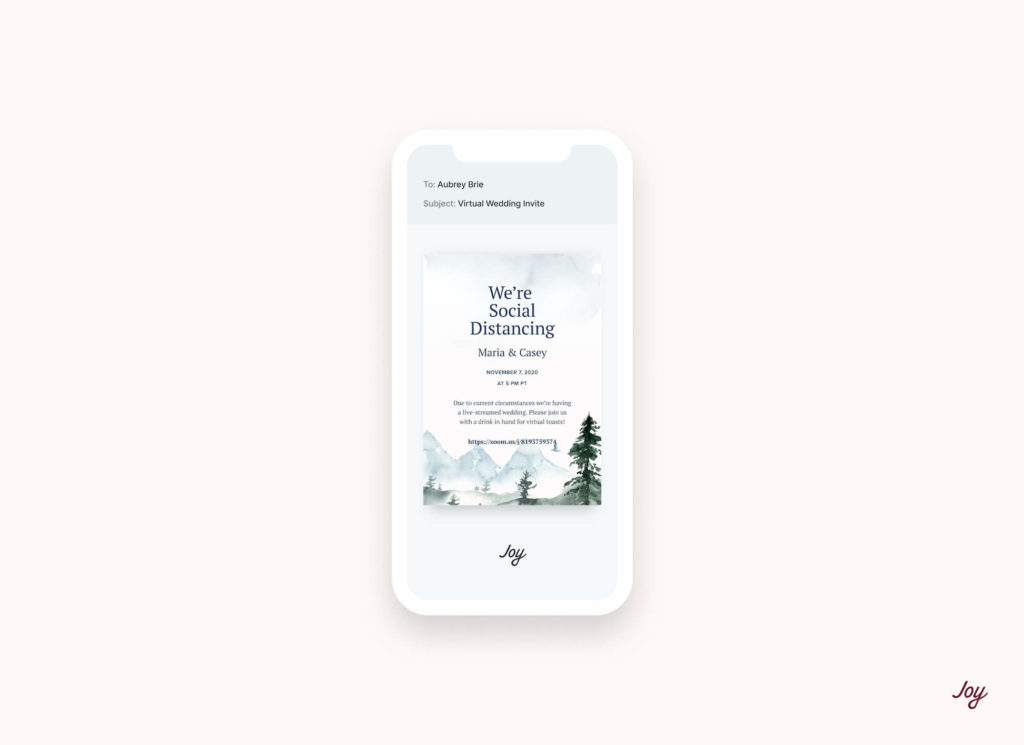 Phrase the invite to your virtual wedding as formally or casually as you like — feel free to get creative and express your personality! Don't be afraid to depart from traditional wedding invitation wording, as at this point we are in a new world of unknowns.
In case you could use some inspiration for your virtual wedding invitation wording, here are some examples for you to pull from.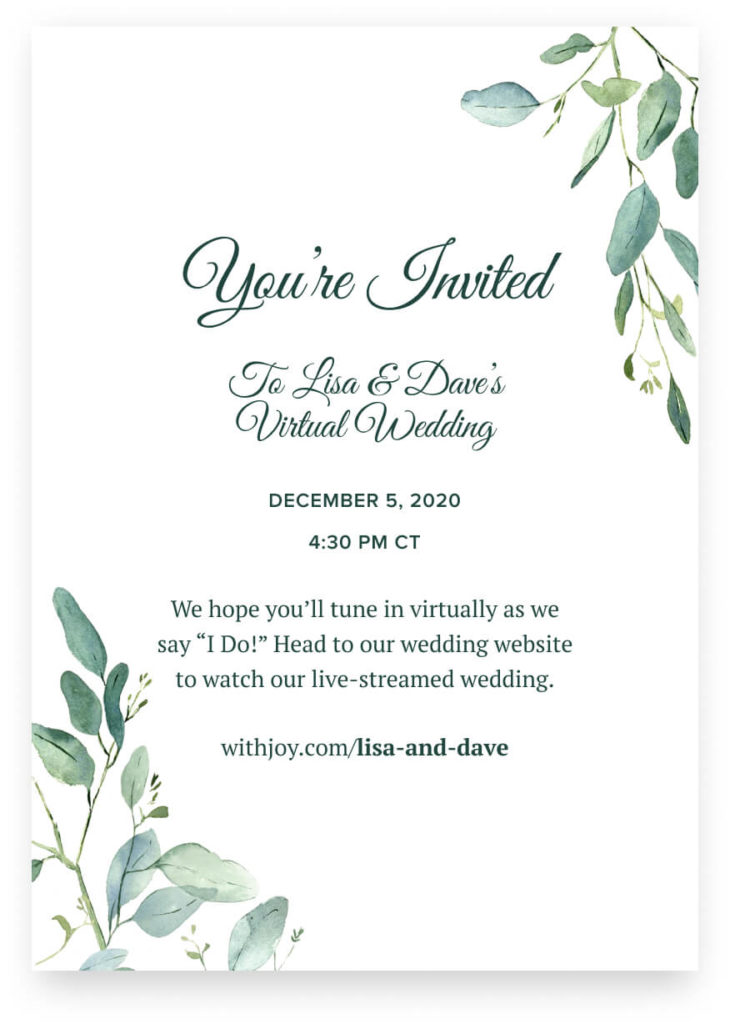 You're Invited
To Lise & Dave's Virtual Wedding
December 5, 2020
4:30 PM CT
We hope you'll tune in virtually as we say "I Do!" Head to our wedding website to watch our live-streamed wedding.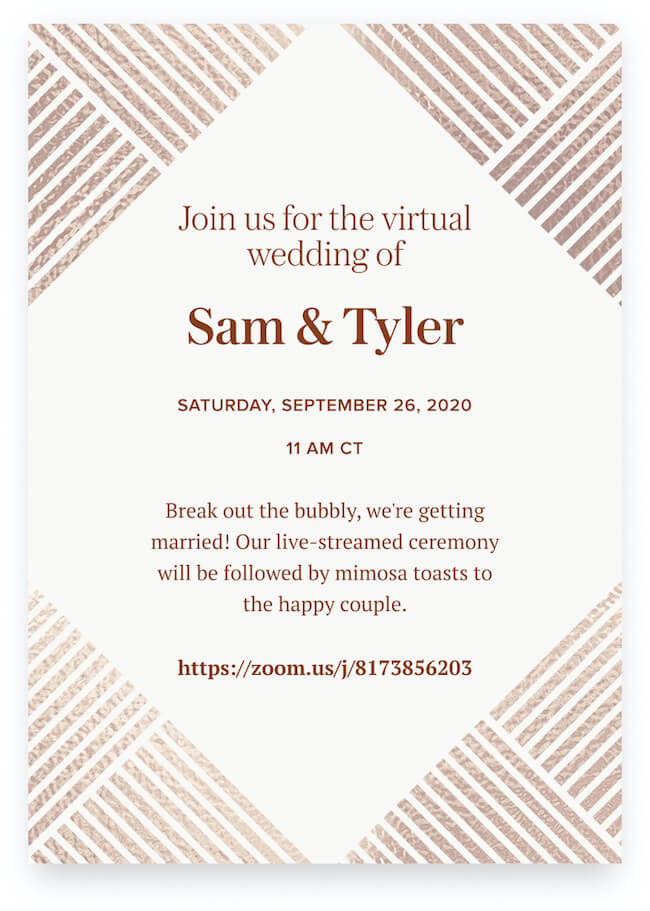 Join us for the virtual wedding of
Sam & Tyler
Saturday, September 26, 2020
11 am CT
Break out the bubbly, we're getting married! Our live-streamed ceremony will be followed by mimosa toasts to the happy couple.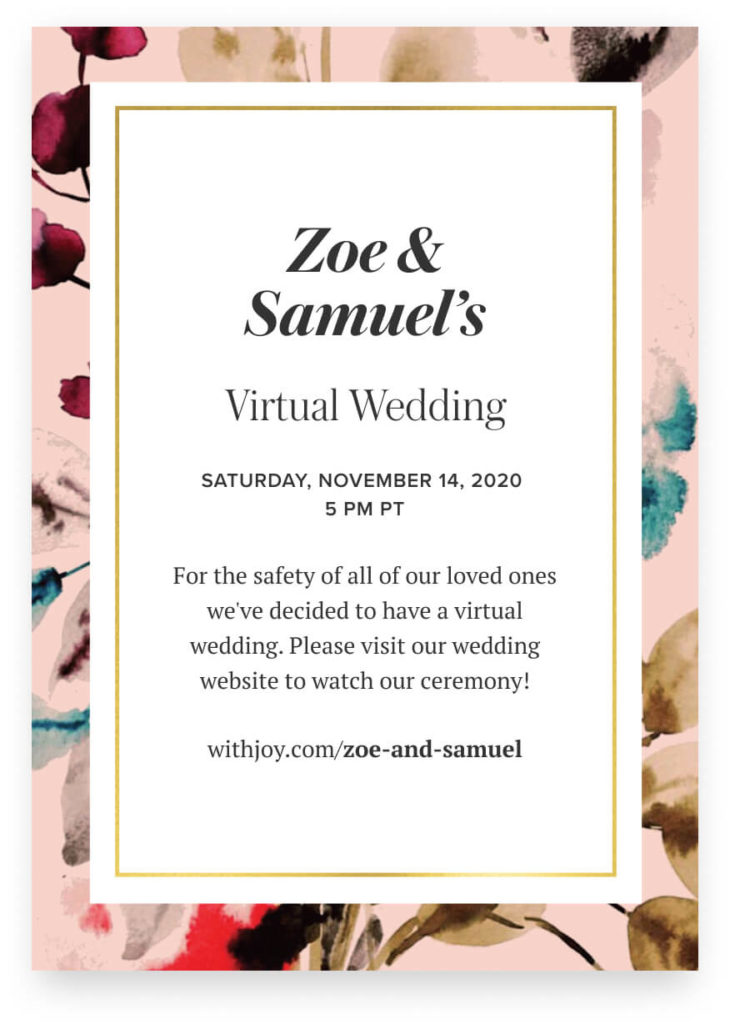 Zoe & Samuel's
Virtual Wedding
Saturday, November 14, 2020
5 pm PT
For the safety of all of our loved ones we've decided to have a virtual wedding. Please visit our wedding website to watch our ceremony!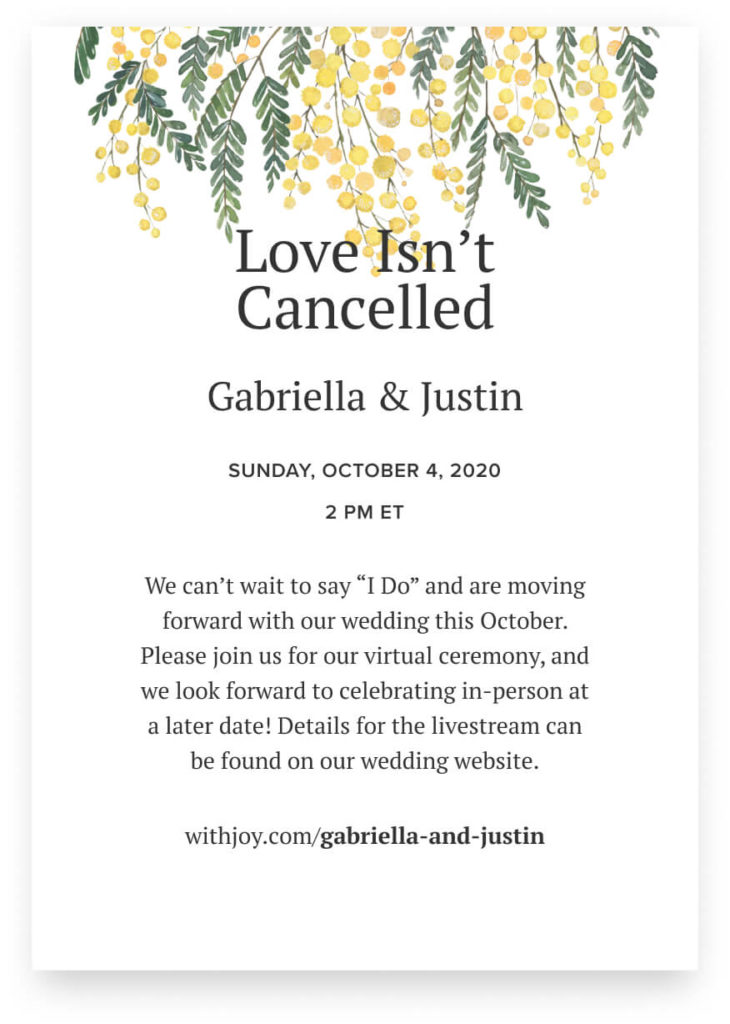 Love Isn't Cancelled
Gabriella & Justin
Sunday, October 4, 2020
2 pm ET
We can't wait to say "I Do" and are moving forward with our wedding this October. Please join us for our virtual ceremony, and we look forward to celebrating in-person at a later date! Details for the livestream can be found on our wedding website.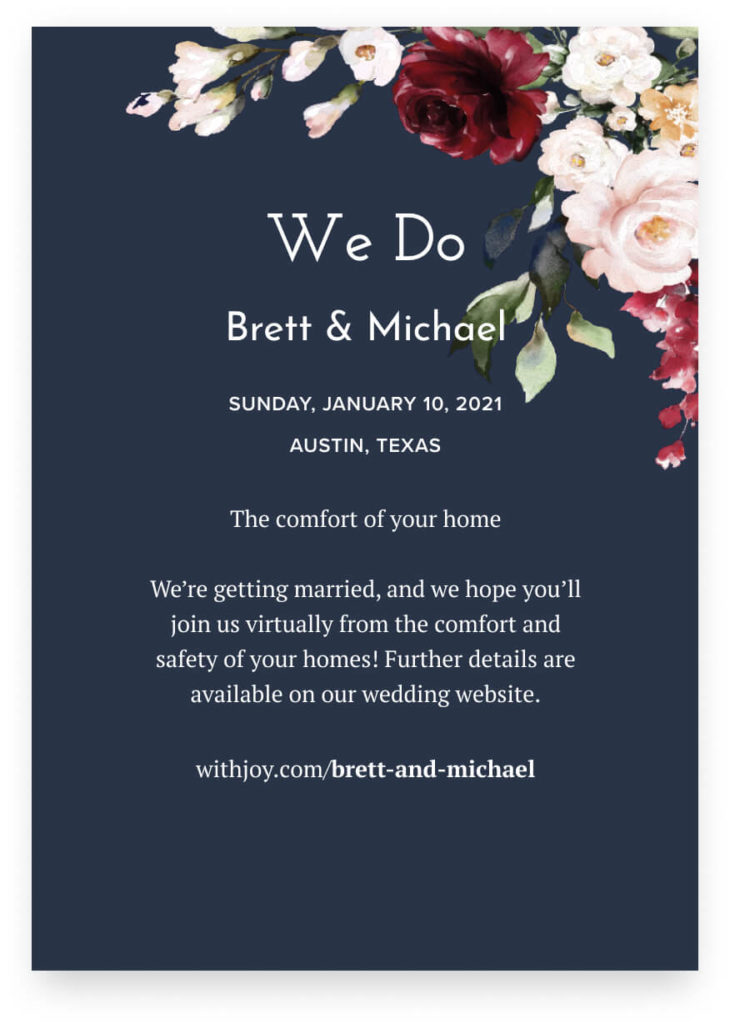 We Do
Brett & Michael
Sunday, January 10, 2021
From the comfort of your home
We're getting married, and we hope you'll join us virtually from the comfort and safety of your homes! Further details are available on our wedding website.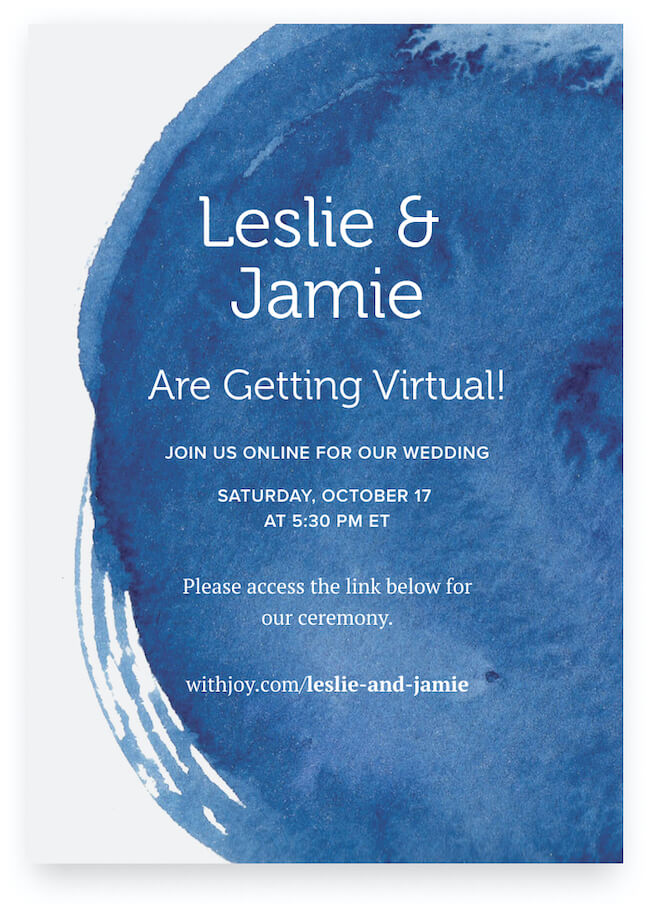 Leslie & Jamie
Are Getting Virtual!
Join us online for our wedding
Saturday, October 17
At 5:30 PM ET
Please access the link below for our ceremony.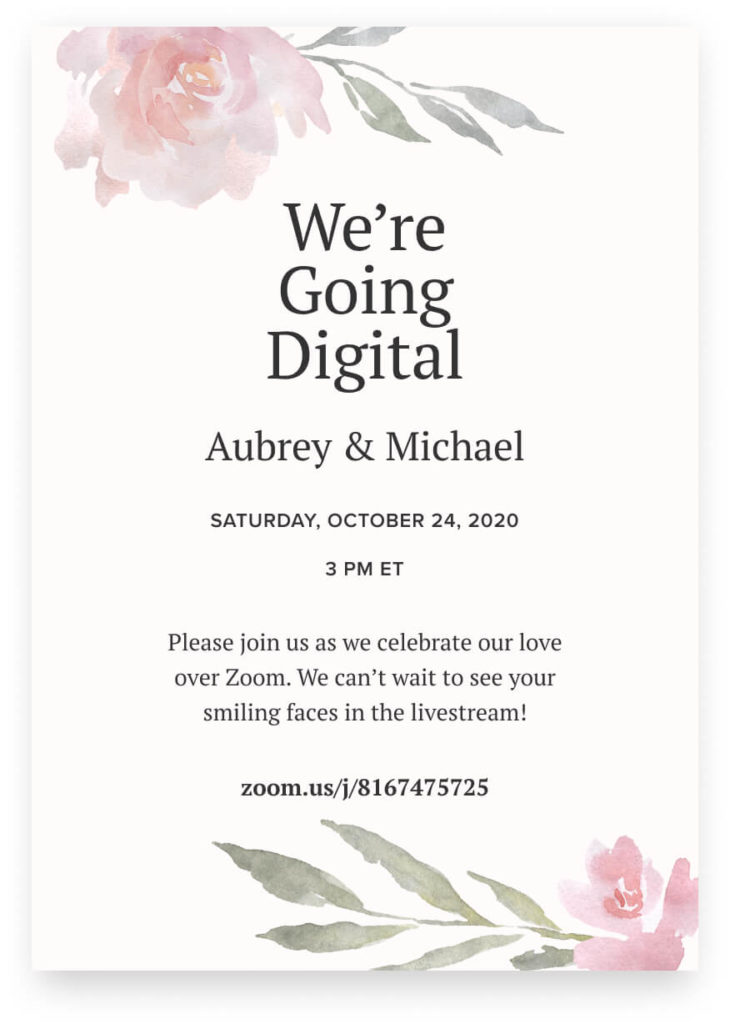 We're Going Digital
Aubrey & Michael
Saturday, October 24, 2020
3 PM ET
Please join us as we celebrate our love over Zoom. We can't wait to see your smiling faces in the livestream!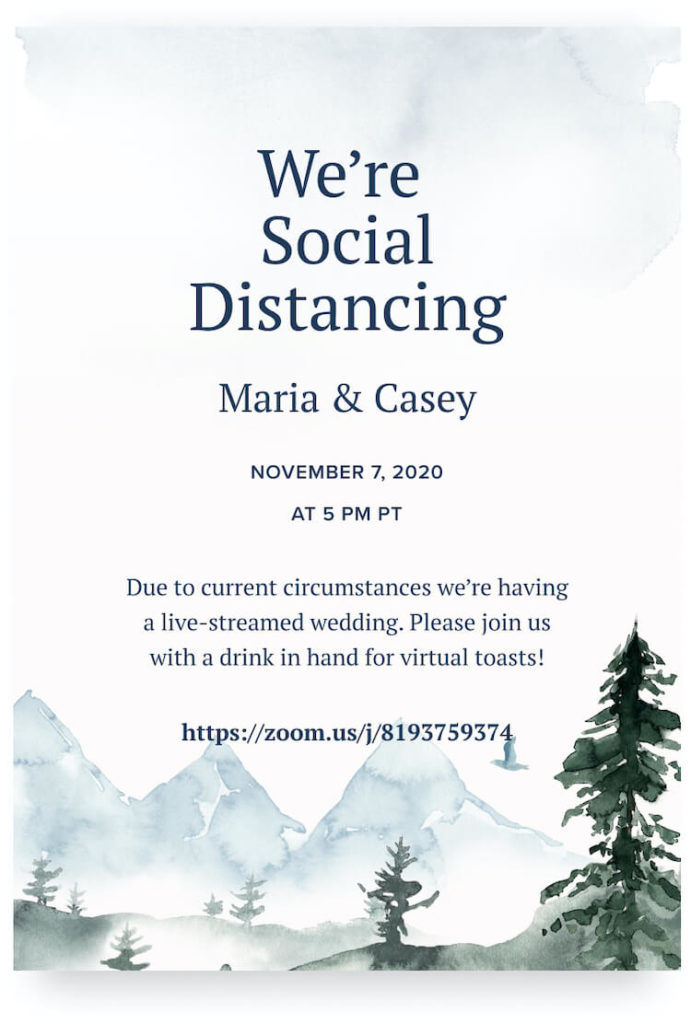 We're Social Distancing
Maria & Casey
November 7, 2020
At 5 PM PT
Due to current circumstances we're having a live-streamed wedding. Please join us with a drink in hand for virtual toasts!
Conclusion
We wish you all the best as you plan your virtual wedding, and we encourage you to connect with other couples in our Wedding Planning with Joy Facebook group, reach out to our support team if you have any questions, and visit our COVID-19 Wedding Planning Resource Center for all sorts of planning advice and inspiration as you plan your big day. 
Related Articles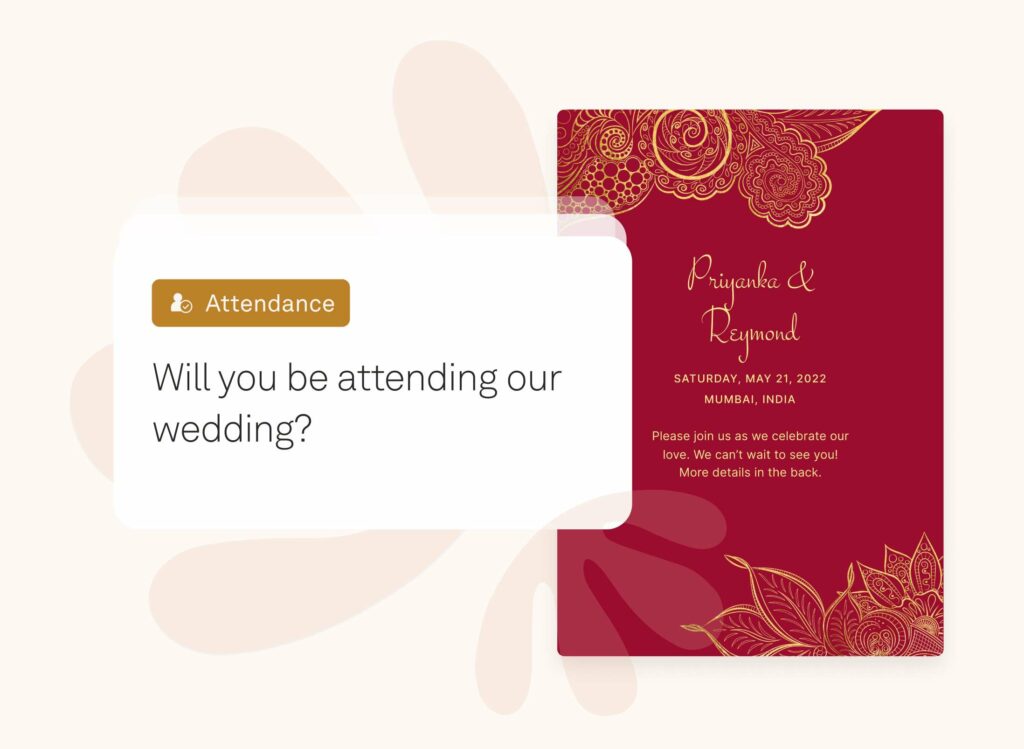 Whether you send traditional paper invitations or go paperless, you can easily collect RSVPs online.