Host Your Virtual Wedding
Photo credit: JLB Wedding
Create virtual events and share them on your Joy wedding website for your guests to join with ease.
Whether you prefer an interactive virtual event using Zoom or Google Hangouts, or a one-way livestream through YouTube Live, Vimeo or EventLive, and whether you are having a virtual wedding or a hybrid wedding with a mix of in-person and virtual guests, Joy supports all of your virtual wedding needs. Learn more.
Invite Guests to Your Virtual Wedding
Send virtual wedding invitations that match your wedding website to invite guests to your big day. Add Zoom or any other virtual event link to your customizable invite, allowing guests to add your event to their calendar with a single click.
Planning multiple virtual events such as a virtual wedding shower? Send separate invites for each wedding event and use your guest list to select which guests receive each invitation.
Add an Announcement Banner to Your Wedding Website and App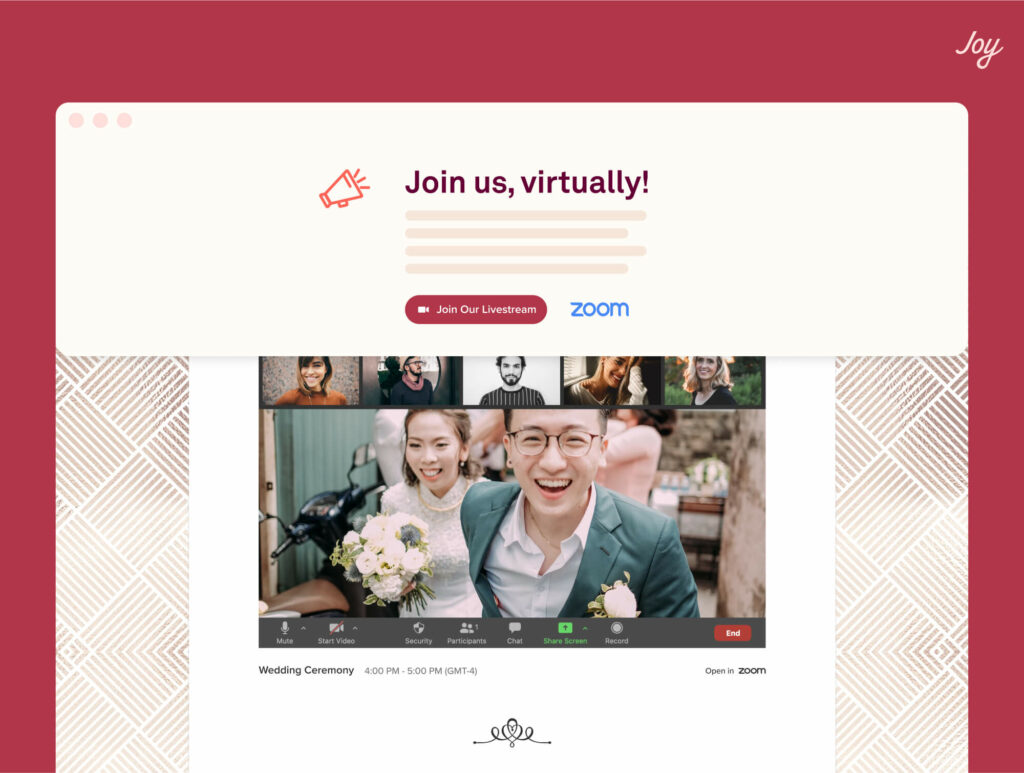 Draw your guests' attention to your virtual wedding details such as the Zoom link and event date or time by adding a custom announcement banner across the top of your wedding website and app.
Track RSVPs for Your Virtual Wedding
Collect responses for each of your virtual events with Joy's RSVP manager. Whether you are having a private virtual bridal shower or a 200 person virtual wedding, Joy's RSVP Manager allows you to fully customize your RSVP questions to fit your needs.
Customize which guests can view each RSVP question based on which events they are invited to, then ask if they can attend, if they need technical help joining your virtual wedding, or any other questions to help you plan.
Manage the Privacy and Timezone of Your Virtual Wedding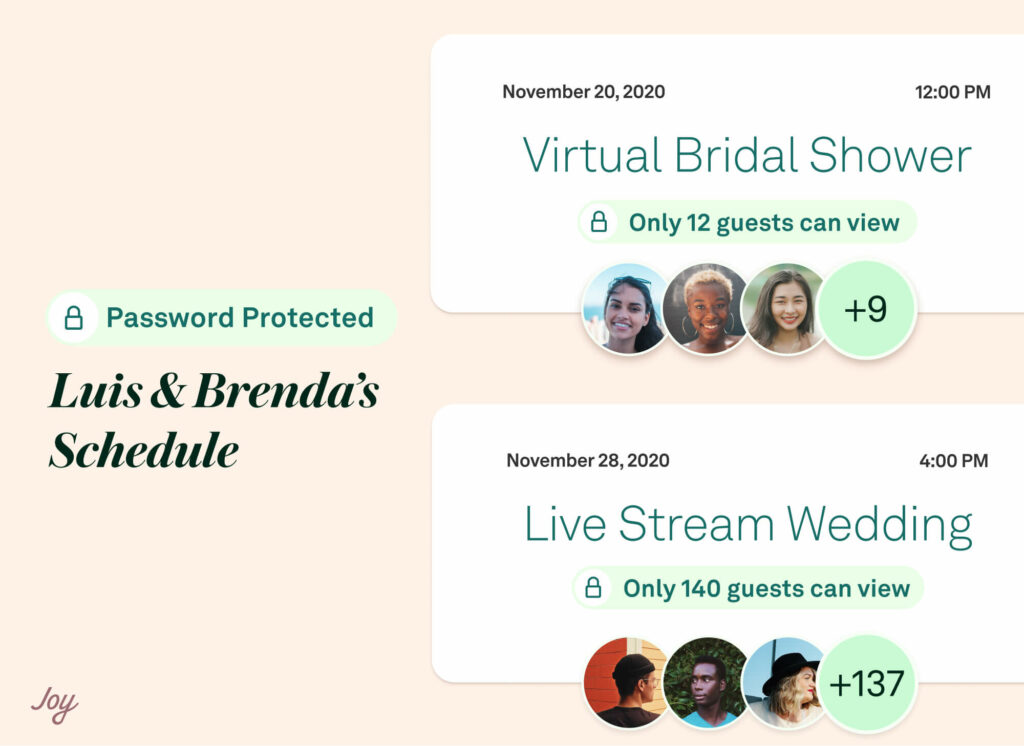 Customize the privacy settings for each of your virtual events on the schedule page of your wedding website to make events accessible to all guests, to specific guests, or to protect with a password.
If you are having a virtual event that only select guests are invited to, use guest tags like "Rehearsal Dinner," "Bridal Shower," "Ceremony," etc. to invite select guests to view and join that event.
To avoid any confusion over the time of your virtual event, once you set your wedding time with your local timezone, Joy will translate the event time for each of your guests based on the timezone they are joining your virtual wedding from.
Communicate with Guests Ahead of Your Big Day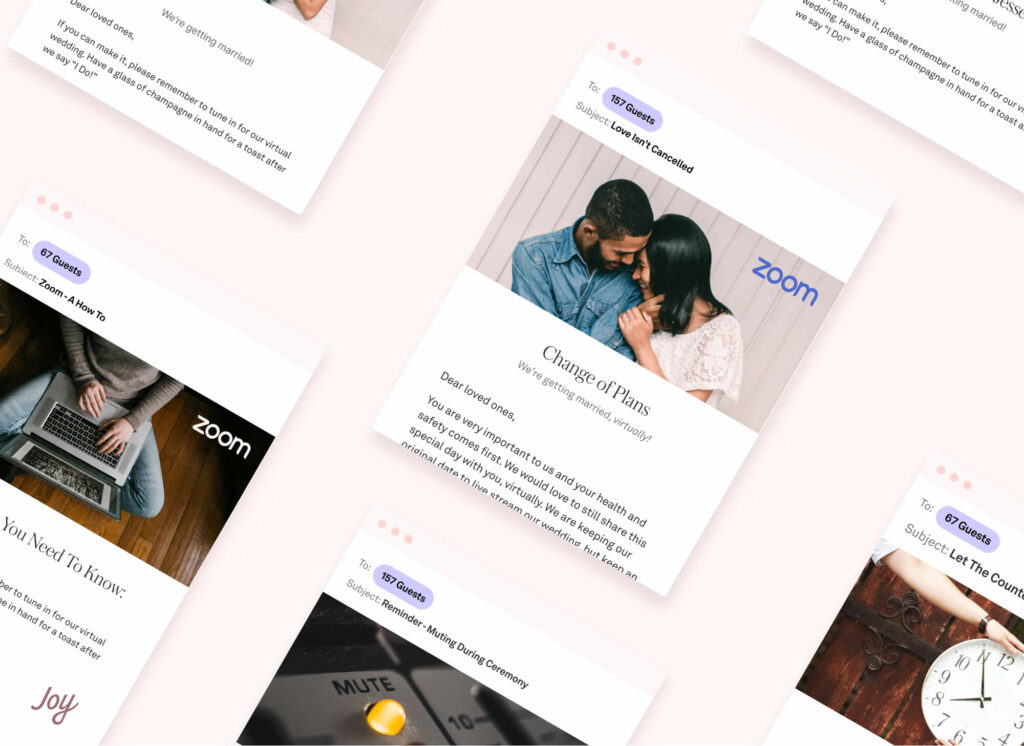 Whether you are sending a countdown note, dress code information, or tips for joining your virtual event, easily and tastefully keep guests updated about your wedding plans with Joy's general message feature.
Send "Change the Dates"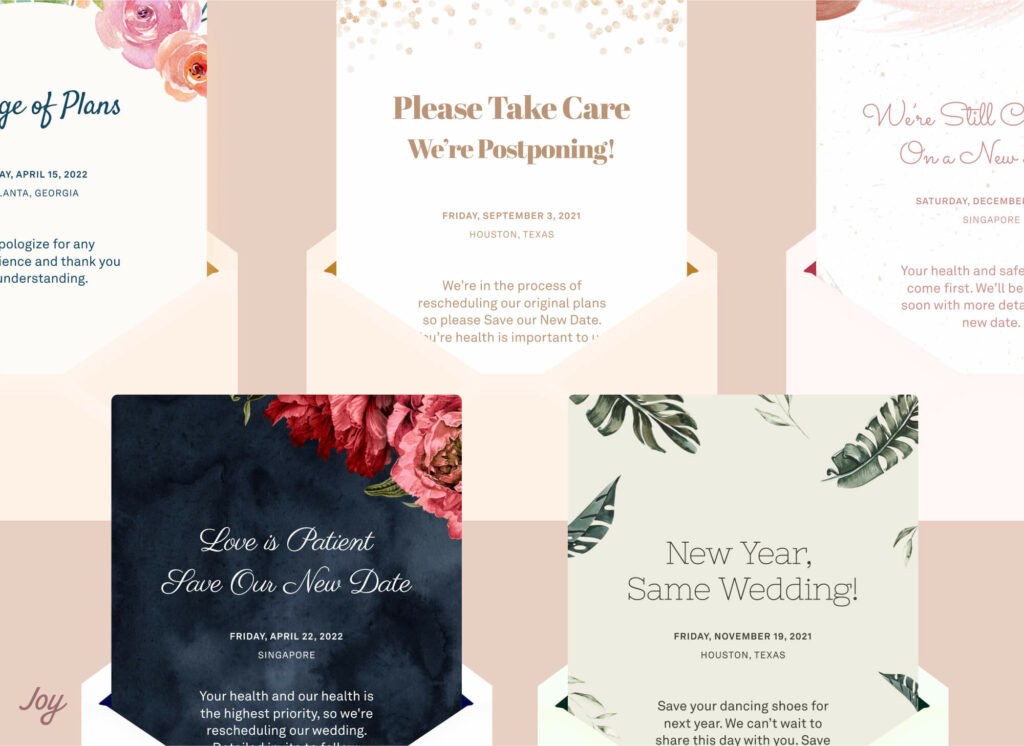 In these uncertain times, wedding plans change and it is more important than ever to be able to quickly update your guests. Keep guests up to speed with any change of plans using Joy's free, online Change the Dates.
Create a Virtual Guest Book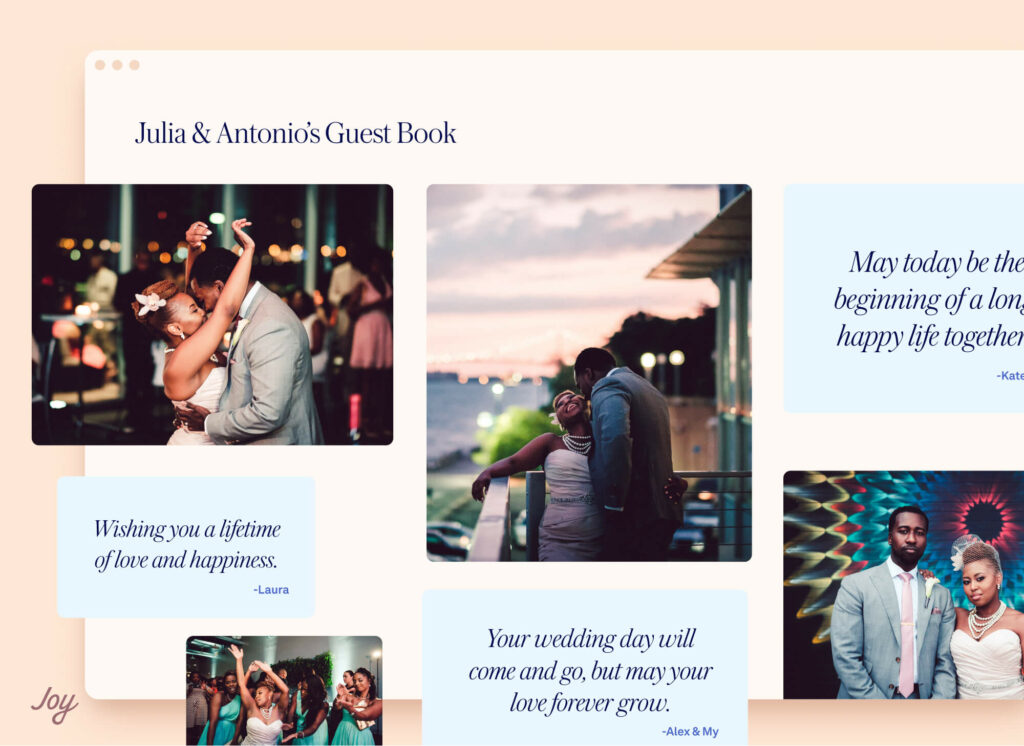 Ask guests to share their congratulations and well wishes in your digital guest book to capture memories from your virtual wedding that will last a lifetime.
Collect Memories from Your Virtual Wedding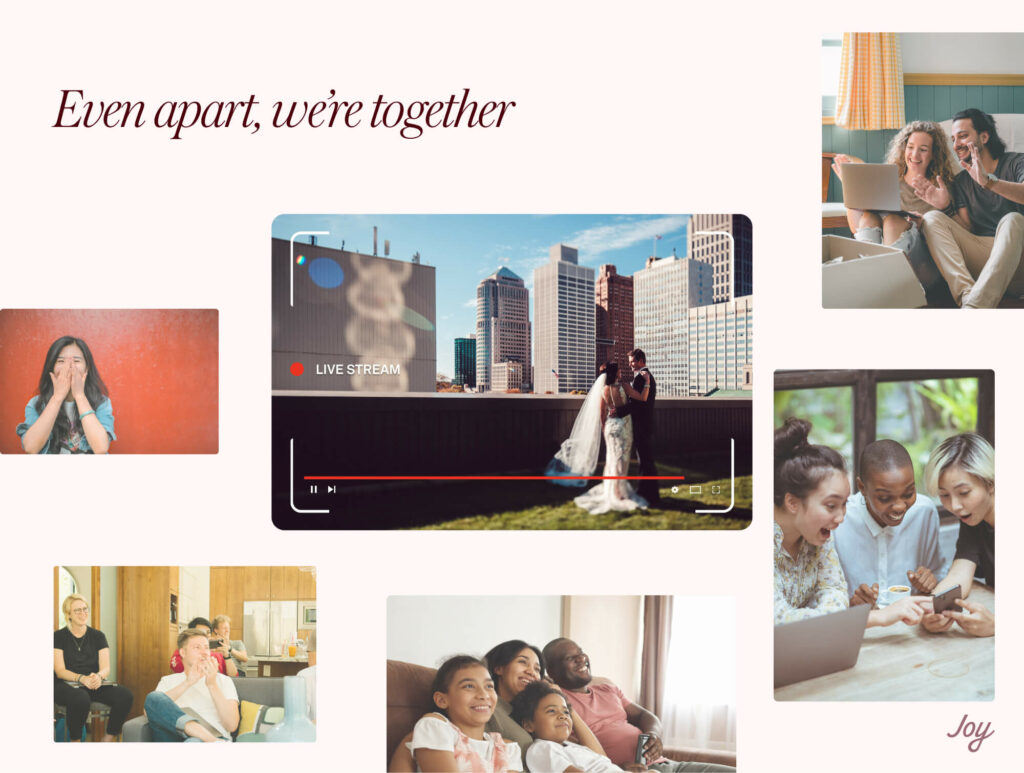 Whether you have a professional photographer present at your virtual wedding or are relying on guest photos, capture everyone's memories from your big day in one place.
Ask guests present at your virtual wedding to upload photos to your 'Moments' album for everyone to follow along from afar. For virtual guests, ask that they share their selfies as they stream your wedding.
Upload Your Virtual Wedding Recording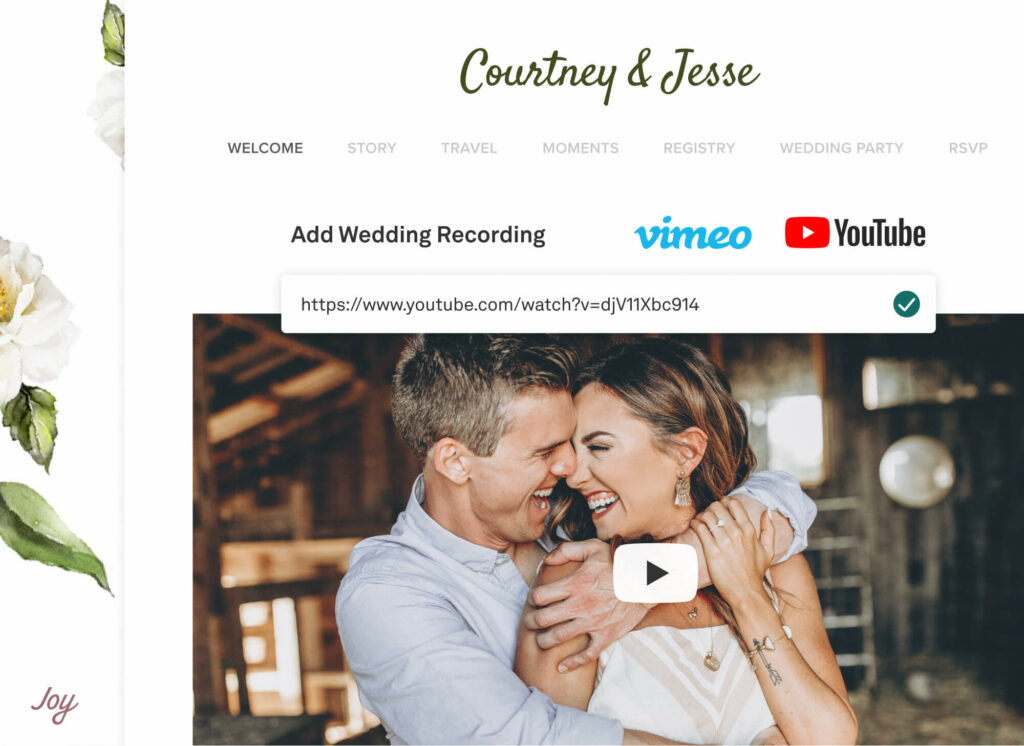 Joy allows you to upload videos to your website and mobile app. Add the recording of your virtual wedding to your wedding website for you and your guests to enjoy reliving long after your big day.
Send Thank You Cards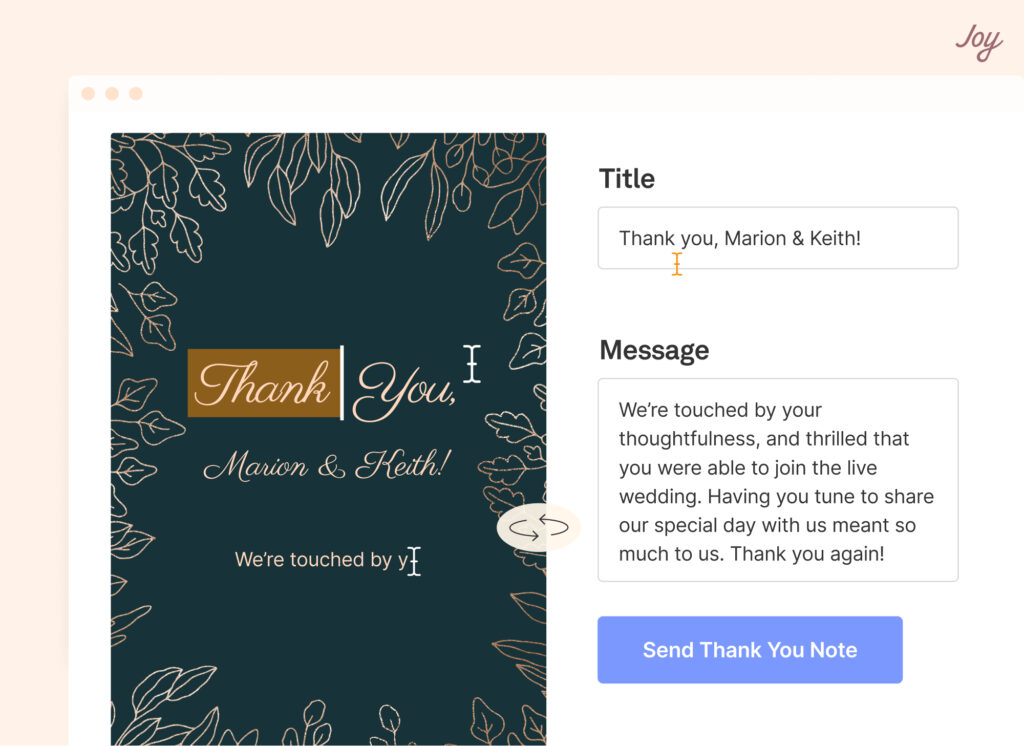 Announce your newly married status, send thank you notes, or share your virtual wedding recording and photos from your big day with your entire guest list using Joy. Whether you prefer to send a general message or to repurpose Joy's fully customizable Change the Date e-cards to serve as your Thank You notes, we've got you covered.
Connect with Couples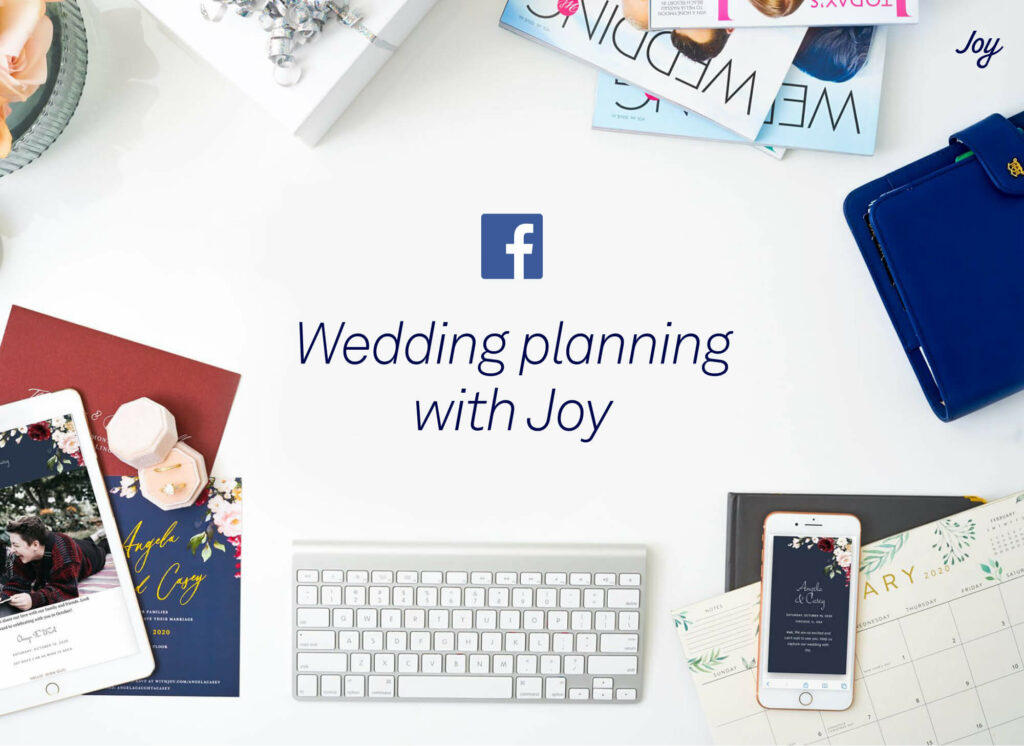 Join Joy's Facebook group, Wedding Planning with Joy, to ask questions and share advice with other couples in your shoes.
Helpful articles: