As Northern California is known for enviable weather, it's unsurprising that Sacramento — appropriately dubbed "City of Trees" and "Big Tomato" among other nicknames — offers an abundance of stunning outdoor wedding venues.
Whether you want your big day to be set on the grounds of a Victorian mansion fit for royalty, a lush habitat filled with exotic animals, a bucolic vineyard, an upscale golf club or country club, or an iconic restaurant where Ronald Reagan hosted two inaugural dinners, Sacramento has you covered.
We've sifted through the options rounded up the seven best outdoor wedding venues in Sacramento to help you create an idyllic day filled with love.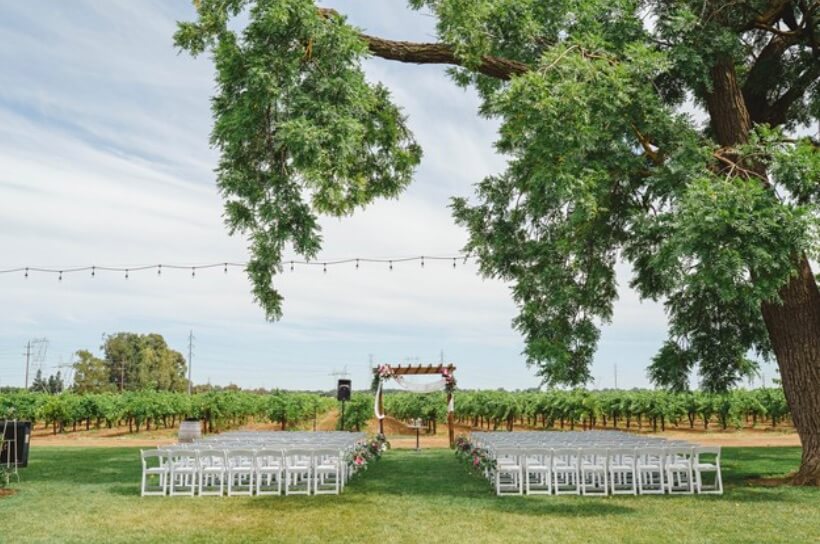 The charm of viticulture is alive and well at the bucolic McConnell Estates Winery in nearby Elk Grove, providing an ideal balance of outdoor and indoor event spaces. The most peaceful site for an outdoor wedding ceremony? Look no further than the manicured lawn that's shaded by a massive tree and looks out onto the symmetrical beauty of the vineyard.
From there, your reception can be hosted on the lawn adjacent to the estate's historic barn that was built in the 1800s. The lawn is surrounded by arbors that can be strung with twinkle lights, creating a whimsical ambiance for your evening nuptials.
The wedding package includes a rehearsal, exclusive access of the property on your wedding day, commercial restrooms, and a bocce ball court. The venue also provides a furnished area for cocktail hour, tables and chairs, linens, a dance floor, set-up and breakdown, security, and a staffed bar. And, unsurprisingly, this family-owned winery features a wide selection of world-class wines to help you celebrate your union.
Typical Cost: $2,500 – $3,500
Capacity: 300
Bonus: The venue provides stylish bridal suites.
Find McConnell Estates Winery on Facebook and Instagram.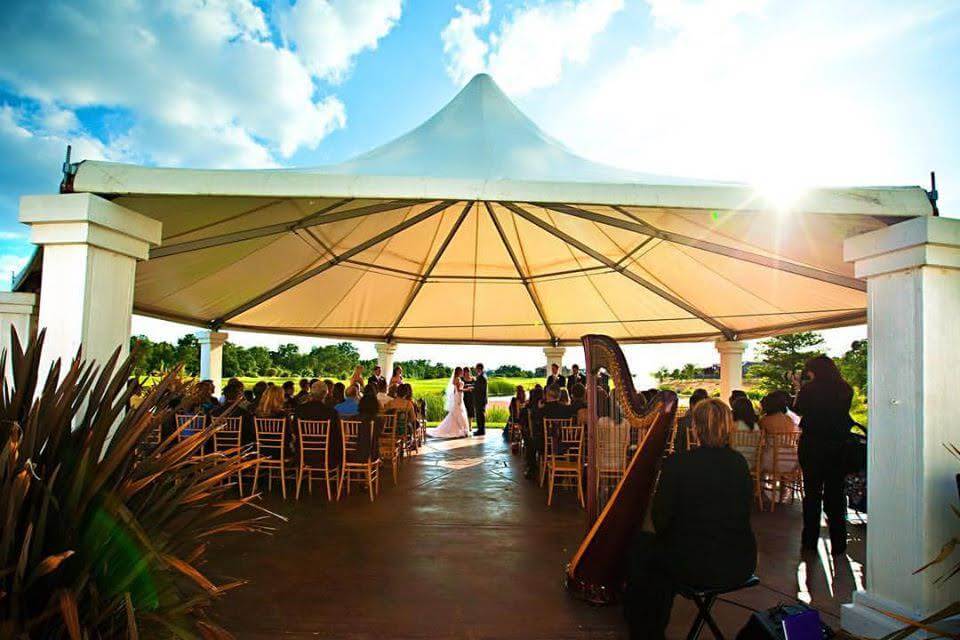 Say "I do" at the enchanting Morgan Creek Golf Club & Event Center in Roseville, California, just outside of Sacramento and known for its rustic vibes. Couples can choose from a variety of lovely outdoor ceremony venues including a tented lakeside area looking out onto the golf course and a verdant lawn featuring a fountain that enhances the romance.
You and your guests can then enjoy cocktails and hors d'oeuvres on the club's covered patio before migrating to the 5,500-square-foot Grand Pavilion that boasts a gentle barrel-vaulted ceiling, sparkling chandeliers, and silk drapery that combines to create an elegant environment for your special event.
When you hire the venue, you'll have wedding planning support, a bridal suite, wedding tables and chairs, linens, glassware, flatware, and china, a dance floor, and serving staff and bartenders.
Typical Cost: $36 – $46/per person
Capacity: 300
Bonus: The onsite culinary team provides a buffet or plated menus that include popular options like western-style barbecue, bacon-wrapped filet with mushroom demi-glaze, chicken marsala, and roasted pork tenderloin with a sweet maple glaze.
Find Morgan Creek Golf Club & Event Center on Facebook.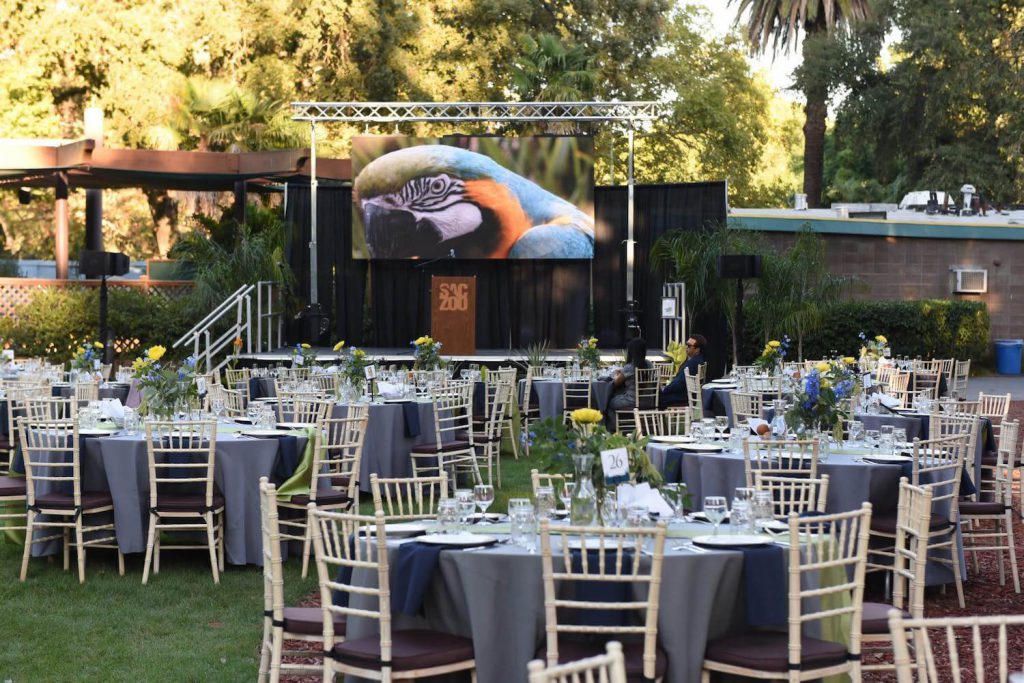 Are you and your partner animal lovers? You can host your dream wedding at the beloved Sacramento Zoo that's composed of lush habitats and filled with exotic plants and animals.
The ceremony sites here are truly mindblowing. There's the Rare Feline Courtyard that holds up to 100 people and features lions and jaguars on either side of the space, the popular Gibbons Alley that holds up to 200 people and is composed of a primate habitat that ends in the zebra zone, the Tall Wonders Viewing Deck that holds up to 80 people and places you eye-to-eye with giraffes, and the Meerkat Manner that makes adorable furry creatures your guests of honor as you tie the knot.
Cocktail hour, hosted beside the zoo's carousel, evokes your childlike wonder. And then there's the reception at Flamingo Lake Patio. This picturesque setting will create lovely wedding photos, as it wows with weeping willows, a lake, and the vibrant sight of flamingos.
Typical Cost: Site fee is $2,500 – $3,500
Capacity: 200
Bonus: The caterer for the zoo, Taste, works with you to craft custom menus that meet your vision.
Find Sacramento Zoo on Facebook, Instagram, and Twitter.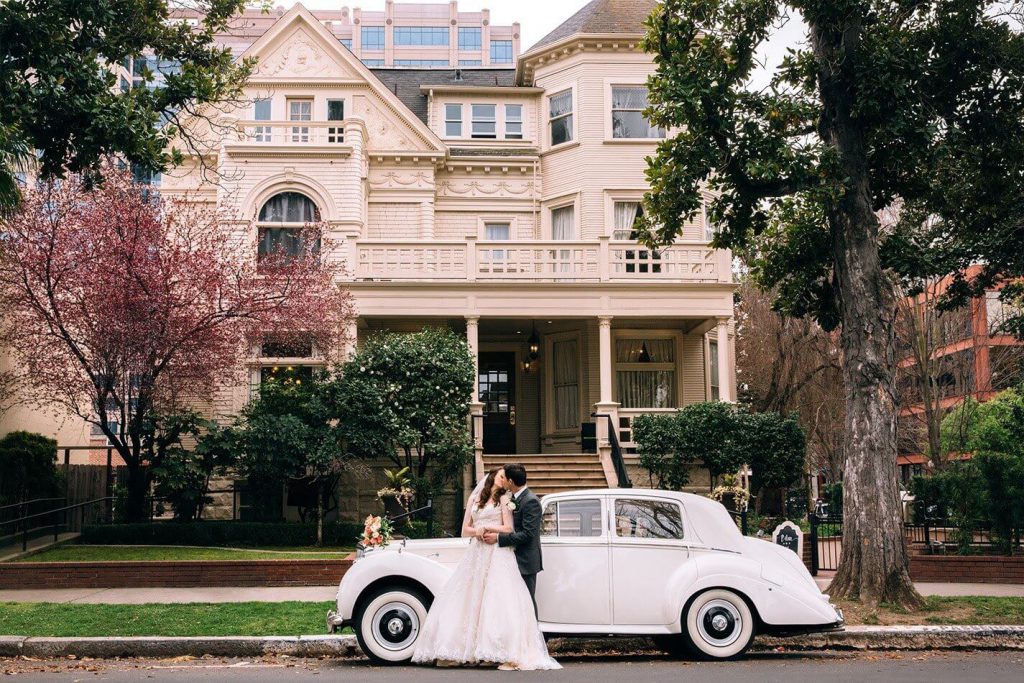 A Victorian mansion built in 1894, Sterling Hotel by Wedgewood Weddings is one of the best Downtown Sacramento wedding venues for a sophisticated celebration. This historic boutique hotel provides seamless indoor-outdoor living with an elegant ballroom that opens to a welcoming brick patio.
Outdoor ceremonies usually take place on the patio or in the nearby Capitol Rose Garden that's covered in fragrant blooms and features a three-tiered fountain. During inclement weather, your ceremony can be moved to the Chandelier Room, named for the four dazzling crystal chandeliers suspended from the ceiling, or in the enthralling Sterling Ballroom.
Receptions are also usually held in the Sterling Ballroom, as it's masterfully decorated with a mix of period details and modern panache. Floor-to-ceiling arches inset with beveled-glass panels, alabaster chandeliers, and a backlit stained-glass rotunda come together to create an atmosphere of nostalgic glamour.
Typical Cost: Packages are $53 – $123/per person; ceremonies start at $595; reception fees range from $395 – $2,995
Capacity: 125
Bonus: The venue has stylish onsite accommodations and a bridal changing room.
Find Sterling Hotel by Wedgewood Weddings on Facebook and Instagram.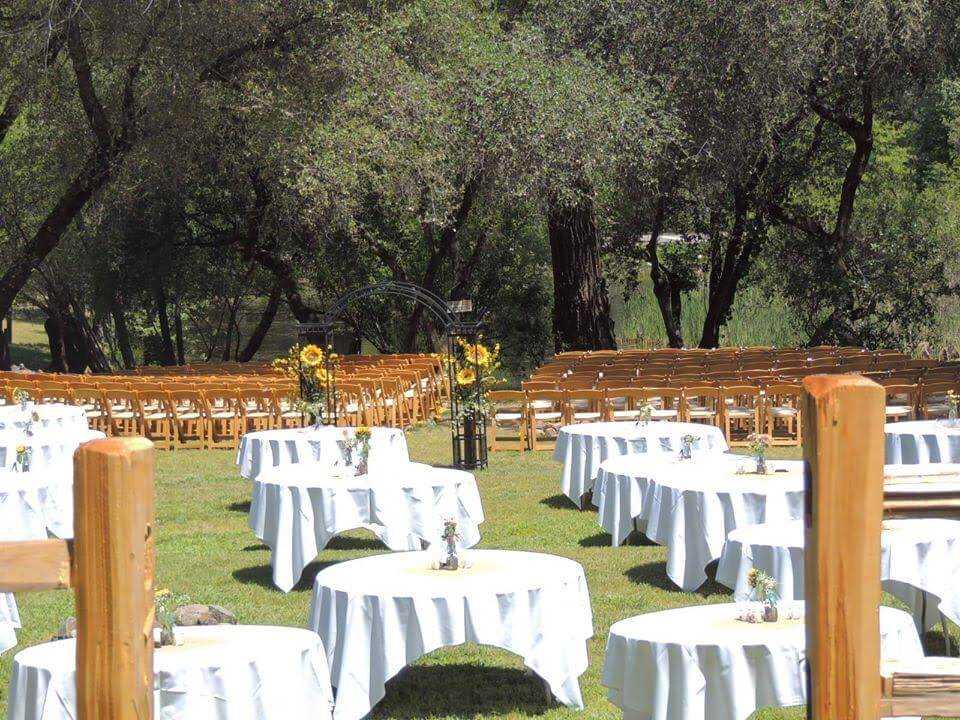 The spot to pledge your love if you have a passion for the unfettered wonders of Mother Nature, American River Resort makes you feel like you've stumbled upon a storybook campground.
This rural "resort" is made up of cabins and campsites on the shores of the roaring American River and filled with massive oak trees, fresh air, and trails that lead to grassy meadows.
Coveted ceremony areas include the shore of the river, the lawn beside a soothing pond, and a meadow surrounded by mysterious woodland. Receptions (and even rehearsal dinners) can also be held in these locations or in the Events Center that offers a full kitchen and bar. Renting the Events Center includes round and banquet tables, folding chairs, and use of the building's kitchen, bar, stage, fireplace, and side patio.
Typical Cost: Starts at $2,200
Capacity: 168
Bonus: The venue has six full-service cabins, each of which can accommodate four adults, as well as numerous tent and RV sites.
Find American River Resort on Facebook.
If you want to host and celebrate your marriage on the tranquil waters of the Sacramento River, why not hop aboard a private yacht from Hornblower Sacramento River Cruises? You can take advantage of romantic lighting, chic interiors, a dance floor, and sprawling decks.
Imagine a uniformed captain leading your ceremony on the rooftop deck while you sail past the Sacramento skyline. Then, as the sun slips beneath the horizon, a romantic glow is cast across the water.
After your rings are exchanged, head into the upscale dining room for an amazing dinner, thanks to expert chefs and seasonal ingredients. Popular dishes include Harissa Lamb Shank, Crab and Potato Croquette, and Upside Down Cheesecake.
Typical Cost: Starts at $118/per person
Capacity: 1,500
Bonus: To help you craft your perfect wedding, the venue offers a professional wedding planner to handle most of the communication with wedding vendors and inject ease into the process. Additionally, live entertainment can also be arranged if you want to amp up the fun.
Find Hornblower Sacramento River Cruises on Facebook.
Tucked in Old Sacramento, this Gold Rush-era landmark was built in 1853 and originally housed Sacramento Engine Company No. 3. In 1960, The Firehouse then transitioned into a restaurant, offering five Gilded Era dining and reception venues with 12-foot ceilings, mahogany wainscoting, ornate mirrors, and eclectic paintings of dynamic women.
Weddings are usually hosted in the award-winning courtyard that you enter via a 19th-century alley at the back of the restaurant, making you feel like you've slipped through a portal into a new world. This otherworldly space is like Alice in Wonderland meets New Orleans with its wrought-iron balconies, ivy-covered brick walls, fountains, and a canopy of mulberry and Chinese elm trees. And, of course, twinkle lights woven into the trees cast a dreamy glow over the festivities.
After sealing your vows, settle in for delicious California Continental cuisine paired with selections from the restaurant's 16,000-bottle wine cellar. Hosting a larger wedding? You can utilize the courtyard and adjacent Courtyard Grill, a dramatic room featuring a Tiffany-style glass dome, a large bar, floor-to-ceiling windows, and a cozy fireplace.
Typical Cost: Rental fee is $750 – $1,500/per event; meal packages are $58 – $88/per person
Capacity: 125
Bonus: Located in Downtown Sacramento, the venue is close to many of the city's best hotels.