If you want a rustic Texas wedding, the Houston area is a great place to start your venue search. The vast swaths of the country surrounding this historic city offer event spaces including vintage barns, charming areas for outdoor wedding ceremonies, and an overall sense of ease. Many of these venues are also hands-on, helping couples with every aspect of wedding planning. For a laidback yet memorable day, these rustic wedding venues in Houston should be at the top of your list.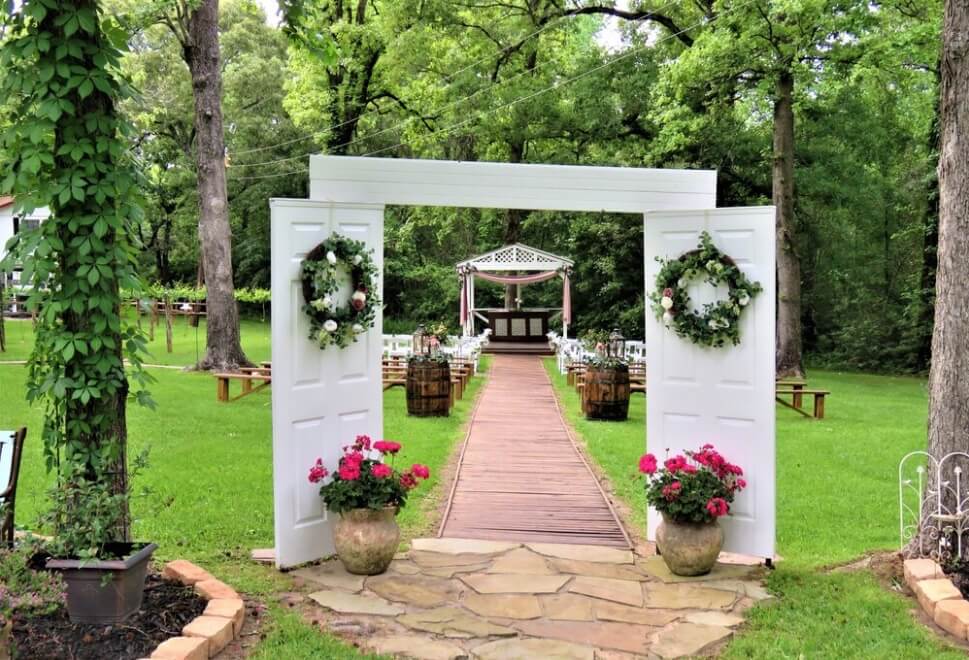 One of the most acclaimed barn wedding venues in Montgomery, Texas, Miller's Creek Rustic Events is perfect for a rustic-chic wedding ceremony and reception. It offers an idyllic setting of wildflowers, winding trails, trees sparkling with lights, a farm-style gazebo, and a decorated old barn. The sprawling eight-acre property also features a vineyard.
For the ceremony, you'll journey past charming, free-standing barn doors and down a pathway that leads to a lattice arbor to exchange your vows. It's a quintessential setting for an outdoor wedding. From there, you and your guests will migrate to the red barn where handmade ship-lap, eight-foot-long farm tables, round tables (including linens), wedding chairs, various styles of furniture, an indoor/outdoor bar and patio, decor, special lighting, and more await.
To ensure it can accommodate a range of budgets, the event venue provides various wedding packages that can cover everything from centerpieces to a quaint bridal suite.
Capacity: 150
Typical Cost: $1,200 – $3,400
Bonus: The venue allows you to bring your own caterers and provide your own beverages.
Find Miller's Creek Rustic Events on Facebook and Instagram.
A venue emanating southern charm, Big Sky Barn offers a mix of country comforts and old-world elegance. Most couples choose to exchange vows in the serene, 3,250-square-foot chapel. This space has walls of solid oak planks and features a 26-foot-tall wall of antique windows that were part of the Pure Oil Company steel pump house in 1903. The classic pews were also found in an abandoned Presbyterian church in Wheeling, West Virginia, and are believed to be hand-carved sometime between 1884-1889.
After a dreamy ceremony in the chapel, you'll enjoy a reception in the jaw-dropping barn. This space includes large, reclaimed timber beams and oak, hemlock, and pine boards sourced from old buildings, barns, factories, and homes from the Northeastern United States.
The steel windows are over 112 years old and repurposed from the Carnegie Steel Building built in 1903. The barn's weathered tin ceiling was also sourced from this building. Meanwhile, the crowning jewel of the barn is the double-sided stone fireplace that's over three stories high. Essentially, this enchanting venue is brimming with history and is perfect for a dream wedding with vintage vibes.
Capacity: 230
Typical Cost: $4,900 – $10,900
Bonus: The property is filled with amazing backdrops for big day photos. A large, wooden bridge and scenic trails are two popular options.
Find Big Sky Barn on Facebook and Instagram.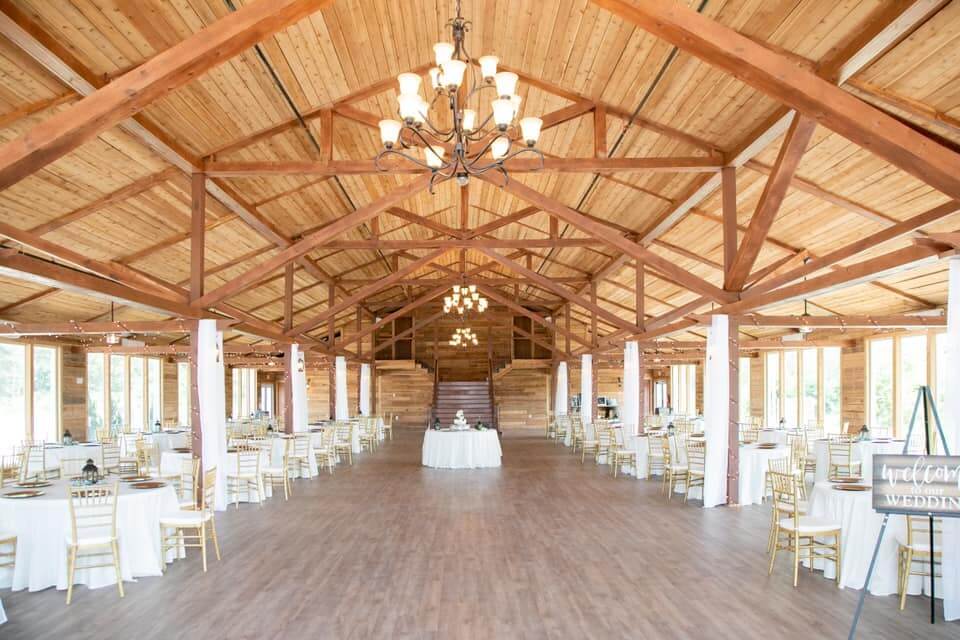 One of the most stunning Houston wedding venues for an indoor and/or outdoor wedding, The Pavilion at Vida Bela wows with a massive pavilion that's surrounded by 74 acres of land. It also has a private lake, which includes an island where a cedar gazebo and ceremonial church bell await and is perfect for an outdoor ceremony.
When it's time to celebrate your love in the pavilion, you'll step into a storybook setting. The 7,200-square-foot space dazzles with vintage-inspired light fixtures, soaring ceilings, and outdoor spaces that provide a variety of areas for guests to roam.
Two especially popular outdoor spaces are the patio, with its whimsical fairy lights and a custom gas fire-pit with shimmering Dragon Glass stones, and a manicured lawn where guests can enjoy a variety of games.
Capacity: 150
Typical Cost: $1,500 – $17,300
Bonus: The venue provides spacious bridal and groom suites with vanity areas and modern rustic decor.
Find The Pavilion at Vida Bela on Facebook and Instagram.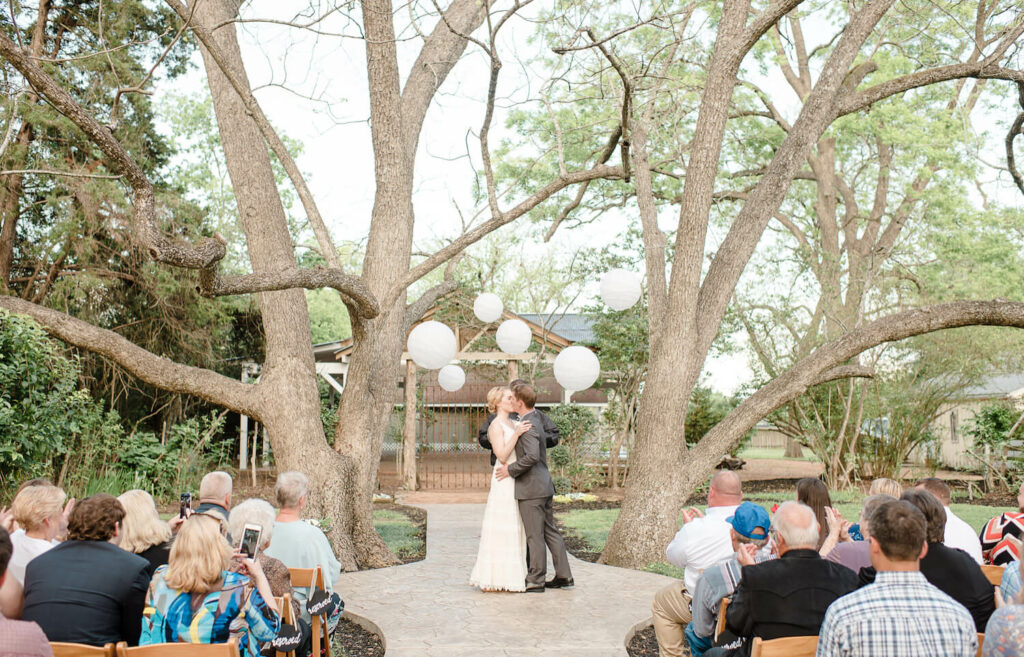 This historic Hodge Podge Lodge, an 1854 bed and breakfast and wedding venue, provides the perfect spot to host a beautiful wedding replete with fun, laidback vibes. Many couples tie the knot under soaring oak trees that stretch over the lodge's verdant lawn. You can also hang twinkle lights behind the stone platform where you'll exchange rings, helping to create a magical environment.
For the wedding ceremony, you can toast to love in the climate-controlled Glass Garden, which has massive windows and chandeliers, an open-air patio lit with twinkle lights, and a New Orleans-style courtyard.
This is the place to say "I do" if you're a big foodie, as the renowned gourmet chefs create delicious dishes using house-made recipes. Think everything from empanadas, chicken and waffle shooters, and baked brie en croute to tequila lime chicken, prime rib, and crusted salmon filets. You can even get a mac n' cheese bar.
Capacity: 200
Typical Cost: $5,200 and up
Bonus: A wedding planner/stylist is included, so you'll have expert support for wedding planning, vendor selection, decor, day-of-coordination, and more.
Find Hodge Podge Lodge on Facebook and Instagram.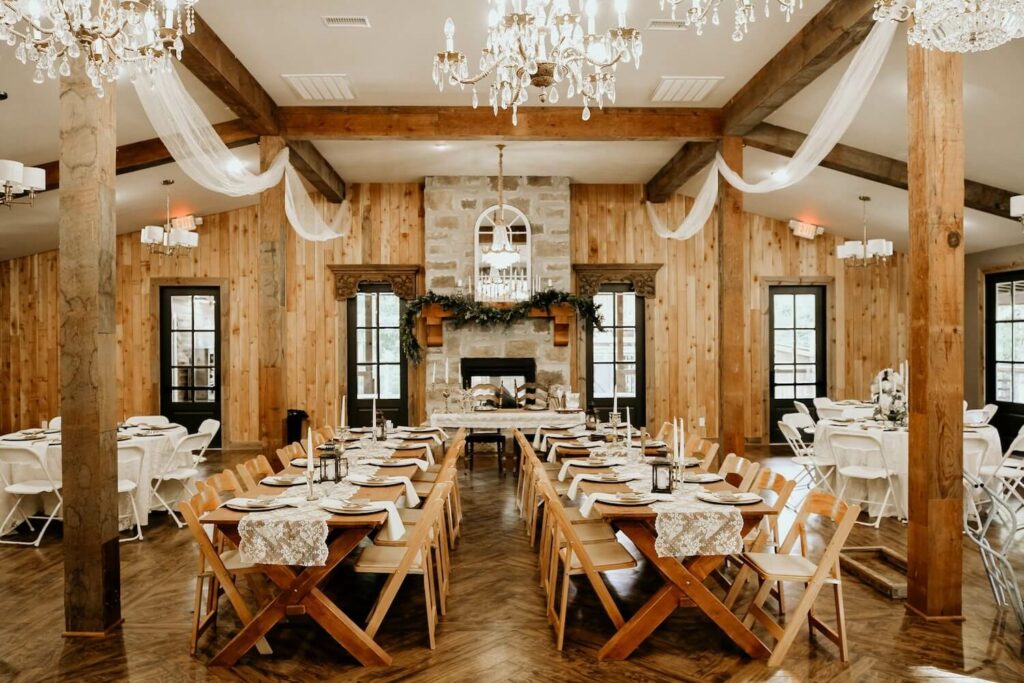 By hosting your wedding day at this barn-style banquet hall, you can enjoy the soothing ambiance of the great outdoors and the welcoming warmth of Texas hospitality. Your celebration will start in the open-air Tin Roof Barn, where you'll walk down an aisle surrounded by café lights and under a huge chandelier that casts a flattering glow.
For the wedding reception, you'll party in the highlight of this 50-acre property: The Grand Hall. The extraordinary reception hall provides a lovely backdrop of artisan stonework, wood paneling, a stone fireplace, exposed beans, and light fixtures that add a touch of elegance. Topping it off is a rustic tin roof.
Your enjoyment of these spaces won't be hampered by organizational matters, as the hands-on staff will ensure your special day goes off without a hitch. The venue also lets you choose from an all-inclusive package or pick and choose the services.
Capacity: 200
Typical Cost: Starts at $4,000
Bonus: You won't have far to go when you're ready to rest after your day of merriment, as the venue offers overnight accommodations like cabins and suites.