If your idea of a perfect wedding is saying "I do" in a rustic setting surrounded by unfettered nature, and structures that effortlessly blend into the natural environment, San Antonio, Texas has you covered. Many of the wedding venues in and around this historic city provide all the makings for a charming wedding overflowing with the elements, making Texas a symbol of laidback vibes and gorgeous landscapes. So if you're hoping to plan a memorable Texas wedding, consider one of these rustic wedding venues in San Antonio.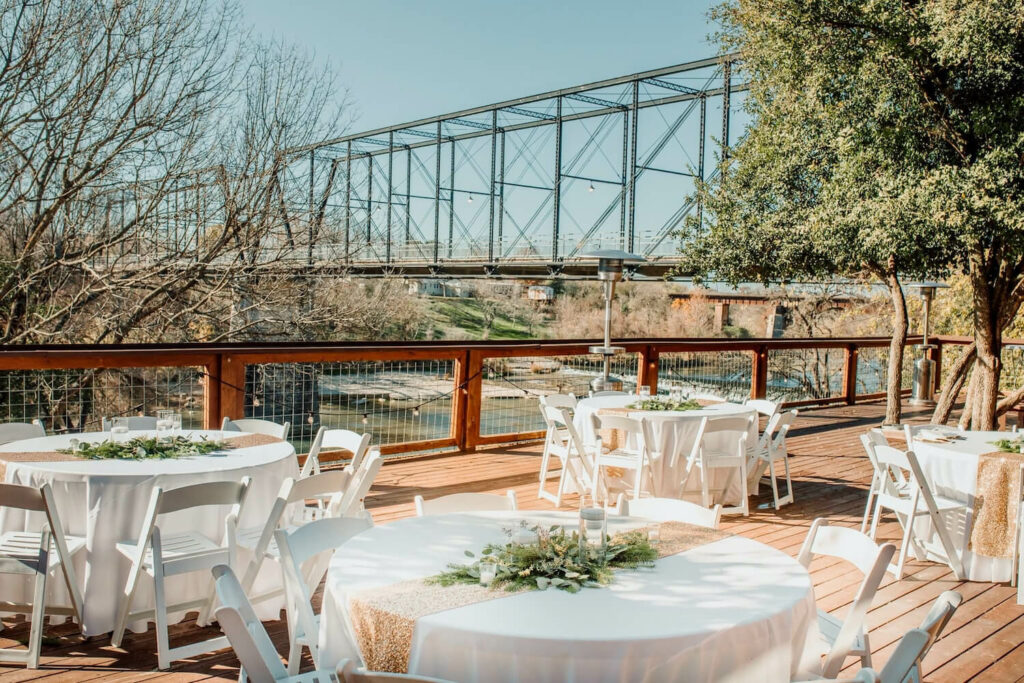 The charming Milltown Historic District is located on the banks of the Guadalupe River and beside the historic Faust Street Bridge. This wedding venue is the perfect place to host an outdoor ceremony, as it's surrounded by the breathtaking beauty of the Texas Hill Country. The ceremony site is optimally situated on a grassy lawn directly beside the river, where you can say "I do" near tranquil sounds from the small waterfall flowing beneath the bridge.
After the ceremony, you can enjoy a reception at The River Venue. This reception site makes you feel like you're still outside, as it's almost entirely composed of floor-to-ceiling windows framed in rustic wood. The room also includes eye-catching stonework, a large fireplace, and a patio looking out onto the river and bridge.
Typical Cost: $2,400 – $10,500
Capacity: 250
Bonus: The event venue has onsite lodging, which includes five quaint cabins.
Find Milltown Historic District on Facebook.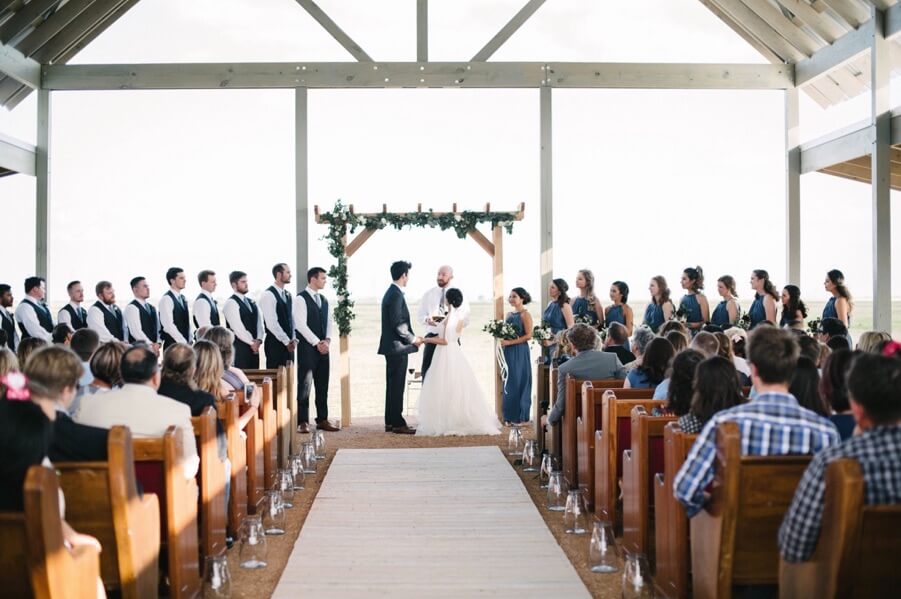 Hosting a wedding ceremony and reception at The Allen Farmhaus will have you celebrating your big day in an open-air wedding chapel and white-washed rustic barn. The merriment will begin in the outdoor chapel that includes restored antique church pews and stained glass doors. It's simple and stunning.
For the reception, you'll step into the large barn that features six mirrored sets of large, sliding barn doors, a stained concrete floor, a dance floor, and wooden walls that complement the reclaimed wood reception tables and dark wood reception chairs.
The reception venue also serves as a blank canvas, helping couples create the exact kind of ambiance they envision. To facilitate the decorating process, the venue offers hanging cast iron baskets and wooden installations that couples can use to display greenery, florals, pops of color, or twinkle lights. This space also includes an outdoor bar and plenty of room for guests to mingle or simply take in the sights of the central Texas landscape.
Typical Cost: Starts at $7,500
Capacity: 250
Bonus: The venue's 52 acres provide an impressive assortment of bucolic backdrops, dotted with oak trees, for wedding photos.
Find The Allen Farmhaus on Facebook and Instagram.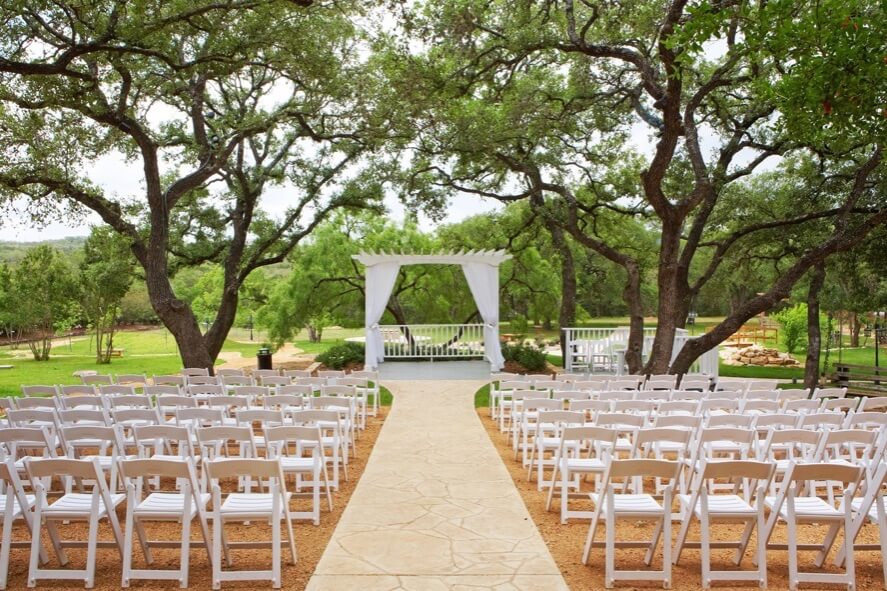 On this 6.2-acre nature-made wonderland, you'll find yourself exploring scenic pathways, taking photos by a meandering creek, and experiencing the wonder of the soaring trees. And of course, you'll also get to pledge your love and party with your nearest and dearest. The ceremony site at Gardens at Old Town Helotes includes a white pergola, which can be draped with fabrics or flowers, that looks out on the venue's immaculate landscaping. It's an especially lovely setting at sunset.
For the reception, you'll step into the ballroom that has massive windows looking out on the grounds, high ceilings, wood floors, a stone fireplace, and recessed lighting. There is also an outdoor dance floor and deck that lets you breathe in that fresh Texas air and dance under the stars.
Typical Cost: $2,400 – $4,600
Capacity: 200
Bonus: The venue provides a bridal suite with makeup stations, comfy furniture, and views of the countryside.
Find Gardens at Old Town Helotes on Facebook and Twitter.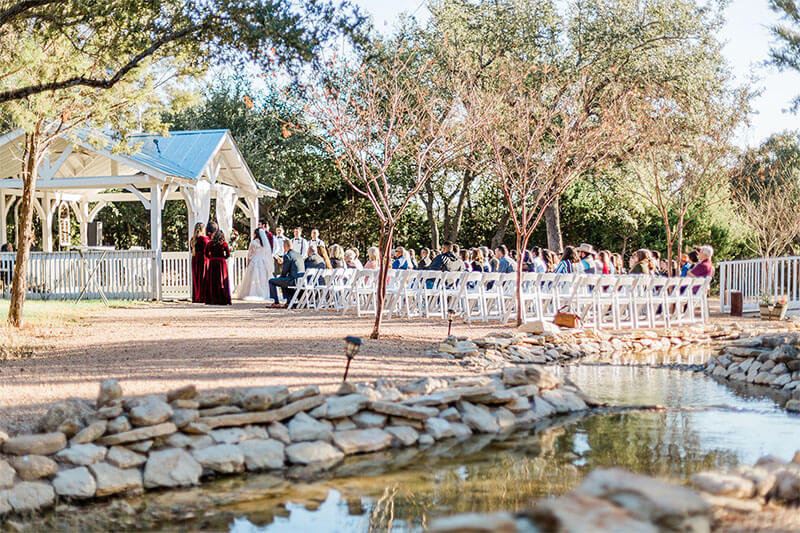 Resting on 71 acres, Western Sky at Tejas is one of the best San Antonio wedding venues for a rustic wedding. This site offers three gorgeous ceremony sites and a ballroom where you can dance the night away after exchanging rings. The first ceremony site is The White Chapel, an open-air chapel sitting on the other side of a white bridge running over the Tejas River. The next ceremony site is The Windmill Chapel, which is next to a windmill and features a tall arch and high beams that create a lovely, airy atmosphere. Another choice for the ceremony is an area beneath a century oak tree that's perfect for the couple wanting to be completely surrounded by nature.
After soaking in the sights of the Texas Hill Country, you'll eat, drink, and dance in the reception space that offers rustic elegance with its high ceilings, permanent draping, stained concrete floors, spacious area for dancing, and vintage chandeliers.
You and your wedding party can also enjoy the two bridal suites that include amenities like full-wall mirrors, recliners, and other features that ensure comfort throughout the full day of merriment.
Typical Cost: Starts at $2,500
Capacity: 150
Bonus: The venue offers an iconic spot for a perfect country wedding photo: a grassy lawn that features a windmill.
Find Western Sky at Tejas on Facebook and Instagram.

An easy drive from downtown San Antonio, Rancho La Mission is an oasis composed of a scenic pond, a petting zoo, a cedar bridge that will make your wedding photographer swoon, and two historic, rustic wedding venues. You'll start off your special day by exchanging vows on the island in the middle of the large pond, or in front of the log cabin chapel surrounded by the tasteful landscaping, featuring a rustic chandelier that adds a pop of sophistication.
Reception venues include the classic barn or Spanish-style outdoor pavilion. The barn makes you feel as though you've stumbled into a picturesque log cabin that wows with exposed wood ceilings, walls, and columns, and country-inspired chandeliers. The pavilion includes a stone-paved plaza that glows from the string lights and an old-fashioned mission façade that conjures thoughts of San Antonio's storied history.
Typical Cost: Starts at $5,000
Capacity: 2,000
Bonus: The venue can provide audio equipment and lighting, the cake, centerpieces, other decor, and more for your special event.
Find Rancho La Mission on Facebook, Instagram, and Twitter.
A favorite Texas Hill Country wedding venue, The Milestone | Boerne is located in an idyllic valley that's surrounded by rolling hills and is adjacent to the Upper Cibolo Creek. The indoor and outdoor spaces provide rustic vibes and tasteful details like stone pathways, hardwood floors, an entrance staircase, and double-arched cast iron doors, making this an ideal space for those wanting a classic Texas wedding.
Ceremonies often take place under a large, wooden, open-air pavilion at the end of a stone path surrounded by grass and trees. You and your guests can also enjoy cocktail hour on the property's covered portico and wraparound porch. The party can then move into the reception hall, which has a hardwood oak dance floor, open-beam trusses, crystal chandeliers, and a built-in bar.
Typical Cost: Starts at $3,350
Capacity: 320
Bonus: The venue is so entrenched in nature it's not uncommon to have deer and other wildlife photo-bomb you.
Find The Milestone | Boerne on Facebook, Instagram, and Twitter.

A beguiling bed and breakfast located on a 100-acre ranch, Paniolo Ranch provides a range of event spaces that are both elegant and laidback. For the walk down the aisle, you can choose from a large concrete patio, backed by a low stone wall and views of the Texas Hill Country, or a wooden barn that emulates a chapel and has a striking door, which is a popular backdrop for photos.
The reception hall has a unique flair with its glass garage doors that look out onto the cement patio and surrounding natural environment. It's an ideal place to have an indoor and/or outdoor celebration.
When it comes to pricing, this venue is incredibly reasonable, offering a wide array of wedding packages that cover everything from pet-friendly overnight accommodations to food, drink, and decor.
Typical Cost: $3,300 – $7,500
Capacity: 260
Bonus: The venue offers plush, onsite accommodations and spa services to help you enjoy a weekend filled with well-deserved pampering.