While some might think a destination wedding comes with a higher price tag than a wedding closer to home, there are also many locations that offer affordable wedding packages. Planning a destination wedding can even lower overall wedding costs because it often prompts a smaller guest list. It also allows you to add your honeymoon to the end of the wedding—meaning, you won't have to pay for two getaways. To help you with the planning process, we've rounded up affordable destination wedding locations that are known for offering amazing scenery and wedding deals.
1. Aruba
In the warm, blue waters of the Caribbean, off the coast of Venezuela, sits the stunning island of Aruba. This popular destination wedding location boasts an awe-inspiring National Park, European-influenced architecture, a collection of beautiful beaches, and an array of affordable resorts well-versed in hosting unforgettable weddings.
When exploring Aruba wedding locations that are within your wedding budget, you'll have your choice of charming boutique hotels, world-class resorts, and other beachfront locations that allow sparkling water to be the backdrop of your nuptials. In addition to affordable venues, Aruba also has wedding vendors that offer top-notch services at reasonable rates.
Resting on Aruba's Eagle Beach, this Dutch-colonial boutique resort has fun, laidback vibes. The buildings at Amsterdam Manor Beach Resort add to the lively ambiance, as they're canary yellow with burnt-orange roofs. The pool chairs, throw pillows, and other details add additional pops of color throughout the resort. Most couples exchange vows on a pristine beach between two Fofoti trees, which are some of the most captivating displays of plant life, as they've been twisted by the island's trade winds.
When it's time to party, you'll head to one of the resort's two restaurants; the most popular is the seaside Passions on the Beach that offers romantic tiki torches, palapas, and a dance floor. If you want to kick the reception up a notch, the resort can organize a performance by a Caribbean band, steel pan player, saxophone player, or mariachi band. It can also provide floral services, arches and centerpieces, a wide array of decorations, and specialized spa packages.
Typical Cost: Ceremony rates start at $500; reception venue rental is $550
Capacity: 120
Bonus: The bridal party can enjoy the onsite support of a hairdresser and make-up artist.
Find Amsterdam Manor Beach Resort on Facebook and Instagram.
2. St. Thomas
One of the other amazing Caribbean islands for your special day, St. Thomas is a dynamic nation that was founded by the Danish in the 1600s. It's an ideal destination wedding location for couples that want to experience a large helping of adventure and cultural exploration, with a side of pampering. The island also offers numerous affordable wedding venues that range from all-inclusive resorts to boutique hotels. As long as you enjoy tranquil seas, lush surroundings, and powder-soft sand, St. Thomas will be a hit with you and your guests.
Secret Harbour Beach Resort provides almost everything you need for an amazing destination wedding. This beachside resort offers the classic tropical setting, plush accommodations, a wedding planner, indoor and outdoor venues, and food and drink services all for a great price.
The three wedding packages include a free room upgrade, wedding coordination by Irie Matrimony Weddings + Events, the site fee for the beach, an officiant, a custom bridal bouquet and groom's boutonniere, wedding photos, hair and makeup services, flower petals for the aisle, a cake, and other perks depending on the selected package.
Many couples choose the Sunset Grille for the reception, as it provides stellar service and dishes made from same-day caught fish and fresh produce from local farmers. It also serves a wide variety of specialty cocktails and the option of a tropical-inspired, customized bar.
Typical Cost: $2,000 – $6,850
Capacity: 50
Bonus: You and your guests will have plenty to do between wedding events, as the resort provides water sport rentals, scuba diving, a freshwater swimming pool, tennis courts, a fitness center, and massage services.
Find Secret Harbour Beach Resort on Facebook and Twitter.
3. Mexico
Mexico is an easy choice for an affordable destination wedding if you enjoy an environment with a rich culture, abundant natural beauty, and lively locals. This country also offers a range of climates, from expansive deserts to dense jungles. So whether you prefer the idea of a wedding on a beach backed by desert, saying "I do" beside Mayan ruins that disappear into the jungle, or exchanging vows on a bluff above the Pacific ocean, this budget-friendly country has you covered.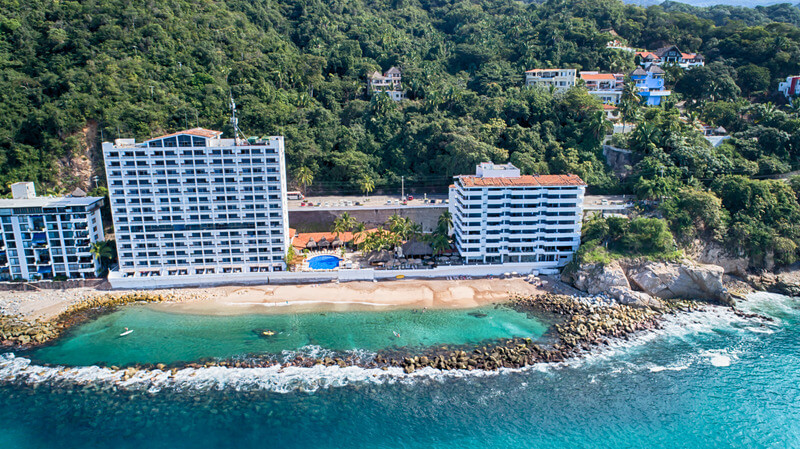 A popular beach resort, Costa Sur Resort & Spa, Puerto Vallarta provides an amazing ambiance without having a big price tag. This affordability extends to its wedding package, which is complimentary if you book at least 10 rooms for two or more nights at the all-inclusive rate. This package includes a banquet buffet, full table settings and decorations, four hours of an open bar, and a wedding planner. Most ceremonies are held on their idyllic beach that looks out on Bahia de Banderas, which stretches off of the Pacific Ocean.
When you're not engaged in wedding festivities, you can enjoy a meal at one of the resort's two restaurants, lounge by the private beach or pool, or indulge in one of the many treatments at the spa.
Typical Cost: Free when you book at least 10 rooms for two or more nights at the resort's all-inclusive rate
Capacity: 150
Bonus: After your big day, you can unwind with a couple's massage in a private cabin at the spa.
Find Costa Sur Resort & Spa, Puerto Vallarta on Facebook and Instagram.
4. Jamaica
An acclaimed Caribbean island nation, Jamaica is a perfect place to host an affordable dream wedding that includes awe-inspiring landscapes, vibrant mountains, rainforests, and reef-lined beaches. Jamaica is also known for its all-inclusive resorts that often feature British-colonial architecture, free wedding packages (in exchange for a booking), and the good-vibes reggae music this area is famous for. And you'll never be without activities between wedding events, as the island also provides a host of water sports, like snorkeling, scuba diving, kayaking, jet skis, and more.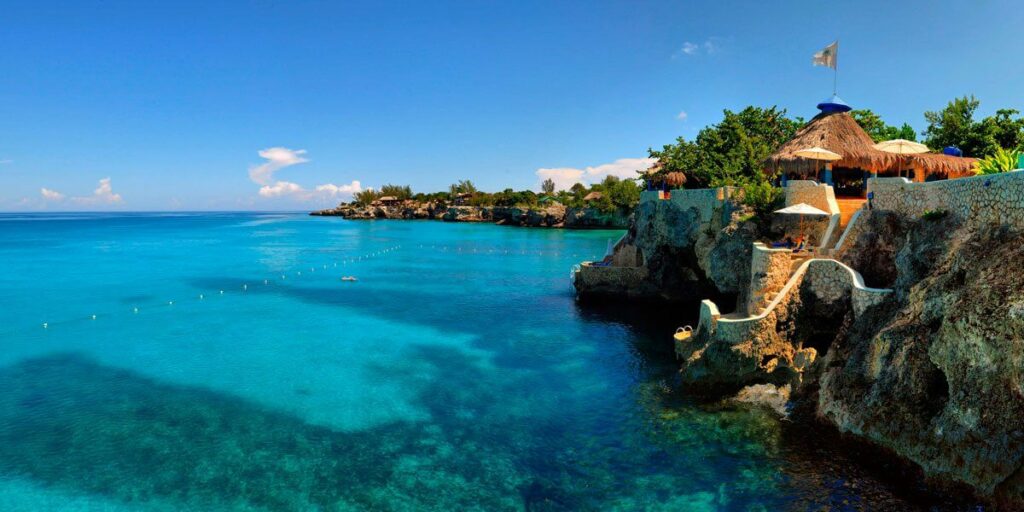 If you want to say "I do" in one of the most unique and scenic wedding venues in Jamaica, look no further than The Caves Hotel. Set among caves nestled in limestone cliffs along the turquoise waters of the Caribbean, this natural preserve turned exotic getaway offers the best that Mother Nature has to offer. The venue provides a range of services with its basic wedding package, including a minister, wedding license and marriage certificate, bridal bouquet, groom's boutonniere, bottle of champagne, small wedding cake, and 30-print photography package.
Enhancing the overall experience are the plush accommodations, which include 12 bright and airy cliff-side cottages and a grand villa. The venue also boasts two dining gazebos, private caves, and the acclaimed Blackwell Rum Bar. Guests can also unwind at the spa, or in the jacuzzi, sauna, or salt­water swimming pool.
Typical Cost: Starts at $1,000
Capacity: 30
Bonus: The venue provides amazing service. Those staying in the grand villa will also receive the luxury of a private butler.
Find The Caves Hotel on Facebook, Instagram, and Twitter.
5. Florida
This state is known for its powder-soft sands, bright Art Deco architecture, eclectic vibes, world-class food, and warm weather, making it a wonderland for couples searching for an optimal destination wedding location. Florida not only provides a wide array of wedding venues, from beachfront oases and palm groves to whimsical botanical gardens and chic rooftop restaurants, but it does so at an often affordable rate. One of the added perks is that it's typically easy to find flights from many of the major US cities to Florida.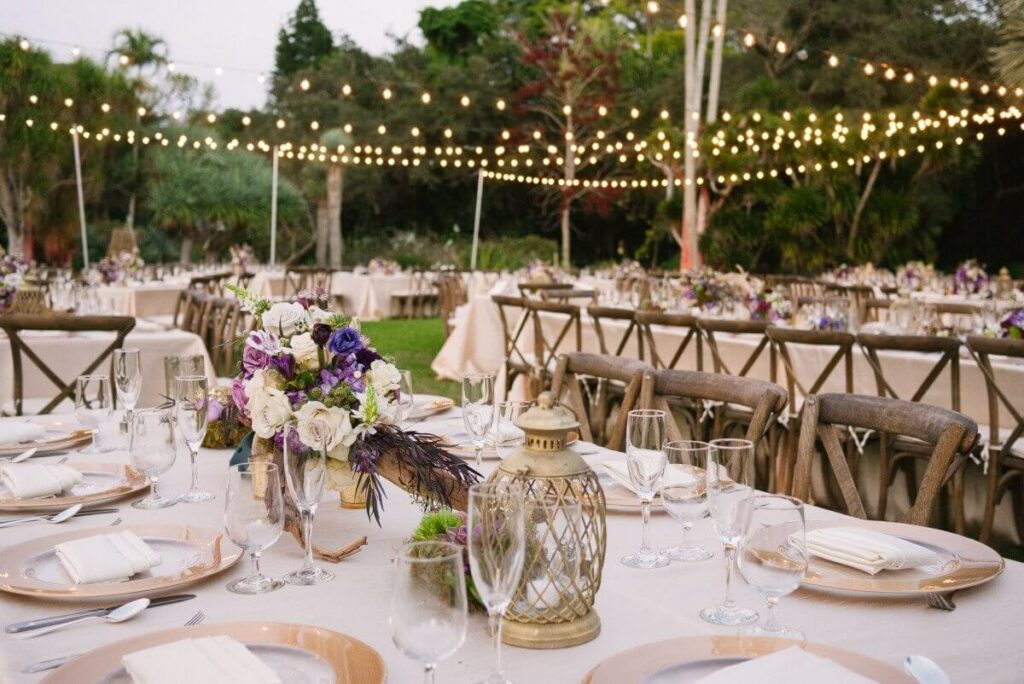 These exotic gardens are located in Coral Gables and offer a classic location for a romantic garden wedding. Consisting of 83 acres, Fairchild Tropical Botanic Garden allows you to gather your loved ones for a wedding ceremony and reception among tranquil water features, a coral rock grotto, and staircases surrounding an enchanting lily pond.
Two of the most highly-coveted event spaces for the wedding day include the Amphitheater and Bailey Palm Glade. The Amphitheater boasts a land bridge leading to a coconut tree grove and limestone dais, while the Bailey Palm Glade wows with its gorgeous views of Glade Lake and Royal Palm Lake, in addition to limestone staircases leading past the lily pool.
Typical Cost: Minimum of $600/per event for site rental
Capacity: 280
Bonus: The rental fee helps the garden's mission of promoting conservation, education, and enjoyment of exotic plants.
Find Fairchild Tropical Botanic Garden on Facebook, Instagram, and Twitter.
6. Dominican Republic
If beaches, rainforests, resorts, and golfing pique your interest, consider the Dominican Republic as the destination for your affordable wedding. This country is the second-largest and most diverse Caribbean nation and is conveniently located just two hours south of Miami. This is a place where you can sink into warm waters, a friendly culture, wilderness adventures, and so much more—at least when you're not busy walking down the aisle.
Many of the best resorts for a destination wedding lie on the country's 250 miles of world-class beaches and offer a variety of sports, live merengue music, and ecotourism adventures through national parks, mountain ranges, rivers, waterfalls, and beaches. And because it has eight international airports, travel to the Dominican Republic is fairly easy.
Overlooking the turquoise Caribbean, Iberostar Punta Cana offers an ideal setting for those wanting a beach wedding. The resort's entry-level wedding package, Waves of Love in Blue, is perfect for those interested in a small, budget-friendly wedding, as it's free and covers up to 10 guests.
The package includes the support of a wedding planner and a minister, priest, or judge, wedding ceremony setup and decorations, the bride's bouquet and groom's boutonniere, cake, flowers, champagne, and a semi-private dinner reception. You can add additional guests for $15/per person.
Typical Cost: $999 – $2899
Capacity: 180
Bonus: Couples receive welcome gifts of cava and a fruit basket with the basic wedding package.
Find Iberostar Punta Cana on Facebook, Instagram, and Twitter.
7. Bahamas
Say "I do" beside turquoise waters, on a beach sprinkled with sand dollars, or on a groomed lawn that opens to the ocean by tying the knot in the Bahamas, a tropical location in the northwestern West Indies, off the southeast coast of Florida.
This spectacular destination not only offers exquisite surroundings but features destination wedding packages that will thrill even the most frugal couple. These packages are often offered by all-inclusive resorts that provide almost too-good-to-be-true services and accommodations.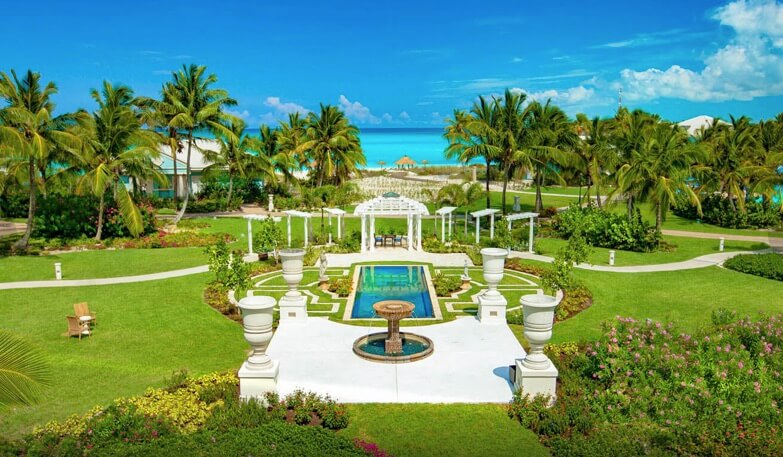 A famous five-star resort, Sandals Emerald Bay is a perfect option for an easy wedding planning experience. The resort's complimentary wedding package includes a wedding planning team, preparation of marriage documents, a garment bag, a storybook ceremony site, a bouquet and boutonniere, white cushioned Chiavari chairs, pre-recorded music, and a 5×7 wedding photo.
Couples also receive a reception with table settings of white china, sparkling crystal, crisp white linens, shining silverware, a decorative centerpiece for the head table, Chiavari chairs, a cocktail reception with sparkling wine and hors d'oeuvres, a signature cocktail, and a two-tiered white fondant wedding cake with fuchsia Dendrobium orchids. Essentially, the resort provides almost everything you'll need for your wedding.
Typical Cost: Free if couples book a stay for three or more nights
Capacity: 300
Bonus: Couples receive a 15% discount on all spa services.
Find Sandals Emerald Bay on Facebook, Instagram, and Twitter.