Booking a Bay Area wedding venue can absolutely break the bank — but it doesn't have to, if you know where to look. From San Francisco's urban landscape to the rolling hills of Napa Valley wine country, there are hidden gems across Northern California that will impress even the most discerning couple. Think stunning views, impeccable service and, best of all, reasonable pricing that will work even if your wedding budget is looking a little tight. Here are 10 affordable venues in the Bay Area to have on your radar as you start planning your wedding day.
San Francisco
If you're dreaming of a rustic chic wedding day, San Francisco may not be at the top of your list. But this cozy lodge nestled in the heart of Presidio Park defies expectations, offering couples a beautiful backdrop for their vows — as well as Golden Gate Bridge views!
Your ceremony can take place out on the expansive lawn, where wild grasses, wildflowers and trees lend their natural beauty to your big day. There's also plenty of room for cocktail hour before inviting guests inside the cabin for your reception. With a facade made of stone and natural wood logs, the structure is one-of-a-kind. The interior is just as charmingly authentic, featuring exposed beams, vaulted ceilings and vintage wagon wheel chandeliers, plus a spacious dance floor.
Typical Cost: $2,495 – 6,495 rental fee; meals start at $100 per person
Capacity: 120
Bonus: All the essentials are included, from chairs and linens to AV equipment. With upgraded packages, items such as centerpieces, lighting and a guest book are included.
Find the Log Cabin at the Presidio by Wedgewood Weddings on Facebook and Instagram.
East Bay
You don't have to be an animal lover to appreciate this beautiful indoor and outdoor event space overlooking the bay — though it certainly helps! The Oakland Zoo's Snow Building is a stunning venue situated at the top of a hill, with a tranquil lawn area that's perfect for saying "I do" with a view. Making your big day all the more magical, towering trees surround the venue and provide plenty of privacy and shade. It will feel as though you've stepped into an enchanted forest.
The building itself features floor to ceiling windows that bathe the reception hall in natural light. Golden hour adds an ethereal glow, perfect for your big entrance as newlyweds! With high vaulted ceilings and a dance floor, it's a great blank canvas for bringing in your own decor and dramatic lighting. There are chairs and tables available for rent, as well as a full kitchen available at an additional fee. You'll need to choose from a list of approved outside caterers, but the good news is that you can find one that will work with your budget so you're not stuck with a one-size-fits-all three-course menu.
Typical Cost: $900 – $3,300 rental fee
Capacity: 175
Bonus: Alcohol is bring-your-own, which can help cut down on bar costs. Find the Oakland Zoo on Facebook, Instagram and Twitter.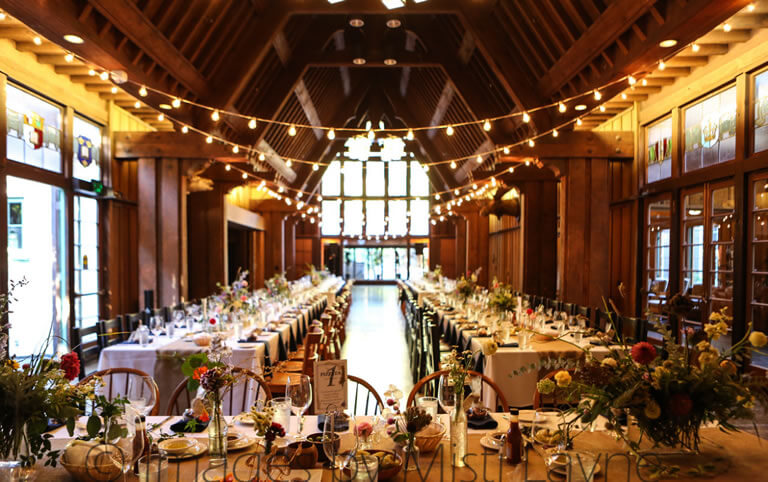 The Faculty Club at UC Berkeley is encircled by a grove of redwoods, oaks and maples, and neighbors the tranquil Strawberry Creek. Constructed in the Arts and Crafts style by architect Bernard Maybeck in 1902, the venue is both intimate and grand with a three-story Great Hall and cozy spaces for smaller celebrations.
The Great Hall astonishes with intricate, vaulted ceilings, stained-glass windows featuring university crests from around the world and a stone fireplace as a focal point. Its massive windows, which cast a theatrical glow on the redwood paneling at sunset, also accentuate the Old World elegance.
For the ceremony, most couples opt for the Faculty Glade lawn, conveniently located by the Great Hall. You can hold a smaller reception in the Heyns Room or Seaborg Room. Both open to an outdoor area that's perfect for receptions in the warmer months and feature garden views.
Typical Cost: $3,000 – $8,000 rental fee
Capacity: 60 – 220
Bonus: Guests can arrange to stay in The Faculty Club's hotel bedrooms, which are often reserved for scholars visiting the campus.
Find The Faculty Club at UC Berkeley on Facebook and Instagram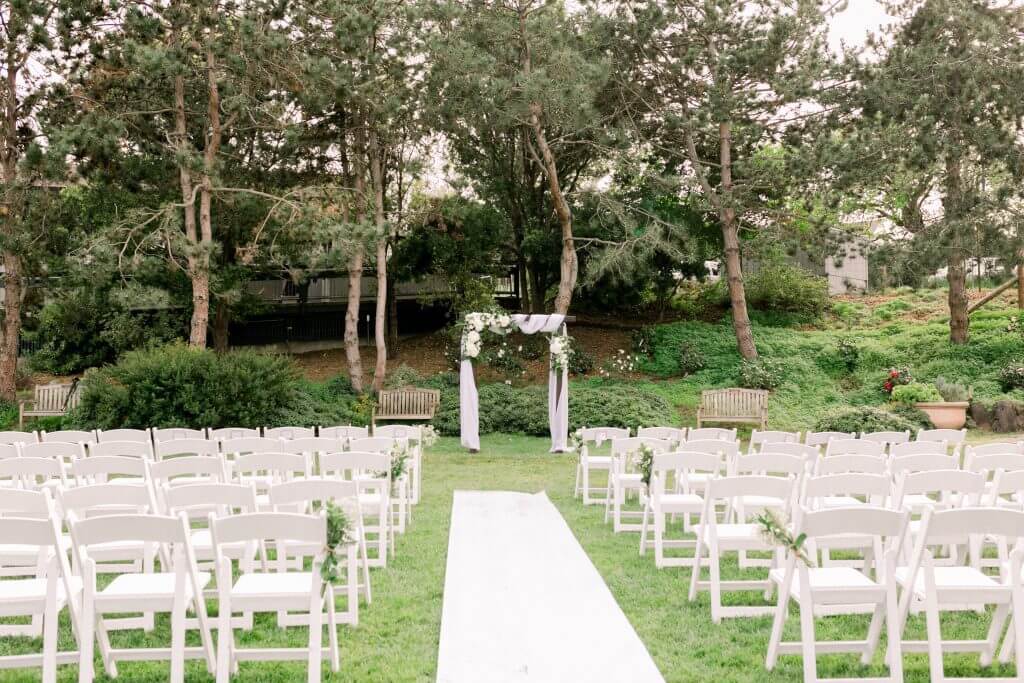 The ideal place for an alfresco wedding, The Gardens at Heather Farm are sprawled over six exquisite acres offering a rainbow of flowerbeds, herb and rock gardens, and water features.
Many couples host their ceremony in the gazebo, which creates a fairy tale environment with its slate-tile roof and climbing roses. The floral aromas float through the air while a sparkling lake and tinkling fountains enhance the whimsical vibes.
For an outdoor cocktail hour or reception, you'll head to the Meadow Lawn, a grassy area framed by pine trees, lush shrubs, rugosa roses and sweeping garden views. If you prefer to host an indoor reception, choose the Camellia Room. It features a beamed ceiling, hardwood floors and expansive windows that offer the dual pleasure of natural light and garden views.
Typical Cost: Ceremony site fees start at $1,500; reception site fees start at $2,500
Capacity: 150
Bonus: Your wedding fees support a nonprofit public garden and nature education center.
Find The Gardens at Heather Farm on Facebook, Instagram and Twitter.
South Bay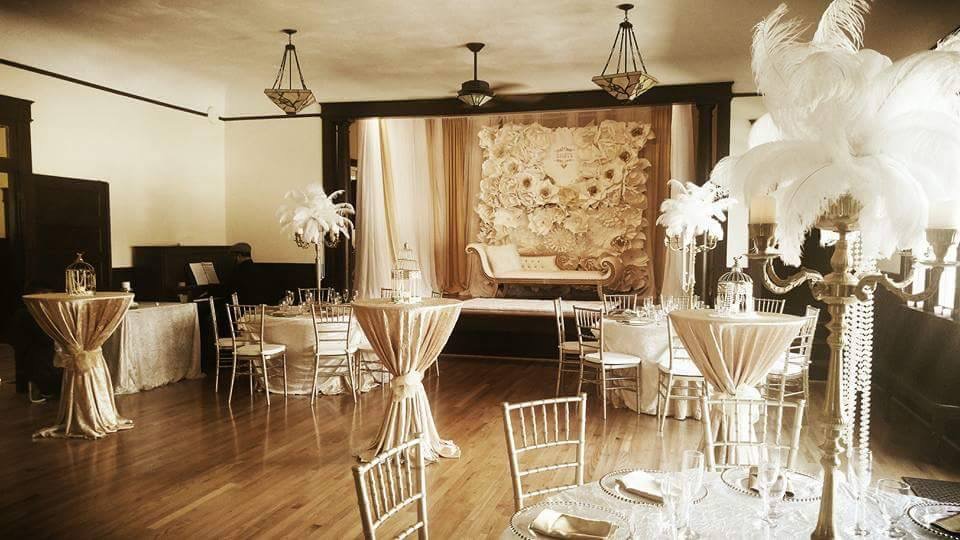 This 1910 red-brick building features American Craftsman architecture that will add all the vintage vibes to your big day. A wedding at San Jose Clubhouse will have all the comfort and coziness of a celebration at home, complete with a stone fireplace, hardwood floors and stained glass light fixtures.
Great for intimate wedding receptions, the clubhouse features a small dining room and a larger ballroom with a built-in elevated stage for your DJ and wedding toasts. Make the space your own with voile or chiffon drapery and dramatic uplighting to lend a romantic touch that complements the historic space. The small venue size also means more flexibility, so you can bring in your own caterers and BYOB for an additional fee.
Typical Cost: Rental fee starts at $800 – $1,520
Capacity: 80
Bonus: This landmark building is on the U.S. National Register of Historic Places and is owned by the nonprofit We and Our Neighbors, so you'll be helping to support the club's educational and community service activities in the neighboring areas.
Find San Jose Clubhouse on Facebook and Instagram.
Couples wanting an outdoor ceremony and reception in the majestic landscape of the South Bay will adore the award-winning Guglielmo Winery. Established in 1925, the venue is run by the third generation of the Guglielmo family, which arrived from Italy in the early 1900s.
The winery is just as marvelous as the wine itself. It offers a variety of outdoor areas to say "I do" including a red tile-roofed arbor, an enchanting courtyard featuring a cobblestone patio surrounded by flower beds, a granite bar, and a 90-year-old grapevine. You can also have a massive white tent erected and decked out with a stage and dance floor for a raucous reception.
When it comes to wedding planning, the venue is hands-on and helps you craft an event that fulfills your ideal vision. The staff can even assist you in designing personalized labels for small wine bottles that are perfect for gifts.
Typical Cost: Rental fee starts at $6,000
Capacity: 300
Bonus: The combination of terracotta stucco structures, a variety of foliage, endless rows of grapevines, and romantic balconies provide ample backdrops for stunning wedding photos.
Find Guglielmo Winery on Facebook and Instagram.
Marin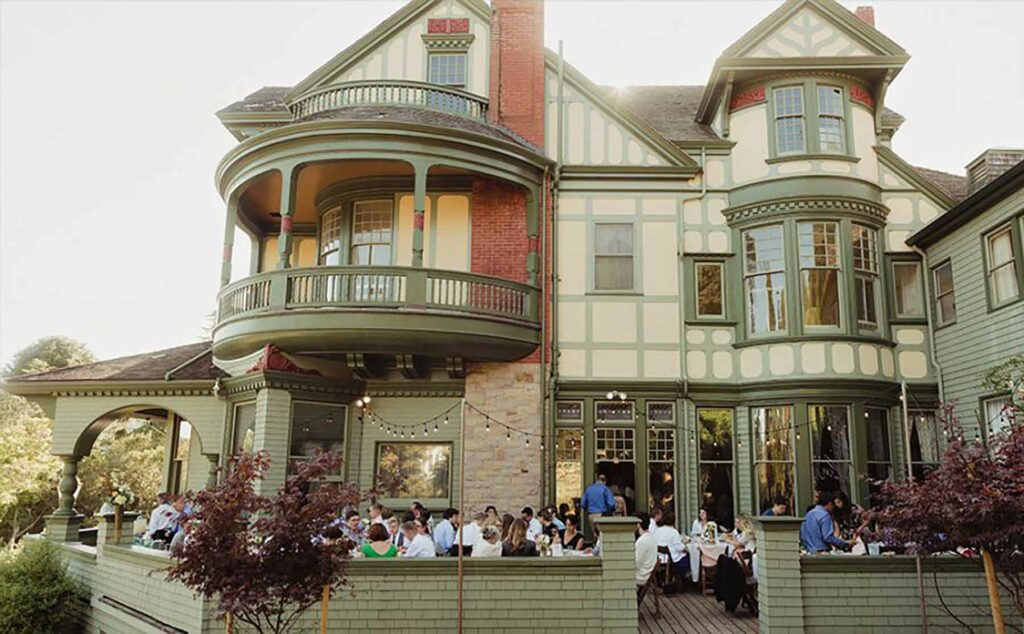 Listed on the U.S. National Register of Historic Places, the Falkirk Cultural Center is a stunning 1888 Queen Anne Victorian mansion on a sprawling 11-acre estate. Three outdoor event spaces — the wedding lawn, rose garden and veranda — make for beautiful ceremony backdrops. You can exchange vows while surrounded by stately oak trees and heritage roses, then move the party indoors for a reception set amongst period decor.
You'll have access to the whole first floor of the mansion, which features wood paneling, stained glass windows, a baby grand piano and intricate detailing on each of its mantles. Since it's run by the city, you can bring in your own catering and alcohol, as well as linens and other decor. Consider it an historic blank slate for bringing your wedding dreams to life.
Typical Cost: $1,470 – $2,450 rental fee for non-residents; $1,350 – $2,250 for residents
Capacity: 125 for outdoor events; 100 for indoor events
Bonus: The rental fee includes use of all three outdoor spaces, so you could host both the ceremony and wedding reception outside.
Find Falkirk Cultural Center on Facebook and Instagram.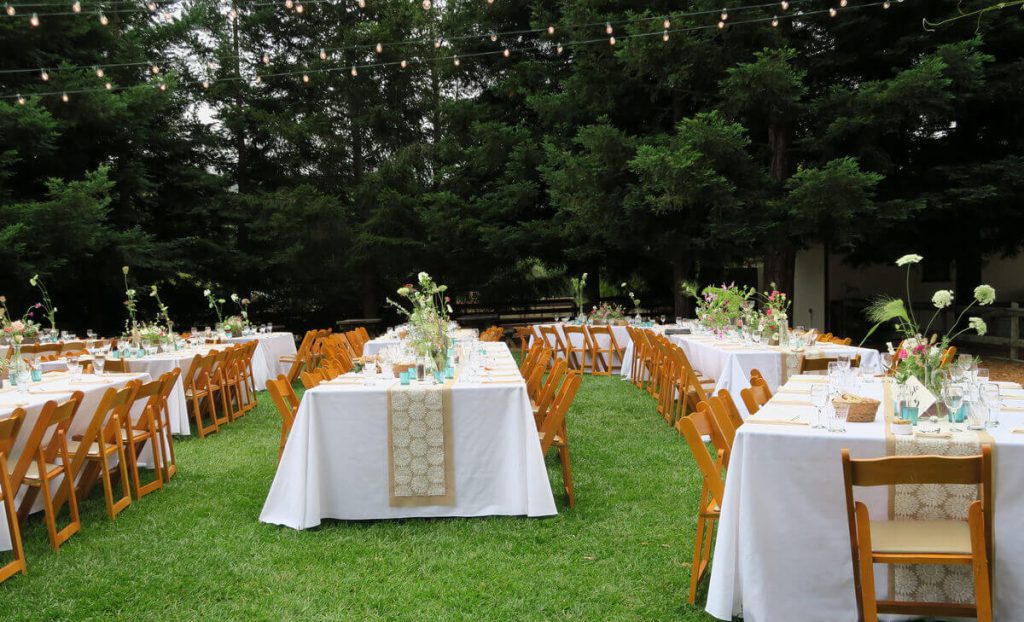 The bucolic Rancho Nicasio is an easy choice for an outdoor wedding. A compelling contrast to the Victorian architecture surrounding it, the historic structure features a Spanish-style white-stucco facade, red trim, sloping tile roof and lengthy porch. Fun fact: It also houses the town's post office, general store, bar, restaurant, and social center.
Indoor celebrations unfold in the Rancho Room, which draws in nature with massive windows highlighting views of a pine grove, the lawn and distant pastoral landscapes. The interior dazzles with wooden ceiling trusses, brass-adorned fixtures and a dance floor complemented by a built-in stage equipped with professional lighting and sound.
Beyond the Rancho Room, the deck and the gazebo-clad lawn are ideal for your ceremony. But if you do have a reception in this area, the catering staff can even use the outdoor bar and two large grills to serve your guests.
Typical Cost: $1,800 – $5,000 rental fee
Capacity: 160
Bonus: The Rancho Room features a fun piece of flair: a moose head above the fireplace that's decorated with an assortment of hats throughout the year.
Find Rancho Nicasio on Facebook, Instagram and Twitter.
Wine Country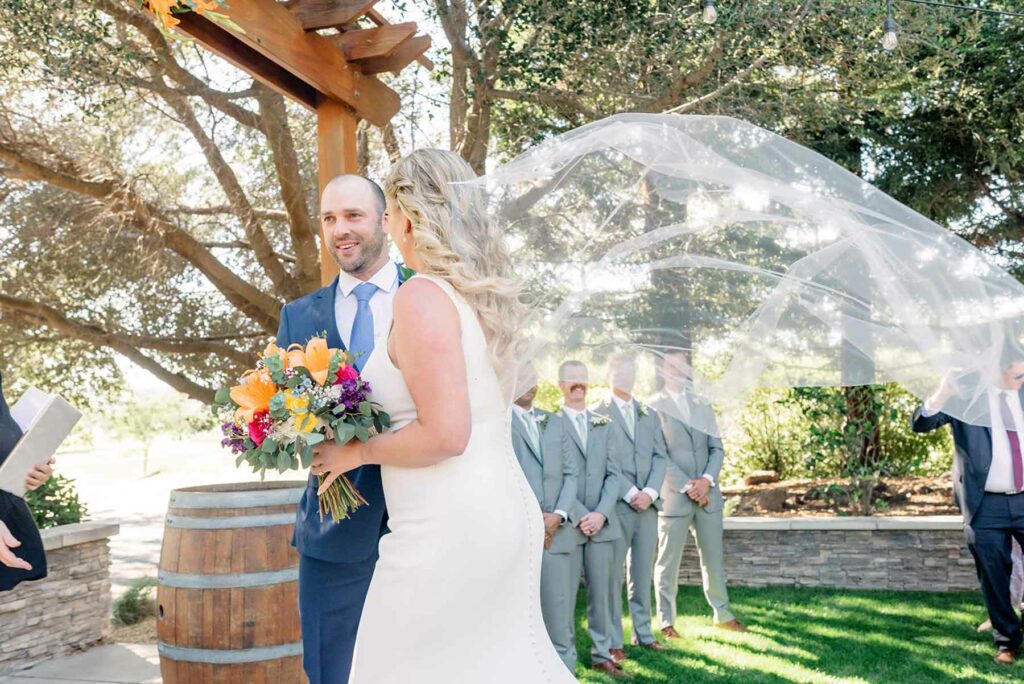 Design your dream wine country wedding at Fairview Napa, where you'll make a grand entrance surrounded by fragrant roses on the ceremony lawn. Tucked inside the Kennedy Park Golf Course, you still get those wine country vibes courtesy of decorative barrels and a vine-covered trellis.
A beautiful pavilion is the best of both worlds, featuring a climate-controlled enclosure draped in white linens and scenic views through a wall of windows. The elegant interior is dressed up with crystal chandeliers for a glam touch, as well as strands of twinkling lights. Best of all? The secluded locale means you can party all night long (or at least until the clock strikes midnight!).
Typical Cost: $1,500 ceremony site fee; meals start at $80 per person
Capacity: 225
Bonus: Take advantage of the sprawling 350-acre property (and golf carts) to change up the backdrop in your wedding photos, from landscaped fairways to decorative bridges and ponds.
Find Fairview Napa on Facebook and Instagram.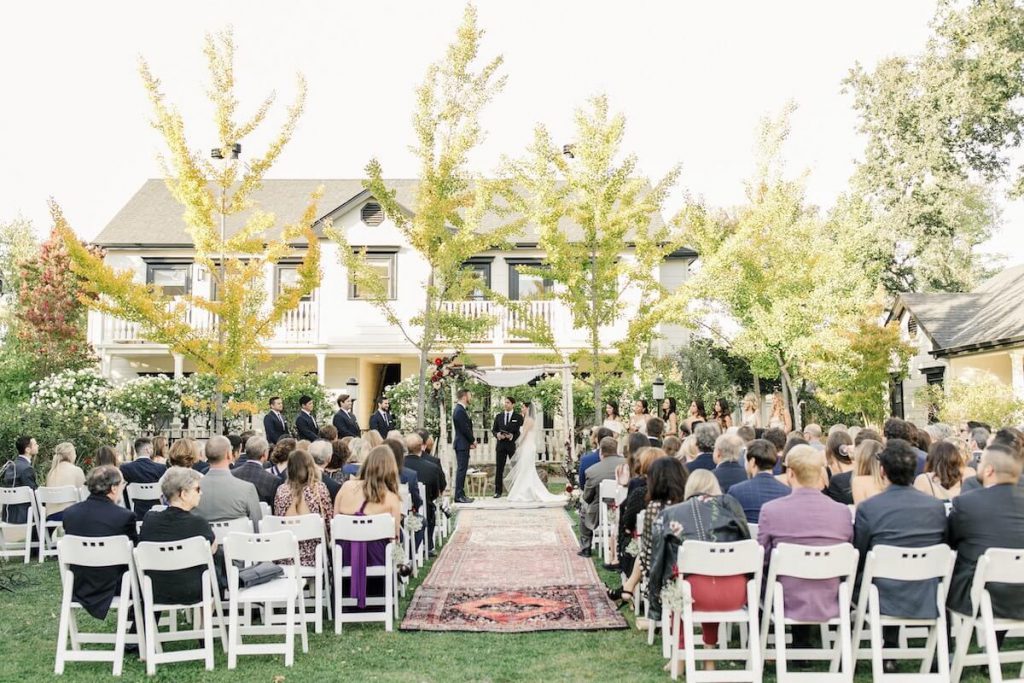 Offering ultimate convenience in one of the most coveted locations for foodies, MacArthur Place has a first-rate event and onsite catering staff that provides a one-stop shop for almost all of your wedding needs. The venue offers two primary wedding packages (other than an elopement package) that let guests take advantage of the lavish beauty emanating from this historic garden property.
The Inner Circle package can accommodate up to 30 guests. It provides an intimate ceremony and reception location, an officiant, a seasonal bouquet and/or boutonniere, a couples massage at the spa, sparkling wine post-ceremony, and much more.
The Grand Affair package accommodates up to 80 guests with exclusive access to the West Lawn for the ceremony and Coach House salons for the reception. The package also includes a two-hour tasting to design your cocktail hour and reception menus, rehearsal dinner access, complimentary valet parking, and tables, chairs, linens and flatware, among other luxurious perks.
Typical Cost: Rental fees start at $5,000 for the Inner Circle package; $6,000 for the Grand Affair package
Capacity: 150
Bonus: All packages include a two-night stay in premier accommodations for the wedding couple.
Find MacArthur Place on Facebook, Instagram and Twitter.
Up Next: