From the Golden Gate Bridge to Napa Valley, the Bay Area of Northern California provides an array of extraordinary wedding venues. But what if you're concerned about cost, as many couples are? After all, venues in this coveted region can charge tens of thousands for site rental alone.
We've scoured the Bay Area for wedding venues that offer enchanting environments and acclaimed service — at a rate that won't drain the bank. Here are 10 surprisingly affordable wedding venues in the Bay Area to consider when you're on a budget.
San Francisco
If you or your fiancé spent hours daydreaming about prairie life as an adolescent, Stern Grove Clubhouse, located in the heart of San Francisco, is an ideal wedding venue.
Say "I do" under a dramatic canopy of redwoods before celebrating your union in the charming clubhouse. The best part? It's a total steal, as it's one of the most cost-effective options in the Bay Area.
Note: If you're looking for a holiday wedding, Stern Grove Clubhouse isn't for you. The venue is unavailable on Halloween, Thanksgiving, Christmas Eve, Christmas, New Year's Eve, and New Year's Day.
Typical Cost: Fees start around $900 for six hours
Capacity: 120 seated, 140 standing
Bonus: If you include the outdoor area in your rental (an extra $200), you get access to the above-mentioned grove of redwoods, a large meadow with picnic tables and grills, and winding woodsy paths by a pond.
You can also use the rustic Trocadero House. It offers a large, grand room with a usable fireplace, a saloon room, an industrial kitchen, and an upstairs room for getting ready.
Find Stern Grove Clubhouse on Facebook, Instagram, and Twitter.
East Bay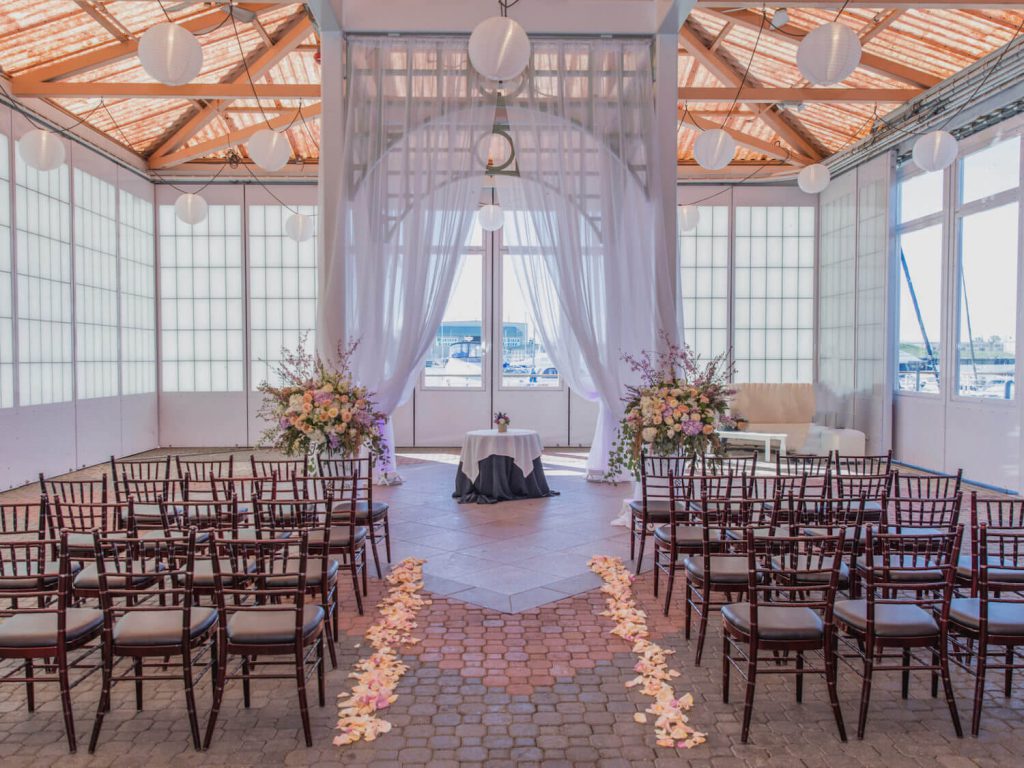 A versatile waterfront restaurant and unique venue to tie the knot, Scott's Seafood Jack London Square provides impressive interiors, romantic views of passing ships and the sparkling city skyline, and world-class cuisine.
Couples can choose from seven one-of-a-kind banquet rooms. The most popular is the Pavilion. It features a soaring ceiling, windows bathing the room in natural light by day, and tea lanterns hanging from a vaulted ceiling creating an ethereal glow by night.
Meanwhile, indoor trees, Persian rugs, and mahogany Chiavari chairs add to the glamorous ambiance. And if guests crave the sea breeze, they can just step onto the adjacent patio that opens to the boardwalk.
Couples also favor the three sophisticated Harborview Rooms. With large windows looking out onto the boardwalk, faux-painted ceilings and modern chandeliers, leather chairs, and a copper-and-granite bar, it's no wonder why.
Note: Scott's Seafood Jack London Square also offers an in-house bakery and floral services.
Typical Cost: Starts at $30/per person
Capacity: 220
Bonus: The venue's seafood dishes are superb, as fresh seafood is delivered daily and prepared in a variety of ways. Favorites include Dungeness Crab Stuffed Halibut, Seafood Chiopino Pasta, and Shiitake Crusted Tuna.
Find Scott's Seafood Jack London Square on Facebook and Instagram.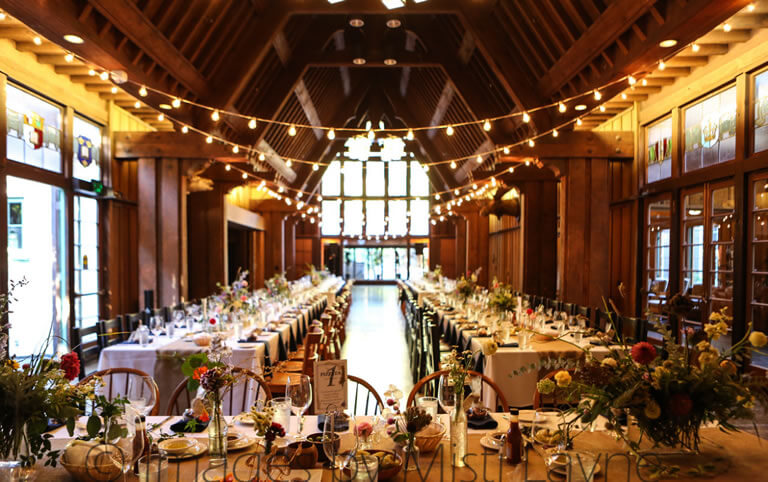 The Faculty Club at UC Berkeley is encircled by a grove of redwoods, oaks, and maples, and neighbors the tranquil Strawberry Creek. Constructed in the Arts and Crafts style by architect Bernard Maybeck in 1902, the venue is both intimate and grand with a three-story Great Hall and cozy spaces for smaller celebrations.
The Great Hall astonishes with intricate, vaulted ceilings, stained-glass windows featuring university crests from around the world, and a stone fireplace as a focal point. Its massive windows, that cast a theatrical glow on the redwood paneling at sunset, also accentuate the old-world elegance.
For the ceremony, most couples opt for the Faculty Glad Lawn, conveniently located by the Great Hall.
You can hold a smaller reception in the Heyns Room or Seaborg Room. Both open to an outdoor area that's perfect for receptions in the warmer months and feature garden views. The Seaborg Room is especially appealing, as it includes a striking A-frame ceiling and windows framed in wisteria.
Typical Cost: $3,500 – $5,000 for event space; $55 – $95/per person for meals
Capacity: 200
Bonus: Guests can arrange to stay in The Faculty Club's hotel bedrooms, which are often reserved for scholars visiting the campus.
Find The Faculty Club at UC Berkeley on Facebook, Instagram, and Twitter.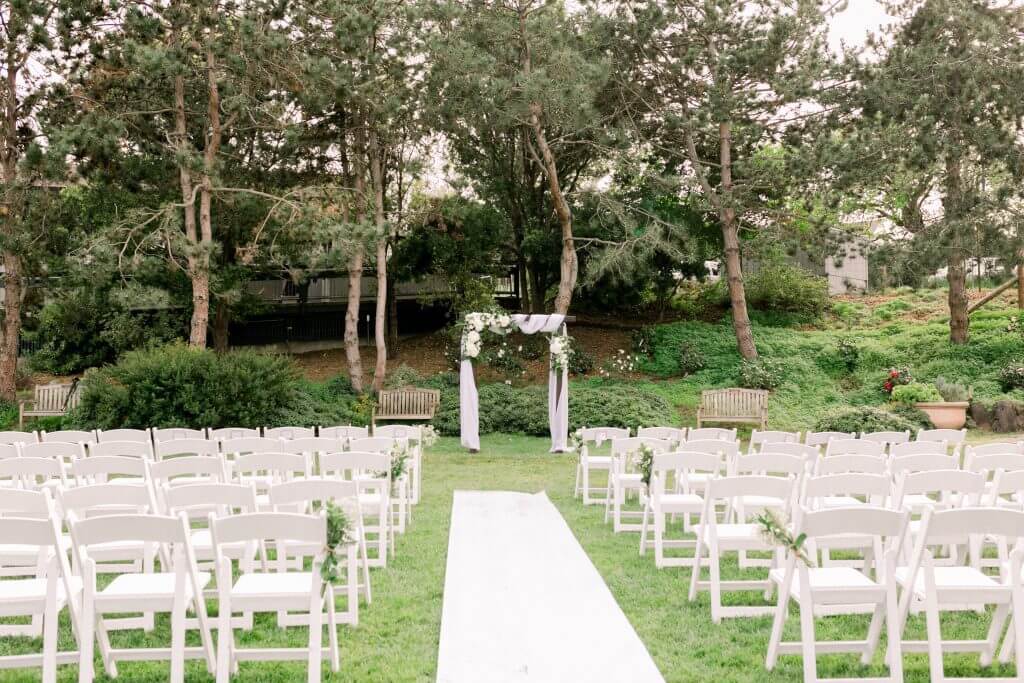 The ideal place for an alfresco wedding, The Gardens at Heather Farm are sprawled over six exquisite acres offering a rainbow of flowerbeds, herb and rock gardens, and a variety of water features.
Many couples host their ceremony in the Gazebo that creates a fairytale environment with its slate-tile roof and climbing roses. The floral aromas float through the air while a sparkling lake and tinkling fountains enhance the whimsical vibes.
For an outdoor cocktail hour or reception, you'll head to the Meadow Lawn, a grassy area framed by pine trees, lush shrubs, Rugosa roses, and sweeping garden views.
The Camellia Room is perfect for an indoor reception. It features a beamed ceiling, hardwood floors, and expansive windows that offer the dual pleasure of natural light and garden views.
Typical Cost: $2,100 – $4,900
Capacity: 150
Bonus: Your wedding fees support a nonprofit public garden and nature education center.
Find The Gardens at Heather Farm on Facebook, Instagram, and Twitter.
South Bay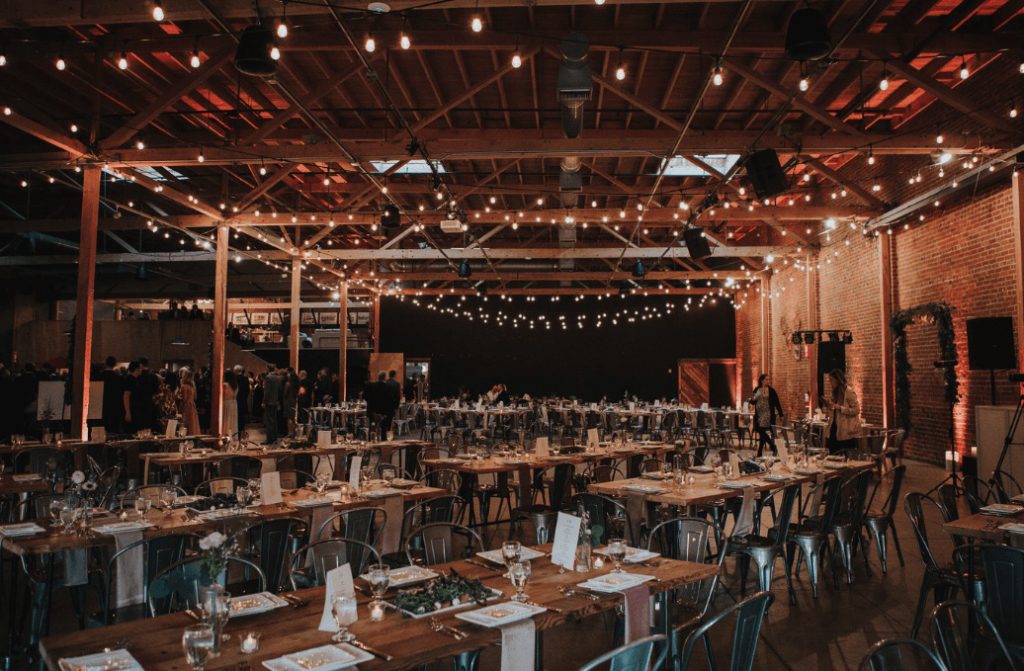 If you're looking for an urban-chic venue, look no further than Forager. Located in San Jose's Art District, the venue offers 10,000-square-feet of event space that's both industrial and modern with exposed brick walls, wood accents, and open spaces.
It's also a win when it comes to convenience. The Mezzanine is often used as a bridal suite, boasts a dance floor, and offers parking, shuttle, and valet services as well as wheelchair accessibility.
For cuisine, you won't be disappointed. The in-house caterer utilizes locally-sourced, organic ingredients for a customized menu you plan with the chef. For serving styles, you can choose from buffet, cocktail reception, family style, hors d'oeuvres, or stations.
Typical Cost: Starts at $5,500
Capacity: 300
Bonus: The venue provides distinctive in-house bar services with local beers on tap and a full-service specialty coffee bar. Plus, the coffee is roasted onsite.
Find Forager on Facebook, Instagram, and Twitter.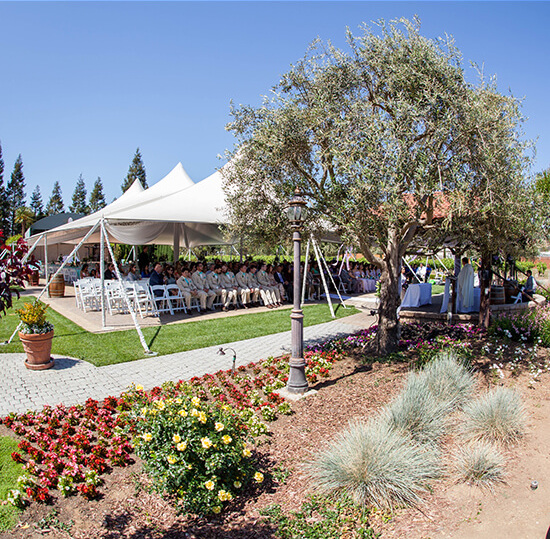 Couples wanting an outdoor ceremony and reception in the majestic landscape of South Bay will adore the award-winning Guglielmo Winery. Established in 1925, the venue is run by the third generation of the Guglielmo family, which migrated from Italy in the early 1900s.
The winery is just as marvelous as the wine itself. It offers a variety of outdoor areas to say "I do" including a red tile-roofed arbor, an enchanting courtyard featuring a cobblestone patio surrounded by flowerbeds, a granite bar, and a 90-year-old grapevine. You can also have a massive white tent erected and decked out with a stage and dance floor for a raucous reception.
When it comes to wedding planning, the venue is hands-on and helps you craft an event that fulfills your ideal vision. The staff can even assist you in designing personalized labels for small wine bottles that are perfect for gifts.
Typical Cost: Starts at $1,000
Capacity: 300
Bonus: The combination of terracotta stucco structures, a variety of foliage, endless rows of grapevines, and romantic balconies provide ample backdrops for stunning wedding photos.
Find Guglielmo Winery on Facebook, Instagram, and Twitter.
Marin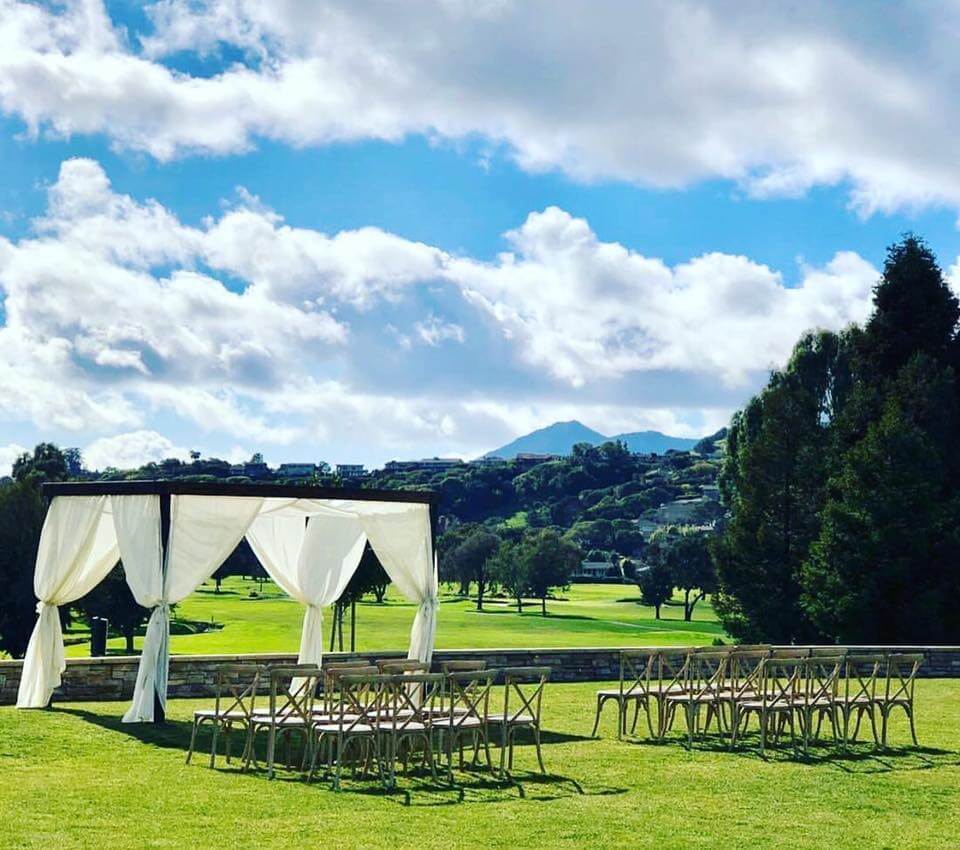 Perched on a hilltop overlooking San Rafael, The Clubhouse at Peacock Gap provides sleek interiors, groomed lawns, and sweeping views of unfettered natural landscapes.
Most couples have their ceremony on the vast lawn looking out onto the golf course and rolling hills. The lawn also features a four-poster wooden pergola that you can adorn with flowing fabrics or fresh flowers.
For a memorable reception, say "yes" to the Craftsman-inspired Clubhouse that wows with an elegant lobby, sophisticated plush wood and leather furnishings, and an oversized stone fireplace. The structure includes three salons that can be used individually or combined to create a large ballroom with a modern, recessed ceiling and windows framing the countryside.
In the warmer months, you can celebrate your union with cocktails on the Back Patio, which has a trellis-covered deck, stone pillars, and inviting fire pits.
Typical Cost: $500 – $6,000 rental fee; $29 – $56 for meals
Capacity: 450
Bonus: You, your fiancé, and the bridal party will live in luxury as you prepare for the nuptials. The Bridal Room provides a full-length mirror, vanity mirrors with various light settings, and a closet for storing dresses and other belongings. And then there's the Groom's Room with a big-screen TV and plush furnishings.
Find The Clubhouse at Peacock Gap on Facebook, Instagram, and Twitter.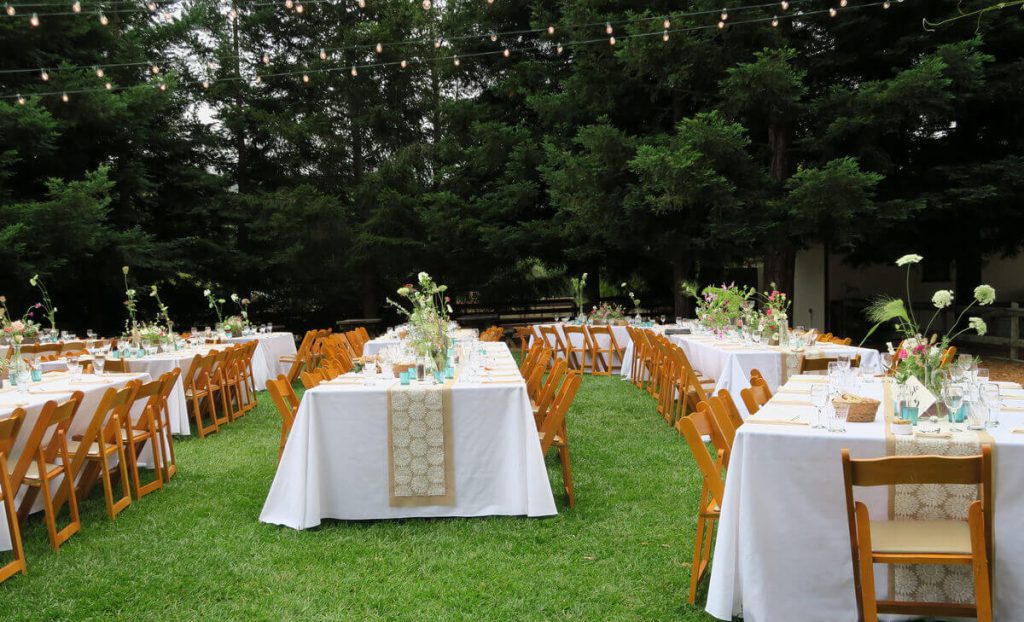 The bucolic Rancho Nicasio is an easy choice for an alfresco wedding. A compelling contrast to the Victorian architecture surrounding it, the structure features a Spanish-style white-stucco façade, red trim, sloping tile roof, and lengthy porch. Fun fact: It also houses the town's post office, general store, bar, restaurant, and social center.
Indoor celebrations unfold in the Rancho Room, which draws in nature with massive windows highlighting views of a pine grove, the lawn, and distant pastoral landscapes. The interior dazzles with wooden ceiling trusses, brass-adorned fixtures, and a dance floor complemented by a built-in stage equipped with professional lighting and sound.
Beyond the Rancho Room, the deck and the gazebo-clad lawn are ideal for your ceremony or reception. If you do have a reception in this area, the onsite catering staff can even use the outdoor bar and two large grills to serve your guests.
Want to fully immerse yourself in this captivating environment? You can use the venue's onsite cottage that offers a tub and shower, full-length mirror, living room, and bedroom.
Typical Cost: $1,000 – $5,000 for rental fee
Capacity: 160
Bonus: The Rancho Room features a strange flair: a moose head above the fireplace that's decorated with an assortment of hats throughout the year.
Find Rancho Nicasio on Facebook, Instagram, and Twitter.
Wine Country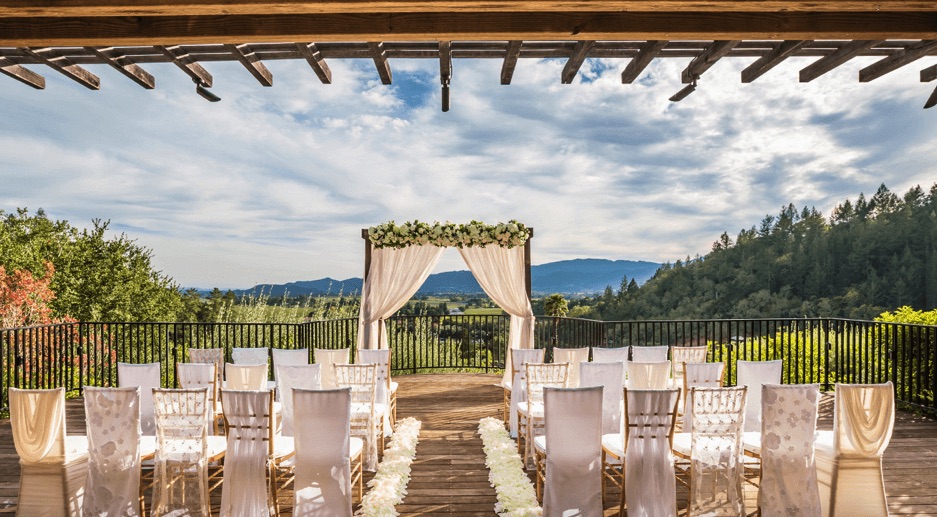 An iconic luxury venue in Northern California, Auberge du Soleil is set on a 33-acre olive grove on the charming slope of Rutherford Hill.
From almost every corner of the grounds, you're met with spellbinding views of Napa Valley that add to the grandeur of the open-air event spaces.
One of the most popular outdoor ceremony sites is The Terrace, as it opens to lush, tree-covered hills that dissolve into the horizon. It's especially mesmerizing during a sunset ceremony. The Vista Rooms that adjoin the terrace are ideal for a wedding reception, as they feature elegant decor and spectacular vistas.
You can host an intimate wedding ceremony in La Pagode, an Asian-inspired pavilion nestled in a wonderland of centuries-old olive trees, vineyards, and a sculpture garden that showcases over 100 works from more than 60 California artists.
After sealing your love with a kiss, celebrate in style as you feast on edible masterpieces from the resort's Michelin Star-rated culinary program.
Typical Cost: $2,000 – $8,000 for ceremony and reception
Capacity: 120
Bonus: Between wedding events, you and your guests can explore neighboring wineries in complementary convertibles provided by Mercedes-Benz.
Find Auberge Du Soleil on Facebook, Instagram, and Twitter.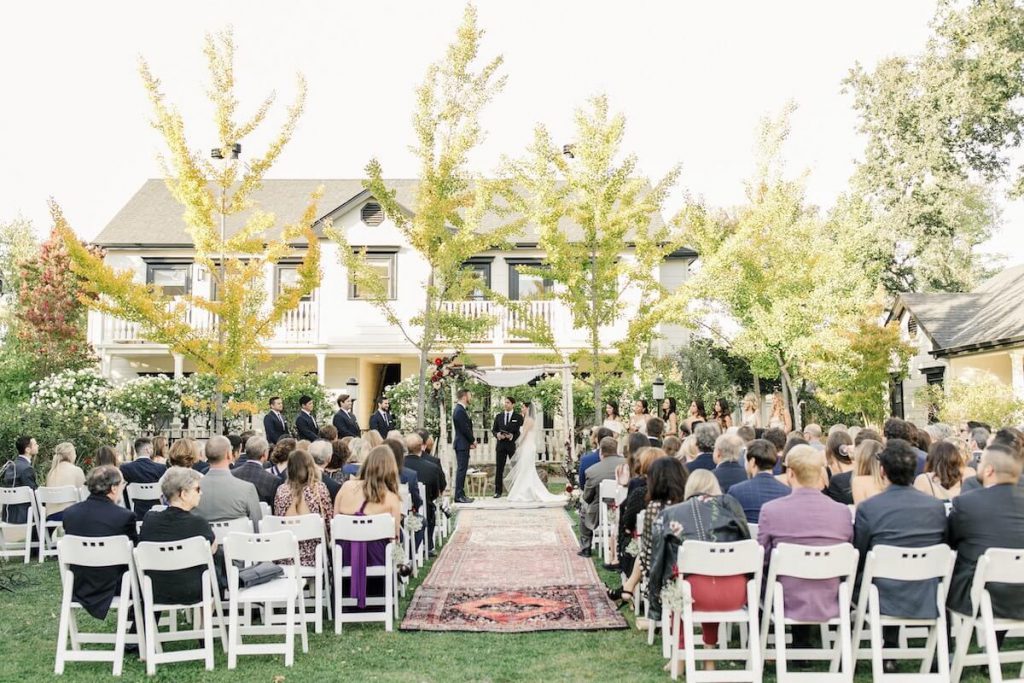 Offering ultimate convenience in one of the most coveted locations for foodies, MacArthur Place has a first-rate event and onsite catering staff that provides a one-stop-shop for almost all of your wedding needs.
The venue's three primary wedding packages also let guests take advantage of the lavish beauty emanating from this historic garden property.
The Inner Circle package caters to parties with up to 30 guests. It provides an intimate ceremony location, an officiant, a seasonal bridal bouquet and boutonnière, a petite wedding cake, a couples massage at The Spa at MacArthur, two hours of access to the manicured grounds for photos, and much more.
The Grand Affair package accommodates up to 150 guests. It offers exclusive access to the West Lawn and Coach House for the ceremony and the gardens for the reception. The package also includes world-class food for the cocktail hour and reception, among other luxurious perks.
The Estate package provides all the fixings for a rehearsal dinner, wedding reception, and farewell brunch. But it's especially appealing as it offers you and your guests access to the 10-bedroom, finely-appointed Burris House.
Typical Cost: Starts at $5,500
Capacity: 150
Bonus: All packages include a two-night stay in premier accommodations for the wedding couple.
Find MacArthur Place on Facebook, Instagram, and Twitter.
Up Next: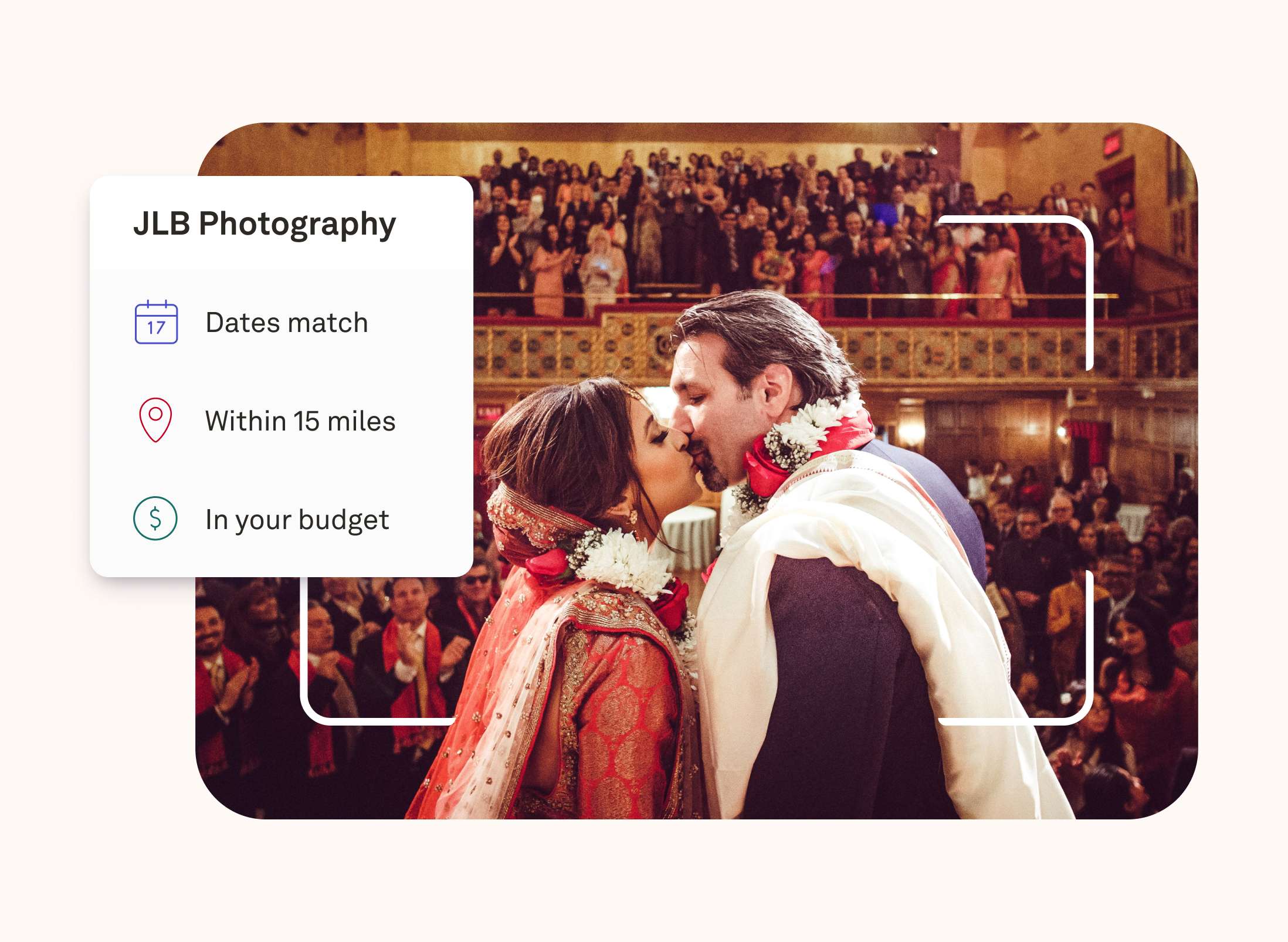 Find the perfect photographer to capture your big day.