Some might think the Houston metropolis, often lauded as the heart of Texas, only offers country-inspired wedding venues. In fact, the city is home to a versatile collection of event spaces that are as affordable as they are desirable.
These affordable Houston wedding venues can facilitate a ceremony in front of a massive cascading waterfall, nuptials on a tree-lined manicured lawn, a wedding reception among custom-lit dinosaurs or one of the largest collections of reproduction Tiffany lamps, and a variety of other enviable settings.
No matter the type of vibe you're hoping to create for your big day, we have you covered with these seven surprisingly affordable wedding venues in Houston.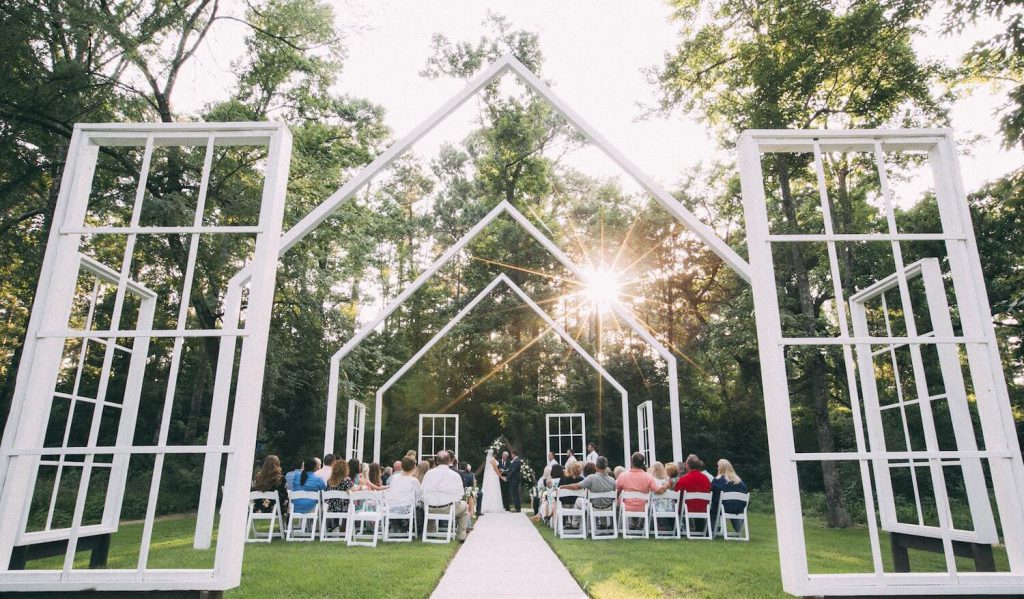 A fusion of modern and historic, The Meekermark was built by award-winning wedding photographers who understand the elements that make a wedding a joy to attend and the ingredients needed for spellbinding photos.
The highlight of this venue is the white frame of a 200-year-old barn from Canada that was reconstructed on the property's lawn, providing an open-air chapel. The effect is mind-blowing.
For the reception, you'll head to another barn — but one that provides a completely different feel with walls of reclaimed wood and vintage decor. This is the ideal place for couples wanting the charms of country life to be imbued with the sophistication of modern aesthetics.
Typical Cost: $3,750 – $10,500
Capacity: 225
Bonus: The Meekermark provides you with a list of preferred wedding vendors to ensure you hire professionals with an in-depth understanding of the venue.
Find The Meekermark on Facebook and Instagram.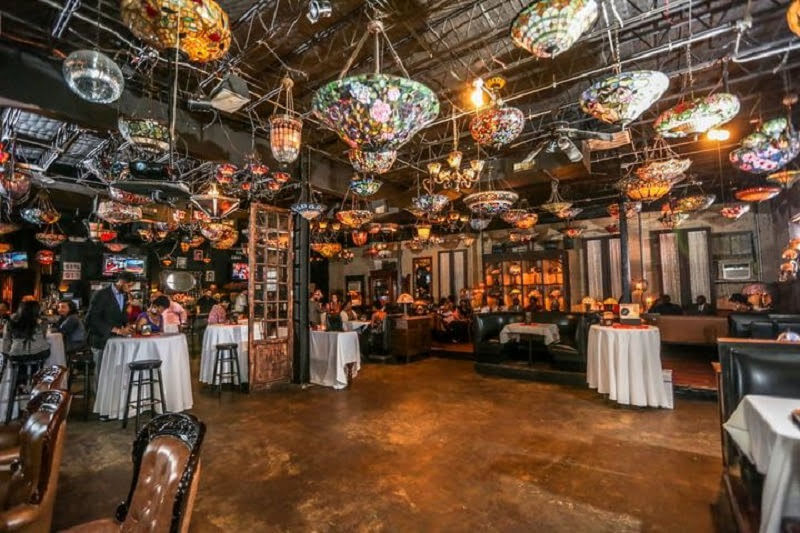 Located in Midtown Houston, Nouveau Antique Art Bar is one of the most unique and affordable wedding venues in the Houston area.
This 4,500-square-foot event venue offers a laidback, neighborhood pub atmosphere elevated by a rainbow of reproduction Tiffany lamps. The ambiance created by the light shining through endless configurations of stained glass is truly spectacular. In addition to the lamps, this venue wows with Art Nouveau antique furniture and an antique piano.
The venue's large staff, which provides setup, clean-up, bartending, and wait staff services, ensures you have little to do but enjoy the celebration. Plus, couples and guests have access to a large parking lot, which is always a huge, convenient perk.
Typical Cost: Contact the venue for a quote
Capacity: 200
Bonus: Its location in the heart of Midtown Houston puts the venue in close proximity to many popular hotels and after-party hotspots.
Find Nouveau Antique Art Bar on Facebook.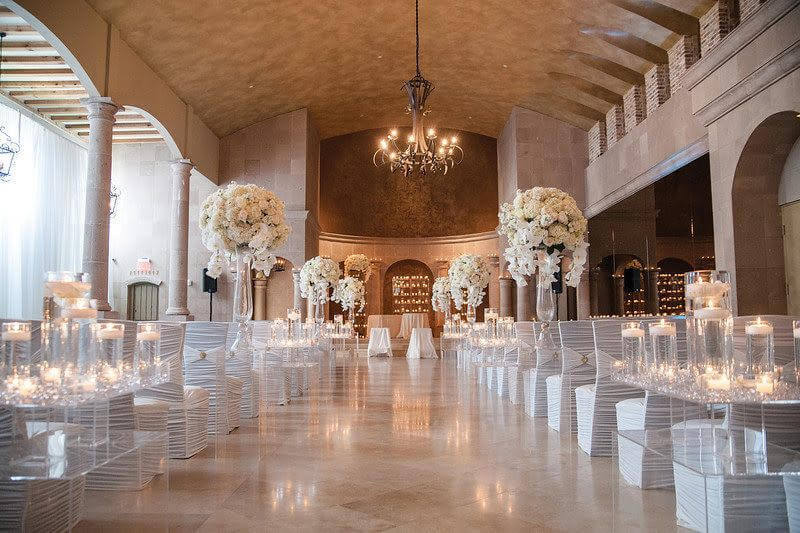 A large venue that's a compelling mix of an Italian villa and luxury hacienda, The Bell Tower on 34th provides an array of event spaces ideal for couples wanting a dramatic environment for their wedding day.
Wedding ceremony and reception spaces include a courtyard with an enormous cascading waterfall, elegant ballrooms and banquet halls replete with high ceilings and chandeliers, and private gardens flush with lush foliage and fountains.
This venue also features a variety of staircases perfect for grand entrances and stunning wedding photos, finely-appointed dressing rooms, and a built-in dance floor offering dazzling effects as it lights up in a tapestry of color. Additionally, the in-house chef and culinary team provide delicious menus that can accommodate almost any dietary preference.
Typical Cost: Ceremonies start at $1,500; receptions start at $4,500
Capacity: 1,000
Bonus: The venue boasts some of the most affordable beverage packages in the city.
Find The Bell Tower on 34th on Facebook, Instagram, and Twitter.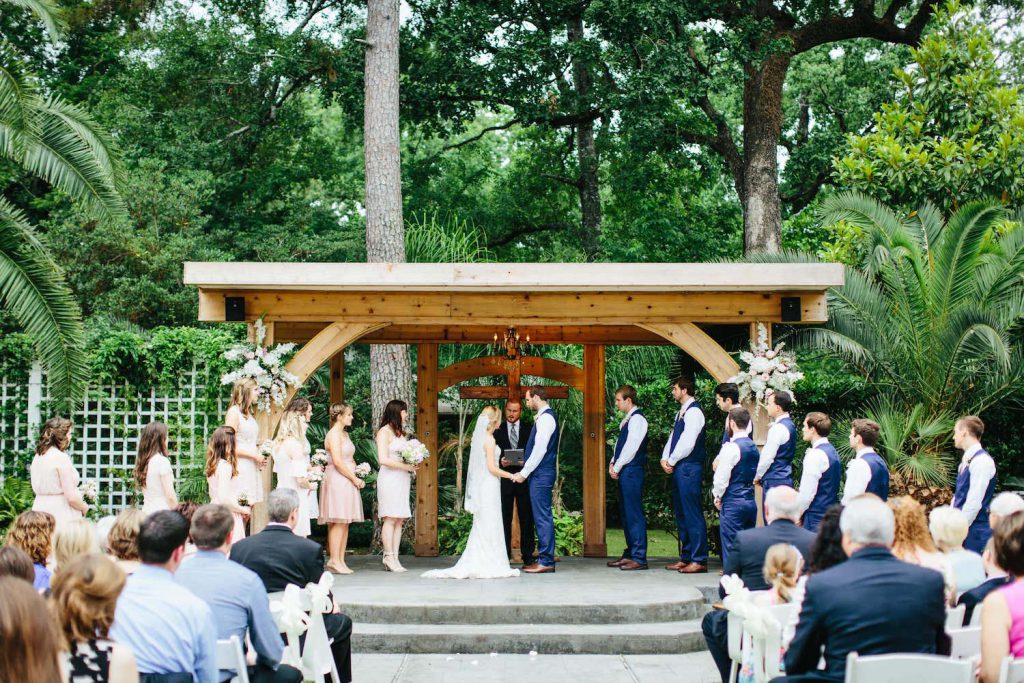 This family-owned, 21-acre property has been hosting weddings for over 40 years and borders the beautiful Cypress Creek.
For outdoor weddings, Shirley Acres features a grassy courtyard, surrounded by an assortment of palm, pine, and oak trees, and a custom-made cedar arbor that's ideal for exchanging vows.
If you're hoping for a ceremony (or reception) indoors, look no further than The Garden Room or The Pavilion. The Garden Room has a light and airy feel with 20-foot ceilings, chandeliers, and massive picture windows that look out onto the courtyard. Meanwhile, The Pavilion offers an ambiance of rustic elegance with its wood-beam ceiling and wrought-iron chandeliers.
Typical Cost: Packages start at $2,500
Capacity: 400
Bonus: For those who want to fully immerse themselves in Shirley Acres, there is an onsite guesthouse offering four bedrooms and three bathrooms.
Find Shirley Acres on Facebook, Instagram, and Twitter.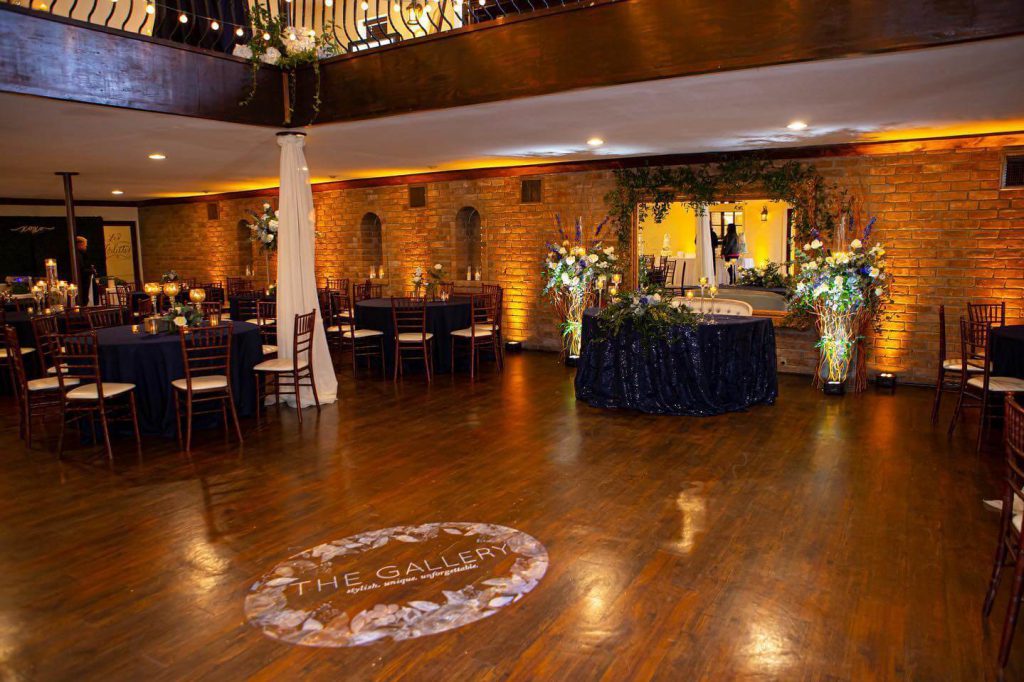 French-Mediterranean vibes abound at this stylish yet casual venue that's a prime choice for couples looking for an architecturally-unique and nature-focused venue.
The Gallery's charm is only enhanced by details such as an antique, hand-carved mahogany bar with Tiffany stained glass, a three-tiered antique fountain, as well as indoor and outdoor twinkle lights.
Additionally, the venue's outdoor spaces feature an ivy-covered wall, massive oak trees, and a jasmine-filled courtyard. Check out its image gallery for ample visual inspiration.
Typical Cost: $3,500 – $6,900
Capacity: 300
Bonus: The rental fee includes a four-hour bridal portrait session.
Find The Gallery on Facebook and Instagram.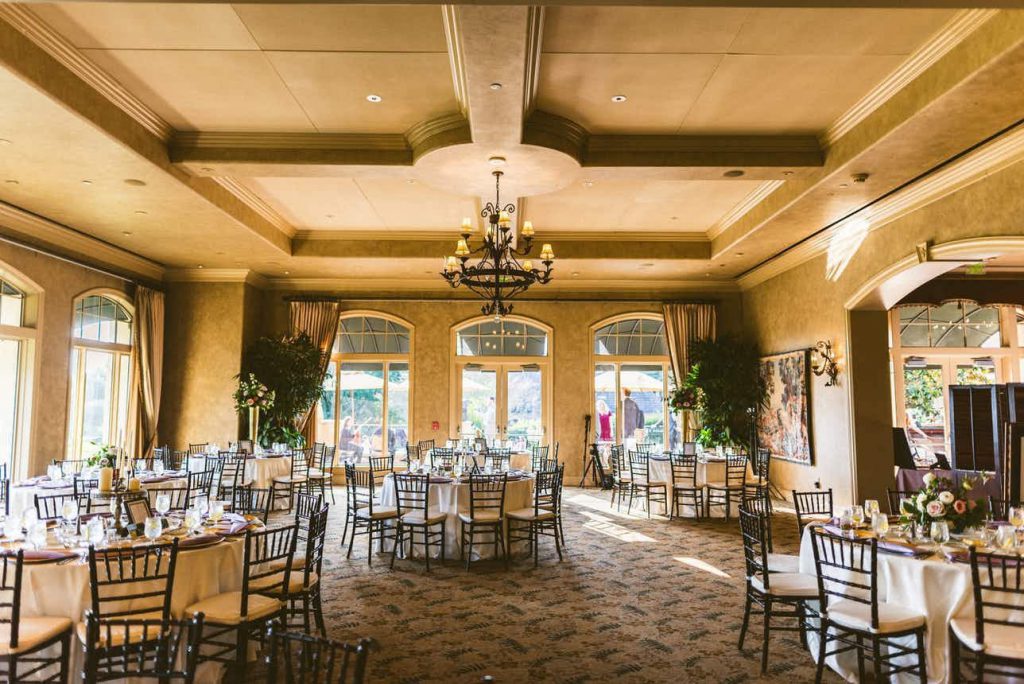 If you're hoping for a more traditional wedding, you have numerous elegant options at this French-inspired country club featuring event spaces spread over the 185-acre picturesque property.
As for primary spaces to host ceremonies and receptions at Royal Oaks Country Club? Look no further than the grand and chandelier-clad Versailles and Fleur de Lis rooms, the Formal Lawn overlooking a series of waterfalls on the 18th green, and the Terrace or the Poolside Palm Grille that are both optimal for intimate celebrations.
Couples will work with the club's Director of Catering and Events to craft a customized celebration.
Typical Cost: Starts at $1,000 for rental fee; $48 – $100 per person for food
Capacity: 250
Bonus: The onsite Executive Chef and Sommelier will help you craft a customized menu and wine list.
Find Royal Oaks Country Club on Facebook, Instagram, and Twitter.
If you're hoping to throw a truly unforgettable celebration of love, you've found your spot at the Houston Museum of Natural Science.
With eleven event spaces to say "I do" — among tropical plants and endless butterflies, underneath soaring and dramatically-lit prehistoric creatures, within a sparkling room housing 750 of the world's most exquisite gems and mineral specimens, or surrounded by water fountains, trees, and stars — your wedding is sure to be one for the books.
It's recommended that you spend some time in the museum before making your event space pick, as there is such a wide spectrum of options.
Typical Cost: $2,000 – $9,500
Capacity: 300
Bonus: The museum offers special event lighting, allowing you to select various colors, texture patterns, and gobos to set the mood for your special day.
Find Houston Museum of Natural Science on Facebook, Instagram, Twitter, and Pinterest.
---
More Houston Wedding Venues:
More Texas Wedding Venues:
Up Next:
Set up your wedding website in minutes with design options to make yours truly unique.