Largely known for rest, rejuvenation, and quality cuisine at world-class spas and retreats, Pheonix, Arizona is a destination that evokes warm breezes, swaying palms, and cucumber-infused water by the pool.
The prestige of Phoenix's R&R culture often overshadows its affordable wedding venues that allow couples to relish the same mouth-watering meals, enchanting backdrops, and warm weather that its spa clientele seeks.
These venues make Phoenix a place that deserves far more attention in the wedding scene. However, you can use its underrated status as a chance to have a luxurious Arizona wedding at a shockingly low price. Jump on one of these five affordable wedding venues in Phoenix before the secret is out!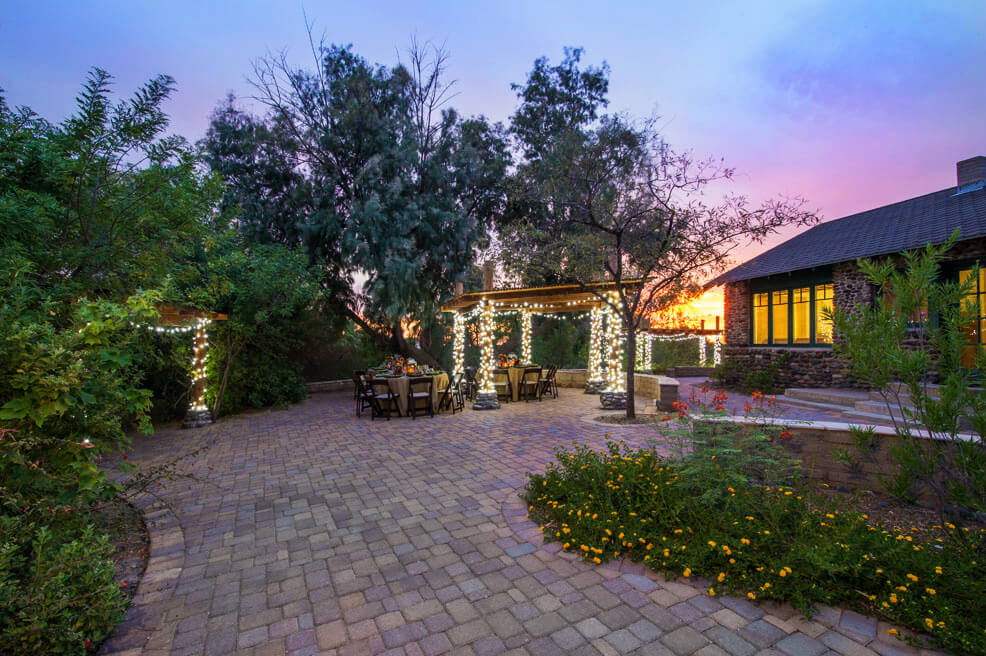 Animal lovers wanting an outdoor ceremony should look no further than the Phoenix Zoo. This sprawling animal-centric wonderland features an impressive assortment of ceremony and reception venues, allowing you to craft a truly unique wedding.
Popular ceremony sites include the Stone House Pavilion (that provides a beautiful setting for a sunset celebration), a grassy lawn by the zoo's tranquil lake, and the charming outdoor area at the historic Ruby's House.
Want to feel like you've been transported to Africa? The zoo allows ceremonies in the Sahara area and the Zebra Overlook. Ceremony packages include directional signs, a white wicker arch, white carpet runner, and up to 100 white resin garden chairs.
Most wedding receptions are held at the Stone House Pavilion (featuring an array of twinkle lights!), the lakeside venue, the Desert Grove that fosters a rustic ambiance with its fire pit and log seating, and the C.W. & Modene Neely Education Event Center, a perfect option in the summer.
Typical Cost: $500 – $2,500 for a rental package
Capacity: 5,000
Bonus: While you can choose from numerous Preferred Caterers, the zoo primarily works with the award-winning Lancer Catering. The team at Lancer works with you to craft your dream menu.
Find Phoenix Zoo on Facebook, Instagram, and Twitter.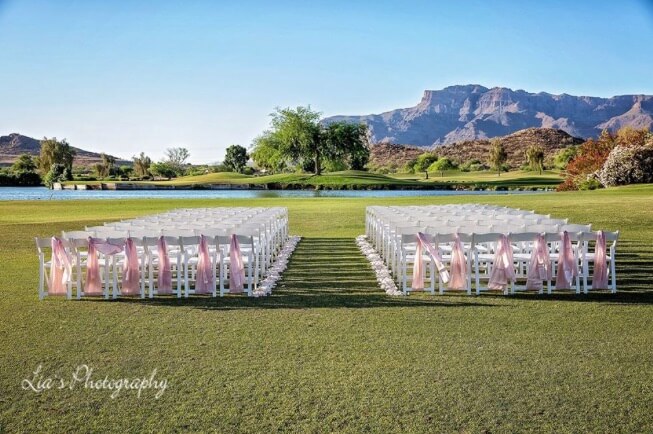 Set in the spellbinding valley of the Superstition Mountains, this picturesque wedding location offers a backdrop of commanding red rock peaks flanked by a sea of desert foliage.
Ceremonies are held on a lush golf course or a Spanish style balcony, both of which need little decor because of the majesty of the surrounding landscape. The venue's ceremony packages include white chairs, tables dressed in white linens, formal pictures on the golf course, and a rehearsal with a wedding coordinator who also manages your special day. It also provides set-up and breakdown services, in addition to bridal and groom suites.
Receptions often unfold in the elegant, climate-controlled ballroom that features high ceilings and mood lighting or within a grove of trees nestled in the rolling hills of the golf course. The Views at Superstition is easily one of the best wedding venues in Phoenix if you're wanting jaw-dropping views.
Typical Cost: Site fees start at $4,500
Capacity: 220
Bonus: This outdoor venue can also accommodate a ceremony at the nearby Lost Dutchman State Park. It gets you up close and personal with the mountainscapes and provides extraordinary photo ops to capture your beautiful wedding.
Find The Views at Superstition on Facebook and Twitter.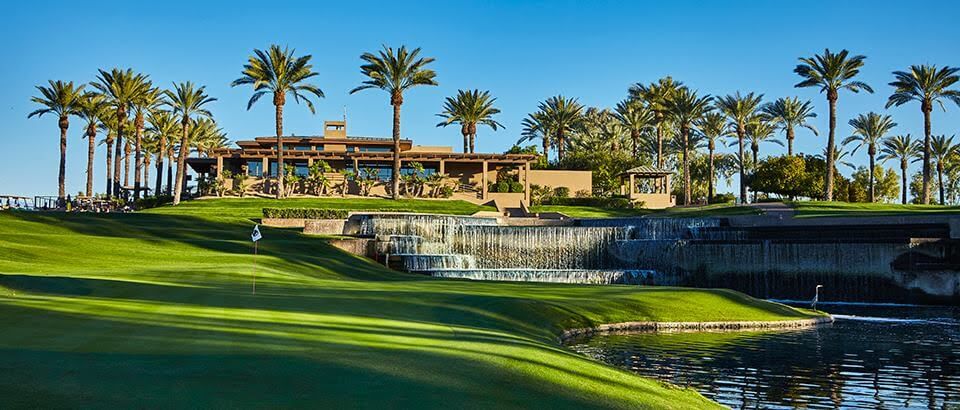 A stately wedding venue in nearby Scottsdale, Arizona, Gainey Ranch Golf Club offers numerous event spaces that provide an optimal backdrop for couples wanting a romantic-themed wedding.
Outdoor celebrations can be hosted on the manicured green with views of reflective lakes, the McDowell Mountains, and the enchanting desert sky. They can also take place on the waterfall patio or the ballroom patio that both open to gorgeous vistas.
Most receptions are held in the modern ballroom that wows with panoramic windows, natural wood structures, and a gold candelabra chandelier. The clubhouse, located on what used to be an Arabian horse ranch, also portrays a regal ambiance with its private dining room, ballroom, welcome lounge, and an outdoor patio.
Sweetening the deal are all-inclusive wedding packages that seriously simplify your wedding planning endeavors.
Typical Cost: Site fees start at $1,500
Capacity: 200
Bonus: The venue's award-winning chef and culinary team create sumptuous dishes you and your guests will never forget.
Find Gainey Ranch Golf Club on Facebook and Twitter.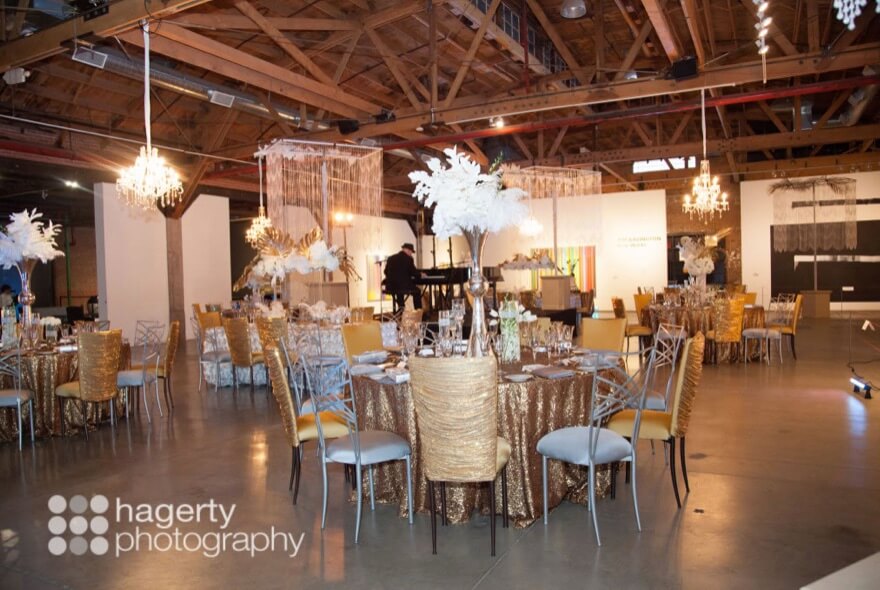 What makes this popular event venue in Downtown Phoenix so special? 10,000-square-feet of industrial-chic grandeur. Warehouse 215 @ Bentley Projects provides a unique spin to your wedding by combining whimsical drapery and softly-lit chandeliers with the industrial bones that feature exposed brick walls and beams.
While it makes a powerful statement without any decor, the venue also provides plenty of room to express your personal wedding style with flowers, furniture, lighting, or anything else that pleases your one-of-a-kind taste.
Although catering isn't provided, it does offer a list of preferred wedding vendors that are familiar with the venue. Additionally, the staff is known for being hands-on with organizing vendors, decor, and everything else that goes into making a spectacular wedding.
Typical Cost: Starts at $4,574
Capacity: 300
Bonus: This inexpensive wedding venue is pet-friendly! This means your fur-babies can be the ring bearers — or just adorable guests — if you desire.
Find Warehouse 215 @ Bentley Projects on Facebook and Instagram.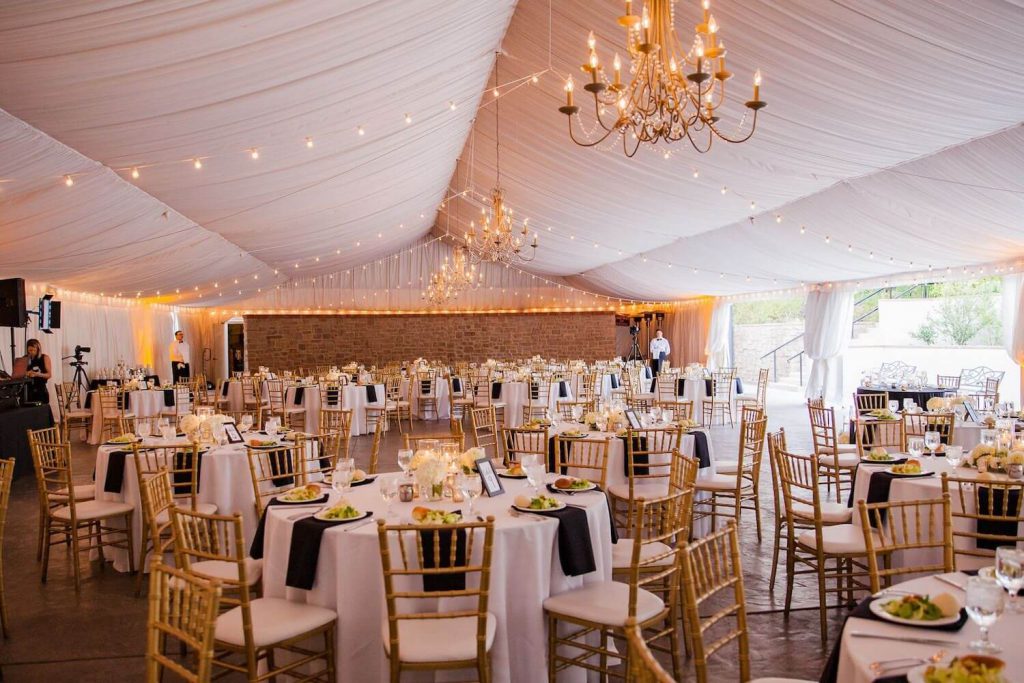 One of the most quintessentially-elegant wedding venues in neighboring Mesa, Arizona, Stonebridge Manor by Wedgewood Weddings is a versatile space that can accommodate everything from alfresco weddings to glamorous affairs inside the Colonial Georgian-style mansion.
Two of the most coveted outdoor event spaces include the Garden Pavilion and Manor Courtyard. The Garden Pavilion impresses with fountains and a dazzling pool, garden lights, verdant plants, as well as a white tent featuring a draped ceiling and chandeliers. Meanwhile, Manor Courtyard is set on a manicured lawn surrounded by an assortment of trees and flowers.
And then there's the interior of the 6,000-square-foot mansion. This grand structure is filled with bridal and groom suites, banquet rooms that emanate sophistication with wainscoting, a built-in bar and double-sided fireplace, and windows with views of a pristine pool and lavish gardens.
Typical Cost: $995 – $5,995
Capacity: 350
Bonus: The venue offers all-inclusive wedding packages that include wedding planning services, day-of coordination, music, centerpieces, and so much more.
Find Stonebridge Manor by Wedgewood Weddings on Facebook, Instagram, and Twitter.