Whether you're an avid home baker or just enjoy the occasional treat, a wedding registry is a great way for you to fill your kitchen with the best bakeware for every need. But not all bakeware is created equal, with an endless number of items on the market that will make even a professional pastry chef's head spin. We've narrowed down the options to give couples a curated list of bakeware essentials and upgrades for your wedding registry. From complete sets of cookie sheets and cake pans to handy accessories for measuring and mixing, these picks for the best bakeware will help you fill your newlywed home with the mouthwatering aroma of freshly baked goods in no time.
Overview:
Best Nonstick Bakeware Set
This commercial grade bakeware is a go-to choice for the couple who loves to spend time in the kitchen. Designed to last a lifetime, OXO's bakeware is made from heavy gauge aluminized steel and coated with two layers of ceramic-reinforced nonstick. This means that those fresh baked cookies and fluffy muffins will evenly heat and won't stick to the bakeware when it's time to enjoy your homemade treats. As an added perk, these pans are designed with unique ridges that promote airflow and easy release.
Here's what you get:
Two 9-inch round cake pans
12-cup muffin pan
Loaf pan
Half-sheet pan (13-inch by 18-inch)
Best Glass Bakeware Set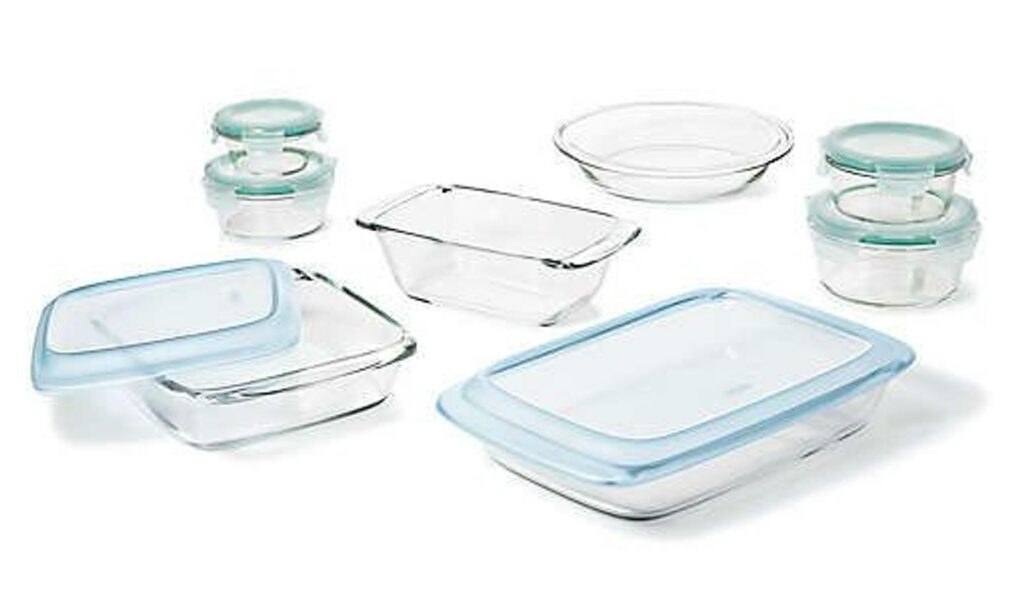 An essential for any kitchen, this clever bakeware/storage combination set saves you time by reducing the number of dishes you'll need to clean. It also provides superior performance, as it's crafted of highly durable borosilicate glass that can go from the freezer to oven without breaking. Great for casseroles, pastas, pies and cobblers, this OXO set will be your go-to bakeware for future potlucks, holidays and other special occasions.
Here's what you get:
3-quart baking dish with lid (9-inch by 13-inch)
2-quart baking dish with lid (8-inch by 8-inch)
Loaf pan
Pie plate
One 1-cup round container with lid
Two 2-cup round containers with lids
One 4-cup round container with lid
Best Pie, Cake, Cupcake and Loaf Pans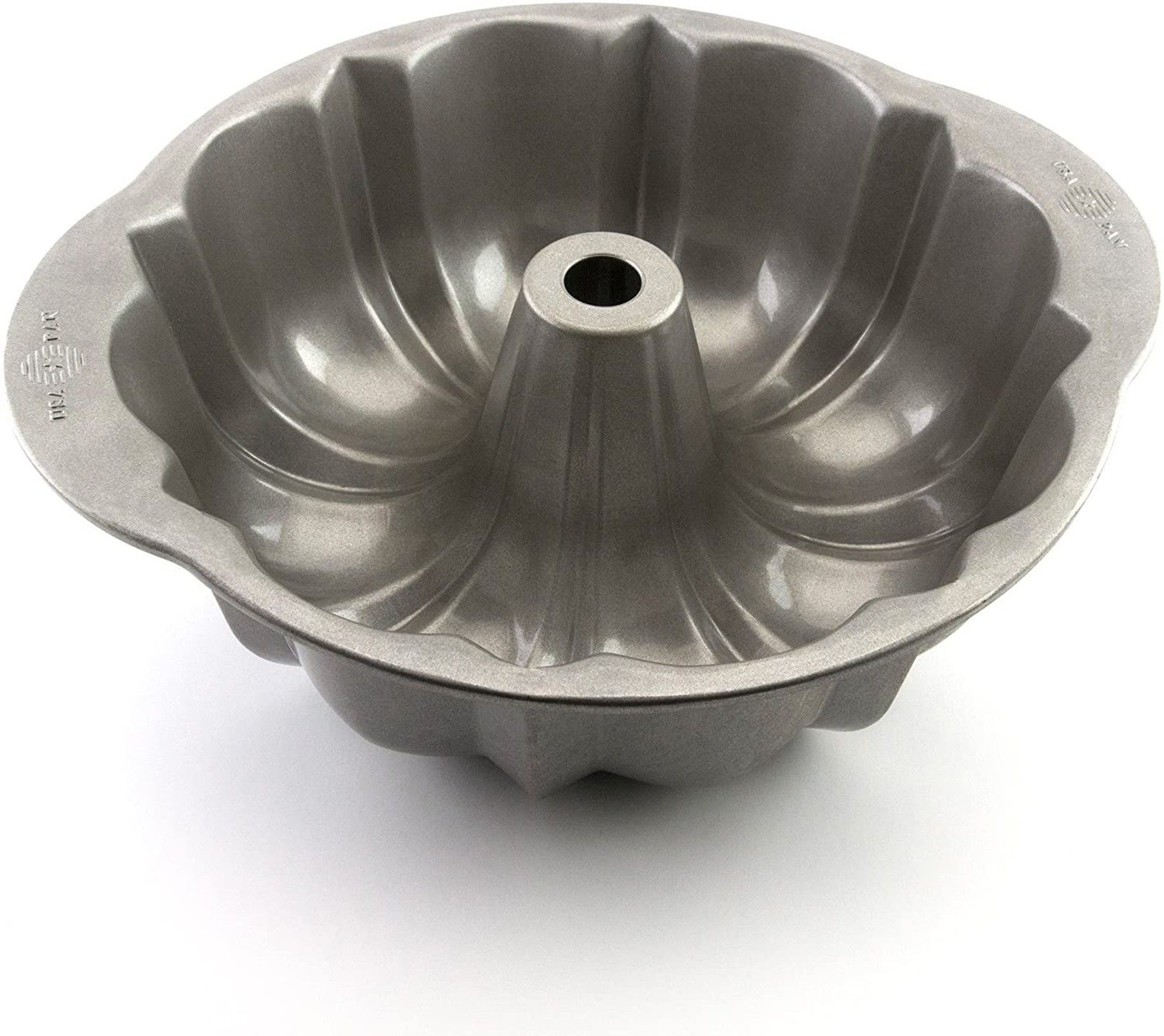 If you have visions of baking pound cakes and ring cakes drizzled with your favorite glaze or chocolate topping, this tube pan is exactly what you need. The ring shape allows for faster cooking and a moister cake, and the light-colored surface will help keep your goods from over-browning. A unique nonstick silicone coating means you can easily remove cakes from the pan and helps make cleanup a breeze. And because this pan can hold about 10 cups of batter, you can say yes when everyone asks for a second slice of cake.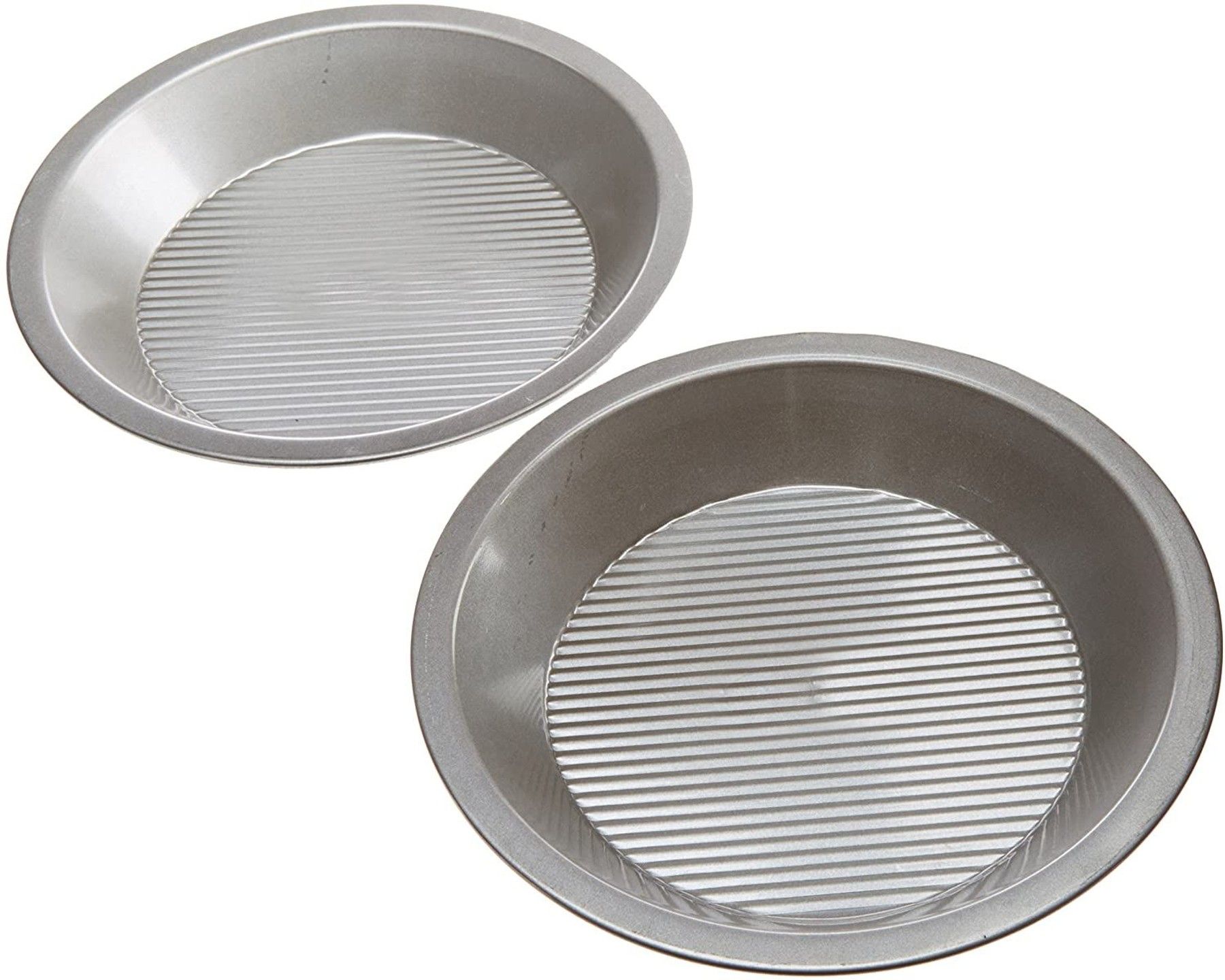 It will be easier than ever to whip up fruit-filled favorites for the holidays and quiches for Sunday brunch with these high-quality pie pans. The two-piece set, featuring 12-inch pans with a 1.5-inch depth, will take your kitchen game to the next level with a unique corrugated surface designed to maximize air flow and prevent pies from getting a soggy bottom. It also features reinforced rims to reduce warping and heavy gauge aluminized steel for maximum heat distribution.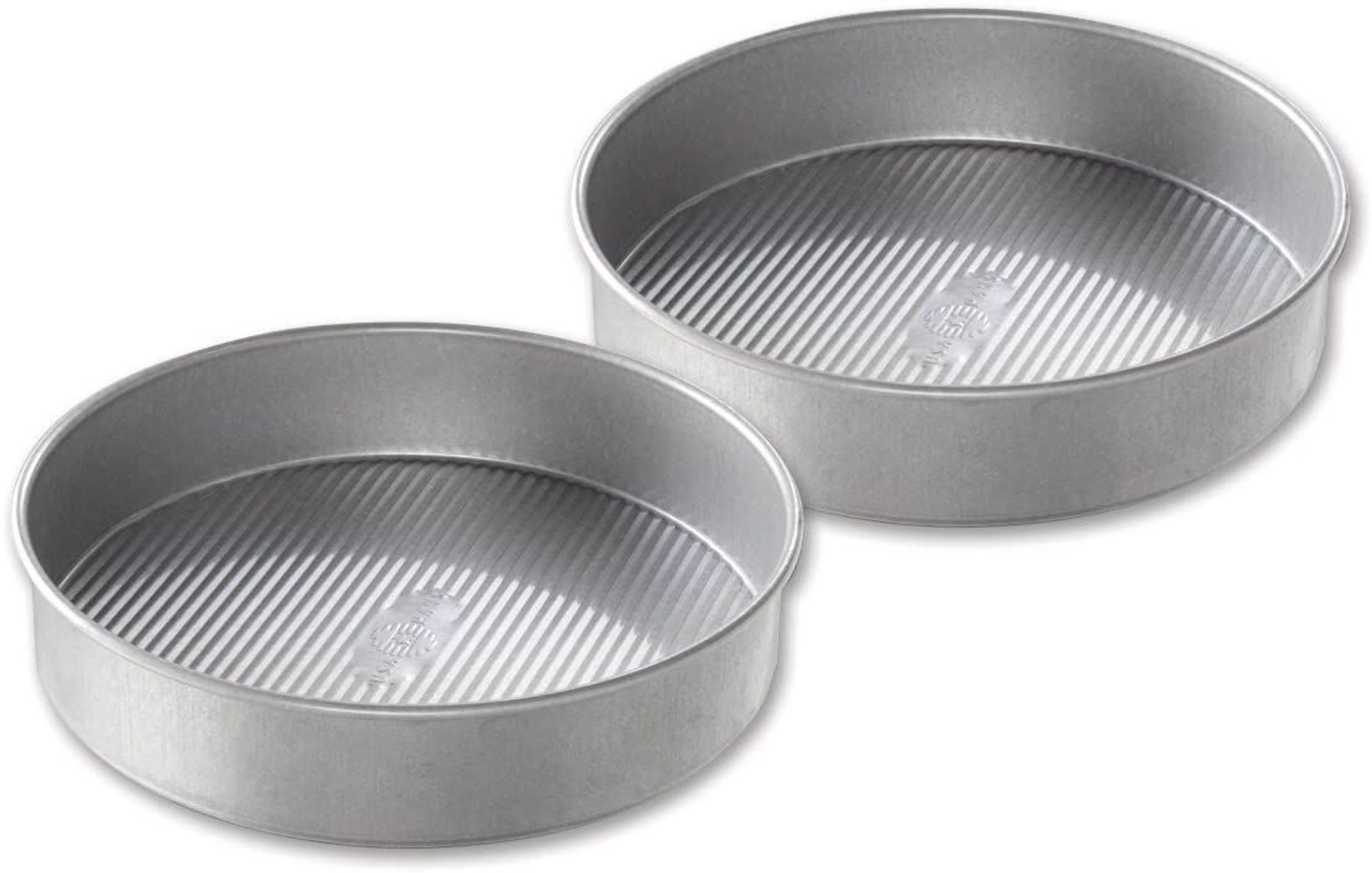 Do you dream of baking elaborate layered cakes for your next birthday or anniversary? If so, this is the cake pan set for you. The chemical-free, nonstick silicone and heavy gauge aluminized steel pans prevent major mishaps, like having your carefully baked cake fall apart when you try to transfer it from pan to plate. They also ensure cakes bake evenly, so say goodbye to burnt rims and undercooked centers. This set includes two 9-inch cake pans with a 2.25-inch depth.
Best Bakeware Accessories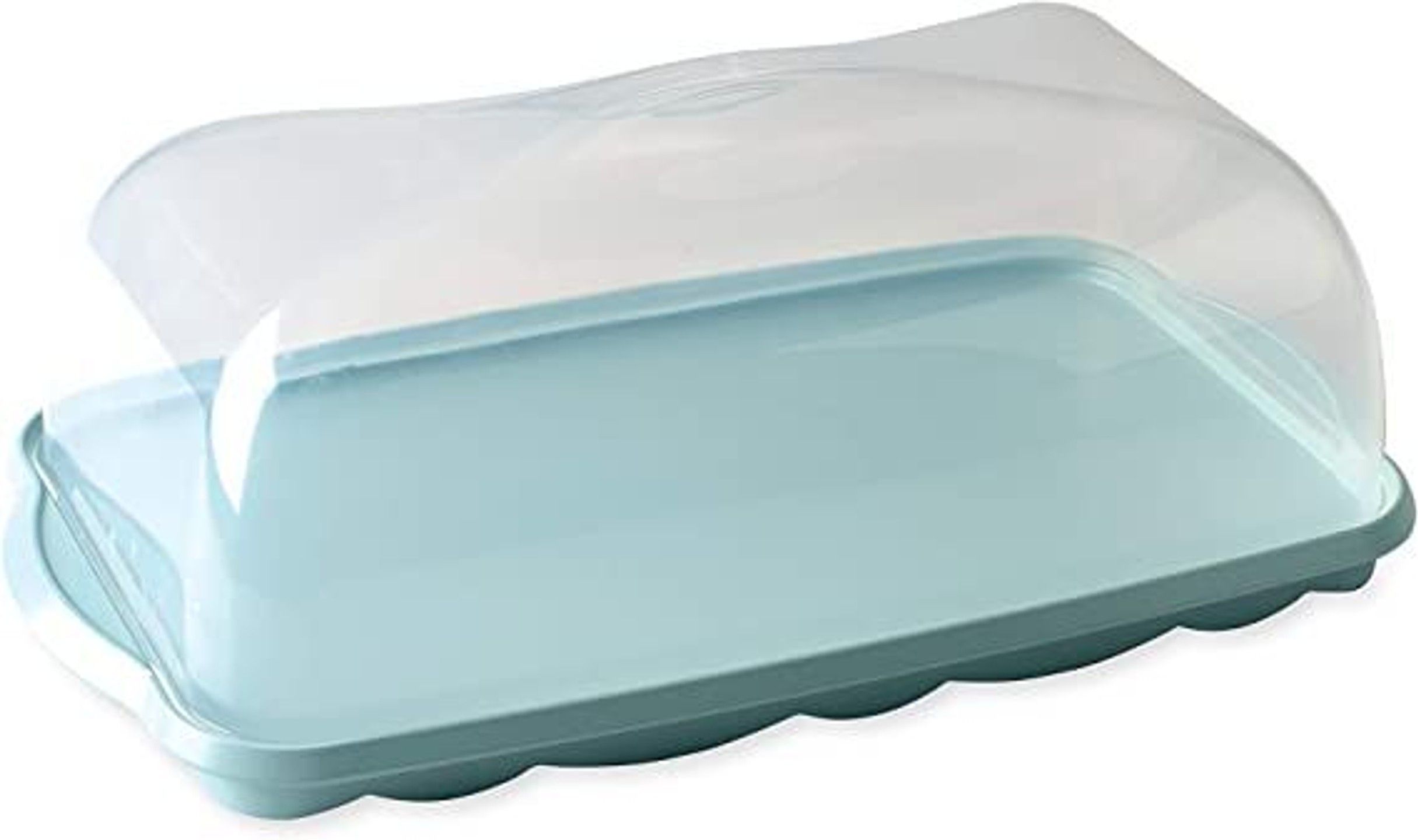 Keep goodies such as breads and loaf cakes fresh for days in this rectangular storage container. With an attractive scalloped base, the loaf keeper can also double as a simple serving tray. In addition, the plastic cover snaps securely onto the base to easily transport your baked goods.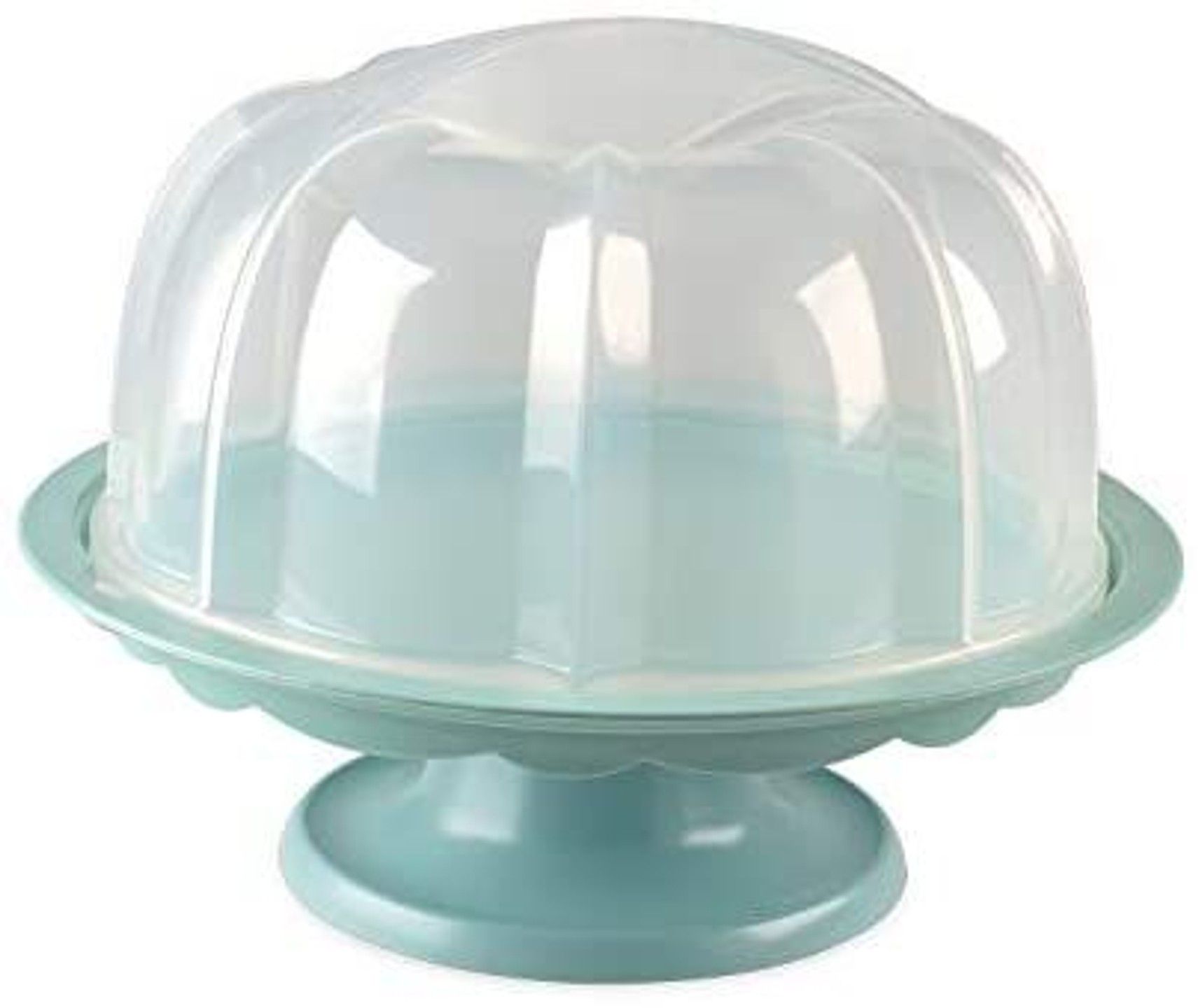 Transporting your baked goods from point A to point B is no easy feat. But with this cake stand that features a locking dome lid, you'll be able to take your Bundt cake to any special occasion without incident. When it's time to enjoy your sweet creation, remove the lid and let the cake shine on a colorful stand that features scalloped edging and a sturdy, detachable, decorative pedestal. If there's any cake left, just lock the lid back onto the base with a simple twist for the trip home.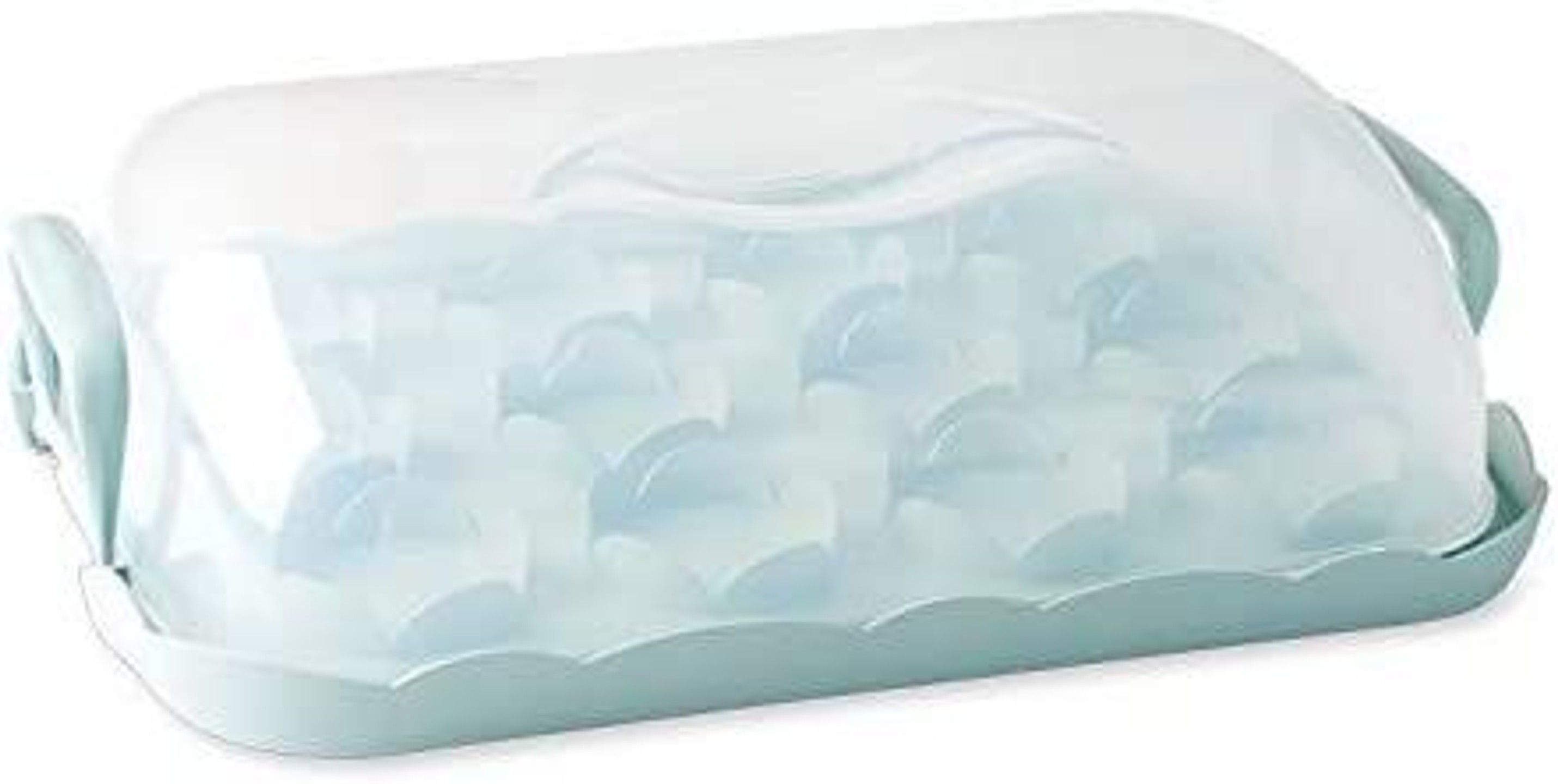 This handy carrier allows you to serve, store and transport treats with ease, making it perfect for protecting those intricately decorated cupcakes that are guaranteed to impress. The flat side of the carrier accommodates 13-inch by 9-inch rectangular cakes and mini cakes, while the reverse side features 12 individual holders for cupcakes and muffins. Its functionality is enhanced by snap-up locking handles and a clear domed lid to give your goodies plenty of clearance for frosting and decoration.
If you have a drawer full of mismatched, cracked measuring cups of unknown origin, this sleek is a wedding registry must. These stainless steel measuring cups will continue to look clean and elegant for years, as they don't stain like plastic. They also help to prevent ingredients like brown sugar or molasses from sticking inside the cup, making the baking of those holiday gingerbread cookies so much easier. Each cup features measurements etched into the handle and are connected by a detachable metal ring to ensure they won't get separated while not in use.
Here's what you get:
1/4 cup (60 milliliter)
1/3 cup (80 milliliter)
1/2 cup (125 milliliter)
1 cup (250 milliliter)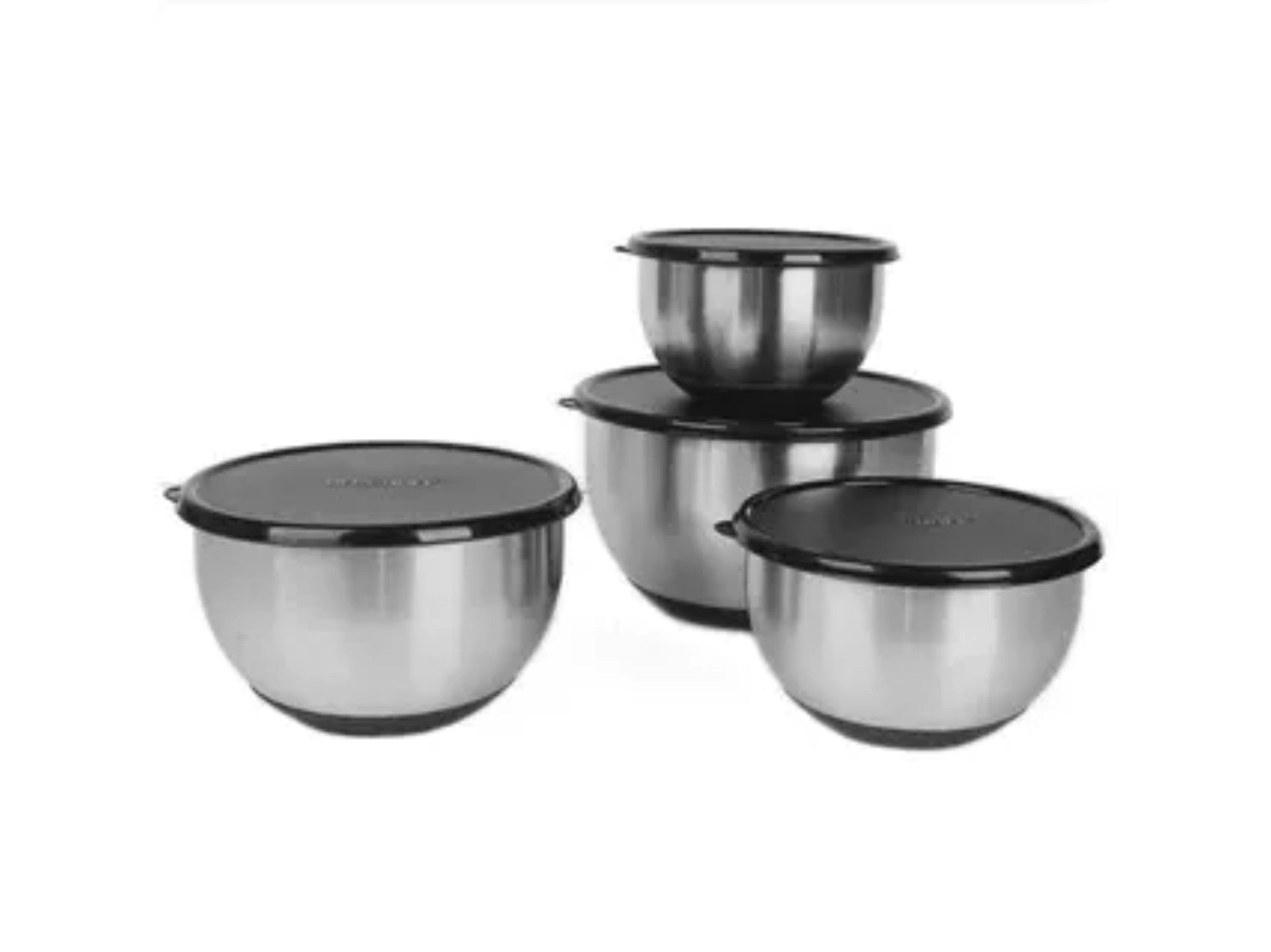 Every baker knows that having quality mixing bowls can seriously simplify your time in the kitchen. These Berghoff Geminis bowls are what you'll reach for when completing tasks such as letting sourdough rise, marinating teriyaki chicken, whipping up cream for strawberry shortcake, or making Nana's homemade chocolate chip cookies. In addition to using these stainless steel bowls for mixing and meal prep, you can utilize them for freezer-safe food storage, as they include lids that snap on tight to lock in freshness and prevent any unwanted smells from filling your fridge.
Here's what you get:
1.6-quart mixing bowl with lid
2.1-quart mixing bowl with lid
3.1-quart mixing bowl with lid
4.8-quart mixing bowl with lid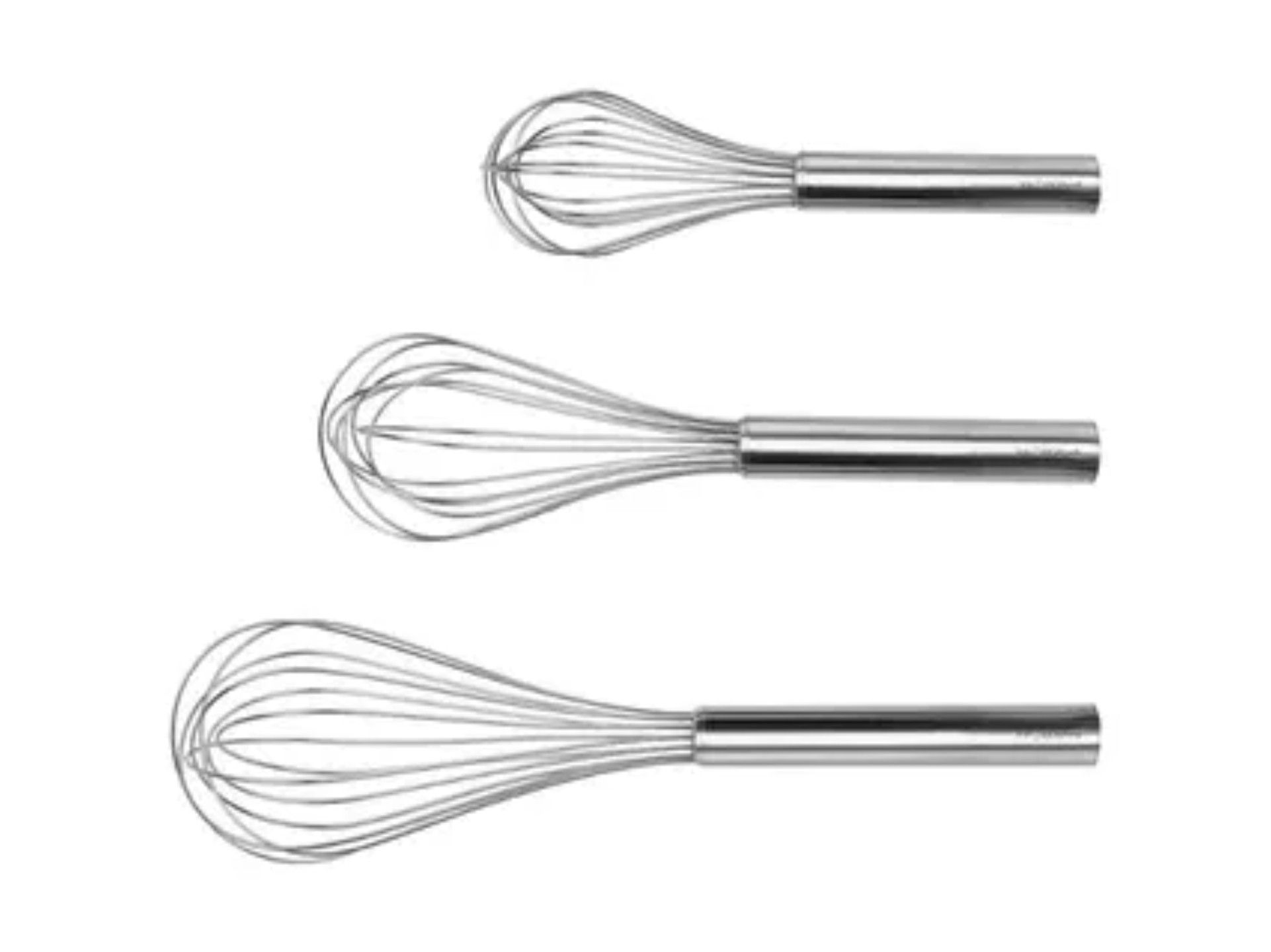 Elevate your kitchen experience with this whisk set that will make dishes like scrambled eggs and brownies fluffier, and sauces smoother. Both stylish and functional, these whisks are made of rust-resistant 18/10 stainless steel and do well in the dishwasher. The varying sizes of the whisks mean you'll always have the ideal option for whatever food you're whipping up. The smaller 8-inch whisk is great for eggs, the medium 10-inch is the go-to for brownie mix, and the larger 12-inch is what you want for a family-size pot of mashed potatoes on Thanksgiving.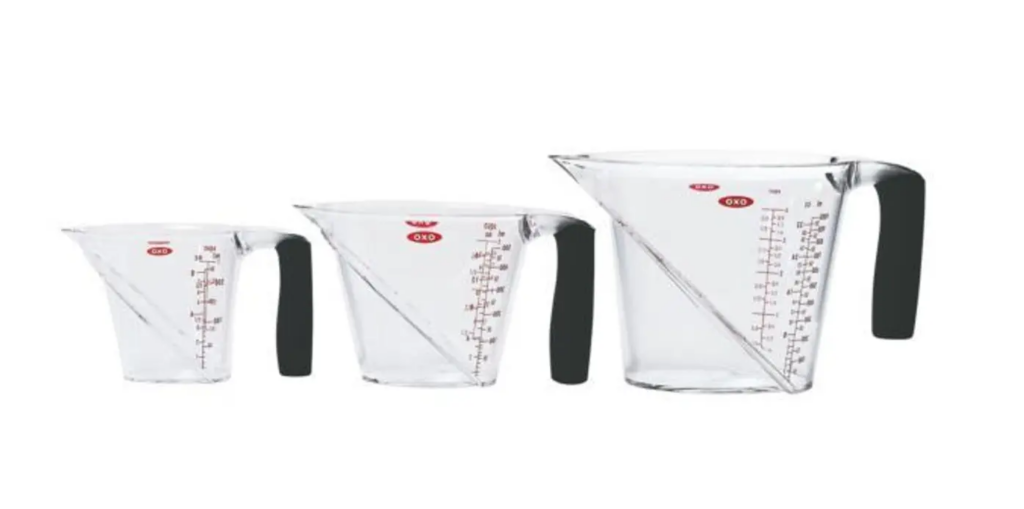 This measuring cup set is a dream, as the patented angled surface of the cups lets you read measurements from above. You can skip the time-consuming hassle of filling the cup, checking the measurement, adjusting the amount, and repeating until you finally have it just right. Each piece also has standard and metric markings in both ounces and milliliters, so you don't need to do any conversions. This set includes three measuring cups with 1-cup, 2-cup and 4-cup capacities.