If you enjoy freshly baked goods, your wedding registry is a great opportunity to upgrade your bakeware. But with endless products to choose from, it can be tricky to know where to start. From the best nonstick bakeware to specialty pans, we've scoured the top products to have on your radar.
Overview:
Best Nonstick Bakeware Set
Nonstick bakeware is a must for favorites like homemade cookies, brownies, cakes, and pretty much every other type of baked treat. If you've used bakeware that wasn't nonstick or coated with enough oil, all your hard work was probably ruined when you realized the food stuck to the pan. Save yourself the hassle and frustration by investing in a product that's made for the easy retrieval of your baked goods.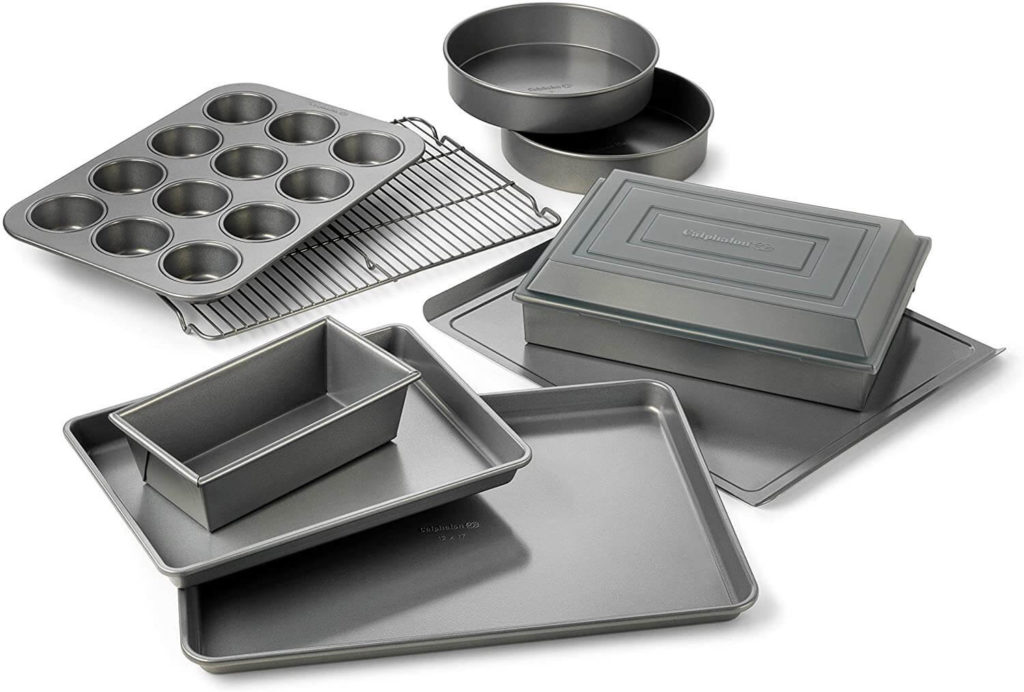 This impressive 10-piece set includes essentials like a cookie sheet, baking sheet, round cake pan, brownie pan, rectangular cake pan, cooling rack, lid for the cake and brownie pan, medium loaf pan, and a 12-cup muffin pan. Featuring interlocking nonstick layers, these items are designed to heat food evenly and are dishwasher safe. If you want simple, effective bakeware, this is the set for you.
Best Ceramic Bakeware Set
For couples who want bakeware that's high-quality and aesthetically pleasing, ceramic is the way to go. It's often nonstick and incredibly easy to clean. Plus, you don't have to transfer your goods from the bakeware to a serving dish. As many ceramic bakeware sets have stylish designs, you can take the food straight from the oven to the table. (Just don't forget those hot pads!)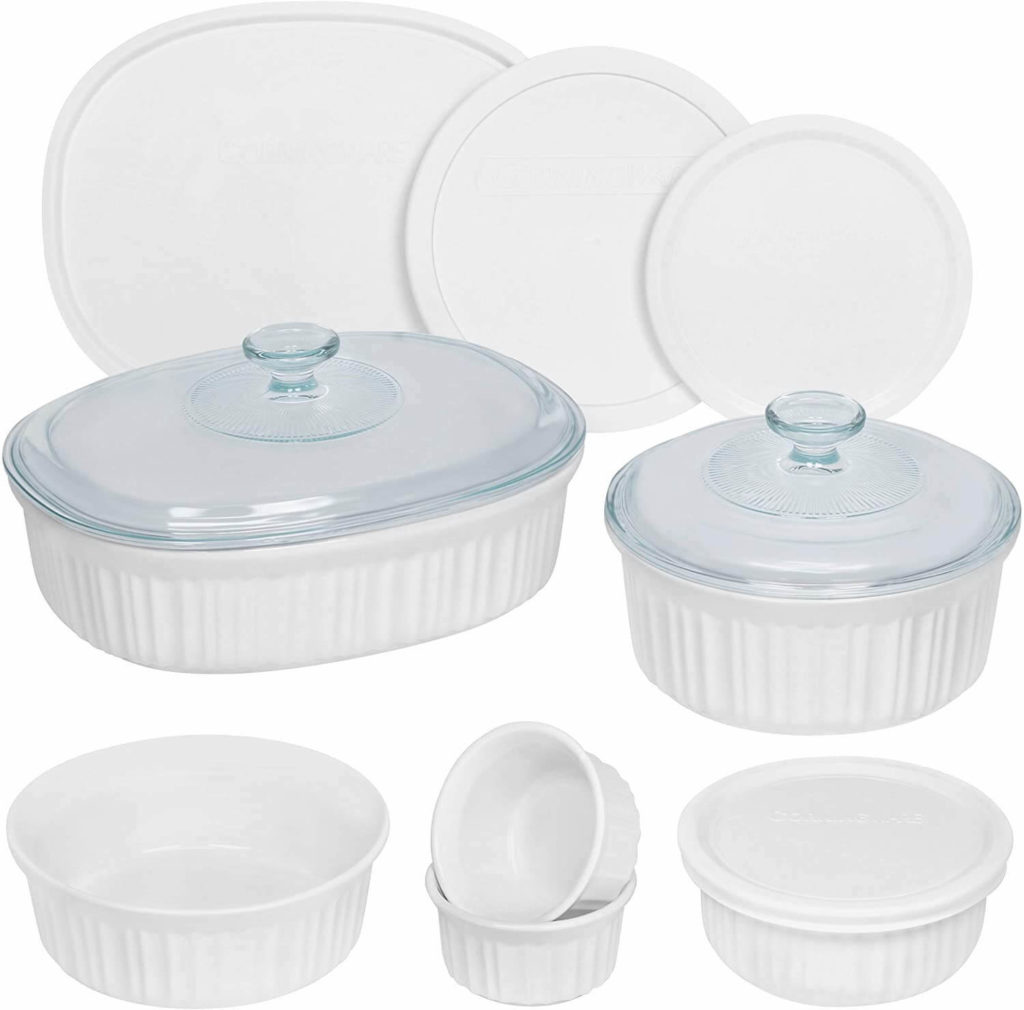 With a classic, fluted design, this oven-to-table bakeware is not only convenient and versatile but elegant. It also easily complements other cookware with its simple design and includes all the items you would need for a small dinner party. Sweetening the deal? The nonporous surfaces don't absorb food odors, flavors, or stains.
Best Glass Bakeware Set
A great, multi-purpose option, you can use glass bakeware for baking, serving, cooking, microwaving, and storage for leftovers. It's also non-toxic, doesn't have a reaction to any ingredients, is easy to clean, and retains heat for longer than other types of bakeware. To top off the benefits, the glass lets you monitor the progress of all sides of your food while baking, not just from the top.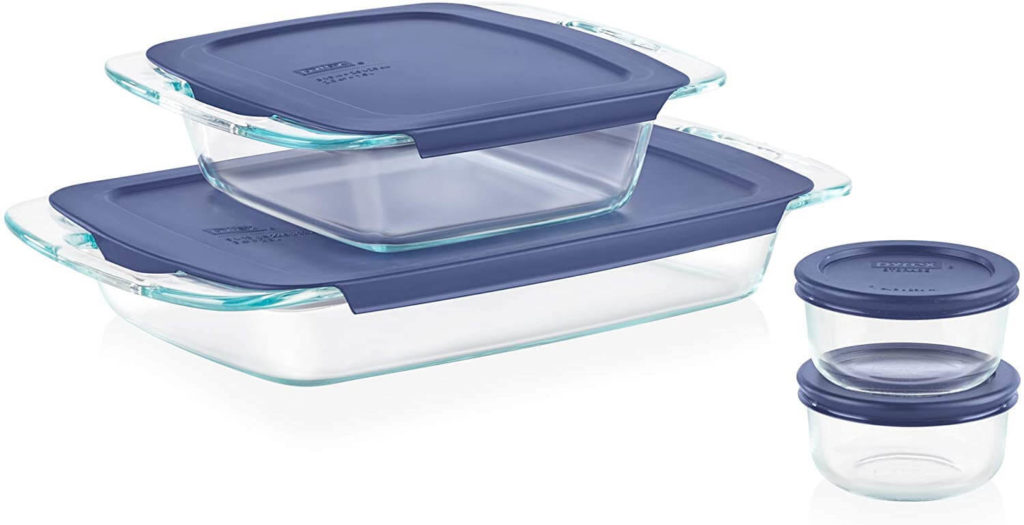 The go-to when it comes to glass bakeware, Pyrex glass can be used for just about any kind of cooking need and does well in both the refrigerator and freezer. Made of durable, tempered glass that's oven-, microwave-, and dishwasher-safe, the lids are also BPA-free. And the nonporous glass won't absorb food odors, flavors, or stains.
Best Pie, Cake, Cupcake, and Loaf Pans
Few baking challenges are more frustrating than having all the ingredients to make a baked treat, but then realizing you don't have the specialty pan. Make sure you avoid this scenario by adding a pie-, cake-, cupcake-, and loaf-pan to your wedding registry. Even if you don't bake these types of goods frequently, these pans are easy to store and a blessing to have when you get a craving for something sweet.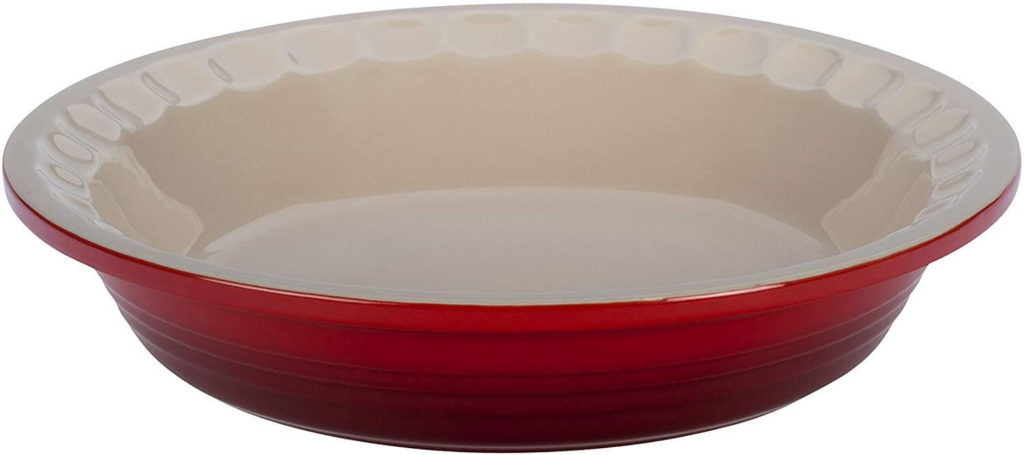 This chic and versatile pan can be used for everything from a rich dessert to a savory casserole. You can even bake bread in it! The dish features a hard-wearing finish that provides lasting color and maximum durability. And the dense stoneware blocks moisture absorption, which helps prevent cracking, crazing, and rippling. The pan comes in a range of colors, making it easy to find one that matches the color palette of your other dishes.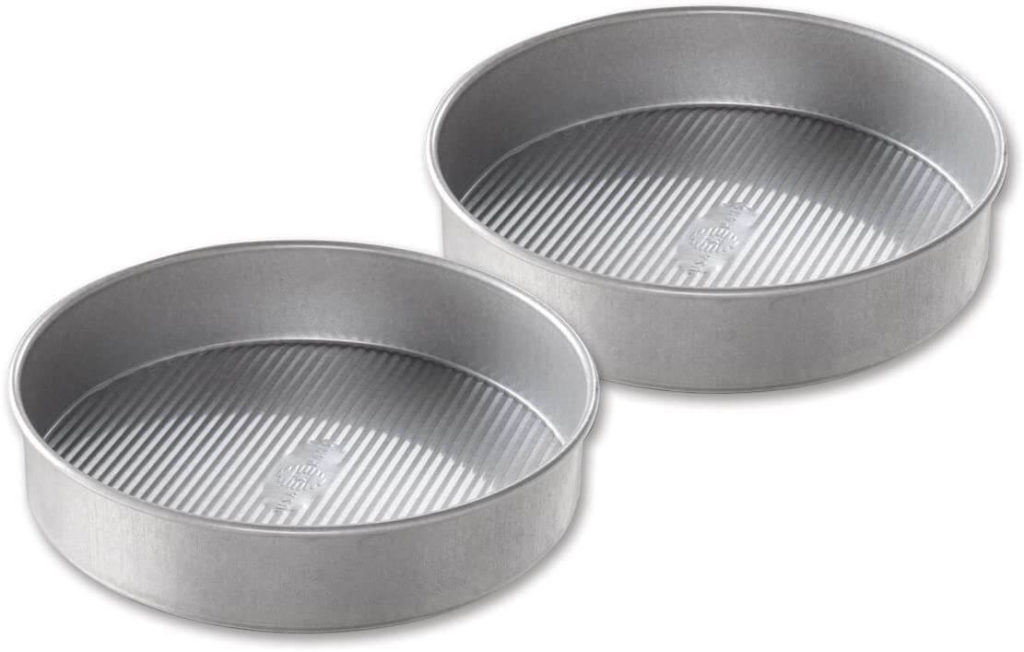 A favorite of professional bakers, these aluminized steel cake pans are known for their durability and high-performance capabilities. A big issue with cakes is that they can stick, so these USA Pan baking pans feature Americoat, which promotes quick release of baked goods. Americoat is a patented silicone coating that's PTFE-, PFOA- and BPA-free.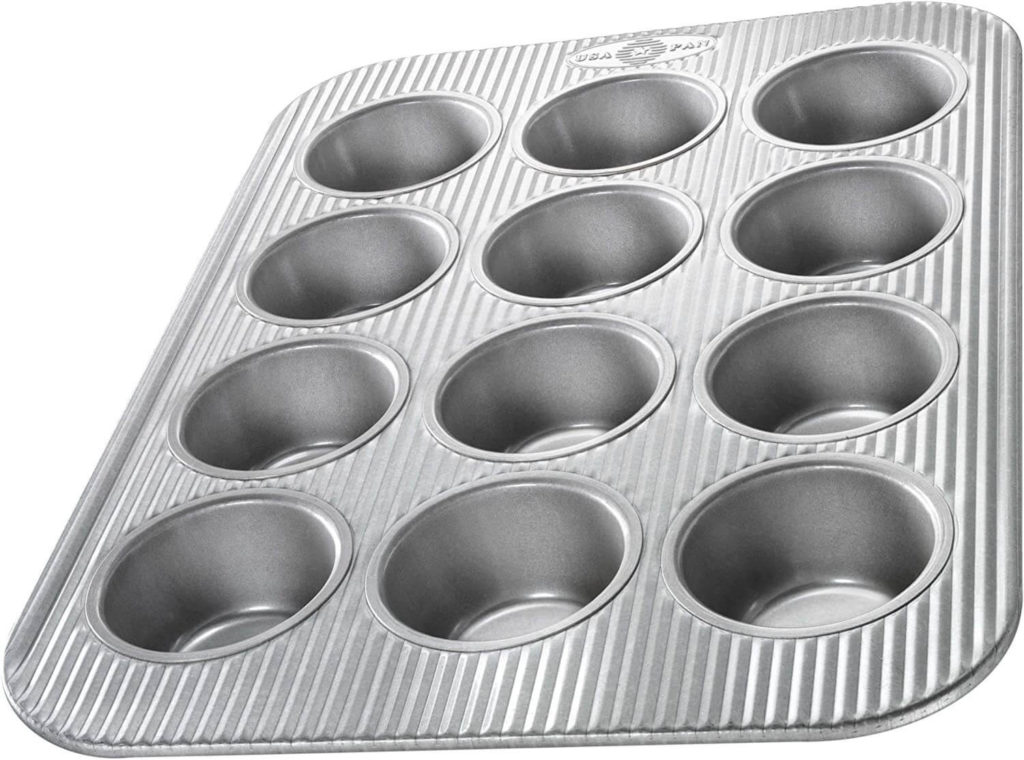 Just like their cake pans, the USA Nonstick Cupcake Pan has the Americoat coating, preventing those carefully-made cupcakes from sticking to the pan. It also features aluminized steel and heavy gauge steel construction, which provides even heat distribution. This means you won't take your cupcakes out of the oven only to find that the ones on the perimeter are burned, and those in the center are raw.

You can use this luxury loaf pan for a variety of baking needs — from indulgent breads and cakes to lasagna and roasts. It's made of durable, high-fired stoneware with glossy enamel glazing, meaning it'll be a mainstay in your kitchen for years. And speaking of its enamel glazing, it comes in various hues to suit different styles.
Best Bakeware Accessories
After you've added your desired bakeware to your registry, it's time to choose the accessories that will enhance your baking experience. From a rolling pin, nonstick baking mat, and sheet pan to oven mitts, a cooling rack, and a cookie press, we've selected the best of the best in this essential baking category. To narrow down your list, you should consider your specific needs first, and then explore our selections.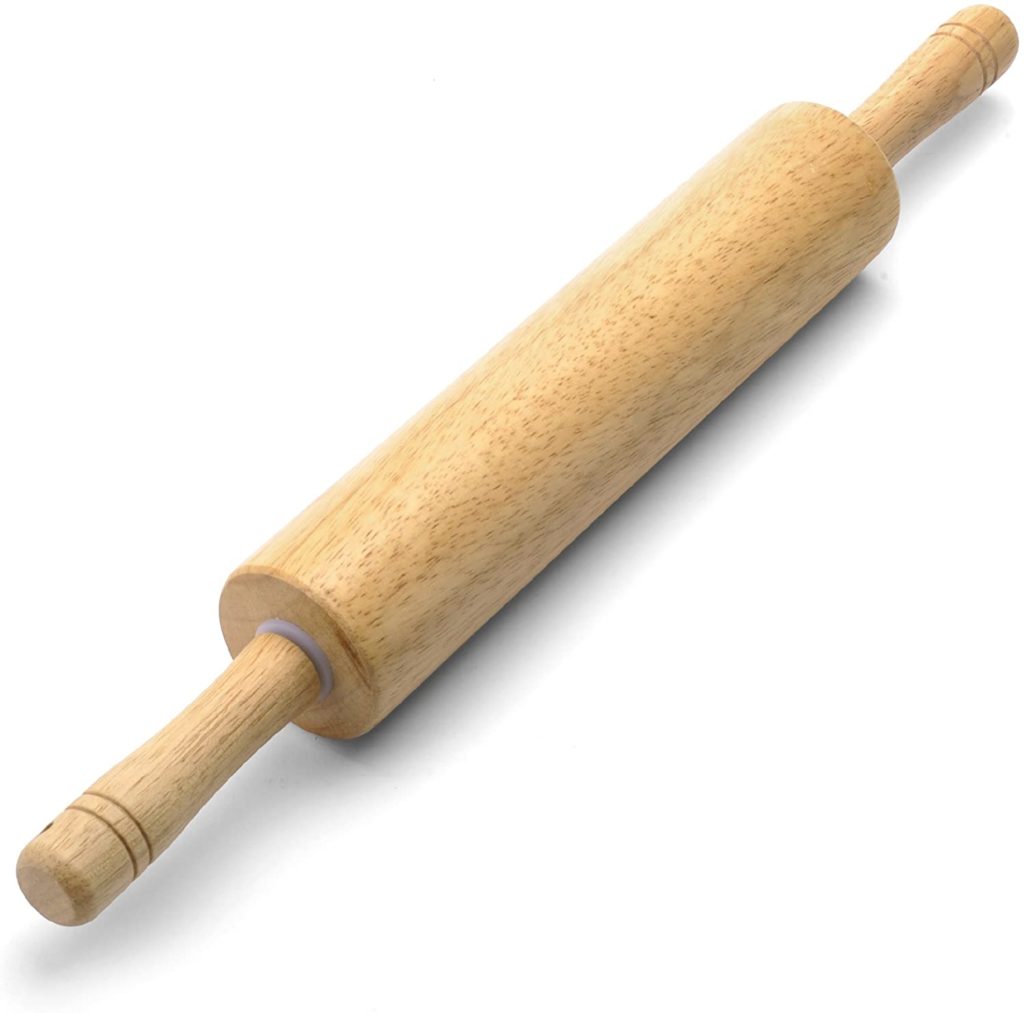 Pie crusts, pastry shells, pizza dough, and more all require a rolling pin. But not all rolling pins are created equal. Some break easily, some are hard to handle, and some tear up your dough. This rolling pin, on the other hand, is made from durable, moisture-resistant hardwood and features rust-proof Nylon bearings that provide a sturdy, well-balanced roll. It also has comfortable, easy-grip handles, meaning you won't have to massage your sore wrists after use.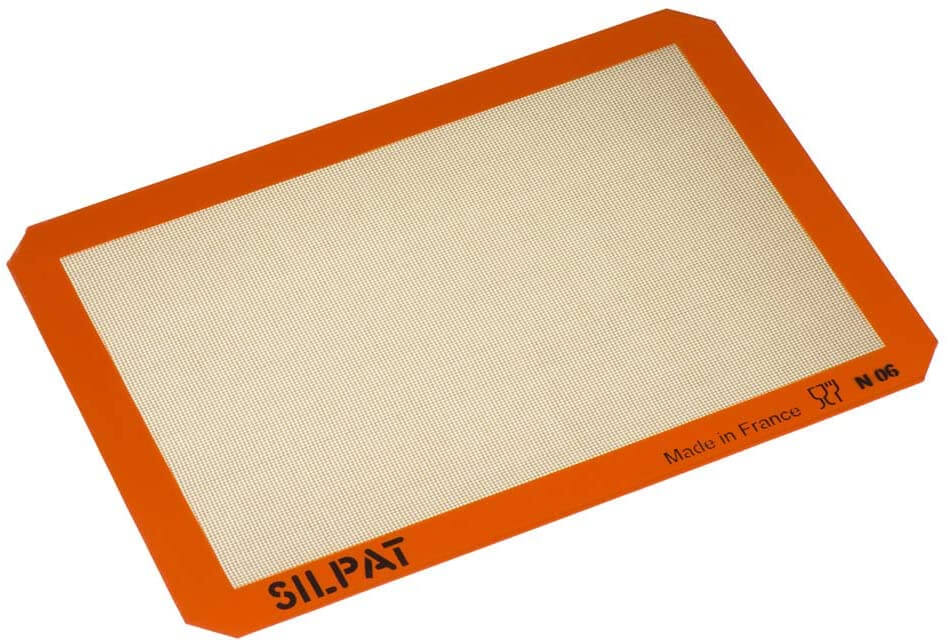 If you want to ensure your food doesn't stick to the pan, invest in the popular Silpat Premium Nonstick Baking Mat. It's made of fiberglass mesh and the highest quality food-grade silicone, promoting consistent heat distribution and even baking and browning. Plus, it doesn't require any greasing or parchment paper, saving you time and money. It's also freezer-, microwave-, and oven-safe, and can be used at temperatures ranging from -40 to 500 degrees.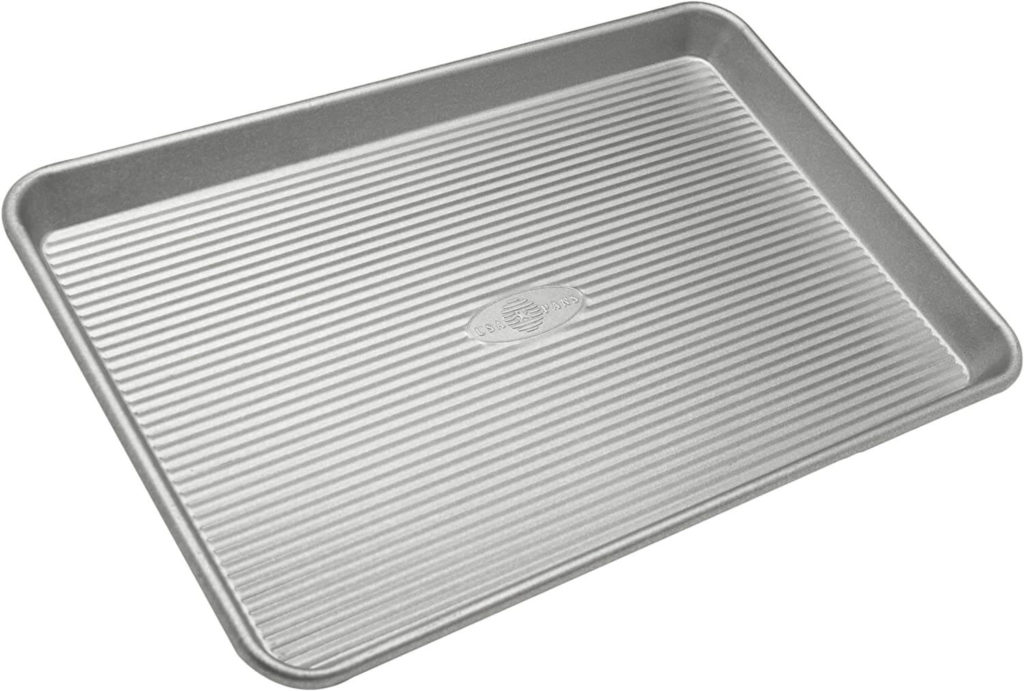 The ideal pan to make jellyroll cakes, pizza rolls, cookies, bread rolls, French fries, and so much more, this pan can seriously elevate your baking game. The corrugated-surface features the patented Americoat-plus, silicone nonstick coating, ensuring your food easily comes off the pan. It also has a fluted surface to facilitate air circulation and steel wire in the rim to minimize warping. This is one of the main pans you'll find in a commercial bakery.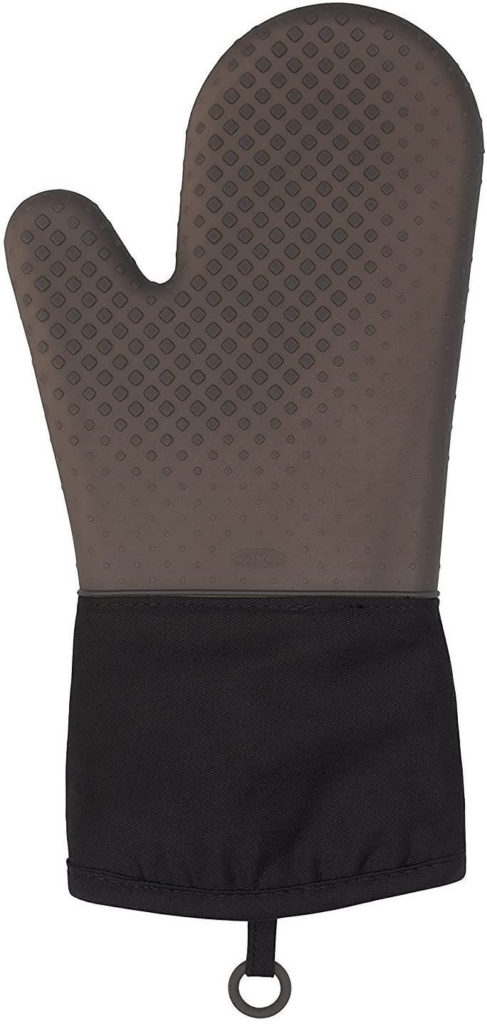 An absolute must-have in the kitchen, a quality oven mitt performs the essential task of protecting your hands and forearms from burns. The OXO Good Grips Oven Mit has a flexible, non-slip diamond pattern that's flame-, steam-, and stain-resistant, meaning you can use it for all varieties of cooking. And it doesn't skimp on comfort, as it features a plush, well-insulated interior. There's also a hanging loop for easy storage.
 
 $15.99 at Amazon.com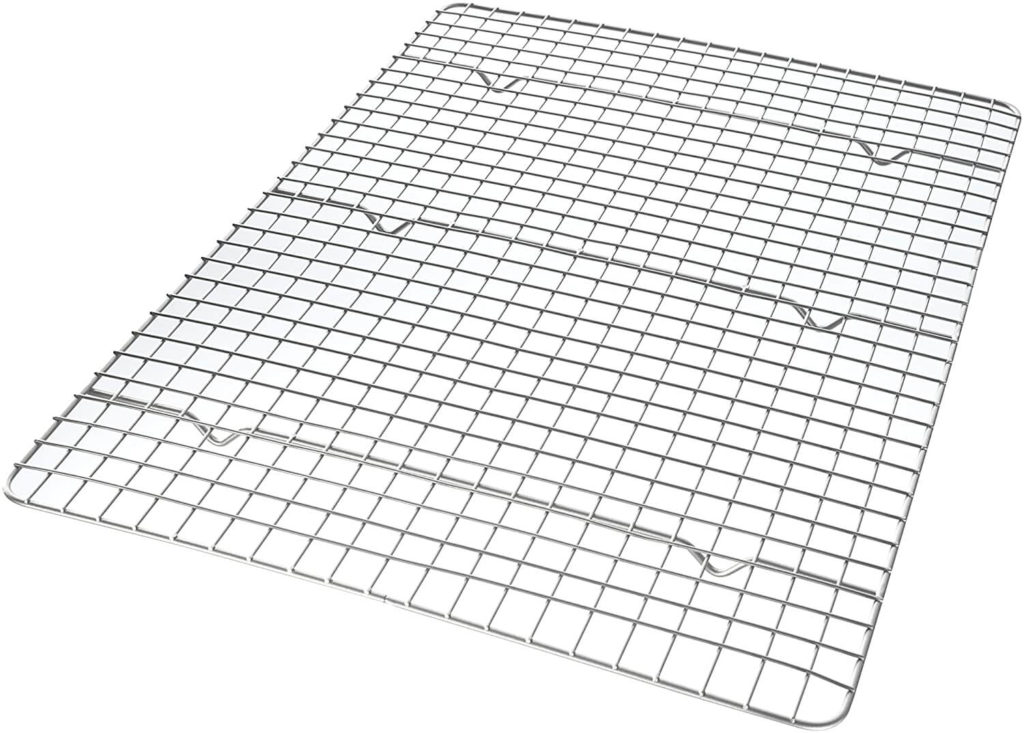 Did you know baked goods keep cooking when left in or on a hot surface? This is desired for certain dishes, but for items like cookies that have been perfectly baked, you want a cooling rack to transfer them to ASAP. This cooling rack is one of the most popular options. It's nonstick and features a steel, crosswire design and raised feet, providing uniform cooling. It's also commercial-grade and made of heavy gauge aluminized steel.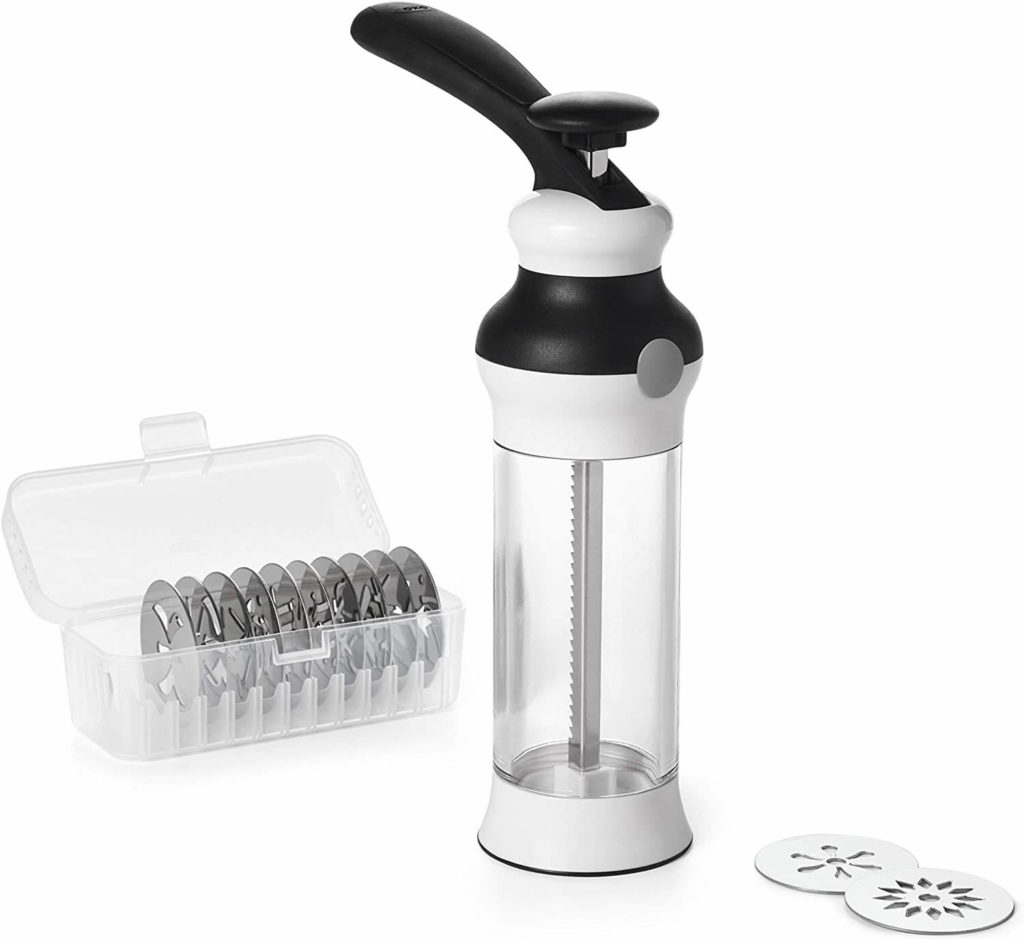 If you've been amazed by bakers who can make gorgeous cookies in various shapes, you need the OXO Cookie Press. This easy-to-use press includes 12 stainless steel disks that help you make cookies in the shape of a daisy, flower, sunflower, fleur-de-lis, butterfly, bear, shell, leaf, heart, snowflake, tree, and wreath. All you have to do is put your cookie dough in the cylindrical barrel, and then use the lever to press out your perfectly-shaped cookies.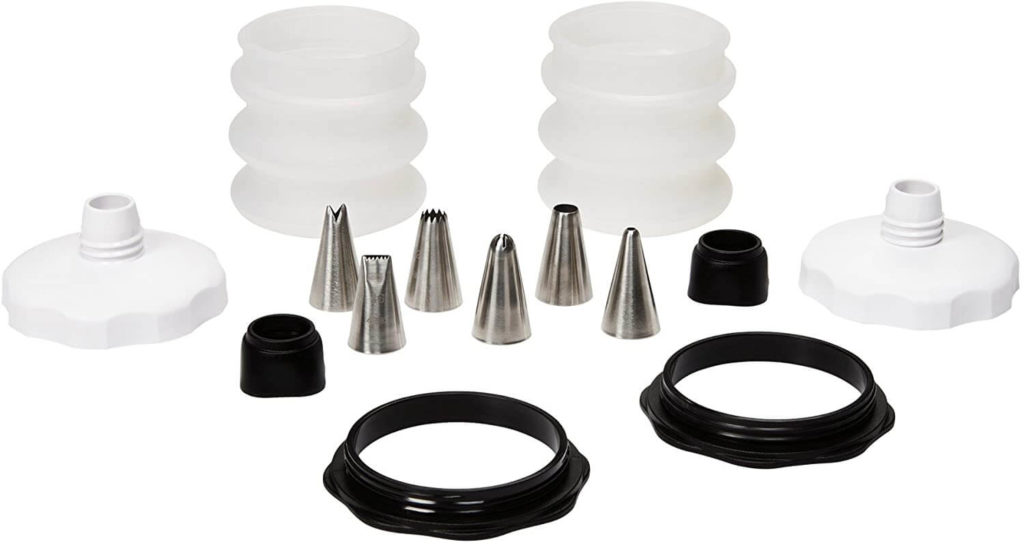 An ideal complement to a cookie press, this decorating bottle kit provides all the tools you need to create beautifully decorated cookies, cupcakes, cakes, and more. It includes six stainless steel icing tips in the shape of a small round, a large round, an open star, a closed star, a basket, and a leaf tip, helping you create seemingly endless designs on your baked goods. If you want your creations to look like they came from a professional bakery, this kit a must.