An acclaimed and popular destination that resides in California and Nevada, Lake Tahoe offers couples a wide array of stunning wedding venues. From lakeside and ski resorts to hamlets offering mindblowing mountain views and forest nooks, Lake Tahoe is an ideal setting for an outdoor ceremony.
Because there are so many gorgeous options to choose from, we've pulled together the twelve best Lake Tahoe wedding venues to ensure your special day is filled with spectacular views, first-rate service, and the ample charm of this coveted destination.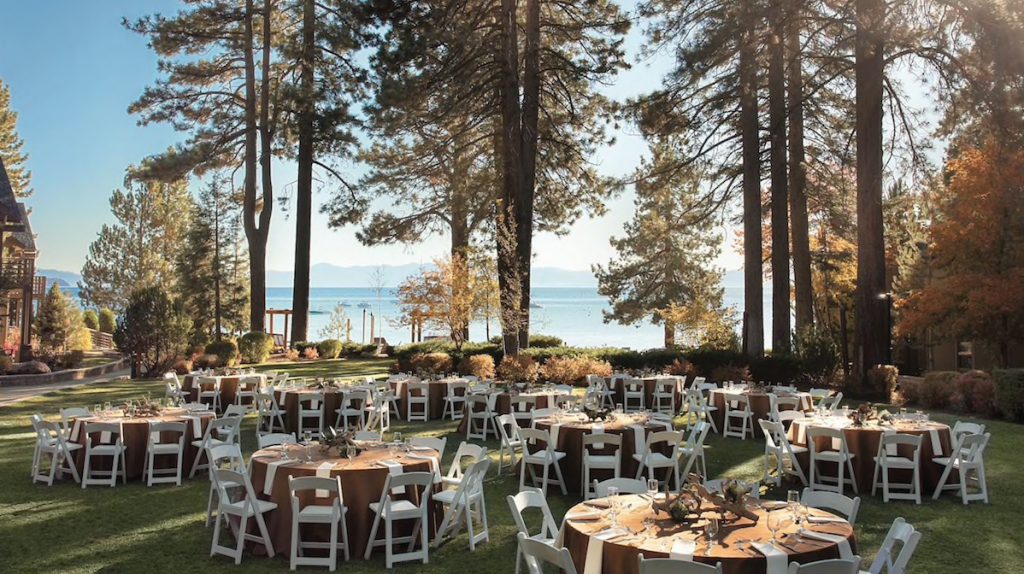 A premier Lake Tahoe resort, Hyatt Regency offers a majestic waterfront and sprawling lawn backed by mountains which is ideal for a summer or spring wedding. It also offers a mountain lodge and ballroom with lake views that are perfect for a winter wonderland celebration.
Regardless of the time of year that you'll say "I do," your stay at the Hyatt is sure to be infused with impeccable service, posh rooms, luxurious spa treatments, and ample adventure including water sports, snowmobile, and ski offerings. When people think of the classic Lake Tahoe getaway, this iconic resort is often what comes to mind.
Typical Cost: Site fee ranges from $2,000 – $5,000; meals range from $50 – $105 per person
Capacity: 400
Bonus: If you want to let your wild side come out to play after the wedding reception, head to the resort's Wild West-style Cutthroat's Saloon.
Find Hyatt Regency Lake Tahoe Resort, Spa and Casino on Facebook, Instagram, and Twitter.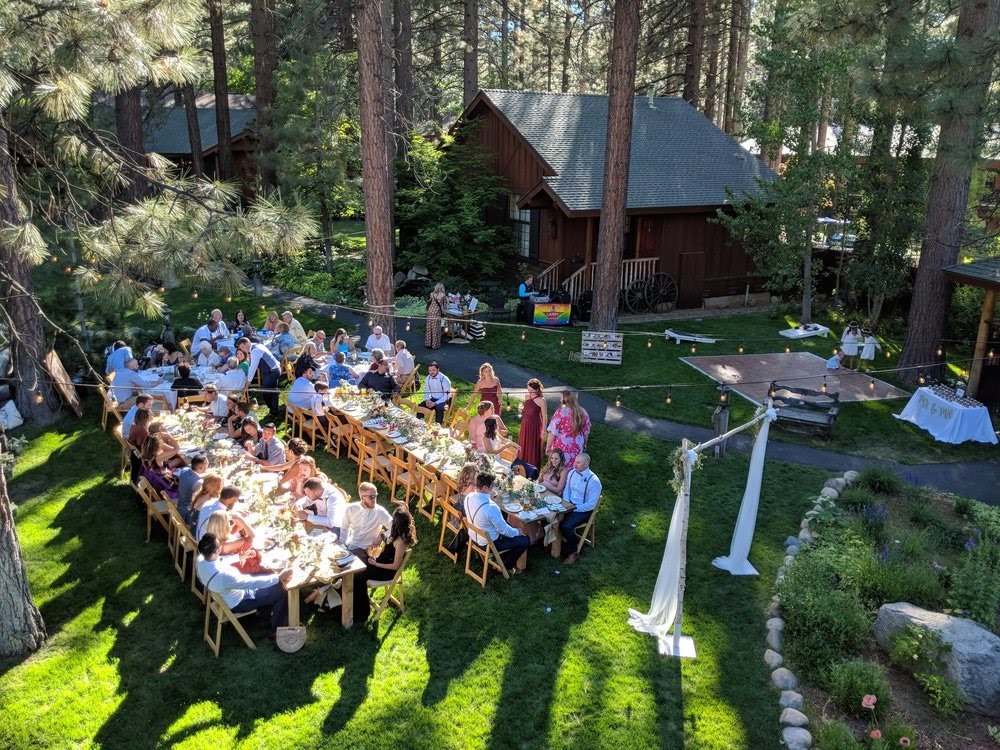 One of the most charming wedding venues in South Lake Tahoe, Black Bear Lodge is the ideal spot to host an intimate destination wedding. This location is primed for winter nuptials, as it features a gorgeous lodge with hand-hewn logs, a river-rock fireplace, and picturesque grounds that meander through the towering pines of Lake Tahoe.
You can savor this cozy ambiance by staying in one of the lodge's guest bedrooms or booking one of the onsite cabins. And if you want to sprinkle your wedding celebration with some trips down the slopes, you'll appreciate having the Lake Tahoe and Heavenly ski resorts nearby.
Typical Cost: Rental fee is $3,000 – $5,000
Capacity: 50
Bonus: The rental fee includes a bride's dressing area and suite, a groom's dressing area, outdoor lighting, a day-of coordinator, and full kitchen facilities.
Find Black Bear Lodge on Facebook and Instagram.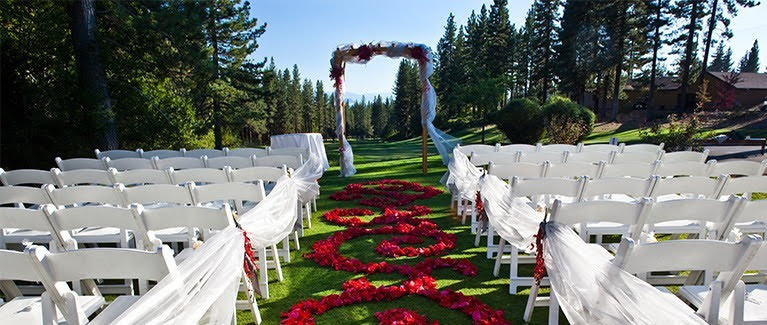 The Chateau at Incline Village, on the north shore of Lake Tahoe, provides traditional vibes with Tahoe stone and timber construction. Think vaulted timber ceilings, two massive stacked rock fireplaces, spacious covered decks, and impressive views of the mountains and lake.
Popular spaces for an outdoor wedding ceremony include nooks on the large lawn that fade into the soaring pines (which make Tahoe such an appealing site) and a fairytale-like creekside area. Not to mention, many of these outdoor spaces feature jaw-dropping views.
If you're saying "I do" in the colder months, you can celebrate your union in the sophisticated 5,200-square-foot Grand Ballroom that can be divided into three rooms to accommodate smaller gatherings.
Typical Cost: Around $5,000 for 50 guests
Capacity: 250
Bonus: The venue's convenient location in Incline Village makes it close to many of the most appealing Lake Tahoe hotels and resorts.
Find The Chateau at Incline Village on Facebook and Instagram.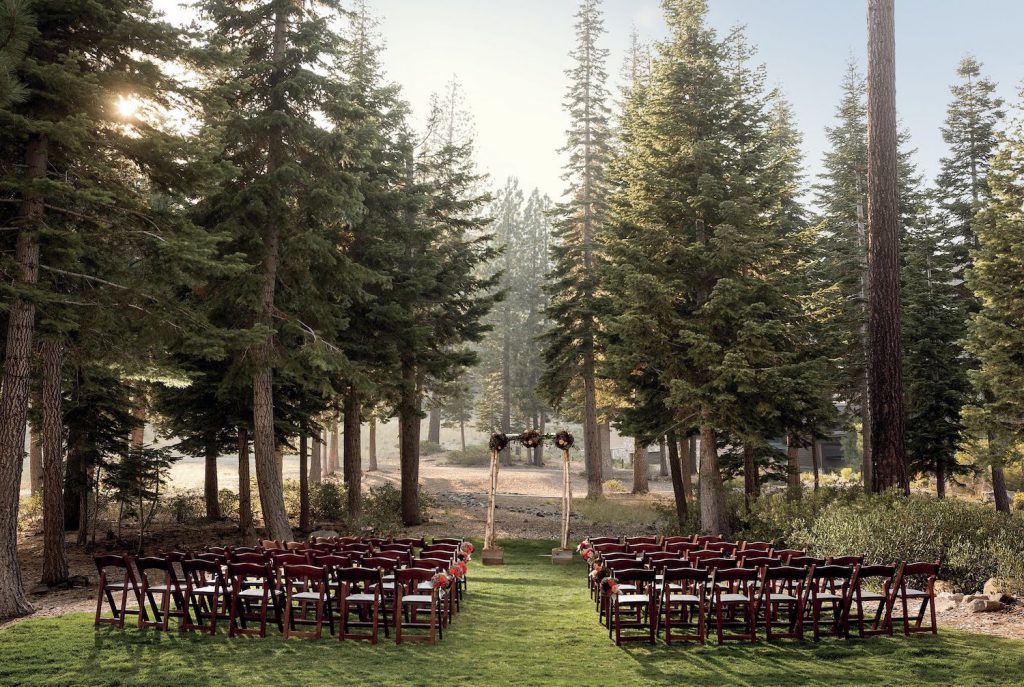 A dream venue for couples wanting a luxury celebration, Ritz Carlton Lake Tahoe provides an ethereal wooded area, a charming, slope-side meadow, and two elegant ballrooms for winter weddings.
The large Ritz-Carlton Ballroom wows with soaring, wood-beam ceilings, wrought-iron chandeliers, and floor-to-ceiling windows opening to dazzling views of the Sierra Nevada mountains. Meanwhile, the more intimate Pines Ballroom features a private outdoor terrace and an expansive foyer.
The wedding ceremony packages include a wedding specialist, a rehearsal space, venue set-up, mahogany garden chairs, and an indoor backup for outdoor weddings. As for reception packages, you can expect set-up of the venue and bar, cocktail tables, dinner tables and linens, white-gloved synchronized service, china, stemware and flatware, and votive candles.
Typical Cost: Site fee starts at $2,500 for ceremonies and $4,000 for receptions
Capacity: 200
Bonus: The venue provides discounted guest rooms if you book 10 or more and offers complimentary upgrades when available.
Find Ritz Carlton Lake Tahoe on Facebook, Instagram, and Twitter.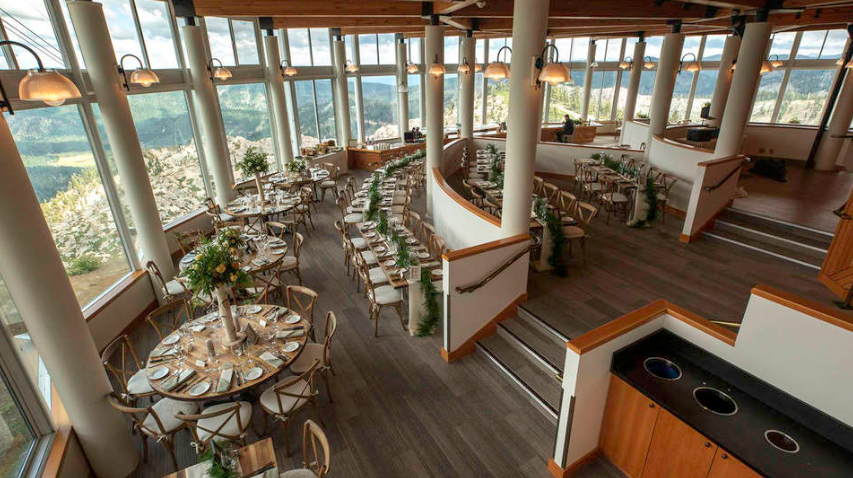 Experience the thrill of feeling like you're floating above the awesome terrain of Lake Tahoe by saying "I do" at High Camp. This stunning lodge is accessed via a gondola that carries you 2,000 feet up the mountain. When you reach the top, you're met with some of the best 360-degree views of the area.
After pledging your love on the Upper Deck, head into the circular Terrace Room where you'll be treated to the sweeping mountain and meadow views and mountain-chic décor. A six-hour event at High Camp includes a ceremony, a cocktail hour, catering, and a wedding reception location.
Typical Cost: Site fees range from $3,000 – $4,000
Capacity: 220
Bonus: The venue provides all tables, chairs, linen and napkins, silverware, plates, and glassware.
Find High Camp at Squaw Valley Alpine Meadows on Facebook and Instagram.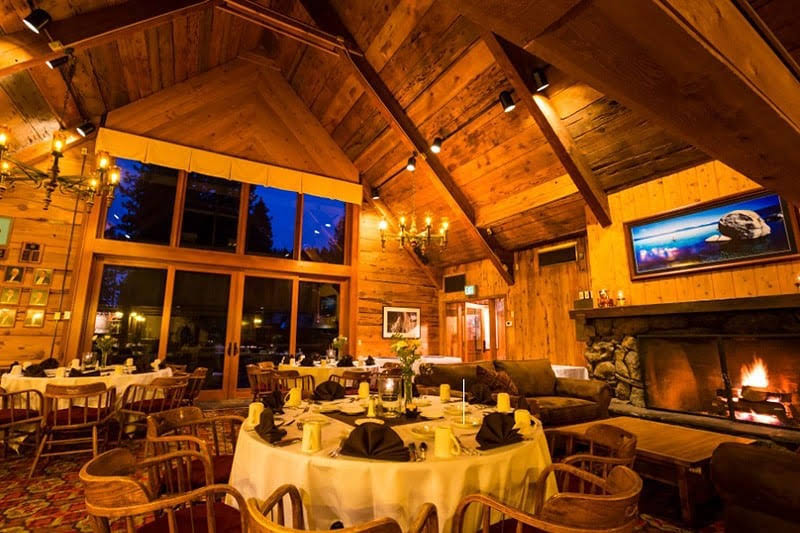 The place for a perfect wedding in Tahoe City, this idyllic family-owned resort is set among a wonderland of pine trees and provides the sophistication that only a historic site can provide.
Granlibakken Tahoe's history includes tobogganing down its slopes in the 1920s, Olympic hopefuls testing their skills on the resort's ski jump (the first in the Tahoe area), and in 1947, the Norwegian Ski Jumper Kjell "Rusty" Rustad building a log cabin that's grown into the current iteration of Granlibakken Tahoe.
Forge your union in a stand of pine and fir trees adjacent to a landscaped patio with an elevated stage. From there, you can enjoy your winter wedding reception in one of the resort's main rooms including the spacious Granhall, the serene Mountain Ballroom, or the cozy Cedar House that features a large fireplace.
Typical Cost: Rental fee is $500 – $6,900 for a ceremony and reception and four hours of event time; $250 per hour for additional time
Capacity: 300
Bonus: The resort provides comfortable lodges, townhouses, and suites that reflect its alpine ambiance. Additionally, a hot breakfast buffet is provided for all overnight guests.
Find Granlibakken Tahoe on Facebook, Instagram, and Twitter.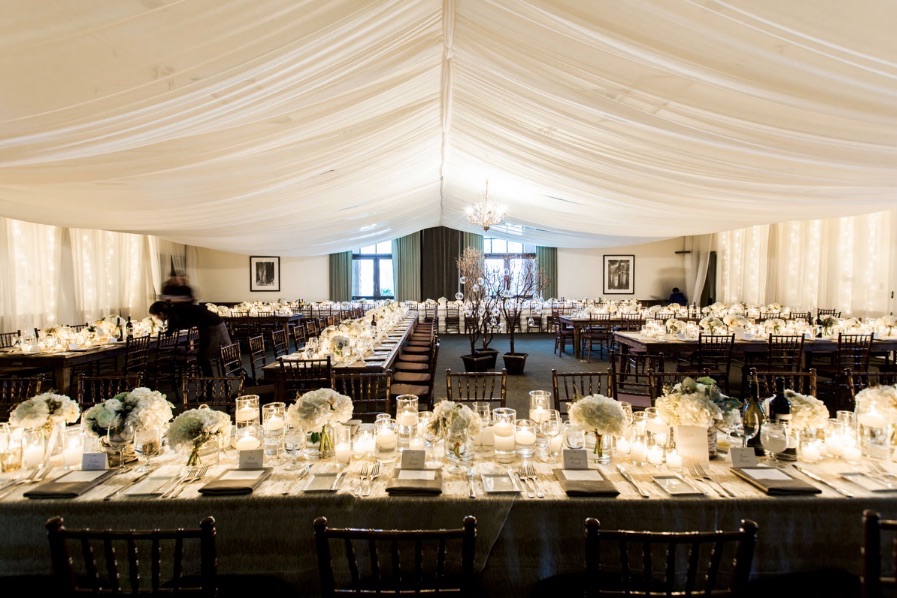 An inn that's mastered the balance of elegance and laid-back vibes, PlumpJack is a choice venue for couples wanting a wedding day that's upscale without being stuffy.
During warmer weather, the wedding ceremony can take place outside among the dramatic trees that dissolve into the mountains, impressive boulders, and fresh air that seems to be reserved for this alpine oasis. For the reception, or for a ceremony when the snow is falling, you'll head to the lodge where guests will be wowed by wooden beams, wrought-iron chandeliers, and glowing lanterns.
While PlumpJack's ambiance is stunning, its real magic is in its fine dining offerings. The chefs work with you to craft a seasonal menu that might include favorites like seafood cones, seared diver scallops, or miso-glazed eggplant. Additionally, the resort has an award-winning wine list to pair with your selected dishes.
Typical Cost: Site fee is $3,500 – $7,000 for a reception and starts at $1,000 for a ceremony
Capacity: 200
Bonus: If you're looking for a super chic location for your rehearsal dinner, you've found a winner in PlumpJack.
Find PlumpJack Squaw Valley Inn on Facebook, Instagram, and Twitter.
Located between Truckee and Lake Tahoe, Zephyr Lodge is only accessible by gondola or chair lift, sitting at an altitude of 8,610 feet.
The vintage-vibes make you feel like you've been transported to a classy lodge in the '70s while the spectacular meadows, overlooks, and mountainscapes surrounding the venue make you feel like you've been transported to a nature-made nirvana. This is where to go if you want to make an impression.
The venue's comprehensive wedding package includes parking and transport, a ceremony site and chairs, two fireplaces, a dressing area, an on-site planner, and so much more.
Typical Cost: Site fee ranges from $8,500 – $10,000; food and beverage minimum ranges from $16,000 – $20,000
Capacity: 300
Bonus: Booking this package scores you four invitations to the resort's Wedding Preview Event & Grand Tasting.
Find Zephyr Lodge at Northstar California on Facebook, Instagram, and Twitter.

The remarkable Edgewood Tahoe offers the wonder of the sparkling lake and the majesty of the mountains all at once. Couples and guests are able to experience all these vistas from almost every corner of the mansion, and its grounds allow guests to create a dream wedding regardless of the event space they select.
If the weather is kind, the venue's lakefront deck is where to be. It allows couples to blend the serene energy of the lake with the power and grace of the massive pine trees lining the bank. Once the rings are exchanged, head into the clubhouse's North Room to continue soaking in the lake views while savoring the delicious creations by the onsite catering team.
Typical Cost: Site fee ranges from $8,000 – $10,000; food and beverage minimums range from $18,000 – $30,000
Capacity: 200
Bonus: Each of the 154 guest suites features a gas fireplace, private deck or terrace, soaking tub, and walk-in shower.
Find Edgewood Tahoe on Facebook, Instagram, and Twitter.

A gem of Lake Tahoe that's steeped in elegance, Resort at Squaw Creek allows you and your guests to relish in well-deserved opulence as you celebrate your big day.
You can choose to walk down the aisle on the golf course that's surrounded by ponderosa pines and mountain peaks, say "I do" at the Pavilion alongside a 250-foot waterfall that dissolves into a stream flowing into a garden, or pledge your love on the sunny Spa Deck that's flanked by lush foliage and features a cozy fireplace.
The resort's ceremony package includes a venue location for two hours, an arbor arch, white garden chairs, an altar table, a water station, a sound system, one microphone, and a one-hour rehearsal. Receptions include an abundance of menu choices, tables, chairs and linens, a bridal party staging room, and all the other reception essentials.
Typical Cost: Facility rentals range from $3,500 – $5,000
Capacity: 500
Bonus: A Special Events Manager works with you from the start to help ensure each element of your wedding turns out just as you've envisioned.
Find Resort at Squaw Creek on Facebook, Instagram, and Twitter.
Nestled in Olympic Valley, this gorgeous venue offers exquisite lake views and a sweeping manicured lawn, making it ideal for spring and summer nuptials.
Constructed in 1924, Valhalla features hardwood floors and French doors that open onto a lodgepole pine porch. From there, a short flight of stairs transports guests onto the Grand Lawn where they can enjoy an alfresco celebration under giant pines.
Plus, the venue's rich history only adds to its appeal. Valhalla's Grand Hall is located on the Tallac Historic Site which held the title of the "Grandest Resort in the World" a century ago and was the summer retreat for three of the San Francisco Bay Area's most elite families.
Typical Cost: $3,600 – $8,000
Capacity: 120
Bonus: The venue provides you with exclusive use of the building for up to 13 hours.
Find Valhalla at Lake Tahoe on Facebook and Instagram.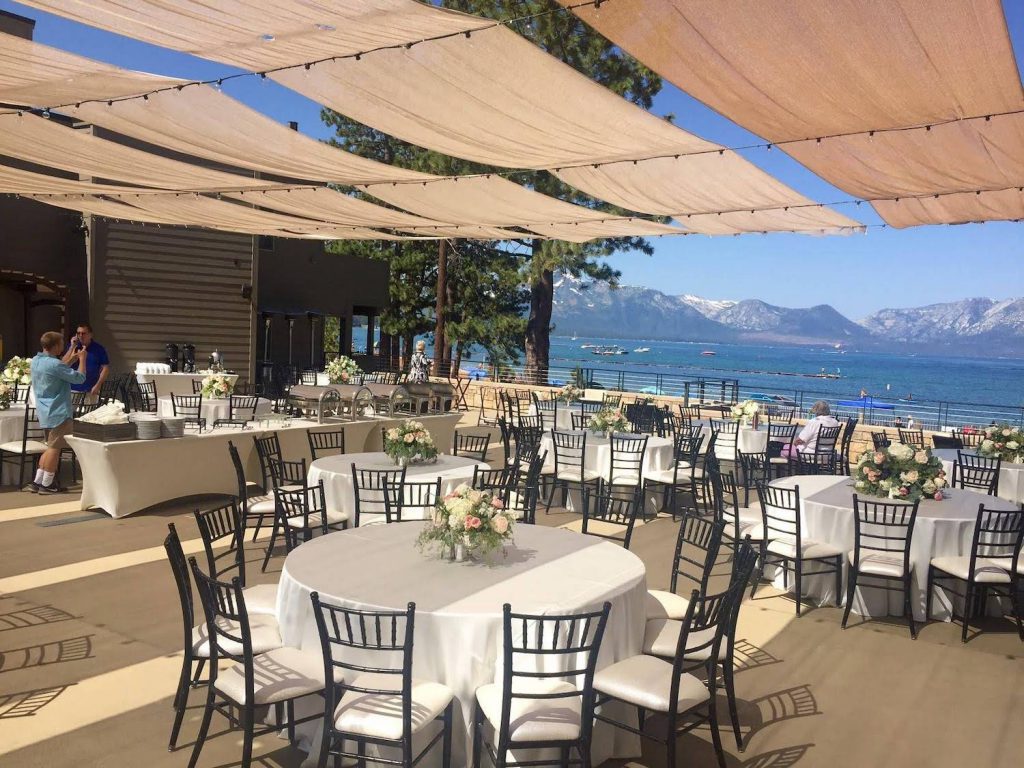 This boutique resort is the perfect choice for couples wanting a unique alpine wedding. The Landing Resort & Spa aptly describes itself as being "chic-yet-cozy, opulent-yet-intimate."
Couples can choose from three event spaces, the most popular being The Grand Rooftop Terrace that boasts hypnotizing views of Lake Tahoe and the Sierra Nevada Mountains. Meanwhile, the Lakeview Ballroom stuns with its retractable glass walls, and the intimate Bijou Boardroom provides modern amenities mixed with classic lake views.
You can be sure the guest rooms will please even the pickiest of wedding guests as they offer a seamless blend of contemporary and rustic-chic accommodations. Get ready to celebrate your wedding night by a cozy fire in your lakefront suite.
Typical Cost: $1,900 – $5,000
Capacity: 200
Bonus: The culinary team is superb and provides amazing dishes made with fresh seafood, seasonal vegetables, and locally-sourced ingredients.
Find The Landing Resort & Spa on Facebook, Instagram, and Twitter.