In a delicate dance of postponing weddings, shrinking the invite lists, and wearing masks, even wedding coordinators are stumped as to the best way to waltz around the current pandemic. According to CDC Guidelines, there are a few tried and true ways to navigate this new normal. The first step is honest communication with your guests. Whether you are having an ever-popular virtual ceremony or going the micro-wedding route, we know just what to say to inform your guests so they feel safe on your big day. This communication can be written on a card or accompanied by a lengthier explanation on your wedding website.
Guilt is an inevitable emotion that accompanies planning a wedding during a national emergency. Releasing your guests from the stress of attending a high-risk event is the key to keeping expectations transparent and comfortable. For example, if you are planning a wedding with multiple people from different family groups, give attendees who are on the fence the option to stream your nuptials from the safety of their homes or provide masks at the ceremony and reception. Above all, include a line in your invitation stating that invitees should not attend if they are feeling ill, even if it's a last minute cancelation. Your friends and family will be thankful for your understanding and doing your part to stop the spread.
One common question lingering in the minds of engaged couples is how to pare down a guest list to fit current safety restrictions. Even before wedding sizes dwindled due to the pandemic, a severe stressor for spouses-to-be is leaving out someone who might take offense to not being included. It's important to keep your needs at the highest priority. Navigating the feelings of everyone in your lives is too much for two people to carry.
A great way to start your small invite list is by opening your phone. Who do you communicate with the most? Is it your extended family, or immediate family and select close friends? Who has helped shape the support system for you and partner? These were tough questions to answer even before the virus halted our lives, but the right words can smooth over any stray emotions. We have teased out a few small wedding scenarios that might require some serious wordsmithery to ensure that the people in your life not invited to attend in person feel loved and included.
Invitation Wording For a Virtual Wedding
If you are worried about high-risk attendees, an online wedding may be your only option for the time being. A great way to make people that can't be there physically feel included is by upping the ante on the invitation. Send your invite accompanied by a small bottle of champagne with your event details so they may virtually toast to your union. Feel free to use the below to get your guests in the wedding spirit, even from afar.
"With the current pandemic, my partner and I have chosen to do a small ceremony, but that doesn't mean we aren't ready to party! Please don your finest threads and enjoy a glass of champagne as you watch us take our vows from the comfort of your home. We can't wait to see you there! Virtual event details for joining our special day are below."
Invitation Wording For a Backyard Wedding
If you aren't quite ready to commit to the ever popular micro-wedding (which can carry up to a 50 person guest list), a backyard affair is a great inbetween. Due to the physical limitations on space, making social distancing difficult, it makes explaining to friends and family why they were not invited to attend in person that much easier. At this size, expect to invite immediate family and friends who are considered family. Even better, invite your "quarantine pod", as many times these are the people you are already exposed to and therefore nearly eliminate the risk of spreading COVID-19.
If you receive some push back from outside your close crew, don't fret. There are many ways to still include them. Send an invite to guests not invited to attend IRL to join a receiving line! I know what you're thinking– 'a receiving line is so outdated, and in the time of the virus, dangerous!' So instead of a kiss on the cheek as guests leave the ceremony, have them doll up in their finest and wave to you from their cars. You have undoubtedly seen the viral videos of spirited car parades celebrating everything from birthdays to graduations. Why not adopt it for your wedding? Here's just how to let your friends and family in on the festivities.
"With COVID-19 still a growing concern, [NAMES OF THE COUPLE] have opted for an intimate backyard ceremony with only immediate family present. While they will miss seeing your faces in the crowd as they take their vows, they invite you to stream their nuptials via the link below. Following the ceremony at 3:00 pm, the newlyweds invite you to dress up and wish them well from the safety of your car in a wedding receiving line! The couple will be in the front yard accepting air kisses and well wishes as they begin their new journey together.
As much as we want everyone to be able to celebrate in person, the couple does ask that if you are feeling ill or have been exposed to COVID-19 within two weeks of the wedding to please stay home and toast them from afar. We are looking forward to celebrating with you!"
Invitation Wording For a Micro-Wedding
Intimate gatherings of less than 50 people are taking center stage as the new nuptial go-to. Micro-weddings not only cut costs, but also invite lists. Being surrounded by your close family and friends in an outdoor setting is a great way to include important loved ones in your wedding IRL while still managing the risk of spreading the virus. The biggest hurdle with the "small wedding" that spans outside of immediate family is the limited number of invites.
Our advice? Send a digital invite to a full guest list with a link to the event. Including language explaining why you have decided to pare down your list will set friends at ease while still making them feel included. The below is a great way to convey your thoughts.
For those invited to attend in person:
"With COVID-19 still a growing concern, we have opted for an intimate ceremony. Masks, socially distant seating, and ample sanitizing stations will be provided. As much as we want everyone to be able to celebrate in person, we do ask that if you are feeling ill or have been exposed to COVID-19 within two weeks of the wedding to please stay home and toast us from afar. We are looking forward to celebrating with you!"
For those who are not invited to attend in person:
"In lieu of a larger wedding, we have decided to exchange vows in an intimate ceremony with very few people present. While we would love to toast with all of you in person, your health and safety are our highest priority. Please join us virtually to celebrate with us on our special day! We hope to party it up with you in person soon."

Even amidst a pandemic, you still deserve to have your dream wedding. These small informational inclusions may feel foreign, but will alleviate added stress in the long run. Want to take informing your guests one step further? Have a questionnaire for attendees on your wedding website that addresses any outstanding safety concerns.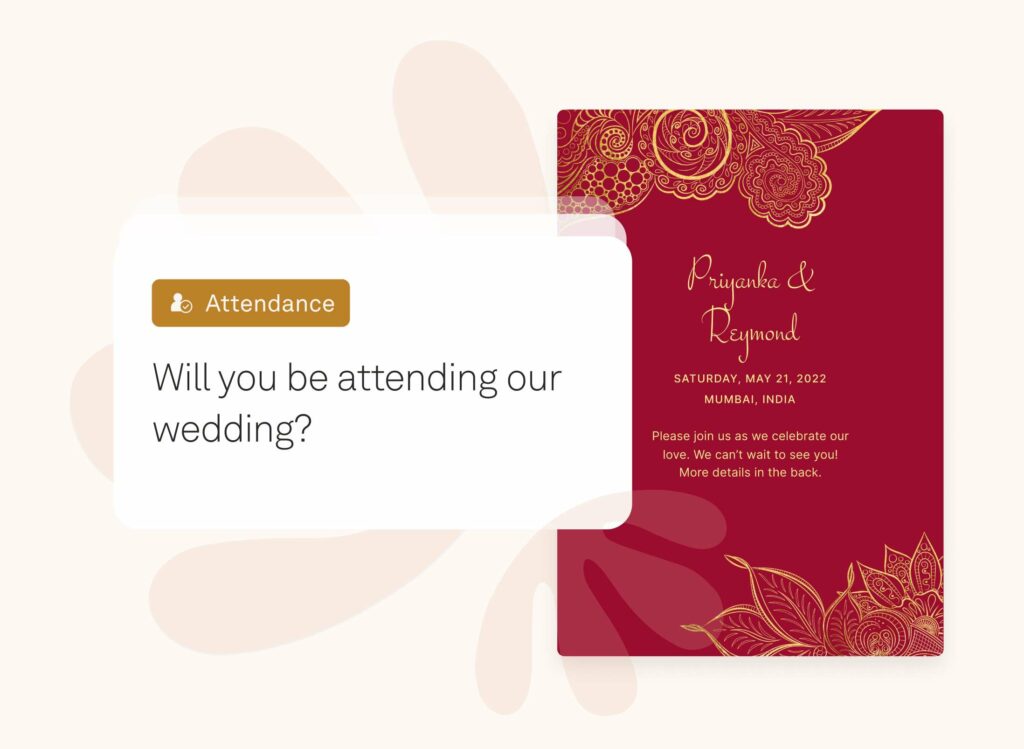 Whether you send traditional paper invitations or go paperless, you can easily collect RSVPs online.