Crystal clear, warm waters, among the best cuisine in the world, friendly people, and a laidback lifestyle combine to make Greece one of the dreamiest locations to tie the knot. Adding to its appeal is the treasure trove of wedding venues that provide both luxury accommodations and stunning event spaces, many of which feature spellbinding views of the sparkling waters this part of the world is known for. To help you decide if a destination wedding in Greece is right for you, we've pulled together top tips for how to approach the destination wedding process, in addition to venues that will make you swoon.
Tips for Planning a Destination Wedding in Greece
Here are some ways to make the planning of your destination wedding in Greece as seamless as possible.
Opt for a summer wedding
The best months to get hitched in Greece are May, June, and September, as this is when you get ample sun and not too much heat and rain.
Use a local wedding planner
Make your life easier by hiring a wedding planner located in the same area as your wedding venue. The local knowledge this wedding specialist brings to the table will make communication with vendors more seamless, especially if you don't speak Greek. They'll also help you navigate local customs, travel logistics, legal considerations, and more.
Create a wedding website
As a destination wedding in Greece means you'll need to communicate ample travel logistics with your guests, you'll want to create a wedding website. This resource will help you complete a number off wedding planning items, from sharing travel tips and requirements to sending digital invites and accepting RSVPs.
Plan your honeymoon on a Greek island
Because each of the many islands in Greece is wholly unique and spectacular in its own right, you might as well stick around for your honeymoon and island-hop. A few prime honeymooning locations include Santorini, Antiparos, Ios, Hydra, and Crete.
The Best Wedding Venues in Greece
Here are some of the most dazzling venues in Greece that are sure to check off all your wedding must-haves.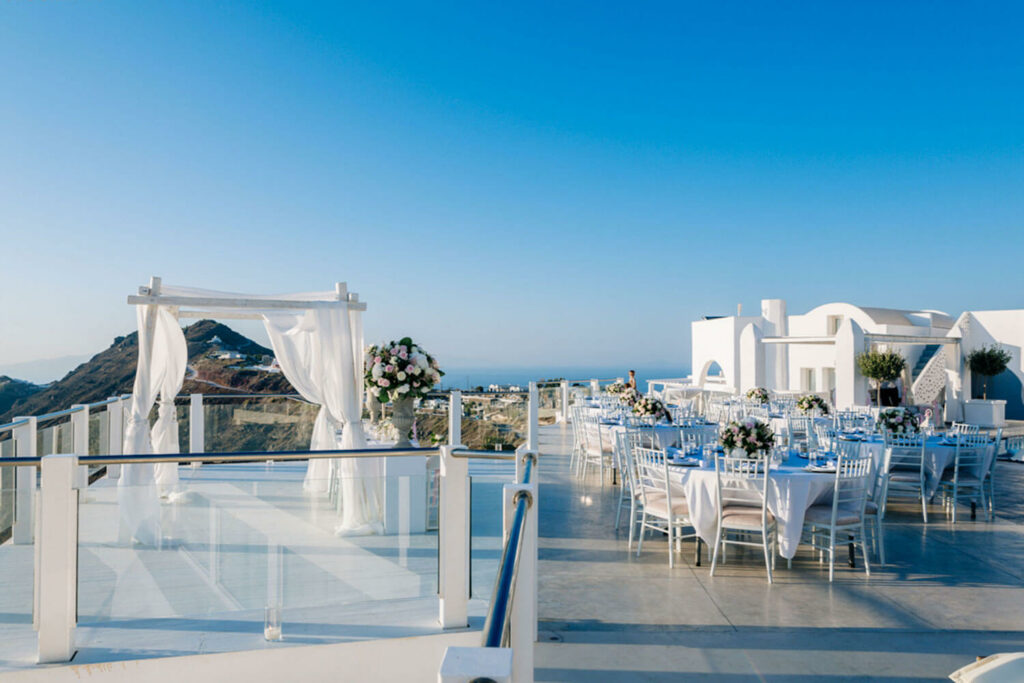 Located on Santorini, one of the most beautiful islands in the Cyclades, Rocabella Hotel provides a dazzling backdrop for a Greek wedding. This luxury hotel looks out on the Aegean Sea and includes a variety of wedding locations that take advantage of the blue sea views.
One of the most popular sites for a wedding ceremony or reception is the Infinity Kiosk, which is a glass-enclosed deck located at the top of the hotel. You can also say "I do" by the Infinity Pool that's backed by white-washed walls and Greek marble and opens to ocean vistas. Larger celebrations can be held by the Exclusive Pool, which is where most receptions are enjoyed. If you're eloping, or just have a few guests, you can choose to celebrate your big day on the water aboard the hotel's Fjord 42 yacht Omega 2.
The hotel offers a variety of wedding packages, helping ensure you can find an option that meets your exact needs. Many of the packages include seven Caldera View rooms for three nights, which can accommodate up to 18 guests, private use of one of the wedding venues for seven hours, basic setup for the ceremony, cocktail hour, and reception, and wedding planning services.
Typical Cost: Starts at $19,400 for 30 people
Capacity: 200
Bonus: You can take advantage of one of their wedding spa packages, which include facials, massages, and other treatments.
Find Rocabella Hotel on Facebook and Instagram.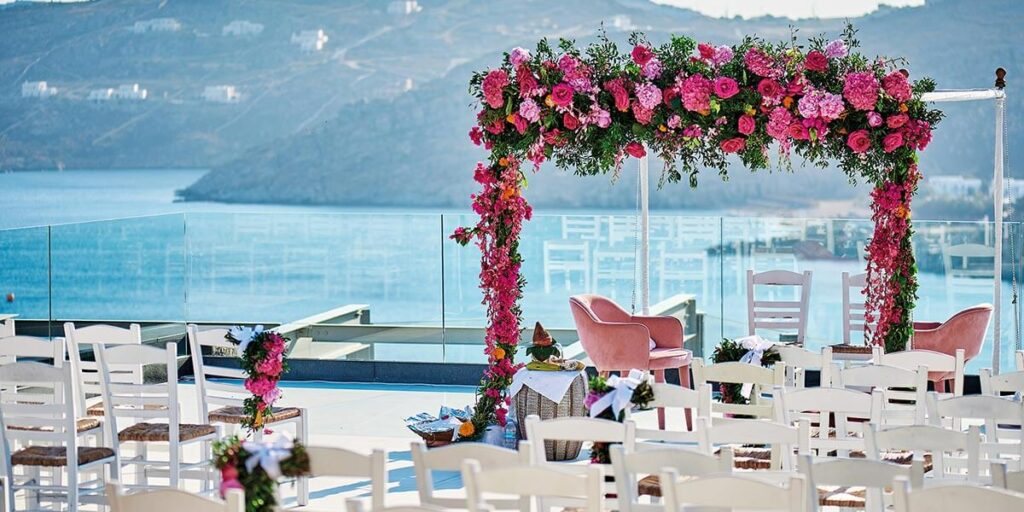 Savor views of Elia beach and the Aegean Sea as you pledge your love at this luxury resort. Royal Myconian offers a compelling blend of authentic Greek architecture and modern touches that ensure ample comfort for you and your guests.
And when it comes to the event spaces, they don't disappoint. For a more traditional ceremony, you can exchange vows in front of the Resort Chapel, which is dedicated to Saint Theodore and Saint George. You can also enjoy a ceremony on the Sunset Terrace, which offers panoramic views and is perfect for a smaller wedding. Larger alfresco ceremonies can be held on the Galaxy Terrace that includes a green lawn and views of the sea.
To make your life easy, the hotel can assist in invitations, travel logistics, transportation, menus and specialist cakes, beverages, flowers, party favors, lighting, sound, fireworks, honeymoon planning, and more. You're also sure to have amazing food at the wedding, as the executive chefs craft a gastronomic experience that uses the best of local flavors.
Typical Cost: Starts at $1,400
Capacity: 400
Bonus: The hotel has limousines, Porsche Cayennes, Mercedes 15-seat limo mini-buses, and 40-seat limo mini-coaches that can be used for guest transfers. It also has a private jet, helicopter, and yachts available upon request.
Find Royal Myconian on Facebook, Instagram, and Twitter.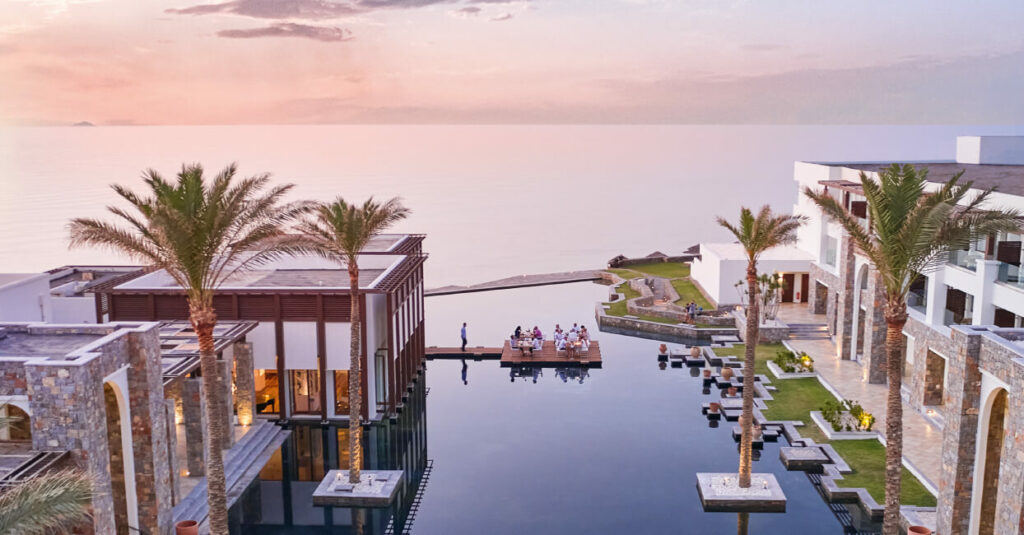 This boutique hotel is a modern marvel located on one of the most southern Mediterranean islands set on the shores of the Sea of Crete. It's an ideal location to start your married life.
Amirandes Grecotel Boutique Resort can accommodate a Greek Orthodox wedding in their chapel, dedicated to the Transfiguration of Jesus, civil ceremonies, symbolic ceremonies, and wedding receptions. For the ceremony, you can have a beach wedding, a religious ceremony in the chapel, or a ceremony in one of the private villas or poolside. The reception can include everything from a candlelit dinner for two to a Greek feast for hundreds of guests.
All wedding packages include your choice of venue, lanterns, flower petals, covered chairs, a floral display on the main table, a bouquet and boutonniere, a basket of flower petals and rice, a bottle of sparkling wine, and a wedding cake. They also include an informal Marriage Certificate and two witnesses for the ceremony. Some packages also offer a multi-course candlelit dinner, photographs, music for the ceremony, fireworks, and discounted spa treatments.
Typical Cost: $1,400-$2,100
Capacity: 200
Bonus: Wedding packages come with a free Rose Garden Honeymoon, which includes a welcome drink, chilled sparkling wine and fresh fruit in your room, sugared almonds and scented rose petals on the bed, a continental breakfast served in your room, and a room upgrade based on availability.
Find Amirandes Grecotel Boutique Resort on Facebook, Instagram, and Twitter.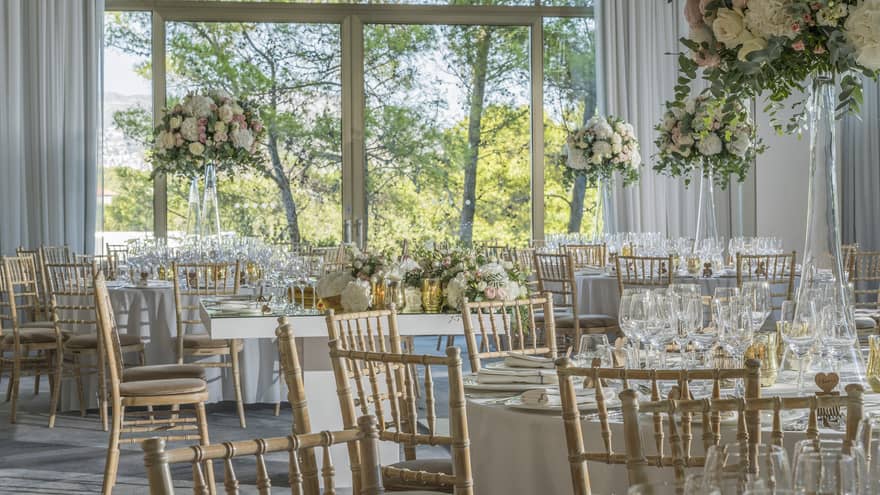 Host luxurious nuptials by saying "Yes" to a Greek wedding at this world-renowned hotel. Located on the coast of the outskirts of Athens, Four Seasons Astir Palace Hotel Athens provides a host of lovely event spaces. Your options include the Plateia Terrace, which is a grassy lawn perched above the water, the outdoor Living Room Terrace, which provides spectacular sunset views, the Arion Ballroom, which dazzles with floor-to-ceiling windows, and the large Nafsika Ballroom that has walls of windows, and a sweeping terrace.
To ensure your wedding day is as flawless as possible, the hotel provides a wedding planner who helps organize wedding events, coordinate the food and beverage services, oversee the work of the florist, and more.
When you're not engaged in wedding activities, you can kick back in your finely appointed room that features modernist architecture and retro-chic design. You can also roam the 75 acres of the pine-clad peninsula the hotel sits on, soak in the sun on one of the three private beaches, savor a meal at one of the eight restaurants, or indulge in upscale retail therapy.
Typical Cost: $40,000
Capacity: 150
Bonus: The spa services were inspired by the teachings of Hippocrates.
Find Four Seasons Astir Palace Hotel Athens on Facebook, Instagram, and Twitter.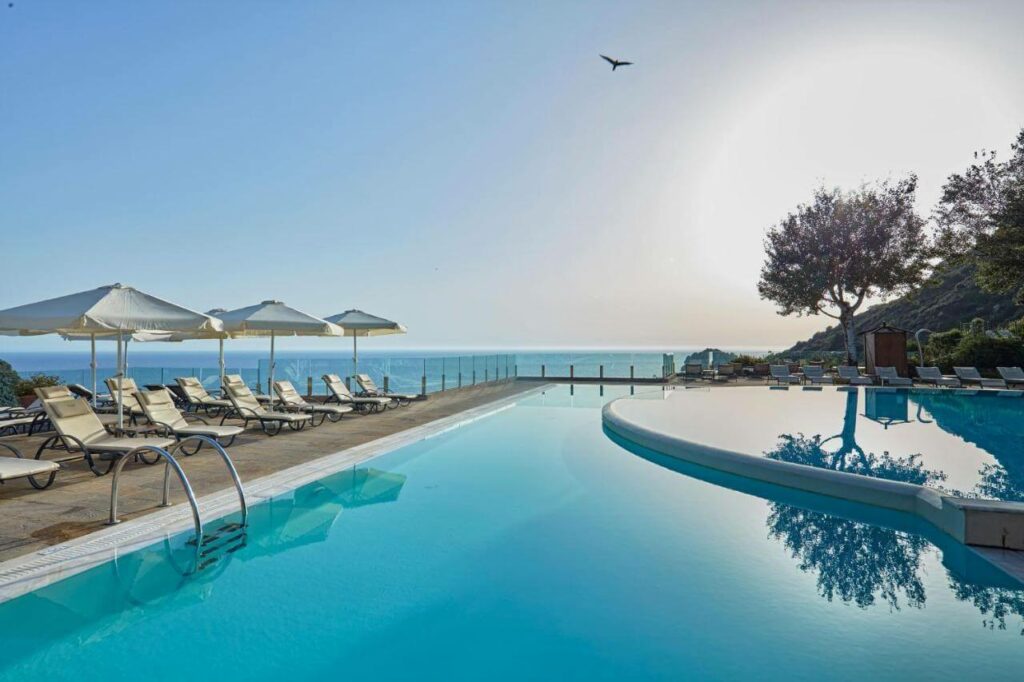 Overlooking Ermines Beach in western Corfu, Atlantic Grand Mediterranean Resort sits on 110 acres of cypress trees, eucalyptus trees, and pines that end at cliffs plunging into the sea. This dramatic setting makes the resort a prime venue for couples wanting an unforgettable wedding.
Ceremonies can be held in the Vertigo restaurant featuring sea views, the Culinarian restaurant located beside the beach, or the Secret Garden that's the ideal spot for intimate weddings. Meanwhile, receptions can unfold at the Vertigo restaurant or the Thalatta beach restaurant.
The resort also offers a spa, an infinity pool, water skiing, scuba diving, and hiking.
Typical Cost: $995-$1,050
Capacity: 30
Bonus: Many of the suites include private pools.
Find Atlantic Grand Mediterranean Resort on Facebook, Instagram, and Twitter.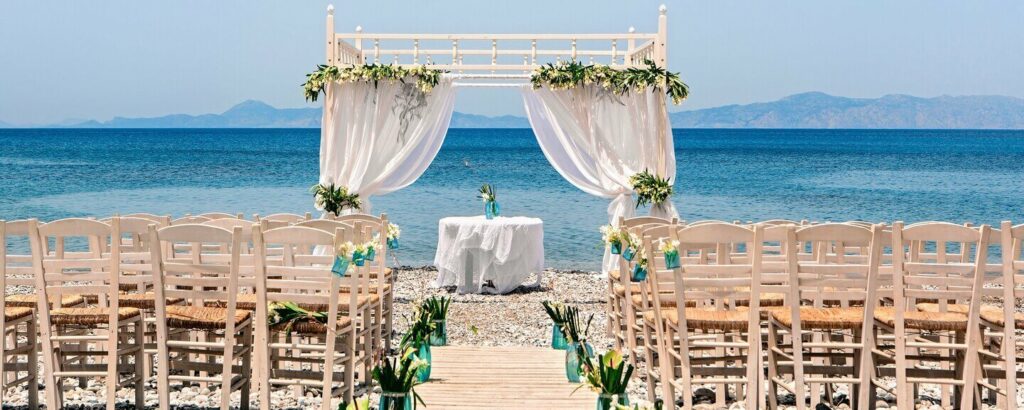 With an astounding 15 event spaces, Sheraton Rhodes Resort is the wedding venue for you if you like having options. Most couples select the sixth-floor or seventh-floor deck, as they're the places to be when the sun sets over Ixia Bay. The seventh-floor deck also provides a white gazebo.
Other stunning choices include the stone-covered beach or the pool area that's set amid lush gardens. The onsite wedding specialists will help ensure you find a space that matches your ideal vision for your special day.
When it's time to eat, you and your guests won't be disappointed, as the hotel's culinary team uses Greek flavors and local ingredients. The team's specialties include a Greek salad, grilled feta cheese in an herb crust, saganaki prawns, chicken souvlaki on a lemongrass skewer, and galaktoboureko.
Typical Cost: Starts at $50/per person
Capacity: 240
Bonus: The spa provides a comprehensive assortment of treatments, including massages, facials, body scrubs, manicures and pedicures, waxing, and more.
Find Sheraton Rhodes Resort on Facebook, Instagram, and Twitter.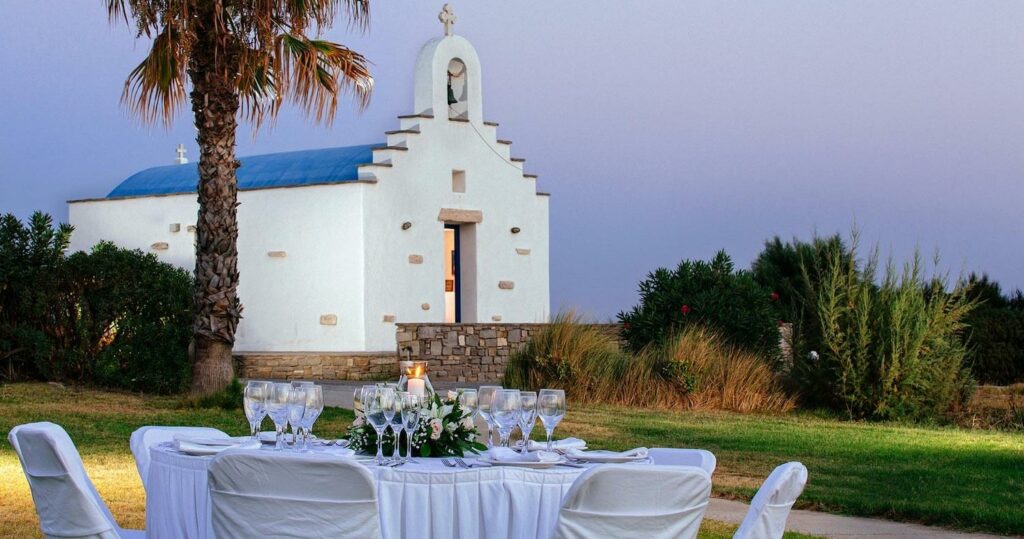 Beside Golden Beach and the clear waters of the Mediterranean, you'll find Poseidon of Paros, a five-star hotel that brings together contemporary comforts, serene colors, plush furniture, and classic Greek design elements.
Many couples choose to walk down the aisle at this island paradise, as it offers a variety of lovely event spaces. You can choose from a ceremony in the small, charming chapel that's followed by a reception on the adjacent manicured lawn or a beachside ceremony that flows into dinner, drinks, and dancing by the pool.
The wedding menu is crafted in collaboration with chef Gerasimos Mitrakis, who can whip up everything from American classics to traditional Greek cuisine.
Typical Cost: Contact hotel for rates
Capacity: 50
Bonus: The hotel is the perfect location for adventurous couples, helping to organize excursions to the Greek islands Delos, Mykonos, or Santorini, in addition to wind surfing, kite surfing, and other water sports.