Finding the right wedding planner is like picking out your ring setting. It has to be comfortable, worry-free, and the embodiment of your vision.
"You don't need to know everything about your wedding date to meet with a planner," explains Brandi Pennington, owner of All Events Planned. "You don't even need to have a date selected, but you should at least know if you want help with everything or just a few things so that you feel good about the work your planner does."
Whether it's a planner who specializes in event design or someone who will be at your side while you choose a wedding dress, determining the type of wedding planner you need is the best way to start your search. This might take some time, but it's absolutely worth it! Once you and your partner have a rough idea of the kind of support you're seeking, it's time to find the perfect wedding planner to guide you along the way. As you prepare for those first meetings with potential wedding planners, here are a few tips to ensure you hire the best person for your big day.
Make a list of your needs
You don't have to know everything you want before you hire a wedding planner, but do sit down with your partner and compile a few questions to ask yourselves before starting your search. Write down anything and everything, and discuss your ideal answers in advance so you can keep them in mind as you get to know potential wedding planners. Are you thinking of a big local wedding or an intimate affair? Will they be handling the guest list and RSVPs? Will you set up and manage your own wedding website? What about the rehearsal dinner? Even if you're only dipping your toes into figuring out your wedding style, writing it down is a great place to start so you can get feedback from the planner during your meeting. Having an idea of your budget is also ideal so that a wedding planner can assess if they can work within those parameters. Even a rough wedding budget is helpful as a jumping off point.
Do your research
Once you've created a list of needs, it's time to do some sleuthing. The best way to find the perfect wedding planner is by word of mouth. Start your research by asking friends and family for any recommendations of planners who have done good work for their big days. If your nearest and dearest went the DIY route, search online for professional wedding planners in your area and review their offerings. If their initial pricing seems to be a fit, set up a meeting to get more in-depth information about their planning services. Don't forget to ask up front about availability on your wedding date, cost of services, and any other offerings that are a must-have on your big day. Schedule as many consultations as you'd like, but interviewing three potential wedding planners will usually suffice.
Prep for your initial meeting
While you don't need a completely clear vision of what your wedding will look like, it's important to let yourself dream. A Pinterest board is a great way to keep all of your inspiration in one place. Even if your colors are all over the place and the themes clash, a good wedding planner can cut through the chaos to identify common themes and start crafting a vision.
Next, jot down a few questions to ask potential wedding planners at the first meeting. Think about this as a job interview: ask how many years of experience they have, how many weddings they've planned, and stories about their favorite weddings. If there are any wedding planning dealbreakers, such as needing someone comfortable working with animals or to support a destination wedding, make sure to ask about those up front.
"It's important to ask a planner if they've worked at your venue before [if you have one], or if you're doing a backyard wedding what their experience is with planning those," advises Emma Thurgood, owner of Emma Thurgood Weddings. "It's always a good idea to confirm with them if they are full planning or wedding design only. You also should ask them about the terms in their contract and ask to see a sample contract."
Most importantly, use this as an opportunity to get to know your potential wedding planner. This is the person you will be spending the most time with throughout the planning process outside of your partner, so make sure your personalities are a fit!
Take as much time as you need
Wedding planning ranks amongst one of the most stressful moments in a couple's life. Your options for wedding venues will dwindle as time nears your dream date. Vendors will put pressure on you to commit before you're ready. Take a deep breath and know that there is time. If your gut is telling you that a planner is not the right fit, set up a few more meetings. Don't settle! You deserve the perfect person to create your special day.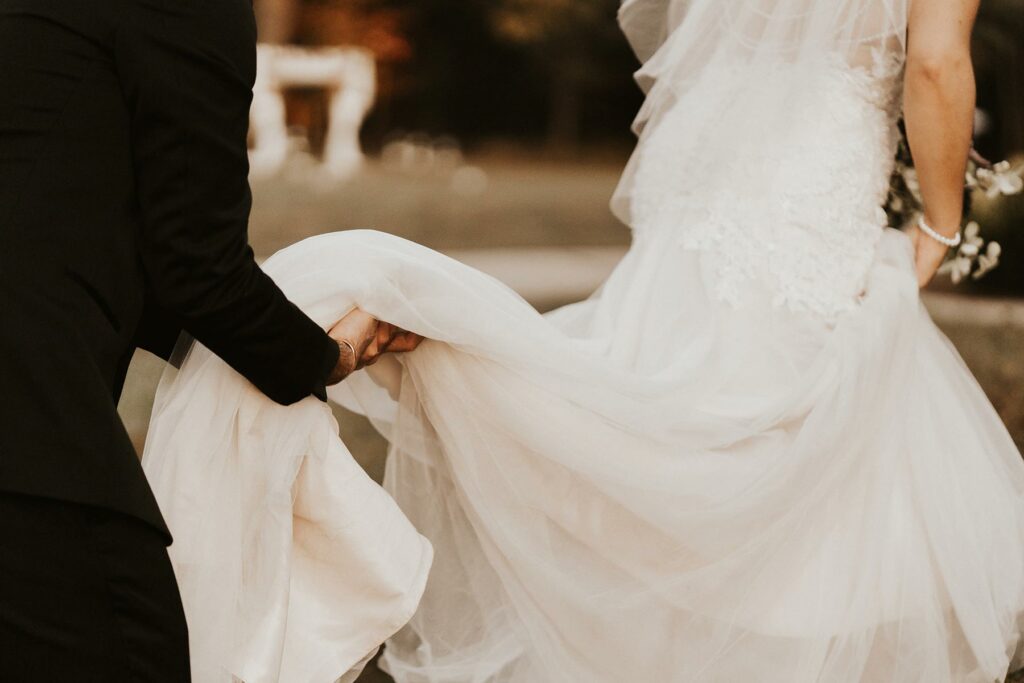 Determine if you need a wedding coordinator or a wedding planner
This is a debate that many couples face when it comes to planning their wedding day. In short, the main differences between a planner and a coordinator are timing and scope of services. A wedding planner may work with you from day one, anywhere from 12 to 18 months before your big day. Most offer full-service planning, with support for everything from wording on invitations to creating the perfect shot list.
Typically, a wedding coordinator comes in 60 to 90 days before you tie the knot. When hiring a coordinator, you will be sourcing your own wedding vendors, handling event design, securing dates with a venue, and a million other things along the way. If you and your partner pride yourselves as expert planners, a coordinator is a great, less expensive option that will provide you with day-of support to make sure every detail is perfect.
Evaluate your schedule and personal commitments
Even if you are expert planners who want to go with a wedding coordinator, keep in mind that organizing a huge event can quickly become a full-time job. Without professional assistance, the stress of the planning process may sully the exciting time of your engagement depending on your other commitments.
"I always tell my clients when working with planners that they need to pay for whatever is stressing them out," advises Pennington, who has over 20 years of experience in the wedding industry. "So, if everything is stressing you out, find yourself a great planner to handle everything and plan on paying for that [service]. If only a few things or final details are stressing you out, then a day-of coordinator is the best route."
Many wedding professionals also offer partial planning services, where you can expect to share the workload with your planner. This option provides stress-saving support, while still leaving you a little extra in the budget. Remember, always ask for what you want!
Sign on the dotted line
Wedding planners book up quickly. Once you get those "say yes!" butterflies, sign that contract as soon as possible. You'll be happy you did!