Dreaming of a destination wedding in Europe that embodies romance, charm and adventure? Look no further than Spain. Picture this: saying "I do" amidst Spain's breathtaking landscape, where you can choose from idyllic countryside settings, pristine sandy beaches or vibrant cityscapes, depending on your desired vibe. The European locale offers an enchanting backdrop infused with history, culture, delectable cuisine and jaw-dropping views that will leave you and your wedding guests spellbound.
From the majestic castles of Andalucía to the sun-kissed shores of Costa del Sol and the vibrant energy of Barcelona's bustling streets, Spain offers a little bit of everything for a destination wedding. Even the venues provide their own slice of whimsy. Historic haciendas, beach clubs and modernist hotels let couples channel their vibe in paradise.
Ready to fall head over heels for this extraordinary land of passion? Here's your guide to planning a destination wedding in Spain.
Planning Ahead for a Spain Destination Wedding
If you are totally sold on a Spain wedding (how could you not be?!), there are a few things you'll want to do first. To ensure a seamless and stress-free experience, hiring a local wedding planner is an absolute must. They are your fairy godparents on the ground, equipped with insider knowledge and local connections that will make your dream wedding come true. A skilled planner will help you navigate the intricacies of Spanish wedding traditions, recommend the most picturesque venues and connect you with local wedding vendors such as photographers, officiants and caterers.
Time is of the essence, so start planning early. Secure your venue as soon as possible and send out save the dates to give your guests ample time to make travel arrangements. You'll also want to lock down anything related to your own travel on your wedding planning to-do list, including booking accommodations, airfare and organizing local transportation. With a little bit of foresight and the guidance of a local wedding planner, your destination wedding in Spain will be off to a great start!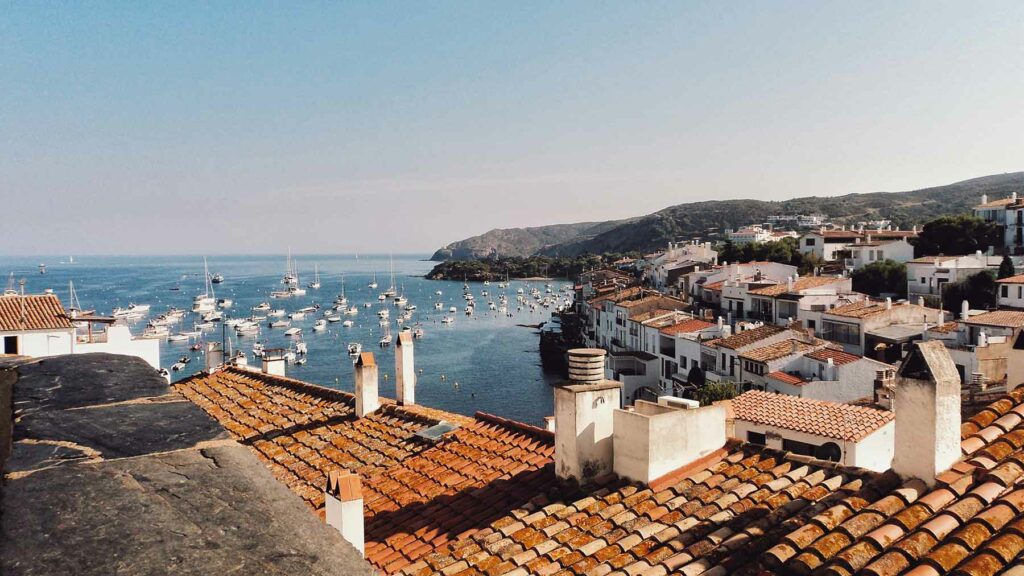 Making it Legal
We love a destination wedding, but making it official can get a little hairy. While it is definitely possible to legally marry in Spain when you are coming from the United States, it can be a bit tricky due to the country's laws and complex administrative processes. Obtaining approval from Spanish authorities for a marriage application can take up to 45 days, which may not align with your desired wedding date. To take the guesswork out of the paperwork, many couples choose to have a civil ceremony in the United States before or after their Spain celebration. That way, you can ensure that your marriage is legally recognized without the potential delays and paperwork involved with international nuptials.
Budgeting for a Spain Wedding Celebration
Just like with domestic weddings, the cost of a celebration in Spain can vary depending on factors ranging from location and venue to guest count and specific wedding preferences. In general, expect a destination celebration in Spain to be on the more expensive end of your budget. That being said, there are always ways to save money and still plan the perfect wedding abroad.
While it's hard to give an exact cost without specific details, consulting with a wedding planner, either stateside or one experienced with destination weddings in Spain, would provide more accurate insights. At minimum, expect to spend at least $20,000 on the essentials such as your venue, caterer and wedding photographer for a 30 to 50 person fête. If you decide to pay for the wedding party's accommodations or a welcome celebration, that figure will go up significantly. A wedding planner can better help estimate costs (and work with you to bring them down) based on your exact guest count and other details.
When to Say "I Do" in Spain
Spring in Spain offers temperate weather, blooming landscapes and lower tourist numbers. Similarly, autumn is stunning with mild temperatures, beautiful foliage, and lower rates for travel and accommodations. Both are solid choices for a wedding day on a budget. If you are okay with chillier nuptials, winter carries the lowest wedding costs and fewer tourists, but some venues may have limited availability.
In summer, expect warm weather and longer daylight hours; however, it's the peak tourist season, which means higher travel costs and venues that are more likely to be booked out. Definitely avoid planning your wedding during La Tomatina festival in Buñol in August or Pamplona's Running of the Bulls in July as they attract massive crowds, drive up travel costs and affect availability of accommodations.
Best Cities for a Spain Destination Wedding
With its diverse geography and rich heritage, Spain offers a variety of options that can set the perfect tone for your special day. From vibrant cities to stunning coastal towns, each location has its own unique vibe that can make your wedding truly unforgettable. Plus, with a well-connected network of airports and easy travel options, getting to your dream wedding destination in Spain is a breeze.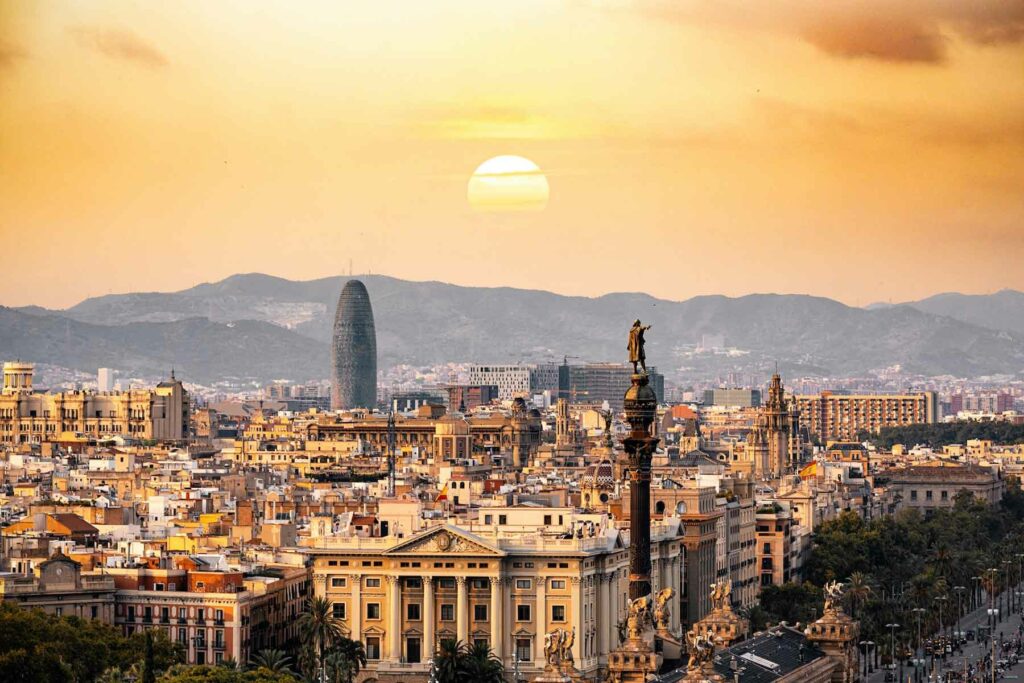 Barcelona
This cosmopolitan hub blends history and modernity seamlessly, offering a vibrant atmosphere for a beautiful wedding. From iconic landmarks like Gaudí's Sagrada Famíla to the lively Las Ramblas boulevard running through the city center, Barcelona exudes romance and excitement. Couples can truly get the best of Spain in one city with beaches, nightlife and culture.
Ibiza
For couples seeking a destination wedding with a bohemian vibe that's always a party, Ibiza is the perfect choice. Known for its electrifying nightlife and stunning beaches, this Balearic Island sets the stage for an unforgettable celebration. Imagine exchanging vows on the sun-kissed sand, followed by a wedding reception under the stars at one of Ibiza's famous beach clubs.
Málaga
Nestled on the Costa del Sol, Málaga offers a blend of history, culture and natural beauty. This coastal city is home to charming old town streets, white sand beaches and endless cultural attractions such as the famed Alcazaba. Whether you prefer a beachfront wedding ceremony or a stylish reception in a historical venue, Málaga has it all.
Palma de Mallorca
As the capital of the Balearic Islands, Palma de Mallorca captures the essence of Mediterranean charm. With its stunning Gothic cathedral, narrow cobblestone streets and breathtaking sea views, Palma provides an idyllic backdrop for your dream wedding.
Madrid
If you're looking for a cosmopolitan setting for your wedding, Madrid is calling. This bustling capital city offers a mix of stunning architecture, world-class cuisine and vibrant nightlife for couples who want to plan their big day with a dash of sophistication. From luxurious hotels to elegant venues, Madrid has everything you need to create a stylish and unforgettable wedding experience.
Costa Brava
Looking for more of a chill vibe away from the club scene? With its rugged coastline, hidden coves, and charming seaside towns, the Costa Brava is a dreamy location for a romantic destination wedding. From the picturesque village of Cadaqués to the medieval beauty of Tossa de Mar, this region offers a relaxed atmosphere that will make your wedding truly special.
Costa del Sol
True to its name, the Costa del Sol Is the sun-drenched destination you'll love for saying "I do". From glamorous resorts to traditional Spanish haciendas, this coastal region offers a wide range of venues for your special day. Treat your guests to golden beaches, delicious seafood and an unforgettable fiesta.
Seville
If your wedding theme is fairy tale chic, Seville is the perfect destination to host your soirée. Known for its flamenco dancing, stunning Moorish architecture and lively atmosphere, Seville exudes romance and charm. Exchange vows in a historic palace or host a lively celebration in one of the city's vibrant plazas.
Andalucía
This region is renowned for its rich cultural heritage, charming white-washed villages and vibrant festivals. From the romantic city of Granada with its iconic Alhambra, a palace and fortress complex, to the historic town of Ronda perched on a dramatic gorge, Andalucía offers endless possibilities for an authentic and memorable wedding in Spain.
Spain's Top Wedding Venues
Part of Spain's appeal — outside of the picturesque landscapes and vibrant culture — is the variety of venues where you can say "I do." While we could wax poetic about all the amazing hotels, haciendas and beach clubs, we narrowed down the list to the best wedding venues across the country.
The W Hotels brand is known for its chic vibes, and the Barcelona property is no exception. It's perfect for the modern couple looking to embrace all the uniqueness of the city while hosting a stylish and sophisticated wedding. Situated on the famous Barceloneta Beach, W Barcelona offers breathtaking views of the Mediterranean Sea — a perfect backdrop for saying "I do." The hotel also boasts luxury wedding venues, including elegant ballrooms and stunning outdoor spaces overlooking the sea.
For a bohemian-inspired wedding, Atzaró Agroturismo is the perfect venue. This enchanting boutique hotel is surrounded by lush gardens, citrus groves and picturesque landscapes. The tranquil atmosphere and authentic Mediterranean charm create a unique and romantic setting for exchanging vows. Atzaró Agroturismo also offers luxurious accommodations, a spa and delicious farm-to-table dining options.
Nestled in the heart of the Costa del Sol, Finca Cortesin is a luxurious resort that provides an exceptional backdrop for a dream wedding. The resort features stunning gardens, a championship golf course and endless views of the Mediterranean Sea. With its blend of traditional Andalusian architecture and contemporary elegance, Finca Cortesin offers a variety of venues perfect for any couple — including a beautiful club perfect for a beach wedding — manicured courtyards and elegant ballrooms.
Your fairy tale wedding has found its home in this meticulously restored 16th-century palace turned hotel. Offering a romantic and intimate setting, the hotel's exquisite gardens, luxurious suites and personalized service ensure an unforgettable experience. Can Bordoy also features a rooftop terrace with panoramic views, perfect for hosting a memorable reception.
Located in the heart of Madrid, Villa Magna is a stately hotel renowned for its timeless luxury. This iconic property combines classic architecture with modern sophistication, setting the stage for a grand wedding celebration. Villa Magna offers elegant event spaces, including a ballroom and an enchanting garden courtyard, along with luxurious accommodations and exceptional culinary experiences.
Mas de Torrent Hotel & Spa is a whimsical 18th-century farmhouse turned boutique hotel. Surrounded by gardens and rolling hills, this idyllic property provides an intimate and romantic setting for a destination wedding. With its elegant rooms, a restaurant by a chef who has a Michelin-starred eatery in Madrid, and a tranquil spa, Mas de Torrent offers a perfect blend of relaxation and luxury for an unforgettable wedding experience.
This iconic beachfront hotel is renowned for its impeccable service, luxurious accommodations and stunning Mediterranean gardens. The resort offers a variety of event spaces, including a charming Andalusian patio, lush lawns and a private villa experience. Your menu will be just about the freshest you'll ever eat with seafood being caught right outside your window. The relaxed but elegant vibe of the property is perfect for a beach-bound couple looking for a creative space to exchange vows.
Located just outside of Seville, Hacienda de San Rafael is a charming country estate surrounded by olive groves and landscaped gardens. This exclusive venue offers rustic elegance and a tranquil atmosphere, creating a romantic ambiance for an intimate wedding celebration.
Overlooking the iconic Tajo Gorge in the town of Ronda, the Parador de Ronda is an historic hotel that blends modern comfort with traditional Andalusian charm. With its stunning views, picturesque gardens and elegant event spaces, including a rooftop terrace, this venue provides a romantic and memorable setting for a destination wedding in Spain.
Up Next:
Set up your wedding website in minutes with design options to make yours truly unique.