Dazzling mountain ranges, trails winding through old-growth forests, meditative lakes and wild rivers, and other natural wonders make the national parks of the United States some of the most stunning destinations for nuptials. From a park with cliffs so red, it's hard to believe they were colored by nature to one that holds the world's largest tree, the options for a national park wedding are extraordinary.
If the idea of a nature-filled wedding wasn't attractive enough, the cost of tying the knot at one of these stunning parklands is also surprisingly affordable. To help you plan, here are some tips to keep in mind for your national park wedding — including seven parks that are especially impressive for ceremonies.
National Park Wedding Tips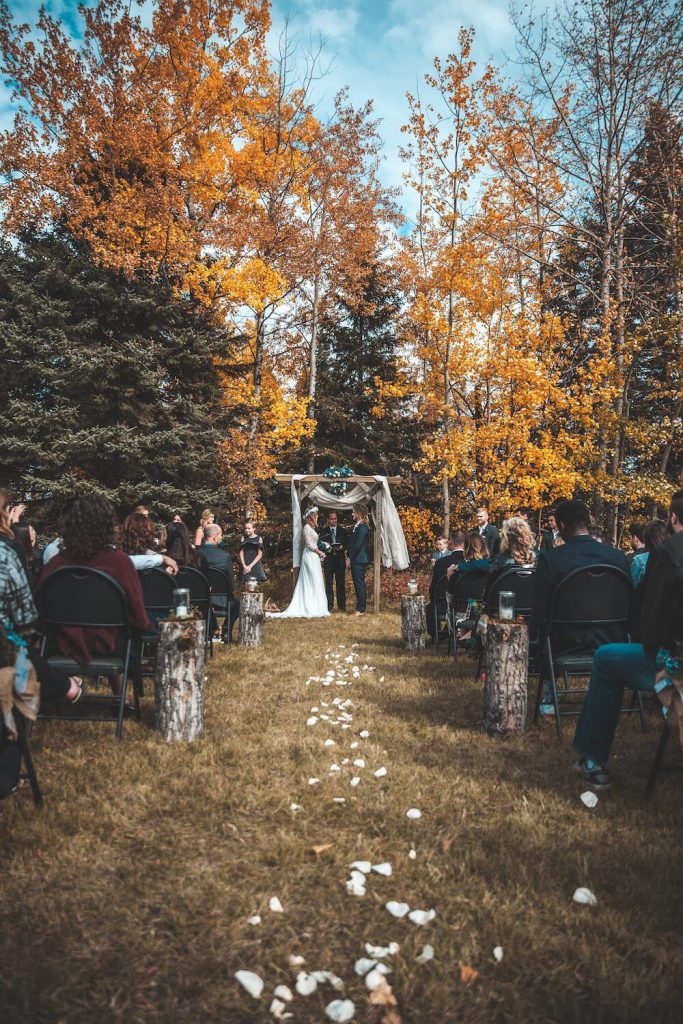 Follow these tips to help ensure your destination wedding at one of these national parks is a smooth, enjoyable experience for all.
Apply for a Permit
The National Park Service requires you to apply for a special use permit and pay the applicable permit fee to host your wedding in a national park.
Account for Entrance Fees
When providing guests information about your wedding, be sure to include a breakdown of the park's entrance fees. If you don't want your guests to pay the fee, have them meet at a location outside of the park and hire shuttles to bring them to the ceremony site. Parks often have an entrance fee for busses, which you can usually pay ahead of time.
Visit the Park Before Choosing Your Ceremony Site
Wedding planning can be seriously simplified by doing a reconnaissance mission before you select a ceremony site. Because photos don't often paint an accurate picture of what a location is like, not to mention how to access it, spending some time there can help you make an informed decision.
Hire a Local Wedding Planner
Wedding planners with an in-depth knowledge of your national park of choice can help you navigate the process of obtaining permits, selecting park-friendly decor, and finding vendors familiar with the park's protocol.
Consider Crowds
The most popular sites in many national parks cannot be blocked off for ceremonies. So if you'd rather not have onlookers in your wedding photos, work with the park service to find a private location.
Communicate About Terrain
On your wedding website, describe the terrain guests can expect and if there's any special clothing they should consider bringing.
Get Creative with Decor
Most national parks have significant restrictions when it comes to decor. You may not be able to stake anything into the ground or put anything up that may have the slightest impact on the local environment. A wedding planner and florist, with experience hosting weddings in national parks, will likely have clever ideas for decorations that honor any restrictions.
Be Clear About the Bathroom Situation
If you plan to say "I do" in an area that doesn't have public bathrooms, ask the park if you can have portable restrooms brought in. Or you can let your guests know that restrooms won't be available during the ceremony.
National Park Wedding Destinations
Here are seven national parks that provide some of the most stunning backdrops for a wedding ceremony and reception in the US.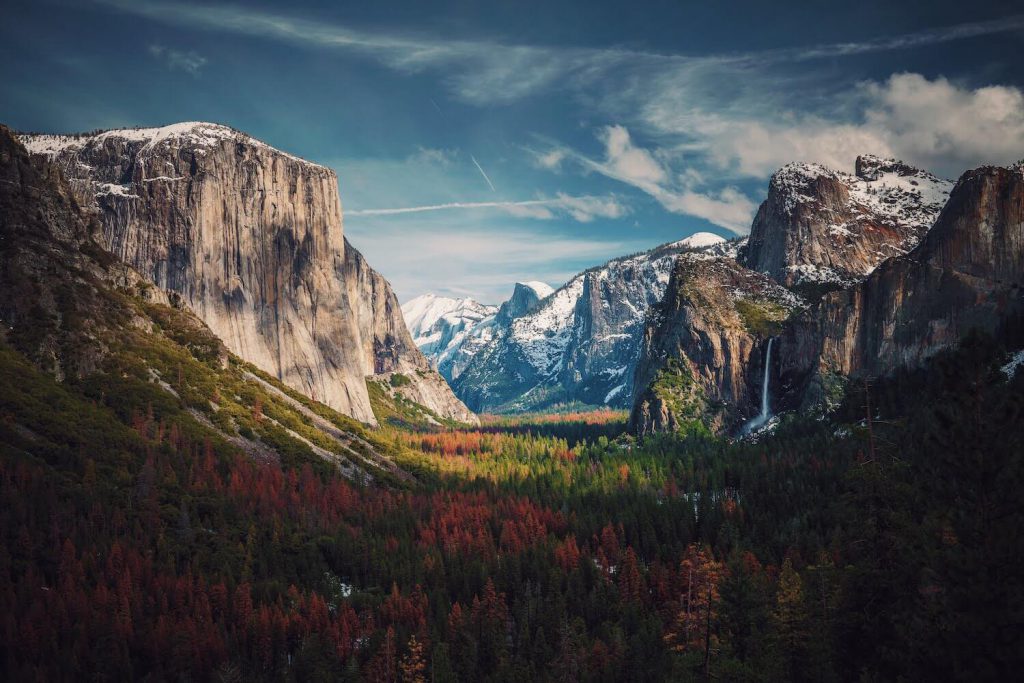 For the ultimate national park wedding, head to Yosemite National Park. Filled with many of the most iconic sites in the country including Yosemite Falls and Half Dome, there is an abundance of natural beauty in this 1,200-square-mile park. As a result, one of the hardest parts of planning a wedding here is choosing from the seemingly endless ceremony sites — at least for those having an intimate wedding.
If 10 or fewer people are attending the ceremony, you can get married anywhere in the park as long as you acquire a permit. For larger nuptials, there are a host of gorgeous lodges and resorts in and around the park, allowing you to pledge your love against picturesque backdrops. Because Yosemite is popular, start planning your wedding at least a year in advance to ensure you can secure a venue and lodging.
Recommended Venue:
The Ahwahnee Hotel: With architecture as grand as the surrounding terrain, The Ahwahnee Hotel makes you feel like you've stepped into a scene from Frozen. A ceremony on the palatial lawn provides an awe-inspiring experience, as it features spellbinding views of the Yosemite Valley. For the reception, head to the grand solarium where epic views of Glacier Point, a rustic yet refined ambiance, and a massive fireplace await.
Spanning the Continental Divide and featuring protected mountains, forests, and alpine tundra, not to mention wild rivers and tranquil lakes, Rocky Mountain National Park is a wonderland of rural marvels and an extraordinary location for a small wedding.
Most ceremony sites allow a maximum of 20 – 60 guests and remain open to the public during weddings. The most popular sites (for which you can obtain a wedding permit) include the Alluvial Fan Bridge, Bear Lake Nature Trail, and Lily Lake Picnic Area. Slightly larger ceremonies can be hosted at Harbison Meadow and Hidden Valley. As for receptions, many couples choose to celebrate at a venue in Estes Park, the nearby town.
Between wedding events, explore acclaimed trails that lead to Mount Ida, Hallett Peak, Chasm Lake, and Emerald Lake. You can also take a drive on Trail Ridge Road, check out Forest Canyon Overlook, or picnic at Hidden Valley.
Recommended Venue:
Della Terra Mountain Chateau: A popular site for wedding receptions, Della Terra Mountain Chateau can accommodate up to 200 guests in The Celebration Place. This prime wedding space has floor-to-ceiling windows that frame the mountains, balcony overlooks, and a dance floor. The venue also includes luxury suites and cabins.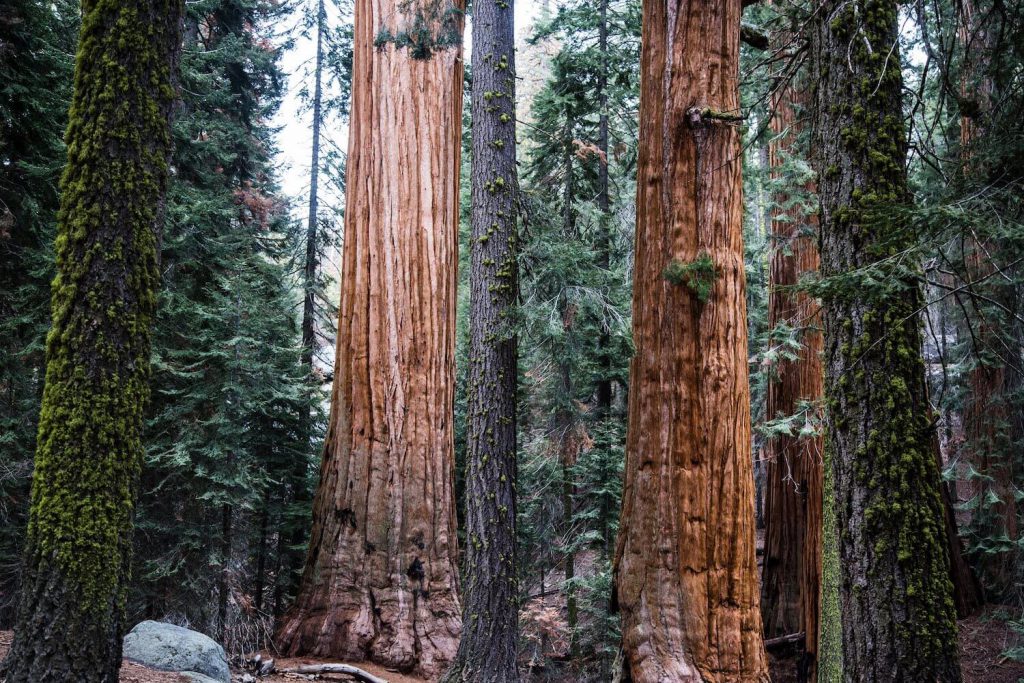 If you want to wed among the tallest trees in the world, Sequoia National Park (nicknamed "the land of giants") is a dream. Located in the southern Sierra Nevada mountain range, this 404,064-acre park has diverse terrain that allows you to say "I do" among a fantasyland of soaring trees, on a massive rock that makes you feel like you're floating above the mountains, or in lush meadows surrounded by forest.
Coveted ceremony sites for weddings with up to 75 – 100 guests include the Dorst Creek Amphitheater, Beetle Rock, Giant Forest Museum Patio, and Long Meadow. More intimate ceremonies can be enjoyed in Zumwalt Meadow, Muir Rock, or Panoramic Point.
Recommended Venue:
Wuksachi Lodge: Surrounded by thousand-year-old trees, the stone-and-cedar Wuksachi Lodge is the only location in the park where you can host a ceremony and reception with catering and a full bar. The lodge also offers 102 upscale guest rooms with details that reflect the natural surroundings. Your wedding photographer will really love this venue, as it provides easy access to Moro Rock, General Sherman Tree, Crescent Meadow, and Kings Canyon.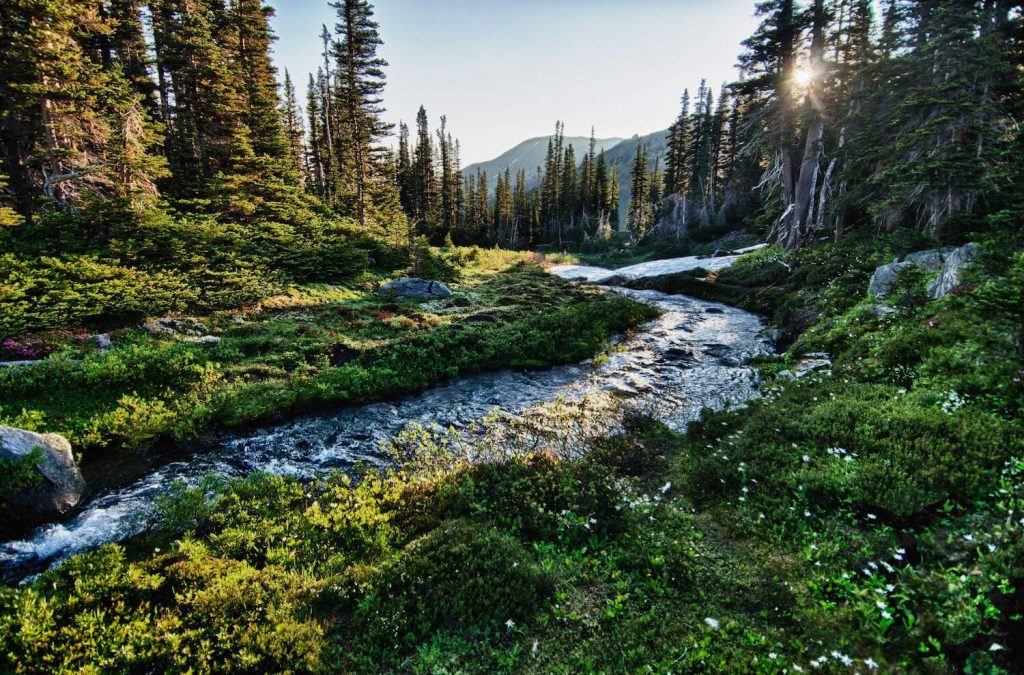 A premier national park in the Pacific Northwest, Olympic National Park is located on Washington's Olympic Peninsula and composed of an array of ecosystems — from the dramatic, rugged coastline and commanding presence of the Olympic Mountains to the mysterious world of old-growth forests and lush, temperate rainforest.
Hoping for a tranquil setting for your wedding day? You'll appreciate the Nature Bridge site at Crescent Lake that allows you to wed under a canopy of lakeside cedars and Douglas firs. Fall and winter weddings can take place in the charming interior of Lake Crescent Lodge. If you have a small group of intrepid wedding guests, hike up the Storm King Trail and say your vows when you come to the staggering view of Lake Crescent.
Recommended Venue:
Lake Quinault Lodge: Celebrate your love in the park's ethereal rainforest by booking a ceremony and reception at the historic Lake Quinault Lodge. The lodge features an elegant ballroom with hardwood floors, a cathedral ceiling, and exquisite farm-to-fork dining. Guests who book a room at the lodge will have access to a platter of activities, as it provides guided tours of the park by foot or boat.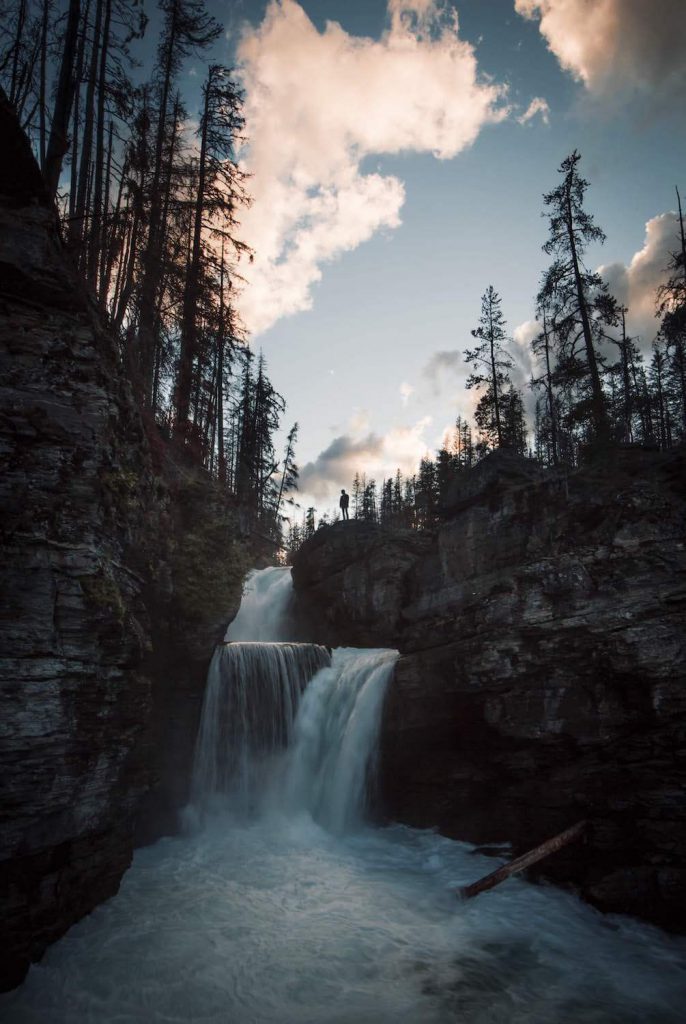 Located in Montana's Rocky Mountains, Glacier National Park provides a remarkable canvas of glacier-carved mountains, verdant meadows, and 700 miles of hiking trails. Most ceremonies take place at the Apgar Village, the Fish Creek Amphitheater, and the Fish Creek picnic area. The park just requests that no more than 10 cars are parked at these sites. Also, because of Montana's inclement weather many months of the year, the ideal time to plan an outdoor wedding here is between July and August.
Top activities include driving on the Going-to-the-Sun Road, which takes you past epic alpine scenery and the Logan Pass, and hiking to the surreal Grinnell Glacier or Trail of the Cedars. When you're ready to slip away for a romantic adventure with your new bride or groom, go kayaking on the crystal clear Lake McDonald or Bowman Lake.
Recommended Venue:
Glacier Park Lodge: Located at the edge of the park, the grand Glacier Park Lodge showcases architecture that incorporates Douglas fir timbers. Celebrations on the outdoor pavilion offer views of Dancing Lady Mountain and the captivating landscape of the national park. During chillier months, receptions can be held in one of the three banquet rooms. Adding to the appeal? The acclaimed culinary team prepares delicious fare.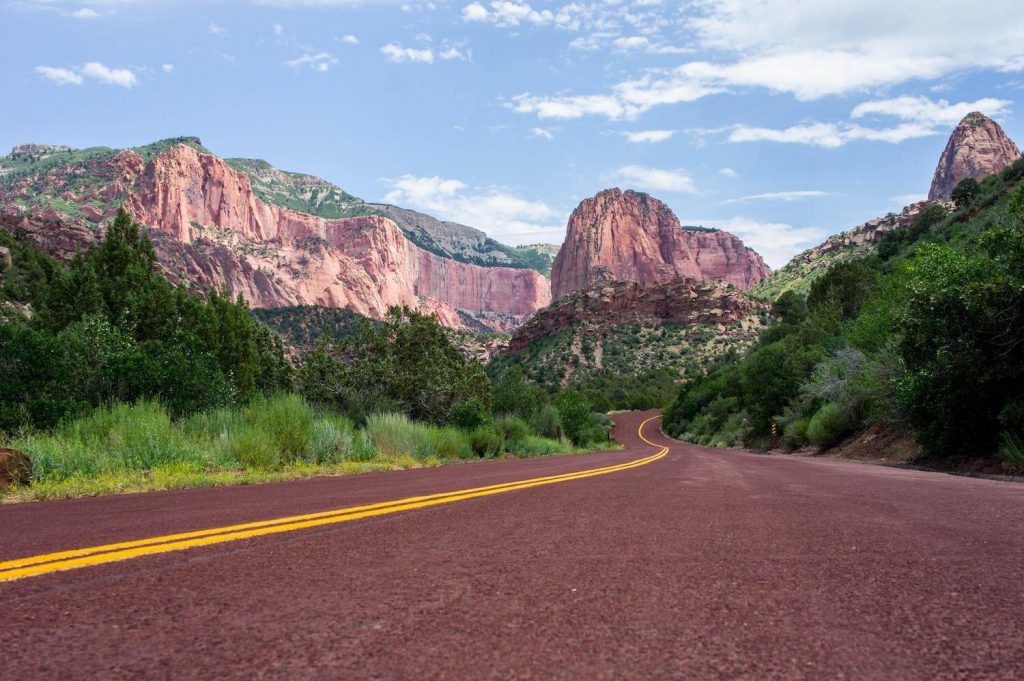 The jewel of Utah, Zion National Park is a nature-made land of amusements for couples with a flair for adventure. Shocking red rock formations, forested trails along the Virgin River, the waterfalls and hanging garden of Emerald Pools, and a tapestry of other phenomena crafted by Mother Nature make Zion a destination wedding location that will leave your guests slack-jawed.
This is an ideal place for a small wedding filled with a reverence for nature and a willingness to contemplate our part in its evolution. In addition to the visual splendor, weddings in Zion are typically affordable, as the rates of the many vendors in nearby St. George are very reasonable.
Recommended Venue:
Zion Red Rock Oasis: A 14,000-square-foot lodge located on 15 acres of breathtaking land near the heart of the park, Zion Red Rock Oasis is a luxury wedding venue. It provides ceremony sites by the sandy bank of a river, a sleek ambiance on the grassy shore of a private lake, and an idyllic poolside area that opens to the mansion's backyard. In addition to a separate bunkhouse, the home offers seven bedrooms and can sleep up to 55 people.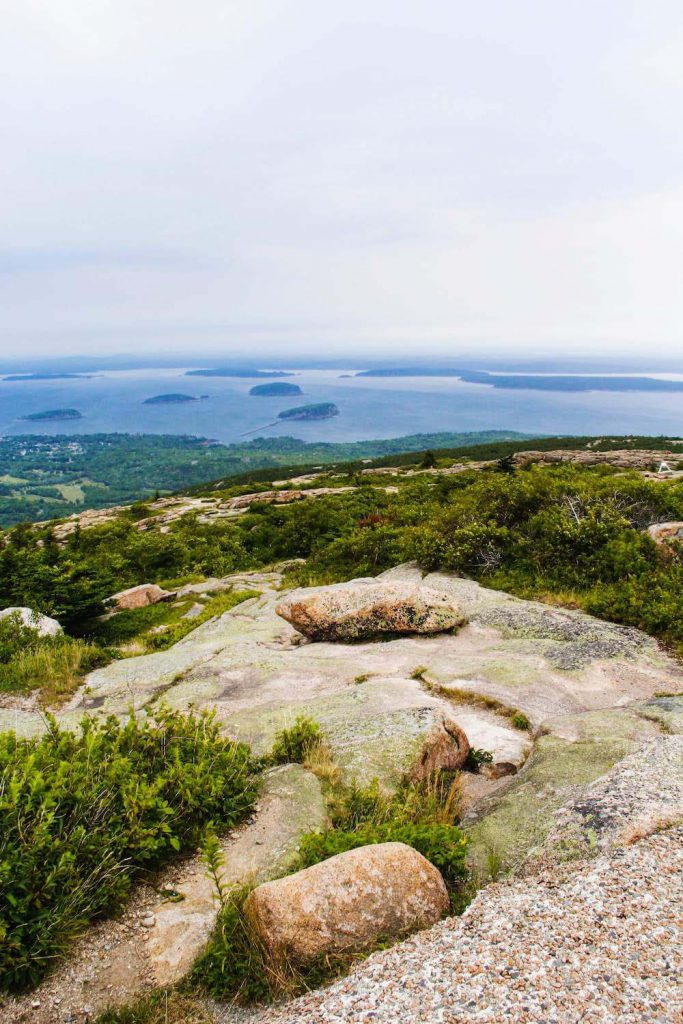 As a fascinating mix of woodland, coastal terrain, and granite peaks (and home to moose, bears, whales, and seabirds), Acadia National Park is a prime wedding destination for nature-lovers getting hitched on the east coast.
Located on Maine's Mount Desert Island, this park provides spectacular locations for wedding ceremonies including the acclaimed peak of Cadillac Mountain, which provides panoramic views of the island, the serene mountain lake of Jordan Pond, and the pristine shore of Sand Beach. As receptions aren't allowed in the park, couples will need to choose from one of the many lovely reception venues in Bar Harbor.
Recommended Venue:
Bar Harbor Inn: One of the most romantic venues to celebrate your union, Bar Harbor Inn exemplifies the sophistication of this storied part of the country and provides a range of impressive reception venues. Two of the most celebrated indoor options include the Reading Room and Porcupine Room, both of which emanate effortless class. The inn is in close proximity to the park, so it's an ideal home base for your wedding events.