Charlotte, North Carolina is a storied city that blends the chic aesthetics of modern-day with the charm and elegance the South is known for. The area offers culture, historic landmarks, a downtown area (actually known as Uptown) thrumming with innovation and class, and dazzling displays of nature.
Whether you're hoping for a wedding set amid manicured gardens, the heart of the city, the lawn of a historic manor, or a sprawling, nature-made wonderland, we have you covered with the best outdoor wedding venues in Charlotte, NC.
A bucolic paradise replete with a meadow, a woodland, and charming structures, Il Bella Gardens is the perfect place to say "I do" for couples wanting to be immersed in nature on their big day.
Located just outside the Charlotte area, this 20-acre venue offers a variety of beautiful sites for an alfresco wedding ceremony, with the most popular being an open, grassy area and a more private nook in the woods.
For the wedding reception, the happy couple and their guests will head to Il Bella Colonna, which features an open-air, columned pavilion that's perfect for hanging sheer drapery between the columns. The space also includes ceiling fans for warmer weather, a dance floor, and recessed lighting to create a romantic ambiance.
Typical Cost: Starts at $4,000
Capacity: 250
Bonus: The venue offers a quaint cottage for the wedding party to get ready in. It can also be used for the rehearsal dinner, as it can seat up to 75 people and has a prep kitchen and bathrooms.
Find Il Bella Gardens on Facebook and Instagram.
In Uptown Charlotte, couples can enjoy their special day at the chic Foundation for the Carolinas, a structural gem that offers lovely indoor and outdoor spaces.
A favorite option is the Legacy Hall, a modern area featuring retractable windows that open to a stunning vertical garden created by French artist Patrick Blanc. Saying "I do" in front of this innovative wall of lush foliage is sure to be a one-of-a-kind experience.
After tying the knot, couples can enjoy an elegant reception in the hall's contemporary gallery space. Another ideal indoor and outdoor option is the Kearney Solarium and Silverman Pavilion, which has retractable windows and wows with a spectacular view of the city skyline.
Typical Cost: $7,000 – $9,500
Capacity: 150
Bonus: This sophisticated venue provides a range of backdrops that are perfect for elegant wedding photos.
Find Foundation for the Carolinas on Facebook, Instagram, and Twitter.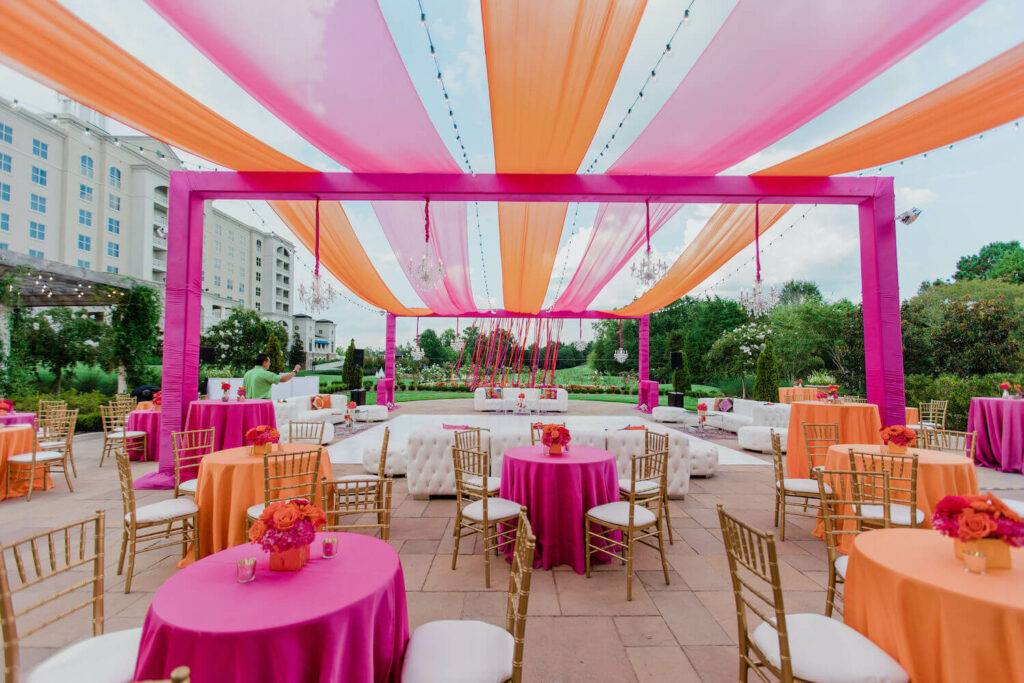 If a luxurious wedding venue that offers reasonable pricing sounds appealing, check out The Ballantyne Hotel. This resort emanates grandeur and allows couples to impress guests with enchanting outdoor ceremonies on its landscaped South Lawn, Rose Garden, or Terrace.
To help ensure your wedding day fulfills your vision, attentive coordinators work with you from day one, helping you select the perfect event space, decor, menu, and more. The coordinators are also present on your special day to make sure all goes smoothly.
Out of all the Charlotte wedding venues, this one is hard to beat when it comes to photo ops. From a grand staircase and fountains to tree-lined paths and sprawling lawns, there's a range of gorgeous settings for photos. When it's time for the reception, expert chefs will serve delicious dishes like Beef Carpaccio, Bacon Wrapped Scallops, Braised Short Ribs, Roasted Portobello Ravioli, and more.
Typical Cost: Rental fee is $500 – $3,500; packages start at $150/per person
Capacity: 350
Bonus: You and your guests can indulge in some well-deserved pampering at the hotel's spa and golf course in between wedding events.
Find The Ballantyne Hotel on Facebook, Instagram, and Twitter.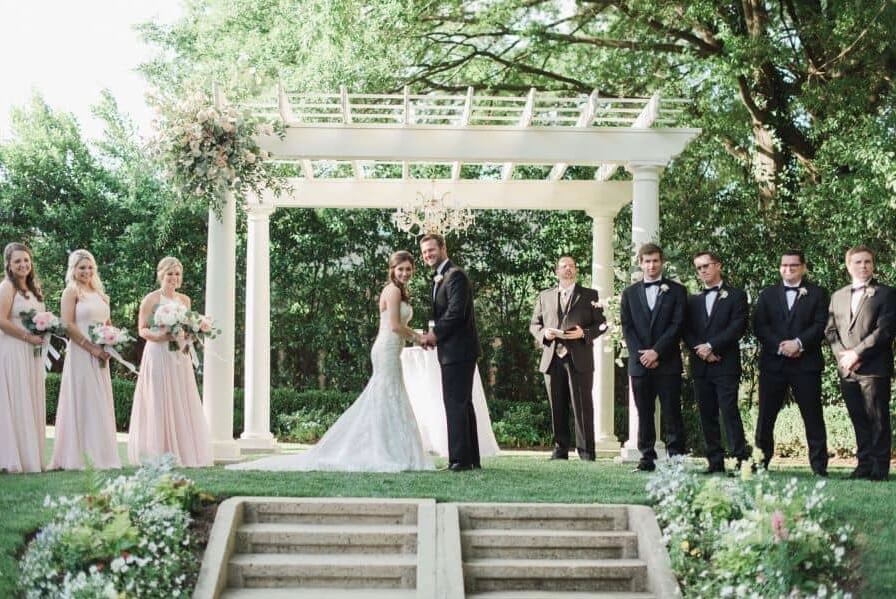 Located in Gastonia, just outside of Charlotte, the historic Separk Mansion is a renovated Italian Renaissance structure built by textile mogul Joseph Separk in 1919. The timeless environment has made the mansion one of the most popular wedding venues in the Charlotte area.
The venue's formal garden offers a dream setting for a ceremony, as it includes a lawn set beneath a 100-year-old oak tree and a classic, white pergola, replete with a chandelier, that sits at the top of granite steps. The pergola can also be adorned with tapestries or fresh flowers. Additionally, the garden features cherry laurels, boxwood hedges, and a rainbow of seasonal flowers and white azaleas.
After the ceremony, guests can enjoy a cocktail hour on the venue's limestone veranda. The reception can be hosted in the garden or in the main ballroom, which has vintage, hardwood floors and a ceiling that dazzles with tasteful chandeliers.
Typical Cost: The all-inclusive wedding package starts at $13,000; the a la carte wedding options start at $6,000
Capacity: 250
Bonus: The all-inclusive wedding package includes food, a bar, the wedding cake, ceremony decor, centerpieces, and all the chairs, tables, and linens required for a ceremony, cocktail hour, and reception.
Find Separk Mansion on Facebook, Instagram, and Twitter.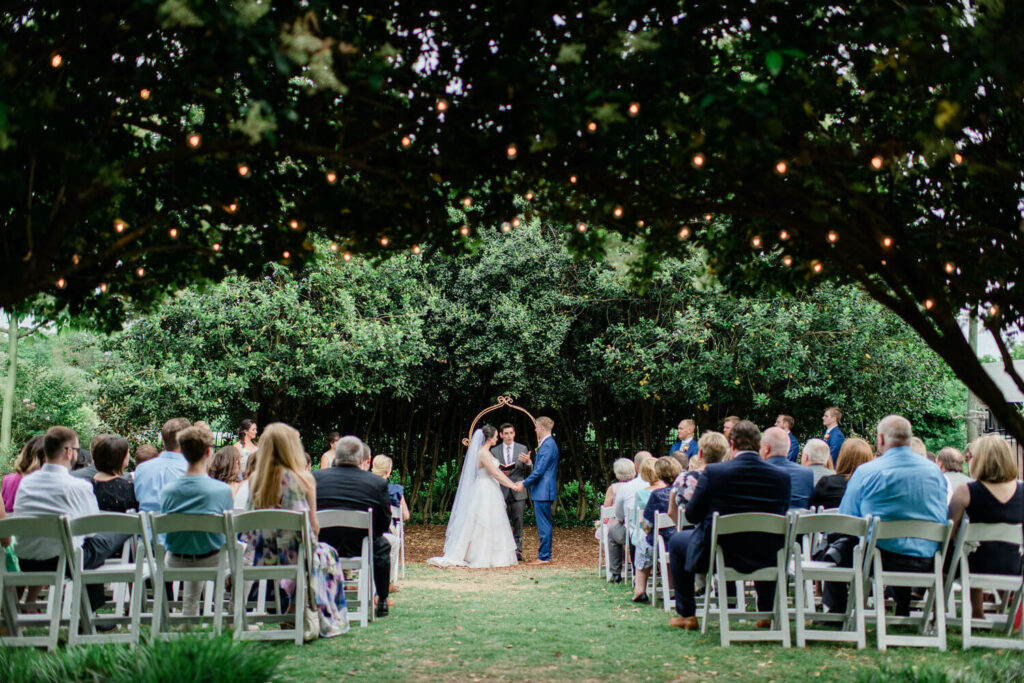 Nestled in downtown Charlotte, McGill Rose Garden is a picturesque event venue for couples wanting a wedding imbued with a classic romance.
As you may have guessed, the venue features a multitude of roses that line the edges of garden paths and open areas ideal for a ceremony or reception. In addition to the roses, the venue boasts a variety of other flowers and unfettered foliage that makes you feel like you've stumbled upon a secret garden.
You can choose from two wedding packages: a ceremony-only package and The Secret Garden package. This includes 12 hours at the venue and six hours of event time, in addition to event coordination, chairs, tables, various decor, and floral design. The venue also provides a lighting package that includes an assortment of lights, such as café lights, twinkle lights, lanterns, up-lighting, and a vintage chandelier.
Typical Cost: $6,000
Capacity: 100
Bonus: The venue exclusively partners with QC Catering and Rosie's Wine Garden, which simplifies the food and drink portion of your wedding planning.
Find McGill Rose Garden on Facebook and Instagram.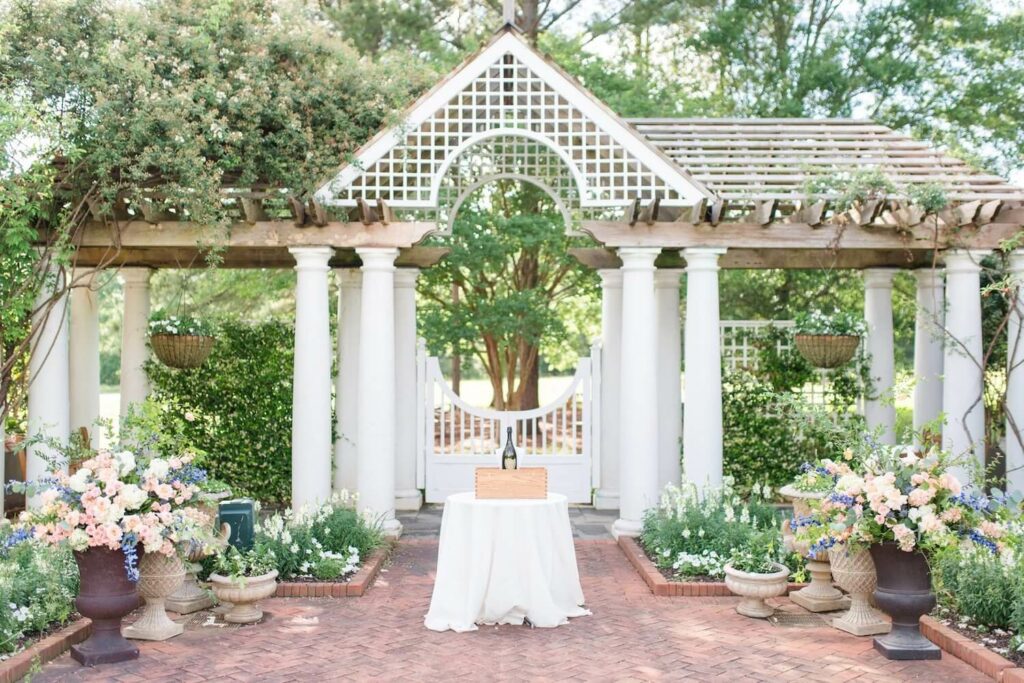 A short drive from Charlotte, the whimsical Daniel Stowe Botanical Garden is a popular choice for an outdoor wedding. The venue features a verdant utopia of manicured gardens, tranquil fountains, nature trails, and a conservatory for tropical plants and orchids.
Popular event spaces for the ceremony include the White Garden, which is encircled by a hedge covered in white blooms and silvery foliage, the Canal Garden that's bordered on two sides by water features and seasonal foliage, and the Four Seasons Lawn that can accommodate large parties under an endless expanse of stars.
For the reception, couples often utilize the Great Hall that offers a dance floor and state-of-the-art audio-visual equipment. The 8,000-square-foot Orchid Conservatory is another favorite reception choice, as it's housed within a five-story glasshouse and adorned with a waterfall and a vibrant canvas of tropical plants.
Typical Cost: Fees start at $1,550
Capacity: 400
Bonus: Couples that utilize the gardens for their wedding receive a complimentary one-year membership.
Find Daniel Stowe Botanical Garden on Facebook, Instagram, and Twitter.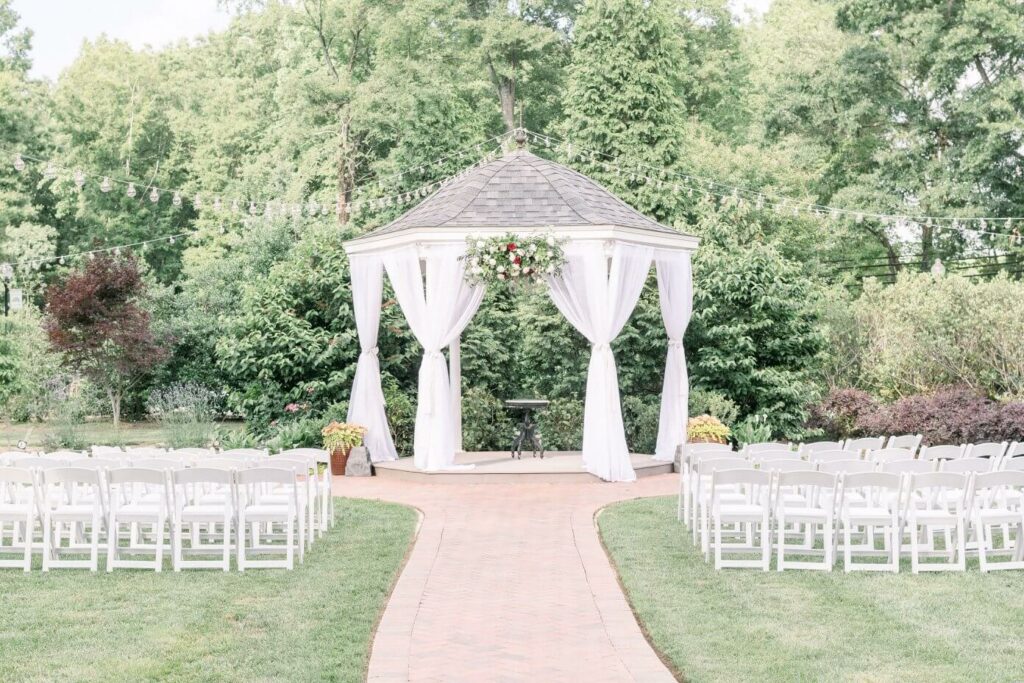 A rustic gem outside of Charlotte, Alexander Homestead is perfect for couples wanting a wedding with tranquil vibes created by twinkle lights, fresh air, and the soothing sounds of nature.
An all-inclusive experience, the venue takes care of floral arrangements, the wedding cake, and almost every other detail. And because it knows every couple has unique needs, the venue works with you to craft a customized wedding package that suits your budget and preferences.
Most ceremonies take place under the Garden Gazebo that's backed by an impressive 200-year-old oak tree, and receptions are commonly enjoyed in the reconstructed Dairy Barn. The venue's exclusive caterer provides all of the food, and while liquor isn't permitted, couples can bring their own beer and wine to be served by the bartending staff.
Typical Cost: $3,200 – $6,500
Capacity: 225
Bonus: The venue provides you with an event manager, wedding coordinator, and a creative team of wedding experts.
Find Alexander Homestead on Facebook and Instagram.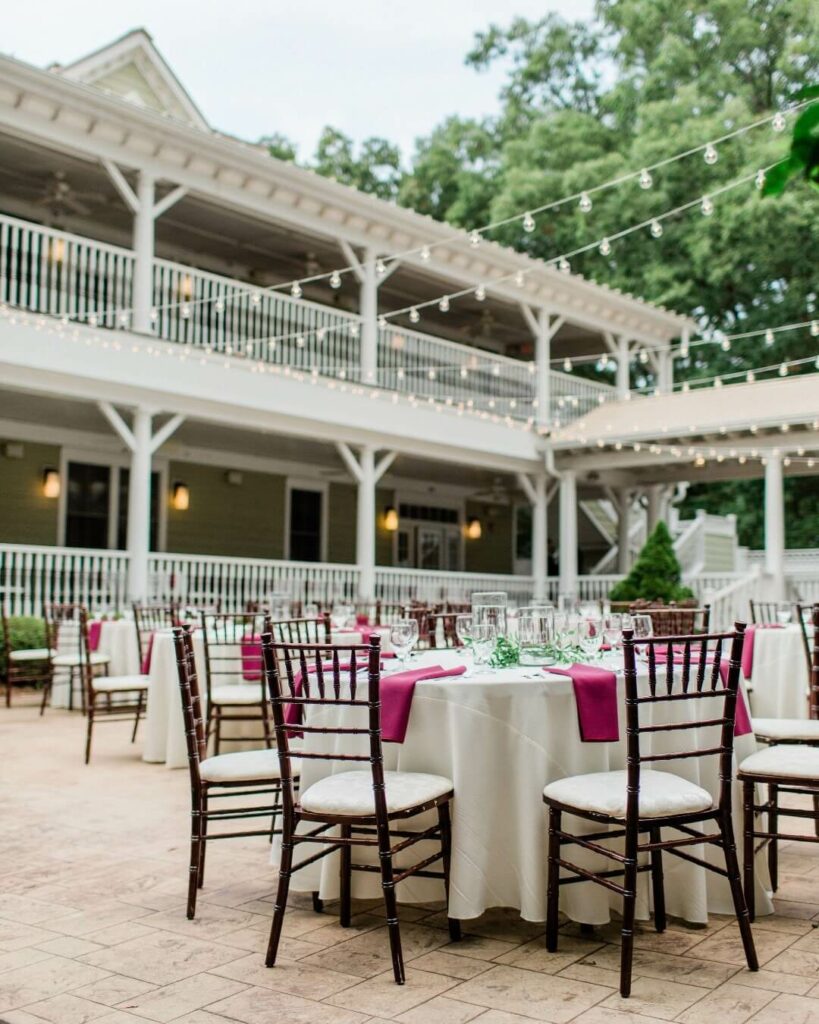 Offering an ideal combination of seclusion and close proximity to downtown Charlotte, Whitehead Manor is a lovely choice for an outdoor wedding venue. This three-acre property is alive with Southern charm and composed of a 5,000-square-foot Victorian-era manor (constructed in 1895) and grounds that include organic gardens, hammocks, and rocking chairs.
For the ceremony, you can stand before a dramatic, moss-covered tree limb stretched out under a canopy of soaring arbors. The effect is mesmerizing. You can then have your reception in the stone courtyard, which dazzles with an abundance of café lights and an idyllic gazebo. This all results in a charming setting for dinner and dancing.
For photos, couples have a variety of backdrops, such as a large porch, quaint swings, a white picket fence, a large lawn, and landscaped gardens.
Typical Cost: Starts at $5,000
Capacity: 200
Bonus: The venue rental includes linens, tables, chairs, and two professional-grade kitchens for caterers.
Find Whitehead Manor on Facebook, Instagram, and Twitter.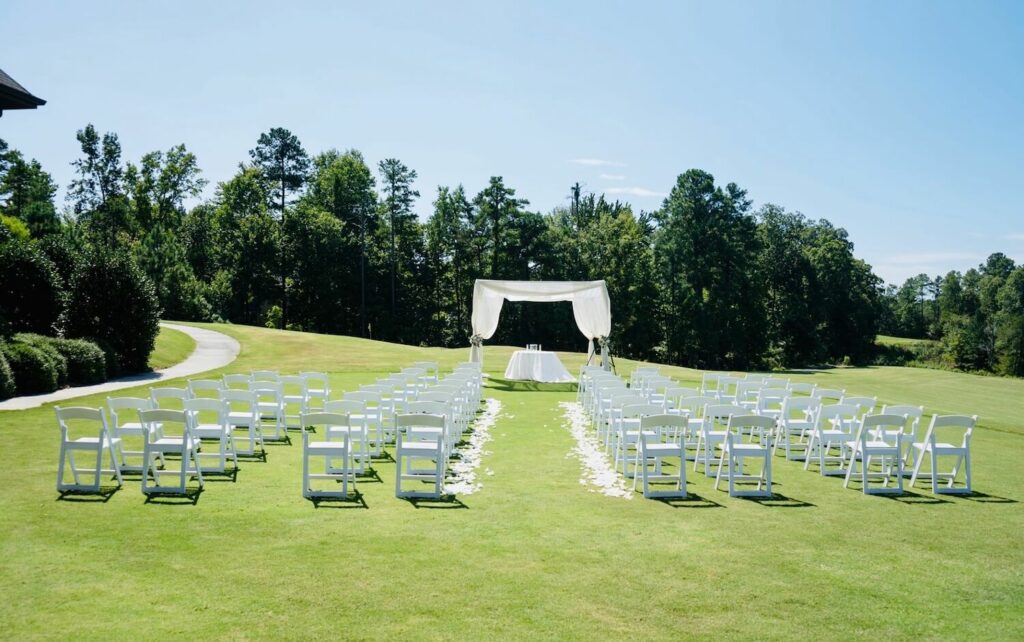 The crown jewel of the upscale Palisades Country Club is the 18-hole golf course, composed of a sea of green and lined by towering trees. The most magical location for a ceremony is on the lawn of the New England-style clubhouse, which is backed by the vast green.
If you're getting hitched in the fall, you'll be treated to the sight of the changing red, yellow, and orange leaves of the trees beyond the green. After the ceremony, the reception can unfold under a tent on the lawn, in the grand Audubon Ballroom, or in the more intimate Nick Room.
A wedding at this country club includes the expert services of coordinators who work closely with couples to ensure every detail of their dream wedding is realized. The venue also accommodates a range of budgets by offering various packages and optional add-ons.
Typical Cost: Starts at $4,000
Capacity: 200
Bonus: You have access to 70 acres of natural beauty for wedding photos.
Find The Palisades Country Club on Facebook and Twitter.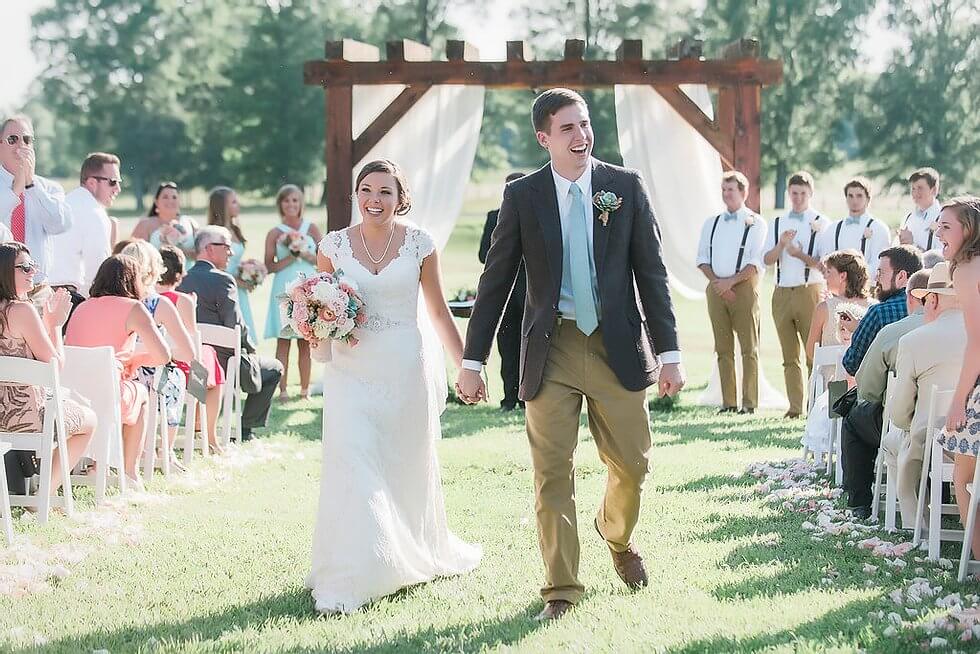 For laidback yet dreamy nuptials, look no further than The Farm at Brush Arbor. This rural haven is a 500-acre working cattle farm that offers two stunning ceremony sites and an idyllic reception space.
You can have your ceremony under a beautiful, open-air barn that includes a stained concrete floor, a ceiling of striking beams, and an arbor you can adorn with fresh flowers or flowing fabrics. You can also say "I do" in front of a hand-built arbor on a lawn overlooking the serene pastures and pond.
For the reception, look no further than the classic red-tin-roof barn, as it features large, burlap-draped doors that open to a patio lit with twinkle lights. The overall aesthetic is perfect for a rustic-chic-, vintage-, bohemian-, casual-, or whimsical-themed wedding.
Typical Cost: $3,000 – $5,700
Capacity: 230
Bonus: The venue provides round tables, table linens, and white chairs for the ceremony and reception. It also offers a variety of decor options.