Your rehearsal dinner is a final celebration with your wedding party, family, and close friends before your wedding day. It serves as a welcome break after your ceremony rehearsal, eases pre-wedding jitters, and helps everyone from your and your fiance's families get to know each other.
Planning a rehearsal dinner may sound stressful on top of wedding planning, but creating a wedding website with Joy makes planning much easier. Stay organized with guest lists for both events in one place, and avoid causing drama over invites.
Manage multiple event guest lists in one place
Joy's guest list manager allows you to easily organize all of your guest lists. Rather than having a separate spreadsheet for each wedding event, keep all your guest lists in one place.
Another benefit of the guest list manager is assigning the number of plus ones each guest on your list receives. You can set this for your rehearsal dinner, your wedding, and each separate wedding event. When your guests RSVP through your wedding website, they can only RSVP for the number of plus ones you've assigned them.
Even better, you can view guest RSVP responses within your guest list. Then, export your guest list to share with your vendors, like your rehearsal dinner venue, for planning purposes.

Organize guests with labels
The key to organizing your guest lists is creating labels for groups of guests, then tagging guests with their applicable labels. Create a 'Rehearsal Dinner' label, then tag each guest you want to invite to your rehearsal dinner with that label. This instantly creates your rehearsal dinner guest list, within your master wedding guest list.
The guest label feature allows only guests tagged with a certain label to see that event on your wedding website. This avoids hurt feelings from those not invited. You can also use labels to delegate tasks or assign seating charts — the possibilities are endless!

Customize wedding guests' schedules with privacy settings
In addition to creating guest labels, you can control privacy settings for your entire website or for certain wedding events. So while your whole website might be public, only guests invited to a specific event like your rehearsal dinner will see it on your website.
How does this work? When you add your rehearsal dinner to your wedding schedule, indicate that only guests with the "Rehearsal dinner" label can see the event. It's that simple!
Control who sees rehearsal dinner RSVP questions
Joy's custom RSVP questions also allow you to ask specific RSVP questions to certain guests. If you want to make sure guests with a "Rehearsal dinner" label are able to attend the dinner, create an attendance question that is only visible to guests with that label.
Add RSVP follow-up questions
RSVP follow-up questions help you get more information from guests and simplify your wedding planning. Want to ask rehearsal dinner guests that RSVP'd 'yes' about their menu preferences? Follow-up questions make it easy, both on you and your guests.
Communicate with your rehearsal dinner guests
Once you've created your rehearsal dinner guest list, it's time to send invites! Send your guests a beautiful e-card invitation at no cost. If plans change, send guests updates ahead of the wedding.
It's everything about your wedding (and rehearsal dinner!) in one place
Helping you plan your rehearsal dinner is one of the many ways Joy simplifies wedding planning. From creating your wedding schedule, to organizing your guest list, to asking RSVP questions, Joy helps you plan your big day each step of the way.
Up Next: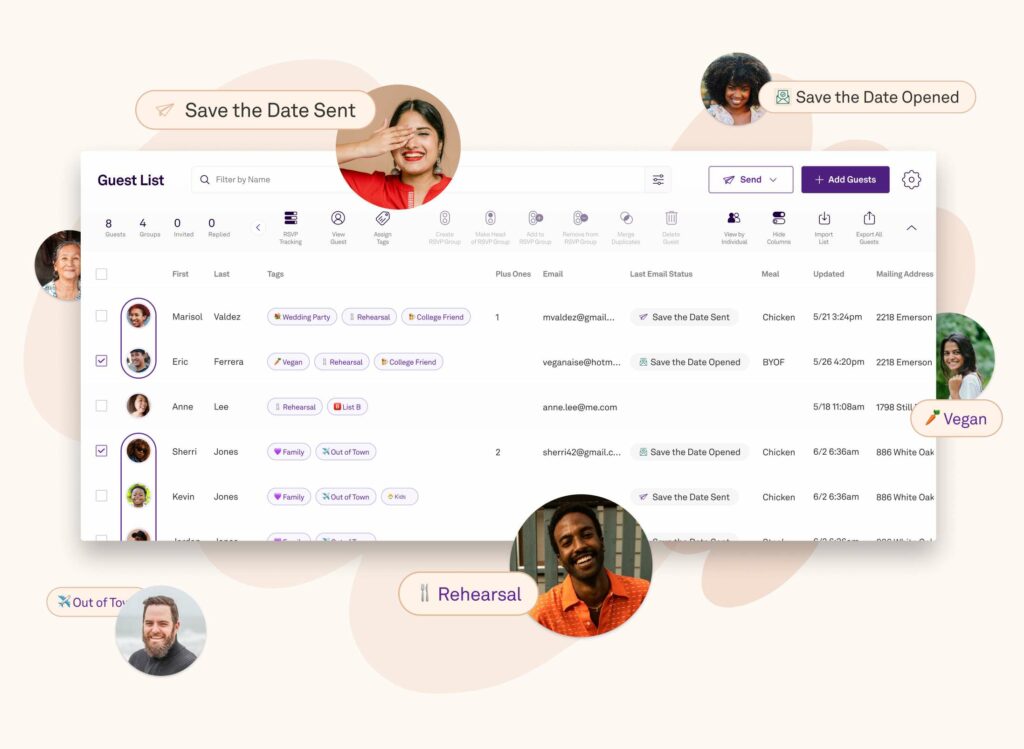 Collect RSVPs, track responses, and communicate with guests—all in one place.
Related Posts