Does the thought of drafting separate guest lists for your ceremony and reception fill you with dread? Planning your wedding schedule and guest lists can seem like an almost impossible task. This is especially true when you combine it with other important items on your wedding To-Do list.
Thankfully, you can organize your multiple events by creating a wedding website with Joy. This will simplify your planning and limit the chances of causing drama that could result in hurt feelings. Joy's intuitive interface can help you realize the wedding of your dreams — while making your planning straightforward, manageable, and fun. Read on to discover how Joy works its magic.
Manage different ceremony and reception guest lists on one master list
There are a variety of reasons why you might need to have two guest lists for your ceremony and reception. Does your dream venue only have capacity for a certain number of family and friends? Maybe you want to have a simple marriage ceremony at City Hall. Or maybe you think that eloping is the best route, so you can hold a larger reception later.
To begin, sit down with your partner and draft your guest list. This will be everyone who is invited to at least one event at your wedding. Then, add those guests and their emails to Joy's guest list manager. This is a tool that allows you to visualize and organize (more on that below) everyone invited to the wedding.
We call this your master guest list.
Use labels for ceremony guests from reception guests
Now that all guests have been added to your master guest list, organize them into separate groups. Use Joy's guest label feature to place each guest into any designation or "box."
For our purposes here, you can create a "Ceremony" label and a "Reception" label to distinguish ceremony guests from reception guests. Then, go through your guest list and tag each guest with the appropriate label.
Note: While not everyone invited to the reception has to be invited to the ceremony, the opposite does not hold true. Etiquette suggests that everyone invited to the ceremony should also be invited to the reception. If a guest is close enough to witness your marriage, they should be able to celebrate with you later on. For planning purposes with Joy, assume that a guest with a "Ceremony" label means they're automatically invited to the reception.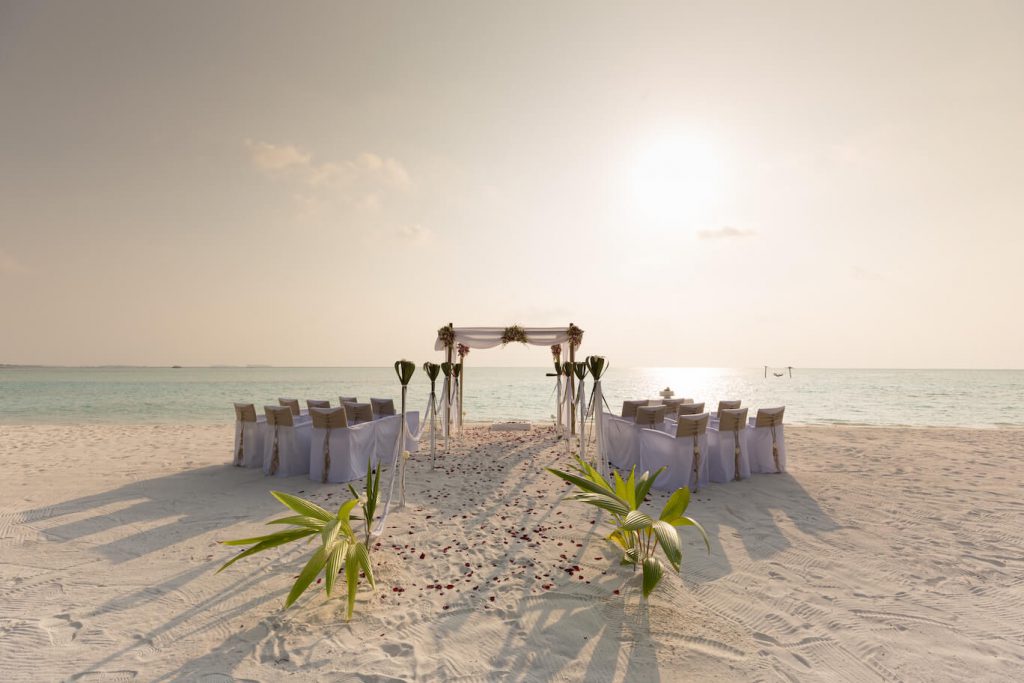 Create private (and separate) RSVP questions for ceremony guests and reception guests
Once you've tagged your guests with a "Ceremony" or "Reception" label, you'll want to know their attendance plans.
With Joy, you can customize multiple event RSVP questions for guests with specific labels. This includes follow-up questions about meal choice, lodging, or anything else you desire. What does this mean? Someone with a "Reception" label will only receive questions related to the reception, not the ceremony, if they respond as "attending."
Meanwhile, someone with a "Ceremony" label would receive questions about the ceremony and reception. In this case, you can set "Are you attending our wedding reception?" as the main question visible to all guests.
From there, "Are you attending our wedding ceremony?" can be a question visible to only ceremony guests, or those with the "Ceremony" label.
To ask your Ceremony guests other questions related to the ceremony, just show those questions to guests with that label. Note that the same process applies to other events surrounding your wedding, like the rehearsal dinner. Use any label (even emojis!) for various events and apply them to each question you ask your guests.
Joy makes asking different RSVP questions for multiple events with separate guest lists a breeze.
Send separate, paperless invitations for each label on your guest list
Ready to send paperless invitations? You can be sure guests will receive tailored correspondence that will depend on the events to which they're invited. Create separate invitation batches, one for guests with a "Ceremony" label and one for guests with a "Reception" label.
Start with your ceremony guests first and create an e-card. Note the details of your ceremony and include a line like "reception to follow" with additional reception information. From there, select only those guests who have a "Ceremony" label on your master guest list. This will ensure that this specific invitation will only be sent to ceremony guests.
Then, proceed with your invitations for reception guests. You can easily modify the e-card you created for your ceremony event. Just make sure you only include reception details so there is no confusion or hurt feelings among your guests.
Track and monitor RSVP responses on your guest list manager
Wondering how to track your guests' attendance responses for your ceremony and reception, and other wedding events, in real-time? With Joy, you will automatically receive an email notifying you that a guest has responded to your e-card.
Conveniently, you'll also find their RSVP responses populated on your guest list manager. Any follow-up questions you asked to your ceremony and reception guests are also included. Additionally, you'll see that each of your RSVP questions is listed as a column on your guest list manager. This way, you can clearly visualize each of your guests' responses.
Manage everything in one place
With a wedding website through Joy, keep your guests and events organized in a way that makes sense to you. The platform also gives you control over your wedding. This can include everything from managing guests and RSVPs to event visibility and the design and functionality of invitations.
We want you to feel empowered to make your big day your own. That's why we designed Joy with helpful tools that make wedding planning easier and more delightful than ever.
Up Next: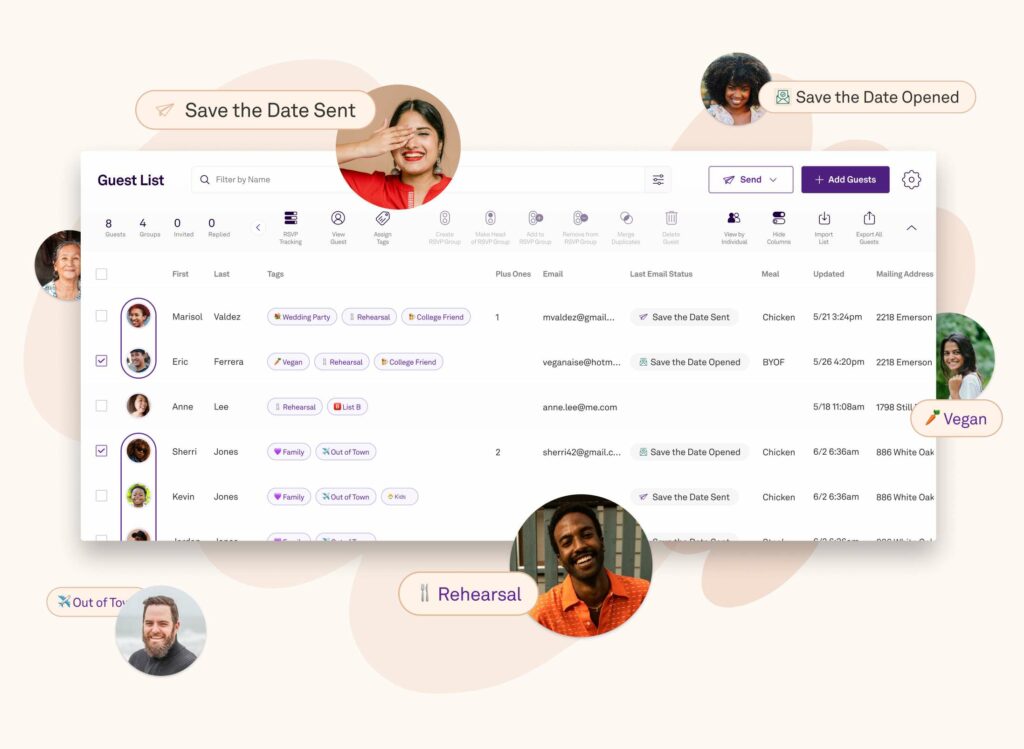 Collect RSVPs, track responses, and communicate with guests—all in one place.
Related Posts