Known for amazing food, jubilant locals, iconic Jazz bands, and Mardi Gras, New Orleans, Louisiana is recognized around the world as a prime destination for a lively (and maybe even raucous) getaway.
And, as New Orleans loves to celebrate, it's an ideal location for a small wedding if you're hoping for an intimate celebration with only your nearest and dearest in attendance.
There is a wide range of New Orleans wedding venues that offer everything from a modern, avant-garde aesthetic to historic mansions filled with the energy of a bygone era. Read on for our roundup of the six best wedding venues in New Orleans and discover your dream setting in no time.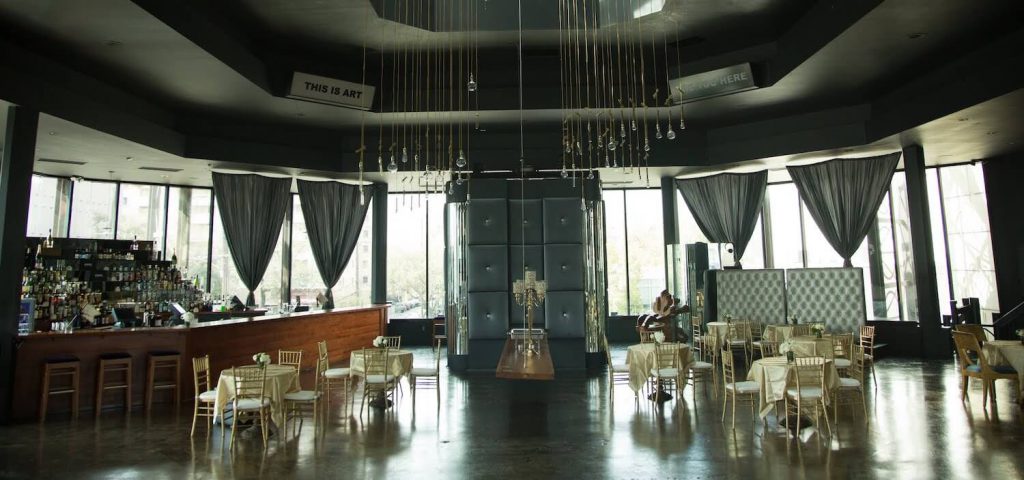 One of the edgiest locations to say "I do" in the Lower Garden District, Eiffel Society offers a unique, industrial-chic ambiance in a city that's primarily filled with antebellum venues. The sweeping views of Saint Charles Street, through the massive floor-to-ceiling windows that flow down from the 18-foot ceiling, also add to the appeal of this venue.
Couples wanting contemporary vibes for their wedding will appreciate Eiffel Society's one-of-a-kind Deco chandelier (hung from an impressive skylight), original artwork, and modern furniture. Additionally, the full beverage and catering service makes this venue a blessedly easy place to host a wedding.
You can also be sure the food won't disappoint. The caterer can whip up delectable and traditional New Orleans dishes including Creole favorites that are complemented by globally-inspired gourmet cuisine.
Typical Cost: $2,000 – $3,500 for site rental; food and drink packages start at $80 per person
Capacity: 120
Bonus: This venue gives you major bragging rights, as it was constructed from pieces of a restaurant that was originally located atop Paris' Eiffel Tower.
Find Eiffel Society on Facebook, Instagram, and Twitter.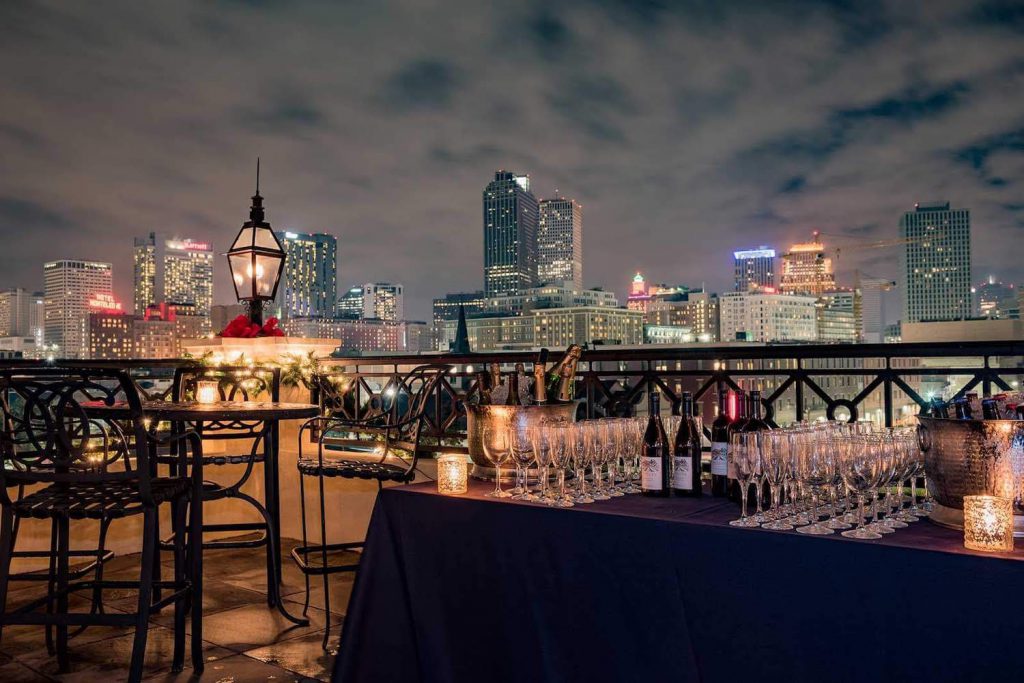 A prime venue for an intimate wedding in the Historic French Quarter, Basin St. Station is steeped in NOLA history. Built in 1903 and serving as the heart of five railway stations that serviced Downtown New Orleans, it's only appropriate that the site that used to welcome thousands of visitors every day is now the city's welcome center.
Think about your wedding day unfolding in the fourth-floor event space featuring classic chandeliers, a full kitchen, a stage that's yearning for a Jazz band, an elegant banquet area, and a rooftop terrace you and your guests might not be able to pull away from.
As if that wasn't enough, the views of Downtown New Orleans in the evening are truly breathtaking.
Typical Cost: $1,400 – $2,400 for a three-hour event; $500 for each additional hour
Capacity: 50 for an outdoor wedding ceremony; 130 for an indoor ceremony and reception
Bonus: You and your guests receive a complimentary champagne toast and parking.
Find Basin St. Station on Facebook and Twitter.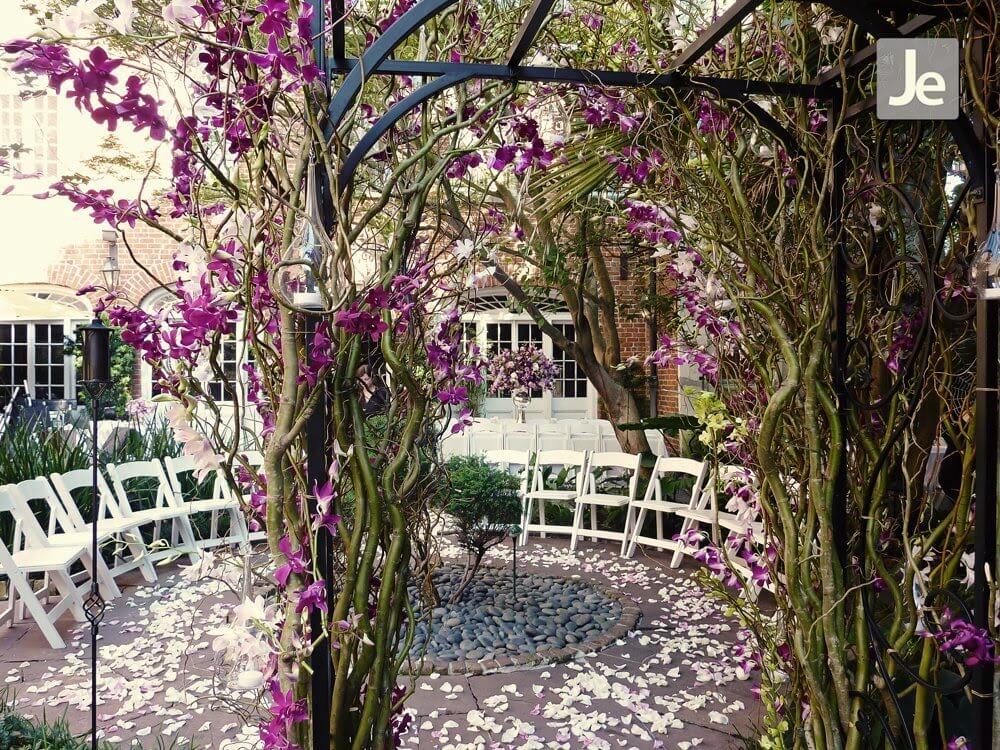 Tucked in the historic 150-year-old Princess of Monaco Courtyard on Royal Street, Café Amelie is an ideal location for a fairytale destination wedding.
The verdant gardens provide a whimsical backdrop for your wedding ceremony with their manicured landscaping, soothing fountains, and quaint seating areas. For your reception, head to the brick Carriage House that features French doors and other details that emanate the charming spirit of New Orleans.
Since this location is first and foremost an acclaimed eatery, it provides a range of menu options from French and Italian fare to dishes filled with the zest of Asian flavors. But Café Amelie really dazzles when it serves local specialties like andouille gumbo, crab cakes, cochon de lait, and shrimp with grits.
Typical Cost: $4,500 for four hours
Capacity: 150
Bonus: Its location in the heart of the French Quarter puts this venue within walking distance to many of the city's premier nightlife hotspots and boutique hotels.
Find Cafe Amelie on Facebook, Instagram, and Twitter.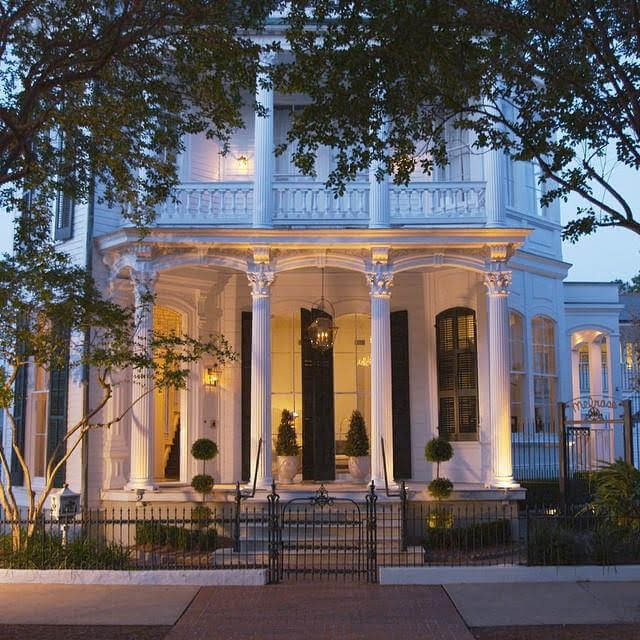 This gorgeously-restored Victorian mansion is the perfect location for couples wanting a vintage wedding adorned with the spellbinding charisma of New Orleans in the 19th-century. Many weddings take place in Melrose Mansion's stunning courtyard, which is adjacent to the glistening pool, or within the building's finely-appointed front parlor.
To fully absorb the splendor of this NOLA haven, you can opt to buy out the hotel for two days. This provides you and your guests with exclusive access to all 21 rooms and suites and the exceptional grounds.
Plus, happy couples get to choose between the Residential Executive One Bedroom Suite, with its 1,300-square-feet of luxury and stellar views of the historic Esplanade Avenue, the Exclusive Grand Balcony Suite that features an expansive balcony, or the highly sought-after Donecio Suite that wows with contemporary artwork, furnishings, and a chandelier.
Typical Cost: Buyout is $12,000 – $18,000
Capacity: 65
Bonus: The pool is the perfect place to unwind and celebrate with your beloved and guests, especially if you're getting hitched in one of NOLA's many balmy months.
Find Melrose Mansion on Facebook and Instagram.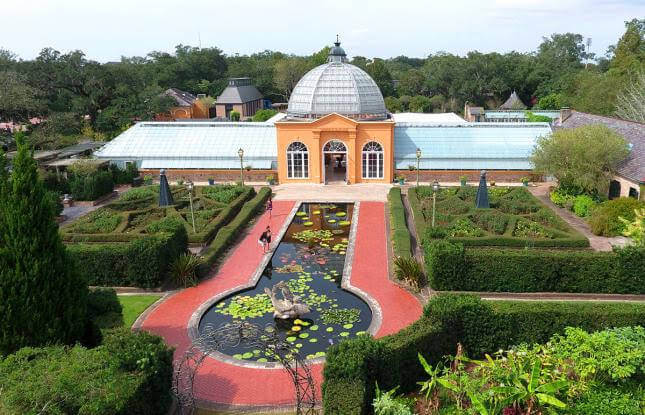 Imagine saying "I do" under the soft glow of a spectacular glass-dome roof before stepping outdoors to enjoy a reception near a scenic lily pond and tropical plants.
You can realize that vision at The Conservatory at New Orleans City Park. Constructed in the 1930s and recently renovated to showcase a menagerie of plants, it also mimics the architectural style of the Pavilion of the Two Sisters at the opposite end of the garden.
Ceremonies and receptions are usually held in The Conservatory's central room that faces the garden's lily pond and is bordered by the glass-roofed Living Fossils and Tropical Rainforest exhibits.
If you want to change things up for the reception, head to The Tropical Rainforest which includes a tree root exhibit of epiphytes, a waterfall exhibit, and a cave filled with animals that are native to tropical areas of the world.
Typical Cost: $1,250
Capacity: 60
Bonus: The variety of gorgeous outdoor sites, such as an ancient oak tree draped with moss and a romantic rose garden, makes it easy to capture mesmerizing wedding photos at this venue.
Find The Conservatory at New Orleans City Park on Facebook, Instagram, and Twitter.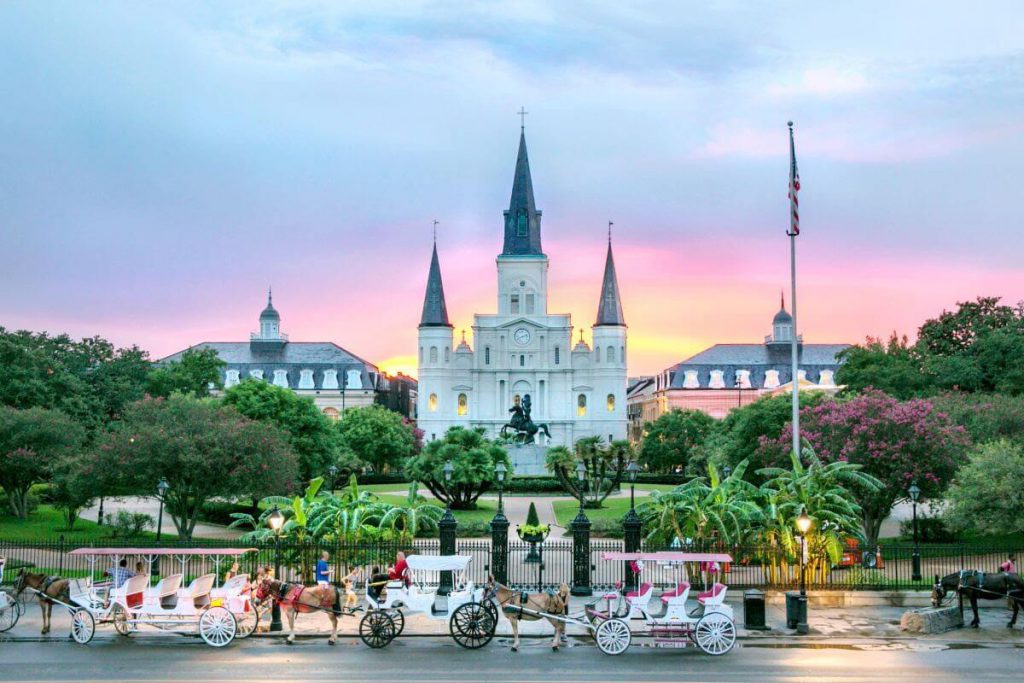 When many people think of New Orleans, they picture Jackson Square. This iconic site was originally called Place d'Armes and was the epicenter of New Orleans life in the 1700s.
After the Battle of New Orleans in 1815, the square was renamed in honor of General Andrew Jackson. It's now home to an imposing sculpture of the general and a sense of refinement and elegance that emulates the days when women wore hoop skirts and the 'Just Married' sign was hung from the back of a horse-drawn carriage.
Pledging your love in such a legendary location makes dealing with the rules of this public park well worth it. Since no food or drink is allowed at events in Jackson Square, you'll need to find another location for the reception. Luckily, there is a slew of incredible reception venues nearby.
Note: While the park is never closed off from the public, it only allows one wedding per day.
Typical Cost: $250 – $1,000
Capacity: 100
Bonus: There is a thriving open-air artist colony in Jackson Square, providing you and your love with the unique option to have an oil painting done after the ceremony.
Find Jackson Square on Facebook.