One of the best honeymoon destinations in the islands of the Caribbean Sea, Saint Lucia is a dream locale filled with French, English, and African influences. It's an appealing choice for honeymooners wanting equal parts adventure, cultural exploration, and pampering, as the island is a go-to spot for scuba diving, snorkeling, spa treatments, and other ingredients that make for an unforgettable honeymoon.
When it comes to where to stay, you won't be disappointed. This stunning island offers everything from beachfront luxury resorts and boutique hotels to all-inclusive resorts and cozy hideaways. The variety helps ensure you'll find accommodations that match your unique needs.
To help you discover the right St. Lucia honeymoon resort for you, we've rounded up a list of our top picks and must-have planning tips for your rendezvous.
Tip: Create a honeymoon fund with your Joy wedding website. This registry type allows you to ask guests to help fund your incredible St. Lucia honeymoon and/or treat you to various excursions you're hoping to experience.
St. Lucia Honeymoon Planning Tips
Follow these tips to avoid common St. Lucia honeymoon planning missteps and make sure you can enjoy the best the island has to offer.
Select the right time of year
When to honeymoon in St. Lucia largely depends on your unique preferences. If you want ideal weather, shoot for a trip between December and March. For those who want to save some money and don't mind temperatures in the mid-to-high-80s, plan your Caribbean honeymoon for the summer months.
Book private airport transport
If you're staying in a resort in the northern section of the island, it's best to book private airport transport if you don't plan on renting a car. This is because the airport is on the southern tip of the island and about a 90-minute drive from the north. If you have a group transport, your transit time might be considerably stretched if the shuttle has to drop off other guests along the way.
Explore Castries
Be sure to check Castries, the capital of the island, as it's one of the best ways to fully immerse yourself in local culture. Top activities include exploring the French and British colonial buildings and town squares, eating Creole street food, and shopping at the crafts market that includes wood carvings, paintings, clothing, cocoa, and other treasures.
Go on a mountain hike
One of the island's most striking features, the Piton mountains, offers a variety of hiking trails that can't be missed. If you want a milder hike, opt for a walk up Gros Piton. Most resorts can arrange guided hikes.
Check out the diving and snorkeling
St. Lucia is home to some of the world's best dive sites, so it's worth it to become scuba certified before you go or take a certification course on the island. If scuba diving isn't for you, snorkeling is also extraordinary, as it allows you to float above vibrant coral and sea life. Anse Chastanet reef is the prime spot for snorkeling.
Best Honeymoon Resorts in St. Lucia
Ensure you have the honeymoon of your dreams by selecting one of the following resorts for your romantic getaway.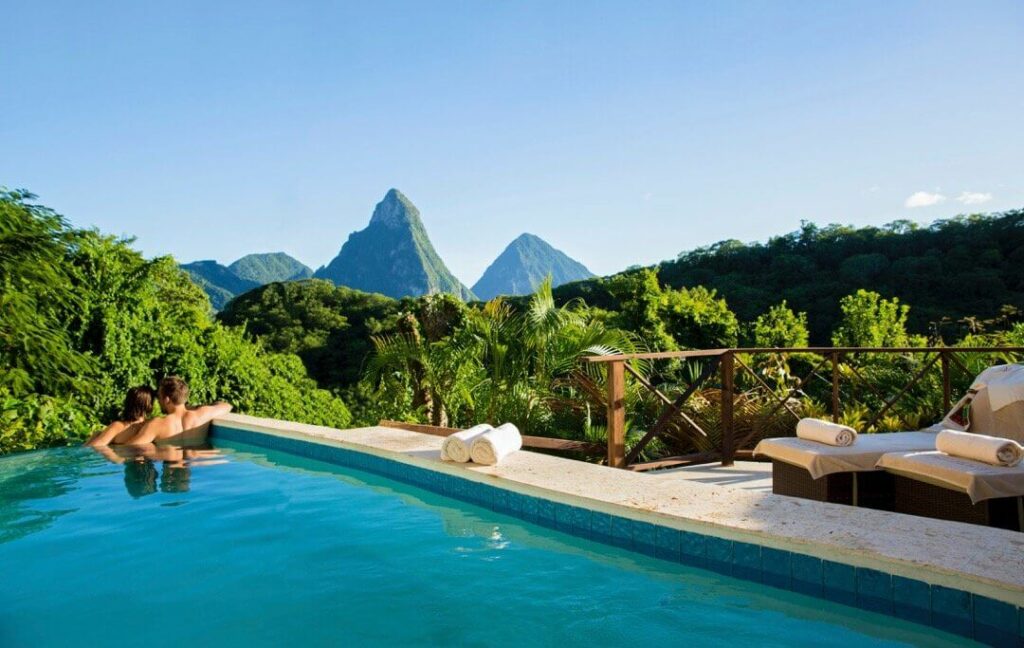 A beach resort that seems to have been pulled straight off the silver screen, Anse Chastanet is the place to honeymoon if you like the idea of exquisite surroundings and ample activities. And if you really want to treat yourself, the honeymoon package is a must. This package includes accommodations, an all-inclusive meal plan, airport transfers, a welcome cocktail, and a bottle of French champagne. You can also enjoy a volcano tour, mineral baths, a guided boat snorkel trip, a scuba diving course, or two dives if you're certified divers.
Your honeymoon will also include a bicycle excursion in the Anse Mamin Valley, a half-day sailing trip on a skippered yacht, and access to tennis courts, equipment for snorkeling, kayaking, paddleboarding, mini-sailing, and wind-surfing, and sunrise and sunset yoga. You can then nurture your sore muscles with a one-hour Swedish massage for overall wellness.
If you want to mix it up, you can select the resort's "Yin and Yang Total Romance" package that allows you to stay both at Anse Chastanet and Jade Mountain Resort.
Typical Cost: $430-$1,595/per night
Find Anse Chastanet on Facebook, Instagram, and Twitter.

Take advantage of the mesmerizing landscapes across the island by selecting the unique "Peak to Beach" honeymoon package offered by the Cap Maison and Ladera Resort. This all-inclusive package includes three nights in an Oceanview Villa Suite at Cap Maison with a private infinity pool and three nights in a Heritage Suite at Ladera with a private heated oversized pool and unobstructed views of the Piton Mountains (a UNESCO World Heritage Site).
All breakfasts, lunches, and dinners are included, meaning you'll savor delicious dishes like sweet potato and coconut soup, Caribbean lamb salad, and roast conch with pickled vegetables served in a yam basket. You'll also enjoy a one-hour spa treatment at both resorts, which offer unique treatments like the raspberry and litchi seasonal facial, Chocolate Delight body treatment, and a salt scrub that combines algae extract, remineralizing marine salts, and orange and grapefruit essential oils.
During your time at Cap Maison, you'll be situated on a secluded seaside bluff overlooking the turquoise waters of the Caribbean. One of the most romantic activities at this cliffside hideaway includes dinner, or sunset drinks, at "Rock Maison," the resort's offshore private dining deck surrounded by the sea. This gem even provides a unique Champagne Zip Line that gets your bubbly to you in style. You can also have a float in the warm waters of a natural rock pool, or experience various water sports like kayaking, sailing, snorkeling, or paddle boarding off the resort's private beach, Smugglers Cove.
At the mountainside Ladera Resort, you'll walk into a room coated with rose petals and replete with chocolate-covered fruits and sparkling wine. After enjoying your gifts and settling into your suite, you can choose between a hike up Gros Piton, garden tour, yoga class, meditation, or walk on a nature trail. It also offers bartending classes, horseback riding, cooking demonstrations, rainforest tours, sailing, and more.
Typical Cost: $6,937 – $11,486 for the "Peak to Beach" honeymoon package
Find Cap Maison and Ladera Resort on Facebook, Instagram, and Twitter.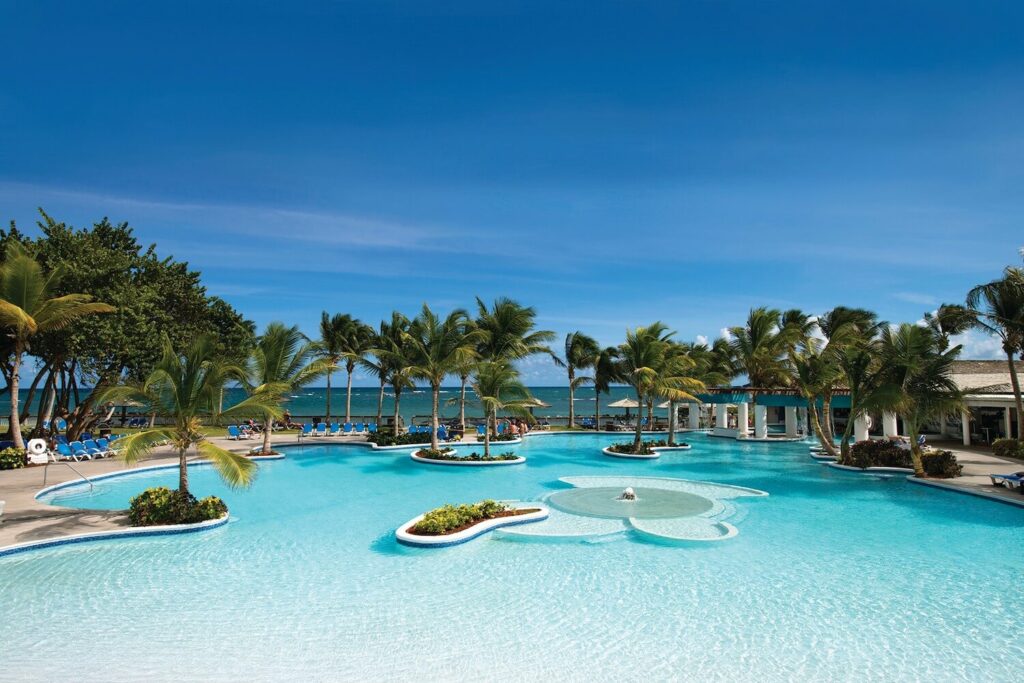 To help you unwind from your wedding, check-in at the exotic Coconut Bay. You'll be immersed in a swirl of romance and tranquility in the resort's adults-wing, Harmony, that features a serene pool and bar encircled by palms, an oceanfront spa, intimate cabana beds, and private hammocks perfect for an afternoon nap. You can also splurge on a couples' oceanfront massage or a private tour of the island.
To take advantage of the best that the resort has to offer, opt for the "Cocomoon" honeymoon package. This package includes a couples-only Harmony Romance Dinner, fruit and sparkling wine in your room upon arrival, a catamaran sunset cruise, and an eight-hour private, chauffeured island tour. It also features one night of turndown service, featuring sparkling wine and chocolates, a dinner for two at La Luna, and a free night on your first-anniversary trip back to the resort.
Typical Cost: $599 for the "Cocomoon" honeymoon package
Find Coconut Bay on Facebook, Instagram, and Twitter.

Just south of Castries, you'll find this boutique, adults-only hotel nestled into the cliffside overlooking the secluded Anse Cochon cove. Ti Kaye Village Resort & Spa includes 33 oceanview cottages that feature private gardens, outdoor showers, private plunge pools, and sprawling balconies with hammocks. When you're not relaxing in your cottage, you can go scuba diving, do a wine and rum tasting, engage in an ATV adventure in the mountains, or lean into romance with a sunset boat cruise.
The spa is another highlight of this St. Lucia resort, which strives to create a holistic experience by pairing spa treatments with activities like cooking with local spices and hiking the Pitons. Some popular treatments include a honey, cucumber, and aloe facial, banana and aloe leaf body wrap, and volcanic sulfur mud wrap.
Their honeymoon package features roundtrip airport transfer, a bottle of sparkling wine and fruit plate upon arrival, a four-course dinner on the romantic Soleil Deck, a wine tasting, a 60-minute couple's massage, and a surprise gift.
Typical Cost: $575 for the honeymoon package
Ti Kaye Village Resort & Spa on Facebook and Instagram.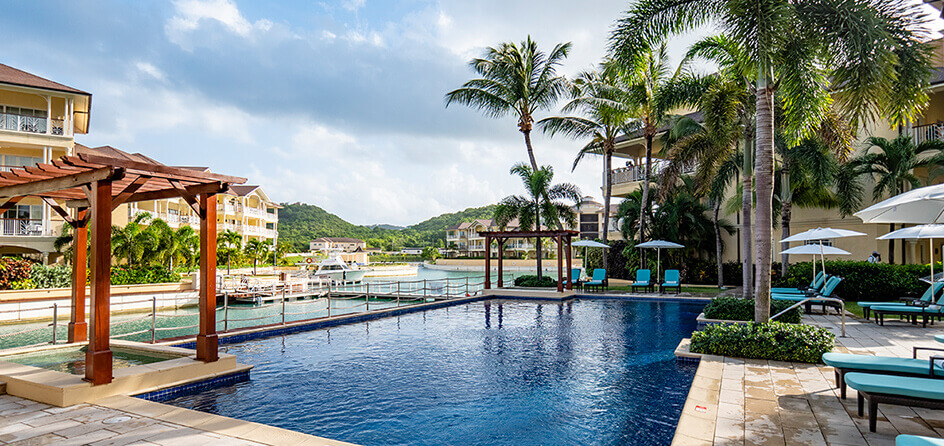 Located on the acclaimed Rodney Bay, The Landings Resort and Spa is imbued with classic elegance. Looking out onto the dazzling waters of the Caribbean, all villas include private furnished terraces, four-poster beds, luxury linens, and premium bath amenities. The decor is inspired by the island's rich culture and includes warm woods, bamboo and rattan furnishings, and island-inspired artwork and accessories.
When it comes to opportunities for romance, this resort delivers. You can celebrate your union during a soak in one of the resort's hot tubs or during a swim in one of the three pools. Your days will also be filled with walks on powder-soft sand beaches bordering the resort, massages in a beach cabana, and sunset dinners complemented by chilled champagne.
If you want adventure, the resort can organize outings like a guided rainforest walk, tropical ziplining, a hike up volcanic spires, and a drive through the only "drive-in" volcano in the Caribbean. You can also tour a working cacao plantation, take a Segway tour on a nature trail, go on an aerial tram tour above the rainforest, or walk underwater on a Sea Trek Adventure Helmet Diving Tour.
Typical Cost: $396-$608/per night
Find The Landings Resort and Spa on Instagram and Twitter.
Up Next:
Whether it's for airfare, a hotel stay, or honeymoon travel experiences, create one list for all your honeymoon wishes.