Our current times have brought a number of changes to wedding planning. Due to COVID-19, implementing new safety precautions, like sanitizing stations and social distancing, has become top of mind for today's couples.
But another important safety precaution — wedding masks — can be both functional and fashionable. Read on for our rundown of eight stylish masks you and your guests can wear during your socially distanced wedding.
Note: The following cloth masks are not medical grade, and are not considered replacements for surgical masks. Please use these in combination with other CDC safety precautions.
Masks for the Couple
Not only should couples have exclusive face coverings, but being able to wear them long after the wedding day is a big plus. Whether masculine or feminine, choose a mask that looks fab but also feels comfortable, so make sure to give it a test run before the big day.
1. Hand-Embroidered Face Mask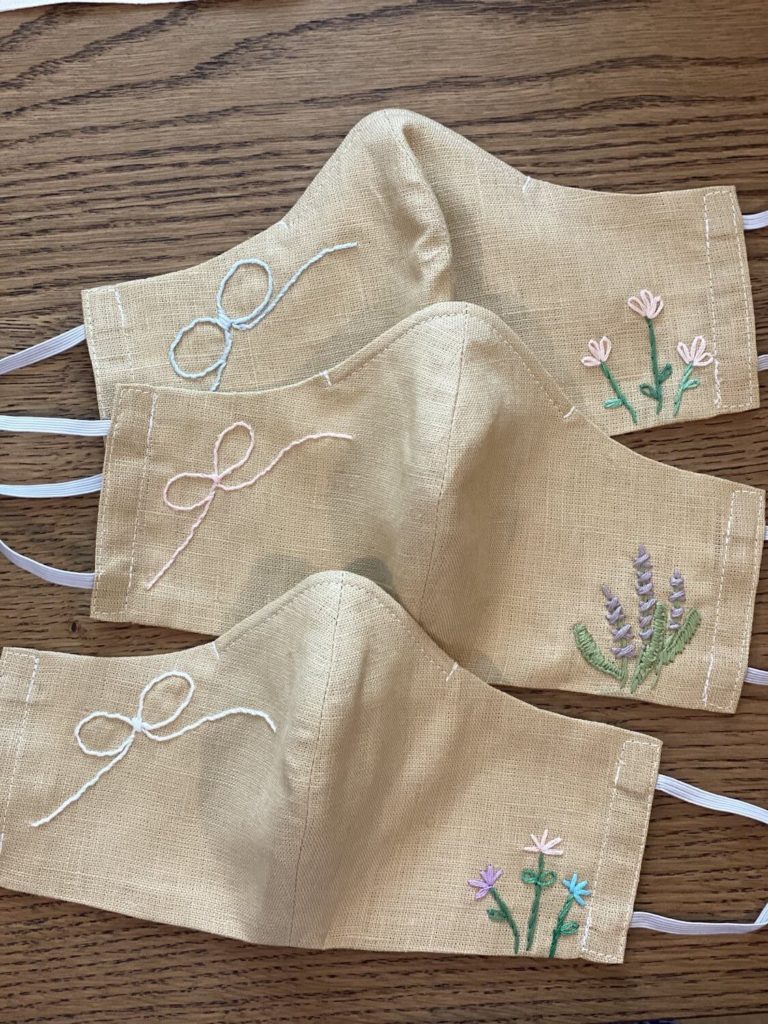 Handcrafted touches can make a wedding day feel extraordinary. Couples often strive to incorporate unique wedding ideas that are one-of-a-kind, so this bridal face mask is perfect for those who appreciate artisan-quality designs. It would pair perfectly with the delicate nature of a wedding dress.
These face coverings from Hibiscus Linens are hand-stitched with feminine touches, like a bow and dainty flowers. They consist of a linen front and lining, and there is a pocket for an additional filter. This female-owned company is based in the US and utilizes time-honored techniques to create each piece.
Bow & Bloom Linen Face Mask with Embroidery ~ One of a Kind — $75 each
2. Chambray Face Mask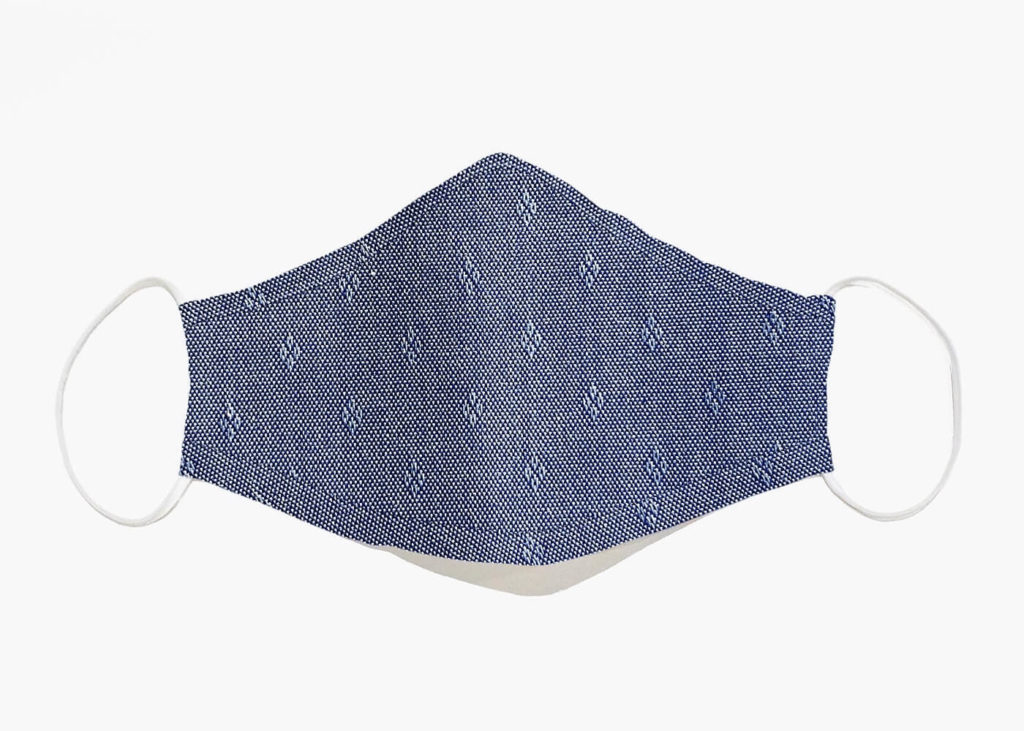 For more of a masculine touch, these fabric face masks are lovely for anyone who adores the casual yet sophisticated feel of chambray. These coverings from Madewell are constructed using leftover fabric and are available in a variety of colors. But if you find a pattern you adore, you'll need to snatch it up quickly!
The elastic ear straps are comfy, and the masks themselves have three layers, which includes a filter. A big bonus is that Madewell and J.Crew donated over 75,000 masks to Montefiore Medical Center in New York. Your big day can play a part in supporting their efforts.
Three Pack Non-Medical Face Mask — $20, pack of 3
Masks for the Wedding Party
A quality mask is a perfect item to give your wedding party at the rehearsal dinner. Coordinate colors or select a unique face covering for each attendant. Either way, they'll have a gift they can utilize well beyond your big day.
3. Pretty Girl Handmade Mask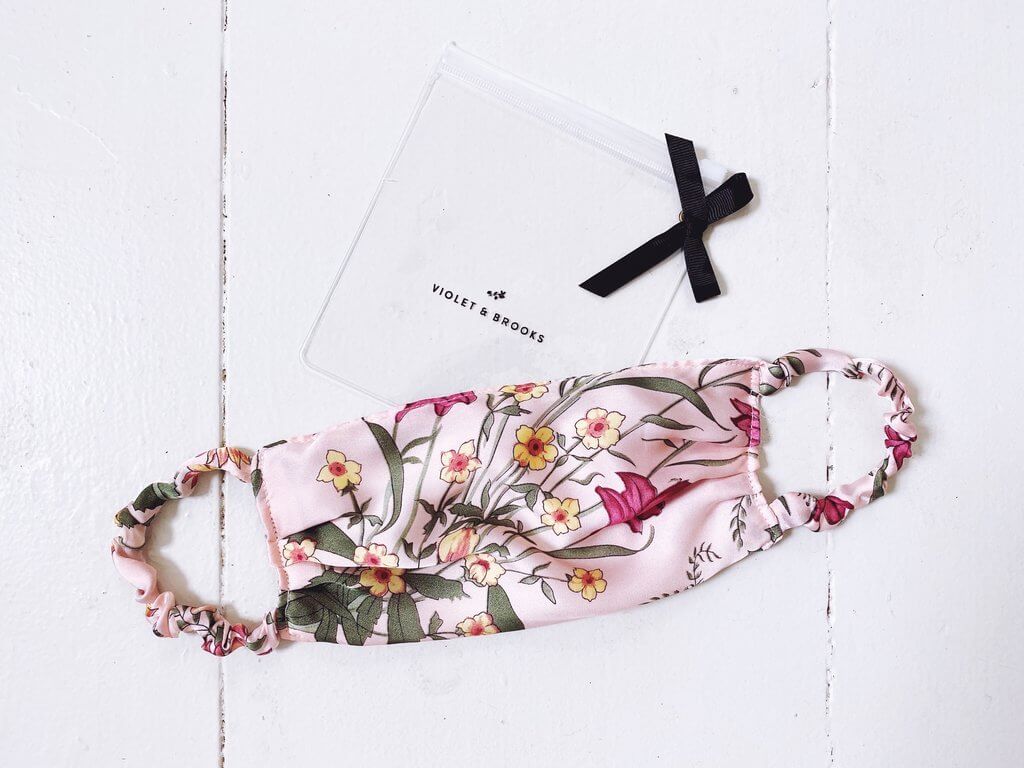 Violet & Brooks is another female-owned, US-based company, and when it comes to thinking of the details, no one does it better. Their collection of face coverings is couture, and the elastic is covered in the same fabric to create a cohesively beautiful look.
There are a variety of patterns available to match a plethora of bridesmaid dresses. Even the fabric is an elevated silky/poly cotton. These cuties come in a vinyl pouch complete with a tiny bow, which is suitable for tucking into your bridesmaids' boxes.
Pretty Girl Handmade Mask in Pink Floral — $28 each
4. Embroidered Initial Face Mask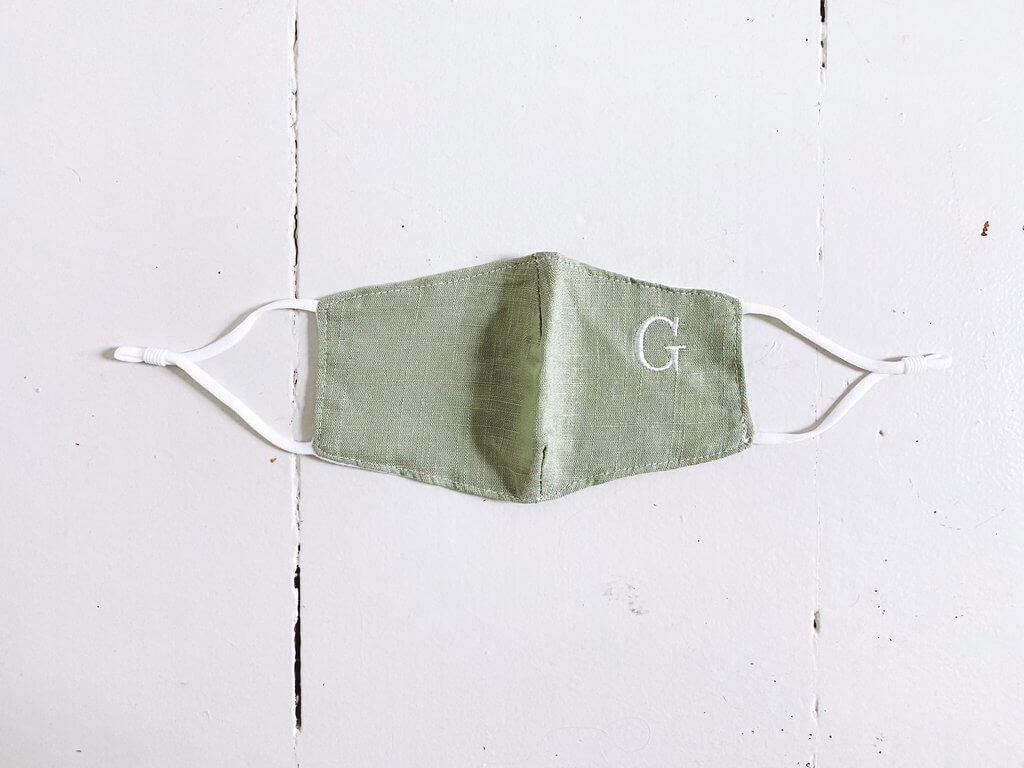 Perfect for anyone in your wedding party and beyond — officiant, flower girl, readers, soloist — Violet & Brooks' initial wedding masks have a sublimely personalized touch. Available in three colors (navy, sage, or pink), these face coverings are embroidered with the single initial of your choice.

The linen/rayon blend front has a cotton lining and adjustable straps for extra comfort. What a fabulous choice for your entire wedding party, especially the groomsmen.
Embroidered Initial Face Mask in Sage — $15 each
Masks for Guests
We're in unprecedented times, which sometimes calls for creativity when it comes to wedding favors. Face coverings make an excellent gift for all of your guests, and it's an item they'll likely put to good use after your wedding.
5. Fashion Face Cover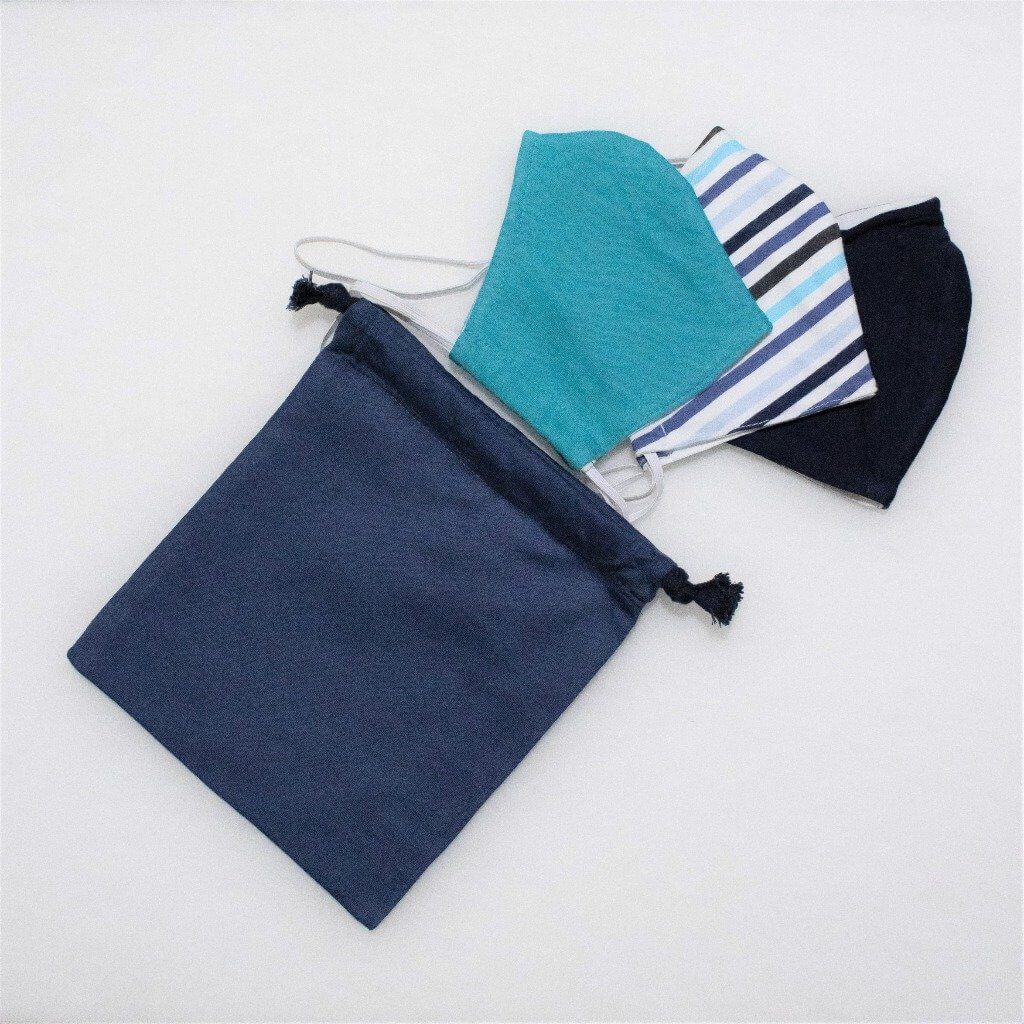 Dorsu is a company you can genuinely feel good about. Creating small-batch, sustainable clothing, their face masks are also produced ethically with responsibly-sourced fabric. Your guests will adore these facial coverings as they're made from ultra-comfy jersey material. The straps also go around the head so there isn't pressure on the ears.
The two-ply cotton jersey material has a metal strip at the top that perfectly forms to the nose. A little pouch includes three masks, which you can break up to give to guests individually. Such a fabulous, planet-friendly choice!
Fashion Face Cover — $25, pack of 3
6. Johnny Was Face Mask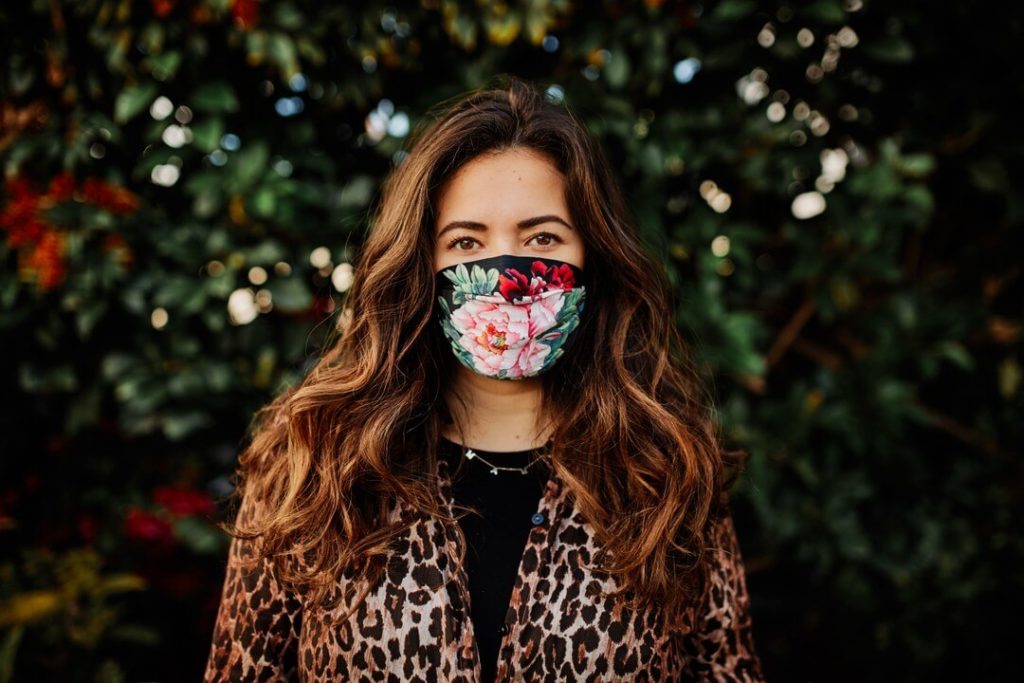 The company Johnny Was is known for their beautiful patterns and lovely silks. When the pandemic hit, it began turning fabric scraps into some of the most beautiful wedding masks we've seen. From florals to tie-dye, the selection is gorgeous, and for each pack purchased, the company donates a set to essential workers.
There is one thing to note with some of the selections. You choose your pattern — say, flowers — and you'll receive a variety of floral designs. Exact patterns and colors will vary, but we can say from experience that this entire collection is beautiful. Bonus: You can purchase these in packs of 5 or 50 to ensure that all of your guests are in wedding masks.
Johnny Was Face Signature Print Face Mask — $25 for 5, $225 for 50
7. Colorful Face Covering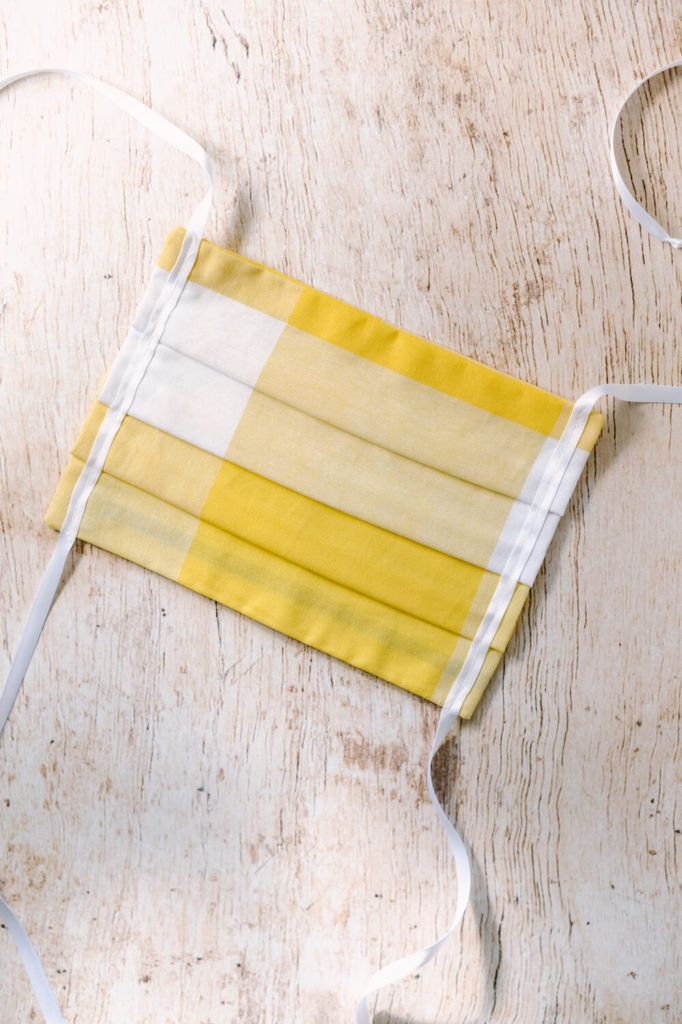 Couples that love color will adore these wedding masks from Virginia Dare Dress Co., a female-owned company based in Virginia. Face coverings are available in pastels, like sunny yellow, light blue, and green, and your guests can show off their personality while coordinating with your wedding colors.
These masks are hand-sewn by volunteers, and proceeds are donated to providing respirators and masks for healthcare workers. Made from double-layer cotton, they have ties instead of loops so your guests can tie them around their heads or close to their ears for comfort.
Virginia Dare Dress Co. Mask — $8 each
Masks for the Youth
If you have younger ones in attendance, they'll need face coverings, too.
8. Salvaged Hemp Blend Face Mask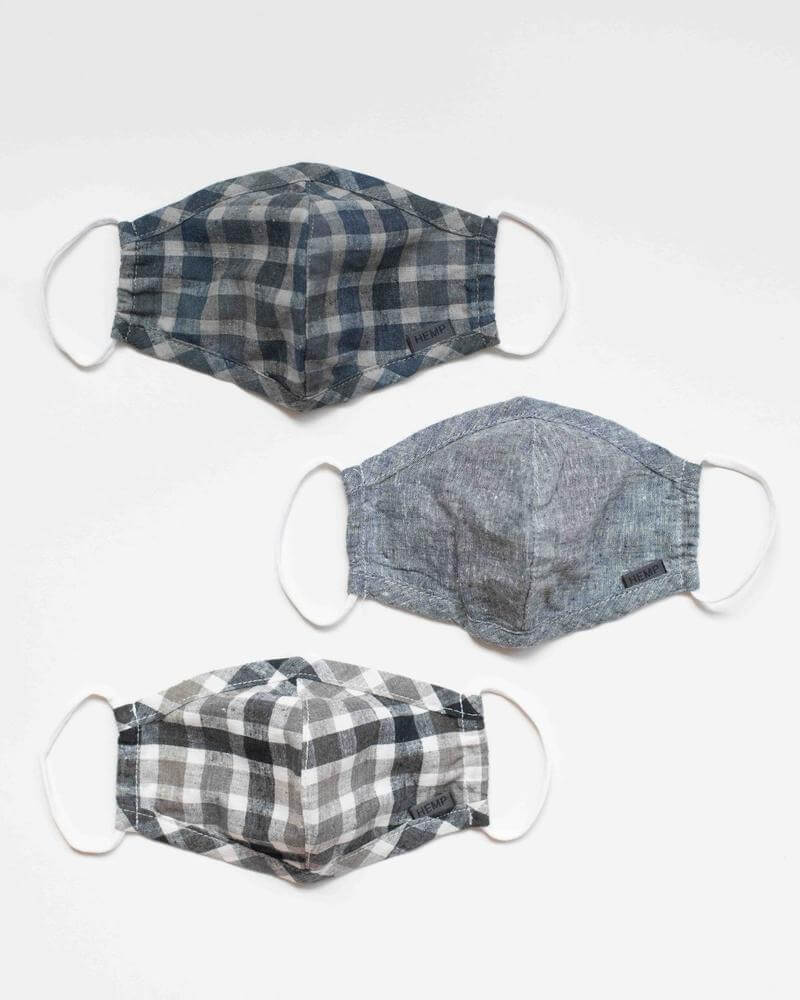 United by Blue is a Philadelphia-based brand that utilizes ethically-sourced materials in their clothing. When the pandemic hit, the company decided to put its scraps to good use by using them to make masks.
The fabric consists of an organic cotton, hemp, and recycled polyester blend, and there is a variety of patterns available. Recommended for ages eight and up, these double-layer face coverings will also do for smaller adults.
United by Blue donates one mask to Chosen 300 for every three-pack sold, and it also pulls one pound of plastic out of the ocean for each product purchased. It's a fabulous way to keep your guests safe while doing good globally.
Youth Salvaged Hemp Blend Face Mask — $20, set of 3
Takeaway
Ditch the disposables and wear something a bit more couture on your big day. These face masks can also double as wedding favors or gifts for your nearest and dearest. Whether you want everyone to wear the same face-covering, or you want to see a plethora of patterns, wedding masks are an excellent — and safe — addition to your big day.