One of the most stimulating and pragmatic projects in wedding planning, a wedding website helps you send invitations, convey information about your upcoming wedding, point guests to your registry, and enjoy other benefits.
Plus, wedding websites have become especially essential as more nuptials are postponed or live-streamed due to COVID-19. As a one-stop-shop for the resources you and your guests need, your website can simplify information sharing and wedding planning in these uncertain times.

While adding important details to your website is a crucial step in planning your wedding, one of the more enjoyable tasks is choosing your website theme. Joy offers a range of templates that help you convey the essence of your big day. This is especially true if you're getting married during the winter season.

Read on to discover nine of Joy's most stunning winter wedding website templates to complement your winter celebration.
1. Star Gazing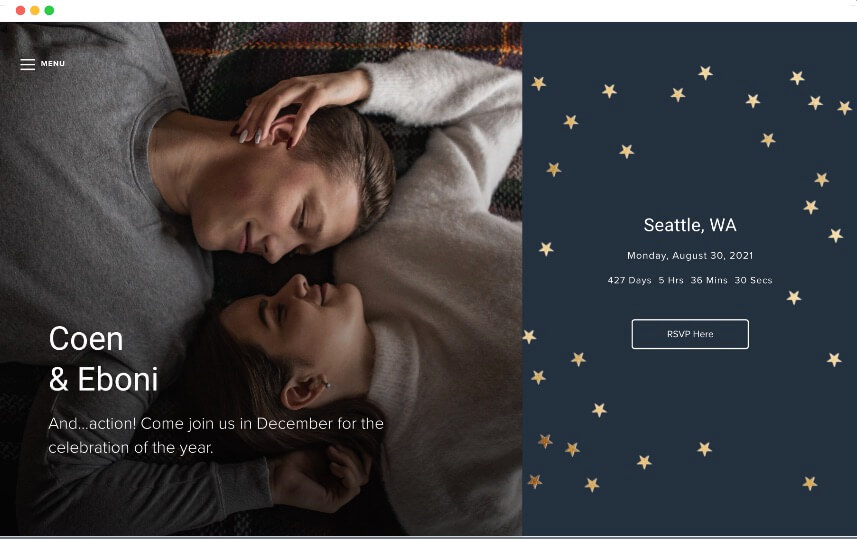 The Star Gazing theme makes you feel like you're staring into the inky-blue sky on a clear, frosty night. It's a dazzling choice if you enjoy a simple aesthetic kissed by playfulness. With a dark-blue background speckled by small, gold stars, this theme is for dreamers.
2. Crystal Dawn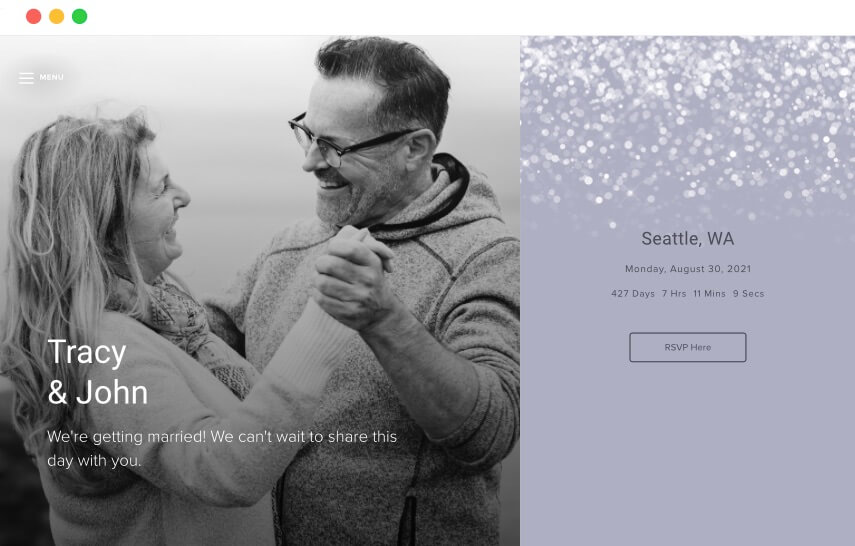 A winter theme for those wanting a fairytale ambiance woven into their wedding, Crystal Dawn features a dusting of soft, white spheres drifting in front of a subtle, gray-blue background. It conjures thoughts of an enchanted, snow-covered ball. If you live for the sparkle of this festive time of year and hope to add that wonder to your nuptials, this theme is a must.
3. Light Snow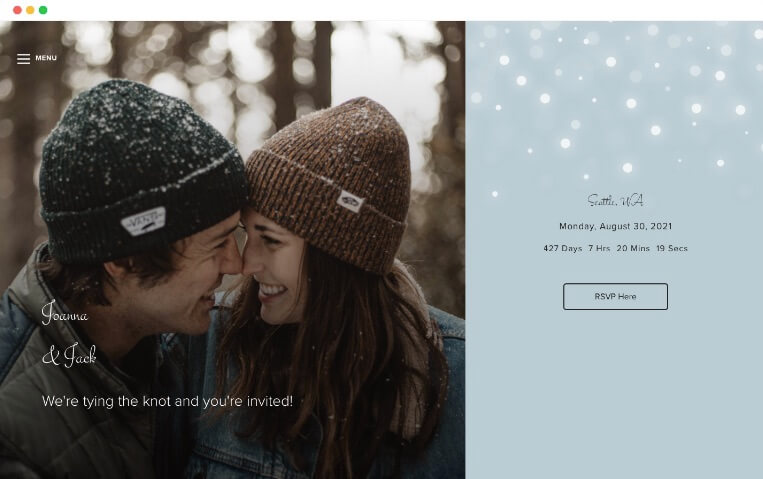 Light Snow is one of the most classic winter themes. It evokes a gentle flurry with its pale, powder-blue backdrop and light shower of small, white orbs that seem to glow with white light as they fade down from the top of the frame. This is an especially appropriate theme if you plan to say "I do" at a snow-covered venue.
4. Strung in Love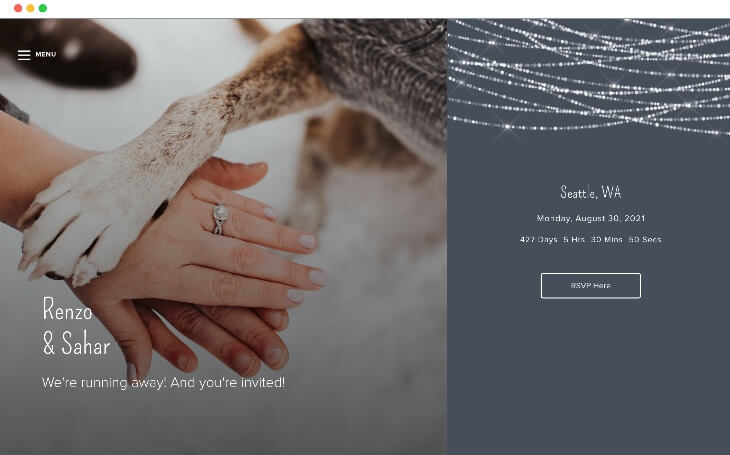 A great way to get guests excited for a ceremony and reception filled with glitz and glamour, Strung in Love is a chic theme portraying thin strings of tiny diamonds draped in front of a steely, gray-blue backdrop. This theme is perfect for couples who have more formal engagement photos.
5. Silver Haze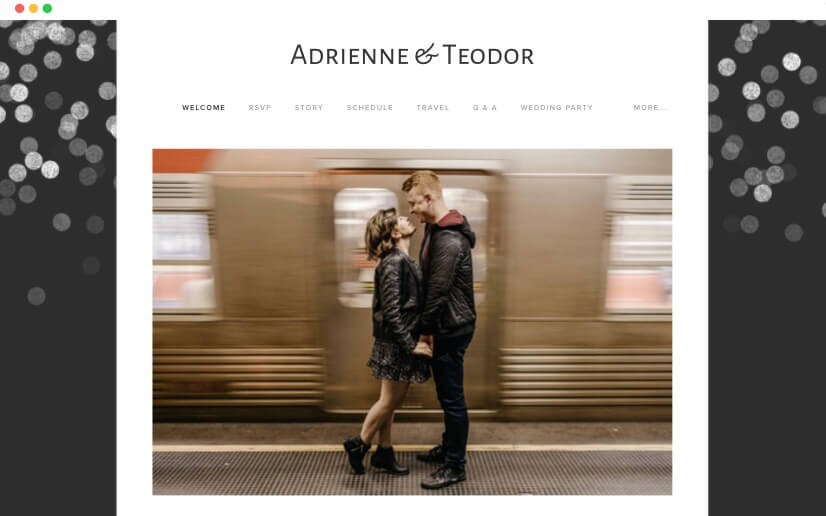 A sophisticated theme of black and silver, Silver Haze is a prime choice if you want your wedding website to make a striking, dramatic impact. The black background, with its sprinkle of tiny glowing spheres, conjures images of dark winter nights illuminated by silvery-white twinkle lights.
6. Bronzed Leaves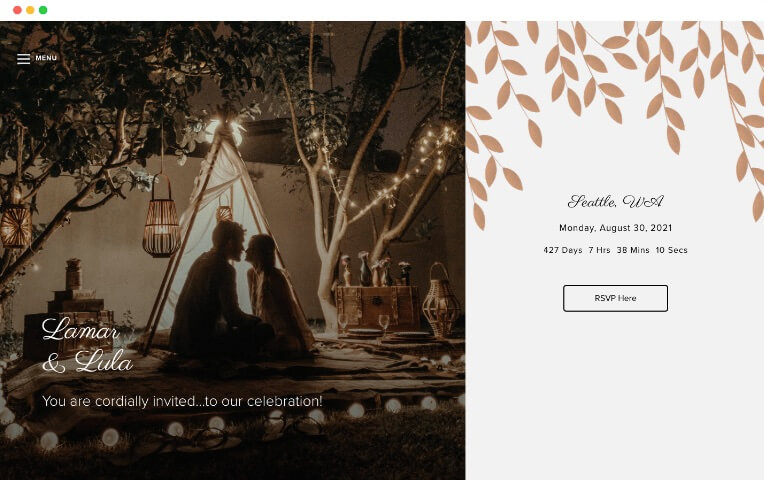 The Bronzed Leaves theme is perfect for couples drawn to chic neutrals. With a canopy of Peru-colored leaves atop a light-gray backdrop, this theme pairs beautifully with engagement photos featuring whites, golds, and other earthy hues. If you want your wedding to imbue the warm and fuzzy feelings winter is known for, this theme should be at the top of your list.
7. Gold Foil Frame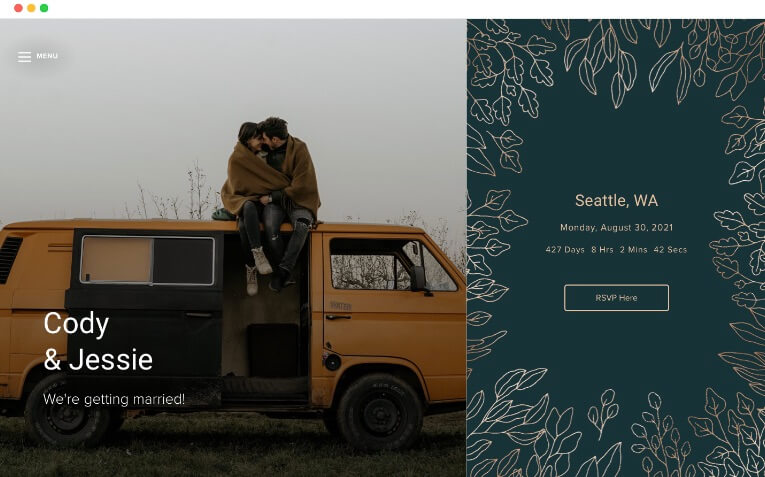 An elegant theme for a winter wedding, Gold Foil Frame consists of the delicate outlines of leaves, which fade from cream to gold, coating the edge of a dark-cyan backdrop. The cyan creates a dramatic effect, while the intricate leaves infuse the theme with warmth and coziness. This is the theme for you if you envision a celebration coated in rich colors with pops of sparkle.
8. Bohemian Eucalyptus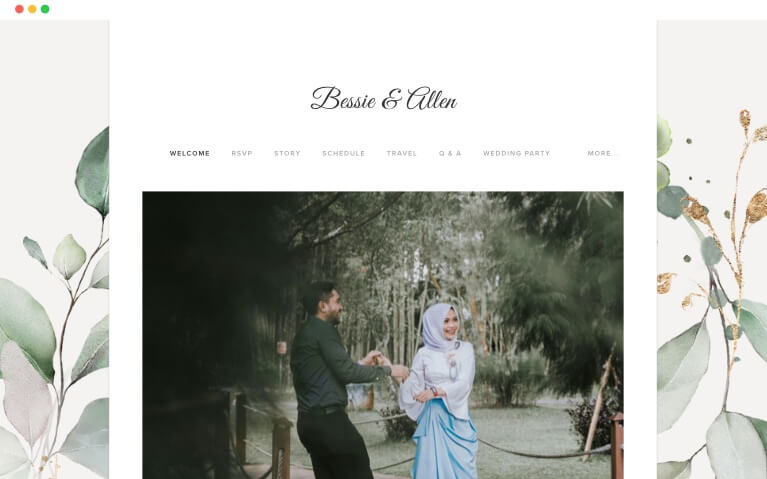 If the idea of a wedding filled with the greens and blues of willow, silver dollar, true blue, gumdrop, and parvifolia eucalyptus leaves, sprinkled with the sumptuous golds of winter, makes you light up, consider the Bohemian Eucalyptus theme.
This tasteful option features a light-gray background with watercolor sprigs of eucalyptus enhanced with simple gold overlays. The result is understated yet whimsical.
9. Blue Acrylic Floral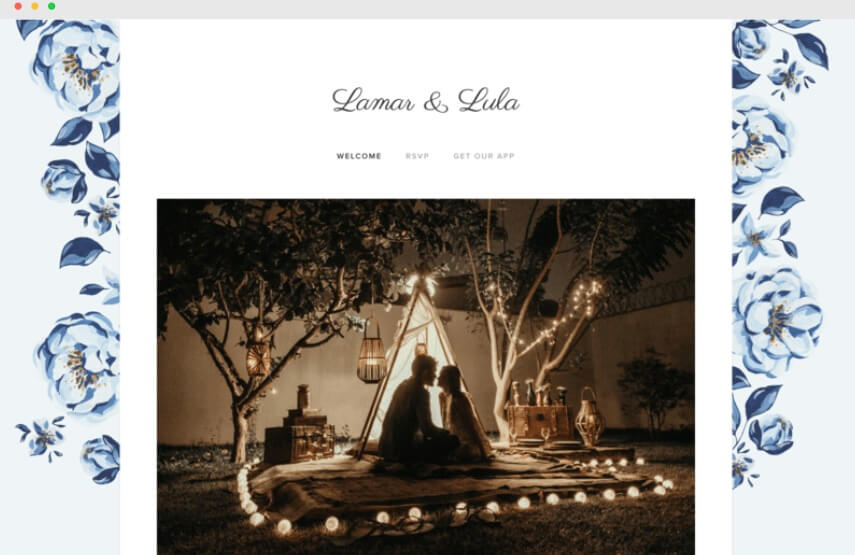 Perfect for a frosty, winter wonderland wedding, the Blue Acrylic Floral theme features painted peonies that range in color from dark- to icy-blue. The theme is made all the more wintery by its pale-blue background. This is an optimal choice if you'd like your wedding palate primarily made up of whites and blues.