There are countless romantic ways to pop the big question. But to propose on the beach, surrounded by crashing waves and a breathtaking backdrop, is an iconic way to start the rest of your lives together. From a simple set-up on the sand to elaborate plans that take you through air, land and sea, you'll find some of the best beach proposal ideas in our guide.
But first, there are a few best practices to keep in mind to ensure your big moment goes off without a hitch. In addition to choosing a beach that holds significance for you and your partner, find an area that offers privacy. If that's not possible, opt for a time when the beach is less crowded, such as sunrise or in the off-season. If you're bringing a photographer, make sure to also consider the position of the sun to get the best lighting.
Weather is another major factor when it comes to pulling off an outdoor proposal. While beach proposals are perfect under clear skies, it's important to have a backup plan in case of rain.
And, while it's easy to overlook, think about how you will transport items like the engagement ring — the last thing you want is to drop it in the sand!
With those logistics in mind, you're ready to get down to planning the special moment. Here are 28 of the best beach proposal ideas to sweep your partner off their feet.
1. Pack a Beach Picnic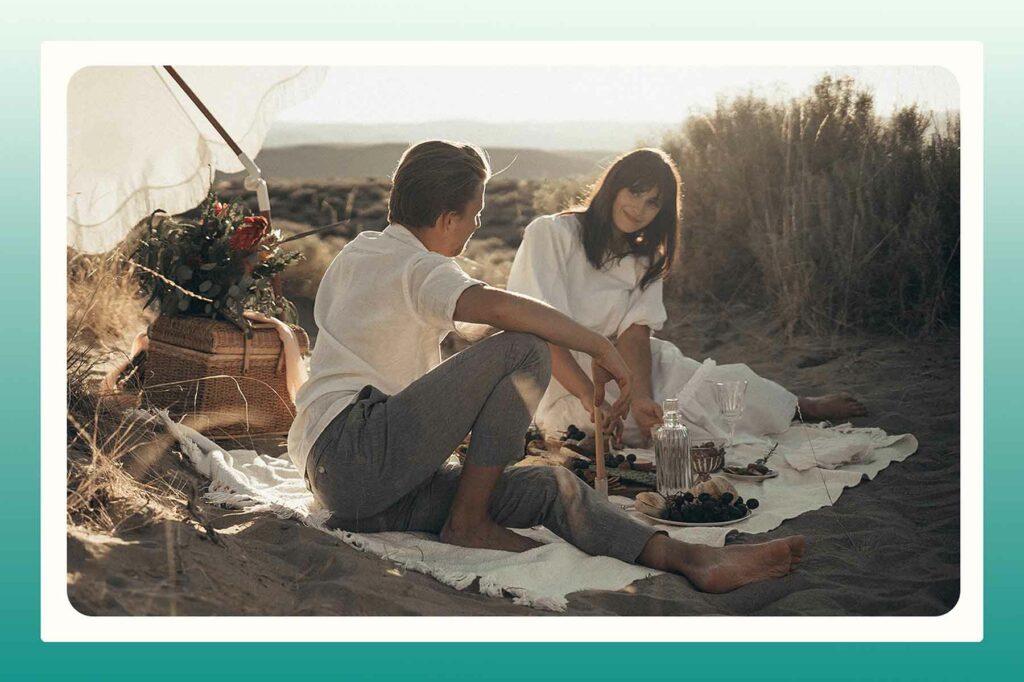 Dress up and pack a beach picnic for two (don't forget the blanket!). After dinner, get down on one knee and ask the question! Extra points if you wait until sunset.
2. Write it in the Sand
Write out "Will you marry me?" in the sand, then take a walk nearby with your partner. (Make sure you write your message well away from the tide!)
3. Dollar for Your Thoughts
Find a sand dollar and tape or tie the engagement ring to it before you get to the beach. When you "find" it, show your partner and ask them to flip it over for a very romantic surprise. You can do the same with a seashell and create a homemade ring box.
4. Buried Treasure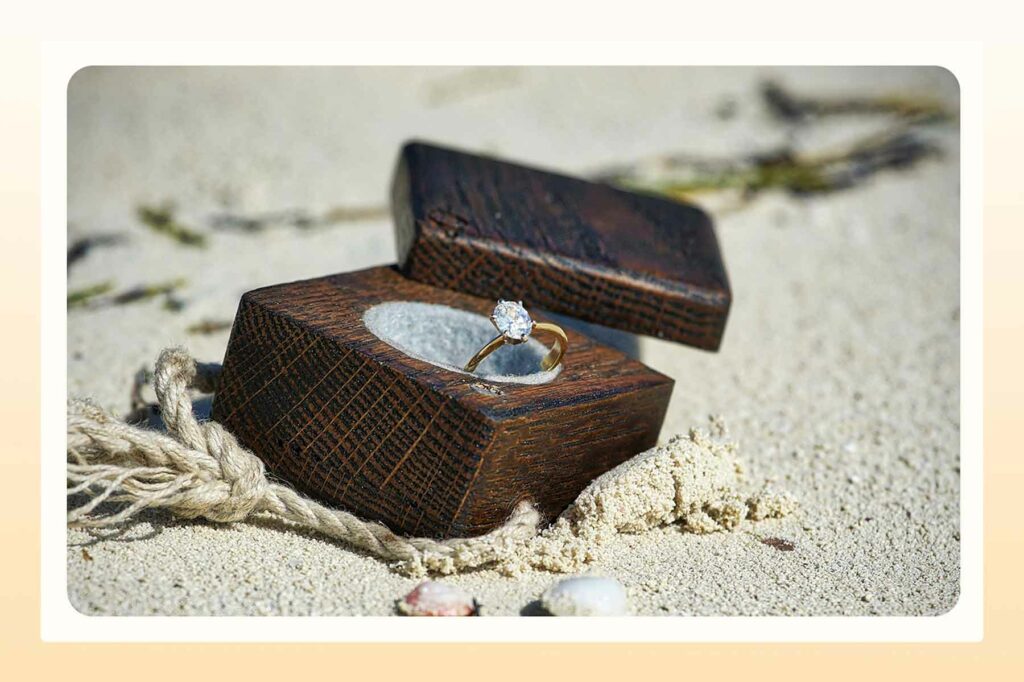 Bring your sweetheart on a treasure hunt! Follow clues to the beach, where you have already buried a container with your ring inside. Be sure to mark the spot so you can find it, and keep it above the waterline or it will be a soggy beach proposal! Another idea is to have a friend stay with the treasure while you bring a shovel to help dig it up.
5. Beach Bonfire
Since before civilization began, people have been mesmerized by the dancing flames of a fire in the dark. Take your beloved to a nighttime bonfire and let the elemental forces of the flames and the sea carry your words of love.
6. Fire, But Smaller
If a fire isn't feasible (or safe) where you will be proposing, consider flameless candles or tea lights inside paper bags to set the mood. Bonus: This beach proposal idea is very simple to clean up afterward. Lanterns along a boardwalk can also be a breathtaking sight.
7. Boat Trip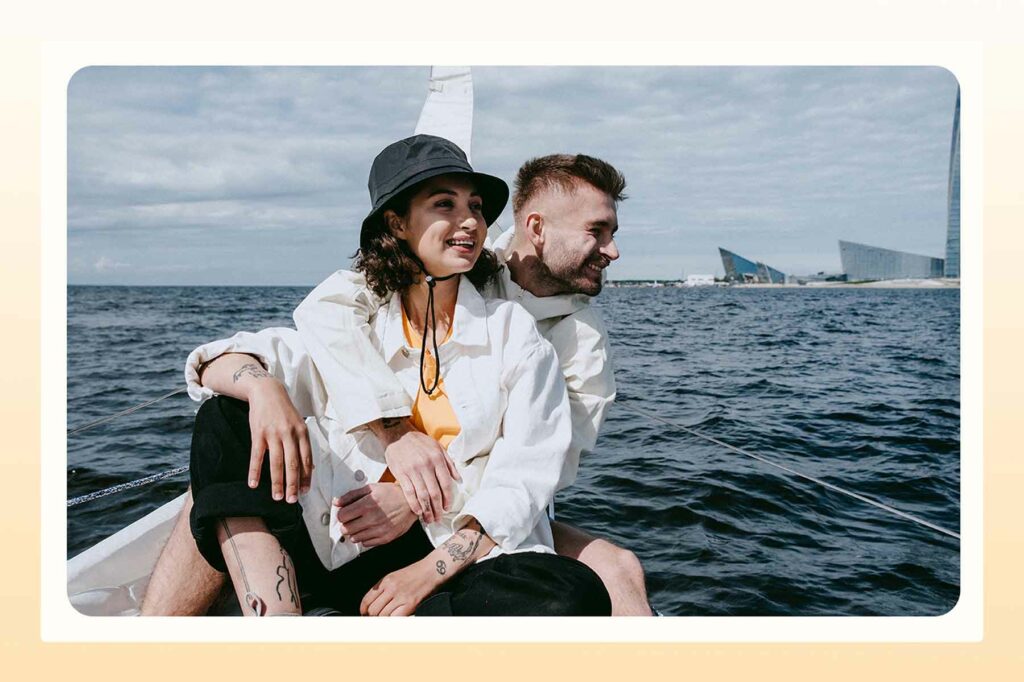 Take your partner on a sailing trip, either by yourself or by hiring a captain to pilot the ship. The waves lapping the sides of your boat can bring a serenity almost unmatched by any other experience.
8. Under the Boardwalk
While the tide is out, have an intimate moment with your sweetheart under the boardwalk or dock. Let them know how much they mean to you, then present them with the ring.
9. In the Clouds
Spell out your question in huge letters on the beach, then take them parasailing. From up in the air, they'll see the whole message. You can present the ring as soon as they get back to the boat. While it's a more elaborate beach proposal idea, it will take your love to new heights!
10. Early Morning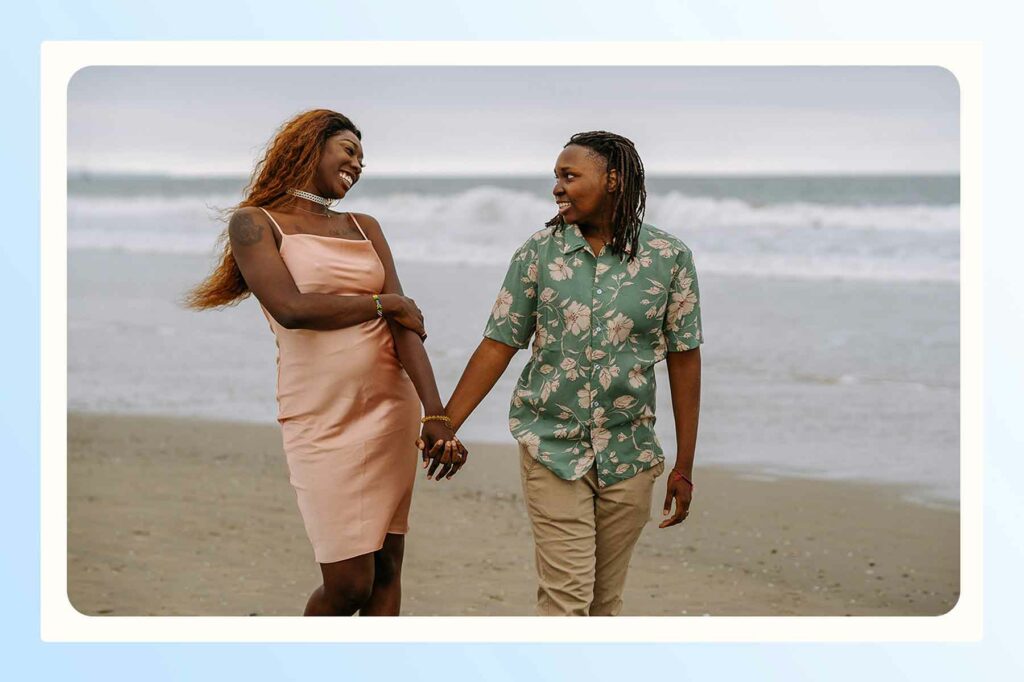 A sunrise can be just as romantic as a sunset, and it even serves as a metaphor for beginning this new part of your lives together. In addition, the early morning beach won't be nearly as crowded as a popular evening spot. With a little planning, you can have the whole beach to yourselves!
11. Beneath the Waves
Go on a SCUBA or snorkel outing with your partner. Bring a waterproof whiteboard to write your proposal on and show it to them underwater.
12. Fireworks
Ready for an epic marriage proposal idea? Hire a party planner to arrange a fireworks display. The lights and colors will play beautifully off the ring and really set that night apart in your memories.
13. Proposal with a View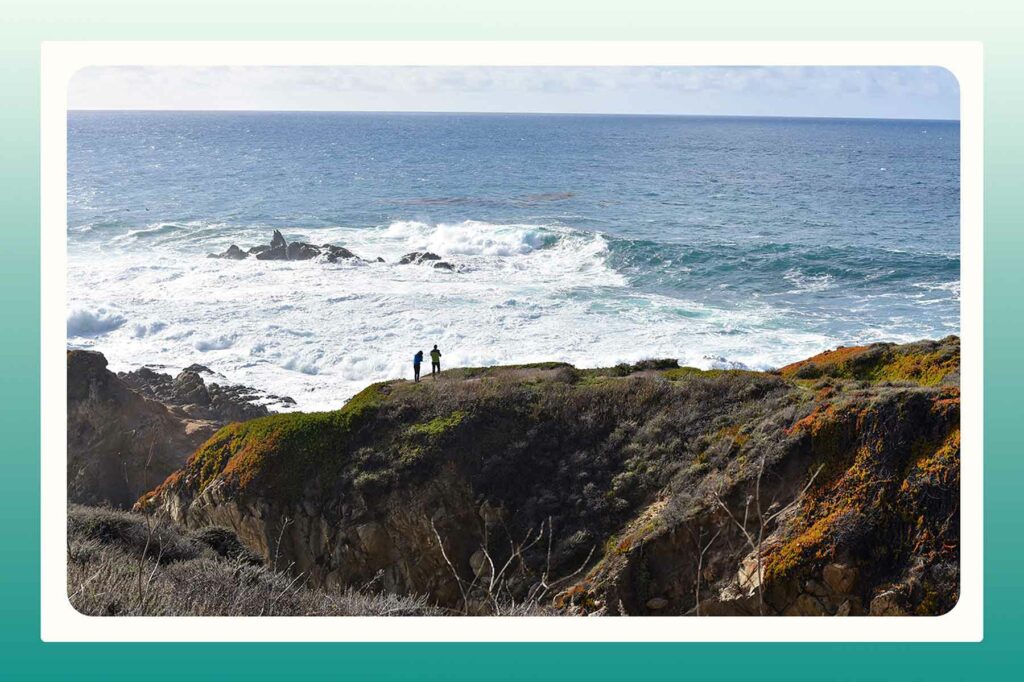 If neither of you are afraid of heights, find a seaside cliff and propose after arriving at the top. You'll always remember how the wind blows through their hair, and you'll be treated to quite the view.
14. Message in a Bottle
Hide a message in a bottle for your beloved to discover while out at the beach. This is an opportunity to put your feelings into words beforehand, so you can relax and focus on enjoying the moment together. Open the bottle and have your partner read what you prepared, then present the ring! (If you have a friend serve as a chaperone to ensure the bottle doesn't get lost, you can even put the ring inside!)
15. Sandcastle Surprise
Get a little playful and a lot creative on your beach vacation and build a sandcastle with a special surprise hidden inside. Talk about turning a casual beach day into a momentous occasion! This beach proposal idea will obviously take some major prep work but if you commit to the task, this will be a unique proposal to remember.
16. Seaside Restaurant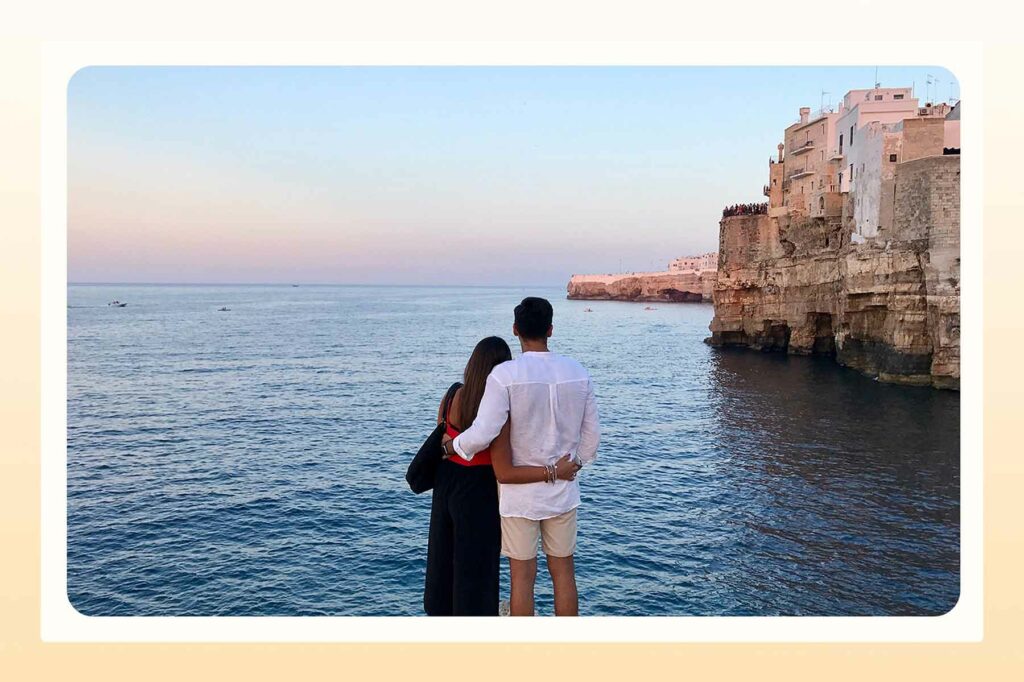 Dine out with your partner on a restaurant patio with a view of the ocean. You can arrange for a musician to serenade you while you eat, then have them play your partner's favorite love song for the big moment.
17. Book a Helicopter Ride
A helicopter ride adds an element of thrill and adventure to a beach proposal. It's not your everyday proposal setting, and the sweeping views from above create the perfect backdrop for a memorable moment. Plus, there's something romantic about being up in the clouds, just you and your special someone.
18. Plan a Scavenger Hunt
Planning a scavenger hunt adds that much more anticipation and excitement to a romantic beach proposal. Each clue or location can hold significance in your relationship, making it a sentimental journey down memory lane. It also shows effort and thoughtfulness in planning, reflecting your commitment to making the proposal unique and special.
19. Paddle Proposal
For the adventurous couple, a romantic paddleboard could be the perfect proposal scenario. Gliding over the water creates a tranquil atmosphere and provides a peaceful backdrop for such a special moment. Just make sure the ring is somewhere very safe — perhaps in a drybag underneath your clothes or even tucked away in your water shoes!
20. Plan a Photoshoot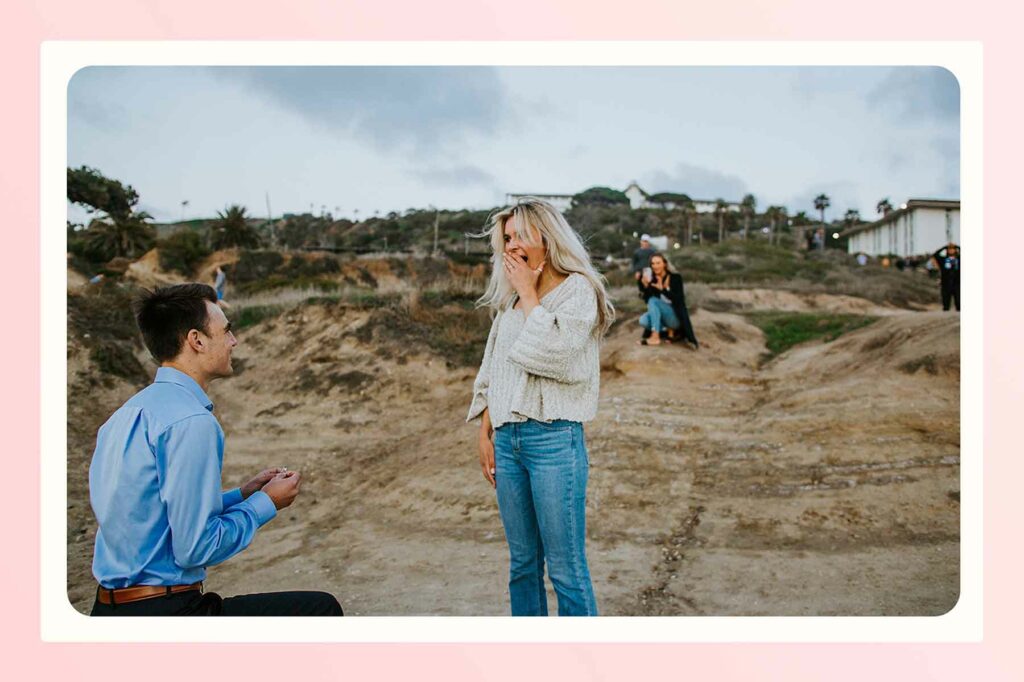 Planning a photoshoot is the perfect way to get your partner to the beach and dressed in their favorite outfit without suspicion. Having a professional photographer there means they can capture the raw and genuine emotions of the moment, giving you a tangible memory of your love story (and engagement photos to use for your save the dates!).
21. Go for a Swim
This beach proposal idea might sound simple, but is it oh so sweet. Imagine you're playfully swimming, letting go of all worries and channeling your inner child. Then, when you both catch your breath, you ask a very important question. Just make sure to keep the ring safe in a water shoe, drybag or wetsuit.
22. A Special Serenade
Surprise your significant other with a beach picnic and live band playing an acoustic rendition of "your song" and watch as an unforgettable wedding proposal comes to life. The energy and emotion conveyed through live music can enhance the overall atmosphere, making the proposal even more heartfelt and memorable. Plus, it's a public declaration of your love, which is extra romantic.
23. Walk Along the Pier
Nothing says old-school romance quite like a stroll along the pier. Watch the waves from above and as you're looking out to sea, get on one knee to pop the question. Top it off with an intimate, traditional cheek-to-cheek dance for extra brownie points.
24. Rose Petal Path
Rose petals are the way to anyone's heart. But rose petals at the beach? Even better! The softness of the petals contrasts with the white sand, adding a touch of luxury and elegance to the natural beauty of the surroundings. Spell out a special message or lay a path that leads down to you kneeling on one knee. (Just be sure to leave no trace after your big moment.)
25. Kayak
Imagine a sunset kayaking trip out to sea and calling your love over to show them something exciting. Instead of a cool piece of seaweed, pull out a sparkly ring and pop the question. Bonus points if they're glass-bottom kayaks!
26. Surprise with Friends and Family
Having loved ones participate in a surprise proposal adds an extra layer of joy and shared excitement. It turns the proposal into a celebration, making the moment even more special.
27. Couples Cabana
Snuggling up with your partner in a cabana for a proposal adds an element of exclusivity and luxury to the occasion. The private and intimate space for just the two of you is a romantic and cozy atmosphere for a marriage proposal. The cabana itself can be decorated to suit the occasion, making it feel like your own personal haven.
28. Pet Proposal
If your pet is a cherished member of the family, plan a date at your favorite doggy beach. When your partner isn't looking, tie the ring to its collar and let your pup do the proposing. Talk about a unique and playful beach proposal idea to surprise your partner!
Up Next:
Set up your wedding website in minutes with design options to make yours truly unique.