You've found the person you want to spend the rest of your life with, scoured stores filled with engagement rings until you finally found the one, and now you're ready to take the next step: popping the question. There are endless locations to choose from, but proposing outdoors adds a special element of wonder. After all, Mother Nature offers an array of romantic settings that seem to have been made for love stories. If you're considering an outdoor proposal, keep reading. Here are all the ideas, tips, and information you need to plan a perfect outdoor proposal and encourage the answer you want to hear: Yes.
Jump to a Section:
What to Know About Outdoor Proposals
Thanks to the rise of social media, outdoor proposals have soared in popularity. As more and more couples began to share their outdoor proposals online on platforms like Pinterest and Instagram, this type of proposal style quickly became mainstream. Outdoor proposals continue to be appealing because they are budget-friendly and allow for more creative freedom in terms of how you decorate and set up the proposal area. Other benefits of proposing outside include:
Unique Scenery: When you propose outside, you can choose to do so in an area with a beautiful backdrop like mountains, water, or even a city skyline. Outdoor locations provide a stunning setting that will add a sense of magic to this once-in-a-lifetime experience.
Romantic Ambiance: When it comes to outdoor proposals, romance is key. Being outside, surrounded by nature, can create a feeling of romance, love, and bliss.
Privacy: If a private engagement is what you seek, go outdoors. An outdoor proposal will allow you to have an intimate engagement without the eyes and ears of spectators. Just make sure you pick a time and place to propose with limited foot traffic. For example, a public park might be loud and crowded on a Saturday morning, and may not be the best time for an intimate proposal.
Outdoor proposals are often perceived to come with less fuss than indoor proposals, but some level of work is still involved. When popping the question outdoors, you must consider both decorations and your proposal setup.
Outdoor Proposal Decorations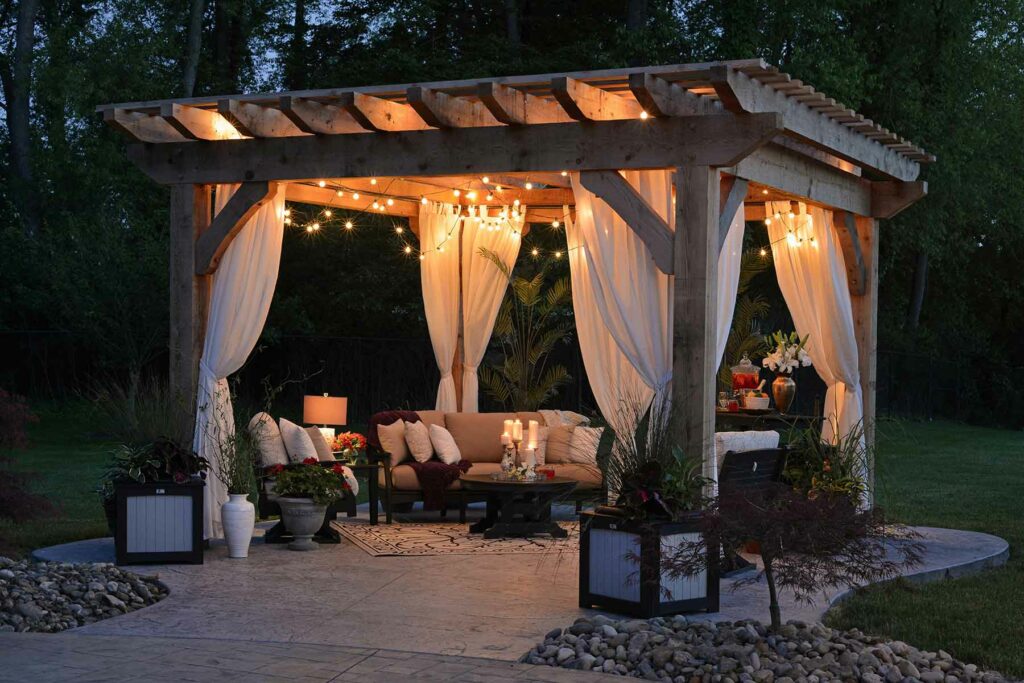 Decorations are a creative way to personalize any outdoor proposal. When it comes to decorating for an outdoor proposal, the limits of what is possible may come down to your budget. Depending on your personal style and how much you want to decorate, you could end up spending anywhere from $10 to $1,000 on outdoor proposal decorations. Popular outdoor proposal decorations include items like:
Balloons: Balloons can add a fun and whimsical pop of color to your outdoor proposal. If you want to get creative, consider making a balloon arch or hanging balloons from the trees to create a chandelier effect. For a more functional purpose, you can use balloons to spell out "marry me" as a surprise to your partner-to-be. A single pack of balloons can cost anywhere from $5 to $10, depending on the type, quality, and number of balloons in the pack. Alternatively, you can purchase blown-up balloons from a party store, but they will be more costly.
Flowers: Beautiful flowers bring a sense of magic to any proposal, indoor or outdoor. Plus, there are many creative ways to incorporate them into your proposal, like spelling out "marry me" or "I love you." You can also scatter flower petals on the ground or a picnic blanket. If you want to keep things simple, use them as a bouquet. In terms of cost, you could easily spend anywhere from $25 to $1,000 or more on flowers for your proposal. Factors influencing this price include the type of flowers, the number of flowers, and the quality. If you use a florist, expect this number to be on the higher end of the cost scale.
String Lights: A pair of string lights will make your outdoor proposal come to life. If you're proposing in a remote spot that doesn't have power outlets, remember that you'll need to find a battery-powered solution for your lights. Hang your string lights along tree branches, bushes, or rocks where you plan to propose. String lights can cost $5 to $50, depending on length and type of lights. For example, LED lights will be more expensive than traditional lights.
Candles: Candles go hand in hand with romance. Even just one candle can make the most average of settings take on an ethereal glow. Ideal for evening engagements, candles can be used to line a path or simply add sparkle to your outdoor proposal setting. Because candles can pose a fire threat, we recommend using flameless candles instead. You can purchase a pack of flameless candles in different sizes starting at around $15.
Seating: If you don't have any natural seating options at your outdoor proposal location, consider bringing a couple of outdoor folding chairs for you and your partner to relax and take in the moment together. If you already have folding chairs, you can save money by bringing those to your proposal. If you need to buy folding chairs, they cost around $35 from online retailers.
Music: If you have a smartphone, you can consider this decoration free. Incorporating meaningful music into your outdoor proposal can help establish a romantic theme. Consider playing a song that reminds you of your partner or any song they know to be special between you both.
Food and Drinks: Bringing your partner's favorite food or drink to the proposal will warm their heart and appetite. It's not uncommon for couples to share bottles of wine, Champagne, and favorite treats after popping the question. Just remember to bring something to eat and drink with, such as plates or glasses. The total cost of food and drink will depend on the amount and quality of food you bring. Now may be the time to splurge on an expensive bottle of Champagne for the occasion, which could cost $100 or more. If you're using a catering service, expect to pay around $800 or more for their service depending on how elaborate of a spread you plan.
Outdoor Proposal Setup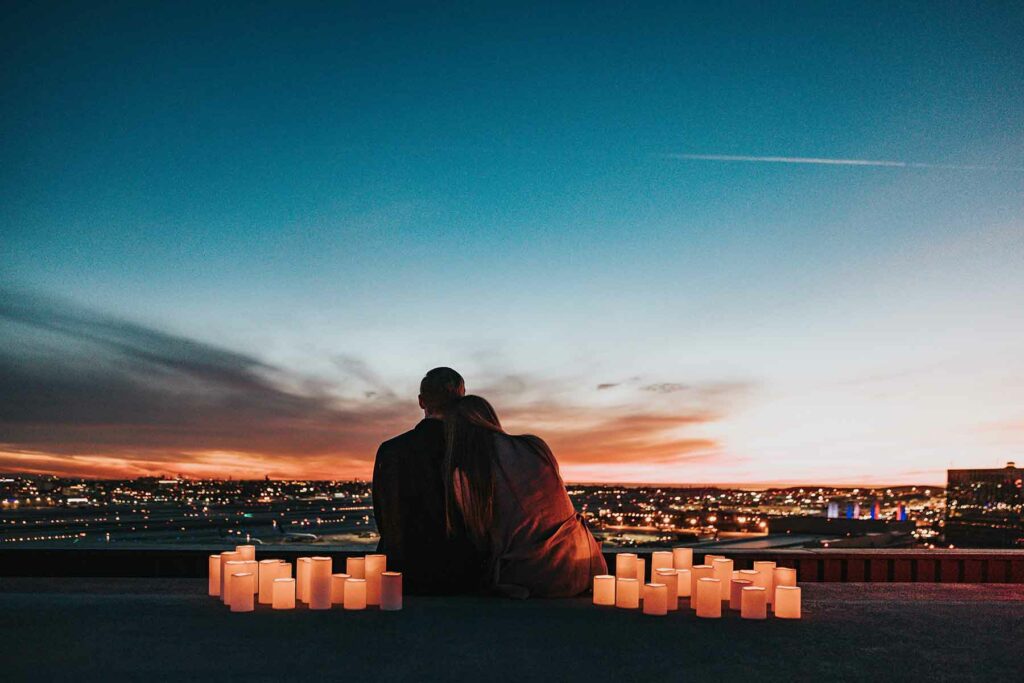 Now that you've decided on your decorations, it's time to plan your outdoor proposal setup. The first order of business is to determine if you will be doing the proposal set up by yourself or if you will be enlisting help from friends and family members. In general, the bigger your proposal is, the more likely you will need some assistance that day.
If your outdoor proposal involves professional vendors of any kind, like a photographer or chef, you must also ensure they have a plan for making your day a success. Make sure they know precisely when and where to set up, and if possible, it's best to have someone from your party with them who can provide support or assistance so you can focus on popping the question.
Factors That May Impact Your Outdoor Proposal
Choosing to propose outdoors comes with its risks and rewards. While outdoor proposals can lead to some of the most stunning and Instagrammable engagement photos, they also come with a few risks that are almost always outside of your control, including:
Weather: The weather can make or break an outdoor proposal, especially if you're proposing in a remote location without shelter. It could put a damper on the mood or even prevent your plans from coming to fruition at all. For example, if you're planning to propose on a hiking trail, rain or snow could make some trails impassable or even dangerous. It's always a good idea to have a backup indoor proposal plan in case this happens to you.
Transportation: Transportation can be unpredictable, at best. Whether you're stuck in traffic, trying to catch a train, or hopping on a flight at the airport, be mindful that delays happen and may make it challenging to stick to a strict proposal schedule. The best way to avoid these delays is to plan your proposal location somewhere nearby that requires less travel.
People: If you propose outside in a public location like a park, you will undoubtedly see and hear people out and about. To avoid strangers or children accidentally becoming a part of your proposal, try to find a more private spot within the park or plan your proposal at a time when the park or area is less busy.
Wildlife: It's possible that you might encounter wildlife during your outdoor proposal, especially if you are popping the question on a mountain, campsite, or hiking trail. Anything from birds to bears could crash your big moment. Remember to give animals space and do not put yourself in danger by approaching them.
Leave No Trace
Remember to make clean-up a part of your outdoor proposal plan. Decorations like confetti, balloons, or other paper products should be thrown away or recycled after the proposal. Plastic items like cups, cutlery, and plates should also be recycled.
If you're unsure whether there will be a trash can or recycling bin at your proposal location, make a plan for how you'll carry those items back with you to the nearest disposal area. You may need to bring an extra bag just to take back your trash and recyclables.
How to Plan an Outdoor Proposal
Planning an outdoor proposal can be broken down into five easy steps after finalizing the date. Use these steps as a checklist for planning an unforgettable outdoor proposal.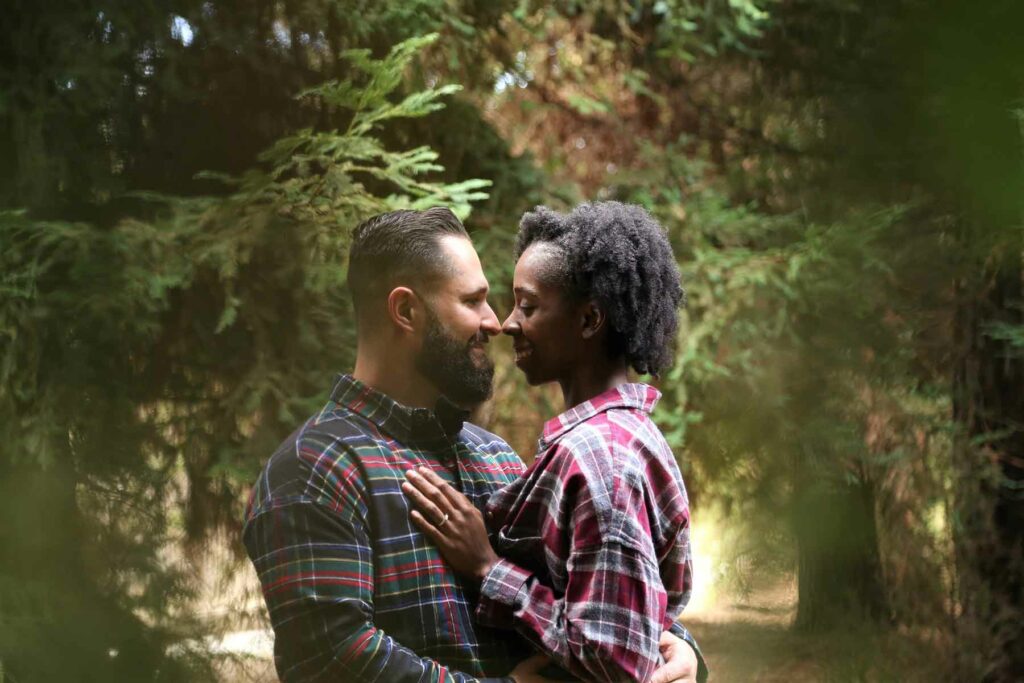 Step 1: Decide Your Outdoor Proposal Location
Pick an outdoor location to propose. Consider the time of year and seasonal weather patterns when determining your proposal location.
Step 2: Schedule a Photographer and Florist
If you're using vendors like a florist or photographer, lock down your proposal date with them as soon as possible and inform them that it will be an outdoor event.
Step 3: Purchase Your Decorations
Buy your outdoor proposal decorations and make a plan for how you will utilize them. If possible, go to the proposal location beforehand and envision where the decorations will go.
Step 4: Coordinate With Friends and Family
If your outdoor proposal requires extra helping hands, reach out to family and friends for assistance. They will most likely be happy to help set up and support you on your special day.
Step 5: Make a Plan for Clean-Up
Don't leave any litter around after your outdoor proposal is over. It's important to properly dispose of trash and recycle any paper or plastic that was used.
Outdoor Proposals for Every Couple
From the farm to the mountain and everywhere in between, you're sure to find an outdoor proposal location that fits your style. The best location for an outdoor proposal is one that is tailored to you both and helps tell your love story. Here's our list of 15 outdoor proposal ideas to inspire you.
1. Backyard Proposal Ideas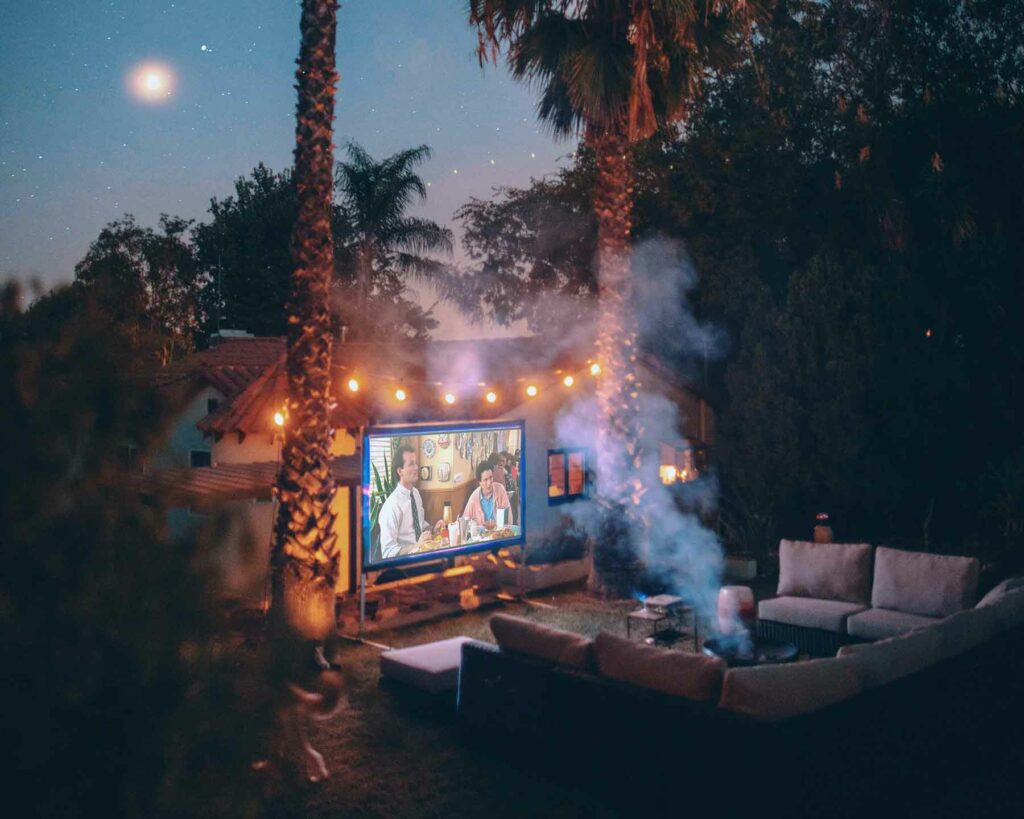 If you want an intimate and personal setting for your outdoor proposal, consider your own backyard. You can elevate your backyard space by including decorations like flowers, candles, music, and a home-cooked meal. Alternatively, you could opt for an outdoor movie night, or create a surprise scavenger hunt where the prize is the engagement ring.
2. Country Proposal Ideas
The countryside can provide a cozy setting for your outdoor proposal. With sweeping views and loads of privacy, a country backdrop sets you up for a picture perfect proposal. There are lots of creative ways you can propose in the country, like by horseback or on a hay bale ride. Alternatively, you could set up a romantic campfire with a fancy drink like wine or champagne.
3. Mountain Proposal Ideas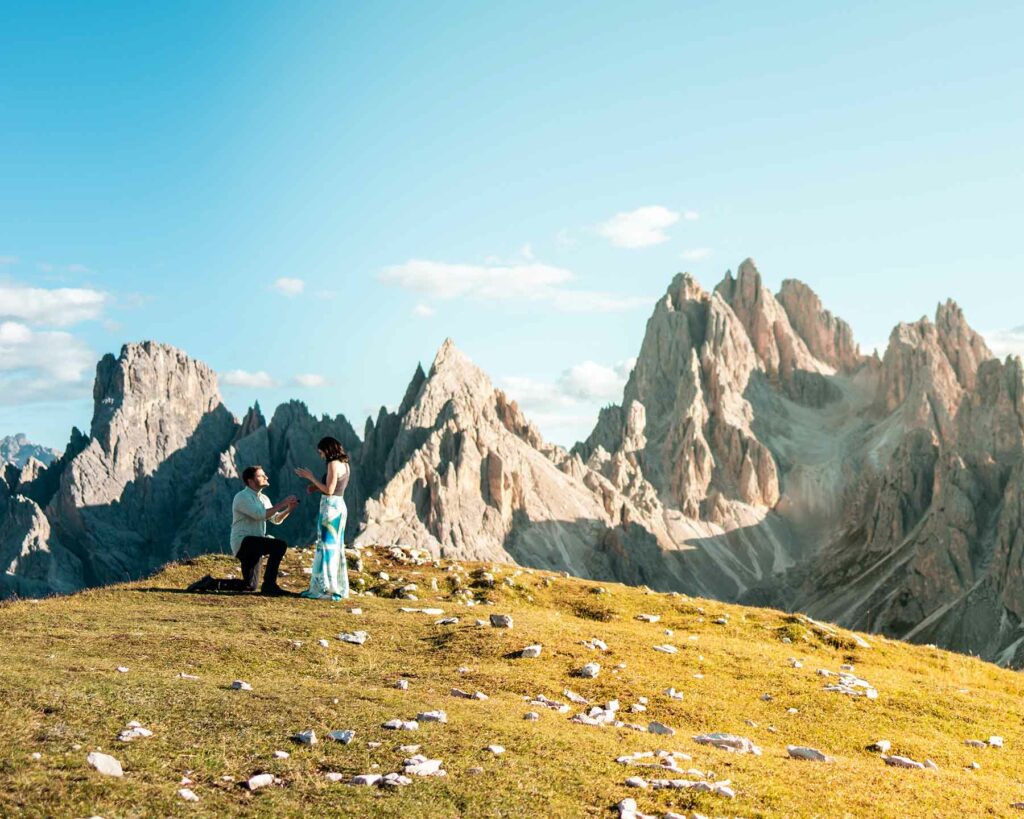 If adventure is your couple style, a mountain proposal may be a great option for you. The breathtaking scenery that comes with a mountain proposal will create memories that last a lifetime. Pick a scenic outlook or mountain peak as your destination, and pop the question there. Just don't forget to take photos!
4. Hiking Proposal Ideas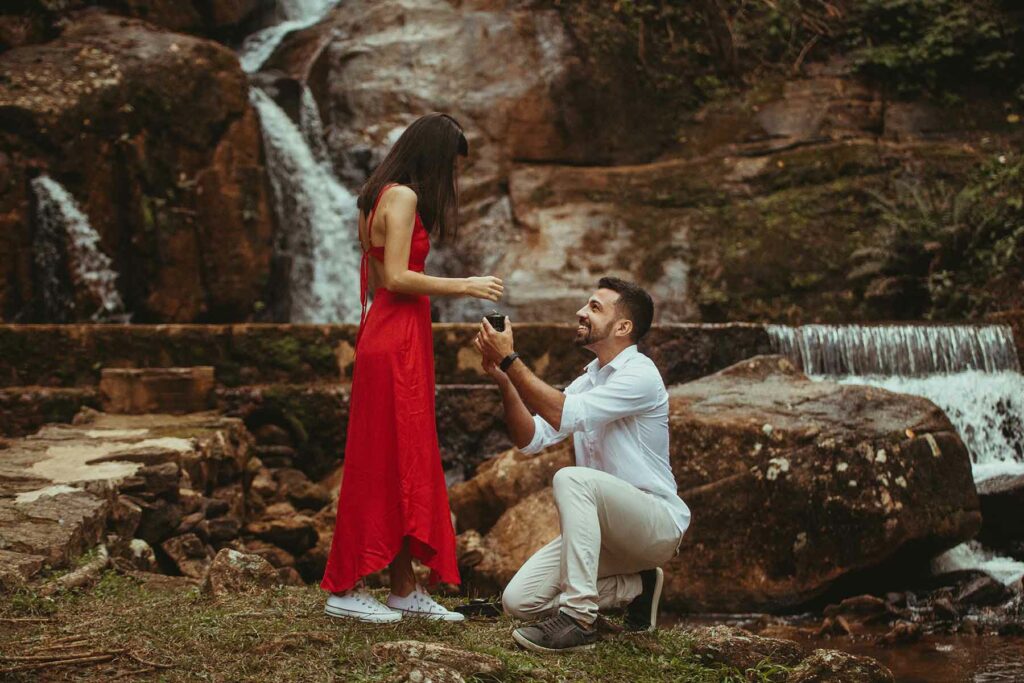 You don't have to get to the top of a mountain to have an adventurous outdoor proposal. Consider going on a hike with your partner-to-be and proposing to them in a scenic area. Look for bridges, scenic lookouts, or a rest area to ask the question. You could even prepare a nice lunch and surprise them with the question then.
5. Picnic Proposal Ideas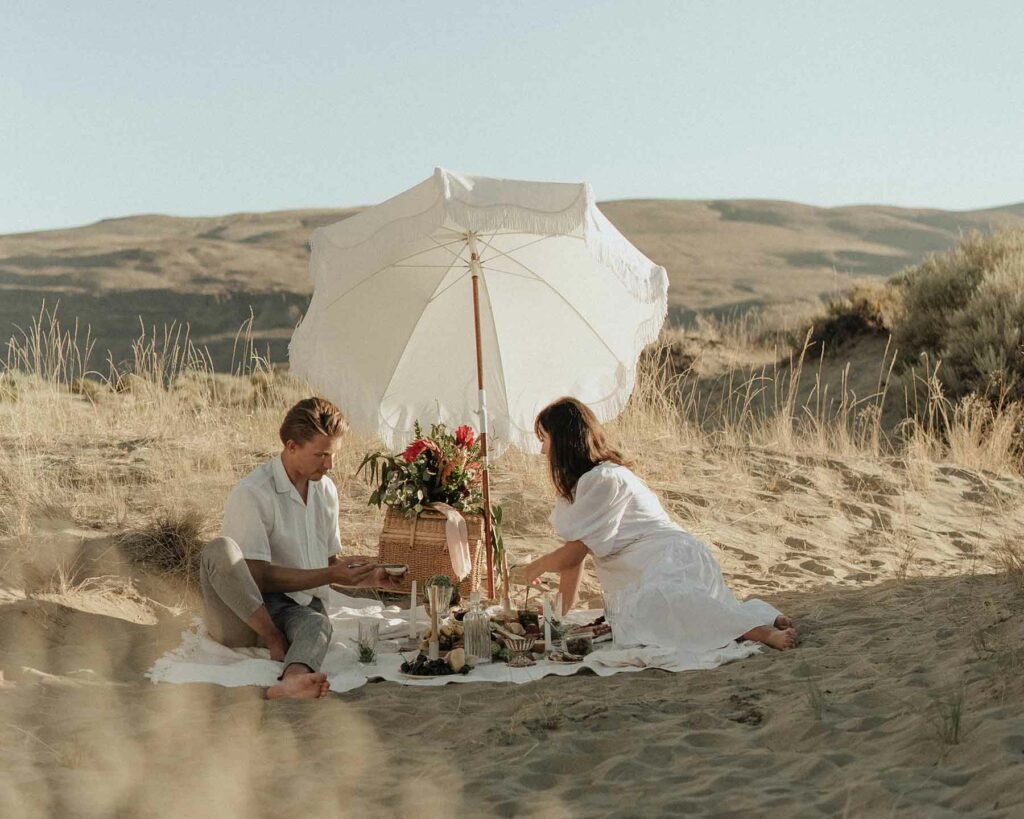 Picnics are a timeless way to propose outdoors, and you can host a picnic proposal in most public parks and spaces. For a well-planned picnic proposal, pack plenty of food, drinks, and accessories such as a picnic blanket, flowers, and candles. Sprinkle the picnic blanket with flower petals and play some background music to add ambiance.
6. Gazebo Proposal Ideas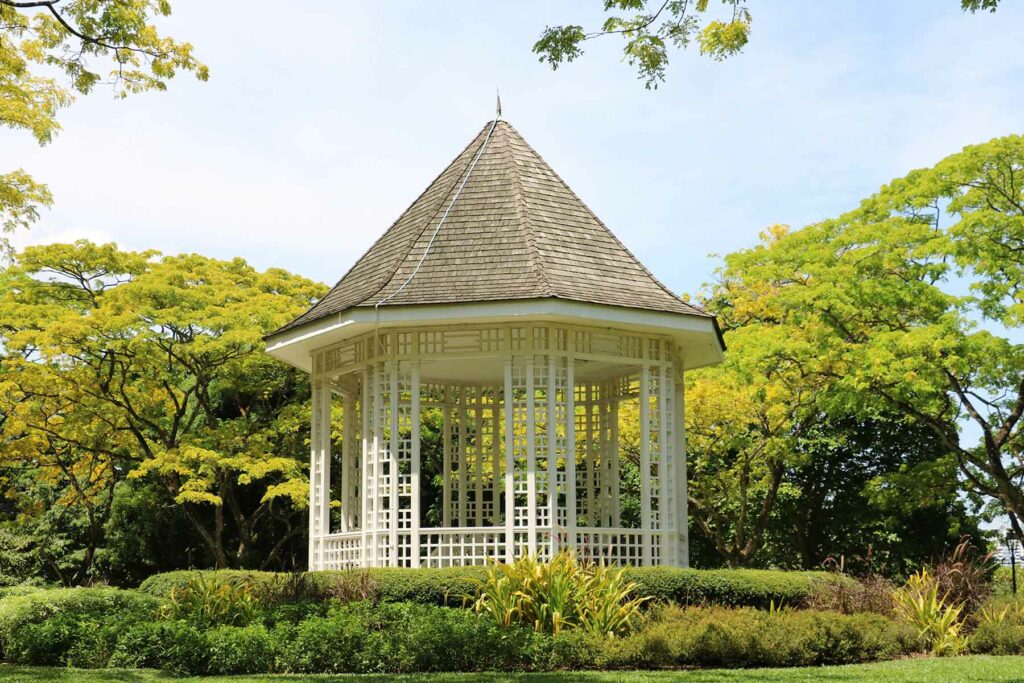 Gazebos are an ideal proposal location. Not only because gazebos can easily be decorated and customized, but also because they provide shelter in case your proposal happens during inclement weather. Some gazebos also come with benches, which means you already have natural seating available. If you're planning to propose in a gazebo, consider adding some flowers, candles, and music for an added layer of romance. You could even have a picnic or an intimate dance before or after popping the question.
7. Lake Proposal Ideas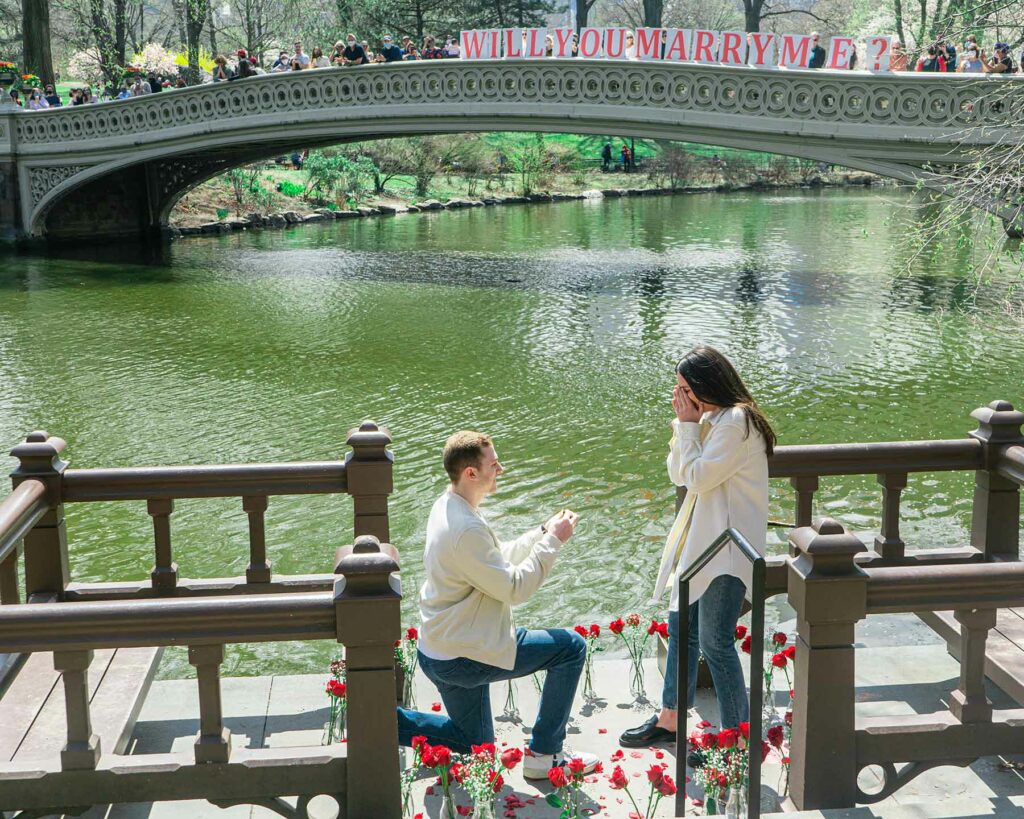 Lakes offer a serene backdrop for marriage proposals. The beauty of the water is so breathtaking that you don't even need to add that much in terms of decoration. If you're considering a lakeside proposal, pick a grassy spot by the water with a good view. Bring a picnic, blanket, and some flowers to help set the scene.
8. Park Proposal Ideas
Parks have just about everything you need for a picture perfect proposal. Beautiful trees, benches, and grassy areas can be found at just about any public park. If you're considering a park proposal, you'll want to make sure to schedule your proposal at a time when the park is less busy. This way your proposal stays intimate, and you don't risk strangers accidentally spoiling your day.
9. Garden Proposal Ideas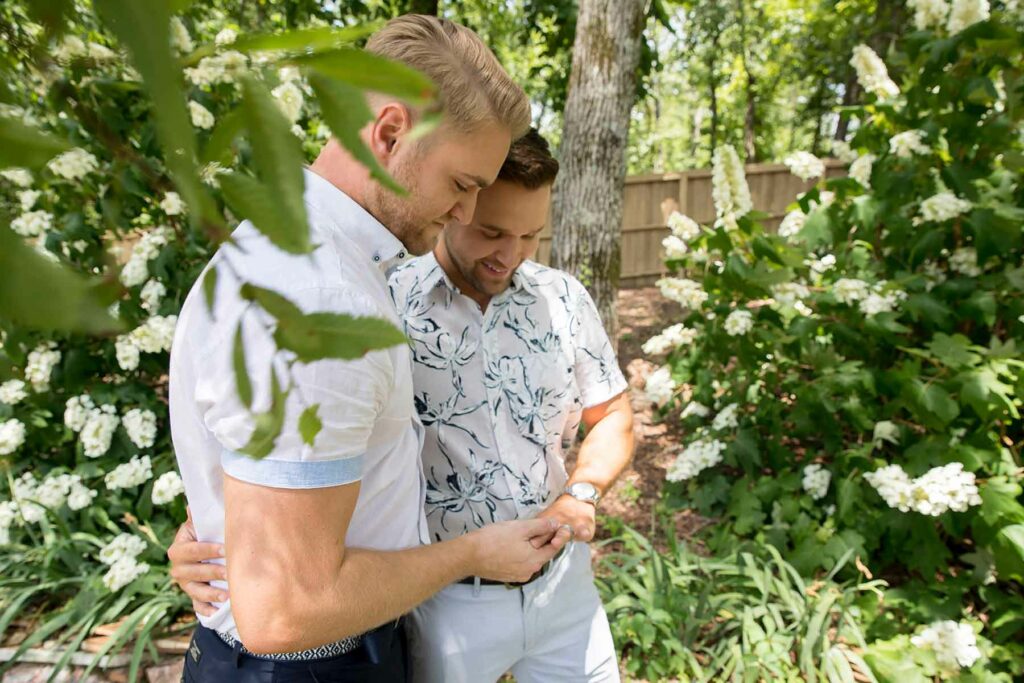 Being surrounded by lush flowers with the love of your life is a great recipe for romance. A garden proposal offers an intimate setting with a beautiful backdrop of plants and flowers. If you're considering a garden proposal, incorporate candles and music to add a magical ambiance to the occasion.
10. Camping Proposal Ideas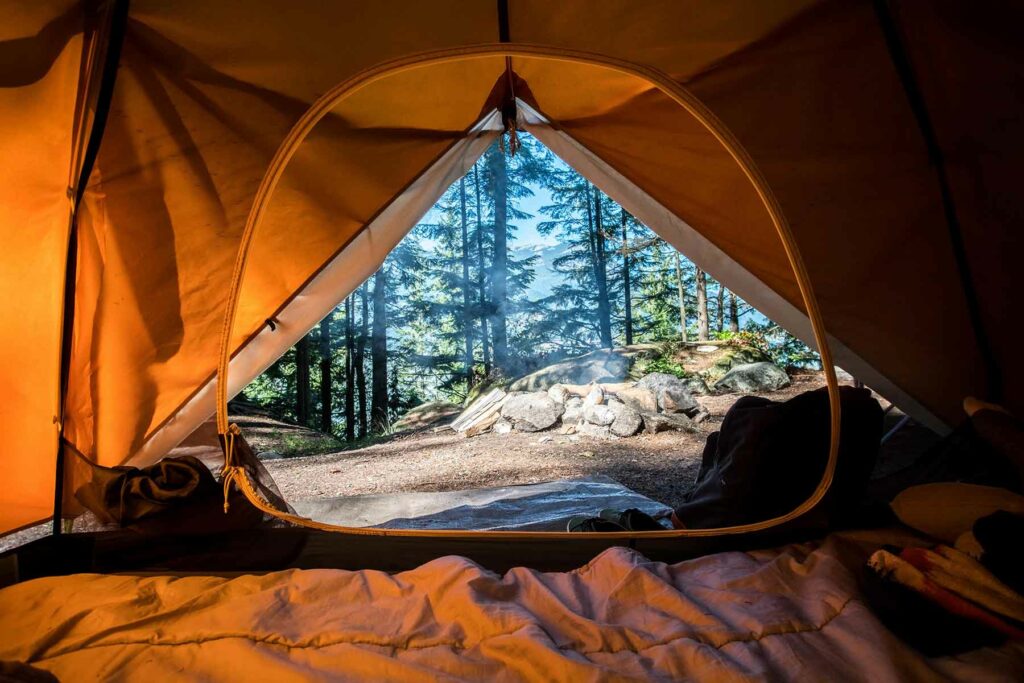 Camping proposals are perfect for adventurous couples who love to be in the great outdoors. Most campsites are equipped with both seating and fire pits, and your campsite can be easily dressed up for the occasion. For example, drape some string lights from the trees to your tent, or make a candlelight trail to your proposal location. You can even deck out the inside of the tent with romantic lights and flower petals.
11. Beach Proposal Ideas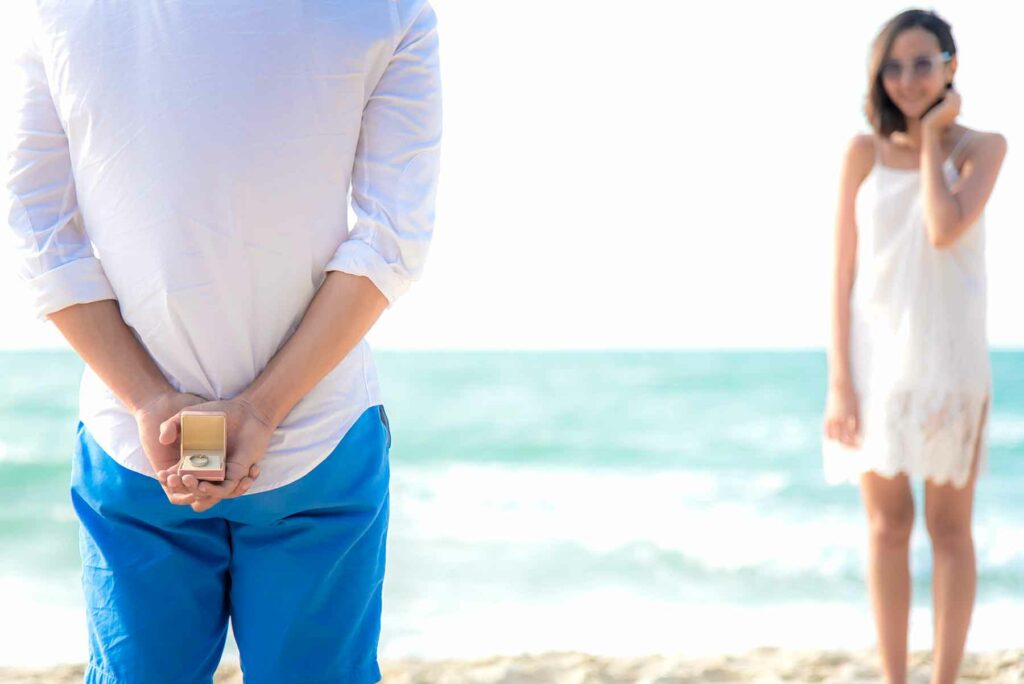 If you're able to propose at a beach, you won't regret it. Beaches offer some of the most stunning and enjoyable views for a proposal. However, it's important to check information like the tide schedule and weather before you decide on a day and time for your beach proposal. To make your proposal extra special, consider writing "will you marry me?" in the sand, or spell it out with seashells.
12. Farm Proposal Ideas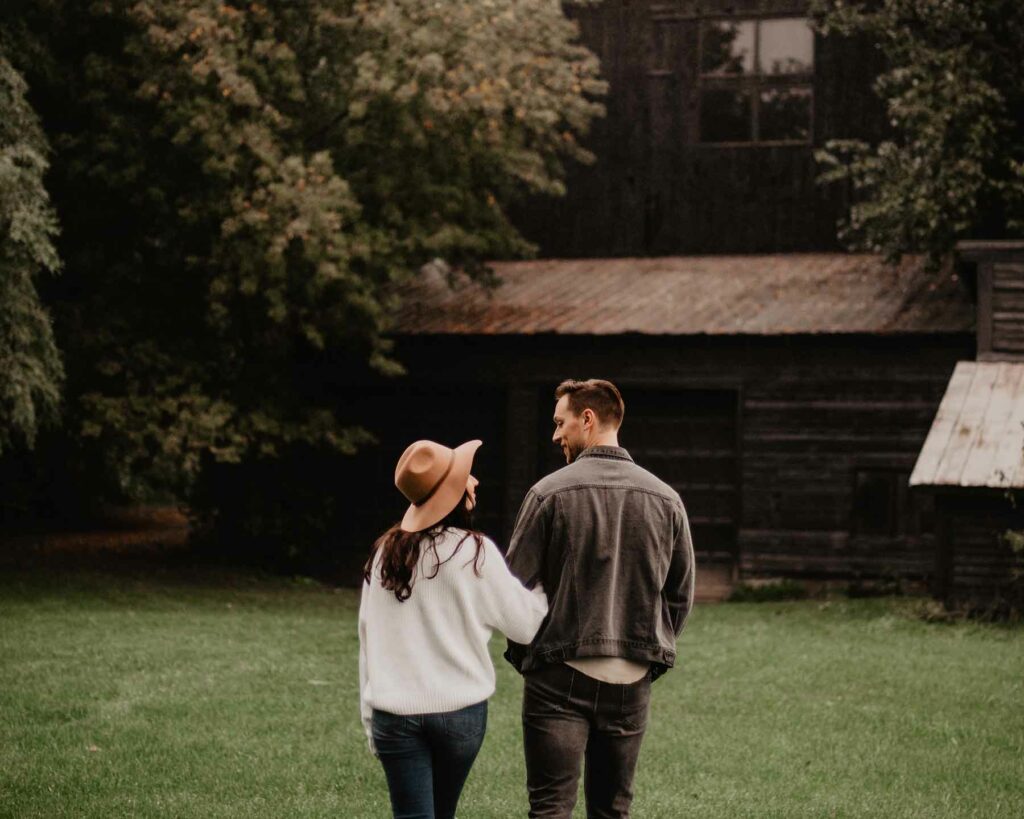 Farm wedding proposals are ideal for couples who prefer a charming and rustic vibe. On a farm, you can propose in a barn, around a bonfire, or under the starry sky. Consider decorating a barn with lights and flowers to bring your proposal to life.
13. Pool Proposal Ideas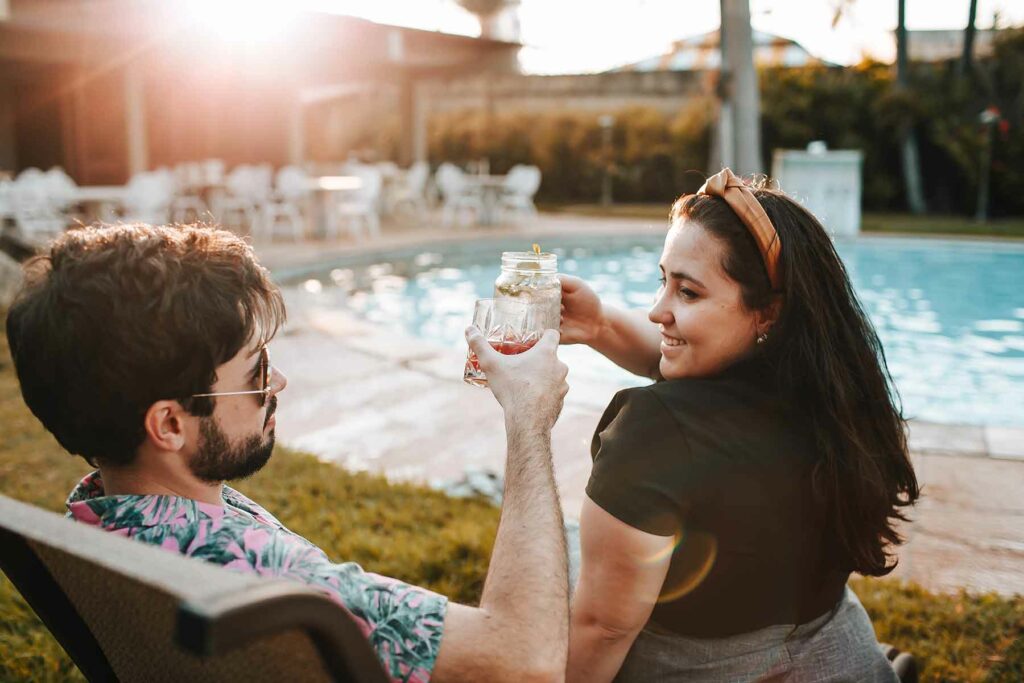 A poolside proposal is ideal for summertime or if couples are vacationing in warm climates. Pools are a smart place to propose because there are easy ways to create a romantic atmosphere. For example, you could set up candles and flowers around the edge of the pool, or add some floating candles on the water. You could also add some floating trays with glasses of Champagne or wine to toast the occasion.
14. Sunset Proposal Ideas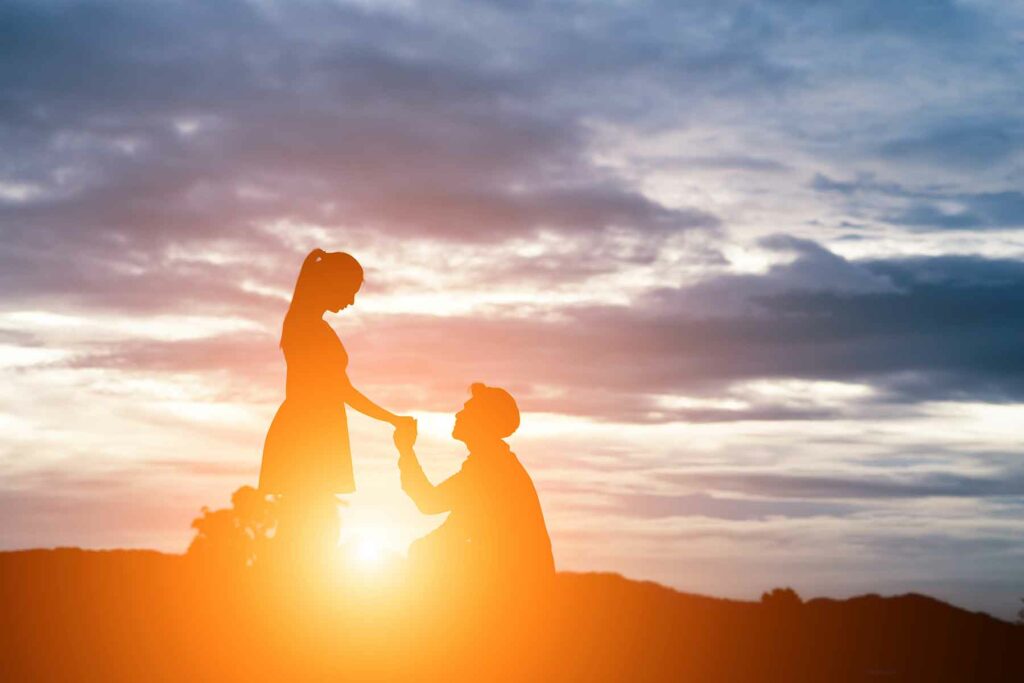 Whether you're watching from a mountaintop or your own backyard, nothing sets the mood quite like a romantic sunset proposal. If you're planning on scheduling your proposal around the ideal sunset, make sure you triple-check the forecast before committing to a date, as inclement weather may block your view.
15. Forest Proposal Ideas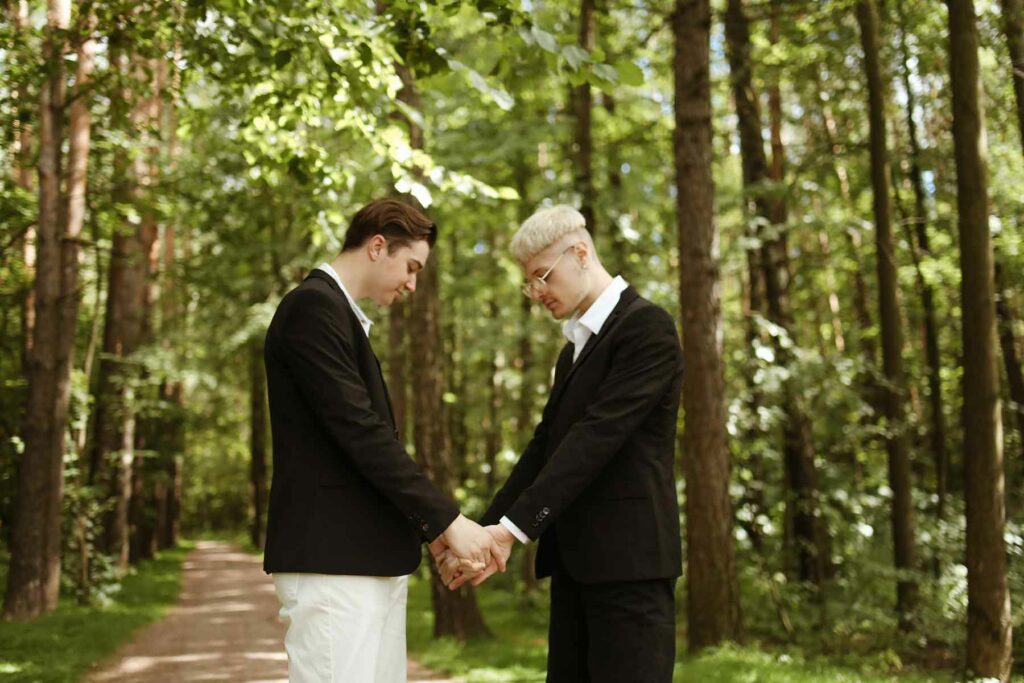 Here's an outdoor proposal idea fit for a fairy tale: Find a clearing off a wooded area you won't get lost in and adorn it with a canopy of battery-powered twinkle lights, blankets, throw pillows, rose petals, Champagne, and a portable speaker to play sentimental tunes. Then, take your paramour on a casual stroll that ends in the wonderland you thoughtfully created.
Frequently Asked Questions About Outdoor Proposals
How do you make an outdoor proposal special?
You can make an outdoor proposal special by choosing a meaningful proposal location, adding thoughtful decorations, and incorporating an element of surprise.
How do you make flowers stay when it's windy during an outdoor proposal?
To make flowers stay in place during a windy outdoor proposal, use floral foam or floral wiring. Alternatively, you could use artificial flowers, which have more weight to them.
What time of day is best for outdoor proposal photographs?
The best time of day for outdoor proposal photographs depends on your location, weather, and lighting conditions available. The two most popular times for outdoor proposal photographs are during golden hour (sunset) or during the morning at sunrise.
Up Next:
Set up your wedding website in minutes with design options to make yours truly unique.