As much as we love to see a bridal bathing suit saunter down the runway, it likely won't make its way into your real-life wedding ceremony. Wearable runway styles can be intimidating (and hard to find), but it's easy to alter a dramatic trend to fit your style.
The 2019 collections drew inspiration from the Royal Wedding in 2018 with the return of big ball gowns, tiaras, and lots of delicate lace. Meghan Markle opted for the minimalist route, another theme of this year, and topped it with a simple but elegant tiara. This seemingly bold move (considering Royal Wedding fashions of the past were so extravagant) bore a whole new type of love for the simple things.
Many bridal trends are timeless, and we see them on the runways year after year. But with a few well-placed accents, you can turn that blank canvas into something truly unique. A dress doesn't have to stay as-is. You can add sequins, a whisper of color, top your look with a crown, and it will look outstanding because it is a reflection of you.
If we can provide any advice on dress shopping for brides in the coming year, don't be afraid to play! Your wedding look doesn't have to come prepackaged for you to make it perfect. Take time to peruse these 7 trends and start to piece your vision together.
As we reflect on this past year, real brides have taken to a few of these looks with gusto, and we wouldn't be surprised if they carry over into the 2020 season.
1. Tiaras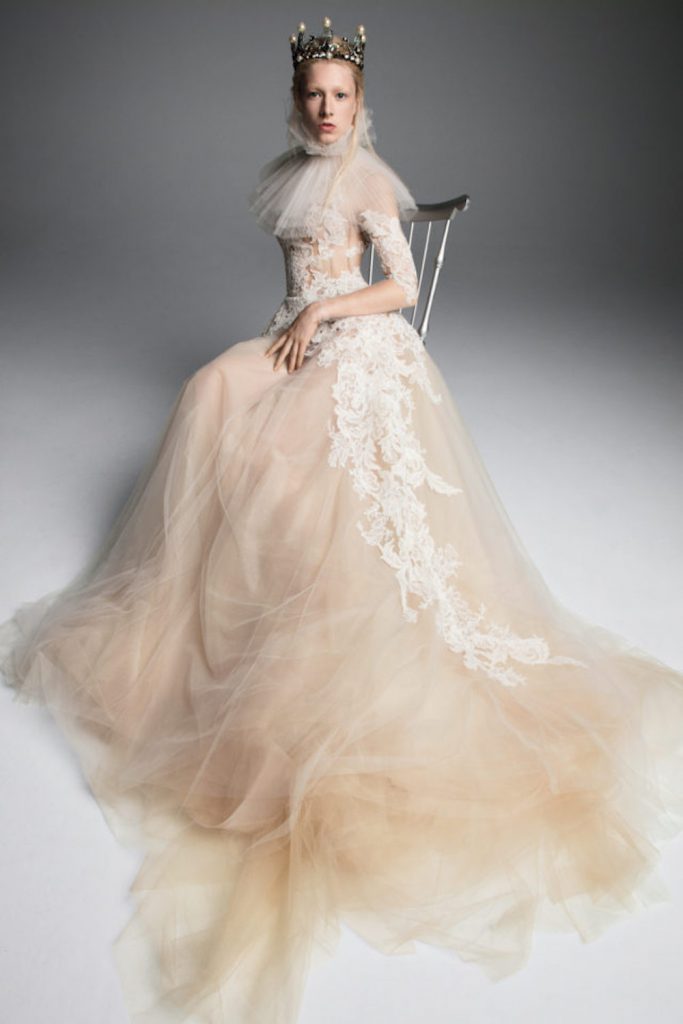 Hot off the Royal Wedding, tiaras were very en vogue for 2019. This bedazzled accessory isn't for everyone, but if you are thinking about bringing this trend into 2020, we have a few style tips even the Duchess of Sussex would approve of.
If simplicity is driving your wedding inspiration, try a metal crown (sans glitz) that weaves into your hair or even a flower crown. But if you are all about that glamour, make sure the headpiece does not outshine your dress. A subtle sparkle with a unique design is a great finishing touch to a standout gown or suit.
2. Voluminous Dresses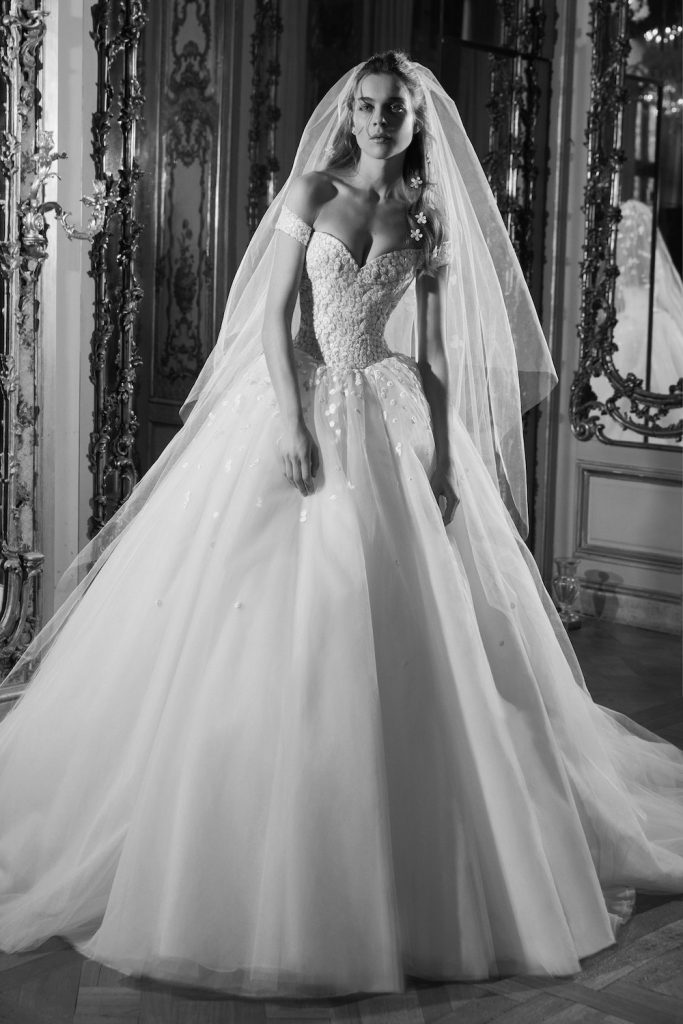 In recent years, bridal fashion has tended toward slimmer silhouettes, favoring the sheath and mermaid fits. The year 2019 brought back the princess gowns from your childhood without looking like a Disney character.
Instead of giant, hooped skirts, we saw generous layers of soft tulle and lace that gave a beautiful movement to these gowns. As these dresses tend to fit an A-Line cut, this trend will look good on any body type. But beware: The dress will likely be very heavy!
3. Pastels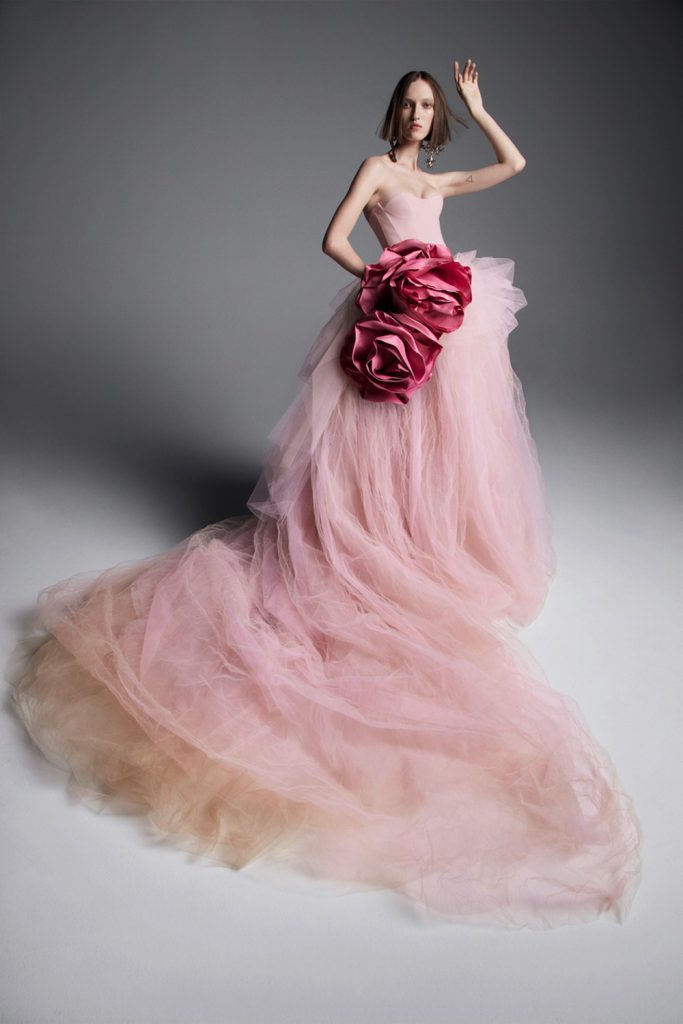 With Ultra Violet being deemed the Pantone color of the year for 2018, bridal fashion had no choice but to indulge. Designers took the high octane color and toned it down to a soft, pillowy lavender that was just made for a wedding dress.
While the purple hue dominated the runways, shades of blue and blush crept into view amongst a sea of white. If you are thinking about taking the plunge into color for your wedding look, check out collections by Vera Wang and Leanne Marshall for inspiration. Does a dress full of color seem too bold? Try adding a sheer pastel cape or a fun shoe to channel this trend.
4. Sequins and Shine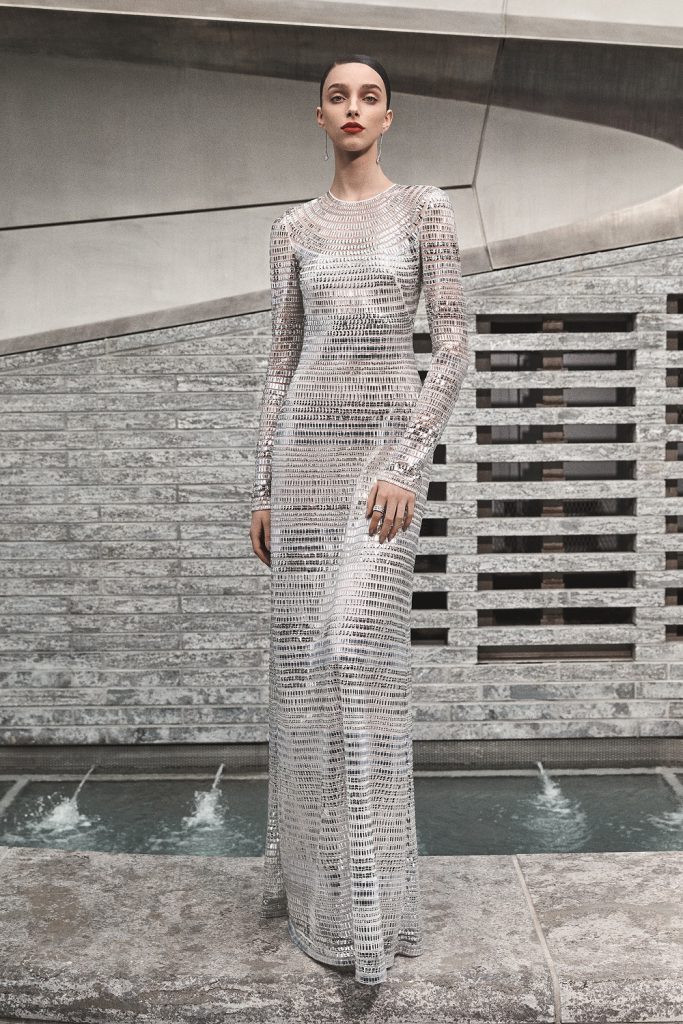 In 2019, shine reigned supreme. We saw metallic fabrics, reflective beading, and sequins provide a fresh take on classic glamour. But there is a big difference between 'shine' and 'bling.'
Crystals and rhinestones took a back seat to sequins this year, creating a palatable design that denotes more of an elegant Hollywood vibe than dripping in diamonds. These collections showed shimmer as more of a neutral rather than a centerpiece.
5. Floral Appliqué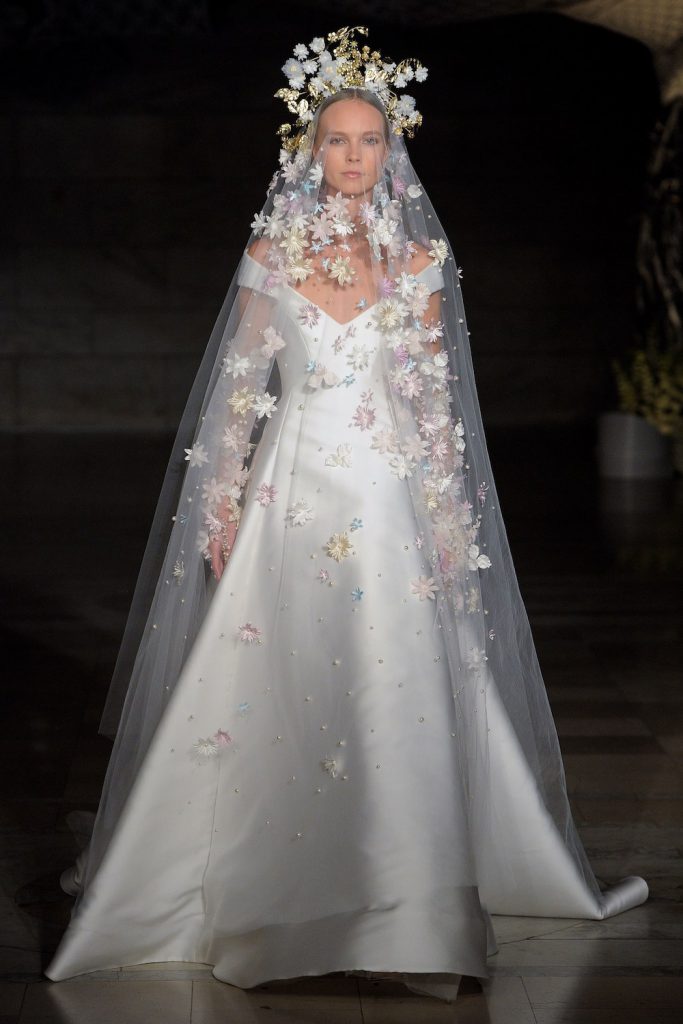 If you are a bride that is on the verge of choosing a colorful dress, but still has an urge to indulge in classic white, this trend is your happy medium. In past seasons, we have seen floral appliqué in the same shade as the dress, but 2019 changed the game by introducing color to the mix.
Already found your dream dress but loving this trend? Hit some fabric stores and find a few appliqués that speak to you. Consult a wedding dress seamstress and place the pieces together on your dream dress in a design that works for you. The seamstress can easily attach them, giving you the unique look you crave.
6. Minimalist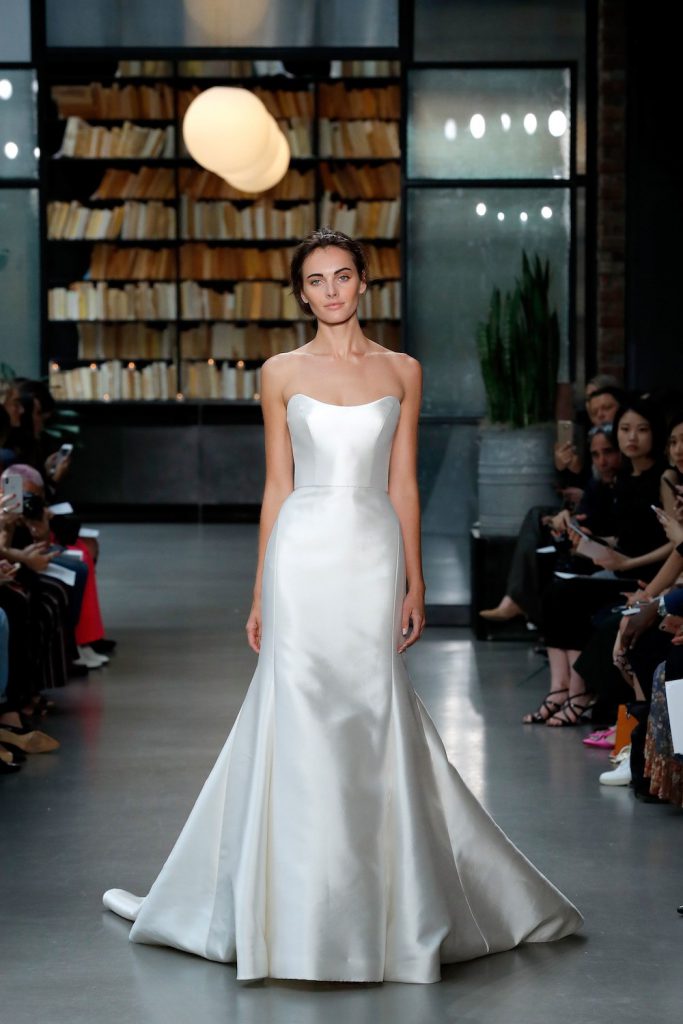 We spoke previously about the minimalist effect of the Duchess of Sussex's two wedding dresses in 2018, but the simplistic influence has actually carried through into 2020. Think clean lines and lots of structure.
If you are really into accessories, minimalist wedding dresses are a great place to showcase that extraordinary bridal belt or glitzy tiara. A colorful shoe really shines in this trend and gives the look some life.
7. Plunging Necklines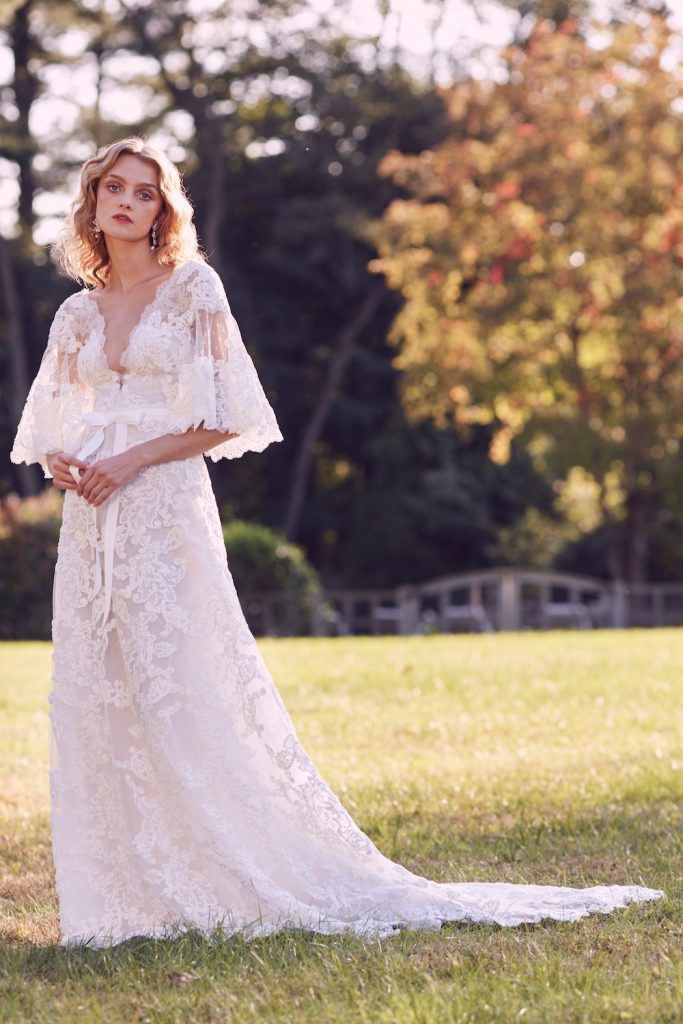 You might be thinking "No cleavage in front of my family!" We totally hear you, but know that there is definitely a way to embrace this trend without feeling exposed at the altar.
Many of the dresses we saw in the 2019 collections are equipped with a mesh overlay on the plunging neckline. While the material is still sheer, it gives the desired effect of a plunging neckline and holds you in at the same time.
Another great way to balance out this look is to choose a dress with a plunging neckline and a long sleeve. The coverage balances out the dress and gives the look a more modest touch.