While some couples dream of an elaborate wedding on an exotic beach, an alpine winter wonderland, or somewhere in-between, others want straightforward nuptials. The US offers an assortment of stunning city halls and courthouses that exude American history and grandeur while also keeping it simple.
For couples who love the majesty of these structures but don't want to give up an extravagant ceremony and reception, we've included several ideal options into our list of the seven best city halls and courthouses — plus how to obtain a wedding license, local regulations, and the best time to go.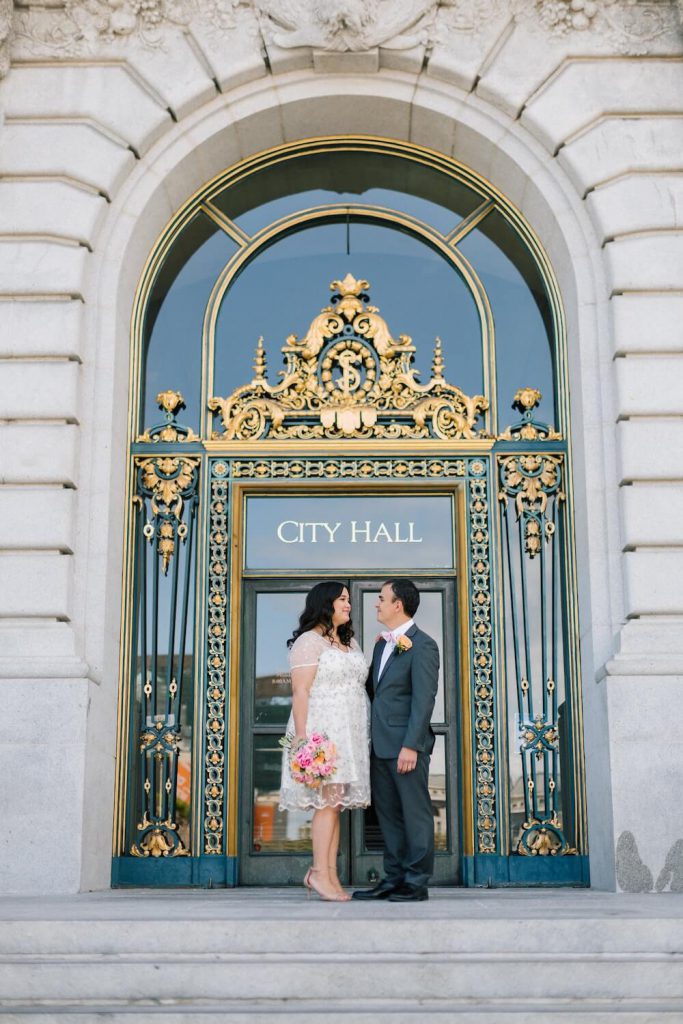 One of the most impressive buildings, San Francisco City Hall attracts couples from around the world — and is a go-to venue if you want your wedding to make a lasting impression.
This coveted space offers three options for tying the knot. The simplest (and most popular) choice involves a civil ceremony that's conducted by a city hall wedding commissioner and lasts around 10 minutes. You're required to make a reservation for the ceremony no more than 90 days in advance and are allowed to bring six guests.
If you'd like more privacy and guests (up to 100), you can reserve one of the 4th-floor galleries or the Mayor's Balcony. You have exclusive access to the area for an hour and are allowed to bring your own officiant. San Francisco City Hall also provides chairs and tables, allowing you to serve snacks and champagne after saying "I do."
For an awe-inspiring wedding, book the entire city hall on a weekend evening or after 8 pm on a weeknight, granting you full use of the stunning Rotunda and Grand Staircase for the ceremony and reception. However, this option books up fast, so be sure to reserve your date at least a year in advance.
How to Get a Wedding License: You can obtain a reservation to receive your marriage license online where $90 will be due at the time of booking. You must have the marriage license before the wedding commissioner can perform the ceremony. When you arrive at City Hall, head to Room 168.
Local Regulations:
You cannot receive a refund if you need to reschedule your marriage license appointment.
You're not allowed to use your own vows or request a vowel renewal.
Citizens and non-citizens are allowed to wed at this city hall.
Best Time to Go: Most couples prefer to make a reservation for a ceremony at 3 pm or 3:30 pm when the crowds have thinned.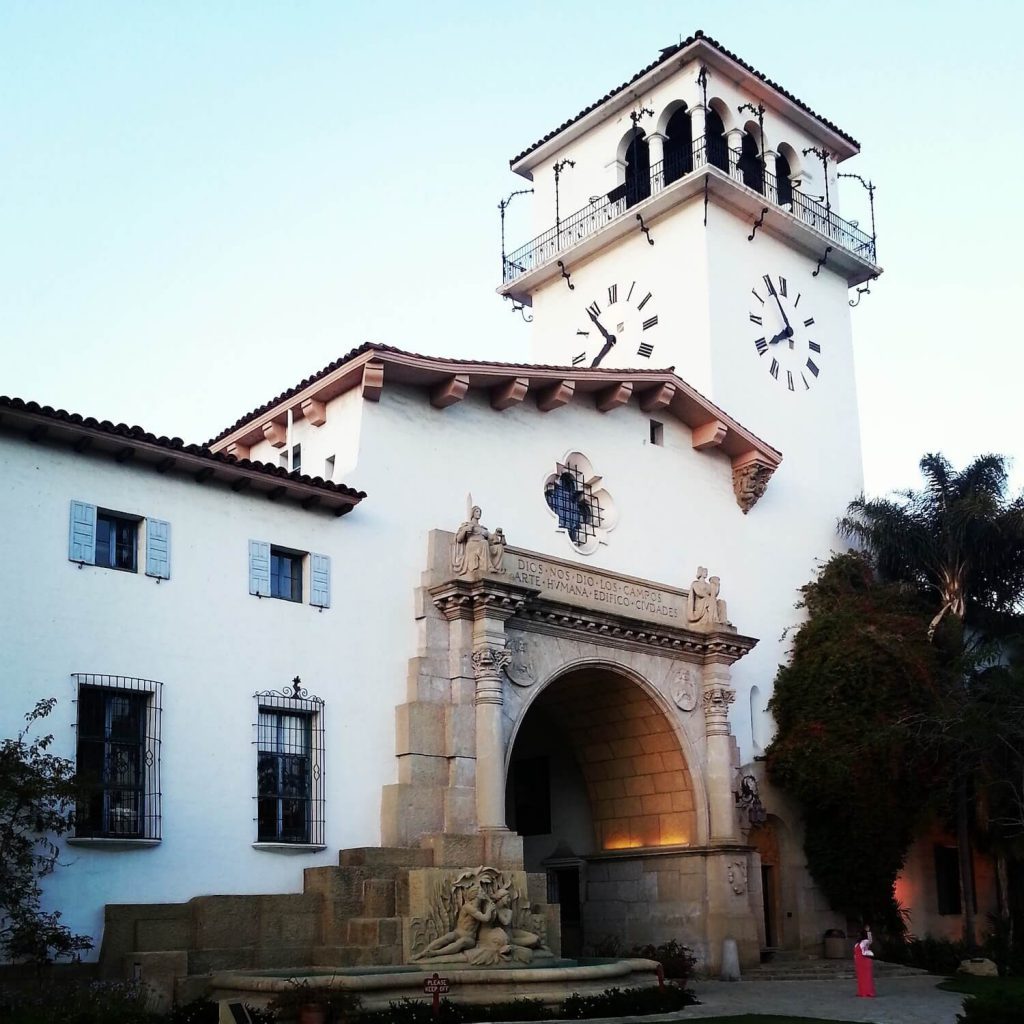 The historic Santa Barbara Courthouse was built in 1929 and features a Spanish-Moorish design, four-faced clock tower, and striking terracotta roof. The interior dazzles with hand-painted murals, iron-wrought chandeliers, and spectacular tile work.
Larger wedding ceremonies, with up to 250 people, can be held in the Exterior Gardens that includes the popular Sunken Gardens and Palm Terrace. You can also host a wedding for up to 100 people in the Courthouse Mural Room.
Weddings with 15 or fewer people can be enjoyed in one of the smaller garden areas that face the street, featuring the courthouse as a backdrop.
The Deputy Marriage Commissioner performs small civil wedding ceremonies during regular business hours, Monday – Friday.
How to Get a Wedding License: After applying for a marriage license online, you and your fiancé must go to the county's Santa Barbara or Santa Maria office to purchase the license. You'll be asked to provide government-issued photo ID, proof of divorce (if either of you has been previously married), and the $100 fee. You must obtain your marriage license prior to the ceremony. You do not have to be a resident of the US or California.
Note: The County Clerk office is closed on Saturday and Sunday.
Local Regulations:
You must provide your own officiant for a garden wedding.
Although chairs are not provided, you're allowed to hand-carry them in.
Amplified sound is not allowed, but you can have soft acoustic music.
Best Time to Go: If you won't be reserving the Exterior Gardens, it's best to plan the ceremony for Monday, Tuesday, Wednesday, or Thursday. The courthouse is typically busiest in the summer.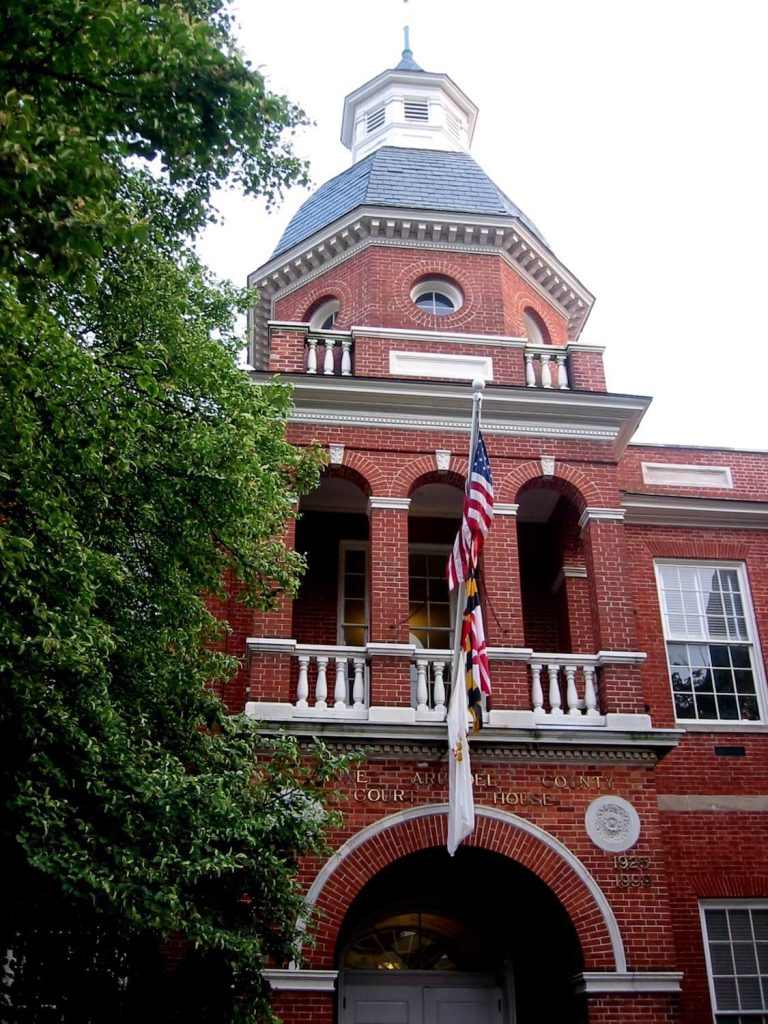 Built in 1824, Anne Arundel County Courthouse is the third-oldest courthouse still in use in Maryland — and by far the most architecturally stunning.
The Georgian Revival city hall was constructed with brick and features a prominent entrance tower, corner pavilions, a 2nd-floor courtroom, and a quaint chapel with three pews. There are also brick pathways leading through manicured gardens, offering gorgeous backdrops for photos. This is the courthouse for you if you're hoping for an all-American ambiance.
Civil ceremonies are performed at the Circuit Court Chapel Monday – Friday, 9 am – 12 pm and 1 pm – 4 pm, and offered on a walk-in basis for $25.
How to Get a Wedding License: Head to Room 101 to obtain your marriage license at the Circuit Court for Anne Arundel County. Only one applicant needs to apply in person, and it only takes about 15 minutes to complete the application process (Note that the fee is $55.). However, you must wait 48 hours before the license is valid. To receive a certified copy, present the application, a government-issued photo ID, and the $5.50 fee.
Local Regulations:
You do not have to be a resident of Maryland, but you must be married in the county where you purchased your license.
Fun fact: First and second cousins can legally marry in Maryland.
Best Time to Go: While it's usually not too crowded, you can help ensure you don't have a long wait by arriving a few minutes before it opens at 9 am.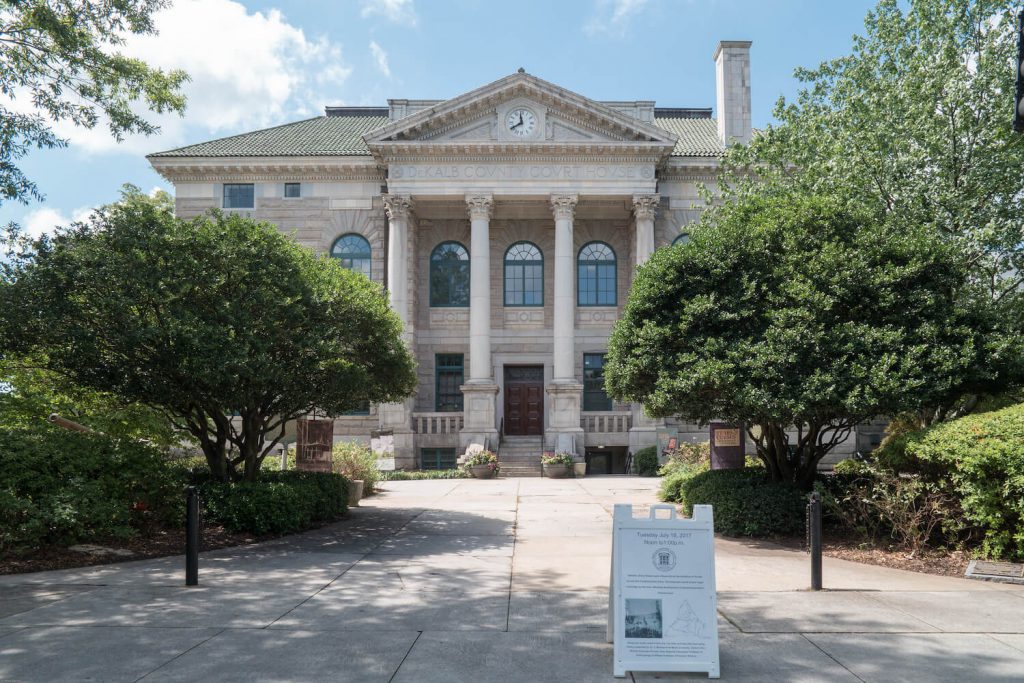 Located outside of Atlanta, DeKalb County Courthouse provides a picturesque setting for a simple wedding ceremony and/or an elegant and larger reception. The space wows with shining marble walls, arched windows, and terrazzo floors that exude sophisticated Southern vibes.
Grand ceremonies and receptions for up to 150 people take place in the palatial Courtroom, while the Harrison Room or Lobby is used for cocktail hour. The rental includes white folding chairs, a variety of tables, a baby grand piano, and a bridal suite and groom's room.
For evening and weekend rentals, the Courtroom, Harrison Room, Lobby, Groom's Room, and Bridal Suite are included for eight hours. The Courtroom can also be booked for parties with up to 50 guests on weekdays.
Alternatively, couples can undergo a quick civil ceremony (conducted by a Magistrate) at the DeKalb County Magistrate Court Criminal Division Building on a first-come-first-serve basis. These are performed Tuesday – Friday, 4 pm – 7 pm, and Saturday and Sunday, 1 pm – 4 pm. A valid marriage license must be brought to the civil ceremony.
How to Get a Wedding License: After completing the online application, both applicants must go to the DeKalb County Probate Court and pay the $66 fee for the marriage license. If you provide proof of completing the Georgia premarital counseling course, the fee is $26. A certified copy of the marriage license can then be shipped.
Local Regulations:
Georgia residents may apply for a marriage license in any county in Georgia.
If neither applicant is a resident of Georgia, the marriage license must be obtained in the county where the ceremony is performed.
The marriage license is valid only for ceremonies performed in Georgia.
Best Time to Go: For civil ceremonies, plan to arrive before it opens at 4 pm on Tuesday.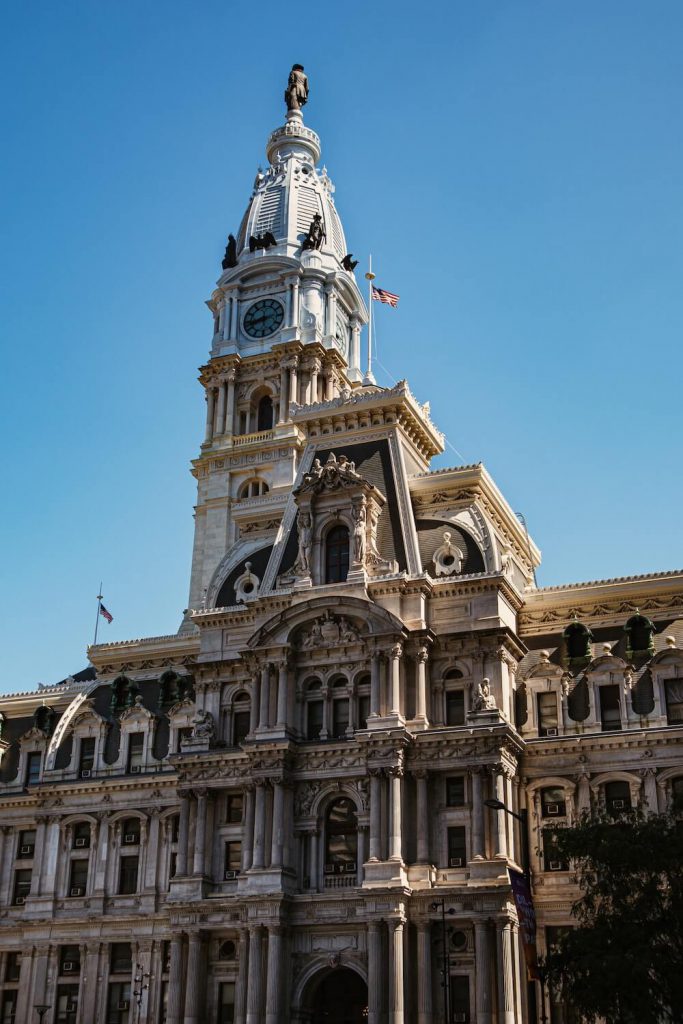 A national historic landmark that was once the tallest habitable building in the world, Philadelphia City Hall is an ideal wedding venue for couples with a passion for American history.
To really soak in the historical wonders of this structure, hop on a City Hall Tour a few days before your wedding. You'll gain fascinating insights into the art, architecture, and political background of the city hall, amping up your excitement for your upcoming nuptials at this majestic site.
Because Philadelphia City Hall is such a coveted venue, it's not easy to get on the schedule — but it's doable. First, you need to call the Marriage License Department at (215) 686-2233 and ask when the appointment book will be open to schedule the ceremony. Then, get in line outside Room 415 on the date provided — preferably before it opens at 7:30 am to ensure you get a spot.
Tip: Be sure to snap some photos in front of the building's north facade on Broad Street after you say "I do."
How to Get a Wedding License: You and your partner must both appear in Room 413 to apply for the marriage license. You're required to present a government-issued ID, social security card (or an official document that reflects your social security numbers), and the $90 fee. The license will be issued three days after you apply, so you'll need to apply for it at least three days before your ceremony. It must also be used within 60 days.
You can apply for a license Monday – Friday, 8 am – 4 pm. Wednesday hours are 8 pm – 7:30 pm. You must arrive at least 30 minutes before close.
Local Regulations:
The marriage license can be used in any county in the Commonwealth of Pennsylvania but cannot be used out-of-state.
You won't be able to schedule the civil ceremony until you receive the marriage license.
Best Time to Go: There is usually a big waiting list to be wed at this famous city hall, so call at least a month in advance to find out when you can get on the schedule.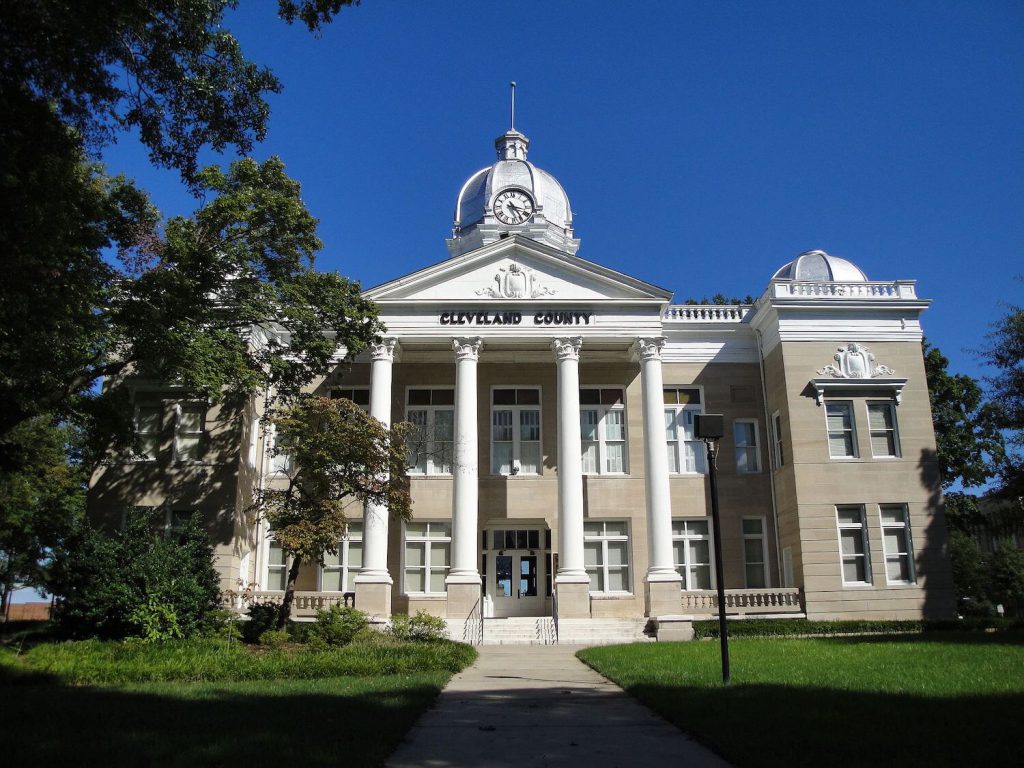 Whether it's a quick ceremony or an opulent celebration you're after, The Old Courthouse in Cleveland is an ideal, picturesque setting. The building's prime draw is the three-story Rotunda featuring vaulted ceilings, marble Ionic columns, and a balustraded mezzanine. There's also a curving marble staircase, a spectacular stained-glass window representing Law and Justice, bronze and marble statues, and murals of iconic political figures scattered throughout.
Extravagant wedding ceremonies and receptions (with up to 400 guests) are hosted in the building's grand Rotunda on Saturdays. The courthouse also offers a contract with an acclaimed Cleveland caterer, a rare offering for this type of venue.
If you want to elope, you must make an appointment in-person at the Clerk of Courts office. Ceremonies are performed on Mondays and Fridays, 9:30 am – 11:30 am, excluding legal holidays. You'll need to bring the marriage license and pay $20 in cash to schedule the ceremony. Only residents of the City of Cleveland and the Village of Bratenahl can utilize this option.
How to Get a Wedding License: Although you can begin the license application process online, you must complete it with your fiancé in-person at one of the Clerk's six locations. You're also required to bring valid identification and the $60 fee.
Local Regulations:
You can't have your ceremony on the same day your marriage license is issued. You must wait at least one day.
Best Time to Go: When applying for the marriage license and scheduling an appointment for the ceremony, try to arrive right before it opens at 8:30 am.
While some may think that 'city hall' weddings in NYC take place at City Hall, they actually unfold at the City Clerk's Marriage Bureau. Located within a 1930s Art Deco building, the City Clerk office was decorated by renowned interior designer Jamie Drake (who had also decorated Gracie Mansion and former Mayor Michael Bloomberg's private residence).
After applying for a marriage license in-person, you'll need to wait 24 hours before you can have the ceremony. When the time is right, head to the City Clerk's office — with your marriage license, photo IDs, and one witness in tow — and wait in line. You'll then receive your Certificate of Marriage Registration at the end of the ceremony, which will be held in one of the two wedding chapels off the main rotunda.
Note: City Clerk's Marriage Bureau does not take reservations.
How to Get a Wedding License: Although you can begin the application process online, you and your fiancé must go to the Office of the City Clerk with valid ID. You will then complete the application, wait for it to be processed, and receive it before you leave. The fee is $35.
Local Regulations:
You must bring a witness over the age of 18 to the ceremony. They must bring a valid ID.
The marriage license cannot be used outside the state of New York.
Best Time to Go: Ceremonies are held during regular business hours Monday – Friday, which means you should arrive just before it opens at 8:30 am. It's best to avoid lunchtime and Valentine's Day.