Kitchen items are among the most asked-for gifts on many couples' wedding registries. But there are so many products that choosing from this registry category can feel like an overwhelming task. Fortunately, we've researched the best items in the top kitchen subcategories to help you decide what to register for, depending on your unique needs. It's helpful to consider the pieces you'd like to upgrade, along with the pieces you're missing, as you review this list of the best kitchen picks for your wedding registry.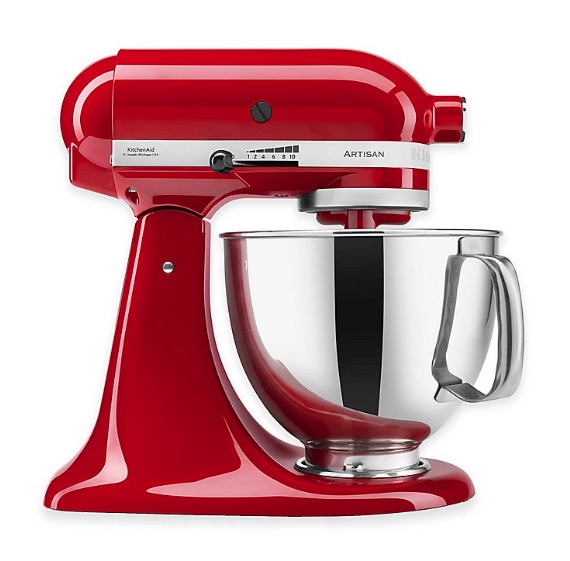 This stand mixer is one of the most popular items for wedding registries. It can meet all of your mixing needs with a flat beater, dough hook, wire whip, and 10-speed control. It also facilitates a large batch of whatever you're mixing in its durable, 5-quart stainless steel mixing bowl. The mixer is compatible with a range of attachments, including a peel, core, and slice attachment, three-piece pasta roller, and ice cream attachment. Plus, it comes in an array of colors that can complement any kitchen color palette. It's so appealing that it's become a coveted statement piece for kitchen counters.
$404.99 at Bedbathandbeyond.com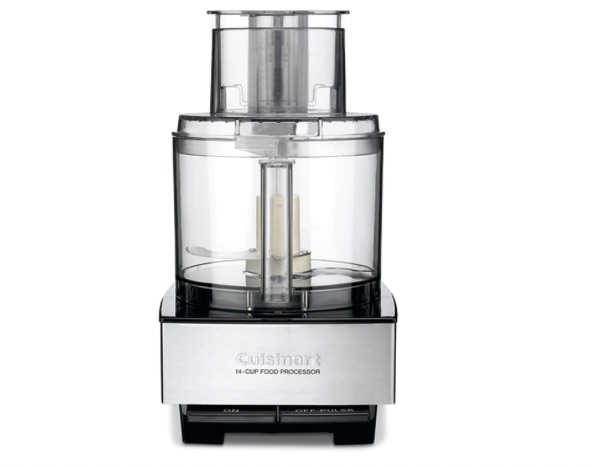 A premium choice, this 720-watt large-capacity food processor has a 14-cup work bowl and extra-large feed tube. It also accommodates a range of processing needs with its standard slicing disc, medium shredding disc, and stainless steel chopping/mixing blade. Additionally, you won't have to waste time washing the appliance's various pieces, as it's dishwasher safe. This food processor is so high-quality and effective that it will likely be a staple in your kitchen for years to come.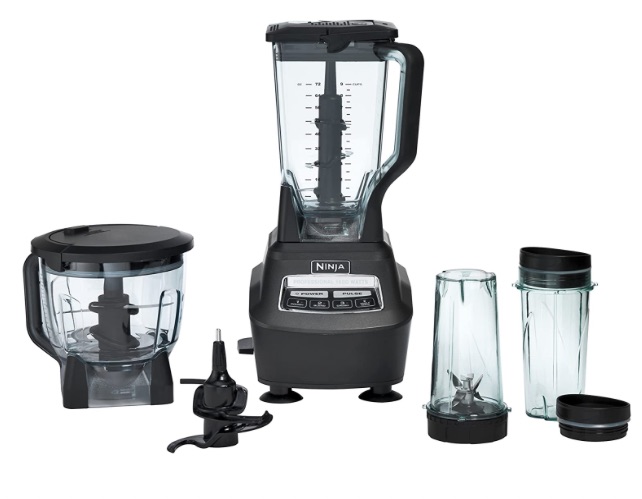 Because a blender is a must-have in every kitchen, you might as well register for the best. This versatile blender won't disappoint with its 72-ounce pitcher, eight-cup food processor, and two 16-ounce cups with to-go lids. It even lets you turn ice to snow (for perfect margaritas), make two pounds of dough in 30 seconds, and complete a range of other culinary jobs. You can think of it as a powerful, standard blender, food processor, and single-serve blender all in one. It also adds simplicity to your life by being dishwasher-safe.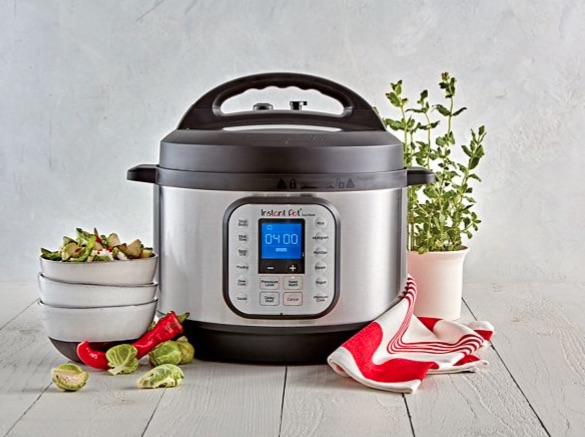 An in-demand kitchen item, this multi-cooker is like seven appliances in one. It's a pressure cooker, slow cooker, rice cooker, steamer, sauté pan, food warmer, and yogurt maker. Impressive, right? It also has a large, 10-quart capacity that lets you cook for up to 10 people. The multi-cooker features 14 one-touch Smart Programs to help you prepare fall-off-the-bone ribs, soups, beans, rice, poultry, yogurt, desserts, and more. Meanwhile, the microprocessor monitors adjust pressure, temperature, time, and heat to cook food up to 70% faster than other methods. Plus, this item doesn't skimp on safety, as it has more than 10 built-in safety features, like Overheat Protection and Safety Lock.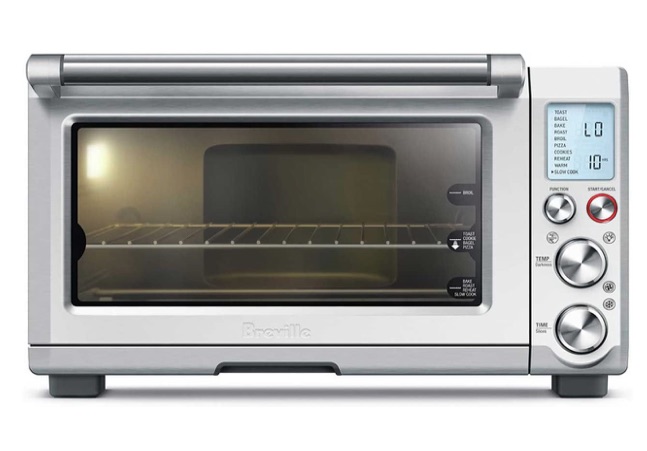 This is one of the highest performing, energy-efficient toaster ovens you'll want to add to your registry. An assortment of preset features for toast, bagel, bake, roast, broil, pizza, cookies, reheat, warm, and slow cook makes the use of this convection oven incredibly simple. It also allows you to simmer foods for up to 10 hours at low temperatures, which is ideal for brisket, and other long-cook meats, stews, and chilis. This oven is typically able to cook faster and more evenly than a regular oven.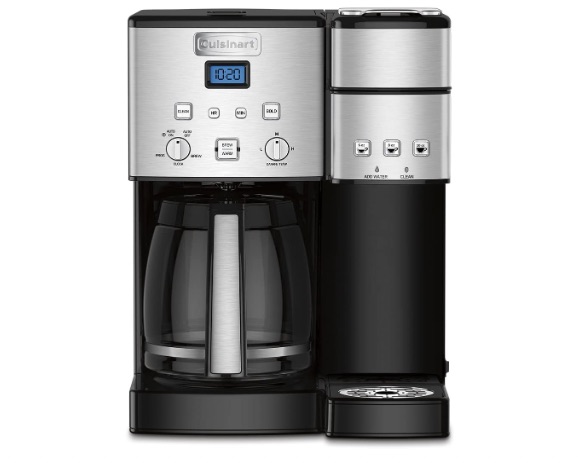 Enjoy a luxury coffee experience with a coffee maker that includes a 12-cup glass carafe with a stainless steel handle on one side, and a single-serve brewer on the other. The single-serve brewer features Cuisinart's Home Barista Reusable Filter Cup, which lets you use your own coffee, or a K-Cup pod. It also has a gold-tone coffee filter that enhances the flavor of the brew. This is the perfect coffee maker for entertaining a large group or whipping up a single-serving of a rich coffee beverage.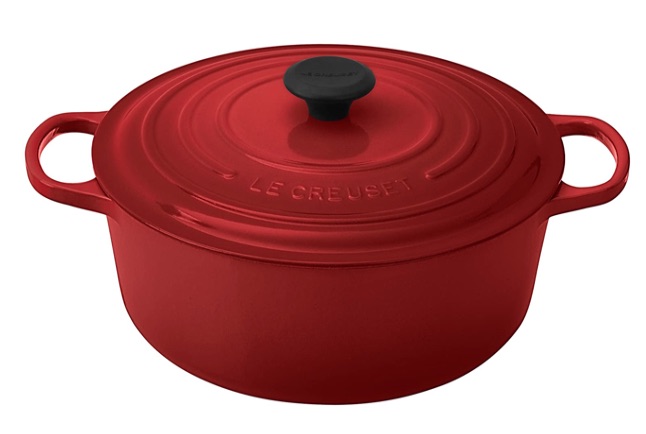 This premiere Dutch oven is a wedding registry necessity. It's one of the rare pieces of heirloom cookware that's so durable, useful, and classic you can pass it on to future generations. It can slow cook, braise, or roast delicious meals, and can even be used to cook bread and cookies. Additionally, it has superior heat distribution and retention, and an enameled surface that's perfect for storing raw or cooked food or marinating with acidic ingredients like wine. This Dutch oven is also known for the variety of hues it comes in, which means you're almost sure to find one that complements your personal style.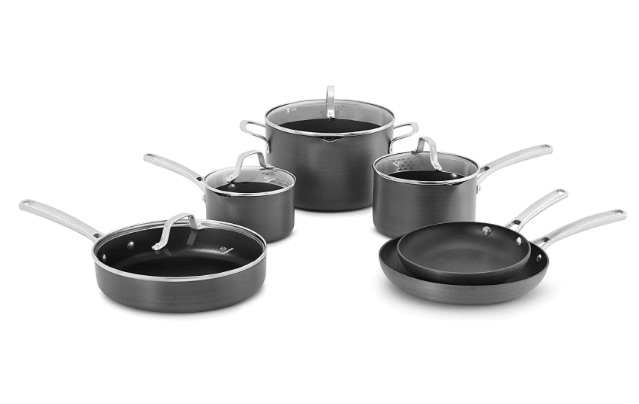 For easy cooking and fast clean-up, this 10-piece cookware set is hard to beat and ideal for on-the-go couples. It features durable, thermally-efficient hard-anodized aluminum that facilitates fast and even heating of food — plus, a dual-layer nonstick interior that helps ensure food doesn't stick. Meanwhile, the 'no boil-over inserts' prevent a major mess if you get distracted while boiling water. Upping the convenience are pour spouts on the pots and lids with integrated strainers. The pots also have measuring marks, and the handles stay cool to the touch, regardless of how long they've been exposed to heat.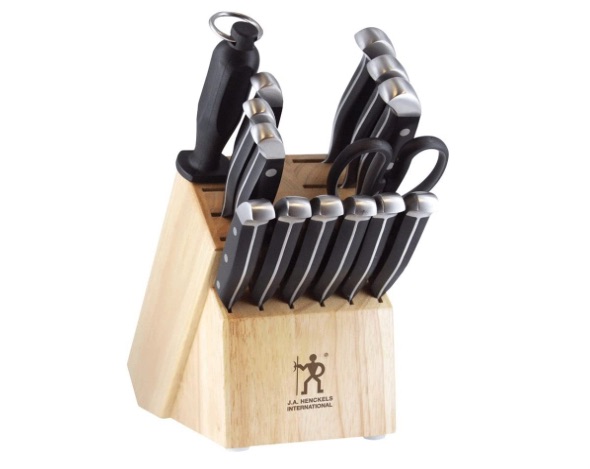 This is one of the most asked-for knife sets on wedding registries and a great way to elevate your cooking experience. Not only is the price incredibly reasonable, but the blades are made from high-quality stainless steel, and designed for maximum maneuverability and long-lasting sharpness. The traditional triple-rivet handle with a stainless steel endcap also offers enhanced balance. The set includes a paring knife, serrated utility knife, santoku knife, Chef's knife, bread knife, six steak knives, sharpening steel, kitchen shears, and a hardwood block.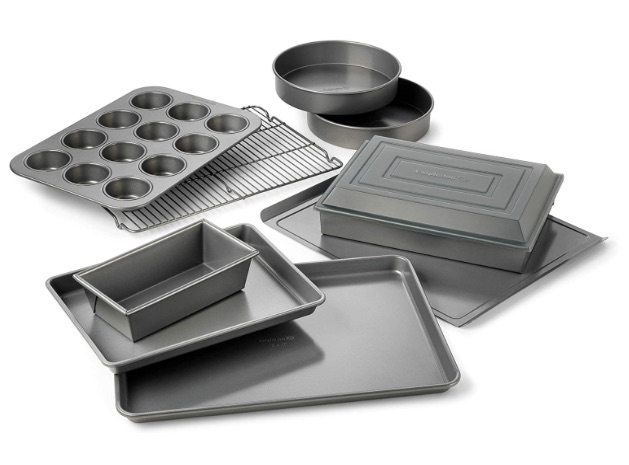 Get all the bakeware essentials in one go with this 10-piece set that includes a cookie sheet, baking sheet, round cake pan, brownie pan, rectangular cake pan, cooling rack, lid for the cake and brownie pan, medium loaf pan, and a 12-cup muffin pan. All of these items have interlocking nonstick layers and heavy-gauge steel cores that evenly heat food. Plus, every piece is dishwasher-safe.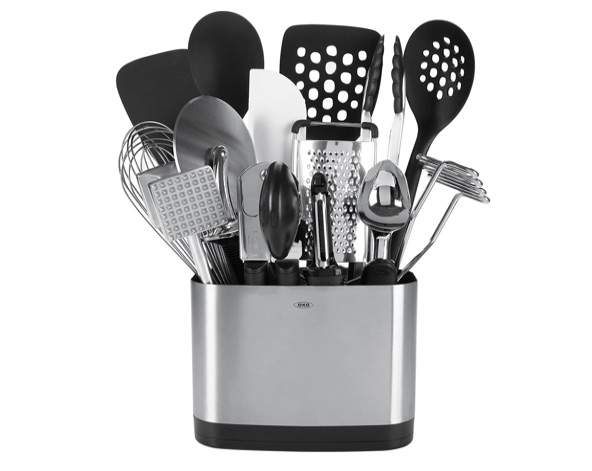 Ensure your kitchen is well-stocked by registering for this everyday kitchen utensil set. It has a slim-lined, space-efficient utensil holder, flexible turner, 12-inch tongs, square turner, spoon, slotted spoon, and graters, in addition to a swivel peeler, ice cream scoop, potato masher, can opener, balloon whisk, spatula, meat tenderizer, pizza wheel, and holder. These items are made with nylon and silicone that are safe for non-stick surfaces, and heat resistant for up to 400 degrees.