For natural beauty, adventure and romance, look no further than Big Sky Country. Just imagine exchanging vows under the vast expanse of Montana's azure sky, with majestic mountains towering in the distance and lush meadows stretching as far as the eye can see.
The western state is the perfect backdrop for a destination wedding, offering an array of picturesque locations that are as memorable as they are beautiful. So, if you're dreaming of an intimate ceremony that brings you closer to nature and your loved ones, you're in luck. Here's a guide to planning a destination wedding in Montana that will create memories that will last a lifetime.
Why Plan a Destination Wedding in Montana
Let's talk about why Montana is an absolute gem for your destination wedding. With its wide-open spaces, jaw-dropping landscapes and secluded hideaways, this state is a haven for couples who want to create an intimate and personal experience.
For starters, it's a treasure trove of natural beauty, offering a diverse range of landscapes ranging from the rugged mountain ranges of Glacier National Park to the tranquil shores of Flathead Lake. You can cozy up in a mountain lodge or party it up in a rustic guest ranch. Whatever wedding venue you choose, you'll feel like you're celebrating in your own private paradise.
Top it off with authentic Western charm. The locals here are known for their genuine warmth and welcoming spirit. From talented wedding planners to skilled caterers known for creating farm-to-table cuisine, these professionals will go above and beyond to create the perfect wedding day. The result? An unforgettable celebration that reflects your love and personality in a magical destination befitting your fairy tale romance.
Big Sky Country Budgeting Tips
While destination wedding costs vary depending on guest count and venue, expect to spend at least $50,000 on your Montana wedding with around 75 guests — but budget for more if you are planning on a full venue buyout or hosting additional events like a welcome party or rehearsal dinner. For example, the famed Lone Mountain Ranch in Big Sky starts at $80,000 for the event portion of a wedding for 75 guests, which includes a welcome reception, rehearsal dinner, ceremony and reception, per the property's wedding team. Keep in mind that many venues require wedding packages that take place over three days or even a full buyout of the property, which accounts for the higher price tag.
Setting a Date
Montana is stunning year-round, but each season has its pros and cons. Summer (June to August) is popular with couples due to its pleasant weather, lush landscapes and longer days. It is peak tourist season, however, so expect higher airfare and accommodation costs. If you can't justify the cost, spring (March to May) brings blooming wildflowers and a sense of renewal. It's a quieter time, and you may find more affordable rates for venues and accommodations.
While you may be dreaming of snow-capped mountains as a backdrop for your winter wedding (December to February), this season in Montana gets a little tricky as heavy snowfall can affect travel plans. Think cancellations that will totally put a damper on your big day. Instead, consider fall (September to November) for its breathtaking foliage that will create a picturesque backdrop for your special day. The weather is still mild, and prices tend to be lower compared to summer.
Planning Ahead
Like any destination wedding, you'll want to allow a little more lead time when sending out save the dates and invitations so guests can plan (and save) to attend your wedding. The best way to make sure things run smoothly is to have an expert on the ground. Hiring a local Montana wedding planner will ensure seamless communication with vendors, lock in the best rates, and ensure you get a great price on a block of hotel rooms for your guests. Get your date and travel information up as soon as possible on your wedding website to give guests plenty of time to book their trip.
Travel and Transportation
Montana has a few major airports such as Bozeman Yellowstone International Airport, Missoula International Airport and Billings Logan International Airport. Check which airport is closest to your venue and book your flights accordingly. To get around town, renting a car is going to be the best option for you and your wedding guests, as it gives you the flexibility to explore Montana's stunning landscapes.
Montana's Best Cities for a Destination Wedding
Montana is known as Big Sky Country for good reason. The expansive state offers a captivating blend of wide-open spaces, diverse geography and vibrant culture, making it an ideal destination for a wedding. Here's a look at our favorite cities with majestic mountains, pristine lakes and breathtaking national parks that will create a unique and memorable wedding experience.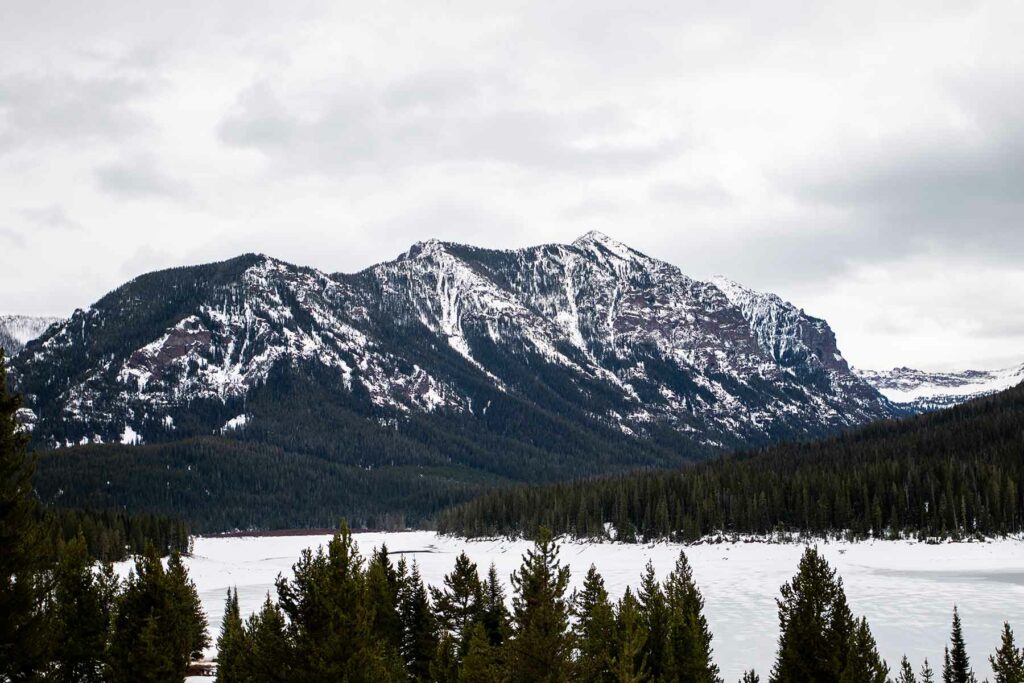 Bozeman
Nestled in the heart of the Rocky Mountains, Bozeman combines rustic charm with modern amenities in its vibrant downtown, art galleries and lively food scene. The city has myriad venue options where you can host your special day. Exchange vows against the backdrop of the Bridger Mountains or opt for a scenic mountain ranch wedding. Either way, with the Bozeman Yellowstone International Airport nearby, your guests can conveniently join in the celebration.
Big Sky
For couples dreaming of a mountain wedding, Big Sky is a perfect choice. Located near Yellowstone National Park, this picturesque town offers a plethora of outdoor activities and gorgeous views. Tie the knot on a mountaintop or beside a serene alpine lake, immersing yourselves and your guests in the beauty of nature.
Bigfork
Situated on the shores of Flathead Lake, Bigfork exudes a charming small-town ambiance. This enchanting artistic community is dotted with galleries, boutiques and cozy cafes. Say your vows in a lakeside gazebo or on a secluded beach surrounded by the tranquility of Flathead Lake. With its scenic beauty and warm hospitality, Bigfork promises an intimate and romantic wedding experience.
Flathead Lake
As the largest natural freshwater lake west of the Mississippi, Flathead Lake provides a stunning setting for a lakeside wedding. With its crystal-clear waters and awe-inspiring mountain backdrop, this region offers a dreamlike atmosphere for your special day. Choose from lakeside resorts, rustic lodges or elegant vineyards to host your celebration. Your guests will love the opportunity to partake in water activities, scenic drives, and picturesque sunsets.
Glacier National Park
For couples seeking unparalleled natural beauty, Glacier National Park is a true gem. With its towering peaks, sparkling lakes and magnificent glaciers, this park offers a dramatic backdrop for your wedding ceremony. Whether you exchange vows in a rustic mountain lodge or choose an intimate outdoor setting, your wedding will be surrounded by the wonders of nature. Encourage your guests to explore the park's hiking trails and witness breathtaking wildlife during their free time.
Missoula
Nestled in the western part of Montana, Missoula offers a unique blend of urban sophistication and natural splendor. This lively college town boasts a vibrant arts scene, cultural events and a charming downtown area. Choose from elegant venues to celebrate your union, such as historic mansions or scenic vineyards.
Yellowstone National Park
A wedding near the captivating Yellowstone National Park or along the majestic Yellowstone River guarantees an extraordinary experience for nature-loving couples. Embrace the park's geothermal wonders, iconic geysers and scenic waterfalls as you say your vows. Or opt for a riverside wedding amidst the pristine wilderness, where the soothing sounds of flowing water create a serene ambiance.
Top Destination Wedding Venues in Montana
Whether you are looking for a secluded mountaintop ceremony or a downtown Western soiree, Montana wedding venues offer something for every couple.
This hidden gem is situated along the beautiful Gallatin River, providing a serene and peaceful atmosphere for your wedding day. Imagine exchanging vows with the sound of the river as your soundtrack — it's a truly magical experience. There are two venues to choose from with indoor and outdoor wedding spaces featuring fairy tale gazebos, fire pits, grassy meadows and stunning lighting. The Gallatin River Hideaway offers a range of customization options, including accommodations and micro wedding packages with photography.
If you and your partner are nature enthusiasts, you'll adore Lone Mountain Ranch in Big Sky, located just 18 miles from the northwest border of Yellowstone National Park. Whether you choose to tie the knot in a rustic barn or opt for an outdoor ceremony with majestic vistas, this venue will provide an unforgettable backdrop for your special day. It also offers full buyout options, so you and your loved ones can enjoy exclusive access to the ranch.
If you're envisioning a romantic, countryside wedding, look no further. Moonlight Basin offers a truly idyllic setting with sweeping views of the Montana wilderness. Nestled at the base of Lone Peak, this venue exudes rustic charm with indoor and outdoor event spaces. On-site catering makes wedding planning a breeze, plus your guests have plenty of accommodation options with rental properties across the resort area.
For couples seeking a rustic and elegant vibe at the base of the Swan Mountains, The Nest on Swan River is your spot. This venue features a full lodging buyout option for you and your family, plus a riverfront ceremony site for saying "I do." With indoor and outdoor sites, gazebos and fire pits, The Nest has options for couples planning destination weddings any time of year.
This luxurious resort offers a range of options for your special day. With a beautiful waterfront locale, you'll have stunning views of Whitefish Lake and the surrounding mountains. The Lodge provides excellent wedding packages, including catering services, professional event coordination, and options for indoor or outdoor ceremonies.
If you're looking to have a unique and adventurous wedding experience, this alpine lodge with views of Dancing Lady Mountain is the place for you. The venue provides a rustic and natural setting just outside Glacier National Park. You can choose from a variety of ceremony sites, including riverside locations or mountain meadows. Customizable packages can include accommodations, transportation and outdoor activities like horseback riding or fly fishing. It's the perfect place to embrace the wild beauty of Glacier National Park on your special day.
Nestled in the heart of Montana's pristine wilderness, this gem of a venue offers a serene escape that will leave you spellbound. Picture saying "I do" beneath the canopy of towering pine trees, surrounded by rolling hills and crystal-clear streams. The Ranch at Rock Creek not only boasts awe-inspiring views but also offers full buyouts, ensuring that you and your spouse-to-be can revel in the exclusivity of this haven. Indulge in luxurious wedding packages and different event venues, each designed to make your celebration a seamless and unforgettable experience.